14 traditional craft villages of Vietnam
Today, when modern life gradually replaces old and outdated things, the traditional cultural features of Vietnamese people are never lost. Over a period of history, Vietnamese traditional craft villages have persisted and developed over time, creating a cultural beauty that is not confused with any other nation or country.
Bat Trang Pottery Village – Hanoi
Bat Trang Pottery Village has been famous for a long time, not only within the territory but also known by many countries and ethnic groups in the world. This name is associated with its place name is Bat Trang commune (now in Gia Lam district, Hanoi). Bat Trang means a large yard, dedicated to professionals. Thanks to the technique of creating glaze and precise kiln technique, the artisans here have created a special type of ceramic product, harmonious in composition, elegant color, and human sophistication – ceramic. Bat Trang.
Bat Trang ceramic products have always been appreciated for their quality, have many designs, models, and types, divided into groups according to their functions, such as household ceramics, worship items, and fine ceramics. art, construction ceramics, and decorative ceramics. Bat Trang pottery is circulated all over the country, even to foreign countries. Bat Trang Pottery Village is not only a place to create a national product brand, contributing to preserving the cultural values ​​of the capital, but also one of the most popular tourist destinations in Hanoi.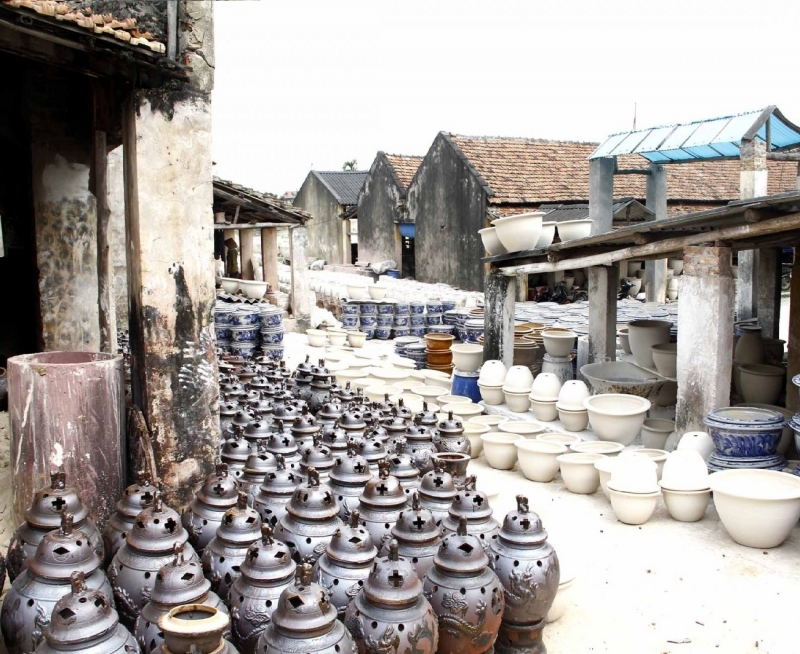 Bat Trang pottery village
Bau Truc Pottery Village – Ninh Thuan
Another traditional craft village specializing in pottery making is Bau Truc Pottery of the Cham ethnic group, Ninh Thuan province. The village is located along National Highway 1A, in Phuoc Dan town, Ninh Phuoc district, south of Phan Rang – Thap Cham city. In addition to Bat Trang pottery village, Bau Truc pottery is also one of the two oldest pottery villages in Vietnam.
Unlike the sophistication in Bat Trang pottery, Bau Truc pottery is created by hand, not using a turntable, the lines are not soft and flexible, the textures are shaped from items such as spoons, bottle cap … very simple but bold ethnic and human in each product. After molding, the ceramic is fired open-air at a temperature of about 500 – 600 degrees Celsius for 6 hours, then taken out for color spraying, and then fired for 2 hours. Therefore, Bau Truc pottery has characteristic colors of red-gold, rose-red, black-gray, brown streaks.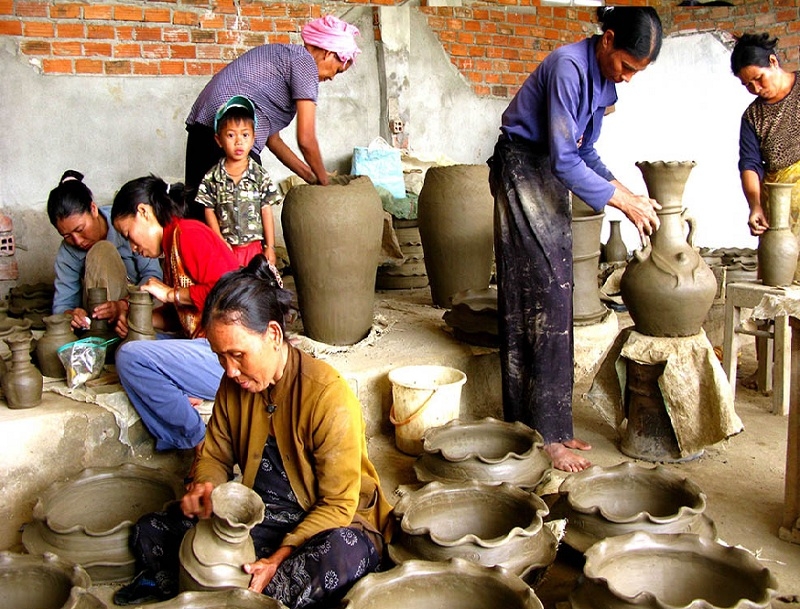 Bau Truc pottery village artisans are working hard
Non Nuoc stone handicraft village – Da Nang
Non Nuoc stone handicraft village , located in Hoa Hai ward, Ngu Hanh Son district, Da Nang city, This is a famous marble handicraft production place in the country and abroad. Perhaps no one comes to Ngu Hanh Son without visiting this craft village. The village was formed in the 18th century by Thanh Hoa artisan named Huynh Ba Quat. This fine art stone village is the intersection between the ancient Vietnamese and Champa cultures, bringing diversity and richness to the products of this craft village.
Later, when the country had an exchange with world culture, artisans from all over the world came here to learn and exchange experiences, since then art statues have flourished up to now, with their creativity. With their diligence and diligence, the artisans have created extremely delicate, sharp, meticulous, diverse designs that make many tourists come here to admire and praise. .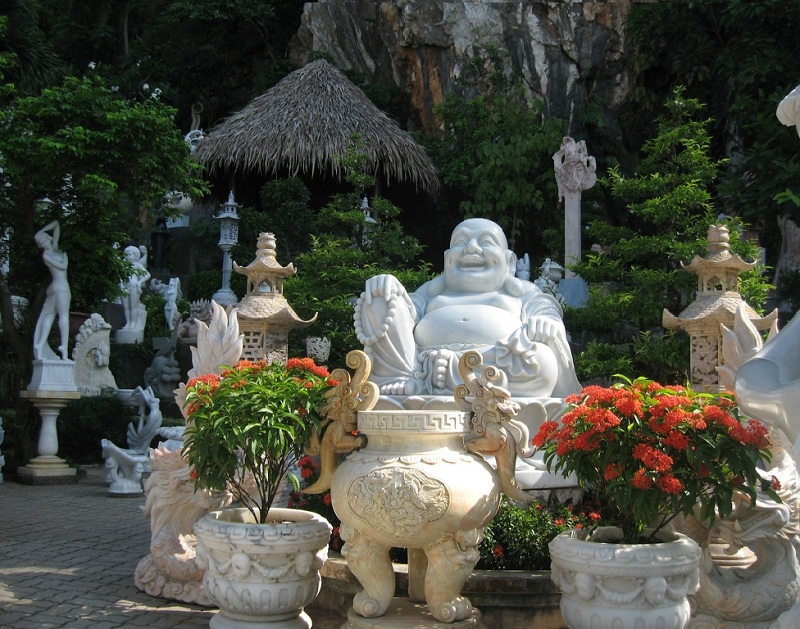 Products of Non Nuoc stone handicraft village
Doi Tam drum craft village – Ha Nam
Doi Tam Drum Making Village in Duy Tien District, Ha Nam Province, is one of the only drum-making villages in Vietnam, with a history of 1000 years of drum making, the products here are created from artisans. Professional, well known. Drum making in Doi Tam is a hereditary profession, making all kinds of drums. Doi Tam Drum is famous for its durability, beauty, full and round sound… that's thanks to the village's own secret and the enthusiasm of the drummer. The two main materials used to make drums are jackfruit wood and buffalo skin, that's why the Doi Tam drum has its own sound that is different from other types of drums.
People here mainly follow the profession of drumming from old to young, it is because of the growth of this craft village that there is a Doi Tam drum team , after 10 years of establishment, the village drum team has increased to 60 people. The number of drummers remains the same at 48 women, with 12 more male assistants playing bronze (gong, command, thanh la, scraping canvas…). The Doi Tam Drum Team not only serves local festivals but also performs in all parts of the country.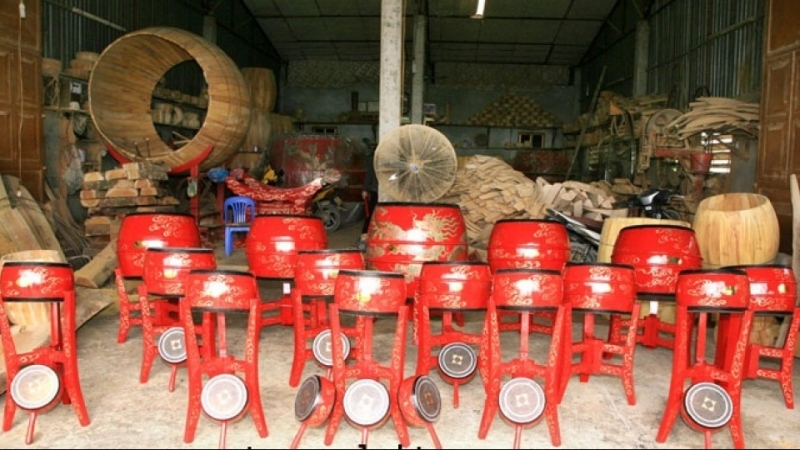 Products of Doi Tam drum craft village
My Nghiep Brocade Weaving Village – Ninh Thuan
In addition to Bau Truc pottery village, Ninh Thuan is also known for My Nghiep brocade weaving village , in Ninh Phuoc district, located 10km south of Phan Rang – Thap Cham city. According to legend, in the 17th century, seeing that this land was suitable for weaving, Mrs. Panaga passed the profession on to the couple living in the ancient Chaleng village (present-day My Nghiep village), Mr. Xa and Mrs. Chaleng. She was the first artisan to create brocade weaving.
Products made by artisans are very diverse such as bags, wallets, shawls, blankets, pillows… embroidered with unique and fancy motifs and patterns showing the culture of the Cham people here. . Coming to My Nghiep brocade weaving village, you will visit the process of rolling seeds to get cotton, threading, listening to the rattle of the loom or realizing the patterns are gradually forming under the skillful hands of the weavers.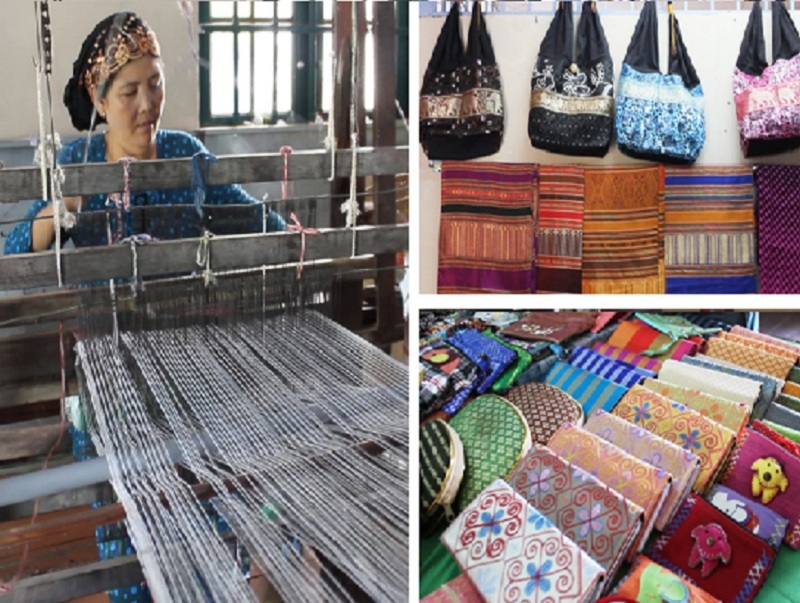 Products of My Nghiep brocade weaving village
Basket boat craft village – Phu Yen
Basket boat craft village in Tuy An district, Phu Yen. For a long time, basket boats have been called the wisdom of the Vietnamese people. The craft villages producing basket boats are mainly concentrated in the South Central Coast coastal area and always produce regularly. Recently, everyone was excited when the basket of bottles suddenly traveled abroad from Asia to Europe.
Phu Yen's bottle basket has the special feature of using only local ingredients. According to the villagers, bamboo grown on Phu Yen soil has good water resistance, toughness and a very good source of oil when plastering the basket, so the basket retains its durability for a long time.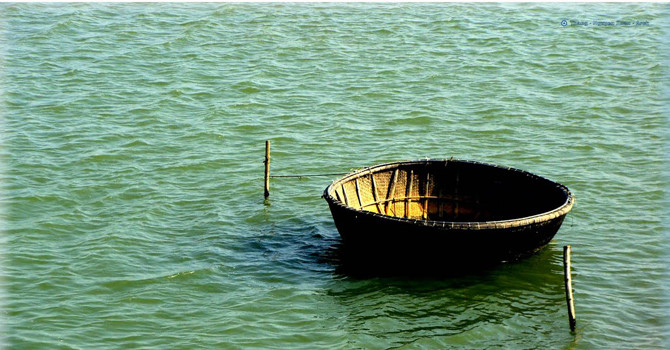 Products of the basket boat craft village
Chuon Ngo pearl mosaic craft village – Hanoi
Chuon Ngo pearl mosaic craft village in Chuyen My commune, Phu Xuyen district, Hanoi city is a traditional craft village dating back to the Ly Dynasty. The ancestor of this profession is Mr. Truong Cong Thanh, a former general who joined the army of Ly Thuong Kiet, after defeating the Song army, he returned to the village to open the profession of mosaic. At present, there is a temple to worship him in the village.
The outstanding feature of Chuon Ngo pearl mosaic is that the pieces are unbroken, always flat, attached to the wood tightly and beautifully. The main products of Chuon Ngo are: mosaic cabinets, mosaic beds… and simple products such as: chessboards, wall paintings, chopsticks, trays… Recently, due to market demand, the profession of mosaic craft here has thrived to supply goods throughout the country and export to foreign countries.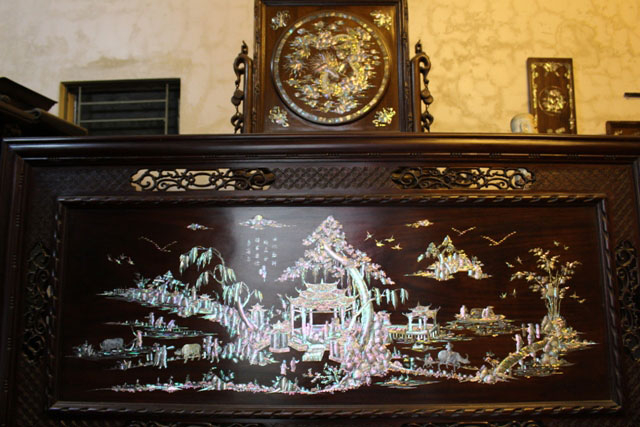 Products of Chuon Ngo pearl mosaic craft village
Van Phuc Silk Village Ha Dong – Hanoi
Although only about 10km from the center of Hanoi city, this village on the Nhue river still retains the features of a traditional craft village such as the image of an ancient banyan tree, a well, a communal courtyard, and still in the afternoon. market meeting under the banyan tree in front of the communal house. Stepping to the village gate, I heard every "clack" of the looms coming from the weaving workshops.
The ancestor of silk weaving in Van Phuc is named Le Thi Nga, and now there is a temple to worship her in the village. Van Phuc silk is famous for its "smooth face, cool hands". Various silk products: Van Phuc silk, silk silk, silk silk, cinnamon silk, brocade… Van Phuc silk is not only consumed domestically but also exported to many countries. countries in the world.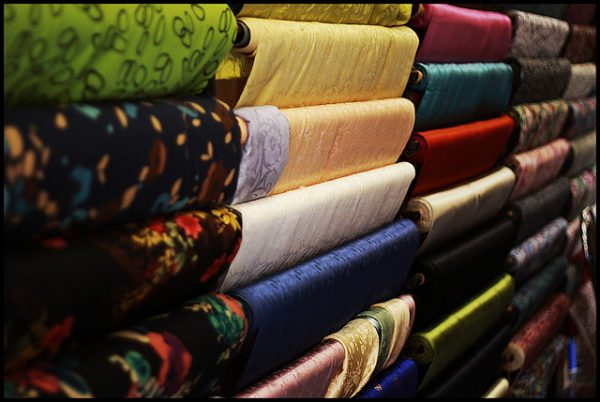 Van Phuc silk products
Dong Ky wooden handicraft village – Bac Ninh
Dong Ky wooden handicraft village is a famous craft village since ancient times. Dong Ky is now in Dong Quang commune, Tien Son district, Bac Ninh province, about 20km northeast of Hanoi. Dong Ky craft village provides almost a full range of high-class fine art wood products for living, interior decoration or worship…
The products from Dong Ky are made from precious woods such as: mahogany, rosewood, incense, ebony, nu, sua… With an income of hundreds of billions of dong/year, Dong Ky handicraft furniture production has created jobs. jobs for thousands of laborers not only from the village but also attract workers from other places.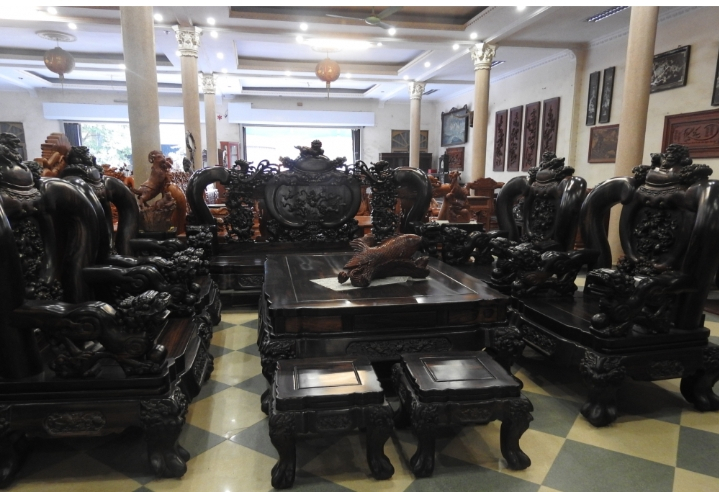 Products of Dong Ky wood craft village
Dong Ho Folk Painting Village – Bac Ninh
Dong Ho is a famous folk painting village in Vietnam, Dong Ho belongs to Thuan Thanh district, Bac Ninh province. Folk painting here has existed for a long time. In the past, the village only painted paintings to sell during the Lunar New Year, but now, Dong Ho folk paintings are painted even on weekdays to serve tourists. The raw materials for painting are dó paper and the colors are: young bricks, leaves, and roots burned into charcoal. In order for the painting to be iridescent, people use seashells and clams to make lime, make small imitations, mix it with tree sap, spread it evenly on dó paper, and then start painting.
Dong Ho folk paintings have many areas such as animal paintings: dogs, cats, buffaloes, cows, chickens, pigs… the array "catching coconuts; mouse wedding; fighting jealousy" is very pleasing to the eye. expressing the desire for peace, happiness, prosperity… so it is often hung in the house during the spring holidays.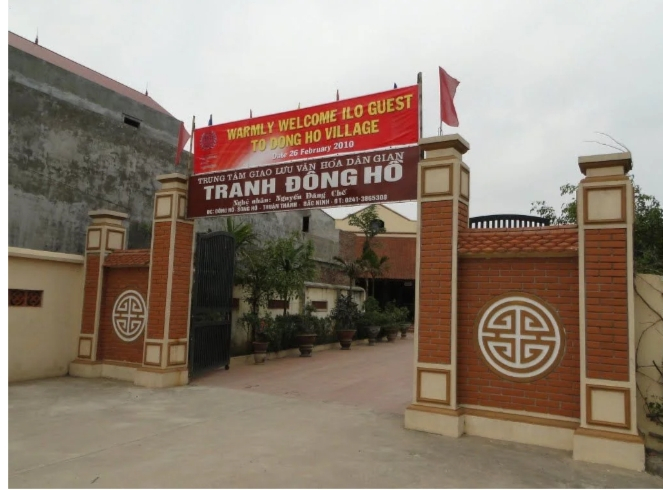 Dong Ho folk painting village
Chu Dau Pottery Village – Hai Duong
Chu Dau pottery village in Thai Tan commune, Nam Sach district has been famous in the world for more than 500 years. Chu Dau ceramic products are being kept in many national museums around the world such as Turkey, France, Belgium, Japan, the Netherlands… and in private collections of many countries around the world. One of the highlights of Chu Dau pottery is the pattern lines. Chu Dau's ancient patterns are mostly lotus and chrysanthemums, in many different forms and dozens of other stylized patterns.
Experts highly appreciate Chu Dau ceramics from appearance, enamel, textures, decorative patterns… all of them are perfectly beautiful. Chu Dau pottery is shown in many forms such as drawing, engraving, painting, embossing, which are liberal, lyrical, harmonious and sophisticated. The motifs and patterns on the ceramic show boldly the cultural identity of the Vietnamese nation. It is the natural scenery and life of the residents of the Red River Delta such as the scene of shepherds herding buffaloes, birds perched on flower branches, schools of fish swimming in the water, thatched roofs along the river… high, that is broaching, shaping on the turntable, breaking the product into several stages, then reassembled and processed. The products are shown on white enamel, blue enamel, or three-color enamel.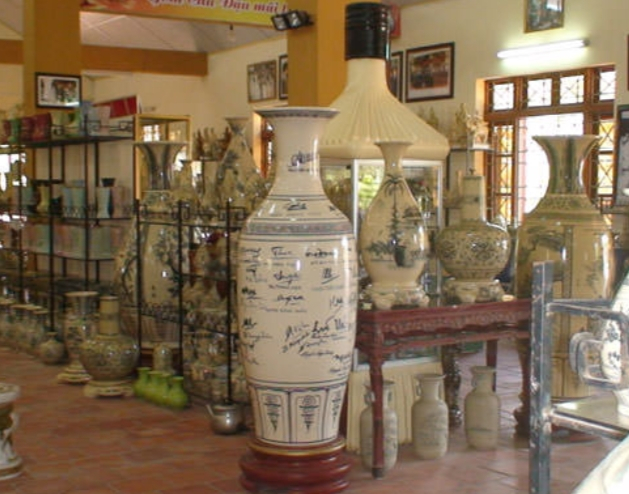 Master Beans Ceramic Products
Ke Mon Jewelery Village, Thua Thien – Hue
Ke Mon village in Phong Dien district, Thua Thien – Hue province is a famous goldsmith village for more than 300 years. The ancestor of this craft village is Mr. Cao Dinh Do, from Cam Tu village, Cam Thuy district, Thanh Hoa province, who migrated to Ke Mon village at the end of Lord Nguyen Phuc Khoat's life. During the reign of King Quang Trung, Mr. Do was summoned to the palace to set up a body of silver statue specialized in making jewelry for the Royal Family. During the reign of King Gia Long, Cao Dinh Do and Cao Dinh Huong (his son) were kept as silver statues until their death (1810; 1821).
Jewelery products in Ke Mon are famous for their good quality compared to many other places with sophisticated workmanship and sophisticated carvings made by experienced, skillful and creative craftsmen. , most evident on jewelry such as rings, bracelets, rings, bracelets, necklaces, earrings in gold or silver.
Over the past few hundred years, thousands of Ke Mon villagers have left the village and are present, first in the Imperial Citadel of Hue (to work in the Imperial Guard of the Ngan Tuong), then in most urban areas. major towns and markets of the whole country and later reaching out to the world. Goldsmithing became the livelihood of the people of Ke Mon, the profession of gold-making spread from here to all over the country. Not only that, the Ke Mon villagers also spread their traditional craft around the world to promote their homeland. Currently, the US state of Texas has 40 gold holding establishments of the Ke Mon people.
In Hue, jewelry products are displayed at "Tinh Tam Kim Co", in the traditional craft festivals of Hue, Ke Mon villagers attend. Ke Mon village has many family churches with all 16 churches, these are the families who have contributed to opening the village as well as developing the jewelry industry. And every year, on the 27th day of the second lunar month, they all hold anniversaries and meet to improve their skills.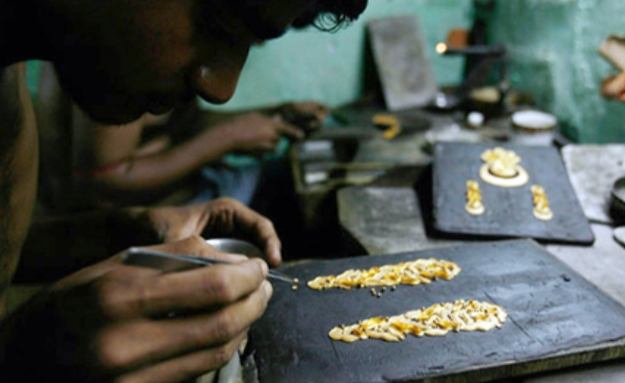 Artisan Kim Hoan Ke Mon
Kim Bong Carpentry Village, Hoi An – Quang Nam
Kim Bong is a famous wood carving village (carpentry village) since ancient times. Kim Bong is in Cam Kim ward, Hoi An city. Carpentry here originated from the North, was learned by carpentry artisans of Kim Bong village, combined with the carving art of the Cham, China and Japan to create wooden sculptures with unique characteristics. high aesthetic and philosophical. Kim Bong's wood carving products have been present in many families, localities in the country and many countries in 5 continents.
Today, on Kim Bong land , there are artisan titles for a number of skilled carpenters. In the alleys of nearly 1,000 roofs of this famous carpentry village, there are still activities of wood carving, civil furniture making, house building… Especially here, the craft of building 10-ton sea-going boats. up to 20 tons for customers from Quang Nam – Da Nang to Binh Thuan is quite developed. In addition, the Kim Bong workers also actively contributed to the protection, restoration and restoration of Hoi An ancient town relics. In general, like many traditional craft villages in the country, Kim Bong carpentry village still preserved, handed down techniques and continued production, but still in the state of providing products within the locality, have not yet found a large consumer market, so it cannot be fully exploited. potential, precious capital available.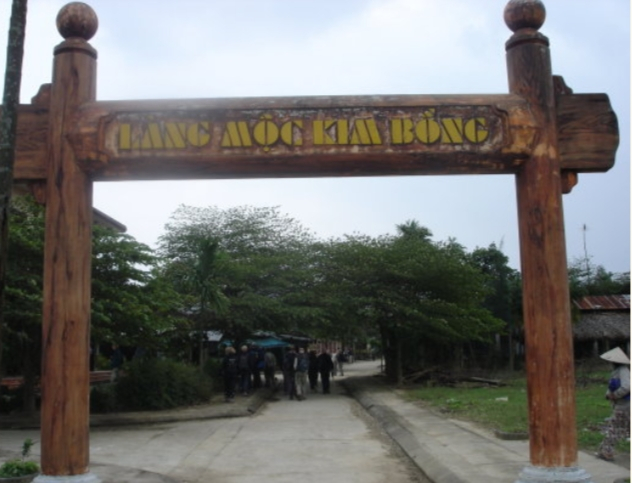 Kim Bong Carpentry Village, Hoi An
Tuong Binh Hiep Lacquer Painting Village – Binh Duong
The most famous in Binh Duong lacquer painting village is Tuong Binh Hiep painting village , located 7km north of Thu Dau Mot city. Coming here, visitors will witness each stage of the traditional lacquer craft only in Vietnam. With hundreds of households making lacquer paintings, some households only do one or two stages of the painting and then hand it over to other households to do the next stages.
It can be said that in Tuong Binh Hiep , the profession of lacquer painting has been industrialized with clear production lines but completely family, delicate and gentle with Asian style. Binh Duong lacquer paintings are loved by Vietnamese and international art lovers to buy and hang in the house solemnly.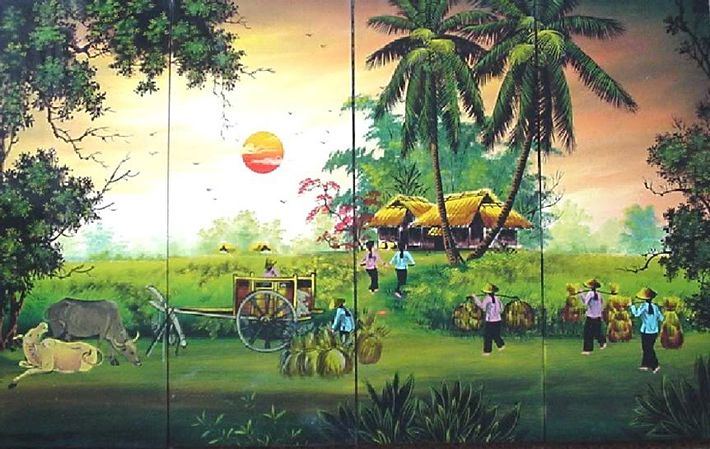 Tuong Binh Hiep lacquer painting products
Traditional craft villages have existed for a long time and developed over time of our nation, which is a process of preserving, promoting and constantly creating our ancestors. It is also a beauty in the precious tradition of the nation.
Photo: Internet
TAG: