The Golden Flower Town of Dak Nong
Gia Nghia is one of the youngest cities of Vietnam, also known by its lovely name – "golden flower town".
On January 1, 2020, Gia Nghia town was officially recognized as a city. The young city of Dak Nong is calm and pleasing to the eye with its four sides of hills, constructions, irrigation lakes, and green valleys. For a long time, Gia Nghia has been known for its lovely name – "golden flower town" thanks to the successive seasons of flowers blooming all year round. Wild sunflowers, yellow phoenixes, and canary flowers are grown here, taking turns blooming, dyeing the mountain town yellow.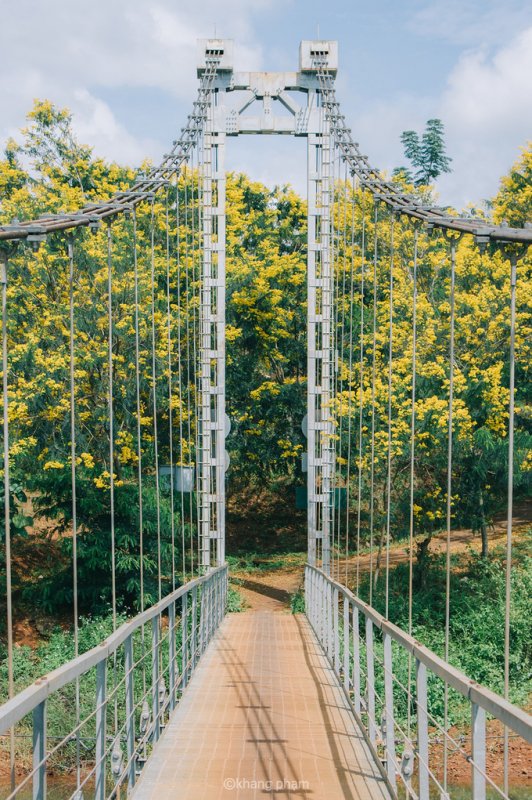 Yellow flowers bloom in Gia Nghia. Photo: Khang Pham
Pham Cong Khang, born in 1999, shares photos of the canary flower season in Gia Nghia on social networking groups and receives much attention from the community. The young car mechanic currently lives in Ho Chi Minh City, loves photography and wants to use this passion to promote tourism for his homeland. "I have witnessed the golden flower seasons of Gia Nghia for a long time, but it was not until I saved enough to buy a camera that I had the opportunity to record beautiful scenes and share so that more people knew about my hometown," said Cong Khang. See pictures that you like.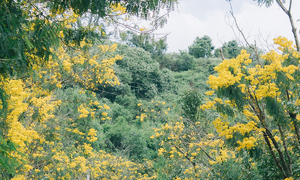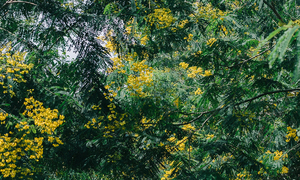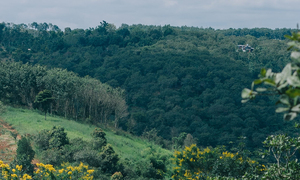 According to Khang, canaries and yellow phoenixes are grown the most, especially on key roads because of the suitable climate, the trees are easy to grow. The area that grows the most flowers is the administrative center of the province located on a small hill. During the blooming season of yellow flowers around late September, early October, this area becomes an eye-catching yellow area that can be seen everywhere. "For the people of Gia Nghia, the yellow flower season is the most beautiful season, the climate is fresh with the autumn sunshine driving away from the torrential rains," Khang confided. In addition to the flowers mentioned above, Dak Nong also has wild sunflowers blooming along Highway 14 on the way to Gia Nghia. In October and November, yellow flowers bloom on both sides of the road, attracting all eyes of both locals and tourists.
Cong Khang's photo series "Golden Flower Town" has received 2,200 likes on the travel group. Due to the nature of his job, he cannot take pictures often, but he always tells himself that every time he returns to his hometown, he must take a lot of photos so that the "golden town" will welcome many tourists from near and far to visit. than.
Chiayi City is peaceful, developing day by day. Photo: Khang Pham
In the space filled with golden colors, Gia Nghia also attracts visitors from far and away because of its mild and cool climate all year round and the typical culture of the Central Highlands with gong festivals, specialties such as bitter egg, leaves. Beep, cloud buds, sour soup of Giang leaves… Besides Gia Nghia, Dak Nong also has many places to visit such as Ta Dung tourist area, Lieng Nung waterfall, Chu B'Luk volcanic cave… Follow vnexpress
TAG: