10 delicious fish species of Vietnam that many people love
With a dense network of rivers and a coastline of more than 3000 km stretching from North to South Vietnam, there are extremely rich and diverse seafood sources, especially fish species from freshwater to saltwater and brackish water. Fishing and fish farming has brought great income for fishermen thereby improving their quality of life, not only that, but fish dishes are also very nutritious and beneficial to health. Here, let's find out with Toplist about 10 delicious fish species of Vietnam.
Snakehead
Snakehead fish, also known as fruit fish, is a type of fish that is loved by many people because of its sweet taste, benign, low fat, containing many minerals and vitamins to supplement energy for the body. Snakehead fish is not only a rich processing material but also an effective medicine. Snakehead fish has a sweet, benign taste that helps to eliminate feng shui, yin, generate new fluid, and strengthen the bones and viscera. This is a dish not to be missed in the daily meals of people with lung disease because this fish has the effect of helping to replenish blood, dissolving mucus stuck in the throat. In addition, the high content of vitamin A in snakehead fish helps restore health to those who have just recovered from illness, increase milk benefits for pregnant women, and cure dry blood.

According to Oriental Medicine, snakehead fish is cold, so it is often cooked in summer dishes to limit heat diseases caused by hot weather. Snakehead fish is everyone's favorite fish and is chosen as food to prevent incurable diseases (heart disease, cancer …) because of its low fat, many minerals, and vitamins. Especially, black snakehead fish is one of the nutritious dishes that eliminate free radicals "black food fever" today in the world because they have antioxidant, anti-aging, anti-cancer effects. Snakeheadsweet taste, average, (with soldering book) non-toxic. Has the effect of reducing low, except for leprosy, emphysema, clearance, yin, new fluid, tonic tendons, bones and organs. Treating women with dry blood and after gynecological surgeries with little milk, tonic blood, beneficial kidney and yang, good use in case of lung diseases because it has the effect of eliminating phlegm, tonifying lung. Used to supplement after getting sick because it is easy to absorb. According to seasonal nutrition, snakehead fish is suitable in summer and summer to reduce the heat generated by the hot season. Shen Nong drafted snakehead fish in the top class.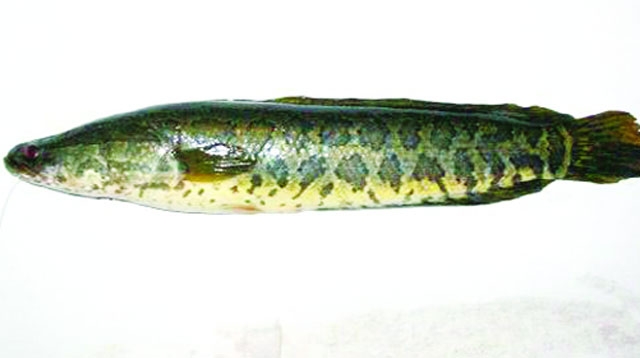 Snakehead
Goby
Goby fish is popular in the Southwest region. The characteristic of this natural fish is that it has a long, cylindrical body, the body is covered with small and clear scales. The color of this fish is gray, slightly yellow in the body and quite small in size. This is a fish with high nutritional value, good for health, so it is trusted by many families to supplement food for family dishes. In Vietnam, fish are concentrated in the Mekong Delta, especially in Soc Trang, Bac Lieu, Ca Mau, and Kien Giang, suitable for brackish water canals and ditches. Fish are also raised in salt fields. The fish spawns naturally in the coastal mudflats, the spawning season is from 4 to 9 months. Goby meat is very popular because of its softness, freshness and slightly bitter taste, but very delicious to eat. How to cook goby fish The famous dish of the Southern people is goby braised with laksa leaves, goby hotpot or braised goby with pepper.
Goby fish is rich in protein, low in fat, rich in Vitamins B2, D, E, PP, full of minerals such as: Ca, P, Fe, S, Fe, P… It is these nutrients that help improve resistance , increase energy efficiency for a healthier body. Goby under goby has a sweet taste salty, average, effects Pi conditions of peace talks, nursing care, healthy tendon, artery, aquatic, safe pregnancy, taking milk … Use goby very well help cure damaged spleen eat poorly, full stomach slow digestion, cough phlegm, edema, rheumatism aches and pains, pregnant and lactating women, fatigue, blood loss. Goby Only eat plankton, algae, so the meat is delicious and clean, has high nutritional value, and is easy to process into many rustic dishes such as hot pot, grilled with salt and pepper, braised, fried or cooked in soup… Although we still Usually eaten every day, but few ears know that just combining goby fish with some other ingredients can cure all diseases.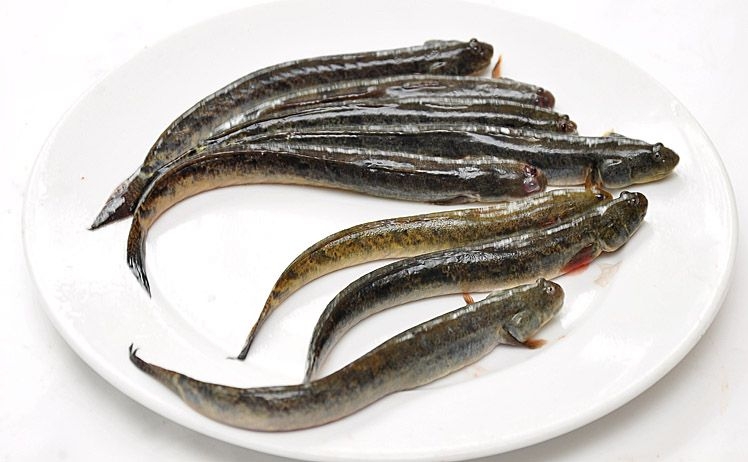 Goby
Gobies
Goby fish is familiar to Vietnamese people since the time of fairy tales. Ms. Tam in "Tam Cam" The goby only lives in brackish water; fresh water in rivers, streams or ponds, lakes, canals. Four g fish is most concentrated in the Central and Southwest regions and is a popular dish of the people here. Goby is very easy to prepare, its flesh is firm and very fragrant; Delicious and attractive dishes from goby, including dried braised goby and a little more pepper, cannot resist the attraction.

Goby is a common name for many species of fish (white goby, black goby…). In the South is goby fishThe statue, belonging to the breed of black goby, can weigh up to several kilograms, the meat is thick, delicious, when processed, it is white like chicken, has the toughness and sweet taste. Quang Ngai region is very famous for Tra river goby specialties. The scientific name is Acanthogobius flavimanus, the English name is Spotted goby, which is classified as an aquatic product of high economic value in our country, usually processed fresh, dried, and fried. Goby fish is a precious food and has healing effects. Goby is rich in protein, low in fat, has vitamins B2, D, E, PP and minerals Ca, P, Fe, S, Fe, P, Ca. According to Oriental medicine, goby fish sweet, salty, average, on the spleen and kidneys. It has beneficial effects on spleen and gas, harmonizes, tonics kidney and liver, strengthens bones and bones, acts on blood vessels, drains and accumulates stagnation, benefits water, and improves health. Goby fish is used for cases of physical exhaustion, weakness of limbs, cough, asthma, poor digestion. On the other hand, the amount of collagen that is abundant in ball fish has the effect of promoting health and beauty. Goby fish is considered an ideal food for women's skin, reducing problems such as dry hair loss, dry skin, dandruff…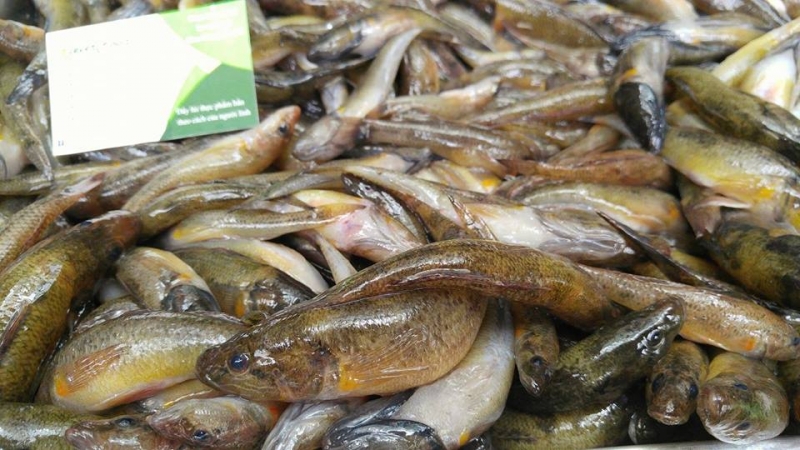 Gobies
Perch
Perch lives mainly in freshwater, the meat of the perch is delicious and has high nutritional value. Field perch (scientific name is Anabas testudineus) is a common freshwater fish in rural areas of Vietnam. The fish meat is quite fatty, slightly chewy, and the proportion of meat is very high. According to Oriental medicine, perch has a sweet, average, non-toxic taste. It has beneficial effects on the spleen and stomach, cures leprosy, lowers blood, helps with vitality, benefits tendons and bones, makes people feel healthy, relieves headaches and aches and pains. tired…

Copper perch As one of the nutritious foods, in 100g of perch meat contains: water 74.2g, protein 19.1g, lipid 5.5g, ash 1.2g, trace minerals such as calcium 16.4mg, phosphorus 151.2mg, Fe 0.25mg, vitamin B1 (thiamin) 0.01mg, B2 (riboflavin) 0.1mg, nicotinic acid 1.9mg, it provides 126kcal. Perch meat has high nutritional value, is fragrant, chewy, fatty but not greasy, easy to digest, and is preferred by many people. From perch, people process into many delicious dishes such as perch braised with soy sauce, grilled perch, crispy fried perch, oblong perch with laksa leaves, all kinds of perch soup, perch vermicelli, perch vermicelli, etc. also attractive. Not only in the countryside but people in urban areas also like the delicious taste of dishes made from perch., especially perch soup and vermicelli. In the past, our folk used to cook perch soup with vegetables and ginger to nourish the blood and improve the health of the sick. By cooking and boiling perch, removing the bones, sauteing ginger and marinated fish, then stir-frying vegetables, boiling soup, it is very good to eat hot. You can also use perch cooked with rice paper, eaten hot to treat colds, bloating, indigestion…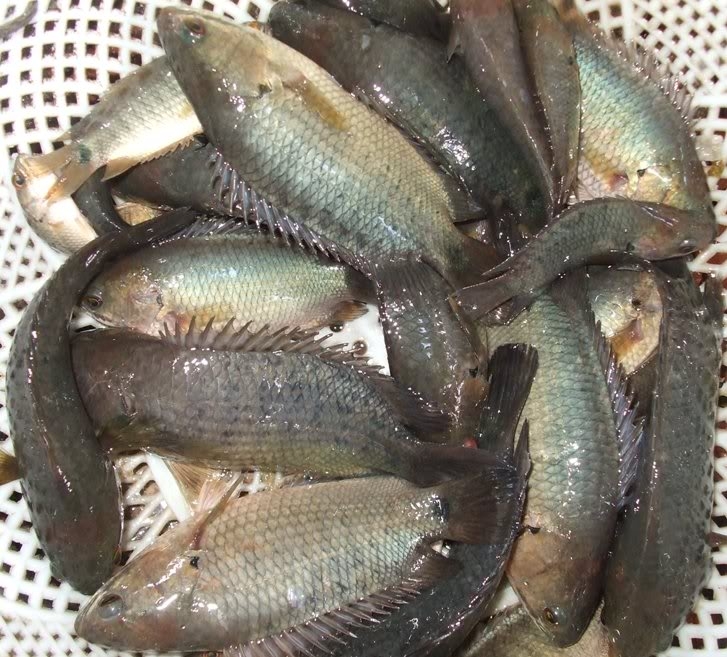 Perch
Red tilapia
Red tilapia, also known as red tilapia, is a delicious, healthy white fish that can be processed into delicious and nutritious dishes that many people enjoy. Recent documents show that flamingo has high nutritional value, rich in protein, vitamins A, B, D and minerals such as phosphorus and iodine, less fat than meat, so it is easy to digest. Red snapper is a common fish in the provinces of the Mekong Delta region of our country. Red tilapia is a type of fish with delicious meat quality, the flesh of red tilapia is white, clean, the fibers are firm and especially the meat does not have too many bones. Especially fish with high-fat content should eat very fatty. Red tilapia are often processed into delicious and attractive dishes such as: Steamed red snapper with soy sauce. Red snapper fish cooked in a hot pot of red snapper. Grilled red snapper with lotus leaves. In addition, red snapper is used to make other common dishes such as boiled, fried, fried, braised dishes…
Red snapper is a popular fish in the market. The meat of the red tilapia fish is sweet, average, non-toxic, has the effect of tonic blood, is beneficial for the spleen and stomach, and benefits the five internal organs … It is used as a supplement for many debilitating diseases, especially the elderly and debilitated, children with stunted growth. Slow growing… Because red snapper meat is quite fatty, when stocked, it won't be able to create the delicious taste of fish, so the most attractive way to prepare this fish is to cook red snapper soup or steam it with spices such as ginger, onions, etc. chili will be delicious…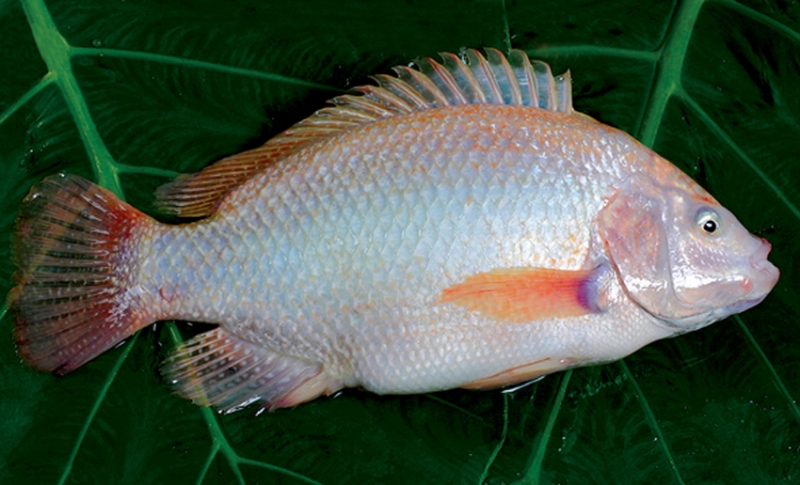 Red tilapia
Salmon Sapa
Salmon is considered one of the most nutritious foods on the planet because it not only contains Omega-3 fatty acids but also contains many other vitamins and minerals. High in nutritional value, salmon has numerous benefits for the entire body. In Vietnam, salmon is raised in Sapa . Due to the quite high difference compared to sea level, Sapa is usually cool all year round, especially cold winters when the temperature drops below minus degrees, so the quality of salmon in Sapa is not inferior to other countries. imported salmon. The survival feature of rainbow trout is living in a "dynamic water" environment, the temperature is below 15 degrees, so all the water in the ponds is led by 1,000m of pipes from Silver Falls to the fish farm.

With delicious taste, beautiful pink meat, high nutritional value, salmon is a favorite dish of many families. Unlike imported salmon, which are often fatty and greasy, salmon raised in Sapa has firm meat, beautiful pink color, firm texture, low fat and high nutritional value. Salmon is processed into many attractive dishes by the people of Sapa such as salmon salad, grilled salmon, sashimi, salmon cooked with curry… The characteristics of Sapa salmon is that it has a lot of meat, it is delicious and fresh with the same taste. Characteristic that cannot be confused with any other fish. A special note when cooking Sapa salmon is that you should not cook it for too long because it will make the fish meat dry and lose its taste.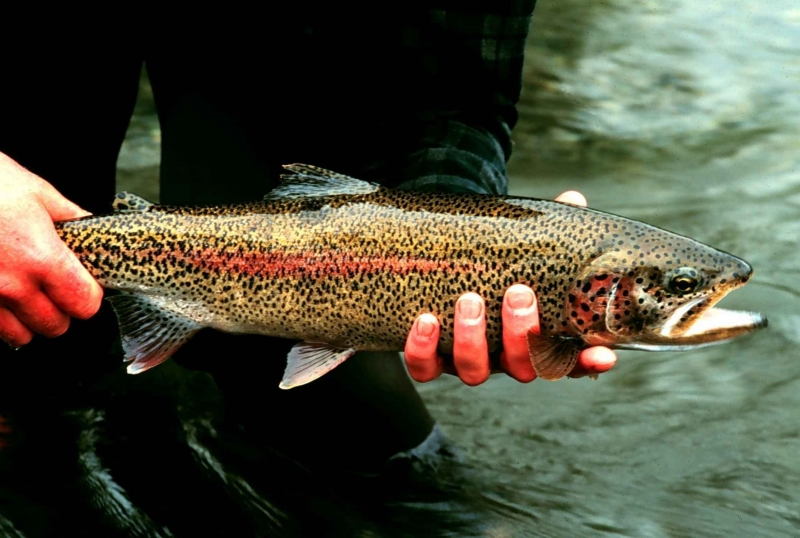 Salmon Sapa
Green pickled fish
Da river blue girdle fish is a precious fish, once known as "the five precious gems of the sea", one of the five rare and difficult-to-find fish in legends. It can be said that enjoying Da river blue girdle has become the passion of many people looking for and hunting for blue girdle in the Da River. There are people waiting upstream to buy fish to treat guests. Some people are engrossed in hunting for fish that have just been caught by the fishermen, regardless of day or night. Blue beam fish usually live in the bottom of rivers, especially rivers and streams of the Northwest mountains. The fish has a thick mouth and has green iridescent scales. The food of the green pickled fish are organic detritus, algae and small invertebrates in the river bottom. Every year, during the spawning season, the blue giraffe often crawls into caves to lay eggs. Blue giraffes belong to the carp family and are seasonally migratory.
Fish have very long intestines, 10 times the length of the body. Another special feature in green girdle fish is that the meat is sweet and fragrant from the time it is small as a finger until an average weight of 6-7kg, unlike other fish, which is only delicious when the weight is large. Moreover, the meat of the fish also contains a lot of nutrients such as protein, protein, calcium, fat, minerals, vitamins… The fish can be processed into many different dishes such as salad, hot pot, grilled, cooked. porridge. But the most delicious is still the steamed or braised Da river green beam fish .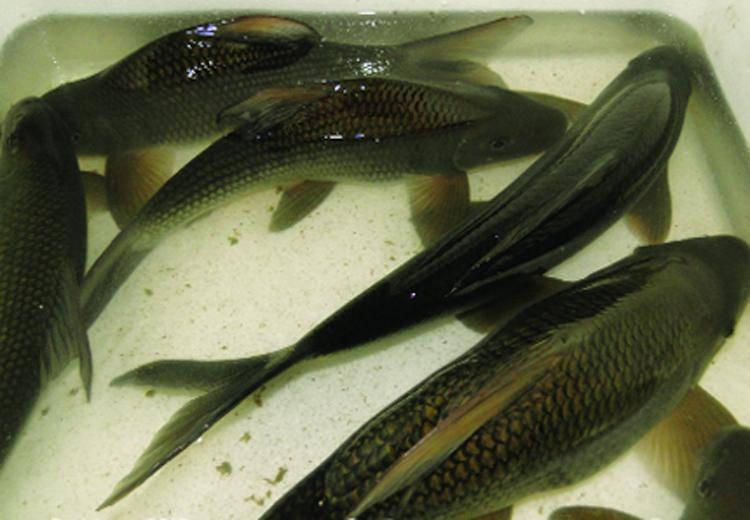 Green pickled fish
Basa Frish
Basa fish is a catfish, similar to catfish, has a sweet taste, is average, has the effect of nourishing blood, giving birth, helping gas, reducing pain… Eating basa fish is very good for children with stunting and growth retardation. , pain in bones and joints, weak physiology, premature graying of hair and diseases related to bad blood and qi. Fish Basa is fish product exported from Vietnam to key markets in European countries and America. Basa fish is a type of catfish, mainly living and popularly cultured in the Mekong Delta. The most attractive dish made from Basa fish meat is sour soup or braised fish.
Basa – like other white fish – is a good source of high-quality protein. Protein plays an important role in the human body, including the growth of the body's tissues and the production of key enzymes. bass fish has high nutritional value because it contains a lot of protein, DHA, EPA and is low in fat and cholesterol. – which means it contains all nine essential amino acids that you need from your diet. In the past, few Vietnamese people knew the value of pangasius, while foreigners loved it because they knew that this fish had a high nutritional value, not inferior to deep-sea fish, especially fat. fish. In the composition of fish fat, basa, unsaturated fatty acids account for a very high percentage (over 80%). In the fat of pangasius, basa, the content of saturated fatty acids is low, there is no cholesterol, so it is very good for health. Particularly for women, when eating pangasius, the iron element in this aquatic species is very easy to assimilate, making the body slimmer. Eating fatty fish or fish fat that women are not fat is…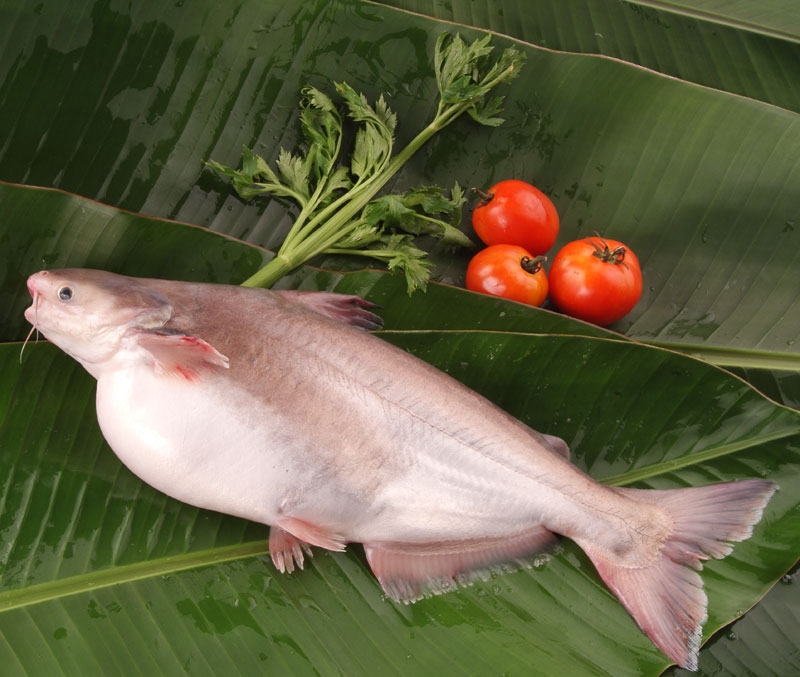 Basa Frish
Tuna
Tuna is a fish with a very high nutritional content, the meat has a delicious taste, so it is chosen by many families. Tuna meat can be used to process into many different attractive dishes such as braised, steamed, fried or served with a very attractive sauce. Since the 20th century, tuna fishing has developed, then imported fishing methods from abroad. Great benefits of tuna Health benefits can be attributed to the impressive content of vitamins, minerals and organic compounds found in this delicious fish. They include antioxidants and protein, without a lot of saturated fat or sodium. It also has very impressive levels of selenium, phosphorus, iron, magnesium, and potassium. In terms of vitamins, there's plenty of vitamin B12 and niacin, as well as large amounts of vitamin B6 and riboflavin…
The amazing benefits of tuna include its ability to reduce cardiovascular disorders, stimulate growth and development, lower blood pressure and cholesterol levels, and aid in weight loss. Tuna also has the ability to strengthen the immune system, increase energy, aid in skin care, increase red blood cell count and prevent cancer. It also protects against various kidney diseases, prevents age-related macular degeneration, reduces inflammation in general, and inhibits cell membrane damage.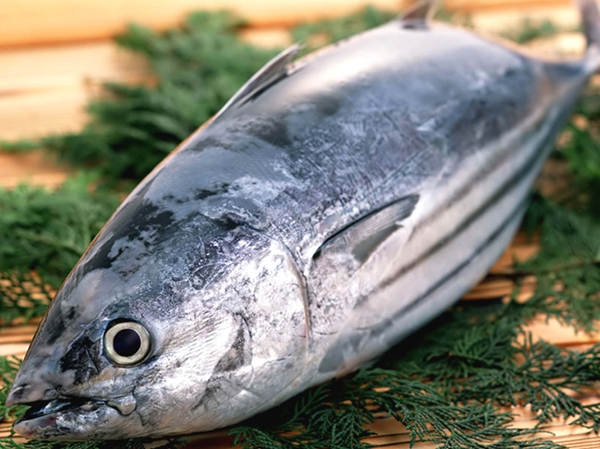 Tuna
Ray
Stingray is a very popular fish with the people of the Central Coast in particular and the Vietnamese in general. Stingray has a fan shape, long tail, moss green skin. Stingray meat is rich in nutrients: Protein, lipid, calcium, phosphorus, Fe, Na, Potassium; vitamins A, B1, B2, P, C… are expensive because the meat is delicious. According to Oriental Medicine, stingray has a sweet taste, is average, slightly toxic, has the effect of treating painful urination, white turbidity, cystic urine, "white skin", inflammation of the testicles, vulva due to low temperature… Treatment of hypothermia, urethritis, urinary nephrolithiasis, adnexitis, colitis, hepatitis, jaundice, conditions related to hypothermia, blood stasis, pain. There are many types of sea ​​rays such as stingrays, swallow rays, cotton rays, lotus rays.
This type of fish, when hunting, often hides on the sandy bottom of the sea, so the sea people invented a way to scuba dive using a long handle with many small spikes like a bicycle toothpick to tattoo and catch fish. Depending on the region, the way to cook stingray is not the same. It can be said that all the delicious dishes made from stingrays such as grilled salt and pepper, cooked with coconut water curry, hot pot, banana um, fried roll, pepper stock… every dish sounds delicious, looks good too. Stingray is often cooked with tamarind by Southern people. However, if you want to eat this dish, you must use cooked rice. The sour taste of cold rice is both mild and delicious, and stimulates digestion very well, making us eat well. However, to cool off in the hot season, the stingray dishCooking sour soup is very popular. Big fish, tough and delicious meat than small fish. And fish liver makes an important contribution to increase the palatability of the dish. If the cod liver is fatty, the fish meat is soft when chewed, but the most interesting and attractive are the cartilage-filled pieces of fish bones, chewing well. Stingray is a delicious food that contains many nutrients and promotes health for the body, so people love it.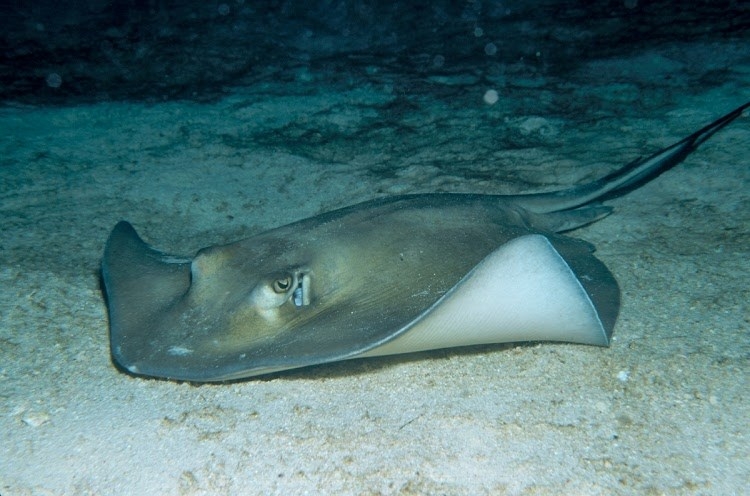 Ray
Above are the delicious fish in Vietnam. Hopefully the article has provided readers with useful information about the delicious fish available in our country. Try processing these fishes to treat your family on weekends or holidays.
TAG: