15 Vietnamese Traditional Cakes You Must Try In Your Life
Coming from different regions, over time, Vietnamese traditional cakes have gradually affirmed their position in the hearts of food lovers. Guess how many types of traditional cakes are in Vietnam and where do they come from? What types of cakes have been associated with your childhood? Have you ever thought of recreating that kind of cake yourself? Let's look back at the quintessence of Vietnam through simple cakes to find yourself a culinary inspiration!
Vietnamese cakes are derived from natural ingredients from traditional agriculture such as rice, glutinous rice, corn, noodles, potatoes… Over time, the cakes are cared for more meticulously and become symbols. Icons of Vietnamese cuisine. Cakes with the most simple and familiar names such as Banh Tet, Banh Chung, Banh Beo, Banh Khot, beefcake, Gai cake, Banh Xeo, cast cake, … have been associated with many generations. Try to see how many of the traditional Vietnamese cakes you have eaten!
1. Banh Chung – Banh Tet represents Vietnamese traditional Tet
The reason these two types of cakes are always together is that they have the same characteristics. These are two types of traditional Tet cakes, representing the two regions of the South and the North. With the same ingredients: sticky rice, bacon, green beans, bananas, … the taste of Banh Chung – Banh Tet is quite similar. Inside the layer of sticky rice, there are many different kinds of fillings: bacon, bean, banana, … Banh Chung is square in shape, wrapped in dong leaves, and Banh Tet is long cylindrical and wrapped in fresh banana leaves.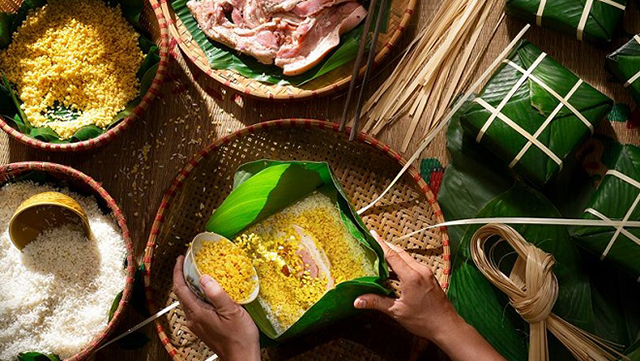 2. Banh beo – Features of Central cuisine
Banh beo is very popular in the Central region. Depending on the location, banh beo also has different names and characteristics: Quang Ngai, Hoi An, Hue (old town cake beo), Quang Nam,… Characteristic is Quang Nam and Hue banh beo. . 
Banh beo Quang is usually big, thick, eaten with a paste of meat, minced shrimp, chives, when eaten, add a little fried onion and minced chili. Hue beo cake is thinner, with dried shrimp powder, served with deep-fried pork skin and served with fish sauce. Banh beo has a round and flat shape because the rice flour is molded from a small cup.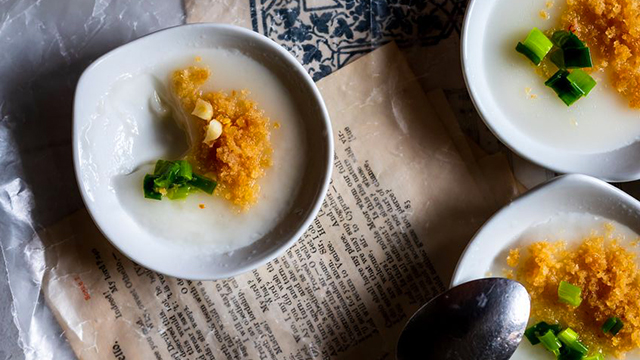 3. Banh Xeo – "Vietnamese Pizza" 
Banh xeo , this name makes you imagine the "sizzling" sound when pouring a rack of pancake batter into a hot fat pan. Depending on the preferences and natural characteristics of each region, each place has a different way of making pancakes. However, the basic ingredients of the cake remain unchanged such as pancake flour, bacon, shrimp, carrots, mushrooms, bean sprouts, etc., served with vegetables and dipped in fish sauce. The only difference is the form and taste of the cake.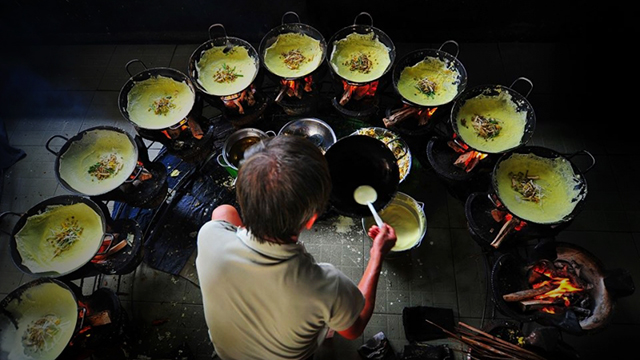 Western pancakes with large size and golden outer edges, thin to crispy. Central pancakes with a more compact and thicker crust. The most special is the new, new and innovative shrimp pancakes from Nau with small size and lots of shrimp. Vietnamese pancakes are favored by Western tourists as "Vietnamese pizza".
4. Spring rolls – A breakfast dish bearing the impression of Hanoi people
Banh gio – a popular cake in the North, is eaten at any time whether morning, afternoon or evening and is very popular with Southerners. Hot spring rolls with melted rice flour wrapped in wood ear and ground meat, sometimes with quail eggs. There are many places to eat spring rolls with spring rolls and cucumbers and add a little chili sauce for flavor.
5. Pig skin cake is associated with childhood in the Southern region
Pig skin cake is a famous snack cake in Southern morning markets.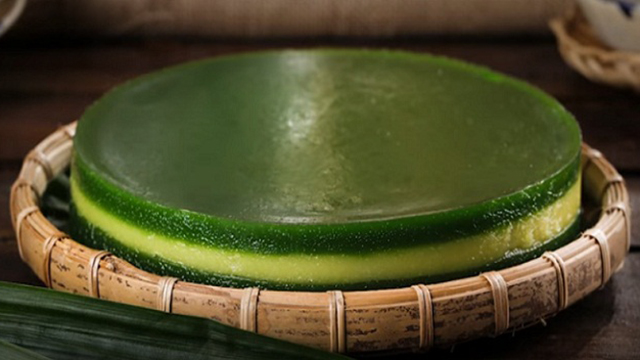 Cakes made from tapioca flour, green beans, pandan leaves, … usually have 2 layers of yellow from green beans and green pineapple alternately, large loaves and are cut into pieces when sold. The cake is supple and fragrant, and some people are very excited to eat it in layers.
6. Filter cake – Cake of many origins
When coming to Hanoi, people here will introduce you to this is a specialty of Hanoi. But when coming to Hue, people say this is a specialty of Hue. Filter cake everywhere becomes a very popular dish because of its simplicity, rustic but bold Vietnamese character.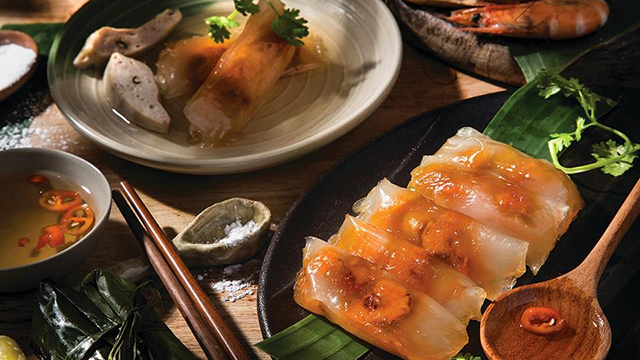 Cakes are made from refined flour or tapioca flour, with a variety of fillings according to each region. There are places where shrimp are used, there are places that use ground meat and wood ear, and green beans. The cake is usually wrapped in banana leaves (or not wrapped), and brought to a boil, served with non-fragrant green onions and fish sauce.
7. The familiar little cake in the Central region
Little ceiling cake is a famous cake in the Central region. There are usually two types of cakes, which are shrimp paste and mung bean paste. The little cake is bare without wrapping the leaves, bare as its name suggests.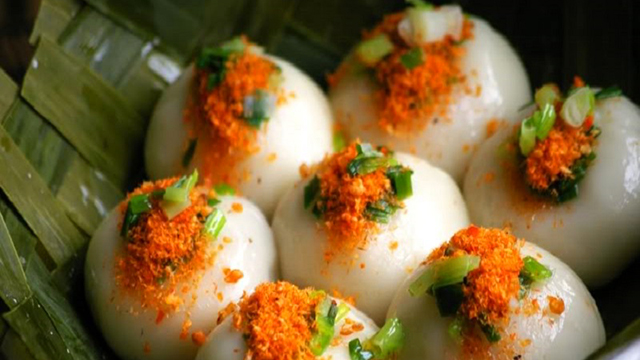 Just eat about 3 capsules at a time and you will feel full. The cake is made with fish sauce and there are places to eat sour food from white radishes and carrots to fight boredom.
8. Banh xeo with the brand name Quan Ganh, Hanoi
Day cake – a traditional cake made by Vietnamese people to express their gratitude to heaven and earth. The place associated with banh day is Quan Ganh (old Ha Tay, now part of Hanoi).
Non-stuffed day cake is the most popular type, soft and supple white, eaten with spring rolls, beef rolls, cinnamon rolls… In the South, this type of cake is called banh giay sandwich .
9. Thanh Tri's hot spring rolls go to the king
Hot rolls are one of the delicacies presented to the 18th Hung King. Up to now, there are many names for hot rolls: Thanh Tri, Hai Phong, Lang Son, Phu Ly,…
The cake is made from fragrant rice flour, coated with a thin layer and wrapped with meat, wood ear and sometimes cassava, chan and fish sauce. Usually hot rolls are served with the same price, a little herbs and various kinds of spring rolls, cinnamon rolls.
10. Orange cake – cuffed cake of children in the West
Orange cake, banh cuong are snacks that are too familiar to children in the West. This type of cake has the characteristic of being crispy for a long time, not easy to soften after frying like other cakes.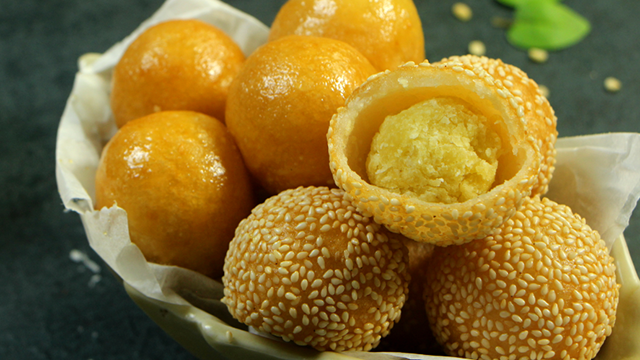 Cake made from glutinous rice flour and rice flour. Banh cuong is usually round, without filling. Orange cake is round and flat and contains green bean paste inside. The outer layer of sugar has two types: sticky sugar candy and white slug sugar.
11. Popular wedding cakes in Vietnamese weddings
Banh phu thi (banh xuyen) is a traditional Vietnamese sweet. The cake is both crispy and chewy thanks to the filter powder, the lumpy feeling of the young coconut stalks, the greasy and fatty filling of the mung bean paste, the gentle aroma of pandan leaves and the coolness of white sugar.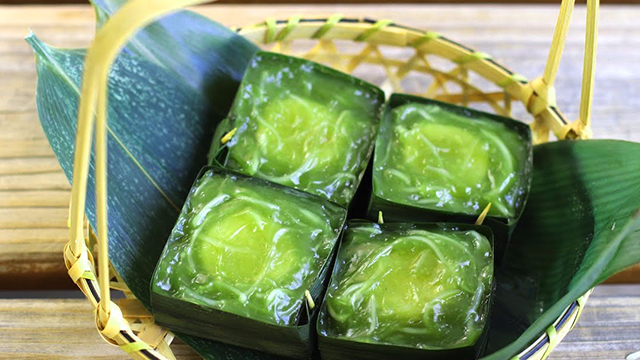 This is the type of cake often present in the wedding trays. Like the name, the cake means to wish happiness and prosperity for the couple.
12. Banh Dieu – a gift from Vietnamese rice
Another traditional dish made from rice grains. At the temple during the 7th lunar month, the temple often cooks a lot of vegetarian cakes  to offer to sentient beings, then for the Buddhists to receive blessings.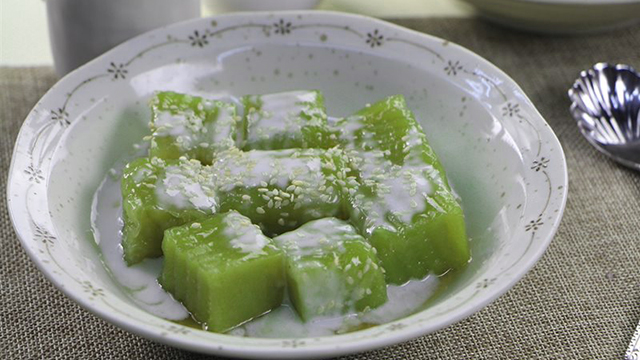 The method is quite simple, the rice flour is stirred and boiled, to thicken and cut into pieces when eating. There are many types of cake: peanut cake, corn cake, coconut cake…
In the North, people often eat cake with soy sauce. In the Central and Southern regions, banh chung is also added with stir-fried minced pork with carrots or mushrooms, mixed with fish sauce.
13. Quai cauldron cake is associated with school age
Quai cauldron cake is a popular savory cake in Vietnam, the cake has the flavor of the central sea region, especially Binh Thuan, the most popular is fried quai flap cake.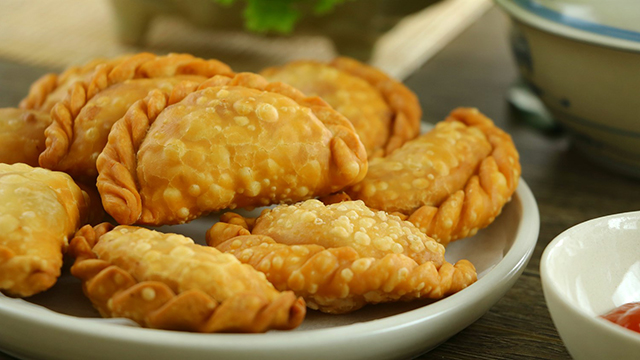 The cake is shaped like a cauldron handle, inside the filling can contain shrimp, meat, when processed. The crust is made from flour (and tapioca), folded into a semicircle, the edges of the cake will be wavy.
14. Banh gio dipped in honey (banh troi) to celebrate the Lunar New Year
Banh gio, also known as banh tro, is most famous in Ha Nam island, Quang Yen town, Quang Ninh province. It is a type of cake often used on the annual Lunar New Year. 
Ash water for making cakes is specially made from many different plants depending on the region such as: amaranth, sesame, bamboo shoots, sticky rice … Rice is soaked in ash water for one night to create a beautiful amber color. dry. The cake is wrapped in dong, banana or hot leaves and cooked.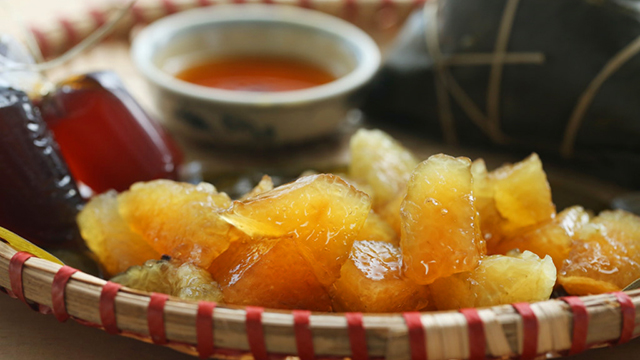 (Wallpaper source: Zing.vn)
The cake has a light sweet taste, the rice is clear, flexible and irresistible, often eaten with honey to increase the delicious taste. 
15. Big pig ear cake with generations of Vietnamese people.
From North to South, everywhere knows pork ear cake , a type of snack cake, crispy. The name is formed from the round, flattened shape resembling a funny pig's ear.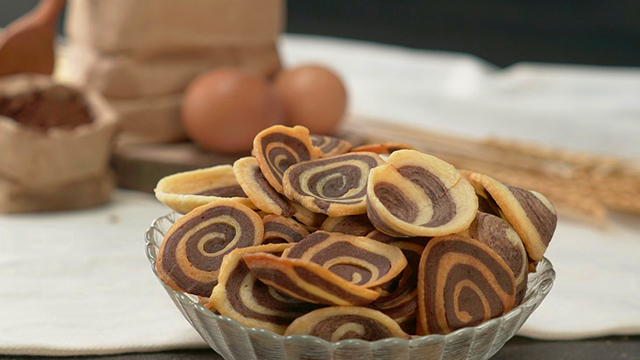 The cake is made very simply by mixing flour with eggs, half mixed with cocoa powder, alternating thinly sliced ​​and fried until golden brown. Although the pig ear cake is simple, it follows the childhood of many people and becomes an unmistakable special cake.
How many of these 15 traditional Vietnamese cakes have you eaten and made yourself? Let's recreate these cakes when you have the opportunity to maintain this culinary beauty!
TAG: