Gate of Troi Waterfall in Xuan Quy Commune is an attractive destination for tourists
Not only Sam Son beach, but Gate Troi waterfall in Thanh Hoa is also an extremely ideal cooling spot on hot days without fear of crowded people.
About Heaven Gate Waterfall in Thanh Hoa
Gate of Heaven Waterfall is a famous eco-tourism area of ​​Thanh Hoa located in the area of ​​Banana village of Thai people, in 2 communes of Xuan Quy and Hoa Quy of Nhu Xuan district, Thanh Hoa province, and 10km from Yen Cat town. and about 150km from Hanoi's capital.
The waterfall is formed from large and small streams flowing on the top of Bu Mun mountain 1000m above sea level, when it flows to Hoa Quy commune, it forms Dong Quan waterfall when it flows to Thanh Lam commune, it forms Thanh waterfall. Lam and the main stream flowing to Xuan Quy, the people in the village named Heaven Gate Waterfall.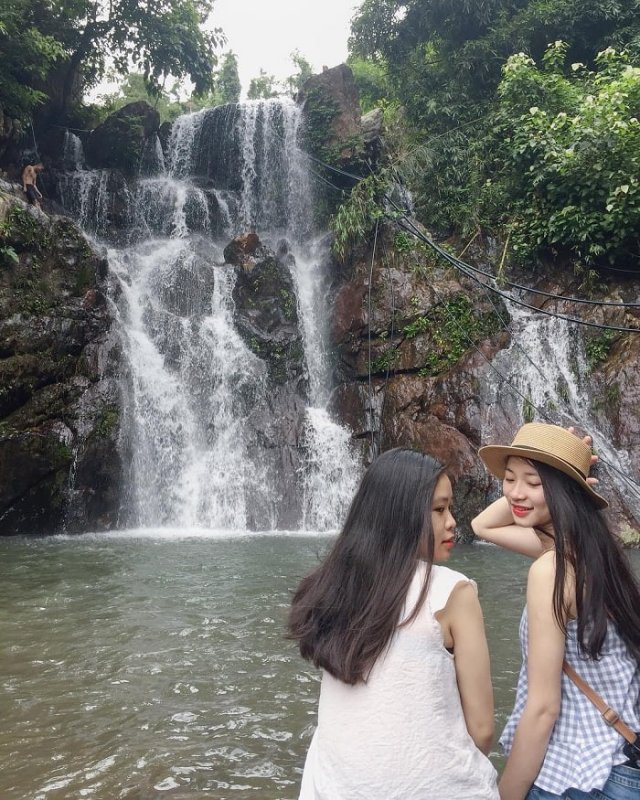 The waterfall originates from the top of a high mountain (Photo @chanchan.kt22)
The majestic and poetic beauty of Heaven Gate waterfall in Thanh Hoa 
Located deep in the vast jungle, surrounded by ancient trees, but Heaven Gate waterfall is still not overshadowed, but adorned, becoming more and more prominent with the water flowing down from the top of 200m high. Into the white foam rock, making the whole space as well as being immersed in a layer of mist. Especially on rainy days, a lot of water pours in, making the waterfall seem to roar angrily in a corner of the sky, looking extremely attractive.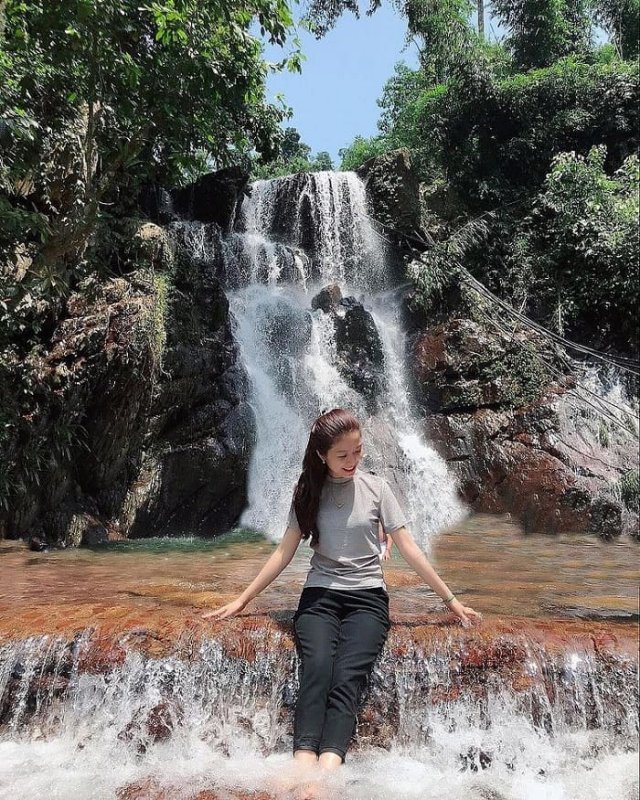 The waterfall falls straight down (Photo @le.dung_1004)
The interesting thing is that no matter how violently the flow above is, when it comes to the water, it is so peaceful and quiet, like two separate worlds being separated by a transparent glass door. And then those smooth currents continue to weave through the rocky crevices and pour into a lake about 10m wide, about 20m long below, forming a soft white curtain.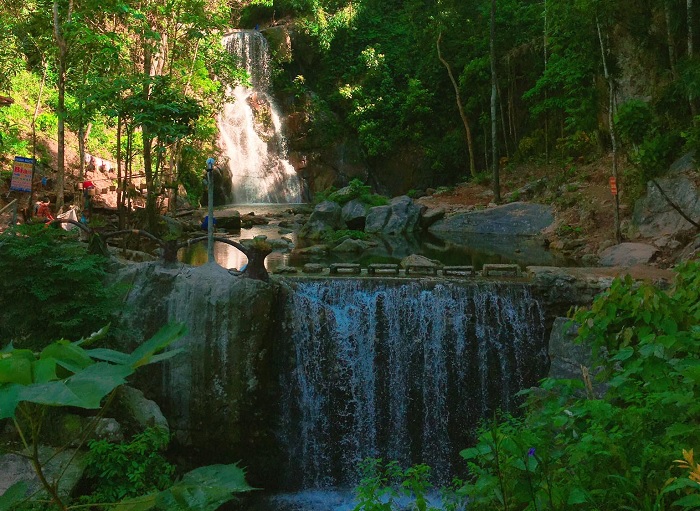 The waterfall flows in 2 unique floors (Photo FB Ha Thuy Duong)
Revealed, this lake is not too deep, only about 3m, is clear as if you can see the bottom and is extremely cool, so visitors can comfortably immerse themselves here to dispel the sweltering heat of summer. Or simply sitting on the giant rocks floating in the middle of the lake and then putting your feet in the water and watching the water on the Heaven Gate waterfall in Thanh Hoa are flowing smoothly is enough to make you forget all your worries. .
If you like to challenge yourself with more excitement and strength, you can climb the rocks above and then jump into the lake to swim. Of course, this activity is only for those who are professionals and those who are not afraid of heights, if you are on the "weak" team, you should not try it.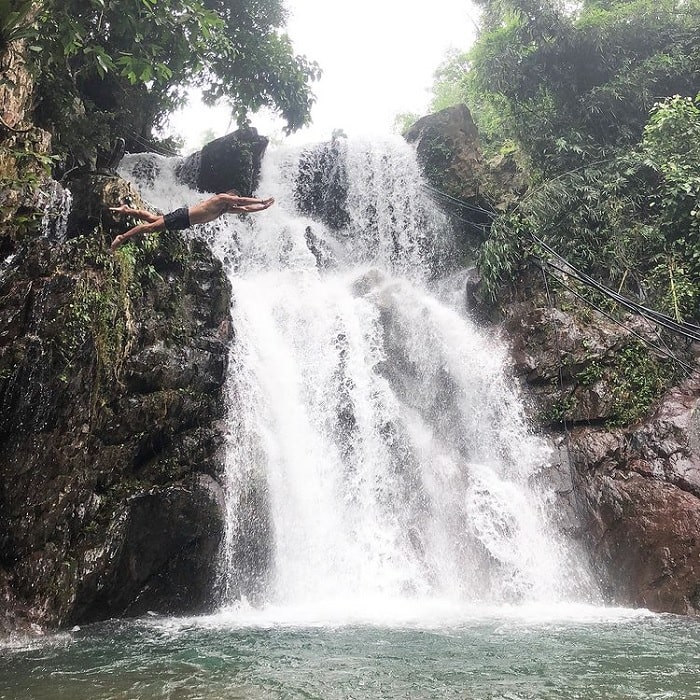 Jumping from above is quite interesting but also quite dangerous (Photo @korakk)
After bathing and swimming for a lifetime, you can follow the winding paths around the Heaven Gate waterfall to see the beautiful primeval vegetation here such as: forest orchids. colors, precious medicinal plants such as Ha Thu O, Tho Phu Linh, Hoai Son, Cinnamon … fragrant and countless precious trees such as chi, green ironwood … straight up to the sky like musketeers. strong.
Or go to the top of the waterfall to see the vast, majestic scenery of the mountains and forests adorned with a few colorful butterflies fluttering and listen to the birds chirping behind the trees combined with the murmuring water. creating a lively mountain and forest symphony to soothe all fatigue.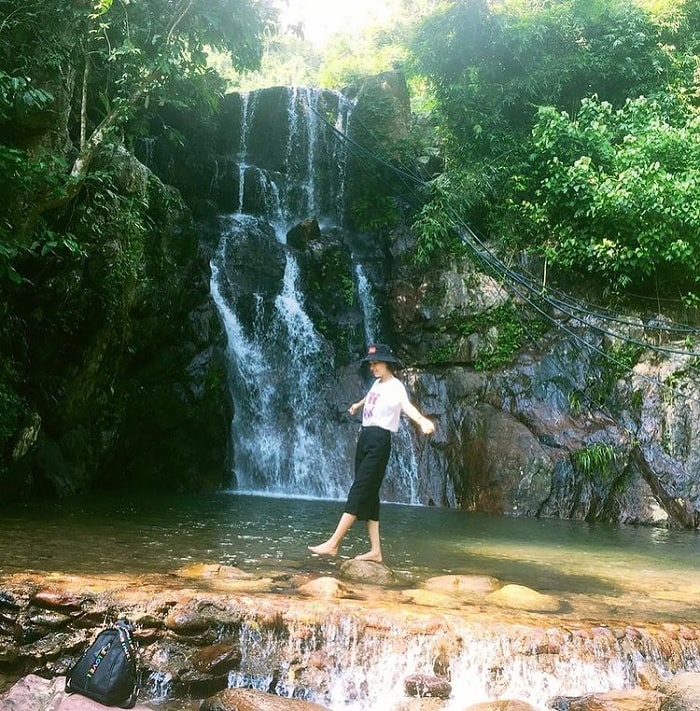 Visiting around is also quite an interesting experience (Photo @erica__tran)
When we are tired of visiting, we go back to the foot of Thanh Hoa Heaven Gate Waterfall to enjoy delicious meals to refuel. Revealing, you can bring marinated and grilled food directly by the stream, you can also buy unique specialties here such as: grilled buffalo meat, fried spring snails with lemongrass, grilled hill chicken, lam rice, Duck gourd cooked with sour bamboo shoots, stone frogs, bitter bamboo shoots and wild vegetables… with a cool glass of beer, it can only be said to be "perfect".
How to go to Heaven Gate Waterfall in Thanh Hoa?
From Thanh Hoa city center, you go east to Le Loi Boulevard / National Highway 1A towards Nguyen Hieu, to Chim Hac roundabout, then take the 1st exit onto Hung Vuong Avenue and then turn right to enter. West belt. At the intersection with Nguyen Huu Canh Street / National Highway 45, you turn left, then go straight and then turn left onto National Highway 15 / Ho Chi Minh Street, to Nhu Ngoc restaurant, turn right and go about 3km to the waterfall. Heaven's Gate Like Spring .
Some notes when visiting Heaven Gate waterfall in Thanh Hoa 
According to the travel experience of many people, the ideal time to explore Heaven Gate Waterfall is summer, because the cool air of young water and trees here will help you blow away the sweltering heat. of the sun.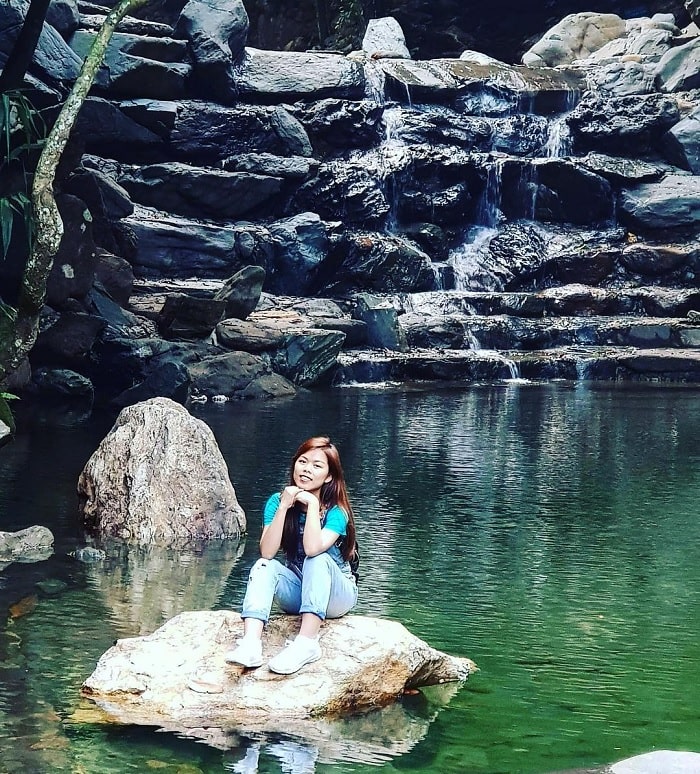 Summer is the best time to visit the stream (Photo @selina_mai_269)
– Remember to monitor the weather forecast before deciding to go to the waterfall because in the rain the road is quite slippery, quite dangerous, will not guarantee your safety.
– Should bring a change of clothes if you intend to take a bath, food and water are also necessary if you want to have an outdoor picnic by the waterfall at noon and should bring insect repellent to prevent forest mosquitoes. quite toxic.
– Especially, before going home, remember to clean up the garbage you have thrown out to return the inherent clean and pure look to the waterfall.
If you want to forget the hustle, bustle and heat of the bustling city, then Heaven Gate Waterfall in Thanh Hoa is the ideal relief point for you.
Photo: Internet
TAG: