The list of delicious restaurants in Mui Ne that are super crowded
The specialty dishes in Mui Ne always make diners fall in love. However, how to find a place to eat delicious, nutritious, and cheap food is not a simple matter, especially for those who have just set foot here for the first time? Therefore, in order to help you have the easiest and most complete culinary discovery experience, this article will share a list of famous restaurants in Mui Ne. Let's consult now!
Summary of delicious restaurant addresses in Mui Ne
1. Phan Thiet Quang Noodles
Where to eat when traveling to Mui Ne?  If you have not found yourself a suitable destination, then consider the time to visit Quang Phan Thiet noodle shop. Although this is a famous dish of Quang, when it joined Mui Ne, it was well-received by many diners and became an attractive dish here. The special feature of the restaurant is that it creates a standard delicious taste, but there is something that still creates a unique feature that not all shops have. Therefore, this is considered one of the most favorite delicious restaurants in Mui Ne. A bowl of Quang noodles here includes soft and chewy noodles, a piece of richly marinated pork, aromatic spices, along with herbs and raw vegetables to help the dish be less greasy, finally indispensable. That's the hot broth. All are blended together, creating an irresistibly delicious taste. Guaranteed, once you eat it, you will want to come back and enjoy it a second time.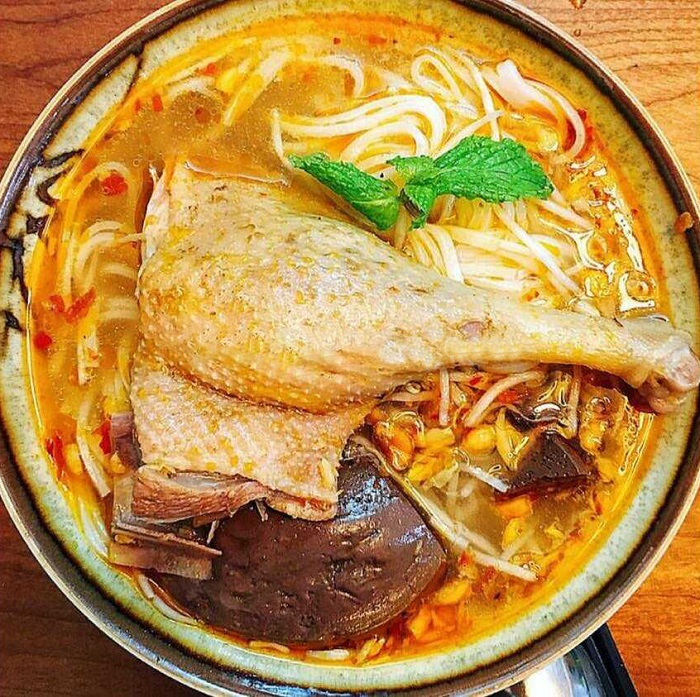 Enjoy delicious Quang chicken noodles in Mui Ne (Photo: Kenhhomestay)
Address of Quang Phan Thiet noodle shop: Located at 129 Tran Phu, Phan Thiet.
Hours of operation: From 7am to 9pm every day.
2. Ham Tan ham shop
To be able to fully explore the culinary quintessence of Mui Ne , Ham Tan Cha Loi Restaurant is also a name you should not miss. Because this is the address of a delicious and famous restaurant in Mui Ne that  is known by many people. Although it is not a luxurious or expensive dish, the dish here creates an unusual attraction. A full set of spring rolls here includes a lot of side dishes such as grilled spring rolls, spring rolls, raw vegetables, eggs, cucumbers, mango, … and indispensable sweet and sour dipping sauce. All blend together to make diners fall in love.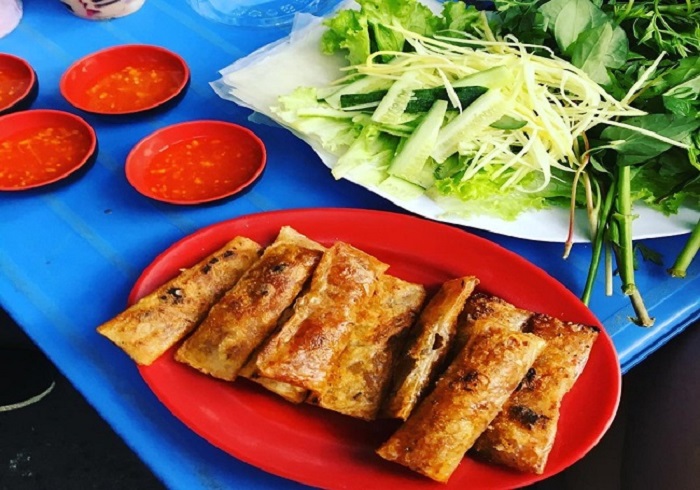 Ham Tan ham is the most favorite delicious snack (Photo: Vietfuntravel)
Address of Ham Tan fried rice restaurant: Located on Tran Hung Dao street, Mui Ne (Near Rang Dong company)
Opening time: From 4pm – 10pm.
3. Tu Minh pub
Another delicious restaurant in Mui Ne for tourists is Tu Minh pub. True to its name, the restaurant specializes in drinking dishes and the main ingredient is seafood. Coming here, you can order attractive dishes such as: Steamed clams with lemongrass, grilled shackles with salt and pepper, seafood hotpot, grilled scallops, grilled oysters,… With a convenient location, located near the shore Ca Ty river embankment, so the space is airy and cool, along with super cheap drinks, helping this place to always be crowded, even on weekdays.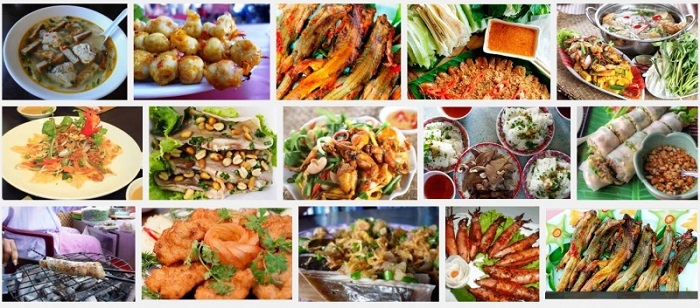 The rich menu of Tu Minh pub (Photo: Toplist)
Address of Tu Minh pub: Located in the area of ​​street 17-19 Pham Van Dong, Mui Ne.
Opening time: Operating from 8am – 23pm.
4. Ca Ty hot pot restaurant
If you want to find a delicious and affordable restaurant in Mui Ne , Ca Ty hotpot restaurant is a perfect choice. The restaurant is decorated not too luxuriously, but with a spacious area, cool space, very suitable for drinking meals with friends. Coming to Ca Ty hotpot restaurant, fish hotpot dishes are the specialty here, with a separate recipe, creating an irresistibly delicious taste. A fish hot pot here only ranges from 200-300k / pot for 2 people is full. Another plus point for the restaurant is the enthusiastic, attentive service staff, quick operation, so even though the shop is always crowded, you don't have to wait too long.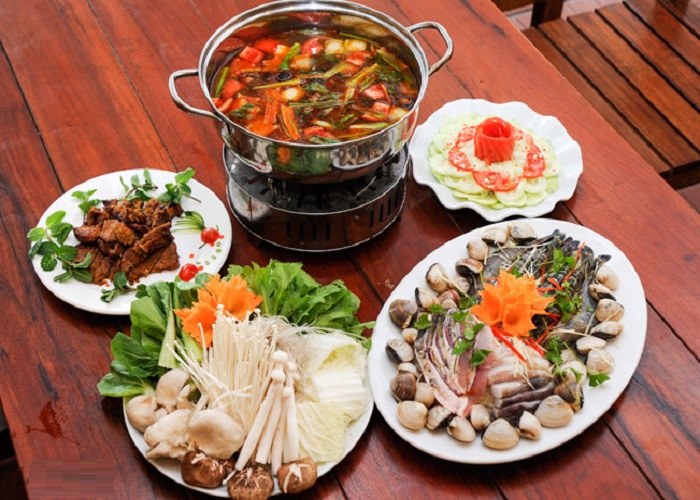 A table of hot fish hotpot at Ca Ty hotpot restaurant (Photo: Bocatvang)
Address of Ca Ty hotpot restaurant: Located at 34 Chu Van An, Mui Ne.
Opening time: From 9am to 10pm every day.
>See more: Full, detailed Mui Ne travel experience from A – Z
5. Ngoc Suong Mui Ne Restaurant
Are there any good restaurants in Mui Ne?  Of course, there is and Ngoc Suong Mui Ne is the dining spot that you should go to. It is known that this is a famous and famous restaurant and restaurant in Mui Ne,  with its location near the sea, a beautiful view is an ideal place to enjoy delicious meals and watch the sea at night. The restaurant menu is quite diverse, rich for you to choose from, but the most prominent is still sea specialties. The dishes are prepared according to the restaurant's own recipe, so it creates a delicious, new taste, along with an eye-catching dish layout, always creating an impression for diners when coming here. Guaranteed, if you have the opportunity to enjoy the food at Ngoc Suong Mui Ne, you will not be disappointed in your decision.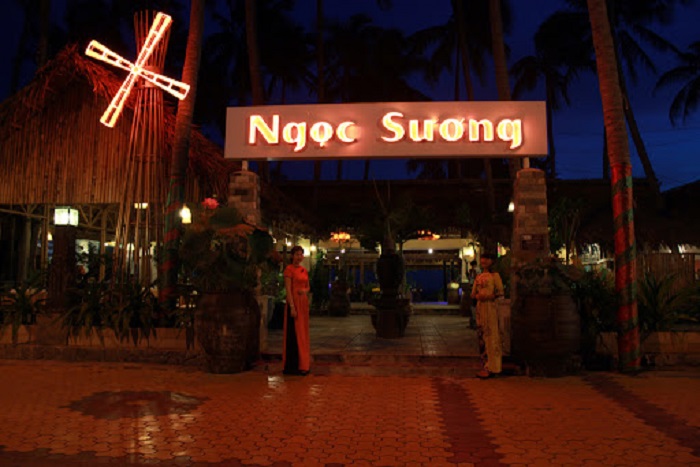 In the evening, Ngoc Suong restaurant is decorated with impressive and shimmering lights (Photo: Foody)
Ngoc Suong Mui Ne restaurant address: Located at 94 Nguyen Dinh Chieu, Mui Ne.
Opening time: From 9am to 10pm every day.
6. Be Hieu Restaurant
Traveling to Mui Ne  , seafood dishes are always the mainstay, and Be Hieu restaurant is an ideal dining spot for tourists. Here you will see giant fish tanks, with many species of seafood swimming, you can choose your own ingredients and ask the chef to make your favorite dishes. In particular, although it is fresh and quality seafood, the price is affordable, so Be Hieu restaurant is always known as a delicious restaurant address in Mui Ne that attracts a lot of diners. Surely, enjoying seafood here you will not have any criticism, but on the contrary, you will want to enjoy it next time.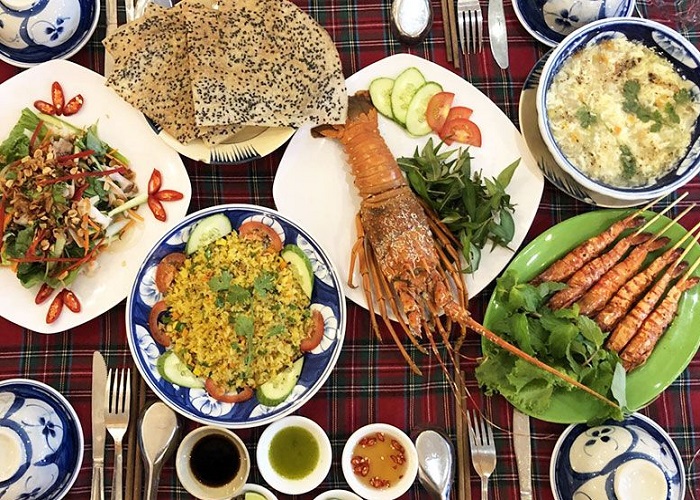 Discover fresh seafood at Be Hieu restaurant (Photo: Foody)
Be Hieu restaurant address: Located in Nguyen Tat Thanh street, Mui Ne.
Opening time: From 3pm to 11pm.
As a famous tourist destination, there are many delicious restaurants and eateries in Mui Ne sprouting up to meet the needs of tourists. And with the above suggestions, we hope that you will choose the right dining spot and have the most complete experience. Wish you have a delicious meal!
Photo: Internet
TAG: