Roast duck pho from Lang is strange but delicious
Pho in Lang Son has a fatty broth, fragrant with honey, eaten with roasted duck with golden skin and spicy pickled bamboo shoots.
Referring to pho, people often think of beef noodle soup or chicken noodle soup, eaten with quarts in Hanoi, Nam Dinh. But in Lang Son, a province more than 150 km from the capital, there is a strange noodle dish, associated with the famous specialty of roasted duck.
A hot bowl of pho is served, diners are attracted by the dark, glossy broth. Above are pieces of duck that are cut larger than an adult's thumb, arranged evenly on large sliced ​​noodles, with brown skin. Before eating, do not forget to add bamboo shoots soaked in chili vinegar and raw vegetables. The rich broth is surprisingly harmonious with the sweetness of the meat, the crispiness of the skin, the sourness of the bamboo shoots and the softness of the noodle soup.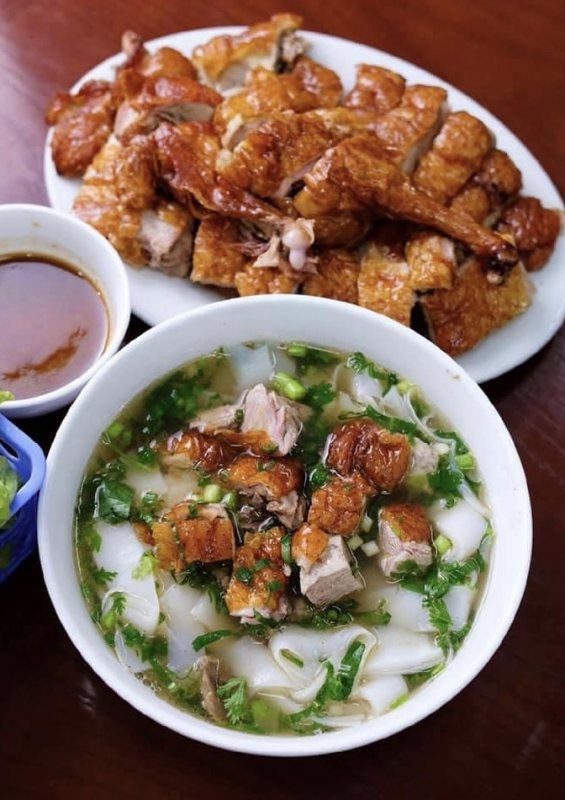 Duck noodle soup has big noodle soup, roasted duck meat is brown. Photo: NVCC .
Ms. Dien (62 years old), owner of Duyen Cuong restaurant, a traditional duck pho restaurant for more than 60 years in That Khe (Lang Son City), said the dish's broth is also simmered from pork bones, onions, ginger, and star anise. , cinnamon, but different from beef pho, chicken pho in that there is more water in the grilled duck. The inside of the roast duck is made from many ingredients such as honey, onions, garlic, lemongrass, soy sauce, and indispensable homemade tofu (rotten tofu). This is also the secret to making the unique flavor of That Khe roast duck.
In addition, explaining why ducks here are more delicious than many other places, Ms. Dien said that it is due to the way they are raised and their food sources, as the saying goes "That Khe white rice with clear water". Ducks for roasting are also selected to be medium-sized, not too old or too young.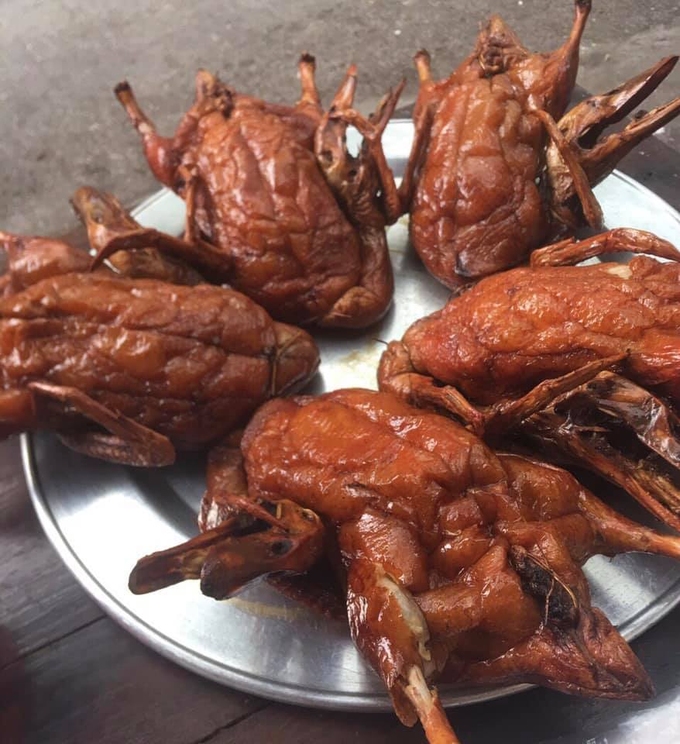 Tofu stuffed in duck makes the unique flavor of That Khe roast duck. Photo: NVCC .
After cleaning the intestines, the cook inflates the duck skin and separates the skin from the meat when grilled. Ducks are washed to decontaminate with alcohol and quickly dipped in boiling water. Both the inside and the duck skin are then spread with a sauce that can be honey or malted soy sauce, depending on the recipe of each house. The duck belly will be stuffed, then sewn and left for a few hours for the spices to infuse, before being roasted over charcoal or in a jar. After roasting, the duck skin will gradually turn brown, shiny.
The pho used in duck noodle soup is imported from Loc Binh in a large chunk, then sliced ​​to about the pinky finger. The thick rice noodle soup when hot broth will be more flexible and delicious. Each bowl of duck pho is sold for between 40,000 and 50,000 VND. In addition to Duyen Cuong restaurant, in Lang Son there is also a Pho Vi Tang or Hai Xom restaurant that is loved by many locals and tourists. Follow vnexpress
TAG: