Grilled chicken with salt and pepper Quang Binh
QUANG BINH – Crispy chicken skin, fragrant smoke, stronger flavor when dipped with the specialty of Phong Nha – Ke Bang people.
Coming to Phong Nha – Ke Bang, visitors can easily come across grilled chicken in any restaurant or eatery. I don't know since when grilled chicken dipped with salt and pepper specialties of Phong Nha people became a dish that invites guests to the land of caves, filling the stomachs of people from afar after adventurous journeys.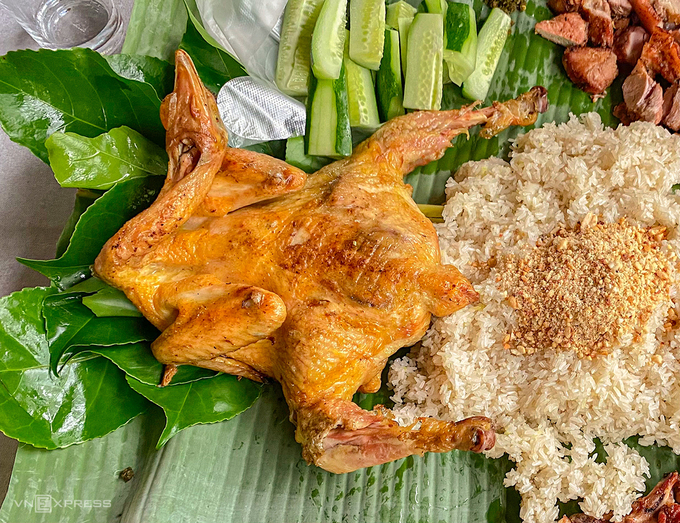 Grilled chicken is pressed flat, not seasoned, when eaten, the flavor of smoke and meat is fragrant. Photo: Trung Nghia
Grilled chicken is pressed to flatten, then grilled on a wood stove, without any spices. The type of chicken chosen is a chicken that is free-range, small but firm, with a fleshy taste when eaten. Chicken must be cooked carefully, because just a little too much will burn, completely lose the delicious taste, crispy golden chicken skin is the highlight of this dish.
After grilling, the chicken is served with sticky rice and some other specialties of Quang Binh such as river fish and grilled pork. The chicken skin is golden, chewy, and delicious, even more, delicious when dipped with the special seasoning of Phong Nha people, which is salt. "Cheo" is the local language of Phong Nha – Ke Bang people to refer to the salted dishes. Cheo is usually made from basil, lemon leaves, wafer leaves, salt, and green chilies, or can be pounded with grilled fish and coriander leaves. This salt has an aromatic, spicy taste, when used, it can add more flavor to the dish.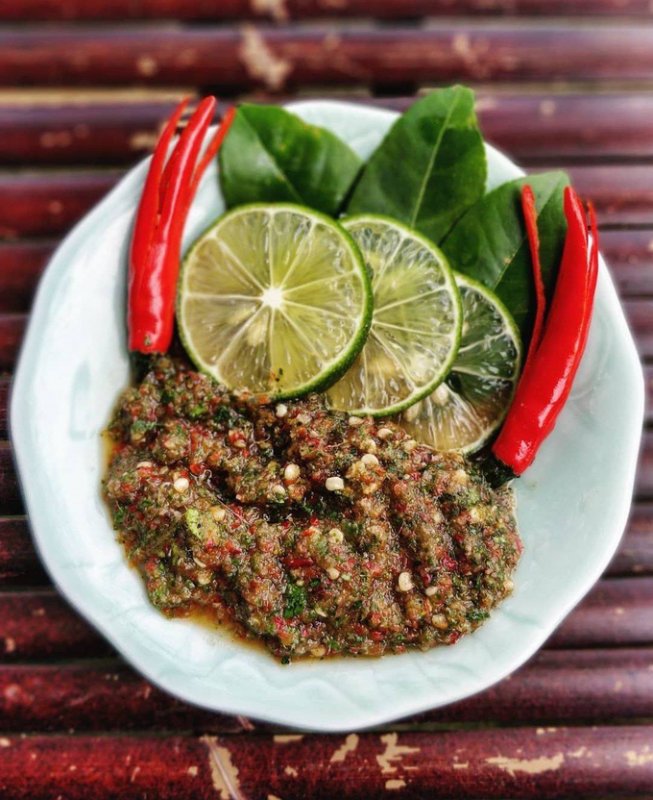 Specialties of the local people. Photo: Oxalis
Diners say that grilled chicken with salt is the best when eaten. The chicken dish has just been grilled, fragrant, broken by hand, causing the fat to melt, stimulating both the taste and the sight. When their hands are still sticky with chicken fat, diners hold more sticky rice, eating both fleshy and firm.
Some restaurants in Phong Nha that you can try this chicken dish are East Hill Phong Nha, where you can watch the sunset on the hill or all foodservice points in tourist areas such as Chay river – Dark cave. , Mooc stream… At East Hill Phong Nha, the grilled chicken will be transported from the barbecue area at the foot to the top of the hill by a pulley, which is also an interesting experience if witnessed with your own eyes. In addition, you can also enjoy chicken with a cold beer at the "local legend" mentioned by The Guardian – The pub with a cold beer by "chicken lady" Nguyen Thi Nhat . Follow vnexpress
TAG: