8 Tourist Destination In Lai Chau Province
Lai Chau is a northwestern border province, about 450 km southeast of Hanoi. This place has many highlands over 1,500m with extremely favorable weather; clouds cover four seasons, the climate is fresh and cool like Sin Ho highlands, Ho Thau, Dao San. In addition, Lai Chau also has many high peaks, rivers, and streams with many famous waterfalls such as Mount Fansipan, Pu Sam Cap range (over 1,700 m high), Da River, Nam Na River, Nam Mu River.
All Things Need To Know Before Travelling To Lai Chau
Lai Chau is a north-western border province of the country, 450 km southeast of Hanoi. The North and Northwest borders with China, Dien Bien province on the west, and Lao Cai and Yen Bai provinces on the east and southeast, and Son La province on the south.
Why Lai Chau Will Be Come More Popular Destination For Tourist?
The terrain is made up of mountains running in the direction of North West – South East. With many high peaks such as Pu Ta Leng peak 3,096 m high. High and sloping hills, alternating with deep valleys and narrow valleys. And the east is Hoang Lien Son mountain range, the west is the Ma river range, between the two mountain ranges is relatively large lowland Da river with many limestone highlands 400 km long running from Phong Tho (Lai Chau) to Quan Son, Quan Hoa (Thanh Hoa).
There are many plateaus, rivers and streams that have many rapids, large flows of flow should have huge hydropower potential. There is 265,095 km of border with China, which is an important geographic and national security. Lai Chau province has 9,068 km2 of the natural area. There are 08 subordinate administrative units. There are Lai Chau Town and Muong Te, Sin Ho, Nam Nhun, Tam Duong, Phong Tho, Tan Uyen and Than Uyen districts.
Lai Chau Province was established under the Decree of June 28, 1909, of the Governor-General of Indochina. At that time, Lai Chau province comprised of Lai Chau, Quỳnh Nhai and Dien Bien provinces, separated from Son La province, which is located in Lai Chau town (now Muong Lay town in Dien Bien province). On 16 January 1915 Lai Chau was replaced by the Lai Chau 4 Guards under military rule. Later, the province moved to Dien Bien Phu town (now Dien Bien Phu city in Dien Bien province). From January 1, 2004, Lai Chau province was divided into two provinces, Lai Chau (new) and Dien Bien. The new capital was moved to Tam Duong town (previously known as Phong Tho town) and was called Lai Chau town (new). The old town of Lai Chau was renamed Muong Lay town (Dien Bien province).
When Is The Best Time To Travel To Lai Chau?
Given the climate and culture of the North West, the appropriate time to travel to Lai Chau is similar to the appropriate time to travel to the Northwest.
Around September to October 10 combine to see Mu Cang Chai rice with Muong Than field in Than Uyen district.
O Quy Ho pass connecting Lai Chau and Sapa district, if you want to combine tour Lai Chau and Sapa you follow in Sapa travel experience.
You should avoid the rainy season in the North West especially the occasions of storm or tropical depression causing rain, because at this time, the North West roads often fall into landslide, floods in rivers and streams as well. Raising is very dangerous.
How To Get To Lai Chau?
Lai Chau is nearly 500km away from Hanoi. At present, there are about 10 automakers operating on Hanoi – Lai Chau route, the bus usually comes from My Dinh bus station.
Bus Travel To The Districts In Lai Chau
Lai Chau – Than Uyen
Departure time: 6h30; 10h00; 12h30; 13h15; 14h30
Lai Chau – Muong Te
Departure time: 5h30; ;6h15; 7h00
Lai Chau – Sin Ho
Departure time: 6h00; 13h30
Lai Chau – Pa Hao
Departure time: 6h30; 13h00
Lai Chau – Dau San
Lai Chau – Muong So
In Lai Chau, there are no motorbike rental places, so if you do not bring a motorbike from Hanoi and still want a motorbike to get to Lai Chau, a hint is to rent a motorbike in Sapa. Instead of taking a passenger car up to Lai Chau, take a bed or train to Lao Cai (Sapa), rent a motorbike here and then go to Lai Chau.
Accommodation In Lai Chau
Although it is close to some famous tourist spots such as Mu Cang Chai, Sapa but now Lai Chau is quite a few tourists choose to stay overnight. This is probably due to the lack of satisfactory accommodation in these locations and the quality of accommodation in Lai Chau.
What To See In Lai Chau?
Located in the northwest of the country, adjacent to the provinces of Lao Cai, Dien Bien, Son La, Yen Bai with more than 20 ethnic groups, Lai Chau brings in the hidden beauty to develop tourism. For many, Lai Chau seems to be just a poor mountainous northern province, but for travel enthusiasts, it is unlikely to miss the great sites that Phu Mỏ will mention below.
O Quy Ho Pass:
One of the four great peaks of the northern mountain pass of Vietnam. Visitors come to Lai Chau are definitely not to be missed. Connecting the two provinces of Lai Chau and Lao Cai. The O Quy Ho pass is not only the longest mountain pass in Vietnam. But also possesses breathtaking scenery, which is the destination for adventurers lovers and photographers who come every year.
Muong Than Field
Northwestern people have the phrase "Nhat Thanh, Nhi Lo, Tam Than, Tu Tac" to praise the quartet fields most sparkling view in the area. Muong Than field (Than Uyen district) is one of them. Regardless of the time of the year, Muong Than has its own beauty, the season of blue water painting like a mirror of the sky, the golden ripe rice season is very attractive.
Sin Ho Plateau
Sin Ho plateau is like the "second Sapa" of Vietnam. Coming to Sin Ho, tourists are overwhelmed by the beauty of floating clouds in the villages, valleys, rocky mountains or majestic Tien cave.
Putaleng Peak
Located in the Hoang Lien Son range, Putaleng peak is the second roof of Indochina after Fansipan. Overcoming the difficult way of conquering, but also full of beautiful scenes along the way, to reach the top you will see what you deserve.
Mount Bach Moc Luong Tu
Bach Moc Luong Tu peak is also a place admired by trekkers. Although not as high as Putaleng, the road to the top of Bach Moc is equally rugged. It's about 30km stretch across many different terrains, culminating with a view to watch the sea of clouds rolling in return.
Si Thau Chai
It's about 6km from the center of Tam Duong district. Si Thau Chai concentrates most of the Dao people. Come here not only to admire the beautiful natural scenery, fresh air. But also to learn the cultural customs of the people here.
Tac Tinh Waterfall
The only waterfall in Lai Chau has lyrical and illusion. Behind the name, Tac Tinh is a sad love story. Come here to enjoy the cool air do not miss the opportunity to hear a romantic love story.
Muong Te
As one of the remote and poorest districts of Lai Chau. But possessing outstanding scenery, you will not expect that the famous Song Da work also comes from here. If you are interested in exploring, do not miss the path through the forest to Ka Lang – Thu Lom crossing many quarry stones, dirt roads and white dust to unleash.
Tam Duong Tea Hill
Considered as the "green gold" of Tam Duong district. Not only is it a source of quality tea both at home and abroad. But this Lai Chau tourist destination also has a beautiful view for you to freely immerse yourself in nature.
Tien Son Cave
Located in Tam Duong district, Tien Son cave makes many tourists admire the beauty of the fairy realms. Step inside, a whole world of diverse stalactites of different shapes, deep is the murmuring stream flowing through to create a sense of airiness and unexpected relaxation.
Above is all the frequency of the Lai Chau travel guide in detail. Hopefully, the above useful information will help you have an interesting trip to Lai Chau Vietnam.
Lai Chau has 20 ethnic groups, each ethnic group has its own definition of traditional cultural life. Mountainous fair is the visible manifestation of culture. Then Top 8 tourist destinations in Lai Chau by Newyouth Tourism.
1. The complex of Lai Chau Province's Administrative and Political Center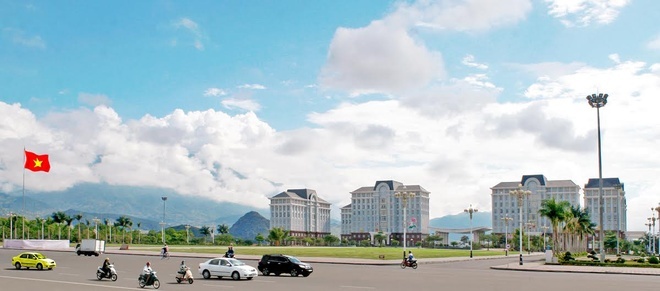 The complex of Lai Chau Province's Administrative and Political Center was invested and constructed at the province center of administration and politics, Tan Phong precinct, Lai Chau town, Lai Chau province. To ensure the harmony and coherent of the building with other existing and under construction works such as the Province Conference Center, People Square, and Le Loi Avenue, the complex of Lai Chau Province's Administrative and Political Center's design follows the modern French architecture with some classical features to create an impression of solemnity and power for such a political and administrative center. However, the architecture is not so rigid thanks to the proper arrangement of several gardens, fountains, bonsai basins which has created an open space for such activities like festivals and cultural goings-on of people from Lai Chau town in particular and from Lai Chau province in general.
2. O Quy Ho Pass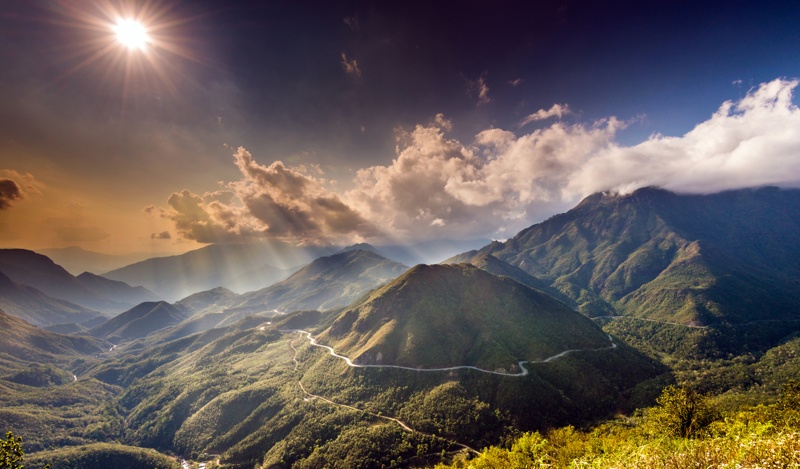 O Quy Ho Pass is zigzag and keep a record of the longest in the northwest mountains of Vietnam with nearly 50 km. Height, length and adventurousness of O Quy Ho made the pass was dubbed the "Northwest King Pass". The peak of O Quy Ho Pass located on untouched mountain and covered with clouds, it is also known by the name Heaven Gate. When winter comes, O Quy Ho Peak can be covered with snow.
O Quy Ho Pass (Vietnamese: Đeo Ô Quy Hồ) is squeezed through Hoang Lien Son mountain range, at an altitude of 2000m. A legend in this mountain area: Once upon a time, here has a strange bird with melancholy cry, associated with the love legendary of a couple. Since then, over time, the cry "O Quy Ho" of this bird has been named for this wild pass.
Before, O Quy Ho Pass is very dangerous, and contains many horror stories that few people dare to cross this place. But now, the Pass with good upgrade, become a conduit for vehicles crossing more frequently. However, with a side of the abyss and the rest are usually steep cliffs, O Quy Ho Pass is still a challenge for the adventurous driving.
3. Chu Va Moutain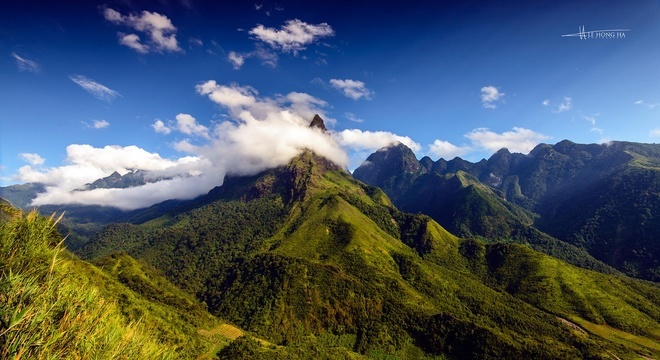 4. Muong Thanh field
In the past, it was very difficult for tourists to go to Lai Chau because of the hindrances from many winding steeps and rugged high mountain passes. In particular, the Pha Din Pass – one of the four most dangerous in Vietnam – was really a hardship that is not easy to overcome. Today with the launch of the Hanoi – Dien Bien air route, the movement becomes easier and the opportunity to explore the Northwestern region is available for any tourist.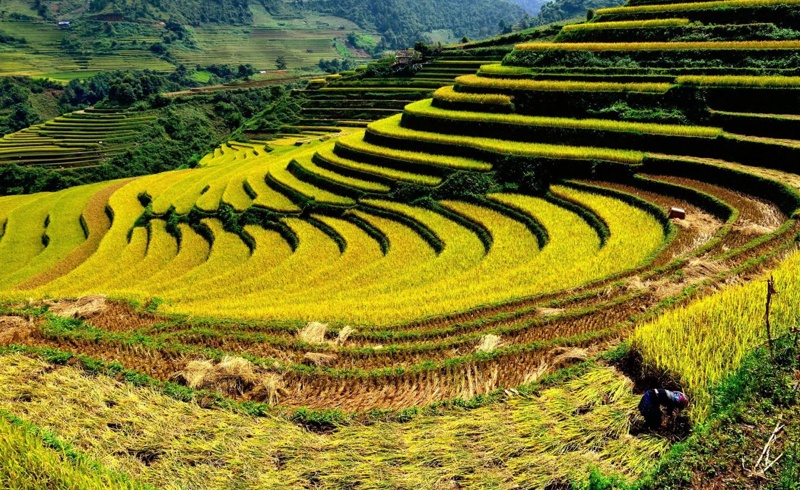 From above, Muong Thanh field stretches along the Nam Rom River, spreading out like a flower petal embracing the Dien Bien Phu monuments. Whatever the way you come to Muong Thanh, at this time in the year, you will be surprised of the beautiful natural scenery of this place.
Muong Thanh field is like a giant "warehouse" filled with corn and rice. From late September, rice began ripening in Muong Thanh, dying the region in the yellow.
Not only famous for its vast area, with favorable farming conditions, but Muong Thanh field is also the home to the nationwide famous rice brand of Lai Chau.
5. Lai Chau Hydropower in Nam Hang commune, Muong Te district.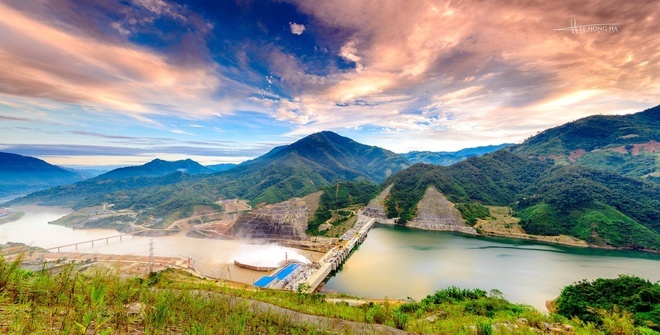 6. Sin Ho plateau
There are numerous beautiful sceneries in Sin Ho such as the Heavenly Gate, the Mountain of Tien Ong, the Mountain of O Da, etc. Visitors will be pleasantly surprised by the cloudy mountain peaks, sunny valleys spotted with terraced rice fields in the harvest season. Going into the Pu Dao village, Ta Ghenh, Hoang Ho, Ta Phin, Phang Xo Lin of the Mong, Dao people nestling on the cliffs, visitors seemed to be lost in a fairy space to see small wooden houses standing out among the green of the jungle, ethnic women slinging water and go up the steeps or the pigs foraging near the edge of the forest.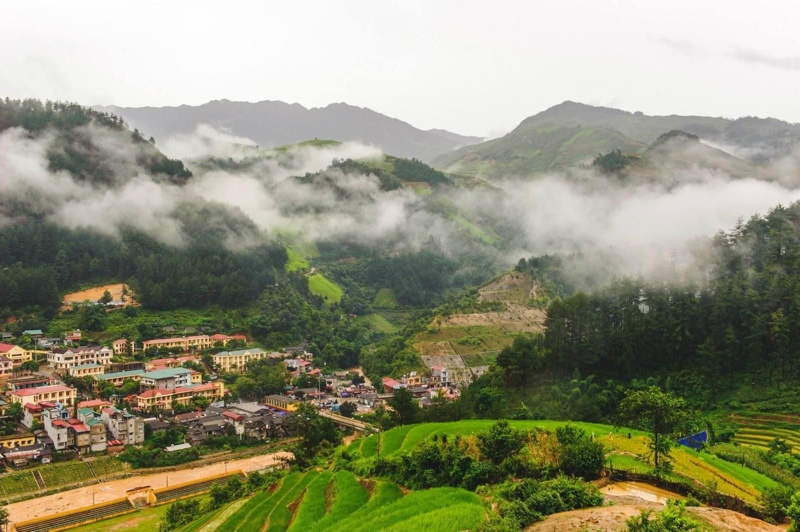 Sin Ho becomes more beautiful during the weekend fairs. The fairs start on Saturday morning with mainly people from the immediate area. Come the next day, locals from distant villages like Mong Do people from Chan Lua, Lang Mo or Lu, Dao people from Phang Xo Lin to Mong Hoa, Phu La people from Pu Sam Cap gather in the crowed and exciting atmosphere. They bring their homemade products in baskets slung over their shoulders. The gentle faces, colorful brocade dresses, the murmurs or laughter and mountain taste-dishes together create a vivid picture full of life's colors.
7. The confluence of the two rivers of Da and Nam Na.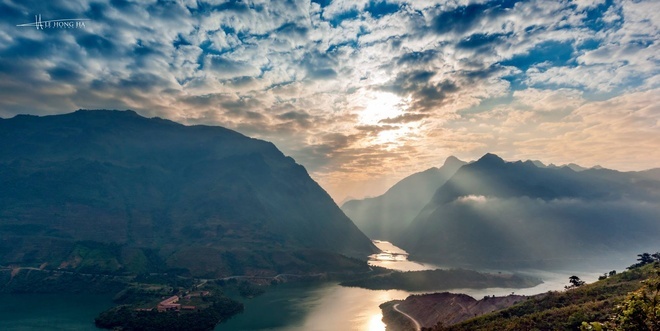 8. Pu Sam Cap Cave
Pu Sam Cap cave (Vietnamese: Đong Pu Sam Cap) includes Thien Mon, Thien Duong and Thuy Tinh cave. About 7 km from Lai Chau town on highway 129 to Sin Ho, Thien Mon cave appears wildly and mysteriously with a large arch. Groping in the dark in the cave we can feel the cold radiating from stones, the excitement at every step, with the dark surroundings playing tricks adding to the worthy experience.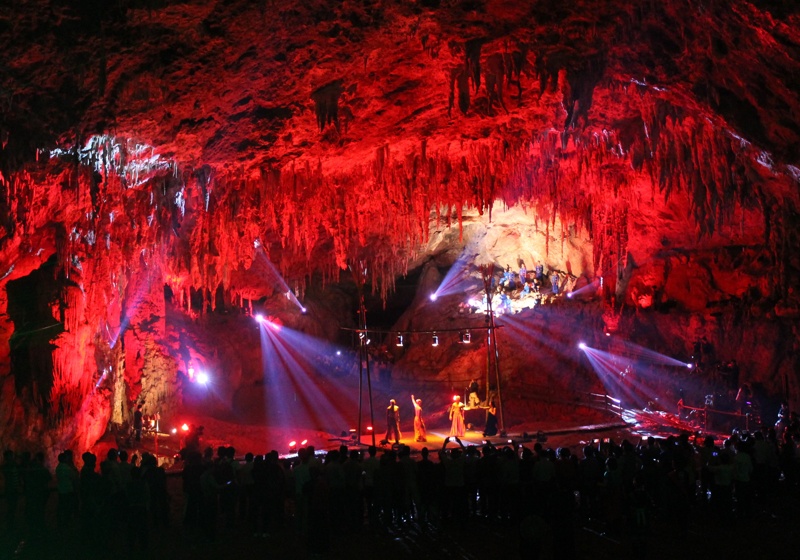 The cave curves like the terraced fields. Coming inside, we felt as if we are lost in the fairyland full of amazing flower-like stalactites such as orchids. There are stone columns with patterns carved by the hands of nature.
Coming inside, tourists will see a stream of stalactites full of strange shapes to inspire the imagination of the stilt that supports the heaven, gold stilt, silver stilt, or the bronze drum…At the end of the cave, we will be overwhelmed by the size of a huge majestic pelage with big gold stilts as a gift of nature.
Photo: Internet
TAG: