The owner of the 3-generation roll cake shop with many customers revealed the secret is… the stone mortar
Nestled in a small corner on the slope of Hoe Nhai Street (Ba Dinh), Mrs. Xuan's heirloom banh cuon shop has existed for over 30 years, crowded from morning to night.
Banh Cuon is an idyllic specialty of Ha Thanh land, eaten with dried onions, spring rolls, a few sprigs of coriander, sweet and sour fish sauce is the standard.
Nowadays, walking around the streets of Hanoi, it is not difficult to find a shop selling Banh Cuon. This dish is as popular as vermicelli, pho… Of course, not every restaurant is delicious, it also makes diners want to try a second time, even having to eat every week to help… "remember" .
Nestled in a small corner on the slope of Hoe Nhai Street (Ba Dinh), Mrs. Xuan's heirloom Banh Cuon shop has existed for over 30 years. The restaurant is crowded from early morning to late evening. Ms. Xuan Hoe Nhai's roll cake is now in charge of and maintained by Ms. Bui Thi Kim Lan. 
Ms. Lan said: "In my life, I have been selling rolls for 3 generations, the recipe has remained the same so far with no change, only a few years ago, the shop sold more egg rolls."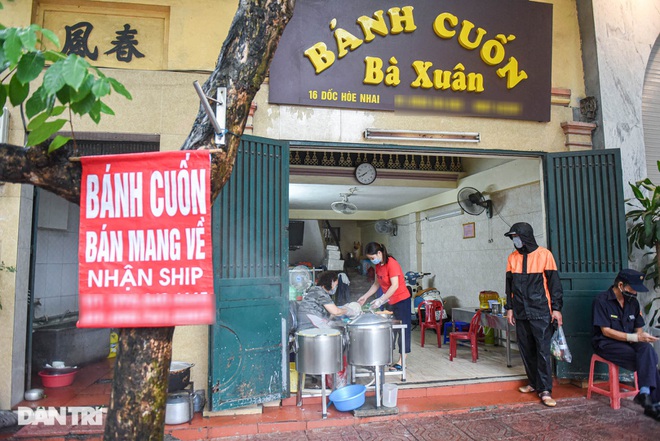 The heirloom roll cake shop is located on a corner of Hoe Nhai street.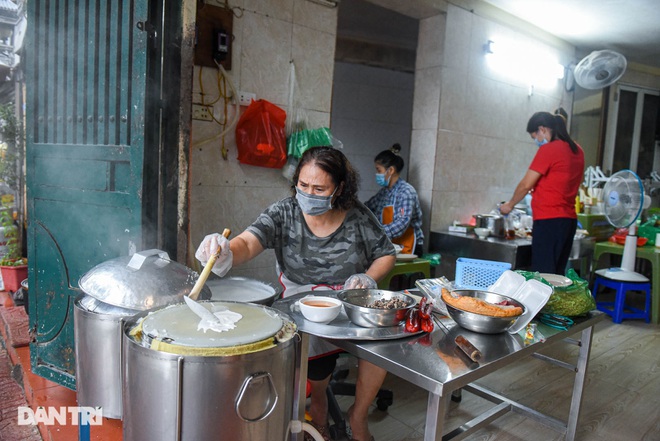 Lan with 2 rice paper pots and a simple tray of ingredients.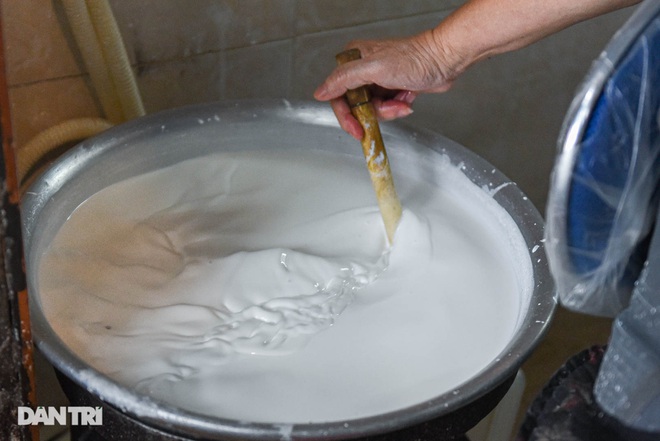 The type of rice that is milled into flour must be selected from Cao Bang.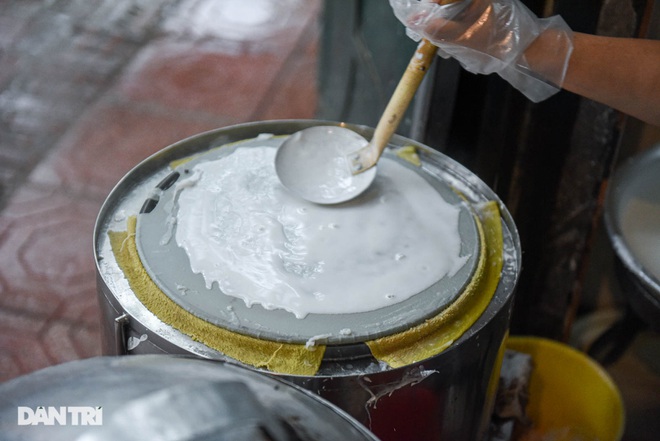 Thin, flexible, smooth rice paper.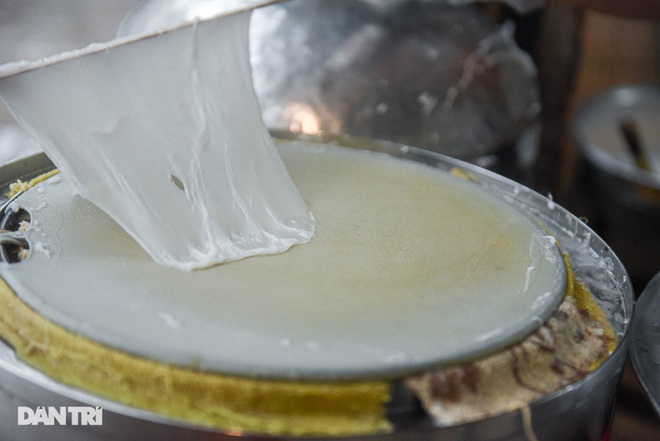 After the cake is cooked, Mrs. Lan uses a thin bamboo stick to remove the cake layer and prepare for more filling.
Mrs. Xuan Hoe Nhai's roll cake is one of the rare places in Hanoi that still uses a decades-old stone mill to grind flour, not using other industrial mills like today.
According to the shop owner, that is the secret to getting a thin layer of rolls. "Mixing the dough with a stone mortar takes a lot of time and effort, but that's the only way to make sure the dough is smooth and right. This is the point that makes my family's soft, thin, and unbreakable layer of rolls," said Ms. Lan. speak.
Normally, the shop sells 15-20kg of flour. Since implementing the requirements of the city, only selling take-out to ensure safety against epidemics, sales decreased by 2/3.
The type of filling used is wood ear meat filling. The side dish with Banh Cuon is pork roll and cinnamon roll. Ms. Lan shared: "Particularly the dish here is Uoc Le spring rolls, since when has my family sold Banh Cuon to use Uoc Le spring rolls for so many years?"
With just a few simple tools and two pots of boiling water, Ms. Loan quickly scooped the cake batter into the pot and spread it thinly on the cloth. Then turn upside down until the cake is puffy, is cooked, she quickly grabs the cake, uses a small bamboo stick to support the leaf, mixes minced meat with wood ear and then folds it, the thin layer of cake is wrapped around the filling. inside, then use scissors to cut one in half.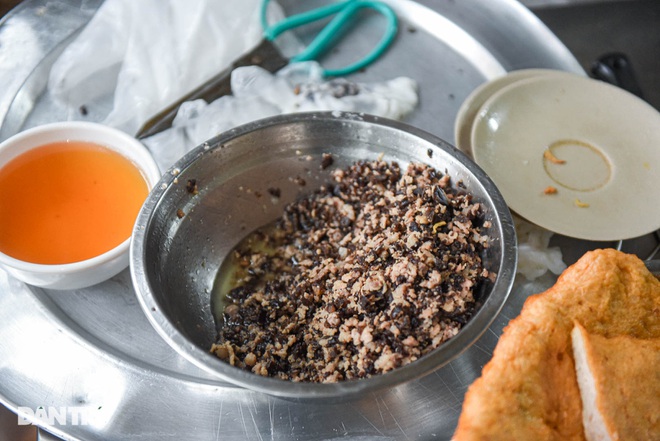 Filled with delicious minced wood ear meat quickly and quickly.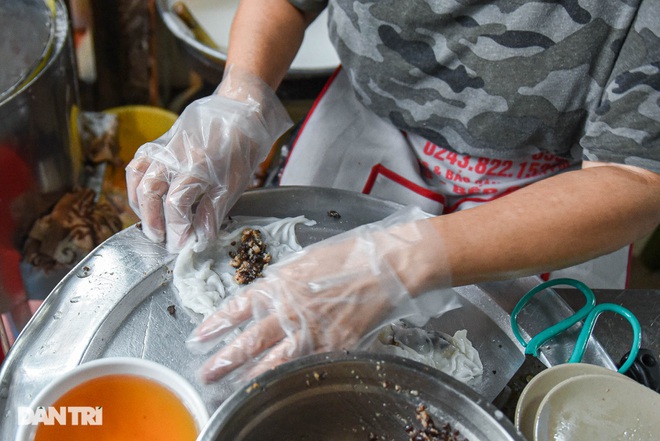 Mrs. Lan does the process of wrapping the cake.
Banh Cuon is best when eaten while it is still hot, so when there are guests, Ms. Lan starts making it. Where rice paper goes, guests bring it there, not make it first.
Besides flour, many diners also like crispy dried onions to eat with the shop's rolls. Ms. Lan said that the dried onions are homemade by her: buy the raw materials, then chop them and then roast them, then mix them with fat, as long as they have a good aroma.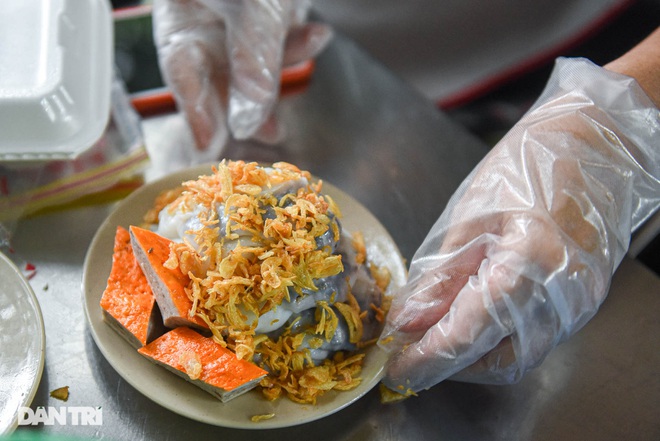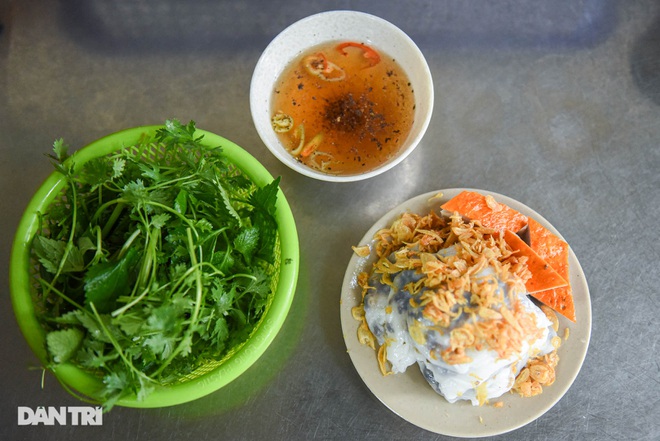 A serving of banh cuon here costs from 35,000 to 40,000 VND.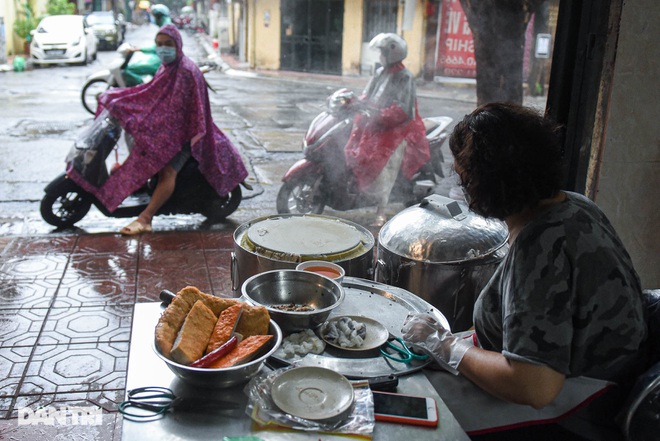 Due to the Covid-19 situation, the shop only sells to customers for take-out.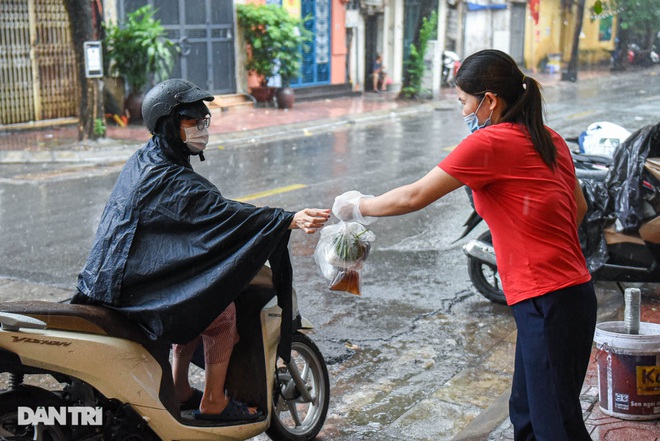 On average these days, the shop sells about 100 sets of rolls to take home.
In addition to the familiar wood ear minced meat, the restaurant is also famous for steamed eggs. Eggs are steamed about 70%, rolled up pieces of soft, greasy, fatty eggs without being fishy.
The shop is normally open all day, most crowded on weekends, but now it's only open for take-out in the morning. 
Ms. Tran Thu Trang (Ba Dinh, Hanoi) just waiting for cake in the rain said: "Every day when it's cool, my family craves for Banh Cuon, I've been eating here for more than 10 years. Here it is soft and delicious, the fish sauce is not too sour, especially the onions are very fragrant and delicious." Follow Dan trí
TAG: