Traveling to Khe Kem Waterfall – a fairyland in Nghe An
Khe Kem Waterfall owns a wild and poetic beauty, not only a favorite stop of tourists, but even locals often come here for sightseeing. And if you are planning to go to explore this famous tourist destination in Nghe An, do not miss the useful information shared below, to have the most convenient and complete trip to Khe Kem waterfall.
A brief introduction about Khe Kem waterfall
Khe Kem waterfall, also known as Kem waterfall, is a large waterfall located in Pu Mat national park area , with a height of more than 500m and a slope of about 800m. It is known that this is the most pristine and beautiful waterfall of Nghe An, so this place was once known as a fairyland in the underworld. The Thai people living around here, also call Khe Kem waterfall as Bo Bo, this word means white silk. Because the waterfall falls from above, throwing white foam, looking from afar, people think of a giant long silk strip, stretching around the mountainside, extremely impressive.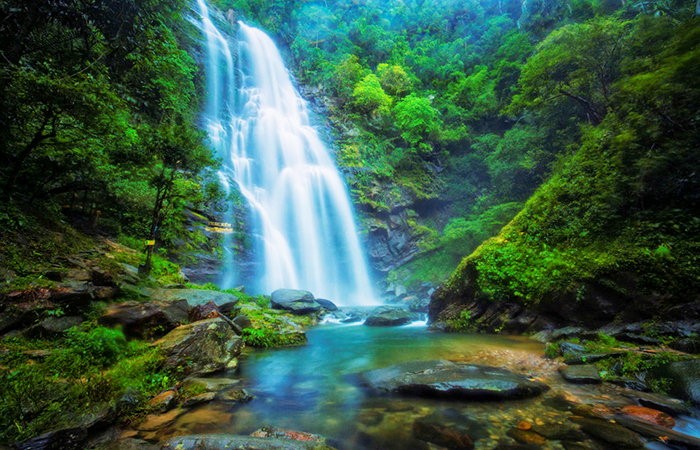 The romantic natural beauty of Khe Kem waterfall
The location of Khe Kem waterfall is about 20km from Con Cuong town, not too far, so it is quite easy to move. Although the waterfall is a famous tourist destination, fortunately it has not been affected much by human hands, so it still retains its original beauty.
Time to visit Khe Kem waterfall
When should you go to Khe Kem waterfall?  As a strong tourist destination about nature, it is not so important to determine when to travel and you can start your discovery journey at any time. Because of every season, every moment, the natural beauty of the waterfall changes. If you want to see the fresh natural beauty, want to experience spring bathing, then summer is the best time. On the contrary, autumn and winter are seasons when nature changes leaves, the space is gloomy, but in return, you will be able to participate in climbing activities that are equally interesting. In general,  traveling to Khe Kem waterfall in Nghe An  will bring you a lot of memorable things.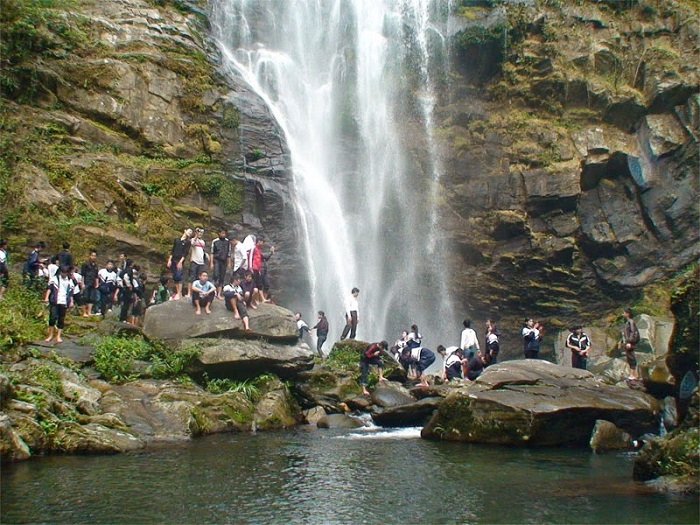 Summer is the ideal time to visit Khe Kem waterfall
>See more: Self-sufficient Nghe An travel guide from A – Z
What's interesting about Khe Kem waterfall?
Arriving at Khe Kem waterfall, you will be overwhelmed by the wild and romantic natural beauty. Surrounding the waterfall is a rich and diverse vegetation with many flowers racing to bloom. This is like walking into a huge flower garden. Along with that, the climate at the waterfall is very cool, averaging only about 20 degrees Celsius, the space is fresh and pleasant, an ideal place to relax and relieve stress. What could be more wonderful than when you have strolled under the shade of ancient trees, enjoying the fresh air, listening to the chirping birds, right?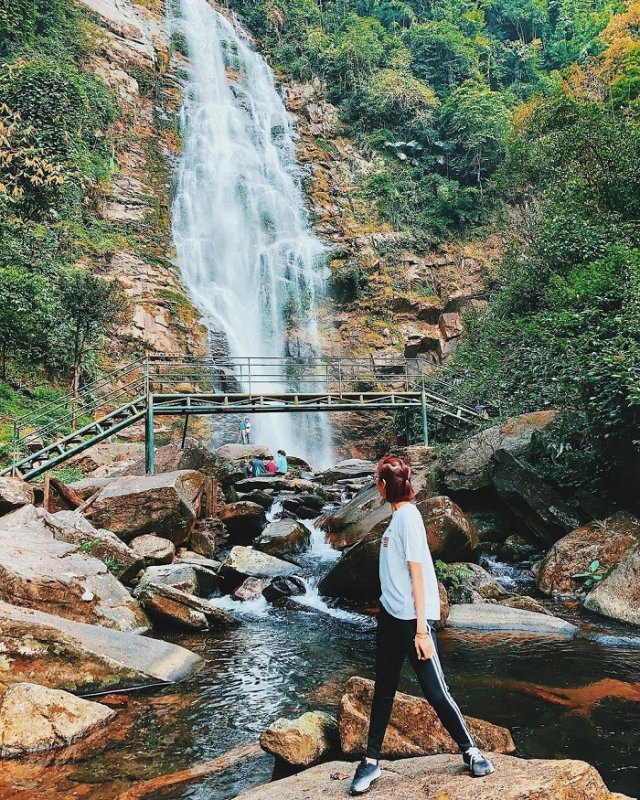 Discover the beauty of Khe Kem waterfall
After a day of exploring the forest, you move down to the foot of the waterfall and you will see a large stream, with a flat stone on top, like a table. The cool, clear water can easily see schools of small fish swimming around. You can immerse yourself in the water to have fun. In particular, the fish here seem to be used to people coming to bathe, so they don't hesitate to wrap around you. In addition, with this beautiful scenery, do not forget to find yourself beautiful angles to live virtual. I am sure, you will have a collection for a lifetime to see.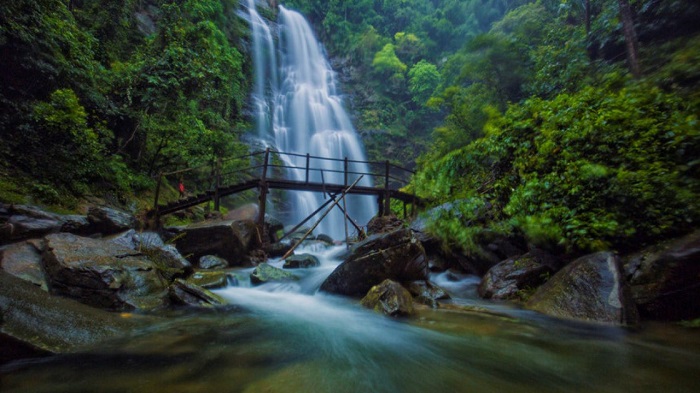 Khe Kem Waterfall owns a wild and romantic natural beauty
Khe Kem waterfall tourism is evaluated by many experts, this is a fertile land of nature, a rich treasure of plants, and many rare remedies. Therefore, this place attracts the attention of many tourists from all over the world. If you go on weekends or holidays, it is easy to come across tour groups or teams that are organizing picnic events, or organizing reality shows here. In general, Khe Kem waterfall will be a great stopover and tourist destination in Nghe An that will  bring you many memorable emotions.
What to eat when traveling to Khe Kem waterfall?
Khe Kem Waterfall is not an artificial tourist attraction, so there are no restaurants to choose from. The main form of food for tourists when they come here is camping, organizing BBQ parties right in the forest. You can bring food to go, or buy home-made goods, buy at outside shops such as: Com lam, purple sticky rice, grilled chicken, cool fish in the river,… However, after eating on the spot When you're done, remember to clean up the trash to protect the environment, as well as preserve the beauty of Khe Kem waterfall.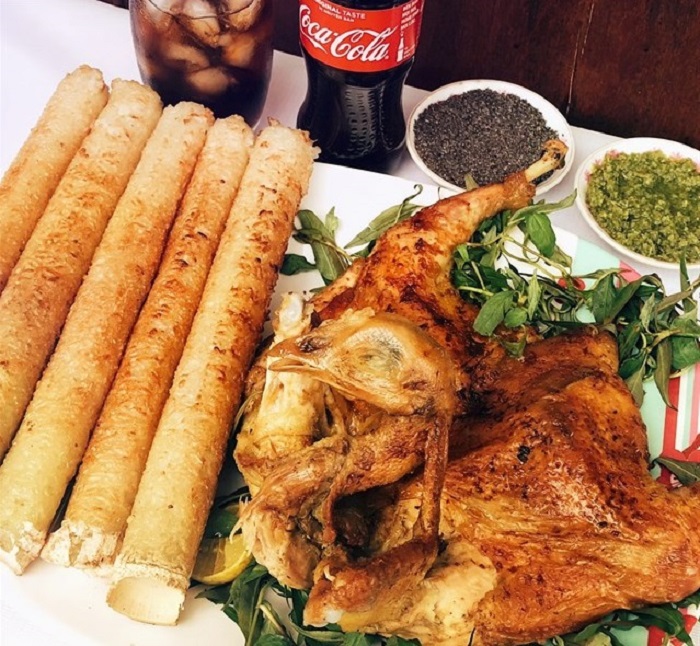 Enjoy delicious dishes in Nghe An
Some service information when traveling to Khe Kem waterfall
Entrance ticket: About 10k / person (You will not be able to ride inside, but have to park the car outside)
Tram ticket price: 20k/person (You will be taken from the entrance to the center of Khe Kem waterfall)
Ask someone to organize events for cultural exchange with people in the village: About 1 – 2 million / program (Depending on the size of the event, the number of participants, wine, campfire, .. . which will have different prices)
Renting Homestay in the village: You can rent in Nua village or Khe Ran village for only 60k/person/night. If you want to rent a private motel, the price will be from 200k – 300k/room/night.
Above is all information  and experience of Khe Kem waterfall in Nghe An . Hope these things will help you to have a safe and convenient trip and bring many memorable emotions. Have a nice trip!
Photo: Internet
TAG: