What is the best season to travel to Moc Chau?
When is the best season to travel to Moc Chau? Should come summer, fall, spring, or winter? The answer will be available soon! 
4 seasons climate in Moc Chau 
Moc Chau belongs to the northern mountainous provinces, so the climate has all 4 seasons in a year: Spring and Summer. Autumn, Winter. Each season has its own characteristics, so according to Moc Chau travel experience , you can come here at any time of the year. So to answer the question of which season is the most beautiful to travel to Moc Chau , you must know the weather characteristics of each season.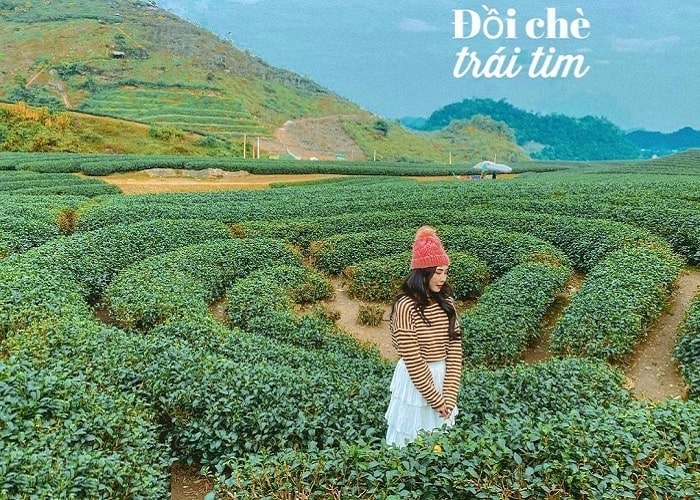 Moc Chau has 4 seasons every year 
Spring in Moc Chau 
What is the most beautiful season of the year to travel to Moc Chau? Around the end of January – the beginning of February, Moc Chau will enter the spring with plum flowers, apricot flowers, and wild peach flowers starting to bloom all over the hillsides and valleys. So what is there to come to Moc Chau in the spring? Stepping here in the spring, you should go to Long Luong village to be immersed in the beautiful natural scenery of apricot flowers, plum flowers blooming in the sky.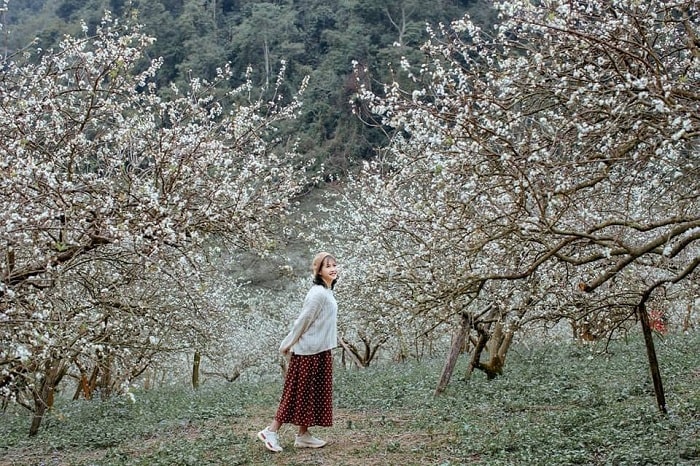 The plum blossom season is open and white in Moc Chau 
Not only that, spring is also the festival season in Moc Chau extremely exciting such as: Het Cha festival of the Thai ethnic group, usually takes place from 23 to 28/3. Immersed in the festive atmosphere, visitors will be able to participate in many unique games and sports. Especially, you will enjoy many folk songs, traditional dances, and unique highland culture.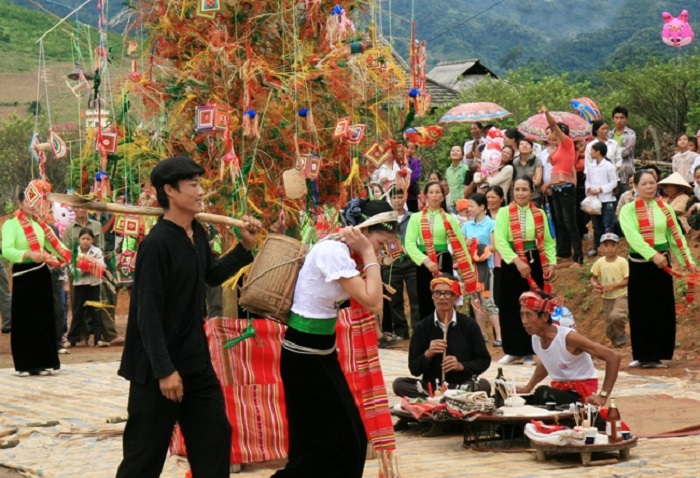 End of Cha Festival
The festival will be held in Ang village, Dong Sang commune, so you can visit the pine forest in Ban Ang to visit and be amazed by the dreamy beauty of the pine forests and the lake next door.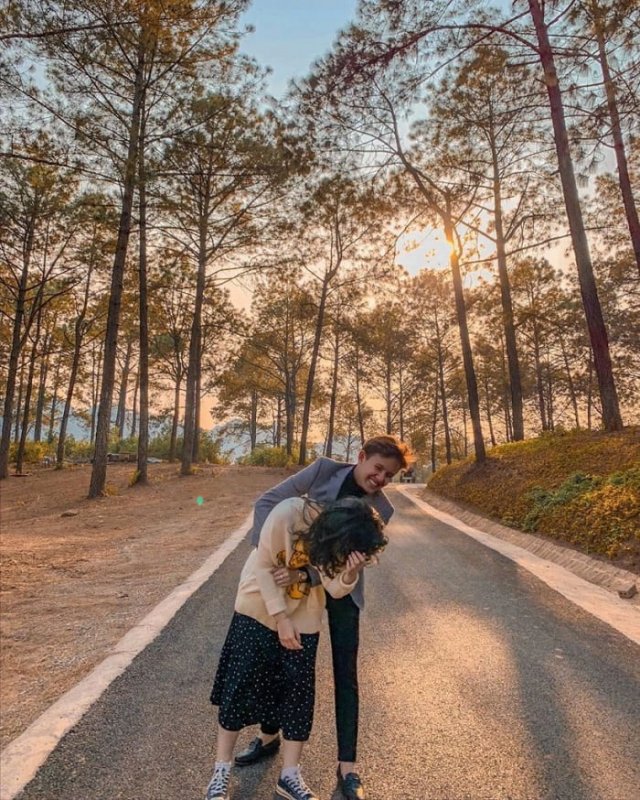 Pine forest in Ang village
After the plum blossoms and peach blossoms fade, everywhere in the Northwest mountains and forests is filled with the pure white color of the ban flower that stands out against the green background of the trees in March.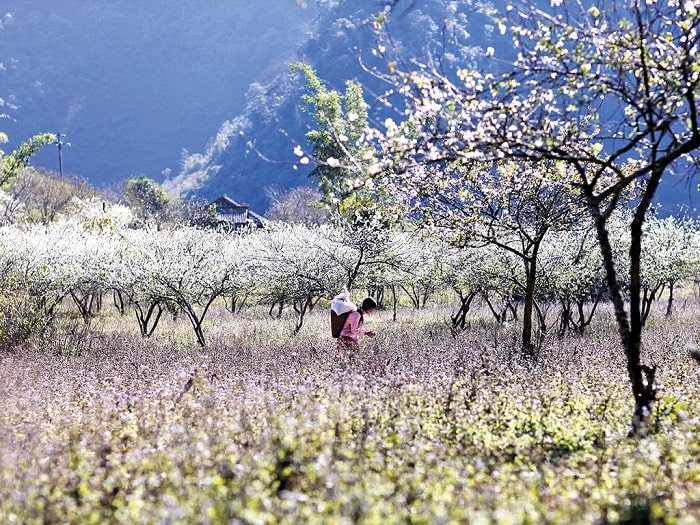 Ban flower season blooms in March
Summer in Moc Chau 
If you are still wondering which season is the most beautiful to travel to Moc Chau , you can research what's special in Moc Chau in the summer and try it out! Summer comes, in Moc Chau there are no blooming flower hills or folk festivals, but there are still interesting experiences that many tourists can't stop discovering. If you want to know what is the most beautiful and pleasant time here, do not hesitate to come in the summer.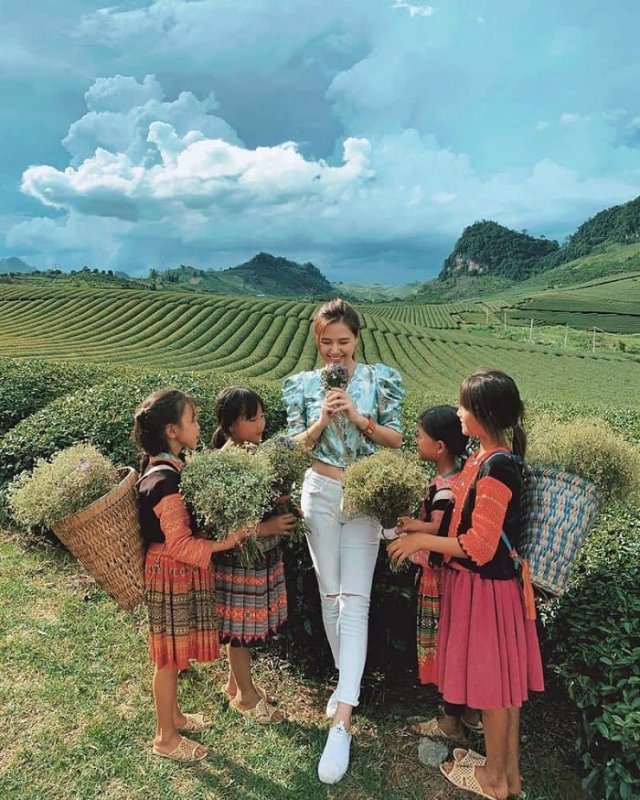 Summer in Moc Chau has interesting experiences 
At that time, it will be difficult for visitors to take their eyes off the picturesque natural scenery in the green heart tea hill under the golden sunshine or the Dai Yem waterfall in the new water seasons with majestic scenery. The weather at this time is cool and peaceful, different from the stuffy, hot climate in Hanoi.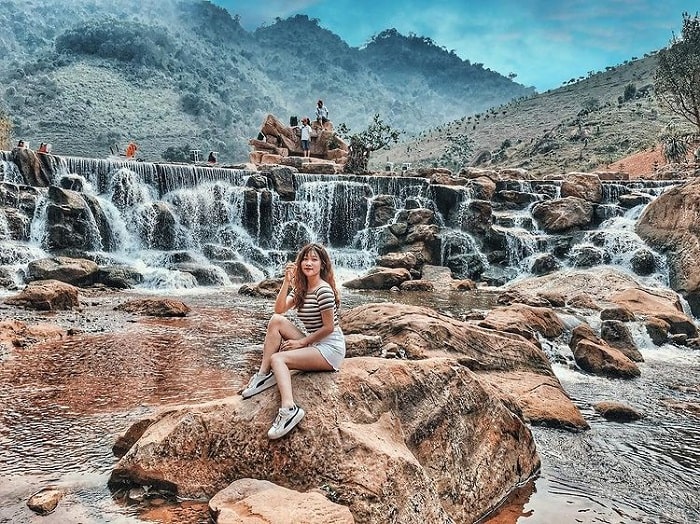 (Photo: tao_myt99)
This is also the time when Moc Chau Plateau enters the fruit season such as plums, peaches, …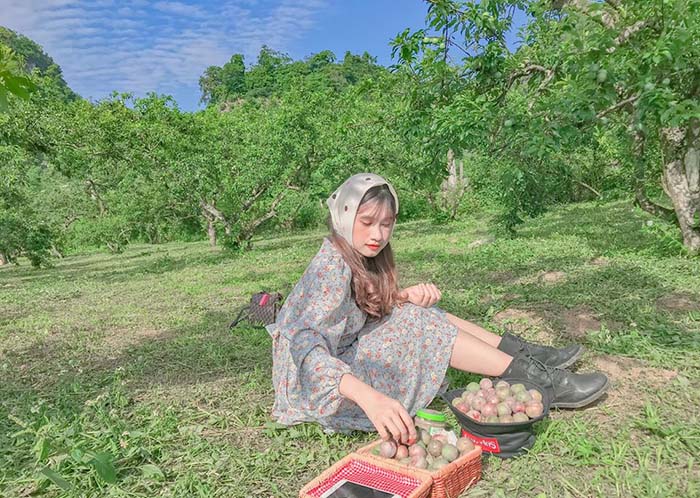 Plum garden in Moc Chau
Autumn in Moc Chau 
When the weather starts to get a little chilly, gentle, quiet and the sun has begun to soften, Moc Chau exudes peace when the sky has "squeezed" into autumn. Do you wonder which season is the most beautiful to travel to Moc Chau? Fall is a great choice.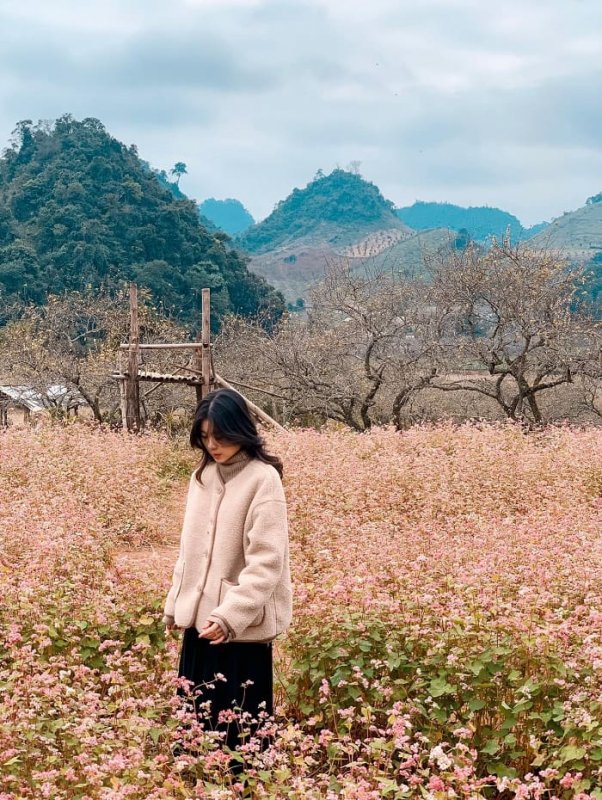 Purple buckwheat flower season 
From September to November every year, fields of wild sunflowers, canola flowers or buckwheat flowers begin to bloom all over the hillside. If you go along National Highway 6, you will see fields of colorful tortoiseshell flowers. The autumn picture in Moc Chau is full of beautiful colors.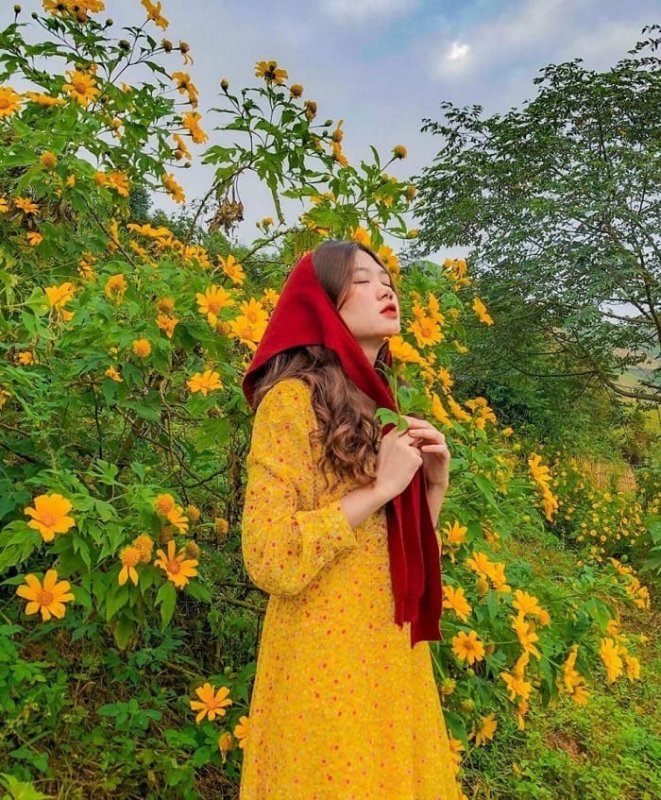 Immerse yourself in the brilliant yellow of wild sunflowers
Another special thing that tourists cannot miss when coming to Moc Chau in autumn is the Independence Day of the Mong ethnic people. You will be with the people drinking, singing, having fun singing, chatting with friends and making new friends.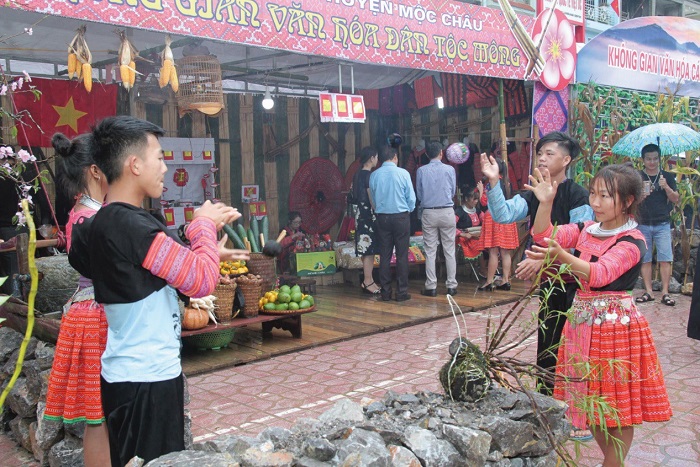 Independence Day
Winter in Moc Chau 
Winter weather in the North is quite harsh, so is it suitable to travel to Moc Chau? Nature has bestowed many kinds of flowers on Moc Chau in winter. It is the paradise of white canola flowers at the end of the season. When you come here, you can freely admire and take pictures with mustard flowers or the early plum and peach blossom season without getting bored.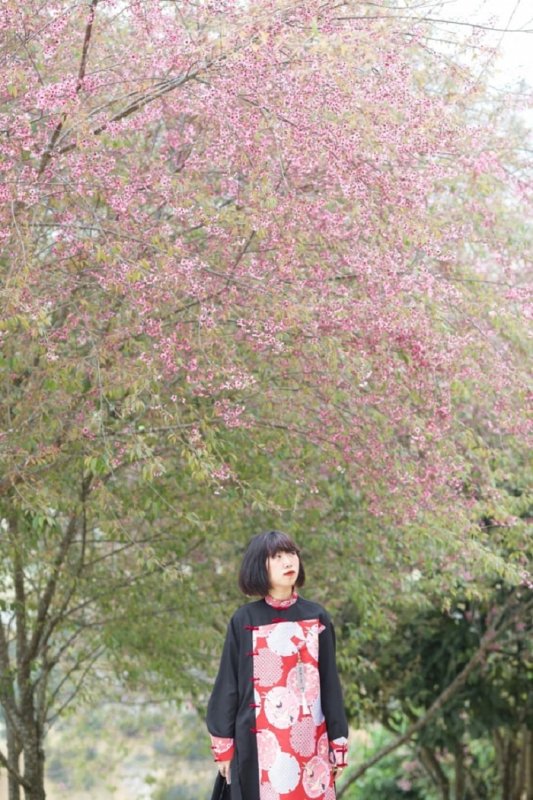 Pink peach color in the last days of winter 
An interesting experience when coming to Moc Chau in winter is the Chimo strawberry farm. Strawberries here have varieties originating from Japan, please visit the garden to taste and then pick the fruit yourself. In addition, some delicious strawberry-based dishes are also worth you to enjoy such as: strawberry yogurt, strawberry jam, strawberry smoothie, etc. Winter is also a great answer to the question of Moc Chau travel season. Which is the most beautiful ?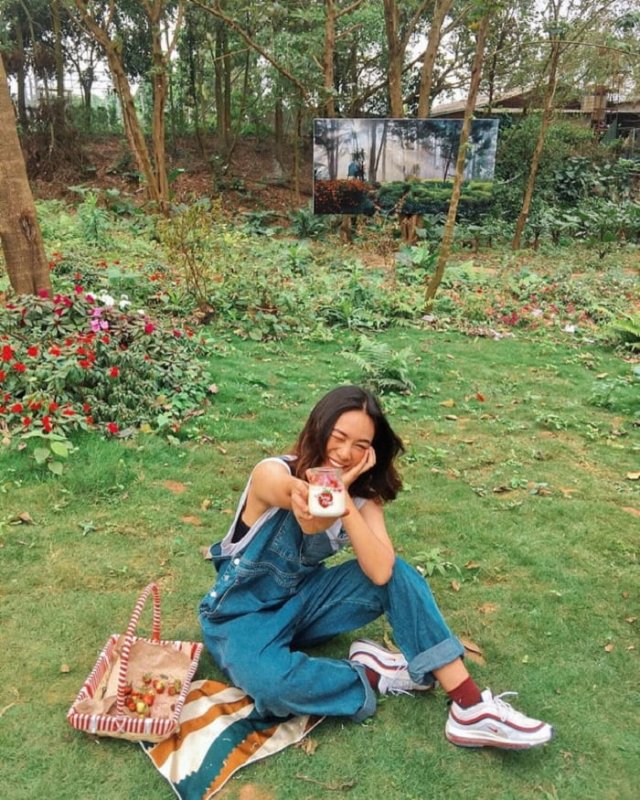 (Photo: lphuongggg_)
When is the best season to travel to Moc Chau? 
Moc Chau is an ideal tourist paradise for travelers who love to explore. It is really difficult to determine exactly which season is the most beautiful to travel to Moc Chau because each season has its own characteristics, suitable for each person's preferences. But the most beautiful season to explore Moc Chau is probably in winter. That atmosphere, the quintessence of heaven and earth, all things blend together to create a strangely vivid Moc Chau.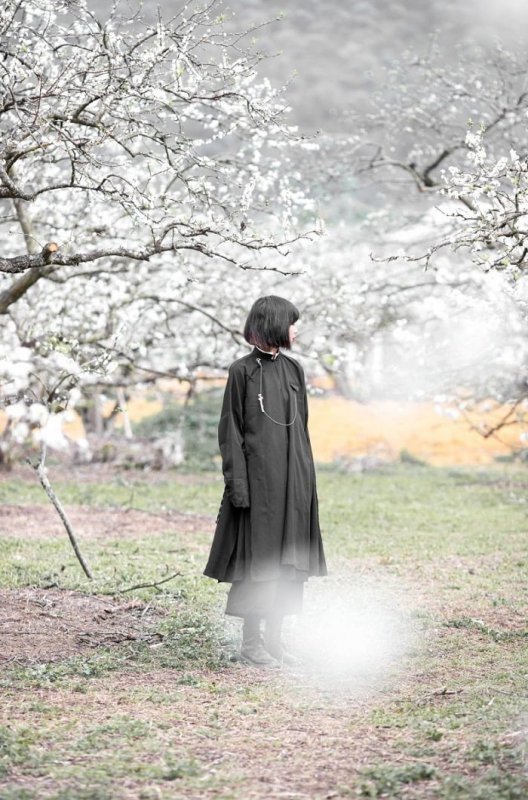 Winter is the most beautiful season to explore Moc Chau 
It's really difficult to say which season to travel to Moc Chau is the most beautiful. Each month, each season here has its own beauty and interesting experiences. So don't sit there thinking for long, make a plan and execute it right away. 
Photo: Internet
TAG: