Hot sticky rice served with "strange goods", affordable price just more than a cup of tea in Nha Trang
 The smooth, fragrant sticky rice is served with salted anchovies with a little sauce, eggs, and greasy onion fat, making diners enjoy once and remember forever the taste of Nha Trang sea specialties.
Not only is it a famous tourist destination because of its beautiful natural scenery, but Nha Trang is also attractive, attracting a large number of domestic and foreign tourists with a rich cuisine, including countless delicious "unique" dishes. ".
In addition to famous specialties such as Banh xeo, Banh can, grilled spring rolls, fish cake soup, etc., in this sea there is also a delicious dish that is very popular with locals. That is anchovy sticky rice.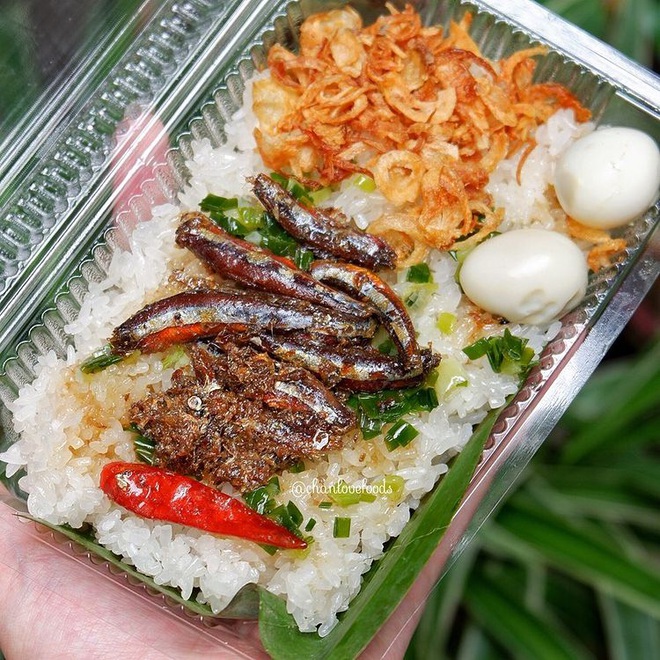 Anchovy sticky rice – a breakfast dish never boring of Nha Trang people (Photo: @chanlovefoods).
For the people of Nha Trang, anchovy sticky rice has long been a familiar and cheap breakfast dish that anyone can enjoy. Whether young or old, they are easily attracted by the strange taste of this sticky rice dish.
As the name suggests, this specialty sticky rice consists of 2 main ingredients: sticky rice and anchovies. Although anchovies are available in any coastal area, for those who are gourmets, it is easy to see that Nha Trang anchovies are the most delicious.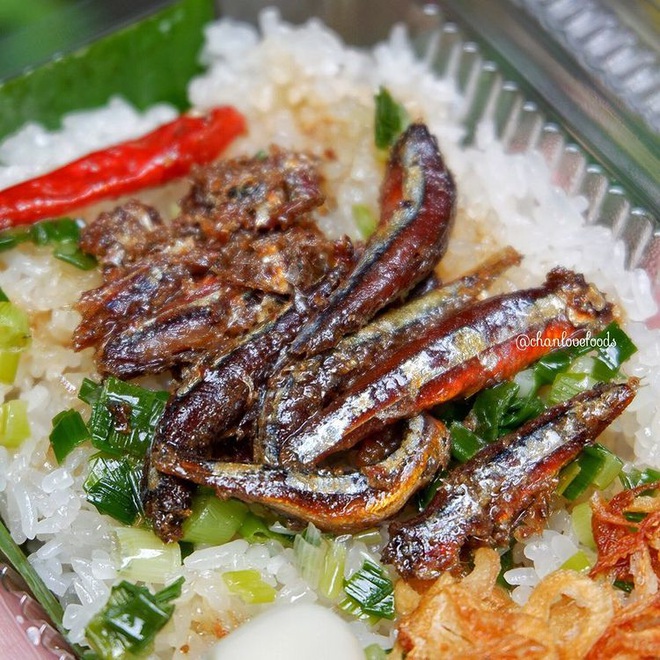 Unlike many places that eat sticky rice with pate, rolls, spring rolls, peanuts (peanut),…, sticky rice of Nha Trang people has a harmonious combination with popular ingredients, anchovies (Photo: @chanlovefoods).
Here, fish is caught all year round with many different types such as anchovies, hunting anchovies, white rice, striped rice… But to make the most delicious and flavorful sticky rice, people often use anchovies. mouth or hunted anchovies.
The soft sticky rice is processed quite simply, without much seasoning, with just a little salt to make it rich and add pandan leaves to bring up the aroma and still be memorable for anyone who has the opportunity to enjoy.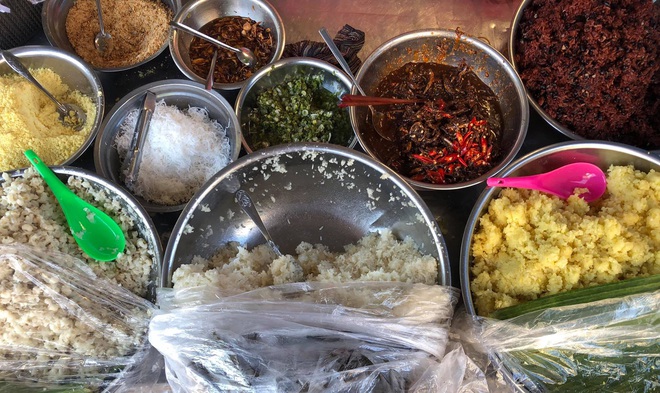 Anchovy sticky rice usually has two types, one is only cooked from glutinous rice, the other can add green beans (Photo: Minh Tam).
In addition to the ingredients of sticky, fragrant sticky rice, what makes the dish different is the anchovy part that is full of sweet and sour taste. Anchovies are carefully selected from fresh, uniform-sized fish. After being preliminarily processed and cleaned, the fish is rimmed (stored) thoroughly, seasoned with spices to taste.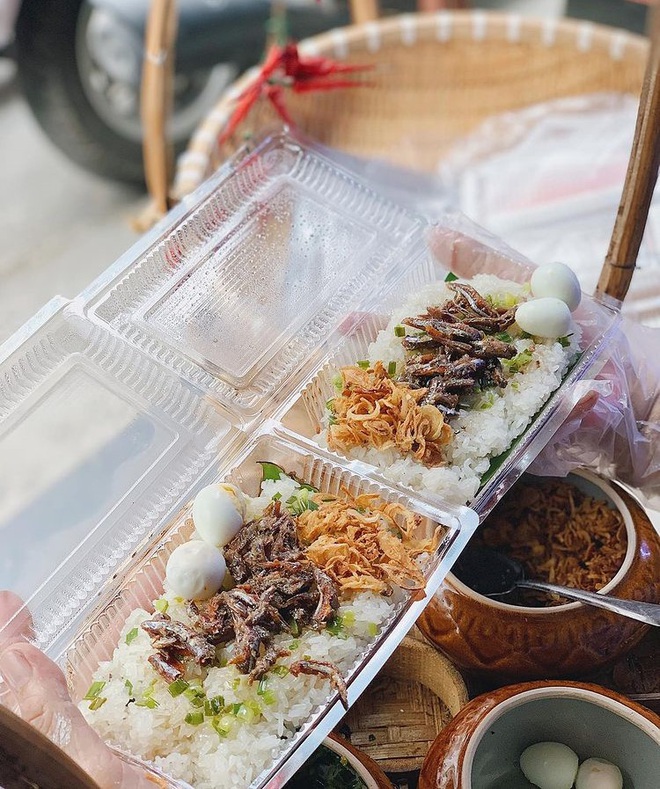 The sticky rice dish is lined with banana leaves quite beautifully (Photo: @mysteriousaigon).
The process of stocking fish requires the cook to have experience and know-how to make the fish soft but not broken, rich in coastal flavor. Because of that, although this dish is processed and enjoyed from whole fish, diners do not worry about choking bones because the anchovies are stocked with soft, full flavor.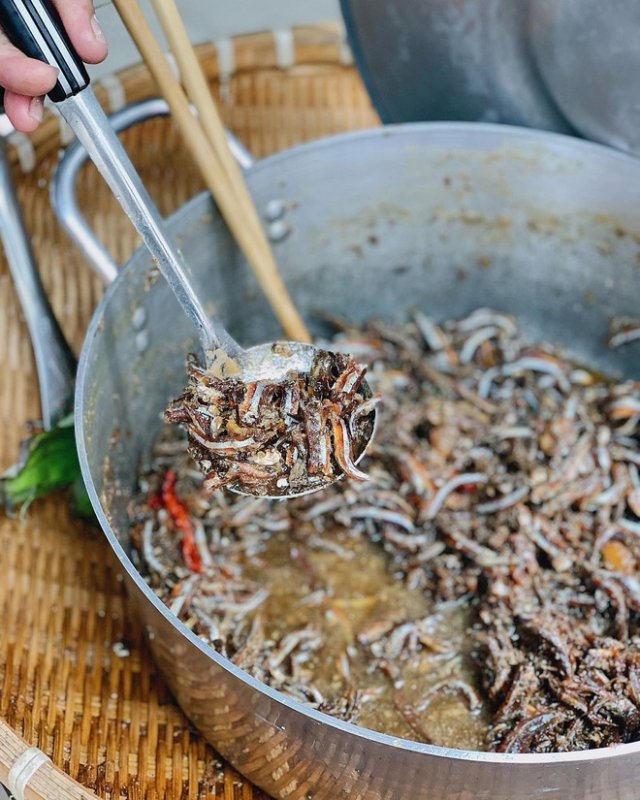 The portion of anchovies rimmed with thick sauce is considered the soul of the dish (Photo: @mysteriousaigon).
Anchovy sticky rice is loved by the people of Nha Trang partly because of its unique taste. Although not fussy, presented with many spices such as mixed sticky rice dishes with enough accompanying ingredients such as cotton balls, sausages, spring rolls, spring rolls, … but anchovy sticky rice still has its own charm.
When a customer buys, the seller will put sticky rice in the box, add a layer of rimmed anchovies, sprinkle some sauce and a little fried onion, hot onion fat. The fragrant sticky rice served with fish and rich sauce makes anyone who eats it once also enjoy it.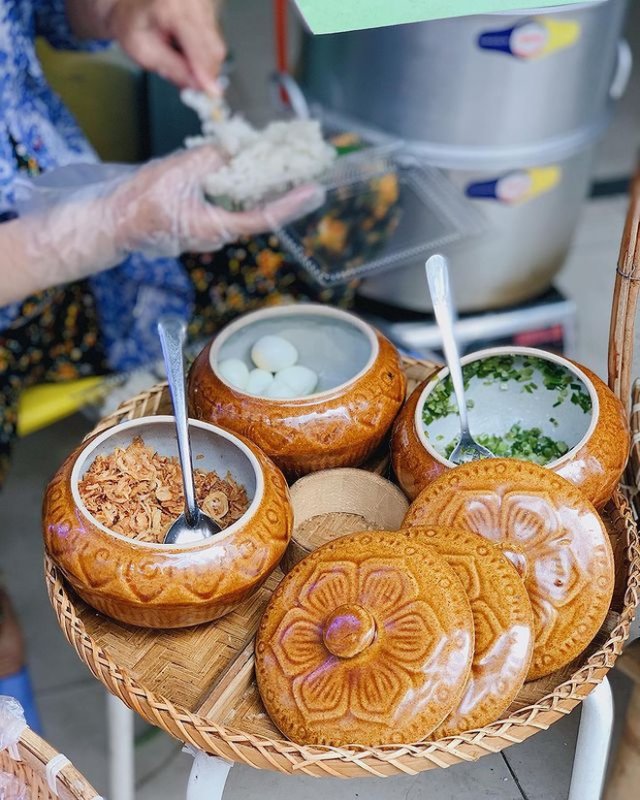 The taste of the dish mainly comes from the anchovy rim (Photo: 
Although it is a familiar dish for many generations of people, in Nha Trang, there are only a few places selling sticky rice with anchovies.
Coming to the coastal city, visitors can find and enjoy specialty sticky rice at Ms. Loan's restaurant on Huynh Thuc Khang street or some other addresses such as Nguyen Dinh Chieu student sticky rice, Ca & sesame sticky rice in Binh Dan, alley 131. , April 2nd Street…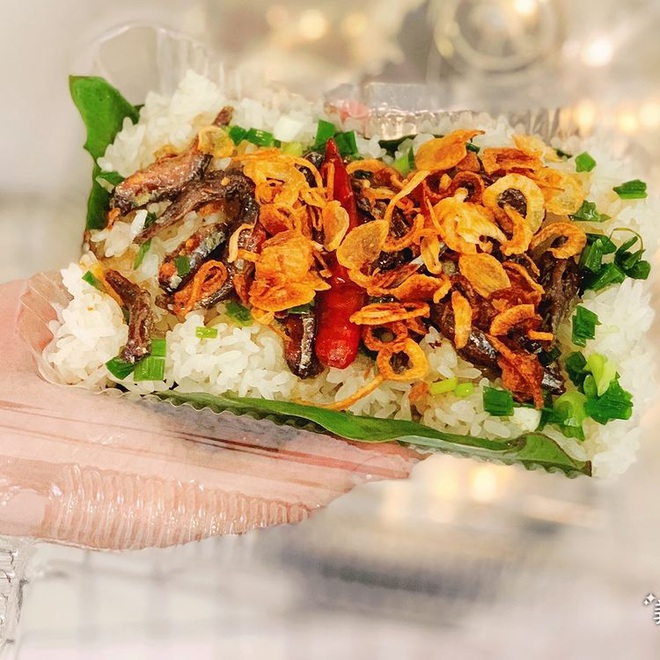 The sticky aroma of sticky rice with anchovy rim with many flavors, mixed with thick sauce and fried onions and onion fat makes anyone who eats it remember once (Photo: @xoicacom_official).
Another reason why anchovy sticky rice is so popular is its affordable price. Each serving of hot sticky rice in Nha Trang costs only from 7,000 – 10,000 VND or more depending on the needs of diners. Thanks to that, all different subjects, including the poor, can still enjoy this "famous" specialty.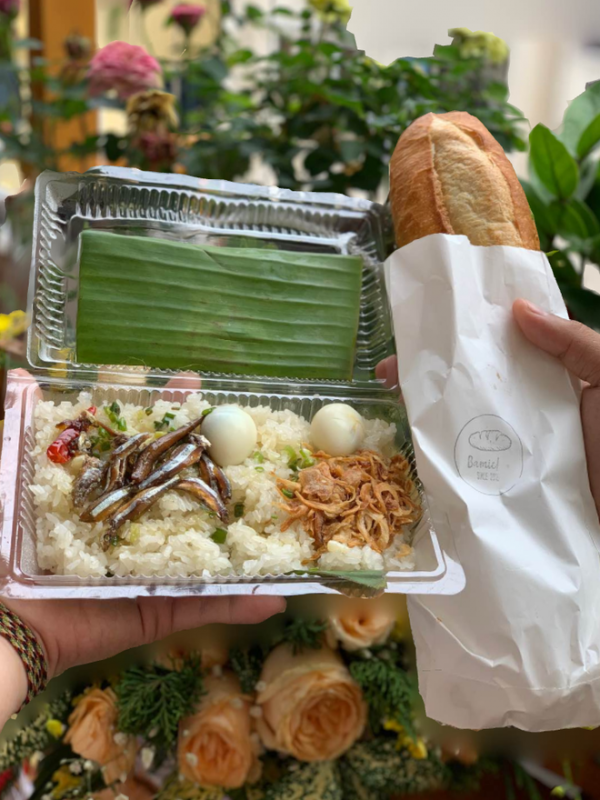 From the coastal specialty of Nha Trang, anchovy sticky rice has been spread everywhere, becoming a delicacy "attracting" guests in many big cities (Photo: Doan Phuong Vy). Follow dantri
TAG: