15 must-try dishes in Hanoi
Hanoi not only attracts tourists with famous landscapes but is also known as a "food paradise" with delicious dishes that make anyone who enjoys it remember forever. Let's explore the delicious dishes in Hanoi that are "remembering" and the most famous addresses that visitors who have come here must try once.
Hanoi delicacies and addresses that visitors should try
There is no shortage of good places to eat in Hanoi, but if you want to enjoy them, you have to grope in the alleys or sidewalk shops. The following is a list of delicious Hanoi dishes that tourists should try when traveling to the capital.
1. Hanoi Pho
Certainly, having come to Hanoi, it is impossible not to enjoy the traditional pho here. That's why in the book "Ha Noi chopping six streets" writer Thach Lam wrote: " Pho is a special gift of Hanoi, not only in Hanoi, but because it is only in Hanoi. delicious ".
Pho Hanoi has never been known since becoming a culinary symbol not only in this place but also one of the national culinary symbols. It is a delicate traditional Vietnamese dish, which has been associated with Vietnamese people for many generations.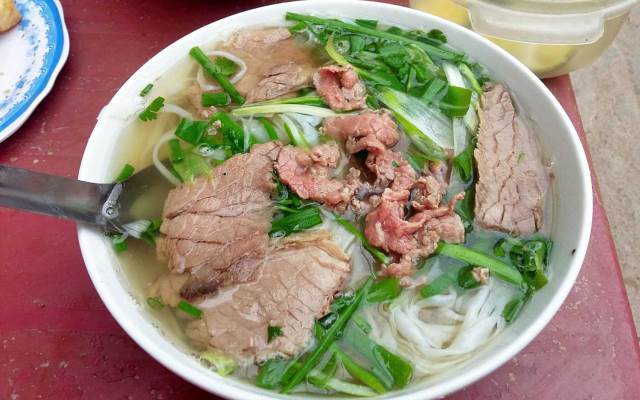 Beef noodle soup – the quintessence of Hanoi cuisine (collected photos)
With the main ingredient of large, white noodle soup, the broth has the aroma and sweetness of beef bones, the hot bowls of pho in the morning will make visitors have an extremely irresistible feeling. Good pho must be pho cooked with beef, the broth is clear and sweet, the cake is flexible but not crushed, the fat is crispy but not chewy, the chili lime and onion are enough. Served with pho with a little fresh herbs, northern pepper, squeezed lemon, it's the real taste. Pho is a very popular dish, like a gift to eat all day in Hanoi. 
Some famous delicious pho addresses in Hanoi:
Pho Bat Dan 49 Bat Dan.
Thin noodle shop 13 Lo Duc street.
Pho Ly Quoc Su:  No. 10 Ly Quoc Su. 
Sidewalk Pho: 4 Hang Bong & Hang Trong intersection.
2. Crab noodle soup
Crab noodle soup is a particularly familiar dish in the Northern provinces. Compared to vermicelli in the South, although there are not as many dishes as Hanoi, Hanoi crab vermicelli still has a very special taste. The rich delicious taste of field crab, the sour taste of tomatoes with a rich broth that cannot be mixed, vermicelli noodles have left in the hearts of visitors a truly indescribable impression.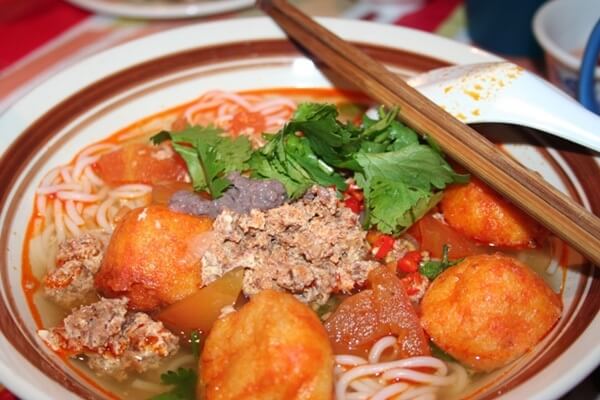 Bun rieu (collected photos)
This dish consists of vermicelli or vermicelli and crab noodle soup. In which, crab sauce is crab soup cooked from bricks and crushed crab body and then filtered with vertical fruits, tomatoes, fat, gooey, fish sauce, salt and scallions. Crab vermicelli often adds spring rolls, beans to eat with raw vegetables and shrimp paste, it is truly unmatched.
Some delicious crab vermicelli addresses in Hanoi:
Noodle soup in Quang Trung street: 2F Quang Trung, Hoan Kiem.
Bun rieu Nguyen Sieu: 32 Nguyen Sieu, Hoan Kiem.
Noodle shop on Thi Sach street: No. 2 Thi Sach, Hai Ba Trung.
Ba Teo noodle shop: 104 C6 To Hieu, Cau Giay.
Hoe Nhai beef noodle soup.
3. Noodles with tofu with shrimp paste – a rustic delicacy of Hanoi
Vermicelli with shrimp paste, as simple as its name, is extremely suitable for the culinary culture of Hanoians: they like to eat at alleys or right at sidewalk restaurants. This dish is extremely simple, including vermicelli, crispy fried beans and shrimp paste.
However, nowadays people often eat with boiled meat, fried rice, spring rolls, heart, … extremely diverse. If you don't know how to eat shrimp paste, it's really a pity, because anyone who has enjoyed vermicelli with shrimp paste will surely fall in love with this dish, perhaps a few times a week to eat.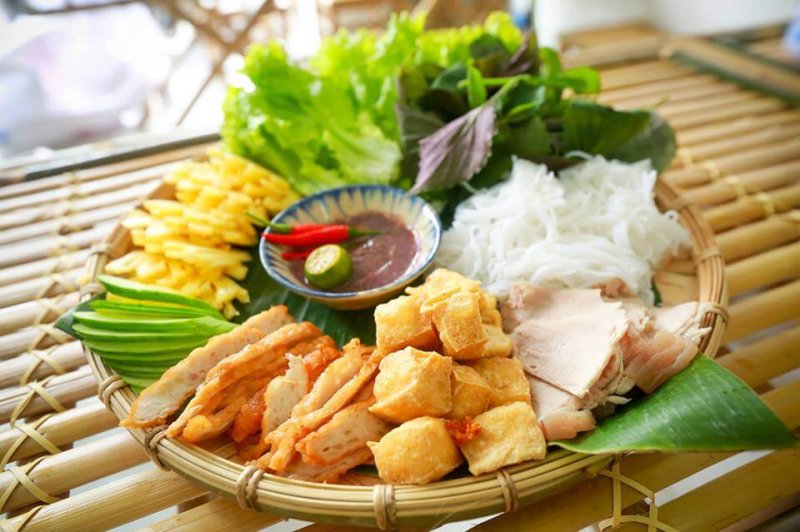 Vermicelli with shrimp paste with shrimp is a "famous" dish of Hanoi (collected photos)
Address of delicious shrimp paste noodles in Hanoi:
Hang Khay shrimp paste vermicelli: Lane 31 Hang Khay.
Cay Bang shrimp paste noodle shop, Dai La.
Ma May shrimp paste noodle shop: 8 Ma May Hoan Kiem.
Noodles with shrimp paste with shrimps Ngo Tram: 1B Lane Tram Hoan Kiem.
Noodles with shrimp paste with shrimp paste, Phat Loc lane, Hoan Kiem.
4. Rib porridge
When we were young, every morning before going to school, we were not led by our parents to the porridge stall at the beginning of the alley, near the school, we were comforted and fed spoons of hot porridge, smooth and fragrant. That dish until now is still like a childhood gift for every Hanoian, like an unforgettable childhood taste.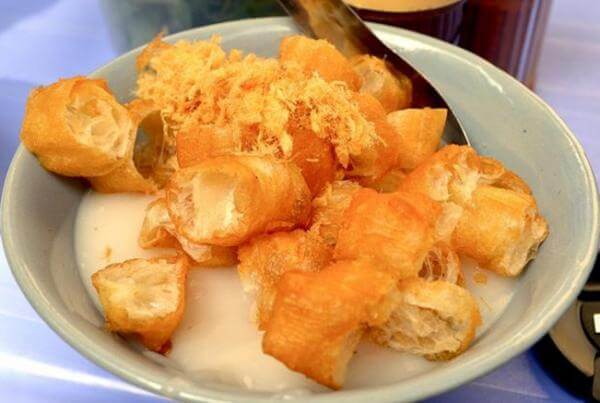 Rib porridge, a rustic dish (collected photos)
This dish is perfect on a cold day. A bowl of fried pork rib porridge is also quite simple, just a large pot of porridge cooked with sweet bone broth, the porridge has both meat and cartilage ribs inside to eat together, combining the rich taste of fried rice and the crunchy crunch of the accompaniment of the piece. All mixed together to create an overall taste that is both familiar and complete.
Is there anyone in Hanoi who hasn't heard of Dong Xuan market's cartilage rib porridge? The restaurant is always crowded from day to night….
Address delicious ribs porridge in Hanoi:
Dong Xuan market rib porridge: 14 Dong Xuan, Hoan Kiem District.
Ngo Huyen ribs porridge: Head of Ngo Huyen, Hoan Kiem District.
Chop cartilage restaurant – Doi Can: 101 Doi Can, Ba Dinh District.
Porridge with quail eggs: Alley Luong Su C, Dong Da District.
Bach Khoa – Ta Quang Buu Rib Porridge: Alley 17 Ta Quang Buu, Hai Ba Trung District.
5. Bun Cha 
Ranked 5th in the list of delicious dishes far from Hanoi is the familiar bun cha dish. Recently, this dish suddenly became famous thanks to the event of the world-famous president Obama visiting Vietnam and trying this dish. Indeed, it is not wrong that the world's most famous president wants to try a very rustic dish in Vietnam, because this flavor gives people an extremely unforgettable and difficult feeling.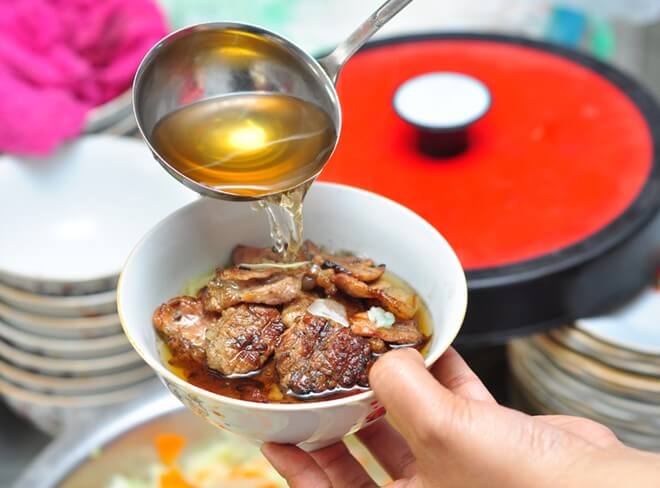 Bun Cha Hanoi (photo collection)
Present in all the streets, markets, even in the deep alleys, but these bun cha restaurants are still extremely attractive to tourists because of their special deliciousness. The meat is marinated in flavor, grilled to perfection on charcoal, served with vermicelli and dipping sauce mixed with a sweet and sour taste. The rich, sweet and fragrant taste of onions makes anyone who has enjoyed this dish certainly will not be able to stop.
Places to eat delicious bun cha in Hanoi:
Bun Cha Hang Than 34 Hang Than, Ba Dinh District. 
Bun Cha Restaurant Hang Manh 1 Hang Manh, Hoan Kiem District.
Bun Cha Hang Fan: 74 Hang Fan Street, Hoan Kiem District.
Bun Cha Huong Lien: 24 Le Van Huu, Hoan Kiem.
6. Bun thang
It would be a mistake to ignore bun thang in the list of delicious dishes of Hanoi cuisine. In terms of deliciousness, sophistication, and sophistication from the selection of ingredients, processing, and presentation of the bowl of vermicelli so that it is delicious, vermicelli is at a "higher level" than other types of vermicelli. worthy of the name "Thang Long the first vermicelli".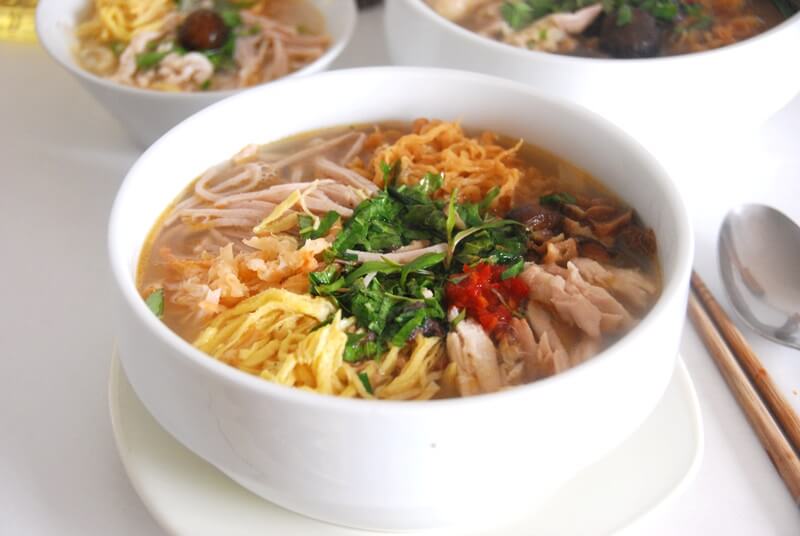 Bun thang is an indispensable name in the list of Hanoi delicacies (collected photos)
To make a delicious, standard bowl of bun thang, it takes up to 20 different ingredients. The bowl of vermicelli is a combination, a colorful work of art with the white background of the vermicelli, the yellow color of chicken and thinly sliced ​​omelette, the pink tint of the sausage, the green of the onion and laksa leaves, the black color of the mushrooms. … presented in a sophisticated way.
For gourmets, just tasting bun thang once will forever remember the spicy taste of chili, the sweetness of the broth, the rich taste of chicken… In the midst of the cold of winter, enjoy a bowl of vermicelli. There's nothing better than a hot, smoky ladder.
Delicious bun thang restaurants in Hanoi:
Cau Go vermicelli: 48 Cau Go, Hoan Kiem.
Bun thang Hang Hom restaurant: No. 2, Hang Chi lane, Hang Hom, Hoan Kiem.
Bun Thang Ha Hoi: 11 Ha Hoi, Hoan Kiem.
Bun thang Giang Vo: D2 Giang Vo house, Ba Dinh.
7. Spring rolls
One of the familiar afternoon gifts of Hanoians that are extremely easy to eat, can be eaten in any season, or any time of the day without being bored is banh gio. Banh gio is made from plain rice flour, filled with minced meat, wood ear, marinated dried onions, very tasty to eat.
Usually, we will eat rice paper rolls with pickles to help reduce the boredom, can add soy sauce and chili sauce depending on each person's taste, which is also very delicious. This is one of the snacks like afternoon snacks but is quite full, but the price is only about 10,000-15,000 VND / piece, so it is extremely popular with everyone.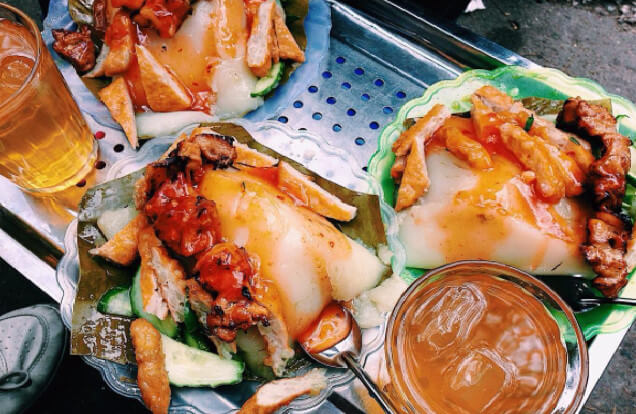 Spring rolls (photo collection)
Address of delicious spring rolls in Hanoi:
Thuy Khue spring rolls: O5 Thuy Khue, Tay Ho.
Homemade spring rolls shop: Pasteur Flower Garden, Hai Ba Trung District.
Dong Cac spring rolls: 33 Dong Cac, O Cho Dua, Dong Da district.
8. Cha ca – a delicious dish of Hanoi
Cha ca has long become a special dish of Hanoi. Names like Cha Ca La Vong, Cha Ca Anh Vu or Cha Ca Lao Ngu are considered to be super delicious brands that cannot be ignored. Ha Thanh fish cake is a kind of sophisticated dish right from the stage of choosing ingredients, made from salmon and fish, so the meat is firm and tough, bun and greasy will not fall apart when you stir it many times on the pan. The piece of fish is cut just right, when it is golden, it will be slightly curled, crispy on the edge but soft in the middle, well seasoned and fragrant.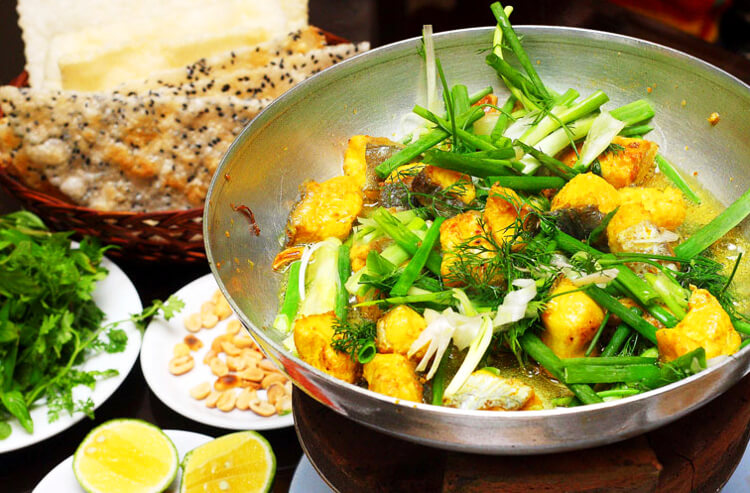 Referring to delicious dishes in Hanoi, it is impossible not to mention fish cakes (collected photos).
The eater pours the onion and dill into the pan and stirs it up. Pick up small vermicelli chopsticks into the bowl, add a few peanuts, herbs, a piece of fish and some onions sauteed in a steaming hot pan, sprinkle on a small spoon of shrimp paste and start enjoying. Each of these things mixed together creates the famous delicious taste of Hanoi's fish cake specialty.
Some delicious grilled fish addresses in Hanoi:
Cha Ca La Vong: 14 Cha Ca Street and 107 Nguyen Truong To Street. 
Anh Vu fish cake shop: No. 120 K1 Giang Vo, Ba Dinh District.
Thang Long fish cake: No. 21 Duong Thanh, Hoan Kiem District.
Fried fish Lao Ngu – Thai Ha: No. 171 Thai Ha, Hoan Kiem District.
9. Chili 
Fried egg rolls are considered a "rare" specialty of Hanoi because the season only appears for a very short time in late autumn. In order to make a delicious dish, the stage of choosing the bacon is also very important. The body should be fat, green, strong cows are fresh, when processed, they will have a sweet and fatty taste. The red or brown ones have less delicious taste.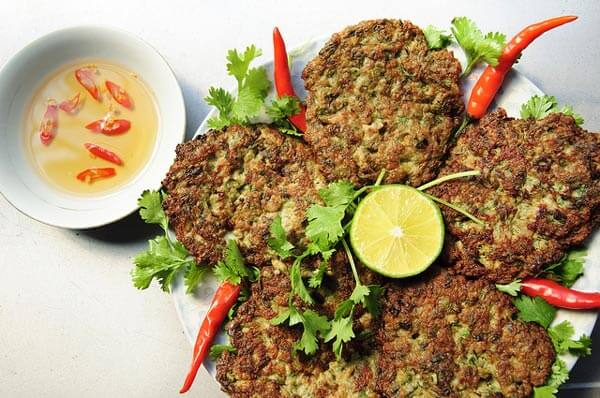 Hanoi fried rice (photo collection)
Hanoi fried rice is especially delicious because it has typical ingredients such as bacon, duck eggs, chicken eggs, bay leaves, spring onions, dill, ginger leaves, pepper, main noodles, fish sauce. Especially indispensable is the tangerine peel to help reduce the fishy smell as well as enhance the flavor of the dish.
Cha ruoi is fried on a pan of old hot fat, simmered. Biting a piece, you will feel the crispy crust with the soft, sweet, fatty, fragrant tangerine peel. There's nothing better than rolling cha ruoi with raw vegetables, adding a piece of white vermicelli and then dipping it with mildly spicy and sour fish sauce in the cold weather.
Some addresses selling fried spring rolls in Hanoi:
Hung Thinh fried spring rolls shop in O Quan Chuong – Hang Chieu: No. 1 Hang Chieu, Hoan Kiem.
Gia Ngu: 25 Gia Ngu, Hoan Kiem.
Hang Beo spring rolls: 244 Lo Duc.
10. Com
Referring to Hanoi autumn is referring to the taste of green rice. This sweet, rustic snack has been accompanied by the years of the Trang An people, so that every child who is far away from home, when he remembers his mother, is anxious to remember. And visitors who have tasted it once will never be able to forget that full flavor.
In order to get delicious green nuggets, the people who make green nuggets have to go through many elaborate stages. Although it is a rustic gift, to properly enjoy green rice requires the sophistication of the person enjoying it. When eating nuggets, do not eat with chopsticks or spoons, but use two fingers to pinch a few grains of nuggets and drop them on the tip of the tongue, chew them slowly to feel the delicate and sweet taste of the nuggets mixed with the scent of lotus leaves wrapped around the earth like autumn. Hanoi is gradually seeping into the body.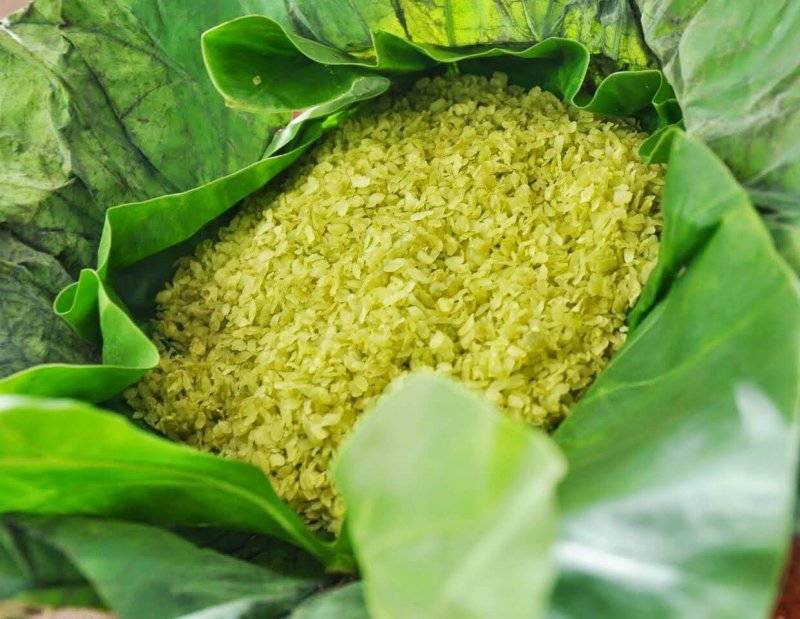 Com – Hanoi's delicacy (collected photos)
Com is also a specialty of Hanoi as a gift for relatives and friends, which is loved by many people. Besides that, com is also transformed into many other delicious dishes such as com cake, fried com, fried com, ice cream, com, etc., contributing to the quintessence of Ha Thanh cuisine.
Some addresses to buy nuggets and delicacies from them
Com Vong village: Vong village, Dich Vong Hau, Cau Giay.
Nguyen Ninh rice cake: 65A Hang Than, Ba Dinh.
Fried rice: 1A Dinh Liet, Hoan Kiem.
Sticky rice nuggets at Hom market: Hom market gate, Tran Xuan Soan.
Green rice tea: Thanh Cong Market, Ba Dinh.
11. Thanh Tri roll cake
Speaking of banh cuon in Hanoi, it is impossible not to mention Thanh Tri's famous banh cuon from near and far. To make "standard" banh cuon here, the baker has to choose delicious plain rice, soak for 3 hours in clean water and then grind it. The cake is coated on a white cloth, placed on a pot of hot water that is always boiling so that the cake is cooked as desired.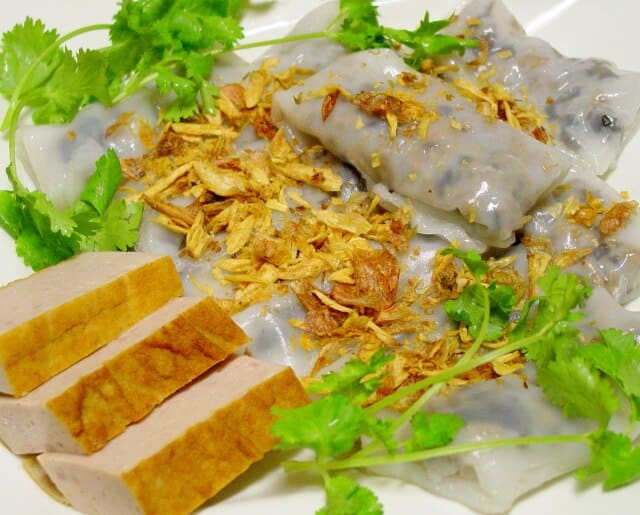 Pictures of Thanh Tri rolls (collected photos)
Thanh Tri rolls are most special in that they are thinly coated like a fine silk. Onion oil applied to the face is light, the white color of the cake stands out with the red-brown spots of fried onions. Looking at the freshly made cakes makes anyone who sees them also feel "craving". Thanh Tri rolls are not filled, so people often eat them with cinnamon rolls. The fragrant patties, the smooth rolls, and the rich dipping sauces blend together to create an attractive taste.
Some addresses to enjoy Thanh Tri rolls:
Ba Hoanh roll cake: 66 To Hien Thanh.
Banh cuon shop 17: 17 Cha Ca.
Vegetarian rolls: 19 Nguyen Che Nghia.
12. Shrimp cake – delicious Hanoi specialties
Hanoi cuisine is always rich, converging much quintessences in each rustic dish. Among them is shrimp cake, a delicious dish drawn from the sophistication, ingenuity and gourmet of the Ha Thanh people.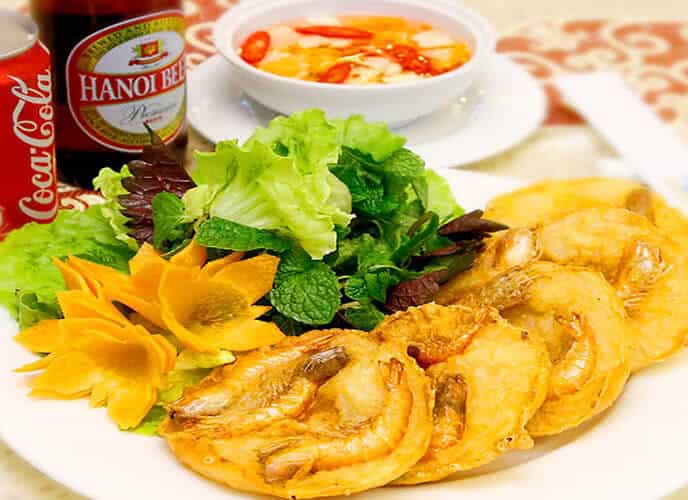 Shrimp cake (photo collection)
Shrimp cakes are available in more, on many streets of Hanoi. This is also a familiar snack of many students, associated with the memories of school age. The shrimp chosen to make the cake must be fresh, firm, wrapped in flour and eggs, when fried, it has a very eye-catching brick red color. Shrimp cakes are fried almost as big as your hand, taken out to drain the fat. A plate of cake with a plate of raw vegetables is placed in the middle of the dining table, dipped with sweet and sour sauce, spicy and delicious, the wonderful taste cannot be described. This is definitely a delicious Hanoi dish that you can't help but stop by to enjoy.
Some places to eat delicious shrimp cakes in Hanoi
Shrimp cake shops around West Lake.
Hang Bo shrimp cake: 48 Hang Bo.
Shrimp cake 25 Le Dai Hanh.
13. Dried beef salad
This is one of the familiar favorite snacks of many people, especially young people because of the taste made from all kinds of ingredients. Dried beef salad is a combination of the spicy taste of dried beef with the sweet and sour taste of the dipping sauce, the crunchy taste of papaya, carrots and fragrant roasted peanuts to give diners an interesting culinary experience.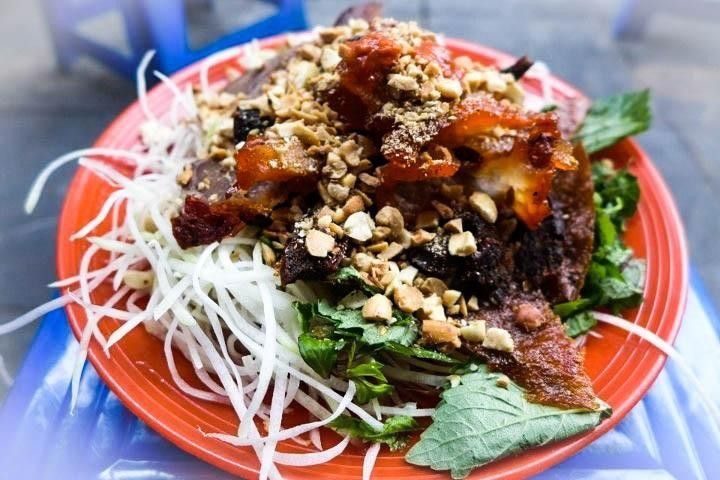 Dried beef salad is an interesting snack of Hanoi cuisine (collected photos)
Some delicious mannequin addresses in Hanoi
Long Vi Dung mannequin shop: 23 Hoan Kiem Lake.
Bo Gia dry beef mannequin shop: No. 1 Nguyen Trung Truc.
Lim salad: 54 Hang Bun.
14. Xoi Xeo
Referring to Hanoi, people often only remember that there are pho, vermicelli … but forget that Hanoi also has a rustic but extremely attractive gift: sticky rice with lotus leaves. Not only Hanoi has sticky rice, but the rich flavor or sophisticated cooking method, no other type of sticky rice can be compared. Xoi xeo is a delicious Hanoi dish, a familiar breakfast gift for many people in the capital.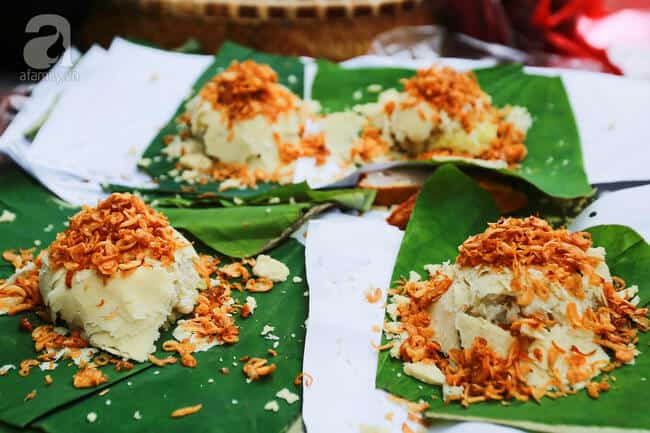 The flavor of Hanoi in a package of sticky rice with lotus leaves (collected photos)
Rice to cook sticky rice must be the type of sticky rice with yellow flowers, soaked in water mixed with turmeric and then cooked with lotus leaf water. Green peas are pounded and then rounded to the size of a grapefruit, when eaten, they are sliced ​​into thin layers to cover the sticky rice. Onions are fried crispy, and onion juice is used to sprinkle sticky rice. Eating a piece of sticky rice, you will feel the aromatic taste of sticky rice, the greasy taste of onion fat, and the delicate taste of lotus leaves. The beautiful sticky rice dish, like the early morning sun, is an integral part of Hanoi's old quarter, the values ​​of Vietnamese culture.
Some delicious sticky rice addresses
The row of sticky rice with Mrs. May: the sidewalk of the Hang Bai – Ly Thuong Kiet intersection.
Bat Dan sticky rice.
Xoi Yen shop: 35B Nguyen Huu Huan.
15. Trang Tien Ice Cream
For many people, especially those who live and work in Hanoi, perhaps no one is unaware of the Trang Tien ice cream brand. Born in 1958, the taste of ice cream here has captivated countless generations of Hanoians.
The fragrant plasticity of the nuggets in the ice cream sticks, or the sweet coconut fibers in the coconut ice cream…, all create an unmistakable ice cream brand. From babies, students, adults to old people, they all seem to have a joy every time they talk about or enjoy this "famous" ice cream of Hanoi.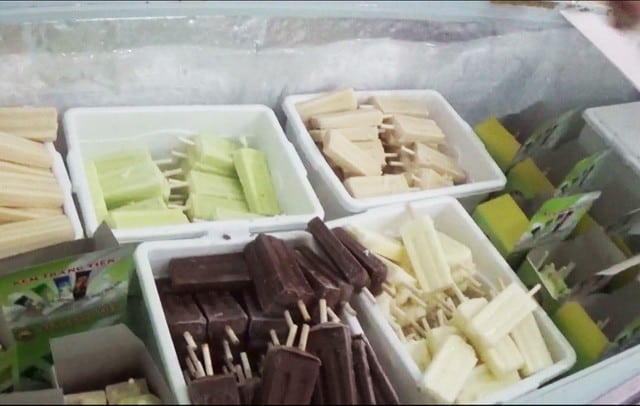 Trang Tien Ice Cream (photo collection)
Address: 35 Trang Tien
Hopefully, the delicious Hanoi dishes that Vinlove.net summarizes above, will help you somewhat understand and love the culinary culture of the thousand-year-old capital.
Self-sufficient travel experience in Hanoi from A-Z
What does Hanoi have that makes many people who come here once they come here passionately? Let's find out "all" self-sufficient travel experiences in Hanoi through the detailed guide below to find yourself the answer!
I. When is the right time to travel to Hanoi?
The best time to go to Hanoi is in the fall, around August, September, and October. The best time to go to Hanoi is in September or October. Because at this time, the rainy season in Hanoi. usually ended. The weather is clear, the sun is not too strong. The temperature is average, the air is cool. All the above weather factors create the best conditions for visitors to have a wonderful journey to discover Hanoi.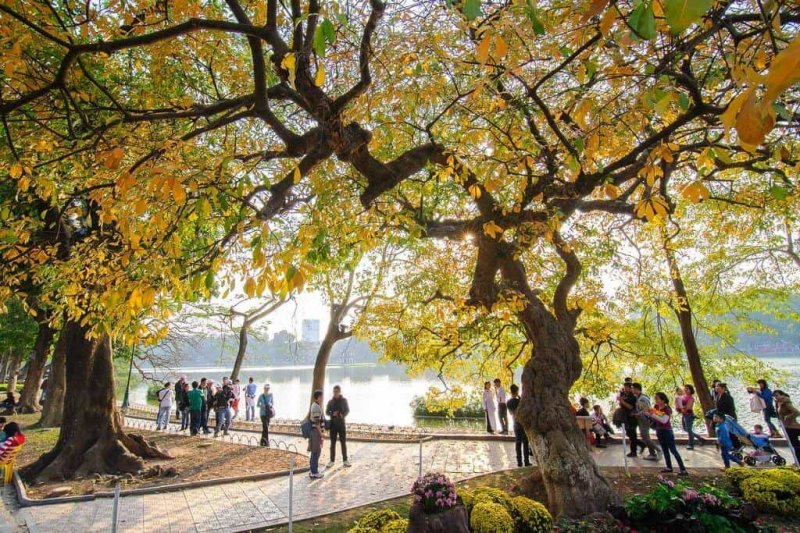 Autumn in Hanoi, yellow cold rice tree, red leaf eagle tree..
As for tourists who like cold air, a bit chilly, the last months of the year like November and December will be a good suggestion to visit Hanoi. Coming to Hanoi around this time, besides visiting famous tourist sites, visitors can also enjoy many delicious winter specialties in Hanoi.
II. Instructions for transportation when traveling to Hanoi
Transportation to Hanoi
+ If you live far away and have plenty of money, the plane is the most appropriate means of transportation to Hanoi. Or you can choose the train to save money as well as conveniently visit other tourist attractions on the way. 
+ If you live in neighboring provinces, not too far from Hanoi, you can choose to go to the capital by bus or motorbike. In particular, motorbikes are the most popular means of transport because it is not only economical but also brings many interesting feelings.
Means of sightseeing in Hanoi
Coming to Hanoi, you can visit by some of the following popular means of transport:
Motorbike: You can explore the city by yourself by renting a motorbike or calling grab. The price of motorbike rental here ranges from 50k – 200k/day depending on the type of motorbike or scooter.
Taxi: If you go with a lot of people, you can choose a taxi. Although the price is quite high, but this vehicle will help you get anywhere you want safely and quickly.
Cyclo: You can travel by cyclo to visit the old town. Most tourists coming here choose cyclo to move to tourist attractions in Hanoi. You can directly call a car because in the lakeside area, the number of cyclos is a lot.
Bus : This is a type of public transport that is extremely familiar to locals and tourists when coming to Hanoi. The ticket price for each trip is quite cheap, only 7,000 – 9,000 VND. You can see the route and map of bus routes here .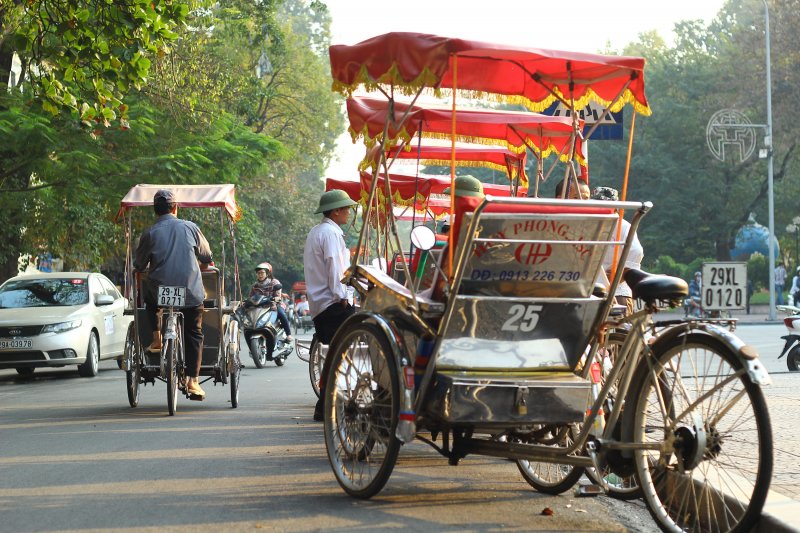 Cyclo is quite popular means of transport in the center of Hanoi (collection source).
Tram: Is the new green tourist means of Hanoi. You can also choose a tram to move to attractions so that you can fully explore a civilized, modern and ancient Hanoi.
III. What Hanoi has: Famous tourist attractions in Hanoi
If anyone asks what is beautiful about Hanoi, it is easy to answer: Hanoi is beautiful because of the ancient Turtle tower, mossy roofs in the old town, the majestic Uncle Ho's mausoleum, and the majestic West Lake. wind… Now let's review with Vinlove.net right away the beautiful places not to be missed when traveling to Hanoi capital:
1. Hoan Kiem Lake
Hoan Kiem Lake is a famous landscape in Hanoi, located at the connection between the Old Quarter including Hang Ngang , Hang Dao , Cau Go , Luong Van Can , Lo Su … with the Western Quarter planned by the French. more than a century ago are Bao Khanh , Church , Trang Thi , Hang Bai , Dinh Tien Hoang , Trang Tien , Hang Khay , Ba Trieu . Hoan Kiem Lake is the central area of ​​Hanoi capital, so you can come here easily by private or public transport.
Dubbed the heart of the Hanoi capital, under King Le, Hoan Kiem lake was named Thuy Quan lake. According to legend, at Thuy Quan lake, King Le returned the golden turtle sword, so Hoan Kiem lake got its name from there.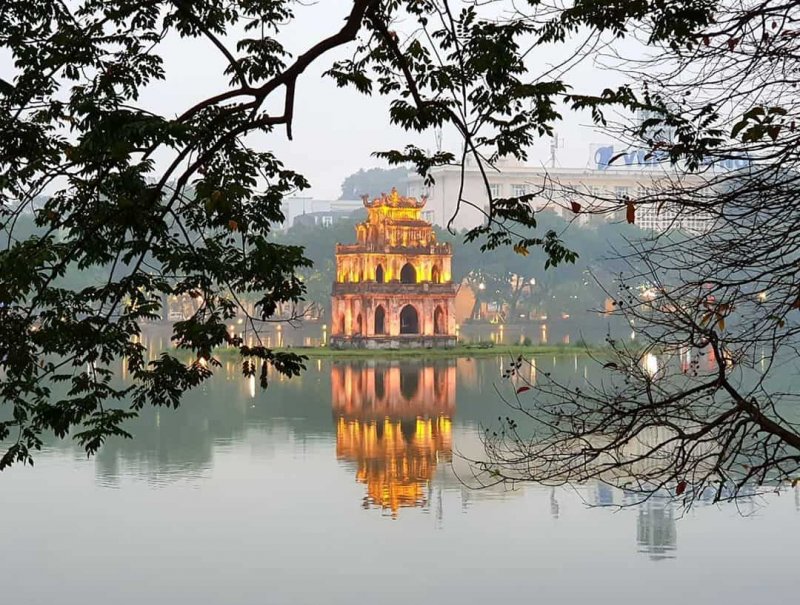 Hoan Kiem Lake is home to many long historical stories of the country. Photo: @meimeiontour
In the middle of the lake is the ancient Turtle Tower, surrounded by heritages of long cultural and historical significance such as Pen Tower, Ngoc Son Temple, The Huc Bridge leading to Dac Nguyet Floor, Dai Nghien … Those are the symbols. creating the beauty of the capital of thousands of years of civilization. With a clean and fresh space, this place is a popular spot for young people, chosen by couples as a place to take wedding photos. Not only that, Hoan Kiem Lake is one of the attractions for domestic and foreign tourists.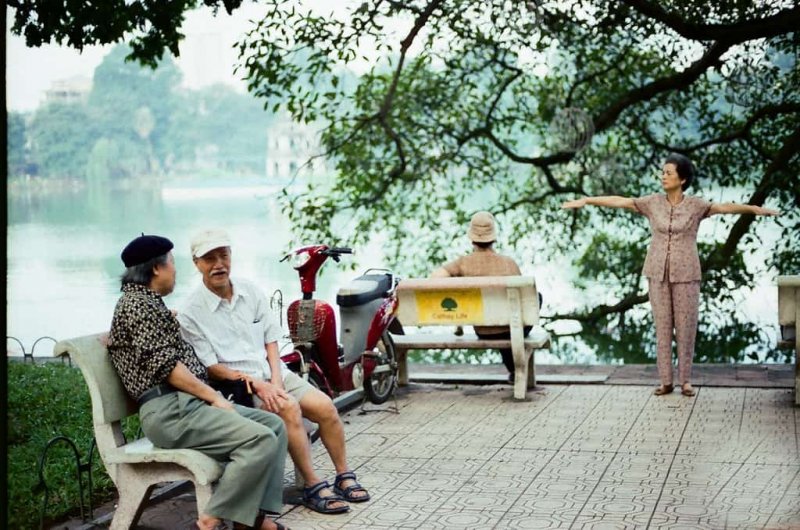 In the morning, Hoan Kiem Lake often has a lot of people coming to exercise, talk, read newspapers as a unique culture of the capital. Photo: Tuan Dinh Van
2. Uncle Ho's Mausoleum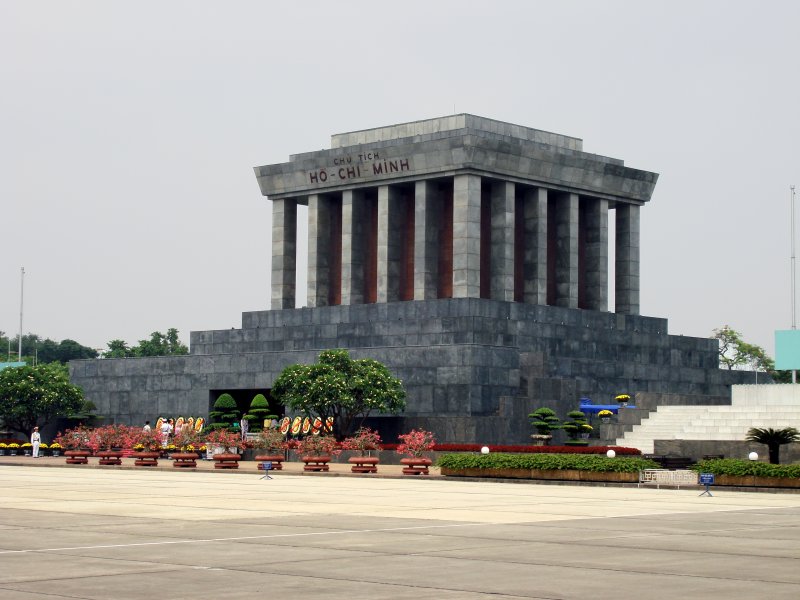 The image of Uncle Ho's mausoleum outside (collection source)
Where to go to Hanoi? Uncle Ho's Mausoleum will definitely be a destination that you cannot ignore. Located on Hung Vuong – Dien Bien street, this is the place to keep the body of President Ho Chi Minh. When coming to Hanoi, everyone wants to visit Uncle Ho's mausoleum once. In addition, there is Ba Dinh Square where Uncle Ho read the Declaration of Independence giving birth to the Socialist Republic of Vietnam. Here you can also visit the Ho Chi Minh Museum which keeps a lot of memorabilia about Uncle Ho. As a very meaningful sightseeing place for those who first come to Hanoi.

3. Tran Quoc Pagoda
Tran Quoc Pagoda is located on a small peninsula east of West Lake. The 1,500-year-old pagoda, considered the oldest in Hanoi, has recently entered the list of 16 most beautiful temples in the world voted by the Daily Mail (UK). The temple is a place to store religious and historical values ​​that attract many Buddhists and tourists to visit.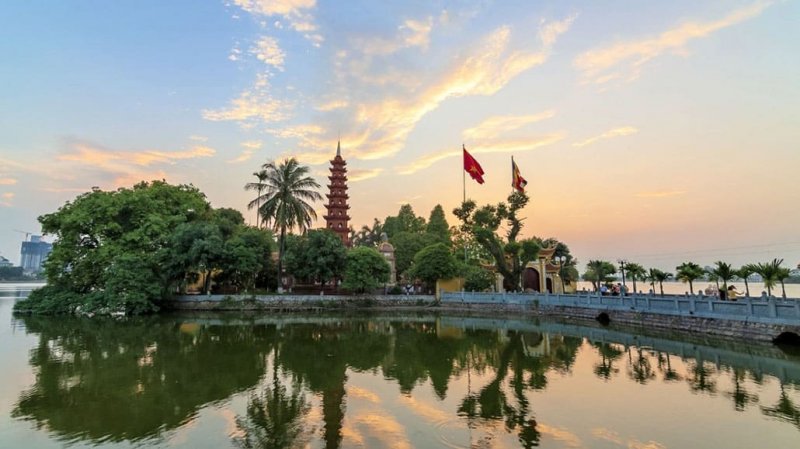 Tran Quoc Pagoda – the most beautiful ancient temple in Vietnam
4. Hanoi Cathedral
The Cathedral is located at 40 Nha Chung Street, Hang Trong, Hoan Kiem, Hanoi. In general, the building has a European Gothic architectural style, but still has a combination with the indigenous architecture shown in the terracotta tile roof system, the interior decoration is bold in Vietnamese tradition. Therefore, it is the product of a very unique East-West cultural exchange.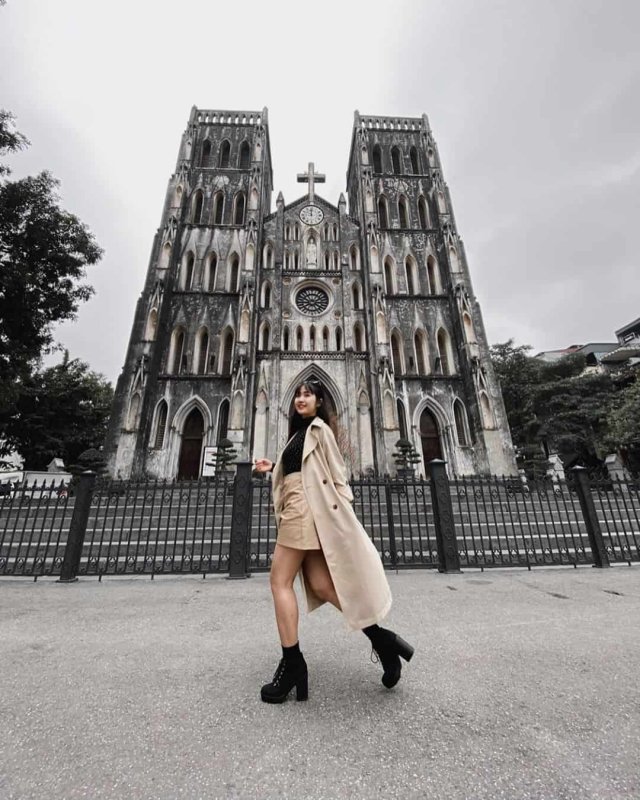 Hanoi Cathedral – majestic and ancient. Photo: @tinhvo97
Hanoi Cathedral is considered a typical church architecture and is one of the most beautiful Catholic churches in the capital and the whole country. Traveling to Hanoi, visitors will certainly not be able to ignore this attractive place.
5. Temple of Literature Quoc Tu Giam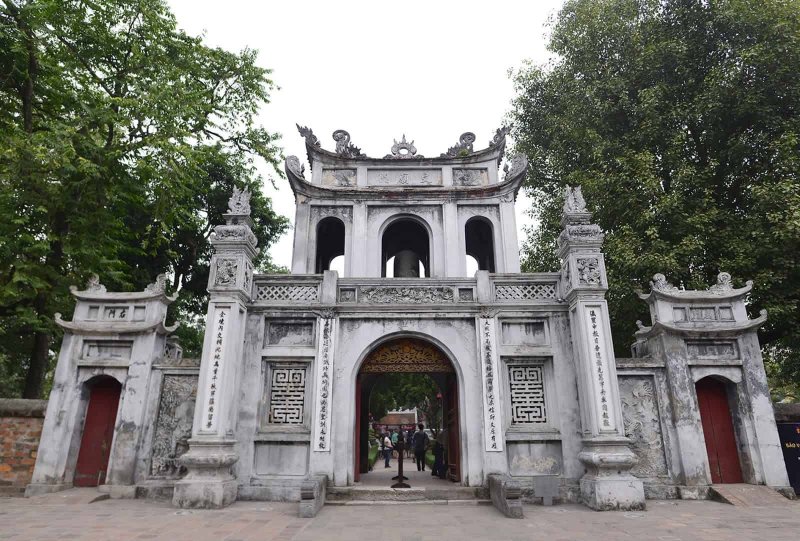 Temple of Literature from the outside. Photo: ST
Dubbed the first university of Vietnam, the Temple of Literature is not only a famous historical relic of Hanoi but also a place containing the quintessence of the previous feudal history and preserving the traditional values ​​of Vietnam.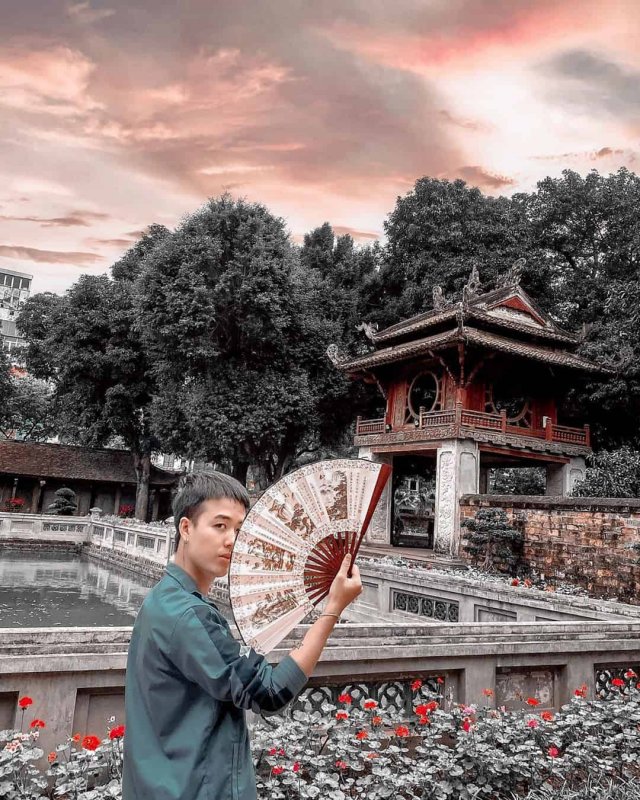 A corner of the Temple of Literature. Photo: @_hoangnhatanh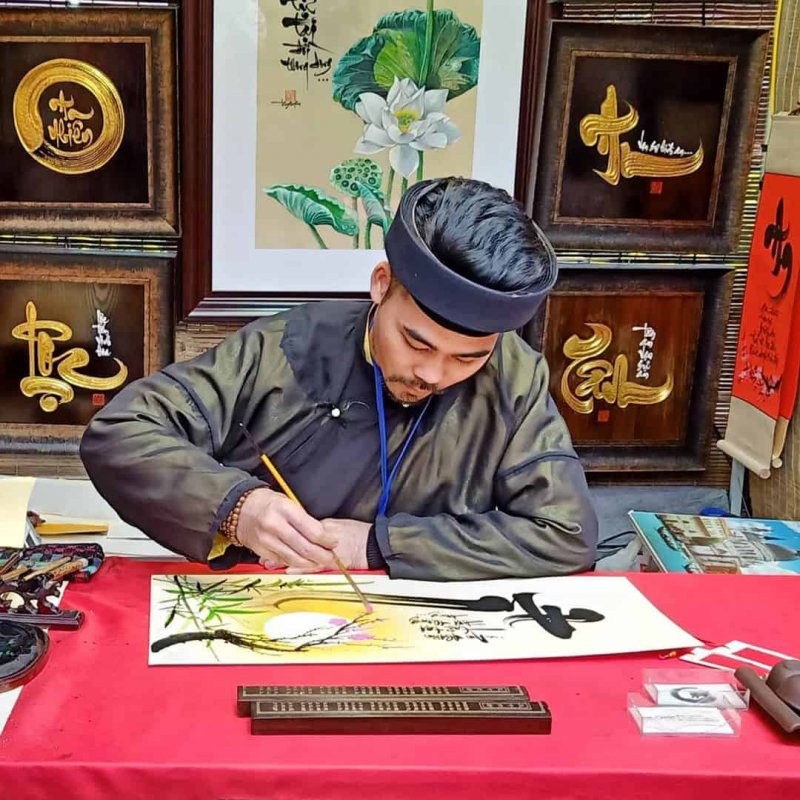 On each occasion of the Lunar New Year or important exams, many people come here to ask for good luck. Photo: @maianhdinh
Today, the Temple of Literature – Quoc Tu Giam is also a place to organize poetry festivals, a place to commend outstanding and outstanding students, and a famous tourist attraction attracting a large number of domestic and international tourists. At the same time, this is also the meeting place for "ask for words" of the people of Ha Thanh during the traditional New Year holidays with the wish of a peaceful new year or during the important exam seasons of the country with the belief of successful "soldiers".
6. Opera House
The address of the Opera House is at 1 Trang Tien, Chuong Duong, Hoan Kiem.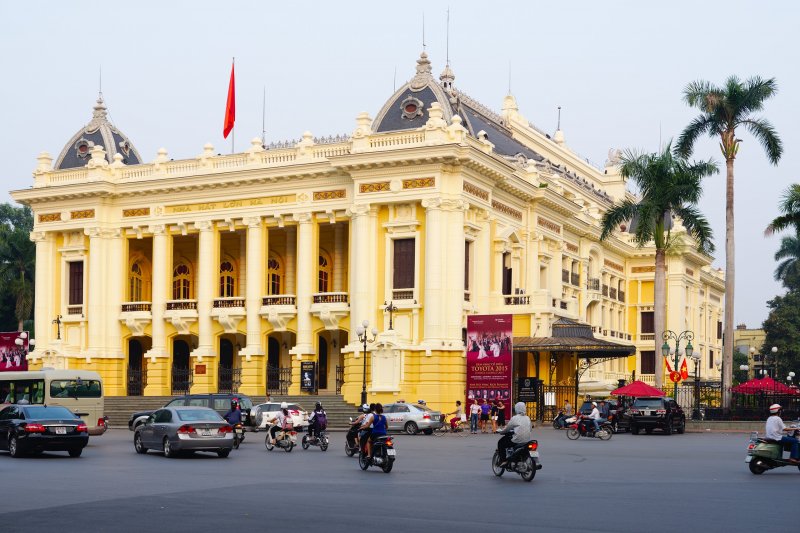 Opera House – cultural symbol of the capital (collectible source)
This historic theater in the heart of Hanoi is the venue for major art shows by many of Vietnam's top famous singers and artists. Visitors can admire the magnificent architecture of the Hanoi Opera House or buy tickets to one of the regularly held shows to see the magnificent interior of the theatre. 
7. West Lake
West Lake is located in the northwest of Hanoi's inner city with an area of ​​about 500ha, the road around the lake is nearly 20km long. This place is the most romantic corner in the colorful painting of Hanoi, the world of clear breezes, liberal and poetic. West Lake is not only a fun place in Hanoi to attract tourists, but it also contains national cultural values. 
Around the lake, there are more than 20 communal houses, temples and pagodas that have been ranked with many famous relics with many valuable documents such as more than 100 stone steles, 165 couplets, 140 diaphragms, nearly 20 ancient bells, 60 colors deified, over 300 bronze, wooden and stone statues.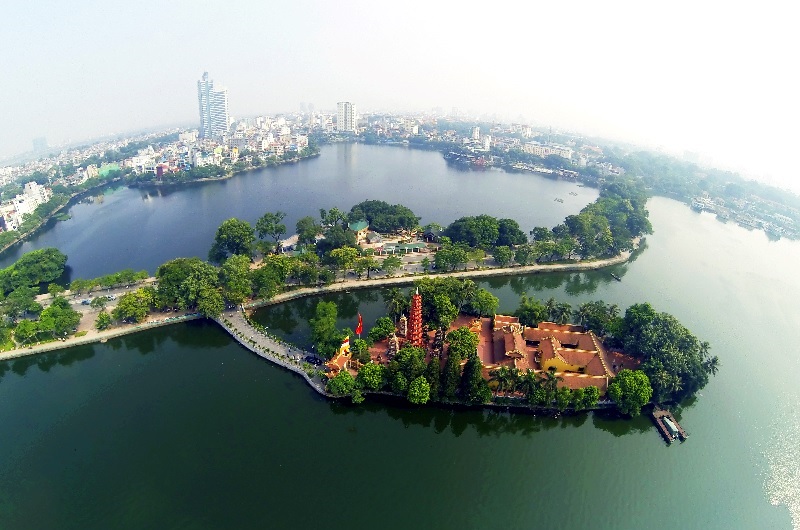 West Lake seen from above (collection source)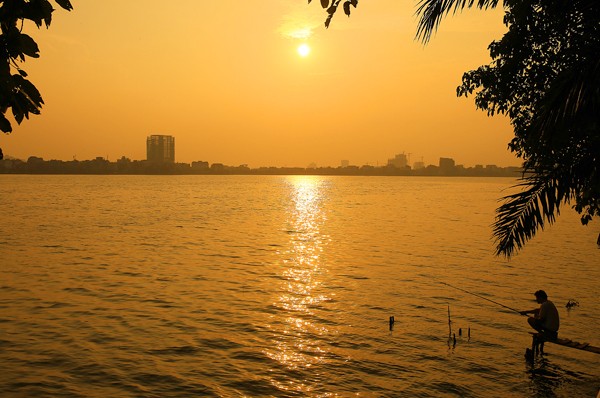 West Lake sunset (collection source)
8. Hanoi Old Quarter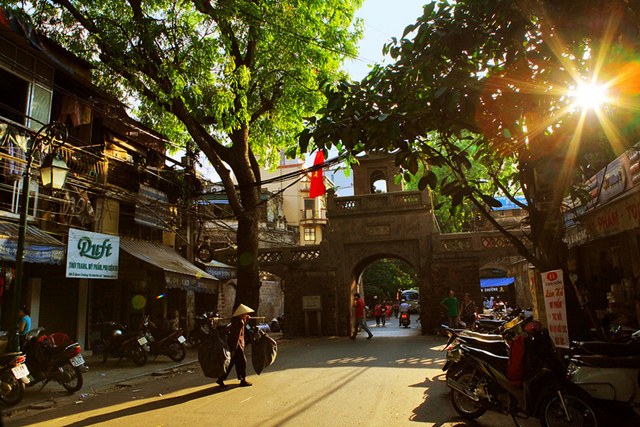 O Quan Chuong – Hang Chieu (collection source)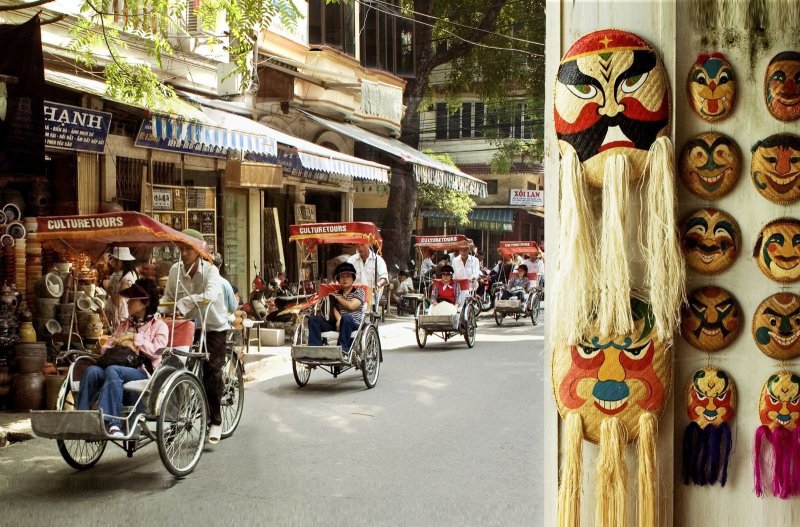 Tourists visit the old town by cyclo (collection source)
The old town is the streets, houses, and street corners with the bold architectural style of the French in the nineteenth century. Experiencing many ups and downs of history and changes of time, this place still retains its original architecture intact. It can be said that the old town is the soul and unique feature of Hanoi.
Especially in Hanoi Old Quarter, you can go for a walk day and night to experience all the human culture here, there are delicious dishes typical of Hanoi's old town flavor. 
IV. Interesting tourist attractions near Hanoi
See more: "Let's hide together" to 12 tourist destinations near Hanoi on the weekend
Besides the famous scenic spots in the city, when traveling to Hanoi, you should not miss the following interesting suburban places:
1. Bat Trang Pottery Village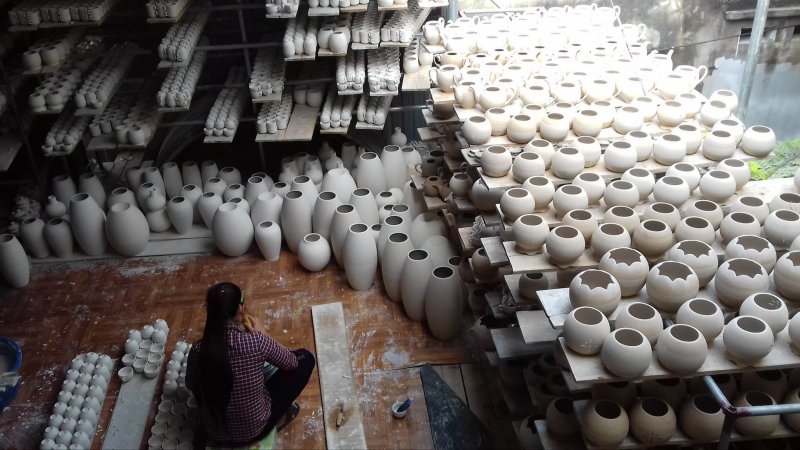 Hanoi 1 day tour in Bat Trang pottery village (collection source)
Bat Trang pottery village is located along the Red River in Gia Lam district, on the outskirts of Hanoi. Bat Trang Pottery Village produces a variety of products in both types and designs, including fine art items such as statues and reliefs, high technology, breeding animals, flower vases, wall plates, etc. The most interesting thing when visiting Bat Trang pottery village is to directly visit the artisans who make extremely delicate products, especially you can manually mold the products you love.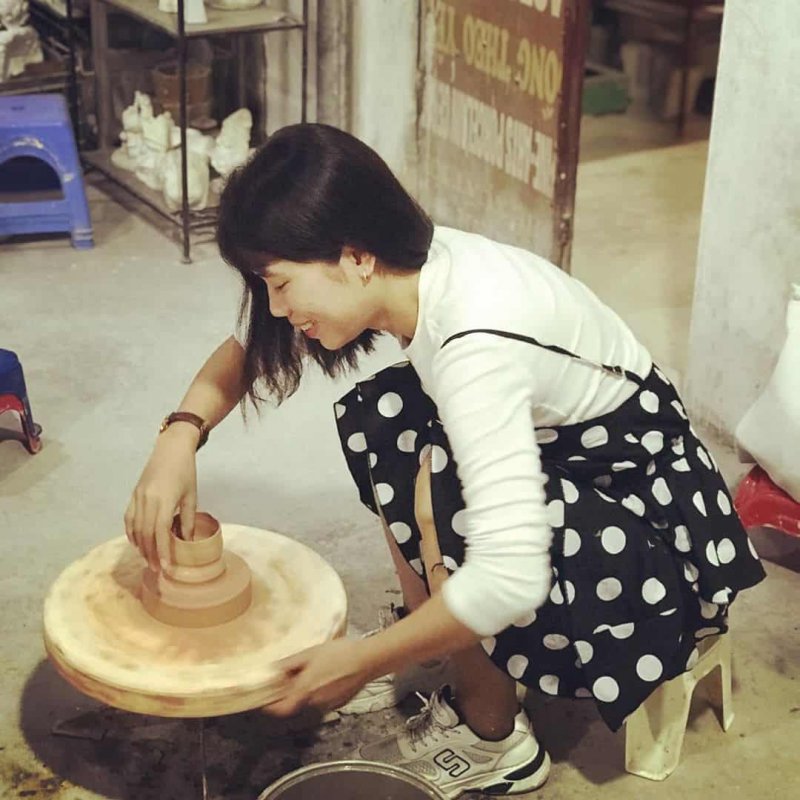 Hand-made beautiful small ceramics. Photo: @Canary3010
2. Duong Lam Ancient Village
Located more than 50km from the capital,  Duong Lam ancient village in Son Tay town is a famous tourist destination near Hanoi . This is the first ancient village in Vietnam to be awarded the National Historical and Cultural Relic by the State in 2006. 
Until now, Duong Lam's ancient village is the only village in the country that still retains the ancient architecture and living habits of an ancient Vietnamese village 300 years ago. In addition, Duong Lam also has many valuable historical sites such as Phung Hung communal house, Ngo Quyen temple, Giang Van Minh flower temple… Visitors can take a bus from Hanoi city center to Son Tay, Then continue to take a taxi to the village gate. Entrance ticket: 20,000 – 25,000 VND/person.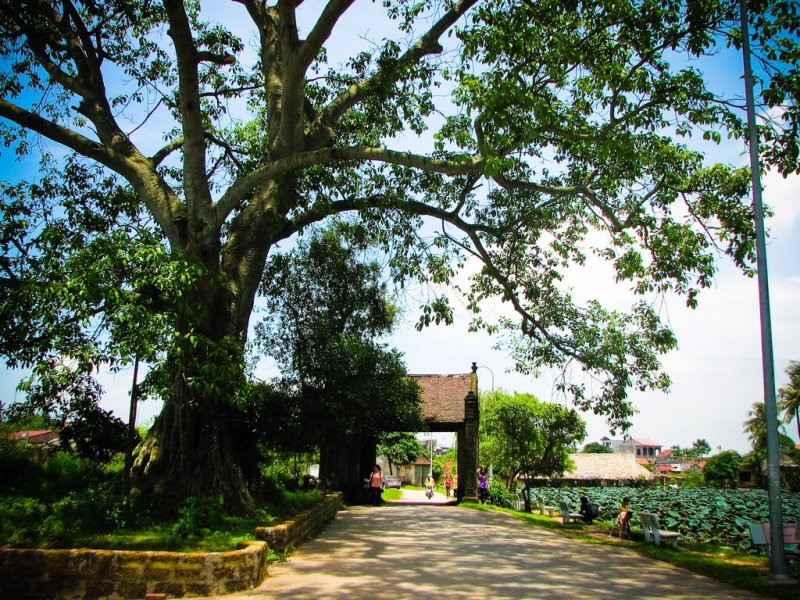 Duong Lam ancient village gate (collection source)
3. Ba Vi National Park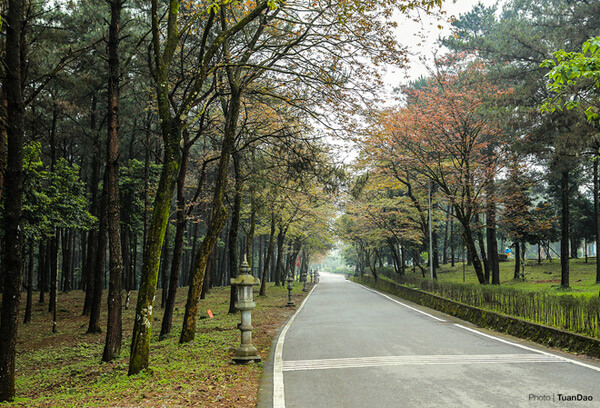 The road in Ba Vi National Park like in Korean movies (Source: TuanDao)
About 60km from Hanoi, Ba Vi National Park belongs to Ba Vi district, Hanoi city. This is a complex of entertainment, discovery and relaxation resorts. This is the right place for you or your family to have fun and relax after a tiring day of studying and working. Coming to Ba Vi National Park , you can visit the cactus greenhouse, visit the ancient buildings built by the French. There is also a temple for President Ho Chi Minh and a temple for Saint Tan Vien. You can also climb to the top of Vong Canh for a panoramic view of the surrounding mountains. [/b]
[b]4. Dong Mo ethnic culture village of Vietnam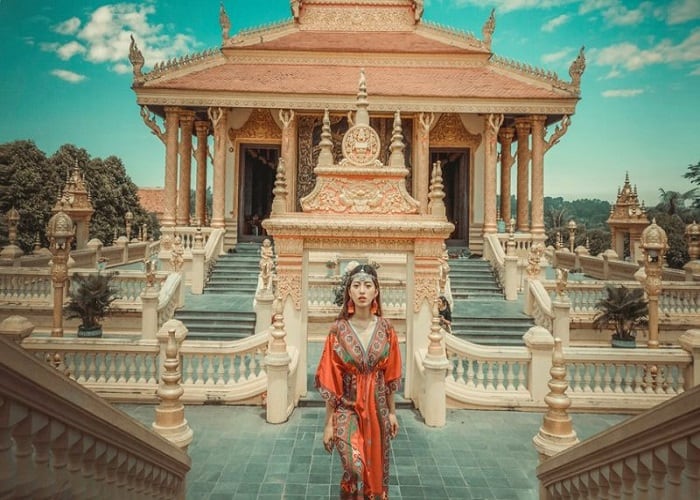 A place where unique cultural values ​​are reproduced (collection sources)
The Culture and Tourism Village of Vietnam's Ethnic Minorities in Dong Mo – Ngai Son (Son Tay town), is a place to recreate the unique cultural values ​​of 54 ethnic groups in Vietnam. This is an ideal attraction for domestic people as well as international tourists and is a vivid symbol for countries around the world to understand Vietnam's ethnic policy.
5. Tram Mountain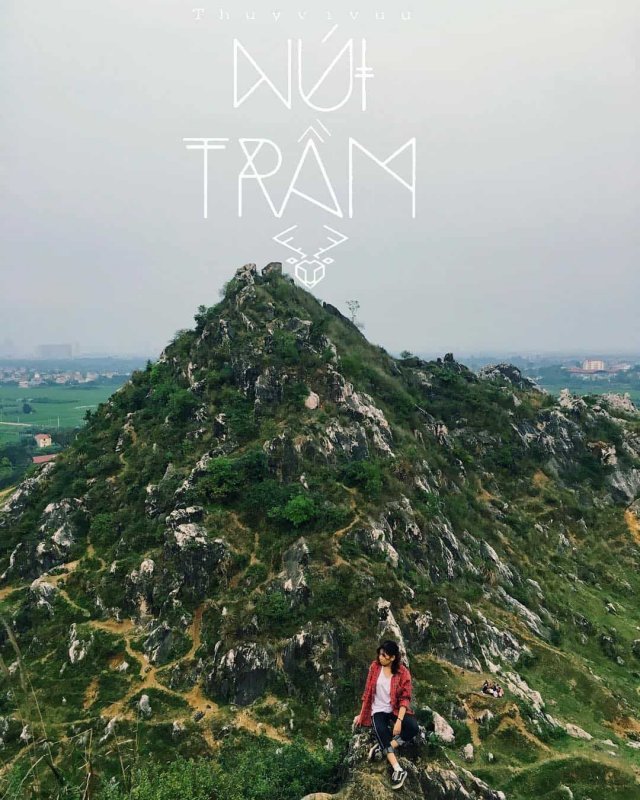 Tram mountain is not too high but extremely impressive. Photo: @thuyvivuu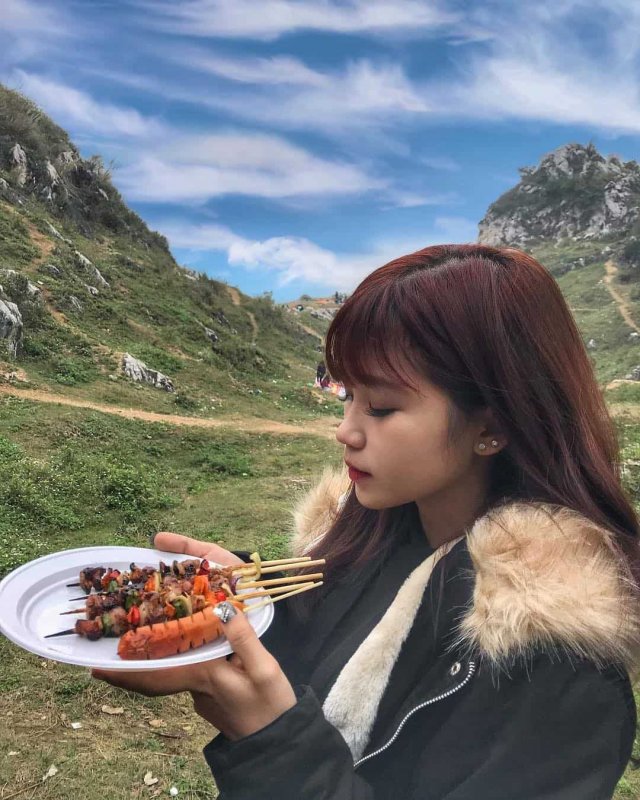 Tram mountain belongs to Phung Chau Commune, Chuong My district; It is about 30 km from the center of Hanoi. To get here, you drive along Highway 6 in the direction of Hoa Binh, to Chuc Son Town, Chuong My district, there will be a sign to turn right to Tram pagoda. This is a beautiful place and very suitable for picnics during the day or camping overnight. If you stay overnight in Tram mountain, you will be immersed in the magical beauty at sunset or watch the white fog at dawn.
Tram Mountain is a suitable place for weekend camping. 
V. Delicious Hanoi specialties
See more: Hanoi cuisine – delicious dishes "far away to remember" must try once
1. Hanoi Pho
Pho is the first dish that you should enjoy when coming to Hanoi. Famous pho shops such as Pho burden in Hang Trong, the shop is a small street vendor, located on the sidewalk, with only a small chair, the shop is only open in the afternoon. This is a restaurant that has been around for a long time, although there is no comfortable place to eat, but people come to the restaurant crowded, have to queue and wait for a long time.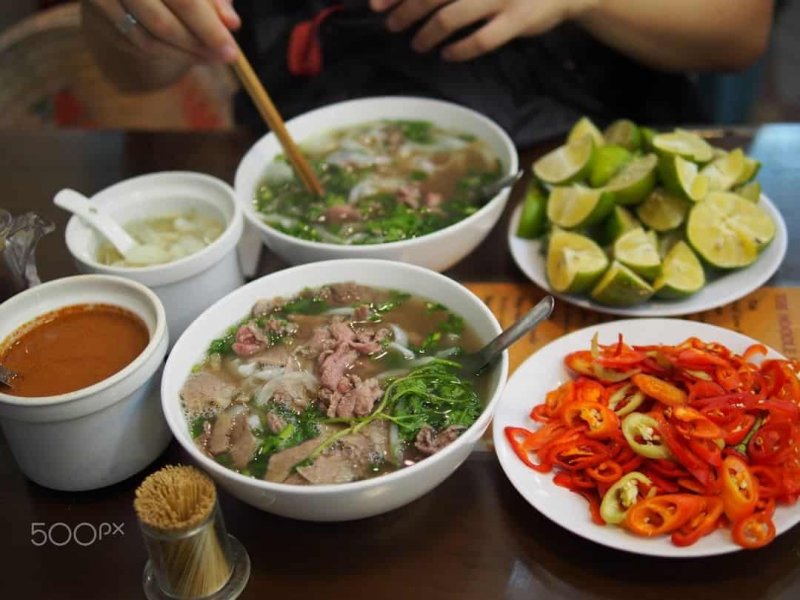 Coming to Hanoi without eating pho would be too much of a pity. Photo: @halonngcruisecabin
There are also the best beef noodle soup shops, such as Pho Ly Quoc Su, the best chicken noodle soup located on Quan Thanh street, Hanh mixed sweet and sour pho on Lan Ong street, or Luong Van Can street, pan-fried pho on Bat Dan street… 
Some delicious pho addresses in Hanoi:
Pho Ly Quoc Su: No. 10 Ly Quoc Su, Hoan Kiem, Hanoi.
Pho Bat Dan: 49 Bat Dan, Hoan Kiem, Hanoi.
Pho Thin Lo Duc: No. 13 Lo Duc, Hai Ba Trung, Hanoi.
2. Bun Cha
The dish is made from minced lean meat and marinated with spices, then it is molded into round pieces and put on a charcoal grill until the patties are golden and fragrant. Hanoi bun cha dipping sauce is sweet and sour fish sauce with vinegar, garlic, chili, pepper mixed with sweet and sour sliced ​​green papaya. This dish is served with vermicelli and raw vegetables with perilla leaves.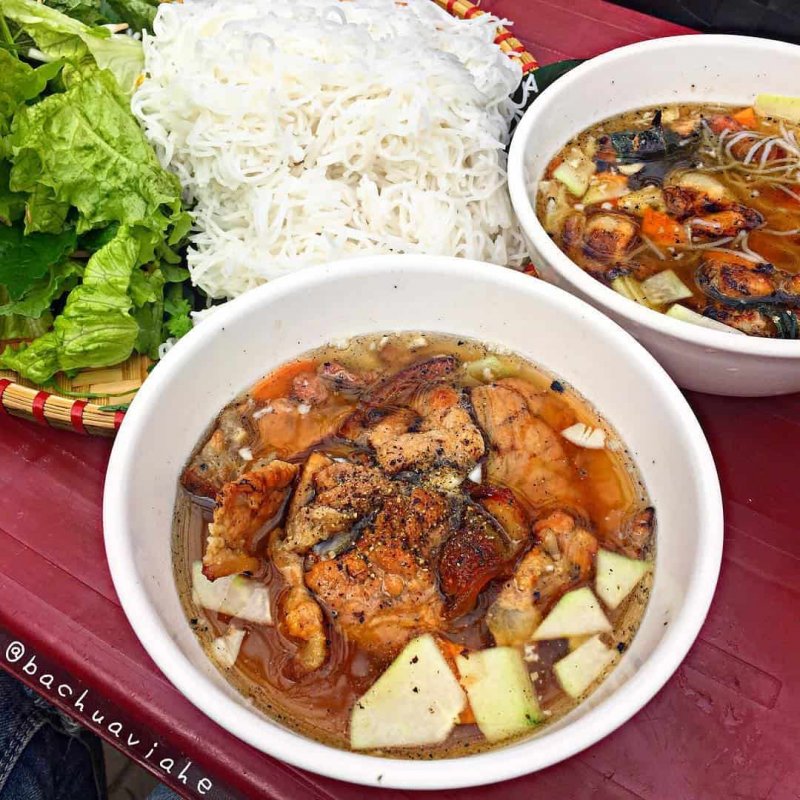 Bun cha Hanoi. Photo: @bachuaviahe
List of delicious places to eat that you can visit to enjoy:
Bun Cha Huong Lien: 24 Le Van Huu, Hai Ba Trung, Hanoi.
Bun Cha Dac Kim: No. 1 Hang Manh, Hoan Kiem, Hanoi.
Bun cha with bamboo sticks: the intersection of Nguyen Du – Ba Trieu intersection.
3. La Vong fish cake
La Vong grilled fish is a famous specialty of Hanoi, present in almost everywhere from small eateries to high-class hotel restaurants. This dish is prepared as follows: Fish is fried in a small oil pan. Served with grilled rice paper, vermicelli, with roasted peanuts, coriander, fresh basil, dill, chopped fresh onions dipped with shrimp paste.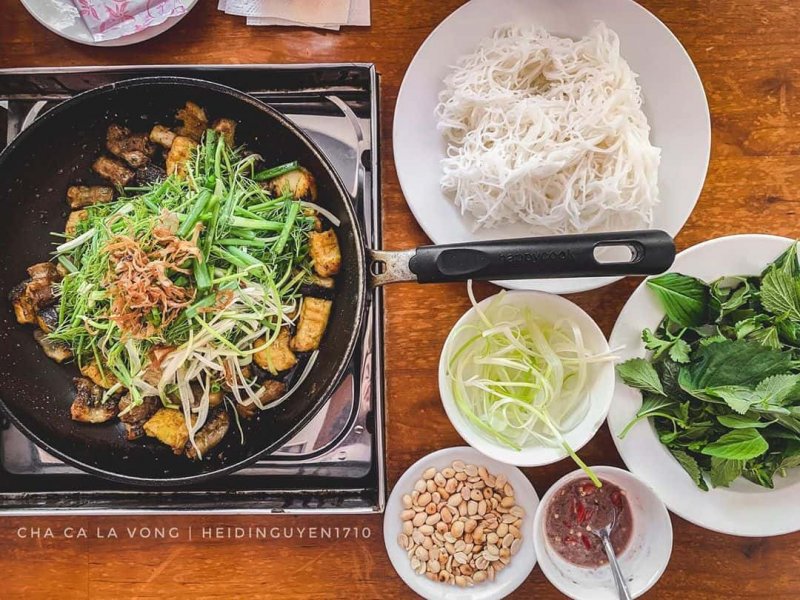 La Vong fish cake – a famous specialty of Hanoi. Photo: @hedinguyen1710
The fish sauce is made with lemon juice, sliced ​​chili, ca cuong essential oil, a few drops of white wine, a spoonful of fat and sugar, and then beaten until foamy. This dish is sweet, fleshy and fatty.
To enjoy La Vong grilled fish in the most "standard" way, you should go to 14 Cha Ca, Hoan Kiem.
4. Bun Thang
Bun thang is a dish containing many quintessential features of Hanoi cuisine. The ingredients for making bun thang include shredded chicken, fried eggs, and shredded pork rolls. The broth is cooked from bones, shrimp. The pot of good broth must be clear, with a slight aroma, and the smell of shrimp paste.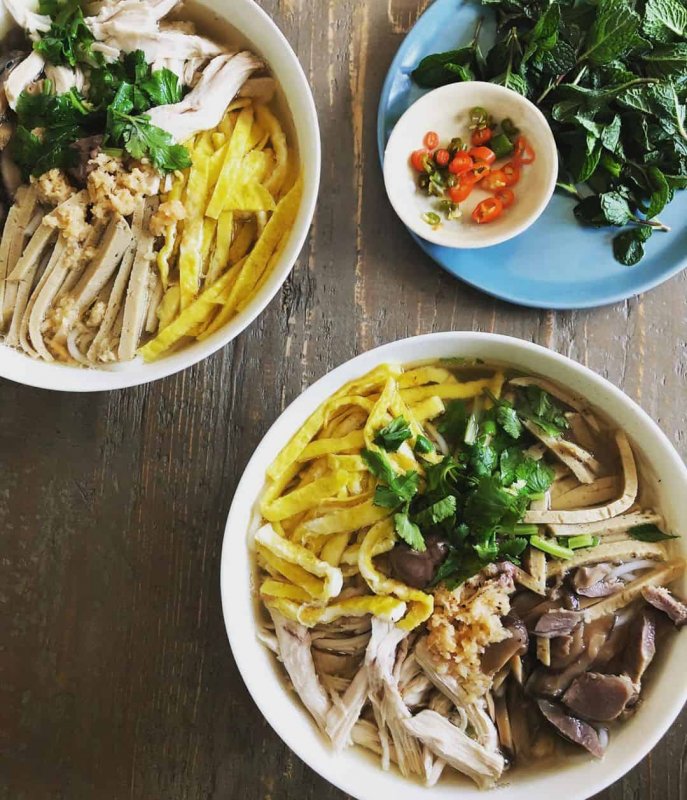 Bun Thang can only be found in Hanoi. Photo: @andreannguyen88
Vinlove.net suggests you some delicious places to eat bun thang that is loved by many locals and tourists:
Bun thang Cau Go: address 48 Cau Go, Hoan Kiem, Hanoi.
Bun thang Hang Hom: No. 11 Hang Hom, Hoan Kiem, Hanoi.
5. Rice cake


Hang Than rice cake. ( Source: Collector)
So far, only Nguyen Ninh shop at 11 Hang Than still retains the traditional way of making handmade rice nuggets. The green rice cake is the innermost layer is the yellow-green bean paste, the cake has the greasy smell of coconut and green beans. And when you come to Hanoi, remember to buy rice cake as a gift.
6. Roll cake
Banh cuon is a traditional dish of the Ha Thanh people. The ingredients for making banh cuon are delicious rice that is ground into a powder, then mixed with water and then coated on the stove into thin sticky pieces. The filling is made from pork, shiitake mushrooms when the cake is rolled up, sprinkled with a shrimp paste. This dish is served with fish sauce, ca cuong and cinnamon rolls.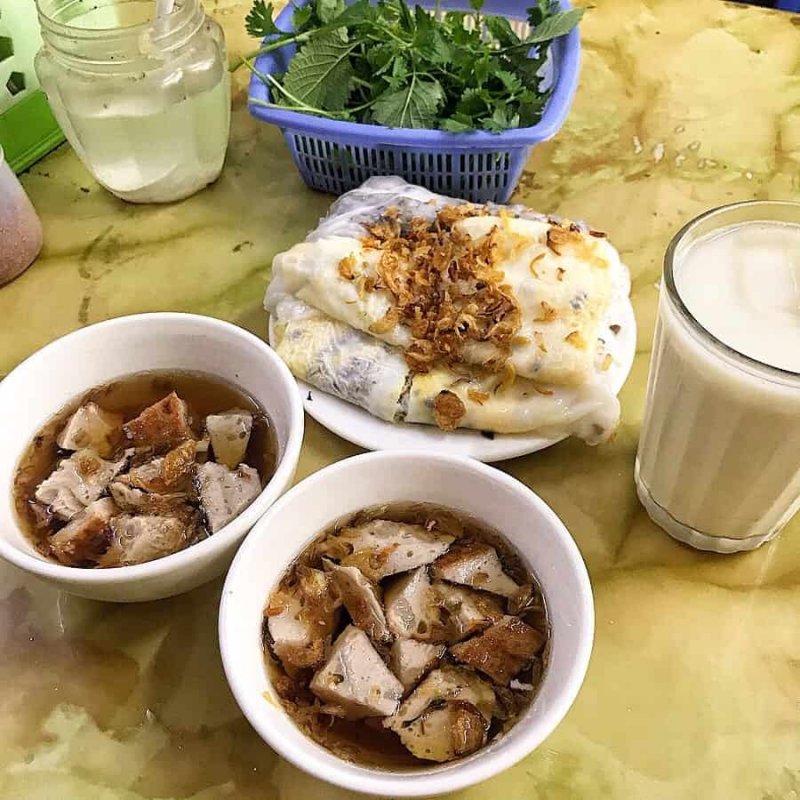 Banh cuon is an indispensable Hanoi breakfast dish. Photo: @foodlifewitt
The best places to eat banh cuon in Hanoi are passed on by tourists:
Ba Hoanh roll cake: 66 To Hien Thanh.
Thanh Van roll cake: 81 Le Van Huu.
7. Noodles with bean paste and shrimp paste

When you come to Hanoi, you must definitely try the shrimp paste noodles.
It is a dish that everyone who comes to Hanoi wants to enjoy once. This vermicelli with shrimp paste is most delicious in the way of preparing shrimp paste, the chef must choose a delicious fish sauce, drizzle a little hot fat, add chili, squeeze kumquat and beat until the fish paste is up. A bowl of flavorful shrimp paste dipped with a piece of hot fried bean curd, a greasy fried rice nugget or a hot piece of bacon will melt your taste buds.
The most famous places to eat vermicelli with shrimp paste:
Hang Tray bean vermicelli: No. 31 Hang Khay.
Bean vermicelli Phan Huy Ich: 54 Phan Huy Ich.
9. Noodle rolls
The cool noodle soup with the white noodle soup wrapped with beef, herbs inside, and dipped with fish sauce mixed with the right taste is a Hanoi snack that is hard to resist. To enjoy this delicious dish, you can go to noodle shops in Ngu Xa or on Quan Thanh street. In addition to pho rolls, these shops also sell fried noodle soup, fried egg noodle, and delicious grilled pork belly.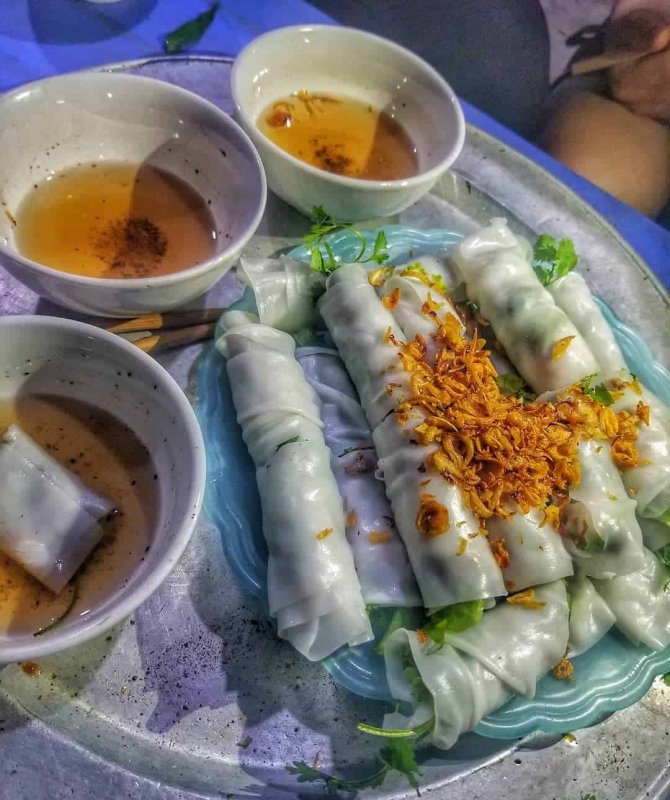 Hanoi noodle soup. Photo: @simplycalledann
Above is the necessary information that you cannot ignore in your Hanoi travel guide. Hope this information will help you have a very interesting trip to discover the beautiful capital.
TAG: