5 dishes you have not eaten yet know Tri Ton
AN GIANG – Tri Ton has O Thum lake associated with the famous grilled chicken dish, in addition, there are also beef and papaya porridge that attract customers equally.
Tri Ton is the largest district in An Giang, located in the southwest of this province and has a border with Cambodia. From Tri Ton, visitors can conveniently travel through the famous tourist areas of the province such as Ba Chua Sam mountain, Cam Mountain, Tuc Dup Hill, the historical site of Ba Chuc Tomb… In addition to enjoying the maple tree, Tourists can also enjoy many delicious local dishes.
Chicken burning leaves wishes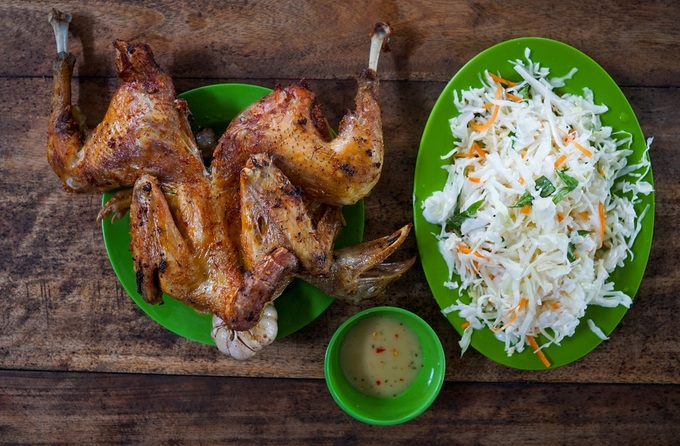 Photo: Quynh Tran
Burnt chicken is a traditional dish of Khmer people in An Giang. Chickens selected must be free-range chickens about 1.2 kg. After preliminary processing, the chef will marinate the chicken with lemongrass, chili, garlic, sugar, and salt in the right amount, absolutely indispensable leaves (with the same family as lemon) so that the dish has its own flavor, only delicious when eaten at An Giang.
Once the chicken is seasoned, place it in the oven. The pot is lined with a layer of salt with lemongrass, garlic and coriander leaves on the bottom, then put the chicken on top, put it on the grill, cleverly watch the fire so that the chicken is cooked evenly, has a beautiful golden color, the meat is soft and sweet, and gives off a delicious aroma. The dish is served with a plate of sweet and sour cabbage salad or raw vegetables, cucumbers, dipped with a strange salty and salty dipping sauce or salt, pepper, lemon, chili salt.
Beef porridge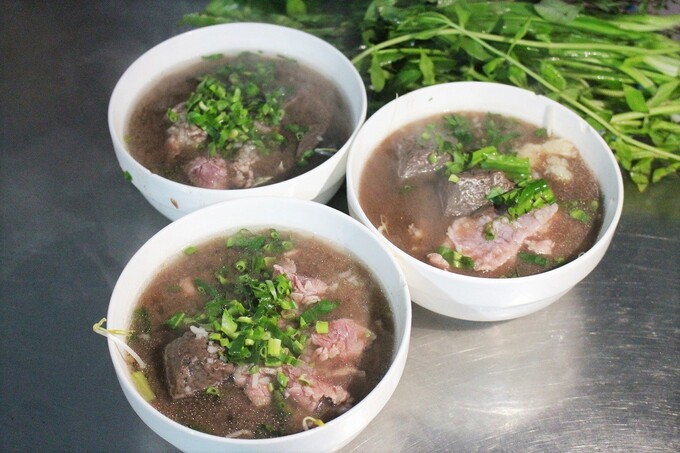 Photo: Quang Thien
Cows in Bay Nui area, An Giang are carefully raised and patted, so they have fragrant and tender meat, processed into many different delicious dishes. Beef porridge is one of the most prominent dishes in Tri Ton town, the porridge is cooked like a regular pork belly porridge but uses beef intestines: leaves, liver, lungs, pheo… more pieces of soft blood and beef. medium-rare.
Diners eating beef porridge will be served with raw bean sprouts, cinnamon, coriander leaves and indispensable chopped coriander leaves to increase the aroma, next to a cup of ginger fish sauce to dip the beef intestines. The porridge is more delicious if you squeeze more juice, it has a sour taste and a strong smell. Westerners often eat hot beef porridge with fresh vermicelli or bread to have a firm morning.
One sunny mussel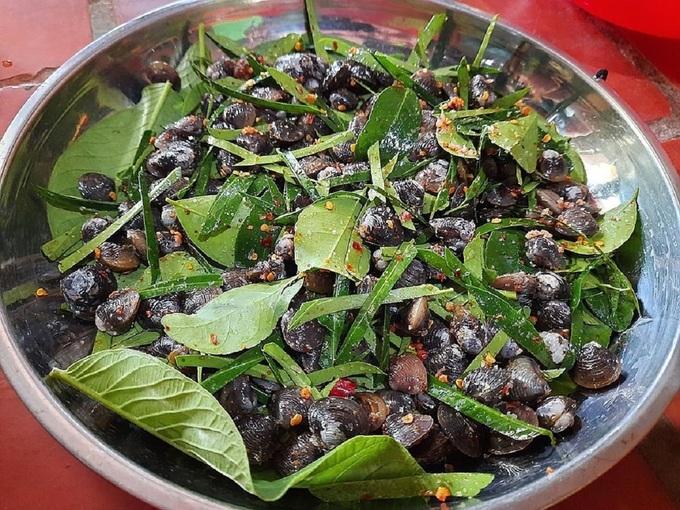 Photo: Nhu Y Nguyen
Mussels (also known as lya) sun-dried is a dish that comes from the Cham people and is sold in many places in An Giang such as Tan Chau, Tri Ton, Chau Doc. Live mussels are bought, washed and dried, then blanched with boiling water or left fresh and then marinated with salt, sugar, chili… can be mixed with coriander leaves, lined with guava leaves below and then dried in the hot sun. dry season.
In the rainy season, this dish usually won't be available because of the lack of sunlight to dry mussels. Rarely cooked mussel meat has a sweet, slightly chewy taste, can have a fishy smell depending on the taste, when eating mussel meat with salt and lemon chili has a sweet and sour taste. Food as snacks associated with the childhood of students in Tri Ton.
Papaya stabbing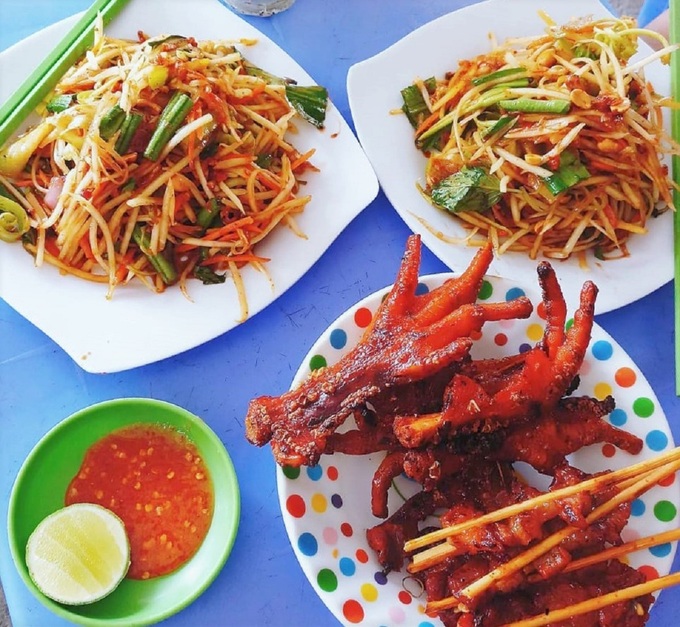 Photo: @quanngo_256/Instagram
This is the Cambodian papaya salad. In Vietnam, this name comes from the fact that the dish is prepared by stabbing (crushing) in a mortar. The main ingredients are almost ripe papaya (papaya "duck beak"), shredded, fish sauce, some places use bas-kiss fish sauce, add a little bit of grated morning glory, cowpea, and carrots.
When a customer orders, the owner, in turn, puts sugar, salt, monosodium glutamate, red onion, garlic, chili and a piece of lemon, cowpea into the mortar and stabs it evenly. Next, put in the papaya, water spinach and herbs, cinnamon, stab with a lighter force so that the dish is not crushed. Salad served on a plate, guests can eat with grilled beef skewers or chicken eggs depending on their preferences.
Frog stuffed with grilled meat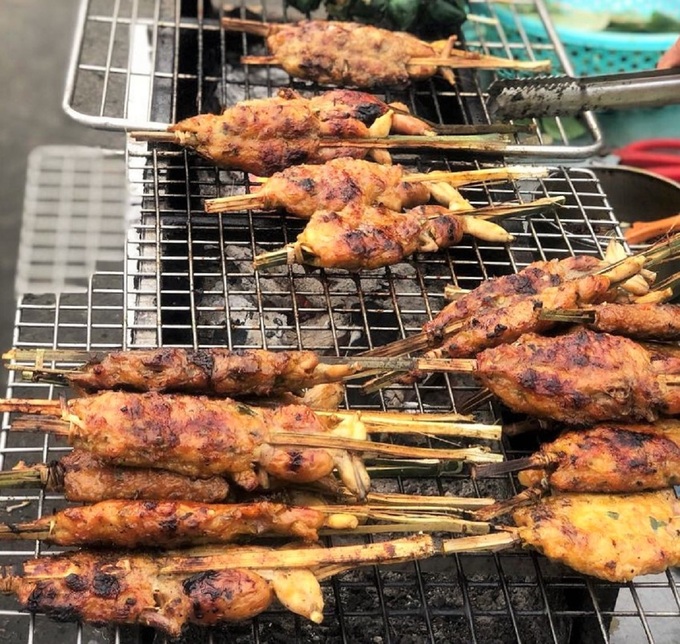 Photo: @im_mnhung/Instagram
The dish is popularly sold at snack shops in Tri Ton. The frog chooses the big one to clean, remove all the internal organs, then add minced pork mixed with spices such as lemongrass, turmeric, coriander leaves … inside the frog's belly, then tie it tightly, clip it to a pair of grilled bamboo. Frog meat radiates aroma, soft cooked meat, golden skin, succulent pork inside, very delicious. Follow vnexpress
TAG: