Fish hot pot dish with the characteristics of the Central Highlands of Vietnam
DAK LAK – Fragrant and fatty fish meat, wild vegetables mixed with sour and spicy broth create a hot pot with a typical Central Highlands flavor.
The deep green, mysterious, and majestic Serepok stream flowing through the great forests, has been favored by nature with a rich ecosystem with many species of specialty fish, in which the snakehead fish is firm and fragrant. is a famous dish. Ethnic people in the Central Highlands process salmon into many attractive dishes, the most commonly mentioned is the salmon hotpot that anyone who comes to this land should try once.
Lang fish hot pot is a specialty dish of Dak Lak in particular and the Central Highlands in general, has a cooling effect, is nutritious, and is chosen by many people in the summer. A delicious hot pot requires meticulousness and ingenuity in each stage because if you don't know how to season it, you will lose the attractive flavor of this fish. Raw materials for cooking hot pot include halibut, sour bamboo shoots, crushed fresh turmeric, tomatoes, wild vegetables… Should choose healthy, firm meat, less bone, and sweet taste.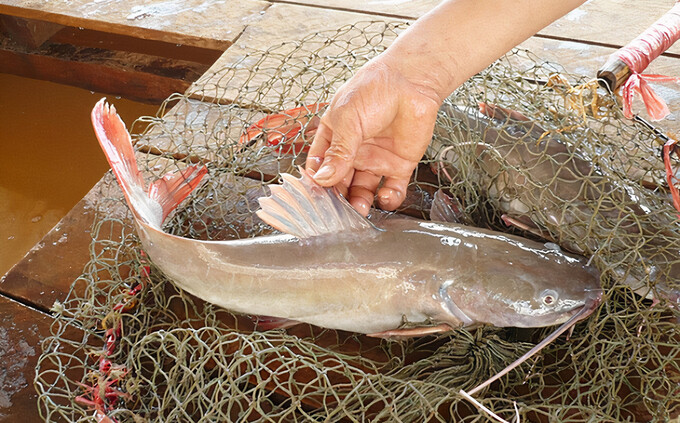 Red-tailed catfish in Serepok River Photo: Poliva
To make salmon, just using a sharp knife to cut along the sides of the body will produce fatty, thick and fresh fish pieces. After cleaning, slicing to taste and then boiling through boiling water for firm meat, fish meat will be marinated with spices according to a separate recipe, including galangal juice, mixed with turmeric, fish sauce and shrimp paste. When the hot pot boils, add marinated fish meat and vegetables and enjoy.
Eating salmon hotpot, diners will feel the fatty, sweet, fleshy "eaten lips, cool neck" blended in a rich hot pot, with the sweetness of the stewed bones and fish head, the sour taste. The lightness of pineapple, tomato and the faint aroma of green onions, dill helps the broth to become more fragrant and sweet in taste. You can eat hot pot with red vermicelli Buon Ma Thuot or eat as a regular sour soup. Don't forget some accompanying vegetables such as celery, bitter greens, mint, broccoli and banana flower… to make the flavor more complete.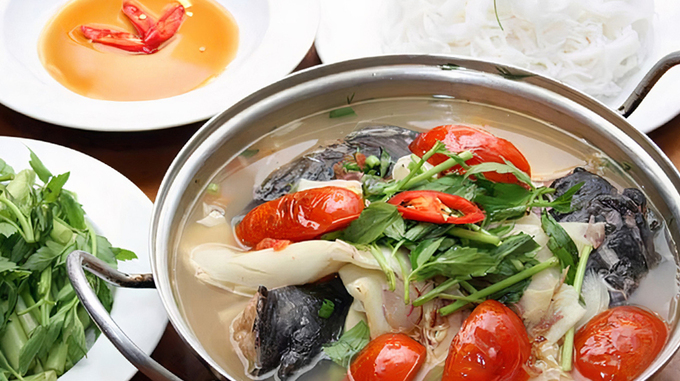 Pangasius hot pot attracts diners by its sweet and fragrant fish meat, rich broth served with wild vegetables. Photo: Central Highlands Tourism
As a child of Dak Lak, Dinh Thi Mai (21 years old) still considers the fish hotpot as one of her favorite dishes: "The meat of the salmon is very firm, it will not break easily when put in the mouth, people who eat it will eat it. slowly enjoy its taste. Lanlong fish hotpot is a delicious dish suitable for many people to eat, sometimes my mother will cook for the whole family, or in my free time, I invite friends to the restaurant, both warm and heart-warming. warm stomach and connect the community," Mai said.
The people of the Serepok River also cook sardines with bamboo shoots, bitter gourd, or grilled with păk cum leaves dipped in salt and pepper mixed with crushed green chili peppers – a specialty of the Ede people, creating all kinds of delicious dishes made from fish. The mausoleum is both rustic and unique with the breath of the mountains. A little sour of bamboo shoots, a little bit of bitterness of eggplant and pak cum leaves, or the sweetness of lentil meat mixed with the pungentness of chili gives diners a new taste experience.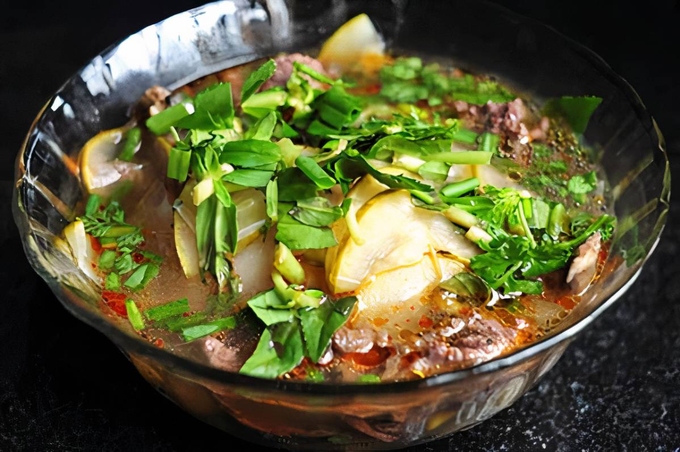 In addition to the familiar hot pot dish, salmon meat can also be processed into stews and soups. Photo: Vntrip
In particular, for those who love the wild and poetic beauty of the Central Highlands, the journey back to the mountain town, find and enjoy a delicious, hot pot of salmon in the vast space. The wind of the mountains and forests will be an interesting and unforgettable experience.
TAG: