The girl goes trekking to relieve the pressure of life
Looking to trekking after leaving her first job, Huong unexpectedly fell in love with this subject and considered it a joy, helping her exercise physical and mental health.
Three years ago, Bui Thi Huong, born in 1995, from Nghe An, graduated from university, went to work with many surprises. Faced with a lot of pressure, Huong couldn't stand it, so she decided to quit her job and wanted to go somewhere to be in harmony with nature and relieve stress. One day, she accidentally saw a post about recruiting members to join the 55 km long Ta Nang – Phan Dung trekking route, she found it interesting, so she decided to sign up. This 3 day 2 nights trip was a milestone that brought her to the subject of trekking and discovery and gradually became her current passion.
Huong recalls the first time she went trekking, she had no experience, just asked the tour guide how to prepare and followed the same. A week before departure, Huong started jogging to get used to the intensity of the trip. She did not have specialized equipment such as shoes, climbing sticks, power backpacks… "At that time, I wore sports shoes and stored things in my usual computer backpack", Huong said. When she tried it for the first time, she found the trip not too difficult, just enough endurance to be able to complete it completely.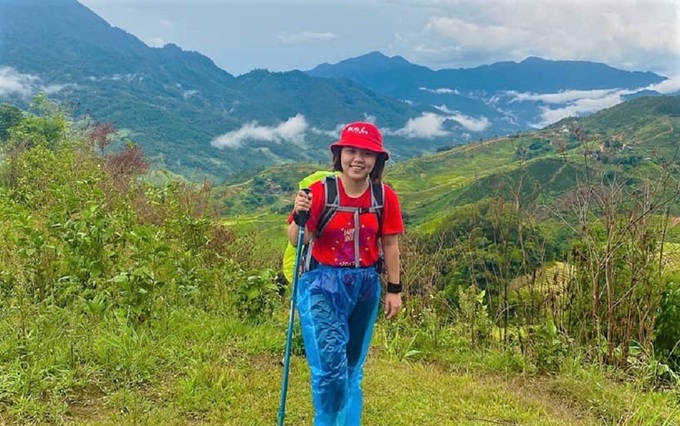 Huong said she often follows climbing groups, if there is a suitable trip, she will register to join. Photo: NVCC .
The 26-year-old girl commented that there are not as many trekking routes in the south as in the north due to terrain conditions. However, for her, every destination will have its own beauty. To date, she has walked more than 10 arcs popular with adventure tourists in the South such as Chu Yang Sin peak (2,442 m) in Dak Lak; Bidoup peak (2,287 m) is located in Bidoup – Nui Ba national park in Lam Dong; Langbiang peak (2,167 m) in Lam Dong; Ba Den mountain (986 m) in Tay Ninh; Chua Chan mountain (837 m) in Dong Nai; Hang En waterfall in the middle of Kon Chu Rang conservation area, bordering Gia Lai and Binh Dinh provinces; Chu Bluk volcanic cave in Dak Nong; Ta Nang – Phan Dung road (55 km long) through 3 provinces of Lam Dong, Ninh Thuan, Binh Thuan; Chua mountain in Ninh Thuan; Ta Giang mountain in Khanh Hoa; Easternmost point – Mui Doi in Khanh Hoa.
Among the above destinations, her favorite is the self-sufficient 2 days 1 night trip to Hang En waterfall, where the source of the Con river is located, in the territory of K'bang district, Gia Lai. Huong said that at that time, Hang En waterfall was still quite wild and not many people knew about it. To reach the waterfall, visitors can depart from the direction of Binh Dinh or Gia Lai. Her group chose to depart from Binh Dinh and return to Gia Lai to complete the trip.
From Saigon, Huong and her friends took a sleeper bus to Binh Dinh and then transferred to village 1, An Toan commune, An Lao district to start the journey. The wild and dense forest scene of Kon Chu Rang reserve overwhelmed her, it took about 5-6 hours for the group to reach the top of the waterfall. From here, if you want to go down to the foot of the waterfall, you have to go another 30 minutes to cross the rather slippery slope and stand, "just walking and listening to the sound of the waterfall in your ears is very good".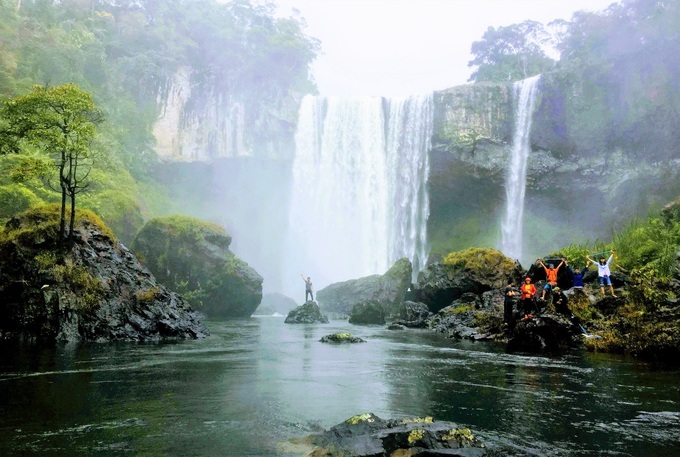 Huong and her friends conquered Hang En waterfall in November 2019. Photo: Ngoc Hao.
"At that time, Hang En waterfall had a lot of water, majestic and very beautiful, the water was extremely clear. What I was most afraid of was not the difficult road, but the forest with many squeezes, they often bite and refuse to let go. Thanks to that, the group went faster, did not dare to rest for a long time," she said.
According to Huong, what she finds difficult when trekking is reality. Some groups require participants to be men for fear that the female friends are not healthy enough to complete the journey. However, it is also a motivation for her to improve her fitness and practice perseverance for herself. In addition, most trips go to unspoiled places, which may lose phone signal, making contact with family not convenient. In return, Huong always has a feeling of joy when conquering the destination, experiencing the moment when friends gather together to chat on the night of the campfire, wake up to watch the sunrise together.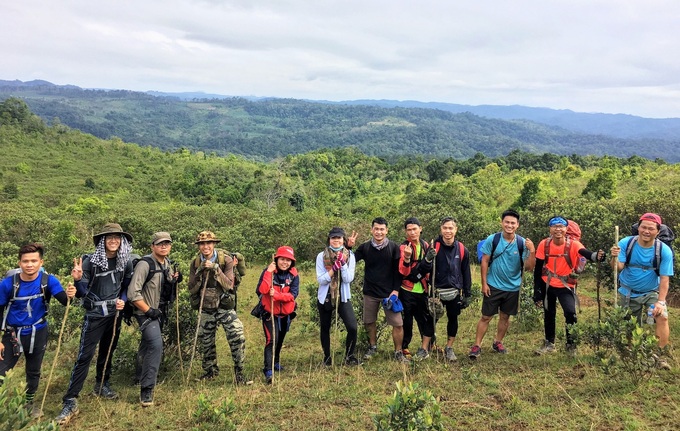 From strangers, when meeting for the first time, Huong (wearing a red hat in the middle) gradually has more friends with the same passion and hobby after each trip. Photo: Ngoc Hao.
"Before I knew about trekking, my life was quite boring and closed, but when I came back, I was sociable, happy and much stronger", Huong said that the time of trekking with her was not fixed. If the itinerary is suitable, she will join, but must also take into account the cost. She often chooses to go on her own to save money, in addition to long distances, she needs a lot of money, she will have to consider. Huong hopes to soon go to the North to conquer many high mountains of the country.
Currently, Huong is an office worker working in Dong Nai, whenever she has free time, misses the mountains and does not have much time to go far, she often goes climbing Ba Den mountain or Chua Chan mountain with her friends. The mountain roads to the top of Ba Den such as electric poles, pagoda roads, water pipes, Ma Thien Lanh, Nui Phung, White Rock… have all been experienced by her. Follow vnexpress
TAG: