Take a look at 8 beautiful beaches in the West that are famous all year round
Besides the interlaced rivers and famous fruit gardens of Tien Giang , Ben Tre, and Dong Thap, the beautiful beaches in the West also leave a deep impression in the hearts of visitors because of the poetic and unique scenery. less sea than Nha Trang or Vung Tau,…
The Southwest is known as an area that is accreted by alluvium from nine tributaries of the Mekong River. But this is also a place bordering the sea, so there are many beautiful and unique beaches that attract domestic and foreign tourists. If you plan to travel to the West, besides the list of familiar destinations such as fruit gardens, rice fields, flower villages, going to floating markets, visiting temples and pagodas, etc., the pristine beaches are unique. of the river, the region is also an ideal suggestion for you!
Top 8 most beautiful beaches in the West are checked in
The West has many provinces bordering the sea, from Ca Mau, Bac Lieu, Kien Giang to Tien Giang, Ben Tre, Tra Vinh with beautiful beaches not inferior to other lands such as Ha Long, Nha Trang, Mui Ne, …
But the most impressive for visitors is the top beaches below. Along LuhhanhVietNam explore the western tourist destination this tingle slightly. You will surely have many meaningful and wonderful moments.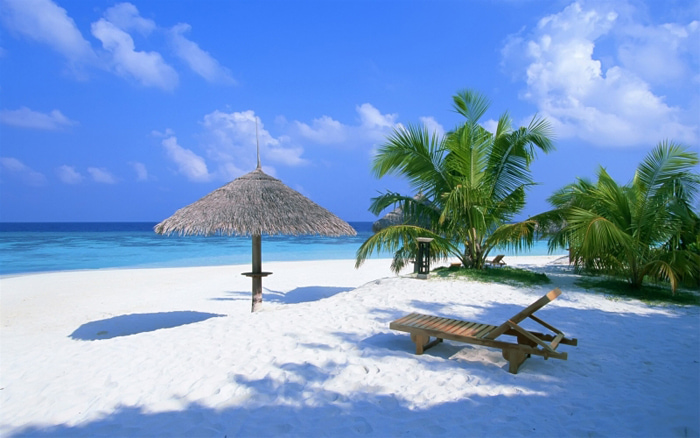 Beautiful Phu Quoc beach on a summer day. Photo: dulichcanhviet
1. Hon Tre Ha Tien Beach
Hon Tre Beach is located on the island of the same name and is also the largest among 16 islands belonging to the Hai Tac island resort. This beautiful beach is located about 40km from Rach Gia port. Compared to other beaches, Hon Tre is only about 1km long. However, the wild scenery with long white sand beaches and clear blue water, interspersed with a few rows of soaring coconut trees to catch the wind, makes many tourists fascinated.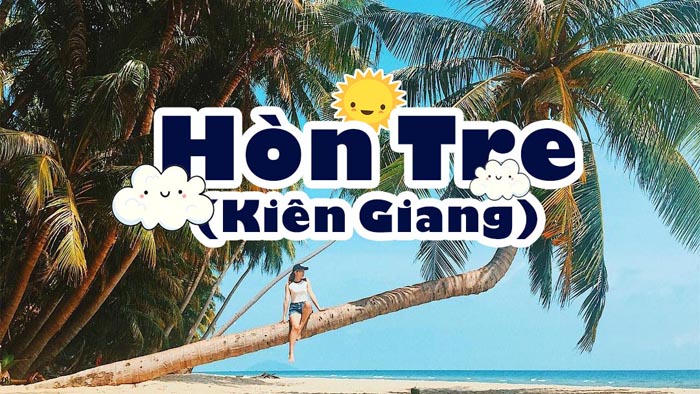 Hon Tre Kien Giang. Photo: nucuoimekong
Not only coming to check-in to admire the beautiful scenery, visitors are also free to immerse themselves in the turquoise water and lie down or play on the sand. If you like to exercise, you can rent glasses to dive into the sea to see the natural coral or watch the beautiful sunset on Hon Tre beach. Don't forget to take lots of photos of yourself and your friends to capture this beautiful moment.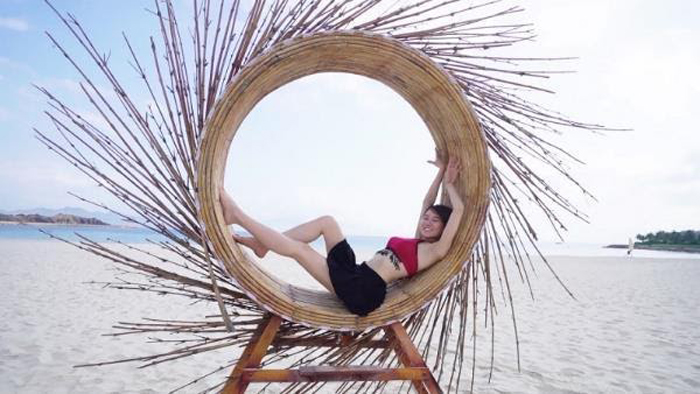 Check-in point not to be missed in Hon Tre. Photo: nucuoimekong
2. Mui Nai Beach – Ha Tien
Since ancient times, Mui Nai beach has been a famous landscape of the Ha Tien area. This place is considered as an inspiration to compose the poem "Loc Tri village" about famous beautiful scenes in Ha Tien Thap Vinh's poetry collection.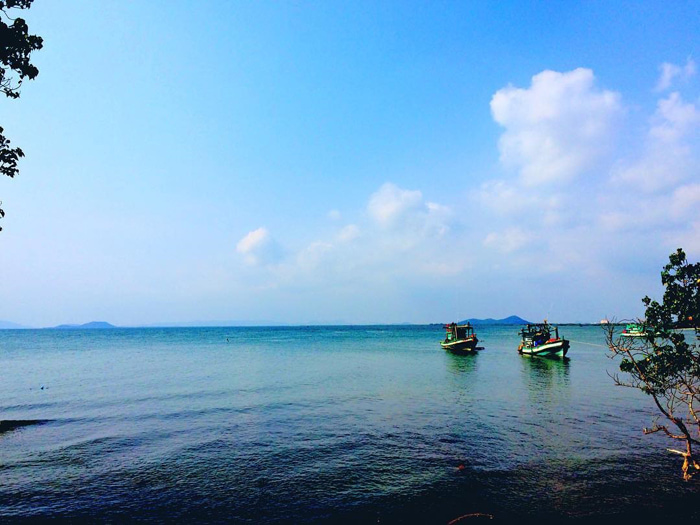 Mui Nai – Ha Tien beach is peaceful. Photo: Cattour
Now, Mui Nai is not only one of the most beautiful scenes of Kien Giang, but also contributes to the list of beautiful beaches in the West with 2 famous sandy beaches: Bang beach and No beach. What makes the difference of the most beautiful sea in Ha Tien is the strange dark brown sand. If Bai Bang has a gentle sandy slope and gentle waves, it is an ideal place to relax in the cool water, then Bai No is suitable for a trip to discover beautiful scenery or learn about culture and people. West because it is located right next to a fishing village.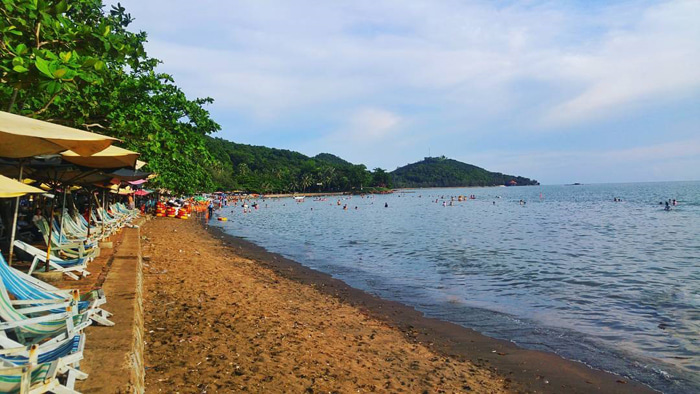 Dark brown sand beach in Mui Nai beach. Photo: cattour
If you check in to Mui Nai on the right sunny days, you can also observe Phu Quoc island and some other islands scattered in the Gulf of Thailand.
3. Sea of ​​Nam Du trees
Mentioning Nam Du, people immediately think of the names Hon Lon (Cu Tron island), Hon Ngang, Hon Dau ..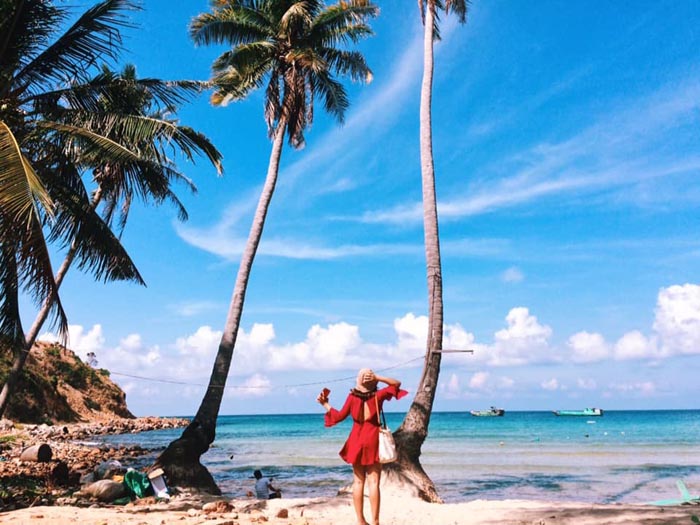 Impressive beauty of Cay Men Nam Du beach. Photo: VietFuntravel
And Cay Men beach is the most beautiful beach on Lon island because it is a rare area that still retains its pristine and charming beauty with blue sea, white sand, clear water, and green coconut groves in the distance. The wind harmonizes with the sound of waves crashing on the shore.
Turn Cay Men – White sand beach under green coconut trees. Photo: All July
This beautiful beach is located in a small blue bay, but extremely attractive because it has not interfered with much by human hands. And that's why when you come here, in addition to sightseeing, immersing in cool water, relaxing on the beach, you can also experience walking along with the fishing village, learning about the local fishermen's life, sightseeing. Aquaculture rafts abound here. After that, don't forget to enjoy a barbecue party full of fresh seafood by the beach with family and friends.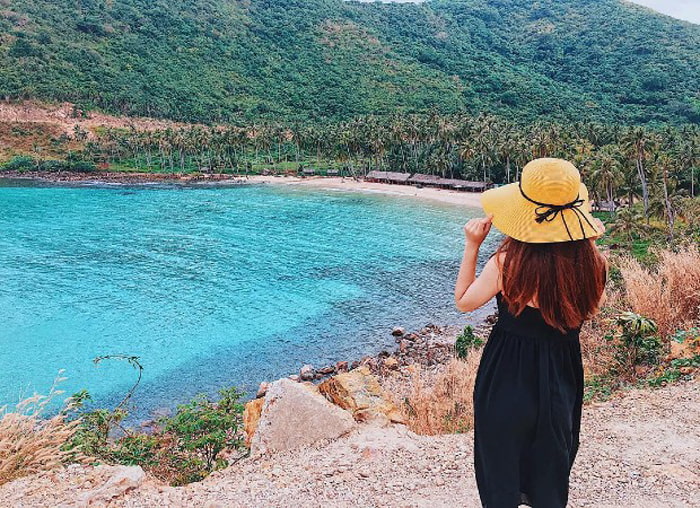 Check in Cay Men beach. Photo: Vietnambooking
4. Bai Sao – Phu Quoc
Referring to the beautiful beaches in the West, it is definitely indispensable for Sao Phu Quoc beach . This famous western tourist destination located 25km from Duong Dong town is a place that anyone who goes to Ngoc Island wants to visit at least once. Because this place possesses all the elements that make up a tourist paradise in a tropical country with blue sea, white sand, golden sunshine. And the picture of the sea is indispensable for soaring coconut trees, long benches, legendary swings, … for visitors to relax along the sand and freely pose for photos.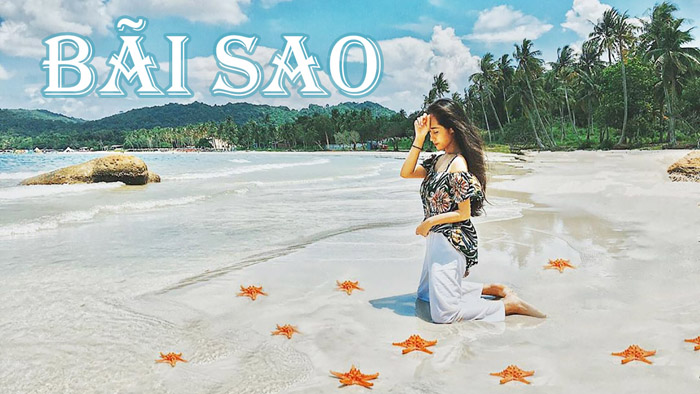 Bai Sao – the most beautiful beach in Phu Quoc. Photo: nucuoimekong
In addition to swimming and resorting to Bai Sao, there are also many interesting games for visitors from far away to visit such as fishing, kayaking, windsurfing, diving to see the coral reefs under the sea and especially indispensable. BBQ program for you to enjoy fresh seafood on the windy beach.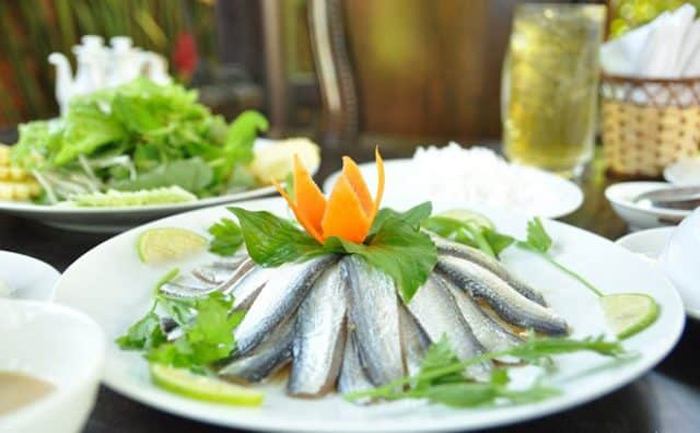 Bai Sao herring salad. Photo: vntrip
5. Long Beach – Phu Quoc
Bai Dai in the Gulf of Thailand in Kien Giang province is one of many famous Phu Quoc tourist destinations. Many people consider that Bai Dai and Bai Sao are the two most beautiful beaches in Phu Quoc. Tourists near and far favorably call this a sunny paradise with golden sand, clear blue sea, and occasionally welcome each gentle wave to make the scene more poetic. But the most special thing about Dai beach is that the seawater changes color according to the weather and different depths, so the seawater. Sometimes the water turns pink, sometimes it changes to jade green and then turns to deep purple,…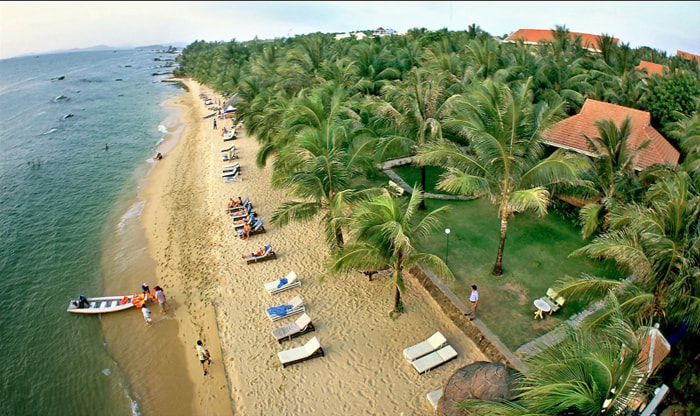 Long Beach Phu Quoc. Photo: toplist
The picture of this beautiful beach landscape in the West is also embellished by green hills interspersed with rocks and natural coconut groves,… All exuding a wild and peaceful beauty that makes many tourists fall in love In this place, just want to relax in the cool water.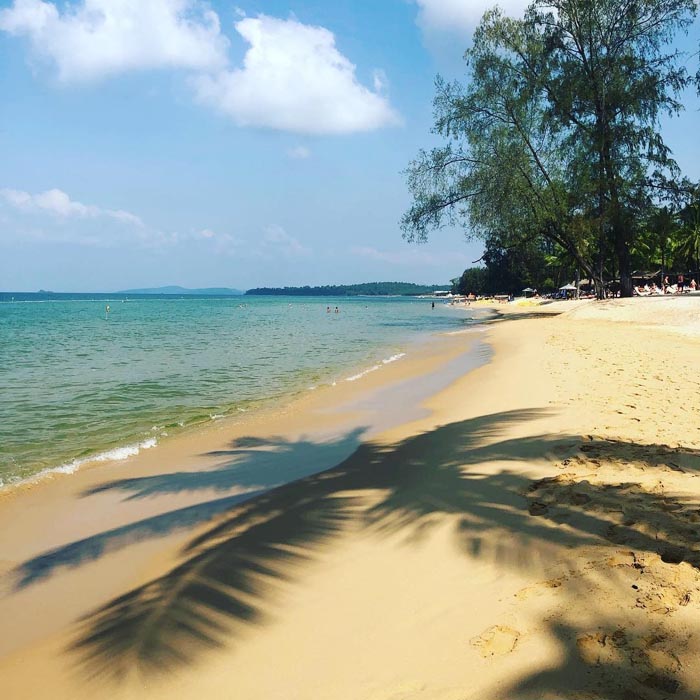 Wild look on Dai beach. Photo: Bazantravel
Besides swimming or scuba diving, you can also take a walk on the red dirt road and slowly feel and explore the scenery of the sea, the life and work of the people here. Don't forget to capture the most meaningful and memorable moments.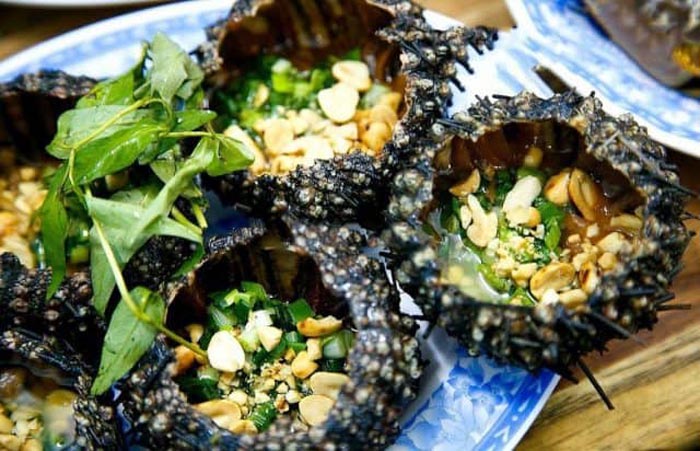 Grilled nem with onion fat. Photo: vntrip
6. Bai Duong – Kien Giang
Besides the beautiful beaches in the island city of Phu Quoc, Kien Giang also owns many other impressive seascapes in Ha Tien town. Among them, it is impossible not to mention Bai Duong – a place in the top tourist destination, taking pictures of "virtual tossing pans" in the Southwest region, where everyone wants to visit even once.
Bai Duong deserves the name of a beautiful scene of "charming water" in the Southwest region with pure white sand and sea so clear that the bottom can be seen. What makes this landscape special is the more than 2km long sandy beach of Bai Duong that divides this place into two halves, one side is a row of green roads and the other is an ancient oil tree. That's why many locals call it Bai Dau instead of Bai Duong.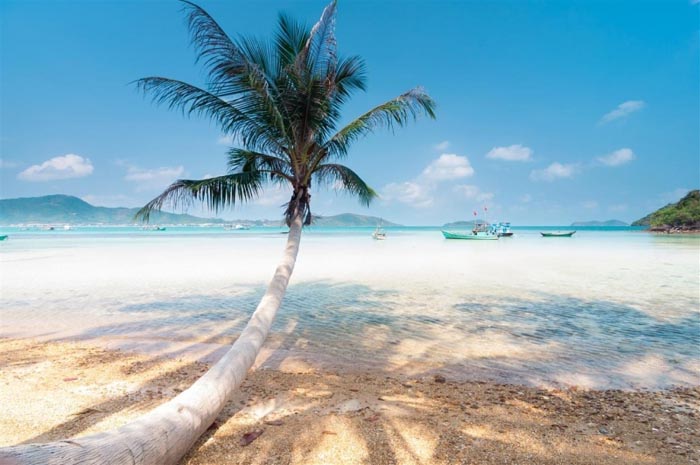 Primitive beauty. Photo: dulichcanhviet
During your trip to Kien Giang and check in to Bai Duong beach, don't forget to visit Phu Tu island and visit Hang Pagoda for peace. Because these are two impressive destinations located near this beach.
7. Khai Long Beach Ca Mau
Khai Long Beach is located in the mangrove ecosystem at the southernmost tip of the country and only takes about 1 hour by canoe from the center of Ca Mau city. This coast contributes to the list of beautiful beaches in the West because of the blue sea and the golden sand that contains alluvium at the mouth of the river. Many visitors to Khai Long beach have fallen in love with the close, rustic and peaceful beauty of this land range.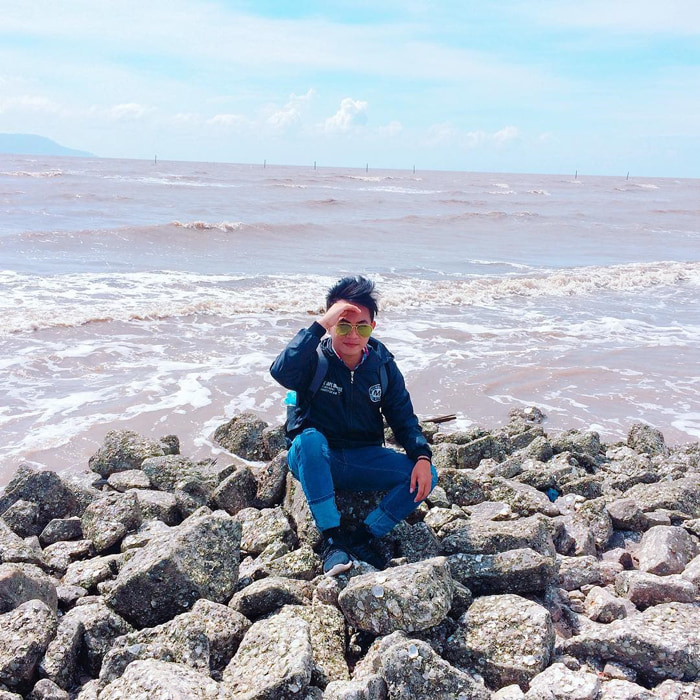 Khai Long Sea in the southernmost part of the country. Photo: bazantravel
In particular, remember to visit Hon Khoai island nearby to admire the scenery, walk next to each stone that has been eroded by the waves, creating many wonderful and strange shapes between heaven and earth. Besides swimming or relaxing on the sand, don't forget to enjoy the very fresh seafood here, the most famous ones being Ca Mau crab, Ba Khiet, and sand goby.
If you have more time, you can also explore the mangroves of Cau Mau so that your trip to the West has many interesting and unforgettable experiences.
8. Ba Dong Sea – Tra Vinh
If you ask the people of Tra Vinh, which beach is the most beautiful in this region, the answer is Ba Dong beach. Between the wild features like many western beaches and its own character with small sand dunes interspersed between rows of soaring casuarinas, this is a tourist destination in Tra Vinh favored by many tourists and frequented to check-in.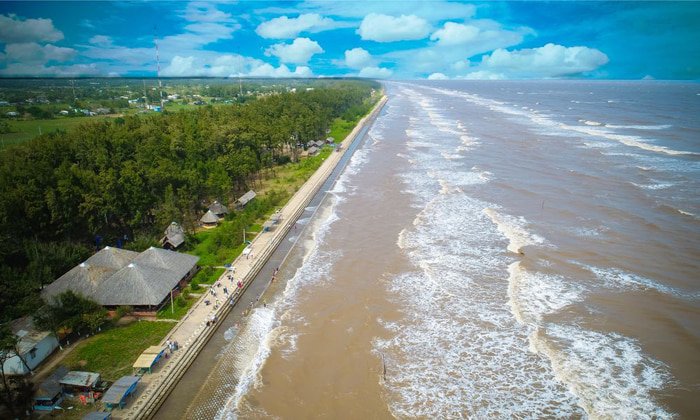 Ba Dong Beach is the most beautiful in Tra Vinh. Photo: Travel to the West
Ba Dong beach is located in Duyen Hai district, Tra Vinh province, and about 55 km from the center of Tra Vinh town. Possessing wild, poetic beauty and fresh and cool air, this place attracts tourists to visit quite a lot. Although most visitors come here just to watch, walk but rarely bathe because the beach has many shells and the water is not too clear.
In return, to the most beautiful beach in Tra Vinh, you can enjoy many delicious coastal dishes, the most famous being grilled chutney, roasted tamarind chutney, salt-roasted chutney, …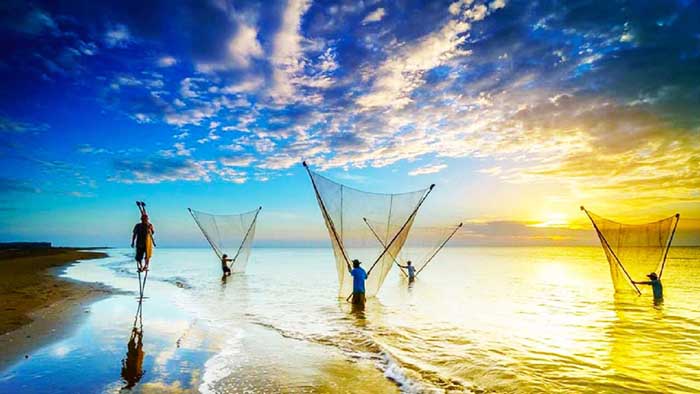 People net fish on Ba Dong sea. Photo: nucuoimekong
9. Tan Thanh Beach – Tien Giang
Tan Thanh Beach is located in Go Cong town, Tien Giang province. Like Khai Long and Ba Dong, both are located at the mouth of the river facing the East Sea, so both the sand and seawater in Tan Thanh have a unique brown-yellow color. However, the attraction of this beautiful beach in the West is still not inferior to other places. People come here to enjoy the cool breeze, enjoy the peaceful scenery and then temporarily forget the daily worries and worries of life.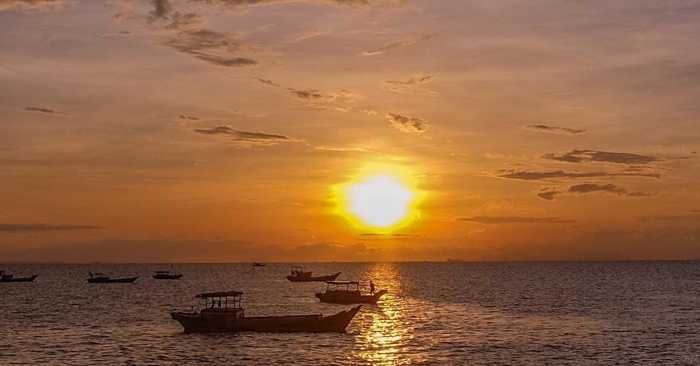 Welcoming dawn on Tan Thanh beach. Photo: mientaycogi
You should plan to go to Tan Thanh beach in the period from March to September of the lunar calendar because this is when the weather is favorable and also the best season for clams. Coming here, visitors can catch clams by themselves and enjoy them right on the beach.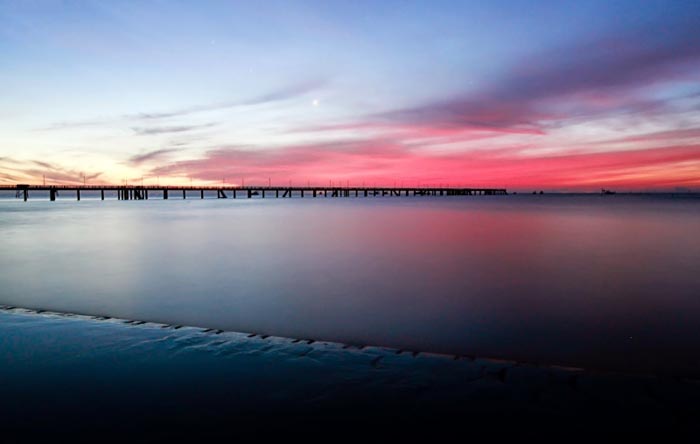 It is recommended to go to Tan Thanh beach in the period from March to September of the lunar calendar. Photo: dulichcanhviet
The West not only has lush orchards, rivers, canals, and rice fields, but also beautiful beaches that are not inferior to the sea in the North or Central region.
Come to the West Coast and don't forget to swim, admire the scenery and enjoy the delicious taste of seafood here. Remember to share with Vinlove beautiful photos and many other interesting things in the places you have been through! Wish you have a happy and impressive trip.
Photo: Internet
TAG: