Top 10 tourist destinations in Vietnam should visit once in a lifetime
The country of Vietnam has many beautiful landscapes and unique cultures, making it a great choice for domestic as well as international tourists. The three regions of North – Central – South stretching everywhere have their own distinct characteristics of people, culture as well as diverse and rich cuisine. Let's take a look at the top 10 most attractive tourist destinations in Vietnam below!
Hanoi City – the land of a thousand years of civilization
Vietnam tourism cannot miss the capital Hanoi – a land of thousands of years of civilization, connected with the history of the Vietnamese nation. Walking around Hanoi city 36 streets, many special old town tourist areas, preserving the ancient construction style similar to the original traditional values, visitors will immediately fall in love with the peaceful beauty of this place from the beginning. the first look.
The beauty of Hanoi Capital is hard for anyone to feel once when coming here, because Ha Thanh is beautiful in everyone's eyes from the smallest things. Just carrying the street vendors also costs so many poets, just a branch of chrysanthemum makes people's hearts flutter or the first season of crocodile also creates a unique feature that few places have.
Folk festivals are also the thing that leaves in the minds of tourists from all over the world many wonderful impressions, especially on Tet holidays.
The relic combining culture and people has created a Hanoi with the beauty of thousands of years of civilization that few places have. 
Traveling to Ha Thanh, visitors should not miss outstanding places such as The Huc Bridge, Ba Dinh Square, Hoan Kiem Lake, Hanoi Opera House…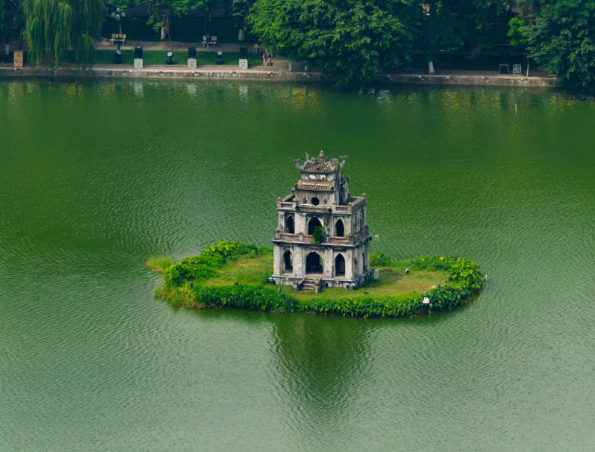 Exploring ancient and poetic monuments and landscapes is considered an unforgettable experience in the hearts of tourists. The street vendors in the early morning or the familiar sidewalk iced tea shops also partly show the idyllic and close beauty of Hanoi people.
Hunting clouds in Sa Pa – admire the impressive beauty of terraced fields
If someone asks about an idyllic, rustic but unique place in Vietnam, Sapa is the perfect answer. Sa Pa is a highland town in the northwest of Vietnam, where clouds cover all year round and terraced fields stretch to the horizon.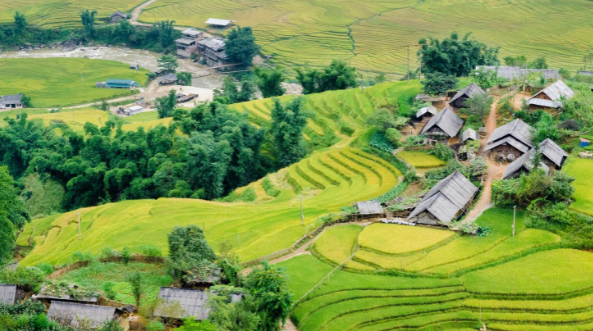 The stunning beauty of Sapa terraced fields is in the top 7 most beautiful terraced fields in Asia and the world by Travel and Leisure magazine (USA) (2009) & ranked by the Ministry of Culture, Sports & Tourism. as a national scenic heritage in November 2013.
Charming scenery, gentle, sincere, hospitable people, simple and peaceful everyday life are all that foreign visitors can feel when coming to Sapa. Besides, Sa Pa also retains visitors by the mountain dishes, especially salmon – the dish that leaves the deepest impression in the hearts of tourists. Although, the people here do not process or have a very special way of cooking, the salmon here is very fresh and delicious, which most people can't find anywhere else.
In addition, having set foot there in Sa Pa in the white snow season around December, you will feel like you are traveling abroad.
Check-in the buckwheat flower season in October in Ha Giang
Also located in the Northwest, Ha Giang has its own unique beauty, with narrow, winding, spectacular roads running through majestic mountains. If you have fallen in love with the beauty of Sa Pa, Ha Giang once again brings a more adventurous feeling than ever.
Arriving in Ha Giang, foreign visitors will not be able to resist the wonderful beauty of this wild land. Ha Giang is beautiful in any season, well worth going and experiencing. Ha Giang is a location that attracts most backpackers, adventure enthusiasts and unspoiled beauty. Ma Pi Leng Pass is winding and dangerous as if challenging people to explore it.
Coming to Ha Giang in October, visitors will be captivated by the fields of white buckwheat flowers. The pale rose petals, the dreamy purple color make the whole hill like wearing a carpet of brilliant colors. Flowers grow on hills, at the foot of the mountain, even bringing intense vitality to the cliffs full of dangerous thorns. The color of buckwheat flowers makes the rugged nature of the mountains and forests also become gentle.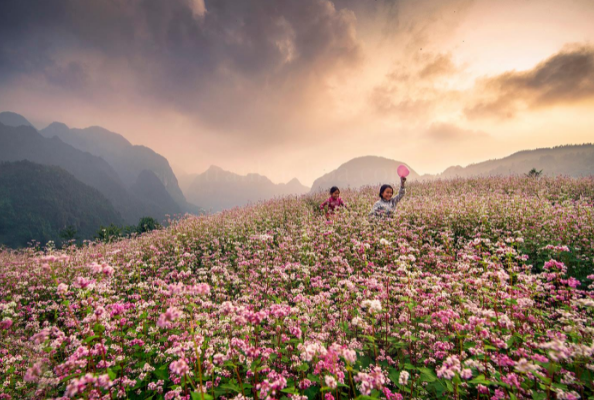 Ninh Binh – One of the most beautiful tourist destinations in Vietnam
The next destination in the journey to visit our country that tourists should visit at least once in their life is Ninh Binh. This place fully concentrates on long-standing historical and cultural heritages such as Hoa Lu Ancient Capital, Cuc Phuong National Park, Trang An Eco-tourism Area, Bai Dinh Pagoda, Tam Coc – Bich Dong…
Traveling to Ninh Binh, do not forget to sit on a yacht on the Ngo Dong River, enjoy the endless beauty of mountains and rivers, or explore secret caves in Tam Coc – Bich Dong. Or the Kong: Skull Island filming area is reconstructed in the ecological complex of Trang An. If you love glorious history, visitors come to Hoa Lu ancient capital – where historical relics are stored more than 1000 years ago.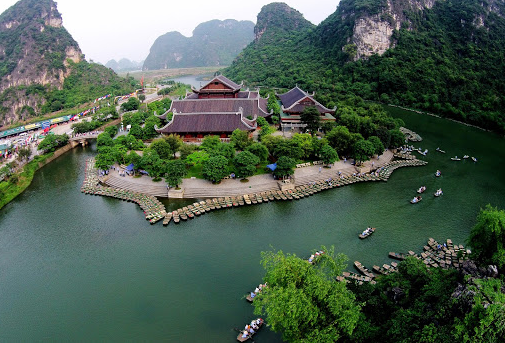 Coming to Ninh Binh, you must visit Mua Cave located at the foot of Mua Mountain. Visitors will be able to test their endurance when climbing to the top of the mountain with 486 stone steps and from the top, you can admire the whole beauty of the Tam Coc region with immense green rice fields.
Bringing in the charming beauty of mountains and rivers, Ninh Binh is the first choice of foreign tourists when traveling in Vietnam. Famous places in Ninh Binh "fascinate" tourists:
Ha Long Bay
Ha Long Bay is a famous tourist destination of Vietnam, located on the west coast of the Gulf of Tonkin in the Northeast Sea of ​​Vietnam. With thousands of magnificent islands, Ha Long Bay has been recognized by UNESCO many times as a natural heritage of the world.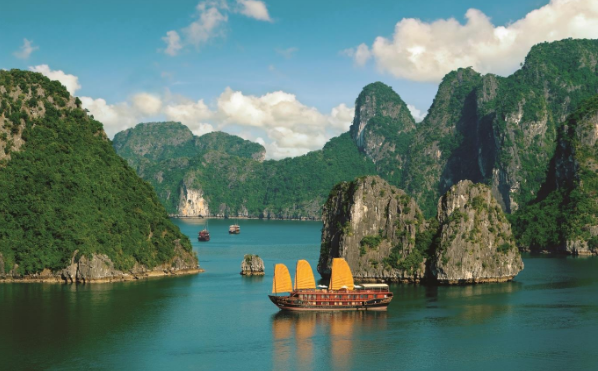 Ha Long Bay is a famous name in the tourism village of Vietnam. With beautiful and unique rock formations or picturesque scenery of clouds and rivers, Ha Long Bay also brings a sense of peace, comfort and comfort to foreigners every time they come here.
Ha Long Bay includes the sea and islands and Van Don island district, in Quang Ninh city. With a coastline of 120km, thousands of large and small islands with limestone islands, rocky mountain systems and caves, Ha Long Bay is the pride of Vietnam and is included in the TOP 29 most beautiful bays in the world. twice recognized by UNESCO as a natural heritage of humanity.
If foreign guests are one of the believers who love to relax, then Ha Long Bay is the most perfect destination. Just float on the yacht on the sea, admire and see the unique islands, close your eyes and immerse your soul in the clear blue water village, all worries and fatigue will disappear. Ha Long Bay not only attracts domestic tourists but also international tourists.
Phong Nha Ke Bang – a masterpiece of nature
Phong Nha – Ke Bang National Park has long become the hottest tourist destination in our country. Phong Nha – Ke Bang in Quang Binh has poetic scenery, extremely wonderful cave system, immense mountains and rivers, many rare and precious species of flora and fauna, attracting millions of tourists every year as well. many explorers from all over the world came to discover.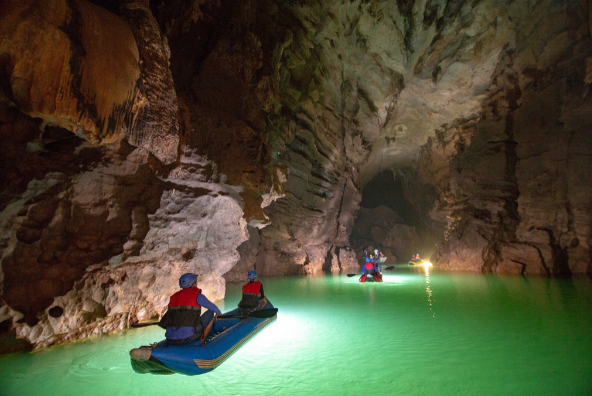 Phong Nha Cave is one of the typical places when it comes to Quang Binh, the beauty of Phong Nha cave is both majestic and charming. Entering Phong Nha cave, foreign visitors will know what it's like to be flowing water and worn rocks. The erosion of rainwater into the limestone has caused intense cleavage in the mountain ranges into diverse terrains: mountain beds become caves, massifs are split into steep cliffs and scenes strange… When tourists look up and then turn sideways, turn back to admire and watch, the images of stalactites, of sparkling lights are reflected. Everyone is in awe of its beauty.
Hue ancient capital – the land of national heritages
Wherever you go throughout Vietnam, you should stop by the land of the ancient capital of Hue. Hue is a peaceful and ancient city with heritages and architectural works imbued with national history.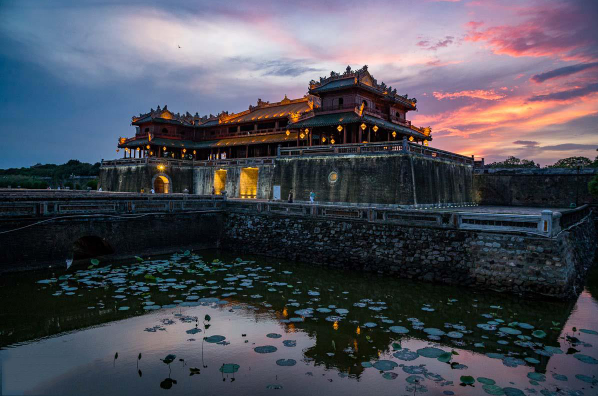 Since the Nguyen Dynasty in the 19th century, Hue has been a promised land with a culture imbued with national identity as well as a "cradle" of rich, unique and different cuisine.
Inheriting the architectural beauty of the heritage of the Nguyen Dynasty, Hue is full of ancient and poetic beauty that makes visitors come here to nod their heads. If tourists love ancient beauty and want to find peace again, Hue is the right tourist destination.
Anyone who comes to Hue will be surprised: "Hue has nothing", but if you slow down and live slower than your own daily life, you will see that "Hue – anything is possible. has that nowhere else has it".
Visitors always have a special affection for Hue not only because of its quiet and ancient beauty, but also because of the special dishes that are similar to the people and the peaceful rhythm of life here.
Visiting Hue Citadel
Visit the mausoleums: Tomb of Tu Duc, Tomb of Minh Mang, Tomb of Khai Dinh, …
Thanh Tan hot spring
Bun Bo Hue
Hue cakes, Hue tea
Discover Da Nang – the most livable city in our country
Da Nang is known as the most livable city in our country. So why in the journey to learn about tourism in our country do we leave the city unfinished? Da Nang is beautiful, isn't it?
City. Da Nang is an attractive destination for hundreds of thousands of tourists worldwide. In addition to famous spots such as Ba Na Hills, Hoi An, Ngu Hanh Son, Da Nang is also adorned by large and beautiful bridges every night: Han River Bridge, Dragon Bridge, Tran Thi Ly Bridge, …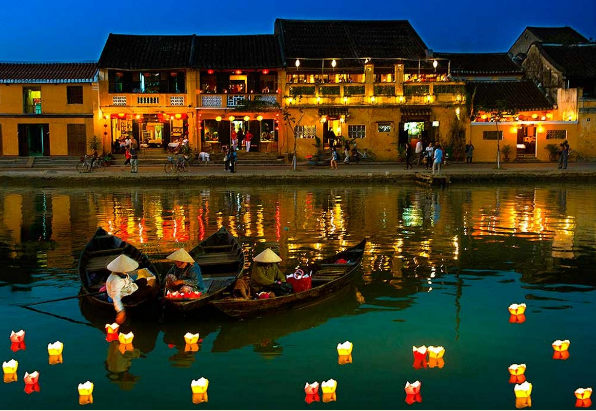 Da Nang city attracts foreign tourists that is sea tourism. City Beach. Da Nang is nearly 60km long with many beautiful public and private beaches adjacent to each other. The charming landscape, clouds, sky, sea blend with the wind here. The fine white sand and green coconut trees stretch for nearly 1km. High-class restaurants, hotels, and resorts are located close to the sea, serving families and agencies to rest and relax.
And yet, City. Da Nang is also an ideal summer destination for tourists when there are many attractive beaches and fresh seafood dishes. In particular, the people here are very friendly, open, and the environment is green and clean, making everyone eager to come to this modern city immediately.
Breaking the island of Da Lat – the city of dreams
Have you been to Da Lat? If not, quickly invite your close friends to discover Da Lat – the city of thousands of flowers.
Da Lat is a dreamy, fanciful city in the white mist and always filled with flowers. Da Lat's mild climate is also one of the reasons why tourists come to visit and relax.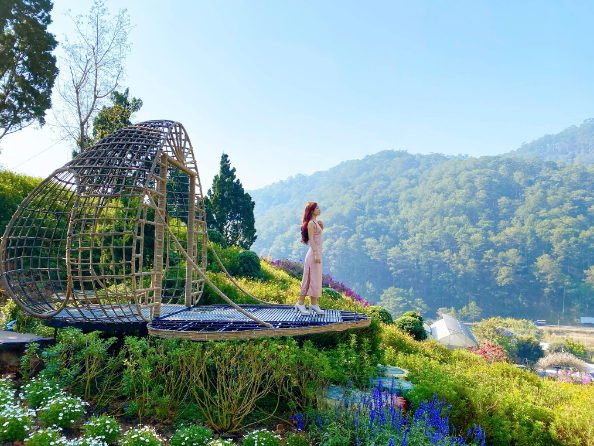 Da Lat is famous for attractions such as Valley of Love, Truc Lam Zen Monastery, Linh Phuoc Pagoda, Langbiang Mountain, Elephant Waterfall… Especially, when coming to dear Da Lat, try to transform into a farmer. Experience hand-growing flowers, harvesting strawberries and grapes with the people here.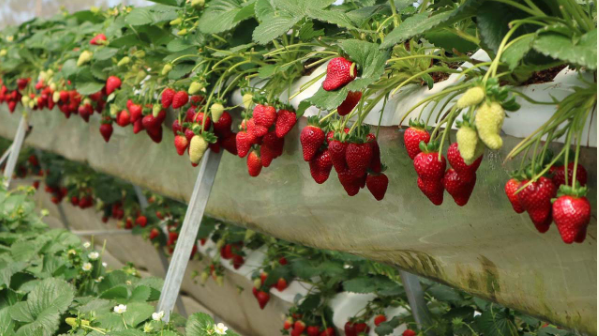 In addition, the very typical dishes in Da Lat such as grilled rice paper, banh can, wet cake with chicken hearts … will make other foreigners attached to this place and do not want to leave.
Linh Phuoc Pagoda is one of the famous landscapes of Da Lat, an architectural project with a bold Asian identity.
Excellent check-in points such as: Ma Rung Lu Quan, Dalat Milk, Lam Vien Square, Da Lat station, …
Phu Quoc – Pearl Island of Vietnam
Phu Quoc Island (Pearl Island) in Phu Quoc district, Kien Giang province, is the largest island in Vietnam. Located in the Gulf of Thailand, Phu Quoc Island is an ideal vacation destination with pristine tropical forests and long stretches of white sand beaches. Foreign tourists coming here are very curious about the rainforest, scuba diving to see corals, visiting Vinpearl Safari Phu Quoc … Phu Quoc is also a famous fish sauce producer in our country & known by foreign tourists. come.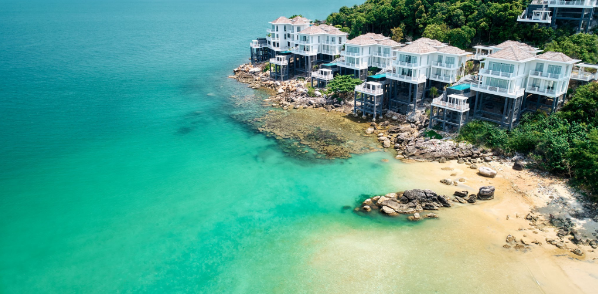 La Repubblica, the leading Italian daily newspaper, has praised many words: "Phu Quoc is a small paradise with a long stretch of white sand embracing the blue sea." . It is impossible to travel to Vietnam without mentioning Phu Quoc pearl island.
Above are suggestions for beautiful tourist destinations in Vietnam that are not only attractive to domestic tourists but also famous to reach the international level. Hopefully, through this article, you have chosen a suitable destination for your upcoming summer vacation!
TAG: