Que Ta garden tourist area – Ben Tre fruit paradise can't be missed this summer
Along with Phung Island, Lan Vuong tourist area, Ba Ngoi garden, Que Ta garden resort is the hottest name in Ben Tre every summer for those who love Southern fruits.
Along with other western provinces such as Tien Giang, Long An, Dong Thap, Ben Tre is known as one of the most interesting destinations that if you have the opportunity you should at least once set foot to explore! This is not only the land of green coconut trees but also famous for many delicious and irresistible fruits such as rambutan, durian, mangosteen, pomelo, longan, orange, mandarin… Regardless of the season, however, the coming summer is the most suitable occasion for tourists from all over the world to choose Ben Tre to visit the most famous fruit gardens here.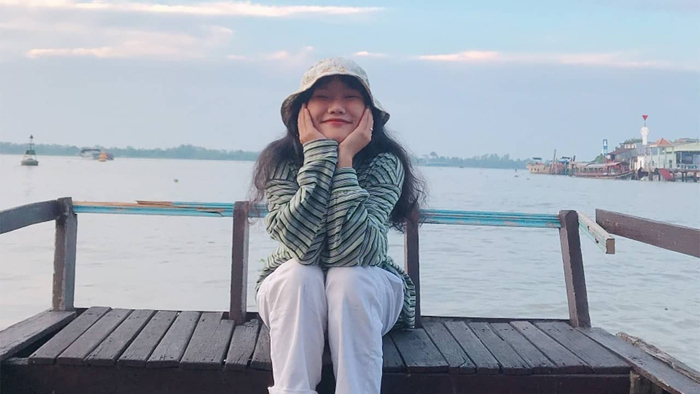 Ben Tre is known as one of the interesting Western destinations. Photo: nucuoimekong
Depending on the interests of you and your family and group of friends, you can choose where there are many kinds of fruit you like, but the richer the better because it will give you more choices. A suggestion for you is the Que Ta garden tourist area because this place is known as one of the ideal places to enjoy and enjoy fruits that are loved by many tourists, especially young people. Along LuhanhVietNam swept the West, stop and check-in coconut gardens Que Ta whiff!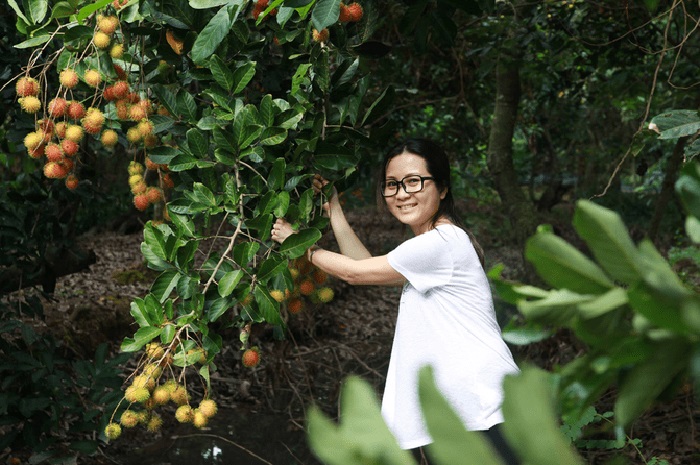 Picking rambutan from the tree Photo: vntrip
Quite a variety of southern fruits, but the most present in the tourist area is rambutan. This place is even considered the largest rambutan garden in Ben Tre. Now hurry to discover the delicious, ripe taste of each fruit in the cool space in the cool weather and enjoy the most relaxing moment in Que Ta.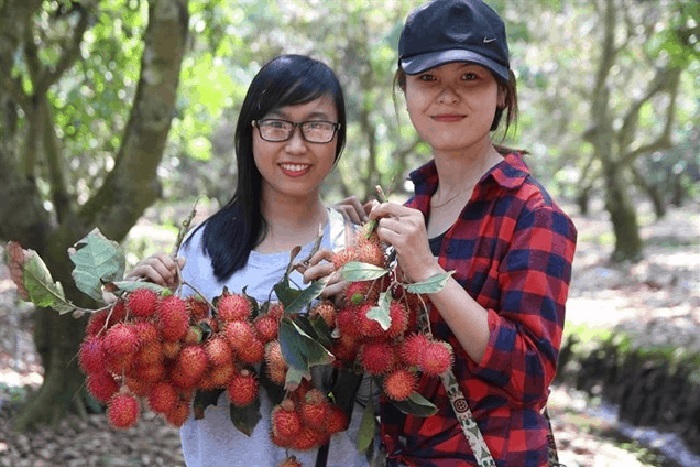 The perfect weekend getaway. Photo: mientaycogi
Directions to Que Ta tourist area
The famous tourist area that grows a lot of rambutans named Que Ta is located in Tan Qui hamlet, Tan Phu commune, Chau Thanh district, Ben Tre province.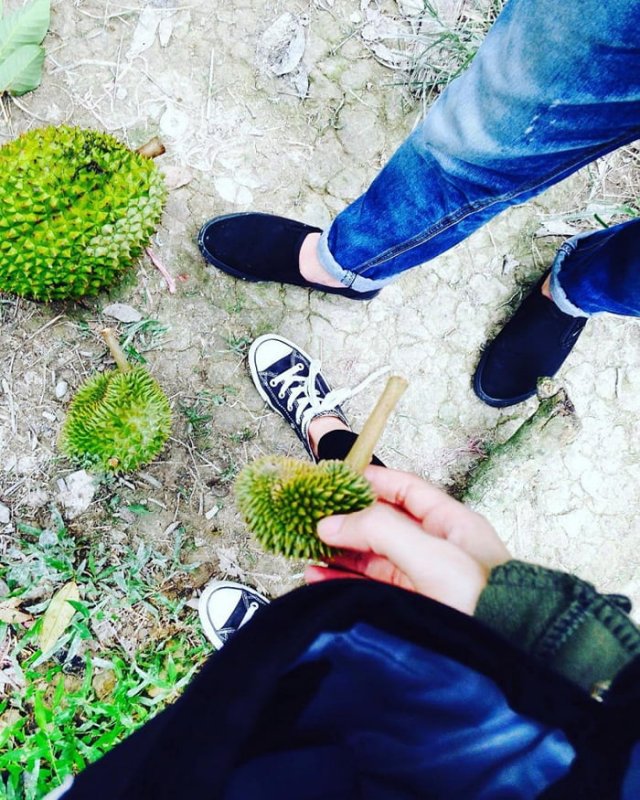 Vi vu delight. Photo: couturetravelcompany
The resort is located about 97km south of Ho Chi Minh City. If you ride a motorbike, it only takes 2 hours to get there. If you are afraid to drive far away, you can choose to book a bus ticket to Ben Tre city. From here, visitors follow provincial road 884 towards Chau Thanh district. When you come to the end, turn into the path to the Que Ta garden tourist area, about 10 km long. Note that this path is quite narrow, so it is only enough for two motorbikes to pass. For your luck, remember to go slowly and carefully.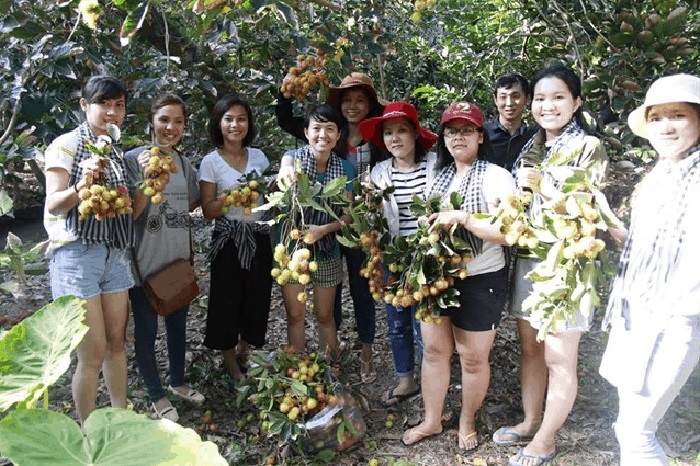 Set up a team to travel to the Que Ta fruit garden Photo: congtydulich
The road is a bit inconvenient, but in return, you will be able to see firsthand the clusters of rambutans laden with fruit on both sides of the road. There are even a few passages, just looking up a bit you can see which are oranges, tangerines, grapefruits, bananas, deeper inside is a lot of durian trees, … Up to the present time, Que Ta garden has also been invested more in infrastructure. In the near future, the road to the tourist area will be widened, so that small car can enter and exit easily.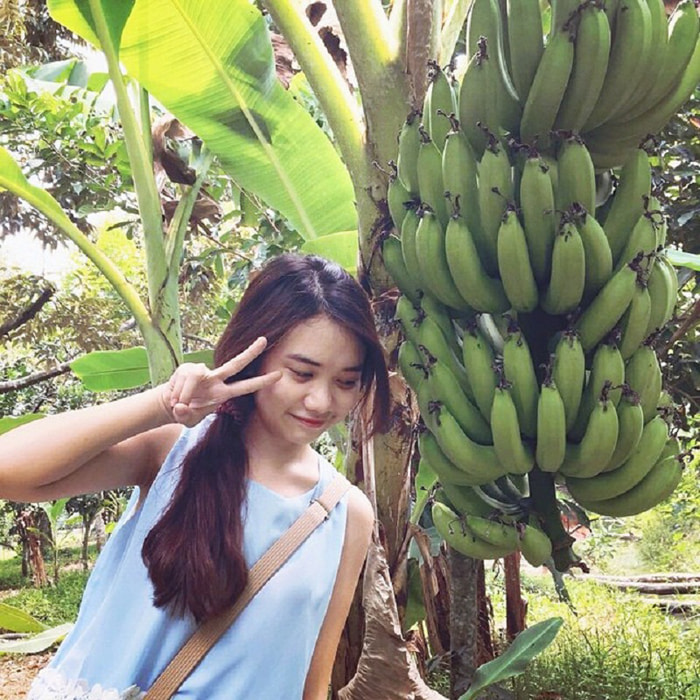 The scene is very rustic and familiar. Photo couturetravelcompany
Interesting activities at Que Ta garden tourist area
If Lan Vuong tourist area is a favorite destination of young people or large groups with many typical games of the river region, Con Phung tourist area attracts visitors by the special location of an island between the river and the river. For works associated with the coconut religion, the garden of Que Ta is a place that promises to bring you unforgettable experiences when you are lost in the land of thousands of fruit trees. Right from the way to the tourist area, you can easily see fruit baskets overflowing onto the street. From fragrant durian, mangosteen, grapefruit, rambutan, plum, mango, … are all fresh because they have just been picked.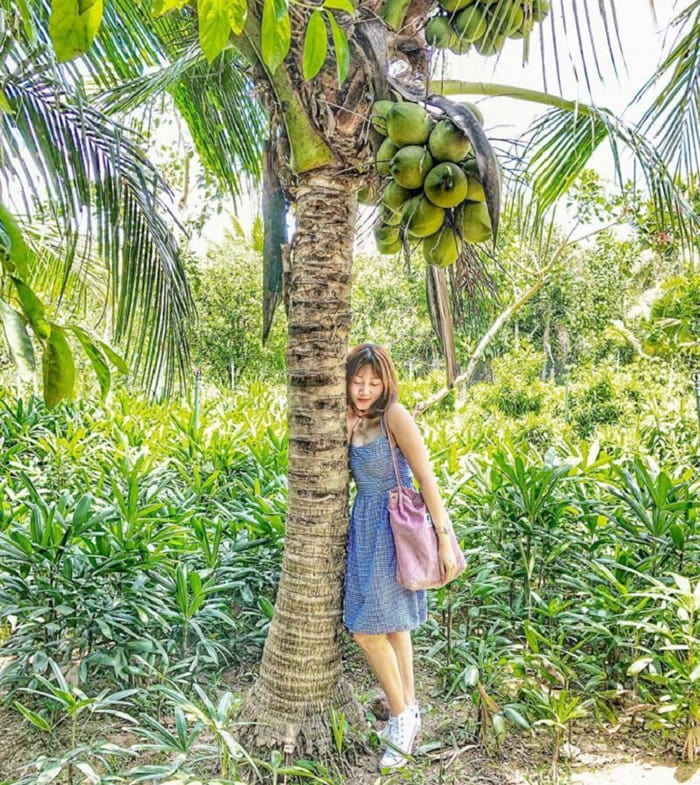 The land of fruit trees. Photo: msquare
Guests will have an exciting vacation with fresh and cool air, poetic landscape with a typical Southern garden. The orchards full of fruit are waiting for you to visit, pick and eat on the spot and buy them as gifts for relatives and friends at only half the price of the market. You will be free to pick fruit and charge per kilogram to bring back with the original price at the garden. Many tourists have bought fruits here in large quantities to bring back as gifts after their garden trip.
The fruits in Que Ta garden will be sold according to the season and you can weigh as much as you want and then charge according to the price at the garden!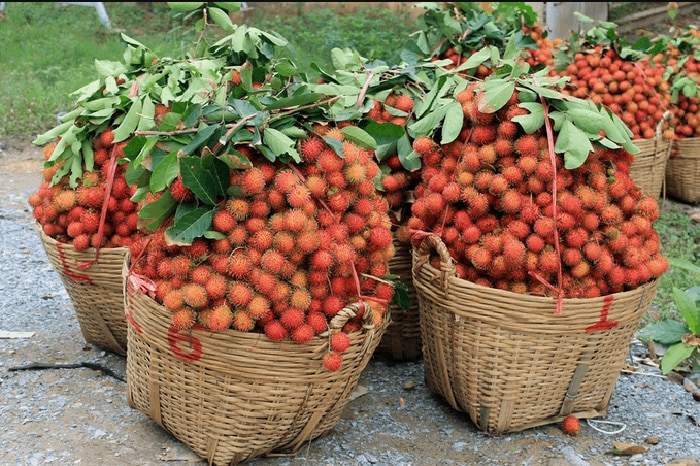 Enjoy rambutan in the garden. Photo: vntrip
You can rest assured that the price is extremely cheap because with only from 30,000, 40,000 to 50,000 VND per person, you can freely go in and out of the garden full of branches and enjoy picking fruits to eat on the spot. More specifically, the price for picking a rambutan garden is usually 40k/person, longan and Thai rambutan gardens will be 70k/person.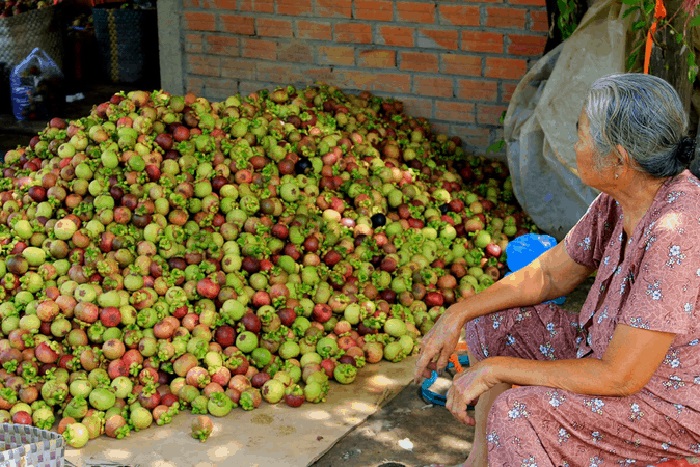 Mangosteen is also a famous delicious specialty in Que Ta. Photo: vntrip
After visiting the rambutan, mangosteen, durian garden, you can stop to rest under the shade of the orchard and don't forget to drink cool coconut water that has been picked directly on the tree by the gardener.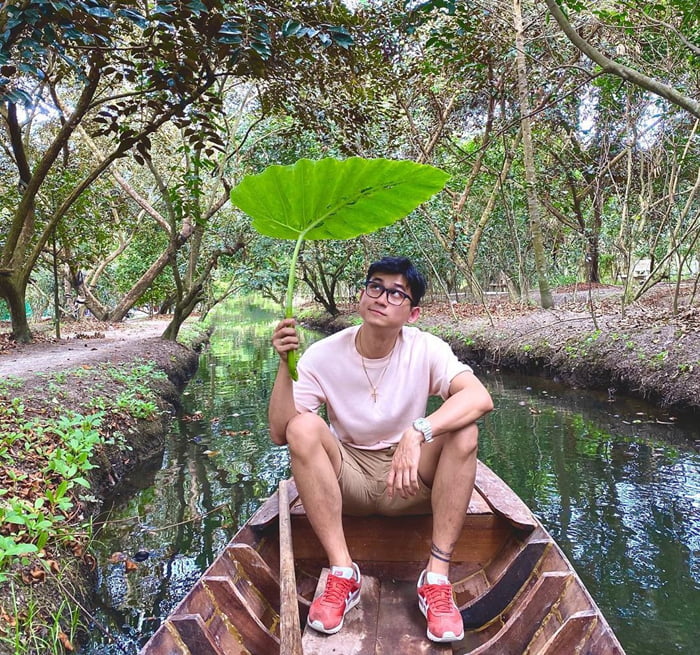 This type of eco-tourism is associated with large and rich orchards. Photo: xigo
In addition, the Que Ta Ben Tre garden tourist area also has a large campus with small canals and canals, so it is very suitable for organizing interesting folk games such as fishing or wearing a bas-relief. catch fish. Don't miss the chance to play hard with your friends here.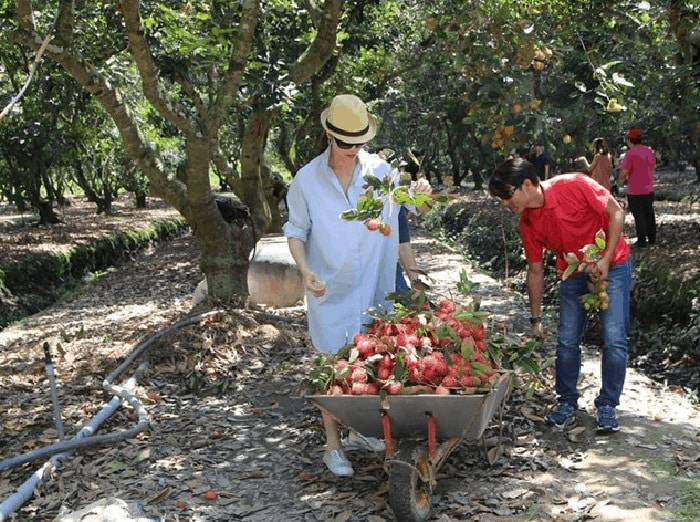 Get together to explore the fruit paradise. Photo: metrip
If there is a need to eat in the garden, visitors can ask the owner of the garden to prepare delicious Ben Tre dishes to enjoy with friends and relatives. The menu is also quite diverse, but the most special are local specialties such as grilled copper frog, grilled snakehead fish, deep-fried red snapper, deep-fried giant fish, free-range chicken porridge, coconut mouse, steamed crab, salad Our country snails, pancakes, grilled crayfish, .. are not inferior to the menu in the eco-food village of Que Dua Ben Tre. Among them, the most attractive and favorite is free-range chicken porridge with an average chicken price of 100,000 – 150,000 VND / kg, porridge and accompanying dishes are invited by the garden owner, not charged and you can ask for more. necessary.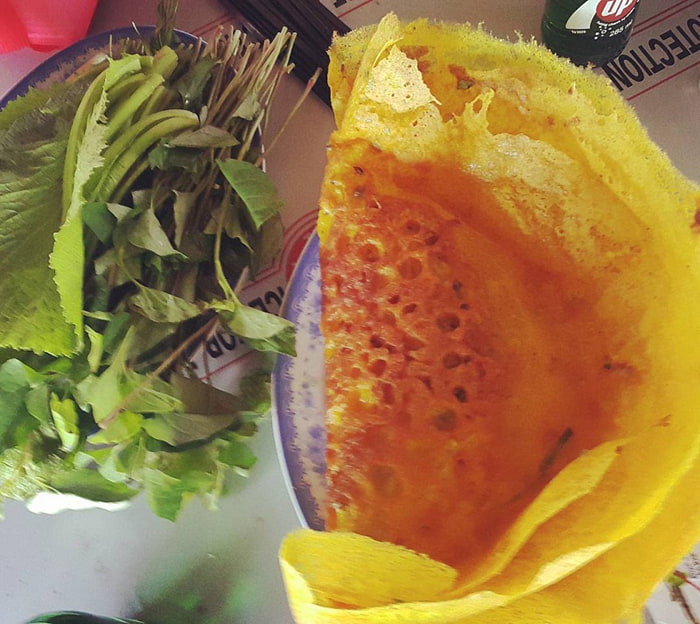 The famous Western pancakes. Photo: couturetravelcompany
Notes when visiting the garden of Que Ta
Que Ta garden tourist area has a lot of fruits that are known as specialties of the West and are extremely delicious in each season. Specifically, rambutan, mangosteen, and durian all have the best ripening time according to which season, so remember to check the time of the crop and then schedule a visit to the garden. To be more proactive, visitors can call the garden owner in advance to arrange the most suitable trip schedule for them.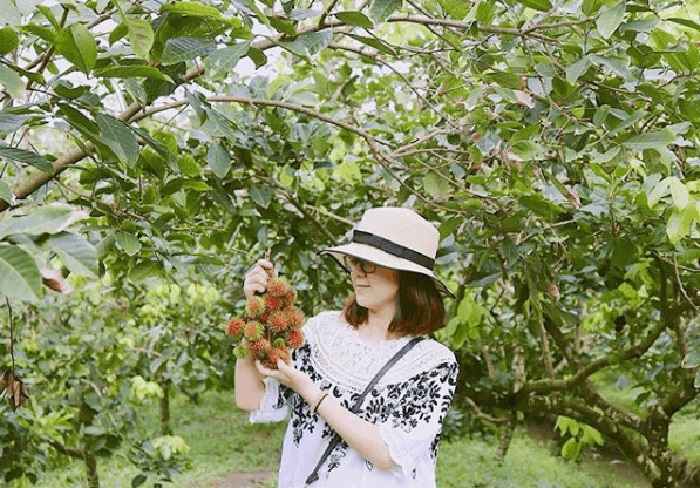 The garden is cool and peaceful. Photo: mientaycogi
The road to Que Ta garden is quite winding, deep into the small road and around there are not many places to play or rest overnight, so when traveling here, you should go early in the morning and take advantage of the day. Or go back to the center to visit other tourist attractions in Ben Tre.
If you want to stay overnight, here is a list of hotels and motels not too far from the tourist area that you can refer to:
Forever Green Resort: has the address at Phu Khuong Hamlet, Phu Tuc Commune, Chau Thanh District, Ben Tre Province.
Quoc Phuong Riverside Homestay is located in Phu Tuc commune, Chau Thanh district, Ben Tre province.
Ben Tre Garden Farmstay: Group 10. Phuoc Xuan hamlet, An Khanh commune, Chau Thanh district, Ben Tre province.
Ham Luong Hotel: No. 200 C, Hung Vuong Street, Ward 5, Ben Tre Province.
Ben Tre Riverside Resort: 708 Nguyen Van Tu Street, Ward 7, Ben Tre City, Ben Tre Province.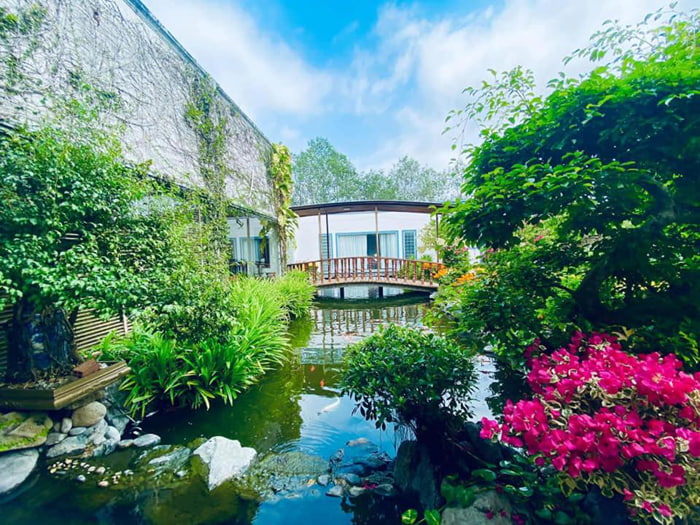 Forever Green Resort Ben Tre. Photo: Forever Green Resort
Possessing a cool space, fruit orchards laden with branches, and countless delicious dishes, Que Ta garden is an ideal summer relaxation spot not too far from Saigon for young people, especially during the holidays. and weekends!
What are you hesitating for without carrying your backpack to check in right away at the countryside resort of Que Ta Ben Tre?
Photo: Internet
TAG: