4 delicious fish salad dishes along the coast of Vietnam
In Phu Quoc, there is a famous herring salad, while apricot fish salad is a dish that tourists can easily find in Nha Trang, Khanh Hoa.
Each different sea has its own typical fish, the coastal people catch and process them into rustic salads. Visitors try and are impressed with these variations and then they gradually become unforgettable specialties.
Herring salad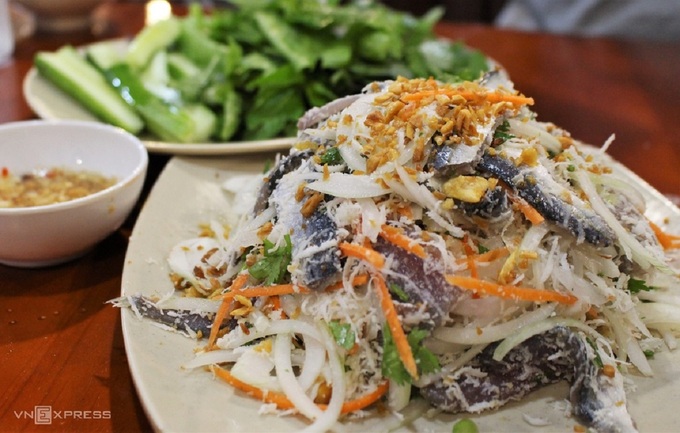 Photo: Huynh Nhi
This is a rustic fish salad in Phu Quoc, highly appreciated by diners and considered as a must-try specialty when coming to the pearl island of Kien Giang province. Herring has bluish skin color, small bones, a long body, thin round scales.
The processor must choose fresh fish so that the meat is fragrant, sweet, and less fishy. The fish is cleaned of scales, guts, head, fins and tail removed, then use a thin knife to remove the bones, take the meat on both sides, mix with onion, carrot, grated coconut, fried garlic… then mix it with water. sour sauce from vinegar fed with ripe guava, add sugar and salt to make the dish taste sour and have a mild aroma.
When enjoying, diners take a thin piece of rice paper for raw vegetables, cucumber, and fish salad, then roll it firmly, use it with sweet and sour dipping sauce.
Perforated fish salad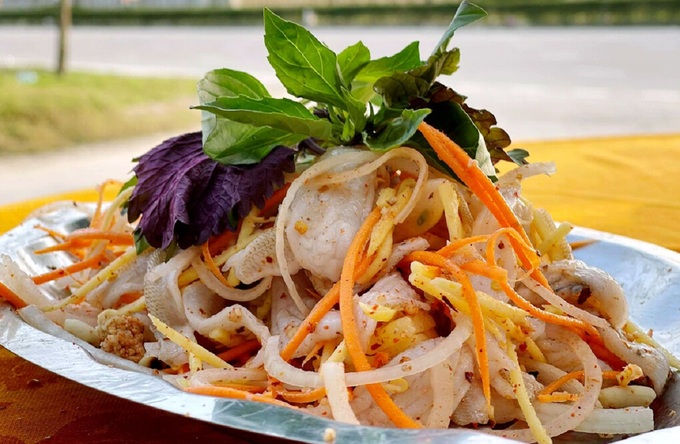 Photo: Tuy Phong
This is a specialty of the flatlands such as Loc Ha, Nghi Xuan, Thach Ha… in Ha Tinh. The fish live near the coast, the body is bigger than the thumb, about 13-18 cm long, looks like a freshwater goby. Fishermen can prepare many delicious dishes from opaque fish, especially salad and grilled because the fish meat is firm, white, has a sweet taste, and fish is available almost every season.
The fish for salad is cleaned of scales, removed the head, cut along the body to get the meat, and then marinated with lemon juice for 15-30 minutes. Marinated fish must be squeezed dry, drained. The fish marinade will be kept to make sauce seasoning. The dipping sauce is made from many different spices such as: lemon, minced garlic, tomato, red onion, peanut, hot chili… boiled into a sweet and sour mixture. When eating, you must use rice paper rolls with fish rolls with herbs, perilla leaves, lettuce, thinly sliced ​​cucumbers…
Apricot fish salad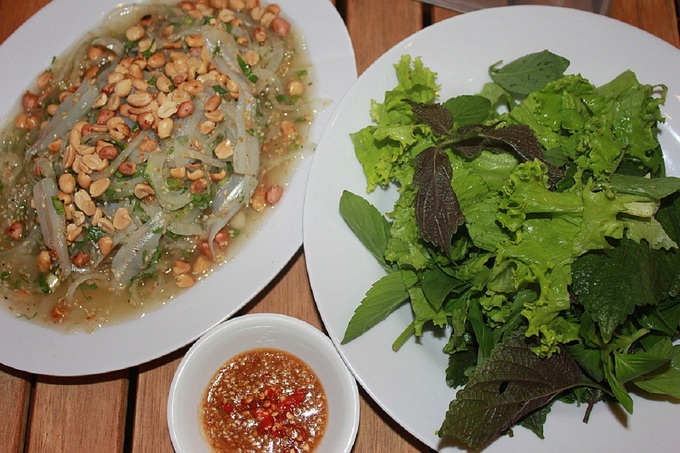 Photo: Tran Ha
This dish is easy to find in restaurants or popular eateries in Nha Trang, Khanh Hoa. Mai fish is about the size of a thumb, has a smooth, flat body, a bit like an anchovy but without scales, longitudinal stripes, sweet flesh, and very little fishy.
The fish selected for salad must be very fresh, cleaned, deboned, and patted dry. There are many ways to make apricot fish such as using tamarind, lemon, vinegar. The fish meat after squeezing will turn from clear white to ivory white, opaque, mixed with hearing sprinkles on top. Thinly sliced ​​onion, sliced ​​ginger, herbs such as laksa leaves, basil, cilantro, perilla, lettuce… chopped and mixed with fish, seasoning to taste is complete.
A delicious fish salad must have the mildly sour taste of lemon, spicy from chili, and naturally sweet thanks to fish combined with the characteristic fish sauce flavor in the dipping sauce and the freshness of raw vegetables. The dipping sauce is both sweet and aromatic, fatty but not boring.
Fish salad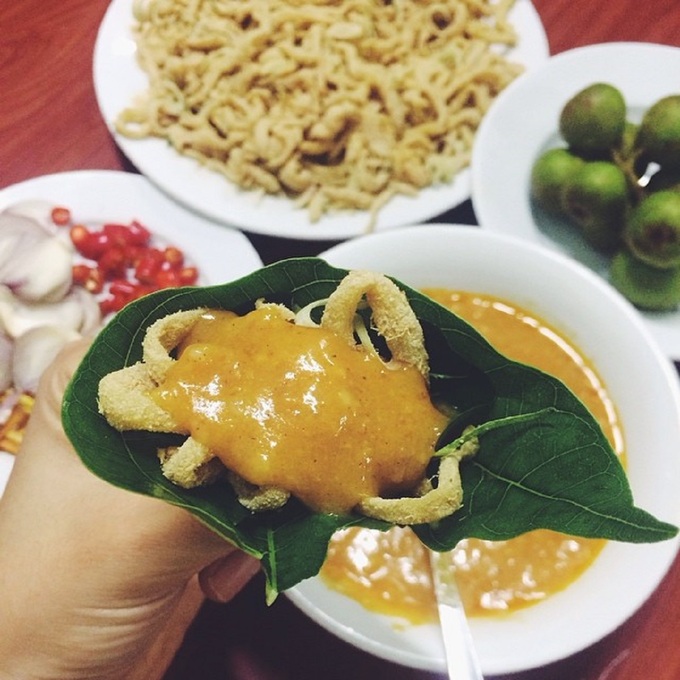 Photo: @thuythuy167/Instagram
Not only has high nutritional value, the fish salad in Nga Son, Thanh Hoa is also especially attractive by its sweet, strange taste and unique packaging. The frogfish has an appearance similar to an eel or a snake. After being caught, the fish is cleaned with ash or dilute lime water, then dissected, removed the intestines, head and tail, filtered the bones and meat separately, must be very skillful and precise. carefully so that the fish is not crushed and does not stick to the bones.
The meat is thinly sliced, squeezed with fresh lemon, squeezed out, marinated in spices and mixed with hearing. The fish skin is deep-fried to roll with the salad, the fish bones are brought into the mortar and pounded to cook.
The dish has a strange way of rolling the salad, taking fig leaves or guava leaves as a cover and then arranging the leaves according to your likings such as apricot leaves, basil, Chinese coriander, cloves, Centella Asiatica, mint… Form a funnel and stuff the salad in the middle, sprinkle the water on top. You can add ginger, onions, cover the sesame rice cake on top, depending on your taste.Follow vnexpress
TAG: