Hanoians go to Moc Chau for a long break to explore nature.
Some Hanoi families choose Moc Chau to stay for 15-30 days, escape the heat and disease, and let their children explore nature.
Ms. Nguyen Thi Ngoc Phuc (Thanh Xuan, Hanoi), a tourist who has been staying in Moc Chau for nearly 1 month, shared: "Space here is cool, fresh and so peaceful! Only about 1 way from Highway 6 km, but this resort is like another world, full of nature, only seeing the sound of cicadas and streams flowing all day."
The couple decided to choose Moc Chau, a safe and cool destination, to rest and work online every day in combination with exploring Moc Chau National Tourist Area.
Nguyen Le Thuy (Tay Ho, Hanoi) brought her two young daughters to escape the heat and let them learn about life in a new environment far from the city. Parents and children walk around the resort every day, watching rice fields, flying kites. She also let the children visit the village to learn about culture, teach them to grow vegetables, cook…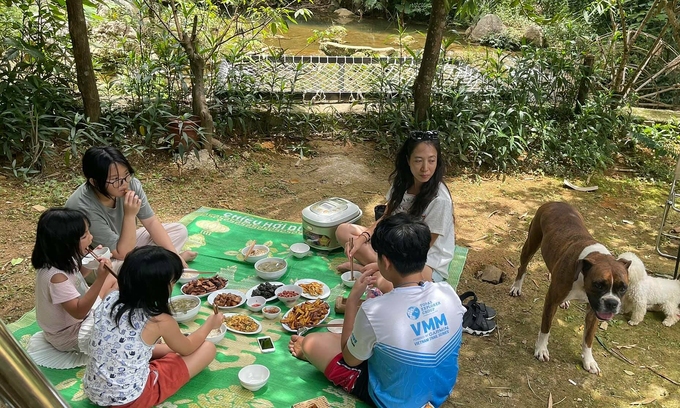 Thuy and the children eat rice right under the tree.
"My children and I have been here for more than a week, the weather is cool, the children love it, go out in the morning, cook at noon, swim or fly kites in the afternoon…", Ms. Thuy said. The posts about daily life in Moc Chau by Ms. Thuy and her children attracted a lot of comments on her personal Facebook. And after a week, many of her friends also brought their families to Moc Chau to rest and explore this peaceful land.
Moc Chau Retreat Farmstay Resort – one of the first models combining resort tourism and agriculture. Here, guests can enjoy the greenest life possible with space, landscape, food, drink and living tools. In the rooms that do not need air conditioning, even in the middle of summer. The resort also does not arrange TV and wifi, only providing passwords for those who really need to work. The activities of planting trees, fishing, picking vegetables, cooking, wading streams, planting, picking tea… all direct people to move away from technology and modern lifestyles to harmonize with nature, feel perceive real life with all the senses.
Currently, this green tourism model is gradually appearing in Moc Chau, such as Moc Chau Retreat, Love Mountain Homestay, Pa Phach Farmstay… attracting many families to go on vacation or vacation combined with work. remote work. While avoiding heat, avoiding epidemics, and enjoying a light and fresh life.
The cost for such a vacation is not too high, for example, for Thuy's parents and children, a 2-week vacation includes a room price of 7 million VND. Food costs are not significant because clean vegetables, chicken, fish are available in the garden, fresh fruits this season are also plentiful, fresh and cheap. So her family is completely safe away from Hanoi for a few weeks.
Not far from the center of Moc Chau, Homestay A Chu (Hua Tat village, Van Ho commune) and Stella Hotel (Ang village, Dong Sang commune) are attracting guests with other experiences. These two units have been organizing summer camps for students for the past few years. Children from 6 to 15 years old will have to be away from their parents for about 1-2 weeks to "retire" at homestays and have a daily schedule of activities and experience independent life. Through outdoor activities such as climbing, sports, cooking lessons, etc., the children learn and practice many life skills, forest survival, teamwork…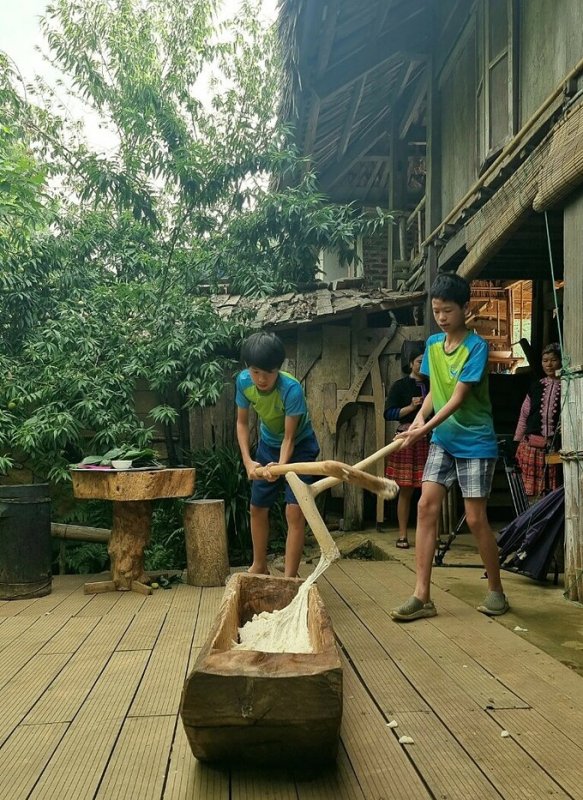 Children practice day cake at Homestay A Chu summer camp.
Mr. Bui Van Toan (Thanh Xuan, Hanoi), a guest who used to take his children to experience, said that parents only need to bring their children to receive summer camp, then the host will guide the children to participate in activities and training. practice changing attitudes, lifestyles, and thoughts.
"I see that children in the city are being overprotected, leading to dependence, dependence, and lack of life skills. I let my children participate in this course so that they can try to live away from their parents, and also let themselves be. see how independent the child can be," Toan shared.
Through research, most families with conditions, when choosing a resort, often choose destinations in the Central and Southern regions because of the sea, quality of service, and professional service attitude. Many people are afraid of the North because of the low quality of service, or being hacked… As Ms. Thuy shared: "In the past, I was afraid to travel to the North because I was often hacked. I should have gone to Phu Quoc this summer, but because The epidemic forced us to choose Moc Chau. But fortunately, thanks to that gentleness, we discovered this paradise."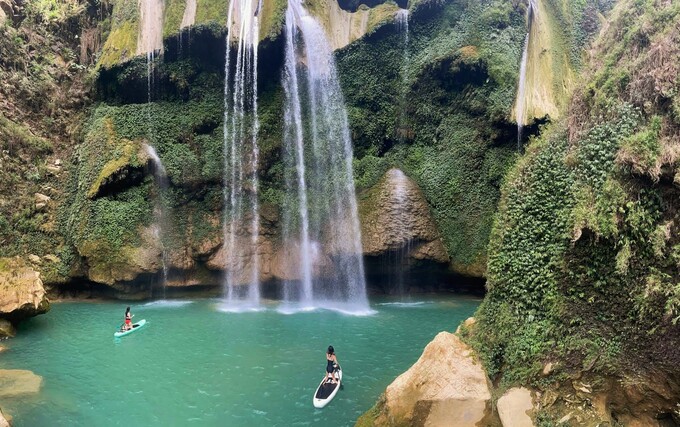 Thuy also took her children to explore some destinations in Moc Chau such as Fairy Waterfall .
According to Mr. Ngo Thanh Dao, an officer of the Management Board of Moc Chau National Tourist Area, the tourist in Moc Chau has gradually changed his mind, and tourists also gradually have good impressions of mountainous tourism. . He believes that, in the near future, Moc Chau tourism will become an ideal vacation destination for the summer. Follow vnexpress
TAG: