14 Cam Ranh Nha Trang Tourist Places
In the summer, Nha Trang is strangely beautiful with a cloudless blue sky, clear blue seawater, and green coconut trees following the call of the ocean. Coming to Nha Trang is coming to a peaceful and clear land, with interesting places that make visitors "fall in love" from the first time they arrive. We would like to share with you 14 tourist attractions in Cam Ranh Nha Trang that you cannot miss when coming to this coastal city.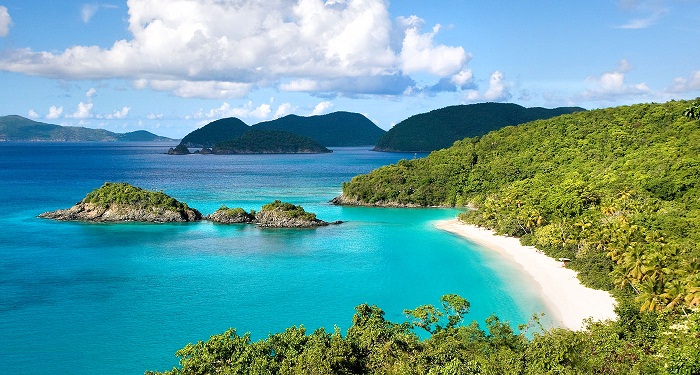 > See more: Potential for land development at Bai Dai Cam Ranh
The first Cam Ranh tourist destination: Sao Bien tourist area
The first Cam Ranh tourist destination we would like to introduce is Sao Bien tourist area, an eco-tourism area located in Binh Lap village, a small village of Cam Lap commune, Cam Ranh, Khanh Hoa. It has a very beautiful beach and a poetic fishing village at the foot of the mountain. Especially when coming to Binh Lap, you can combine to visit many places such as Binh Tien, Binh Hung, Hang Rai, sheep fields, vineyards, sandhills … and especially the extremely beautiful DT702 road.
Bestowed by nature with the advantage of leaning against the mountain, facing the sea, especially owning a completely private and isolated beach, surrounded by 2 high rocky mountains all year round covered with a cool green color. Here you will experience life completely separate from urban life, extremely wild and natural.
Sao Bien tourist area also has a multitude of room types for you to choose from such as: hill room with hill view, hill room with sea view, glass roof house close to the sea, nomad wooden tent, wooden house in a cave or lovely bird's nest house on the mountainside overlooking the sea with a design entirely from natural materials…
Binh Hung Island
Binh Hung Island is also known as Ty island or Chut island. When you set foot on the island, you will be immediately attracted by the color of the blue sea and pure white sand. The beaches here are not as long and wide as in Mui Ne or Nha Trang but are always clean and clear to the bottom. The sea is not deep, gentle and you only need to wade a few tens of meters, the water is chest level, you can see corals right under your feet. In particular, on the beaches are rocks with many vivid shapes, designs and colors.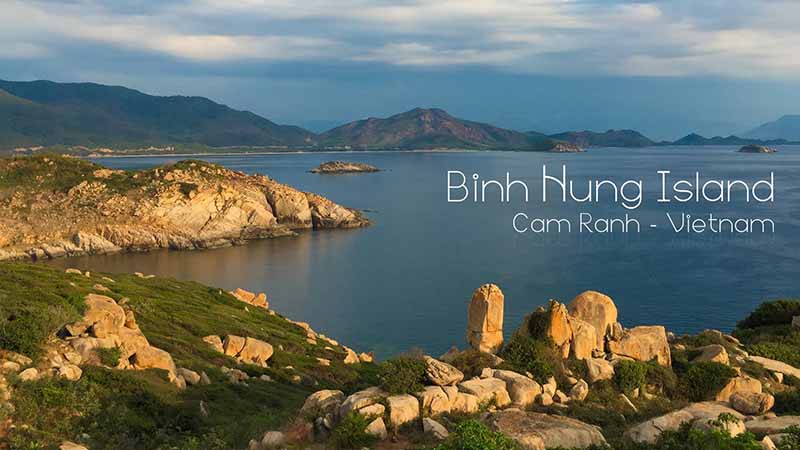 Binh Hung Island – one of the beautiful tourist destinations in Cam Ranh
People on the island live mainly by fishing, especially lobster farming. The houses on the island are often close together and facing the sea, another impressive thing is that the roads around the island are very clean.
To get to Binh Hung island, you will run along beautiful beaches such as Binh Tien beach, Nuoc Ngot beach, Chuoi beach, you will come to Kinh beach which is also the pier to Binh Hung. From here, you take a boat to the island for about 10 minutes, costing 10,000 VND per person. If you want to ride a motorbike around the island, it's another 10,000 VND, extremely cheap.
Diep Son Island
Diep Son consists of 3 small islands, lying in the waters of Van Phong Bay. The journey to discover the island starts from Van Gia town, after about an hour floating on the sea, the beautiful Diep Son archipelago gradually appears, clearly cut on the horizon.
The special thing about Diep Son island is the journey to conquer the extremely unique and interesting undersea road nearly 700m long, connecting the middle island with the big Diep Son island. The road is winding, about 1m wide and less than half a meter deep under the clear blue sea.
Walking on this road brings a feeling of great excitement, mixed with suspense and a little fear when you have to step in the middle of the vast ocean. You can enjoy watching the schools of small fish swimming on both sides, occasionally seeing schools of fish jumping out of the water as if raising their hands to wave to a passing boat.
Galina Lake View Ecotourism Area – Kenh Ha Lake
Located about 10km from Nha Trang city center, the Galina Lake View eco-tourism area is known by the old name Kenh Ha Lake, a place with cool and fresh air like Da Lat.
Coming here, you will be able to visit, relax, enjoy the quiet space amidst the immense nature, breathe the air in the city and feel the beautiful natural picture of Nha Trang.
Entrance ticket price: 50k/person
Yang Bay Park
This summer, when coming to Nha Trang, don't forget to visit Yang Bay Park to experience the natural hot mineral pool here. Yang Bay Park is nestled in a primeval forest with a cool, temperate atmosphere. There are many hot pools here, each with a different temperature, you can choose any lake that suits your feelings. What's more wonderful when just soaking in warm water, while watching the white "heavenly waterfall " Yang Bay.
In addition, visitors can explore the primeval forest, swim in waterfalls, visit the wild bear breeding area, crocodile farm, participate in folk games of pig racing, exchange gong music with the Raglay people…; Enjoy a variety of unique dishes…
Address: Yang Bay Tourist Park, Khanh Phu Commune, Khanh Vinh District, Khanh Hoa Province
Ngoc Suong Resort
Ngoc Suong Resort, also known as Yen Hideway Resort, is located in Binh Lap village, Cam Lap commune. This resort is also one of the locations chosen by filmmakers to send gold to their pets. That is the magical scene of clouds in the sky in "Brilliant Kisses", a gentle poetic corner in "Beautiful People" or the living room with "Beautiful every centimeter".
All the bedrooms here are built on the sea, during the day you can catch the sunrise and at night you can lie down and watch the moon and stars without being disturbed by the noise. You just need to open the door of the room, even lying on the bed, you can see the panoramic view of the mountains, the immense sea, and the sky, nothing is as relaxing as that. Not only with beautiful scenery, but this resort is also famous for its attractive wooden bridge in the middle of the sea, making visitors feel like they are "lost" between the sea and the blue sky.
Six Senses Ninh Van Bay Nha Trang
If Nha Trang is honored as one of the 29 most beautiful bays in the world, Six Senses Ninh Van Bay is the place with the purest beauty on the bay. The atmosphere is clear, peaceful without a bit of hustle and bustle, this place is the result of the harmony between nature and people in the villas with the main materials being wood, rattan, and bamboo leaves. good smell.
The designers have preserved the pristine beauty of nature with traditional Vietnamese architecture, but have not forgotten the modern 5-star standard equipment that makes it easy for visitors to enjoy relaxation, calmness.
Nestled into the cliffs are "mountain villas" for those who want to hide among the spectacular gray cliffs to wake up to the sound of birds chirping in the groves of the rainforest. Each villa at Six Senses Ninh Van Bay has its own swimming pool, indoor and outdoor bathing space. Wood materials are used mainly in architectural and interior design, on stairs, wooden steps, door handles made of raw rope, coconut shells, wooden bathtubs… creating a resort space. comfortable, yet rustic.
Ponagar tower
Ponagar Tower is a perfect ancient architecture of the Cham people, 2km from the center of Nha Trang Tourism City to the North. The relic complex consists of four towers, two shrines, the largest tower worshiping the goddess Ponagar (Cham means Mother of the Land).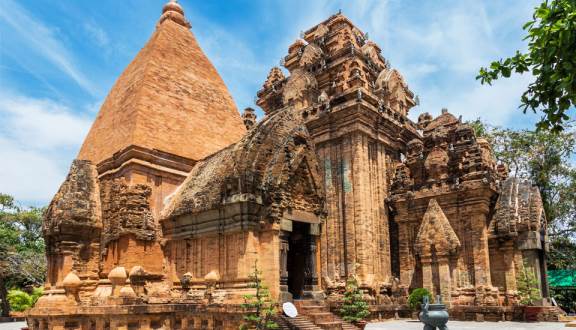 After visiting Ponagar Thap Ba, you can combine it with a mud bath at Thap Ba hot mineral spring resort nearby. The ticket price is about 100,000 VND / person at the collective lake (from 15 to 20 people) or from 250,000 VND / person if using a private lake.
Hon Ba Peak
The name Hon Ba may be unfamiliar to many tourists, but for locals, this is like "Da Lat in the heart of the coastal city". It is likened to that because the top of Hon Ba is as beautiful as a fairy hidden in the misty mountains, the air is chilly.
Hon Ba is about 2 hours from Nha Trang city, and you have to climb a steep slope to reach the top of the mountain. Hon Ba peak is about 1,60 0m above sea level, in the middle of a hot summer day like this time, the temperature here is only about 18 degrees.
Hon Ba has fresh air and magnificent wild scenery. Hon Ba Nature Reserve has a rich and diverse flora and fauna, including many rare species listed in the Red Book. Visitors to Hon Ba enjoy the feeling of being in harmony with the clouds, watching the sunrise from the distant horizon. The highlight of tourist attraction here is the relic of the wooden house of doctor A. Yersin, as noted, this is where Yersin used to stay to research and grow rare medicinal herbs.
Skylight Havana Nha Trang
Skylight's full name is Skylight Havana: 360 Skydeck & Rooftop Beach Club, located from floors 43 to 45 of the Best Western Premier Havana Nha Trang building. 
Skydeck 360º: This is the most ideal sightseeing spot in Nha Trang with an unobstructed view. Coming here during the day, you will be overwhelmed with the peaceful coastal town of Nha Trang in the midst of golden sunshine, white sand, and blue sea. In the evening, Skylight will bring a wonderful relaxing feeling with the shimmering city lights in the distance. Open daily from 8:00 – 14:00, 16:30-00:00.
Vinpearl Land Nha Trang 
Dubbed the leading entertainment paradise in Vietnam, Vinpearl Land Nha Trang from the first amusement park on Hon Tre island 9 years ago, has now developed into a scale and reputation system with many famous brands. indoor and outdoor play area.
Binh Lap Island
In Binh Lap you can explore Binh Chau beach because it is easy to find and has many restaurants. Ngang Beach is the beach located in front of Villa Hoa Vang Island. Because of the clear and clean water, people on this beach spread a lot of nets to raise shrimp. Ngang Beach is also visited by many people to explore. In addition, you can rent a boat to go to Con beach and other pristine beaches around Binh Lap.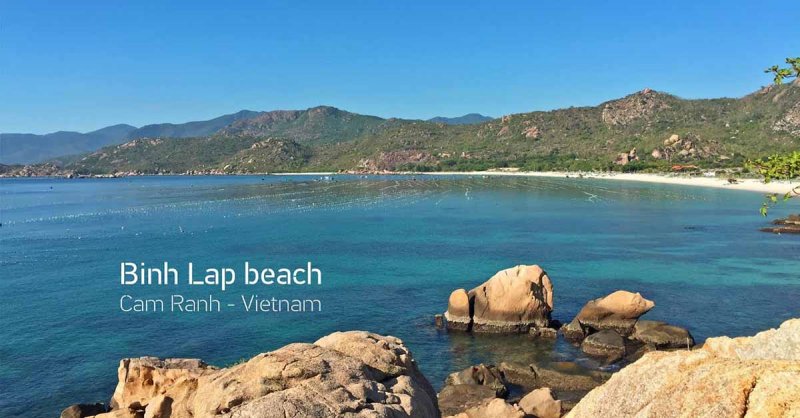 Binh Lap Island is the next place on the list of Cam Ranh tourist destinations that you should visit
If you are still looking for something true to Binh Lap, don't miss the small fishing villages near Sao Bien eco-tourism area. Almost this place has only locals and visitors… lost. The first feeling when getting lost here is the cool sea breeze even though it is midday.
At the end of the fishing village is a small bay that cannot be bathed, used to anchor small fishing boats of the people. The wharf on the clear water will captivate anyone who once lost their way here.
Binh Ba Island
Binh Ba Island is about 15km from Cam Ranh port, it is not difficult to come to Binh Ba in any season of the year. Travel and food costs are very low. All you need to do is enjoy the crystal clear beaches of Binh Ba with a belly full of seafood. Binh Ba is famous for Bai Chuong, Bai Nom, and Bai Nha Cu, where you can relax to watch the sunrise or enjoy snorkeling and fishing.
Binh Ba specialties have lobsters sold at original prices with many ways of processing the right fisherman quality. Because Binh Ba has been exploited for only a few years, the service price is still cheap, but some people abuse it too much, which has partly changed the pristine and beautiful nature of the island. One more special thing, this is an island that is not for foreigners to visit, only Vietnamese people can come here.
Dam Mon Peninsula
Dam Mon peninsula is located in Van Phong Bay, in Van Thanh commune, Van Ninh district, Khanh Hoa province, about 80 km from Nha Trang city along National Highway 1A to the North.
Dam Mon beach is very calm, especially very clean, you can see the bottom because the sea is shielded by Hon Gom and Hon Lon peninsulas in the shape of an arc, so there are no big waves all year round.
Coming to Dam Mon, you can visit the fishing village to learn about life here, admire the scenery because it has beautiful scenery, a great place for amateur or professional photographers. Other activities in Dam Mon that visitors can experience are exploring the ocean with scuba diving to see corals or chartering boats to large and small islands to explore the beauty of each island or simply take a dip. under a clear beach, under the sparkling afternoon sun.
Above is a list of 14 tourist destinations Cam Ranh – Nha Trang you should know, if you have any need to invest in real estate in Cam Ranh Bay, please contact us immediately to receive advice. most devoted.
TAG: