[DETAILED REVIEW] What does South Phu Quoc have?
The South of Phu Quoc Island is always considered as the Gem of Vietnam's tourism. So what is so special about Nam Phu Quoc that makes hundreds of thousands of tourists visit each year? Let's discover  "all" the most unique attractions, entertainment, and dining in South Phu Quoc in the following article!
1. Snorkeling and fishing at the "triple" of Mong Tay Island, Dam Ngoai Island and May Rut Island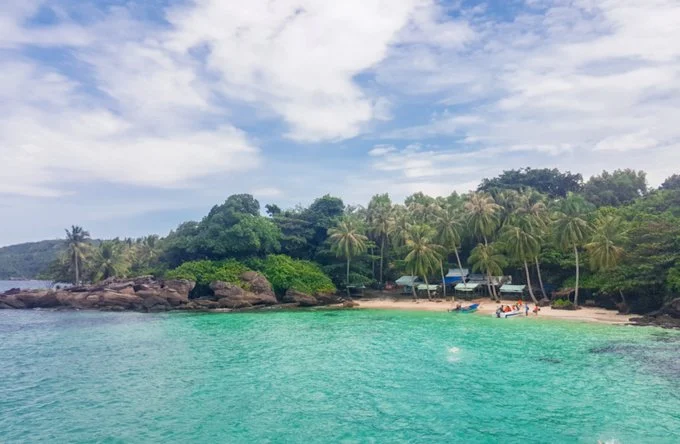 Arriving at Mong Tay Island, Dam Ngoai Island, and May Rut Island – beautiful beaches in Phu Quoc – visitors will surely be amazed at the very poetic scene of "sea and sky merging into one". The seawater here is so blue and clear that the bottom can be seen, creating ideal conditions for diving or fishing activities. When tired of playing, visitors can sunbathe on the winding white sand or take pictures of "virtual life" with the natural rock beaches undulating on the sea. 
See more information about Mong Tay Island, May Rut Island and many other beautiful Phu Quoc beaches in the article below. Experiential activities mesmerized 10 Picturesque Phu Quoc BeachesIs Phu Quoc beach really sparkling like rumors? Join Vinlove for a close-up zoom of the famous beautiful beaches in Phu Quoc.
2. Take a tour of 4 islands Hon Thom, Nail Island, May Rut Island and Hon Buom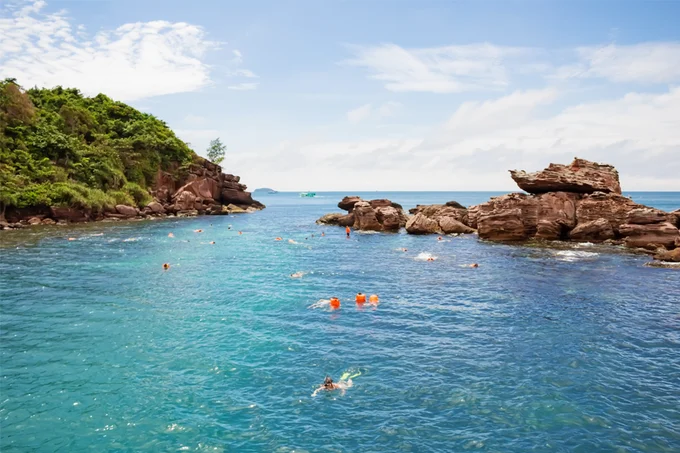 Do you have an endless passion for water waves? The schedule of exploring the natural island has never been "too much" for you? So what are you waiting for without joining Vinlove's 4-island tour , to travel to Phu Quoc's most famous islands including Hon Thom, Nail Island, May Rut Island and Hon Buom?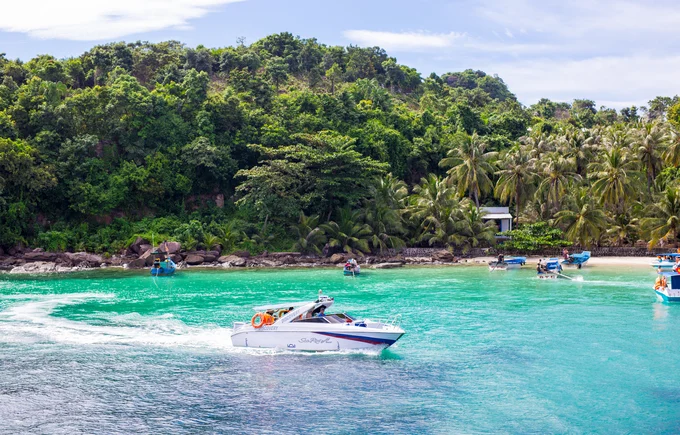 Leisurely walking around the beautiful island and admiring the poetic natural scenery, all the worries of life seem to disappear. Visitors also experience the world's longest sea-crossing cable car route to Sun World Hon Thom – one of the most attractive entertainment venues on pearl island. Note to choose active clothes to freely swim, watch corals and many other interesting water games.4 Phu Quoc Island Tour Including Aquatopia Water Park and Sea Cable Car Experience
3. Experience the longest sea-crossing cable car in the world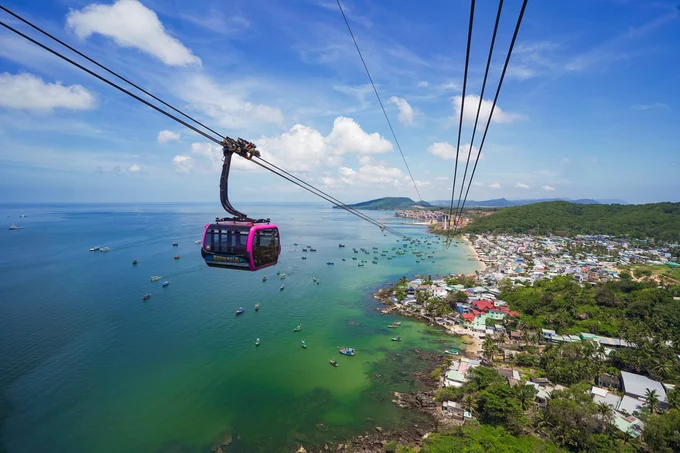 With a length of nearly 8,000 meters, the cable car to Sun World Hon Thom Resort Phu Quoc is holding the title of the longest sea-crossing cable car route in the world. From the cabin, you can fully see a brilliant Hon Thom, where unspoiled natural beauty and modern infrastructure are harmonized.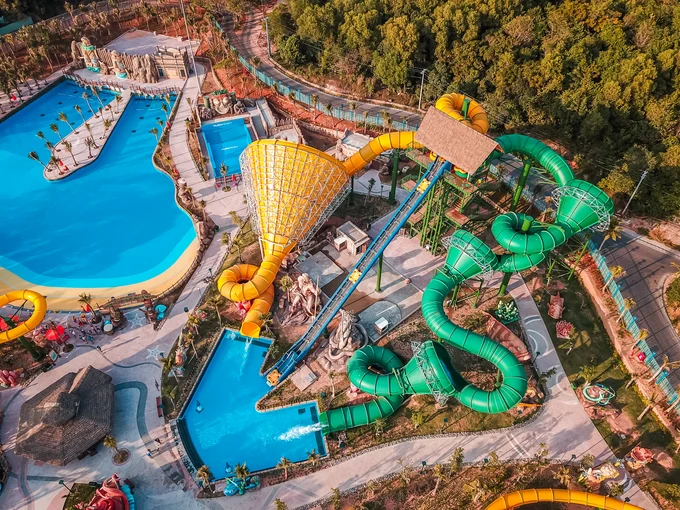 Sun World Hon Thom Phu Quoc is also known as the leading entertainment – entertainment destination in Vietnam, owning a number of attractive sea activities such as a floating house, canoeing, kayaking…. The presence of Hon Thom Water Park – Aquatopia Water Park – is also the reason many families choose Sun World Hon Thom Phu Quoc as a "get-away" rendezvous at the weekend.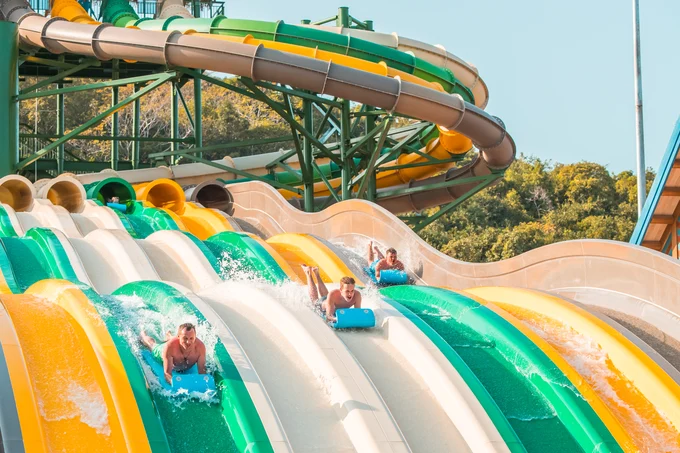 The south of Phu Quoc Island is an area with a dense concentration of entertainment, entertainment, historical sites, spiritual destinations, and traditional production facilities of local people on the island.
Almost every tourist coming to Phu Quoc spends a day exploring the southern region which is growing busier and more vibrant, especially An Thoi town.
Here, Hicanha will suggest to you the outstanding destinations of the South of Phu Quoc Island.
Sao Beach
Bai Sao is about 25km from Duong Dong town. The beach is more than 7km long, nestled in the wrap of two gentle mountains forming an arc, if you look down from above you will find the beach extremely charming.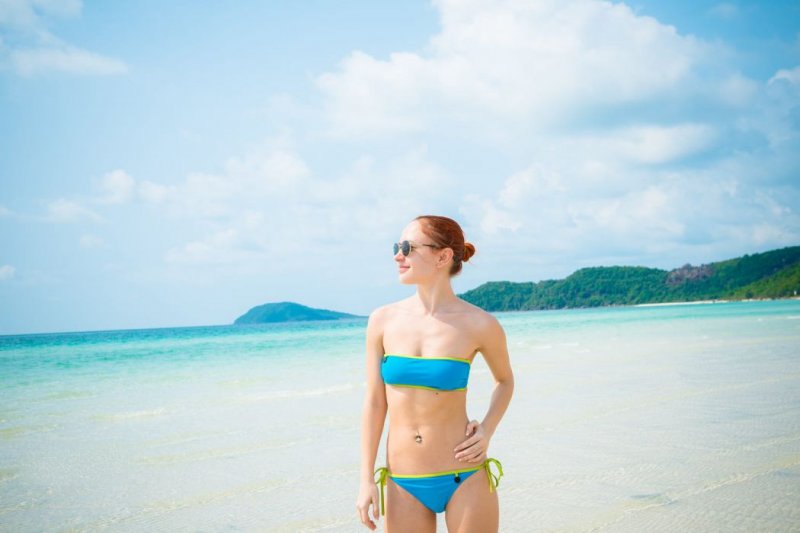 One of the features that make up the beauty of Bai Sao is the smooth white sand like cream, not yellow like other seas in Nha Trang or Vung Tau, along with rows of swaying coconut trees, Bai Sao is destined to be. Named the most beautiful beach in Phu Quoc.
Bai Sao almost attracts tourists all year round, especially in the rainy season, rough seas from May to October, the western beaches of Phu Quoc will be affected by big waves, high winds and jellyfish, so visitors should be limited. go to the beach.
Meanwhile, Bai Sao, located in the east, is extremely calm and quiet, becoming an ideal destination for tourists in the rainy season.
In Bai Sao, there are 3 restaurants: My Lan, Paradiso and Long Beach, you can have lunch here.
Services at Bai Sao:
Fresh water bath: 20,000 VND
Rent a couch: 80,000 VND
Take a photo with a fallen coconut tree and swing: 20,000 VND
Sea games such as Canoe, Parachute … will have a price list on the spot.
Khem Beach
Bai Khem is located near Bai Sao, also known as Bai Kem because the sand here is pure white and smooth like cream, not yellow like Nha Trang beach or turning dark brown like Vung Tau.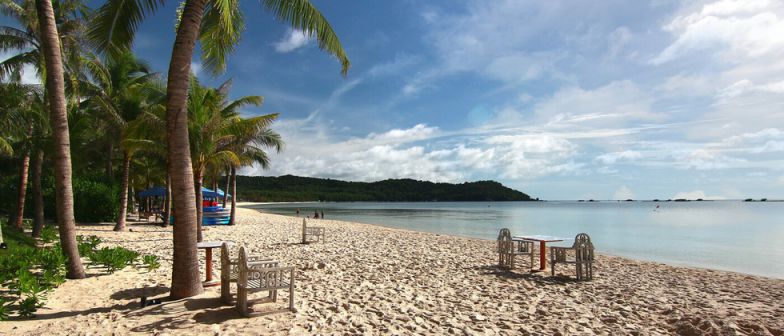 The sand is so fine that every time you take a walk on the beach, the sand subsides with your footsteps, not making the water cloudy. This rare, fine white sand has helped Bai Sao become the most special beach on Phu Quoc island
However, now that Bai Khem has been used by large resort groups such as JW Marriott Phu Quoc Emerald Bay Resort & Spa and Premier Residence Phu Quoc Emerald Bay, most of the beach has become the resort's private beach, only a part remains. Small for locals and tourists, so entertainment and dining services are also more limited than Bai Sao.
Phu Quoc prison
Address 465 Nguyen Van Cu Street (DT46), An Thoi, Phu Quoc.
Opening hours: 7:00 am – 5:00 pm.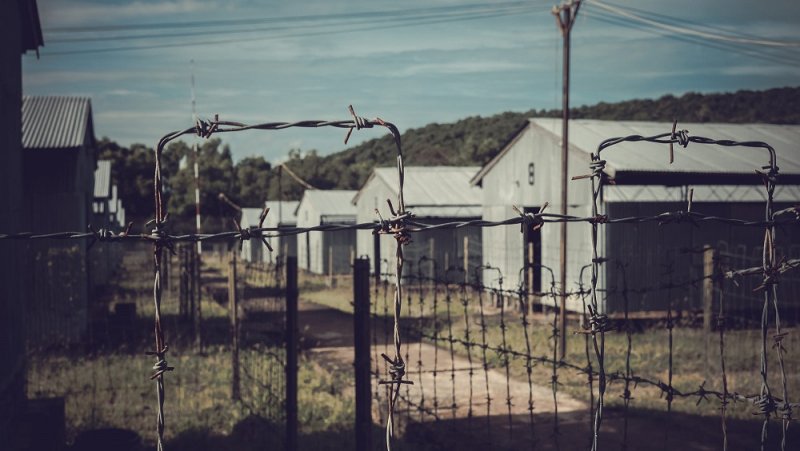 Phu Quoc Prison is also known as Cay Dua Prison, because of its name because this area was previously called Cay Dua hamlet. Phu Quoc Prison has an area of ​​about 400 hectares with nearly 500 houses, divided into 12 zones, used to house more than 32,000 prisoners, each prison area can accommodate up to 3,000 prisoners .
Currently, Phu Quoc Prison is offering free admission for visitors to visit, with an accompanying narrator to introduce to guests, you can tip the narrator.
Ho Quoc Pagoda
Address: Suoi Lon hamlet, Duong To commune, Phu Quoc.
Opening hours: 06h00 – 18h00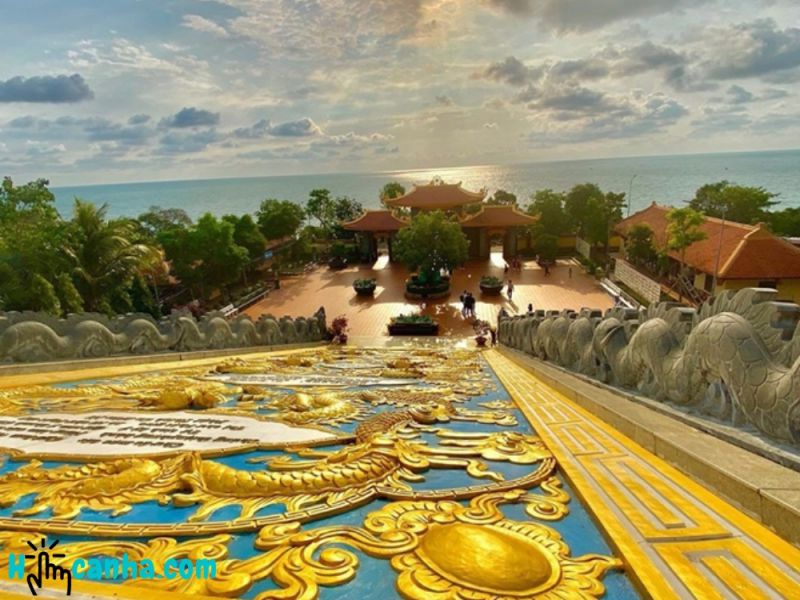 Ho Quoc Pagoda, whose full name is Truc Lam Ho Quoc Zen Monastery, is the largest temple on the island today, started in 2011 and officially inaugurated in December 2012 after 14 months of construction.
Ho Quoc Pagoda is one of the works in the spiritual project with an area of ​​​​up to 110 hectares, in the temple the area of ​​​​the temple accounts for about 12%, corresponding to about 12 hectares.
With a total cost of up to 100 billion, carefully invested, sophisticatedly designed, beautiful and especially has an extremely favorable position "y Son facing the water", which means "back to the mountain, facing the direction of the river". to the sea", the landscape is extremely charming and poetic.
Going up to the main hall, you can zoom your eyes to the vast beach in front (locals call it Bai Cay Da), feel the lightness and relaxation in your soul. When going to the temple, you should wear dignified and neat clothes.
An Thoi Railway Station
Address: Dat Do Beach, An Thoi town, Phu Quoc.
Opening hours: 08h00 – 18h00.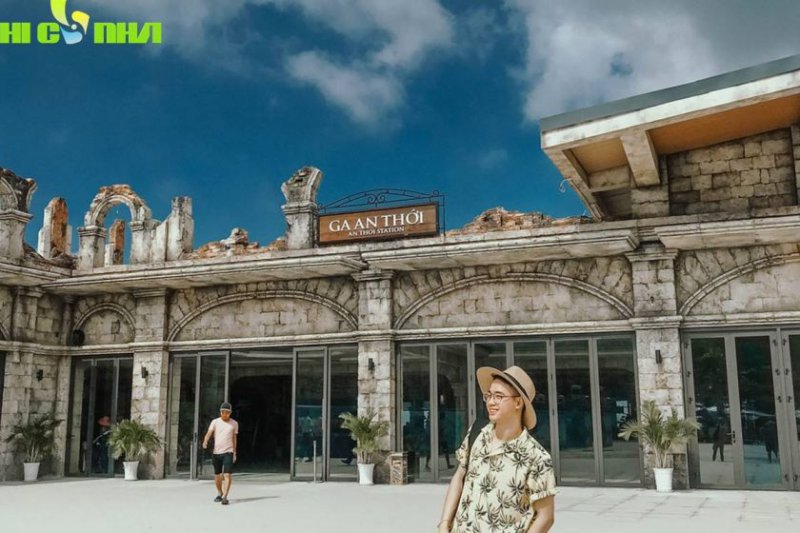 An Thoi Station is the starting point of Hon Thom Cable Car. Dubbed the " Colosseum " of Vietnam, An Thoi Station impresses visitors with its unique "Mediterranean" breath-taking architecture.
Coming here, you will be ecstatic with the contemplative, ancient Western beauty with massive bee-brick walls, curving domes or artful artificial "ruin" scenes.
Inside the station, there are cafes with a very romantic beach view, you can enjoy coffee and unique drinks in a beautiful space or walk around the shophouses to buy yourself some dishes. souvenir shop.
An Thoi station promises to be a very "quality" check-in point for tourists when traveling to Phu Quoc .
Hon Thom Cable Car
Hon Thom cable car has a length of 7899.9m, recorded as the world's longest 3-wire cable car across the sea, taking passengers from An Thoi station across Hon Dua, Hon Roi and landing on Hon Thom.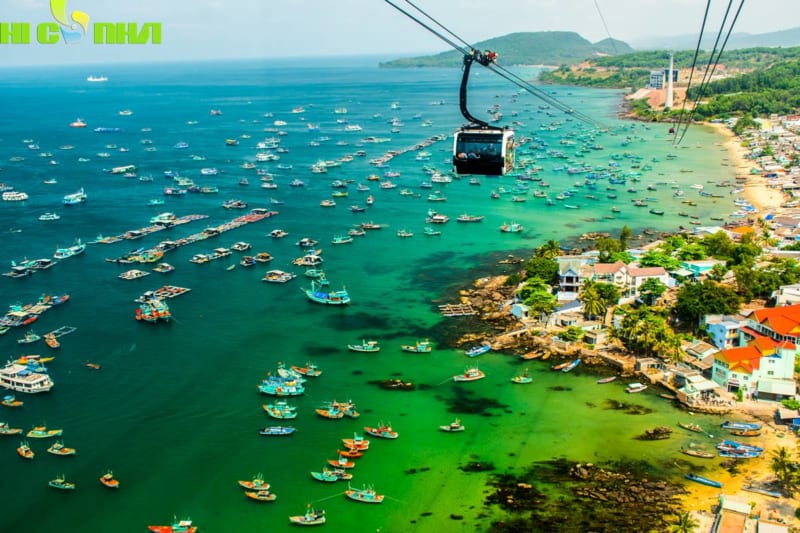 Traveling on the cable car is like a trip in the air between the vast land and sky, watching the whole An Thoi area, this is definitely the most expensive experience that tourists must try when traveling to Phu Quoc .
Coming to Hon Thom, you can have fun freely in the most modern Aquatopia Water Park in Southeast Asia or enjoy swimming at Hon Thom's private beach, with a free freshwater bath.
Gam Ghi Island
Hon Gam Ghi is an unspoiled island, known as the Coral Kingdom of Phu Quoc because of the wide and dense coral cover here. Just standing on the boat looking down, you can also see the colorful colors peeking under the water.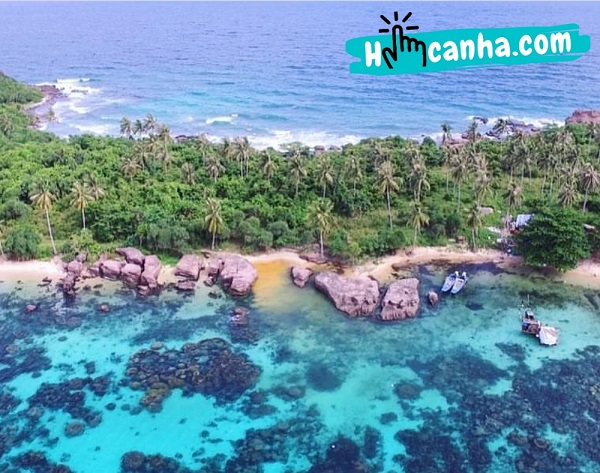 > 4 beautiful islands in Phu Quoc
Where there are no people living on the island, there are no food services or rental sun loungers on the island. As a true desert island, Gam Ghi island still retains the beauty of nature, surrounded by swaying coconut trees, luxuriant green trees, white-sand beaches.
Especially along the island are undulating rapids with many strange and interesting shapes. You can climb these cliffs to take pictures, check-in with a beautiful view of the immense sea.
TAG: