Check-in Hon Giao rock stream, peaceful mountain region
 If you are tired of the noisy city scene and want to find a green paradise to breathe fresh air, relax in the quiet space of the mountains and forests, then come to the Hon Giao stone stream of Khanh Hoa. 
Coming to Khanh Hoa, people often tend to go to places with unspoiled nature and beautiful scenery, to breathe fresh air, and one of the prominent places being checked in regularly recently. , which is Hon Giao rock stream. Located in the bordering area of ​​Nha Trang and Khanh Hoa, Hon Giao Stone Spring is the perfect stop for you to admire the impressive nature of the place where the mountains and sea meet, as well as participate in various experiences. interesting travel.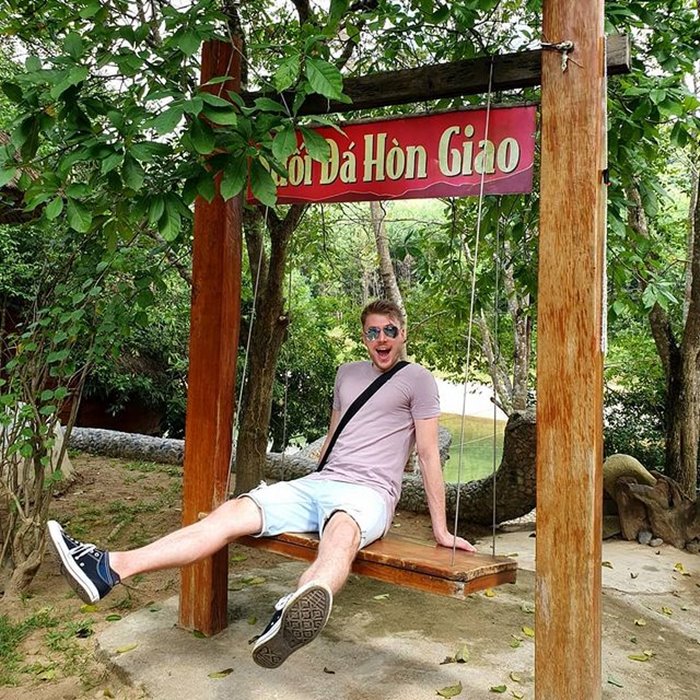 Hon Giao Stone Spring is a wonderful "melting point" of nature. Photo: @pixeltommy

Come to Hon Giao rock stream and immerse yourself in the harmony of beautiful nature 
Hon Giao Stone Spring is a famous eco-tourism area of ​​Nha Trang, this place officially opened in 2015 and has become a rendezvous to attract tourists. The wild and rustic scenery of this land is a special highlight that makes travelers' footsteps always fascinated and immersed. It is known that before becoming an attractive tourist destination as it is now, Hon Giao rock stream was just a barren and attractive mountainous area that few people set foot on. However, with the talented hands of people, this resort has been "transformed" into an attractive destination with a diverse style of rivers and streams, mountains and forests, poetic and charming. enamored person.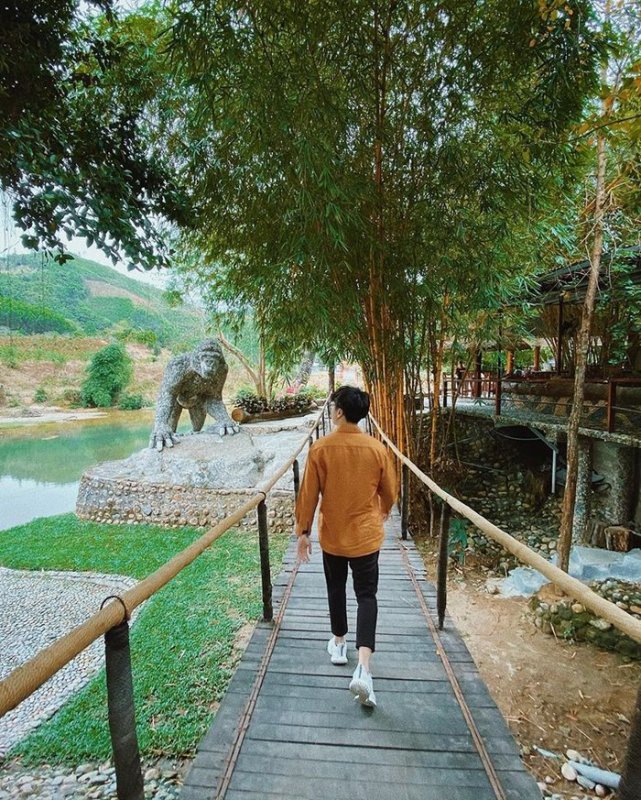 Green, fresh space is the highlight of Hon Giao rock stream. Photo:@_locvu_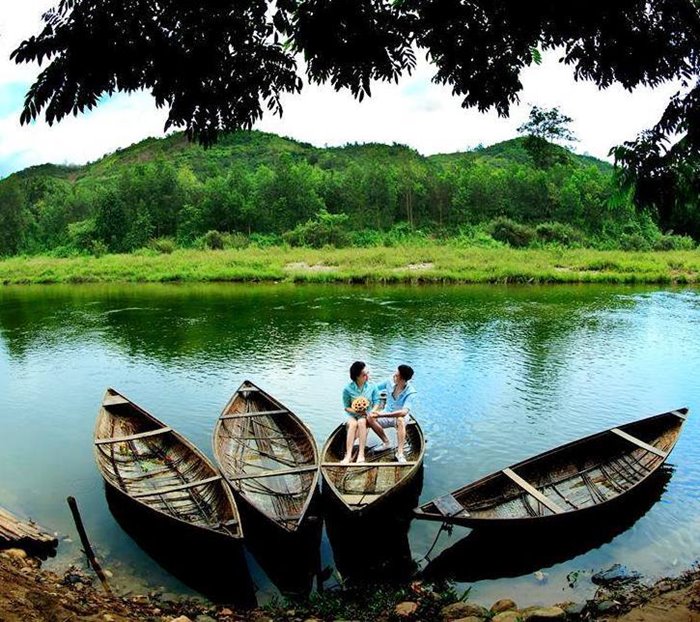 Great picture of nature. Photo: Khanh Hoa Newspaper
>See more:  'Going to hide' at Yang Bay Park to immerse yourself in the wild nature

Traveling in Hon Giao rocky stream , visitors will be surprised by the space here is like a beautiful mountainous region with cool old trees full of birdsong, a clear stream flowing, making it so beautiful. All your frustrations and worries disappear, replaced by a feeling of peace and freedom in your soul.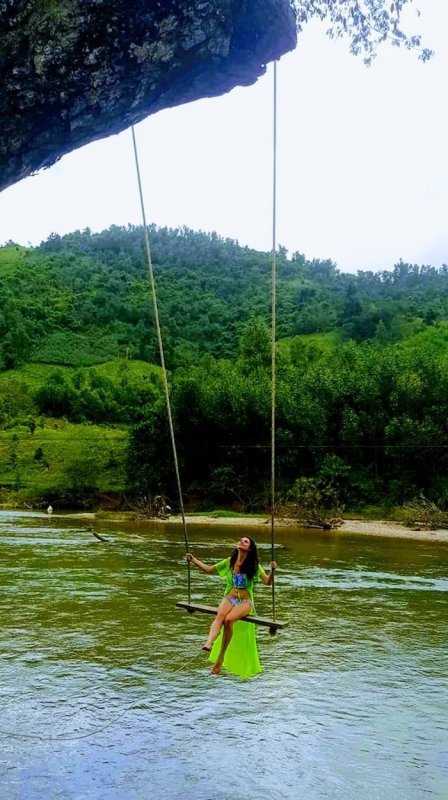 Great and cool space. Photo: fb/Hon Giao rock stream
At Hon Giao stone stream , the highlight is the cool bathing areas, people are divided into 2 toothpick areas for adults and children. The fresh cool water brings refreshment and coolness for anyone to experience, on hot summer days, Hon Giao stone spring becomes an ideal place to escape from the heat for tourists near and far.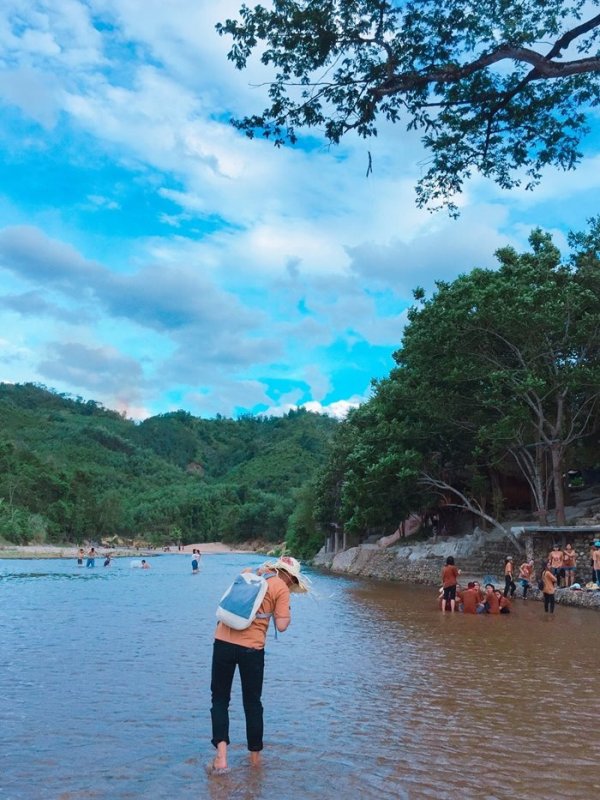 The stream area is cool and fresh. Photo: Pham Hong Nguyen
Not only can you cool off and enjoy the fresh air, at Hon Giao Stone Stream , visitors can also check in beautiful places such as a cobblestone garden with thousands of unique stacked stones. , check-in with the garden here with beautiful flowers and leaves. In particular, you can also experience the cultural beauty and daily life of the T'rin people here, listen to songs and dances and enjoy the jubilant atmosphere of the night dance.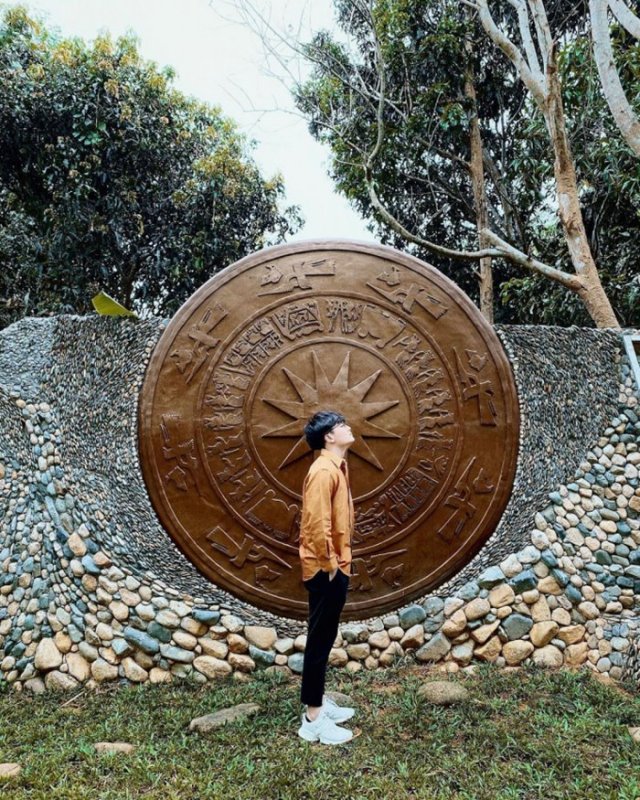 This place has many beautiful check-in corners. Photo: @_locvu_
At Hon Giao stone stream, visitors can also discover the very own and typical culinary culture of Khanh Hoa. This place has many rustic dishes, typical for the mountainous region such as grilled rice with lo o, rice lam, wild vegetables, grilled chicken, deer burning bamboo tubes, grilled fish… Most of them are indigenous dishes, so the taste is good. do not mix but keep the original taste of the mountains, making you eat forever and still crave. For those who are tired of the taste of the sea in the coastal city, the rustic meal at Hon Giao rock stream is really a great product to "change the wind".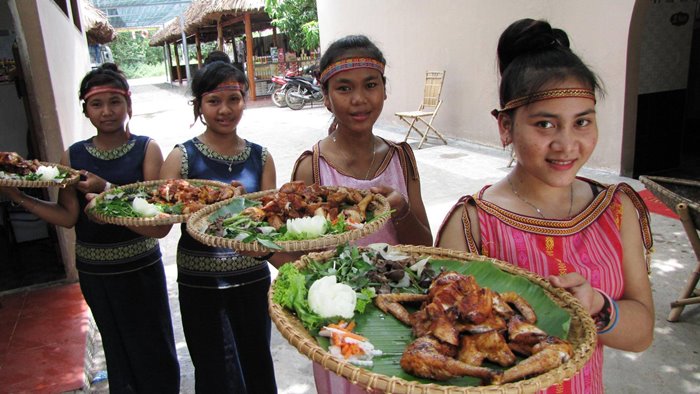 Indigenous cuisine is an attractive highlight. Photo: fb/Hon Giao rock stream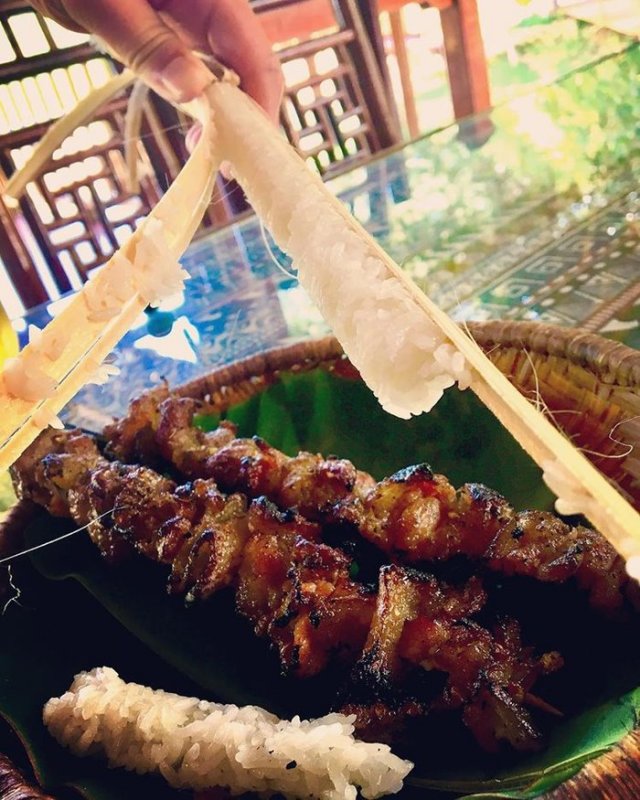 Grilled meat, specialty lam rice. Photo: @lifex100

Experience with standard check-in Hon Giao rock stream
Hon Giao Stone Stream is located in Son Thai commune of Khanh Vinh district, right at the foot of Hon Giao pass, about 40km from Nha Trang city center, very convenient communal road so you can move easily by motorbike. car. The route is not complicated, so just check google maps and move in the direction of Khanh Vinh town, to Ben Loi river in the direction of Da Lat and look to the right to see the signpost. For a team that loves the sightseeing, try once on this beautiful short road to feeling the difference.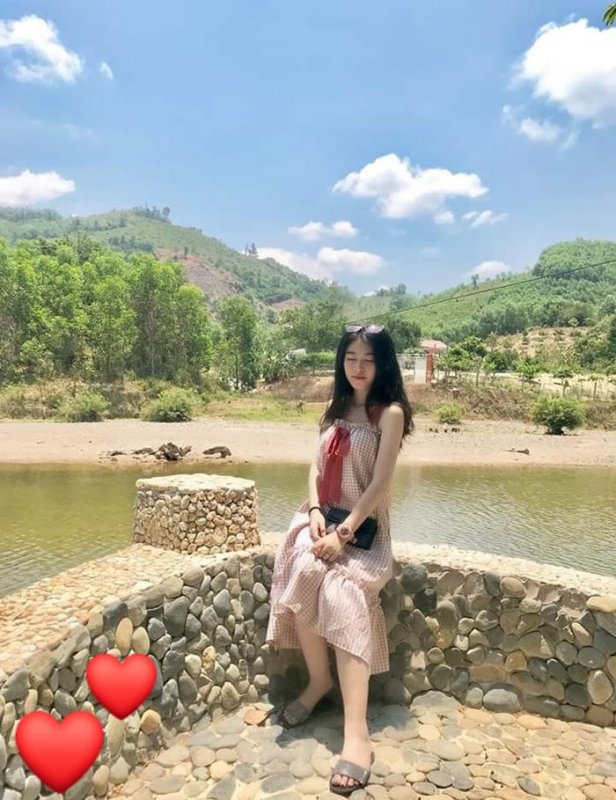 The road to Hon Giao rock stream is very convenient. Photo: fb.Hon Giao rock stream
Coming to Hon Giao rock stream, you don't need to prepare any luggage because there are full dining and entertainment services for you to unleash. However, because this place is located in a mountainous area, you only need to pay attention to wearing healthy clothes, shoes and sandals for convenient movement.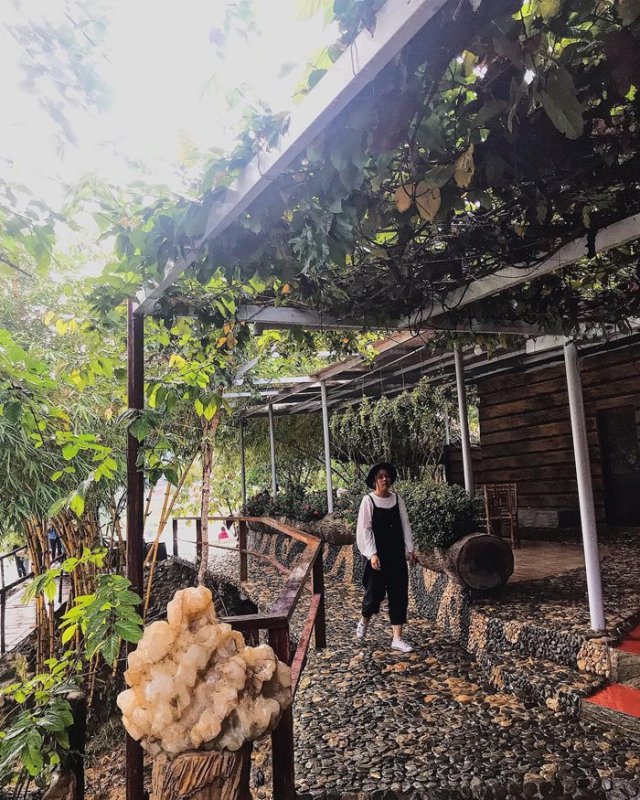 You should wear comfortable clothes to easily visit and explore. Photo:@hoanggthuyy
From a place that seemed to have been forgotten, the Hon Giao stone stream today has become an ideal stop for tourists to come back with a feeling of comfort and enjoy the atmosphere of the mountains. This place will be a great connection point for your Nha Trang – Da Lat journey, so don't miss it!
Photo: Internet 
TAG: