Live view of Saigon streets via mobile app
HO CHI MINH CITY – Some mobile applications allow live viewing of street images, downloaded by many people during social distancing.
"It's rare that the street is so empty. Unfortunately, I couldn't go out to see it, so I looked through the traffic camera," said Mr. Ngoc Kha, District 10, HCMC.
The application Mr. Kha uses is TTGT Ho Chi Minh City, released by the city's Department of Transport on both iOS and Android platforms. He said he still used this app to see if his commute to work was blocked. During the time of social distancing in Ho Chi Minh City, this solution was used by him to see the city. "Watch it so you don't remember, as well as to know what the social distancing situation is like in places," he said.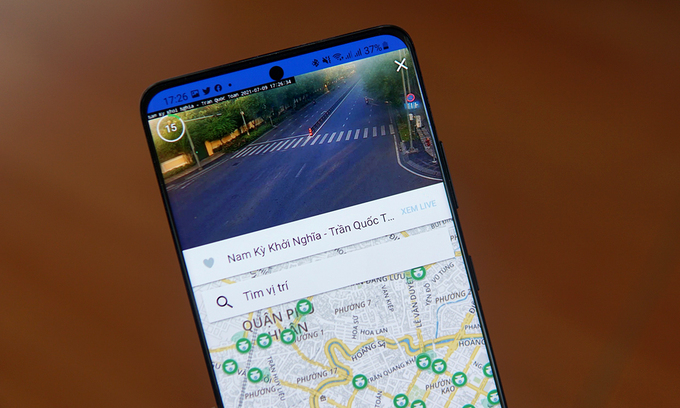 Interface of TTGT application in Ho Chi Minh City. Photo: Luu Quy
Besides TTGT Ho Chi Minh City, another application that is also used by many people is Saigon Traffic. On the App Store in the "Navigation" category, these two apps are currently ranked 3rd and 4th in terms of downloads. Another application, Saigon Traffic Camera, launched in early 2020 on the Play Store, has also reached over 50,000 downloads.
These applications have the same operating method, both using traffic cameras to provide images to users. However, the image displayed on the application is not a live stream video, but just a still image, which is automatically updated after 10 to 20 seconds.
The Saigon Traffic Camera developer said the system has image data from 364 cameras installed in many major streets across the city. These applications also allow you to find cameras by route on the map or save favorite locations for easy tracking next time.
TAG: