Hunting for a Korean alley cafe makes Ha Noi 'virtual life' team a fever
The capital recently appeared a beautiful virtual coffee shop like in Korea? It is forecasted that when the epidemic situation stabilizes, the name "Korean alley cafe" will cause storms in the Hanoi tourism community. Let's find out what's here!
About Korean alley cafe 
Starting from June 22, the Hanoi capital will loosen some food and beverage business activities. After a long time of being confined in the house, many young people are very eager to walk around the streets to check-in, visit cafes, and chat with friends. And one of the hottest locations in Hanoi at this time is the Korean alley cafe (Ragacy Cafe) located at Lane 67, To Ngoc Van, Quang An, Tay Ho.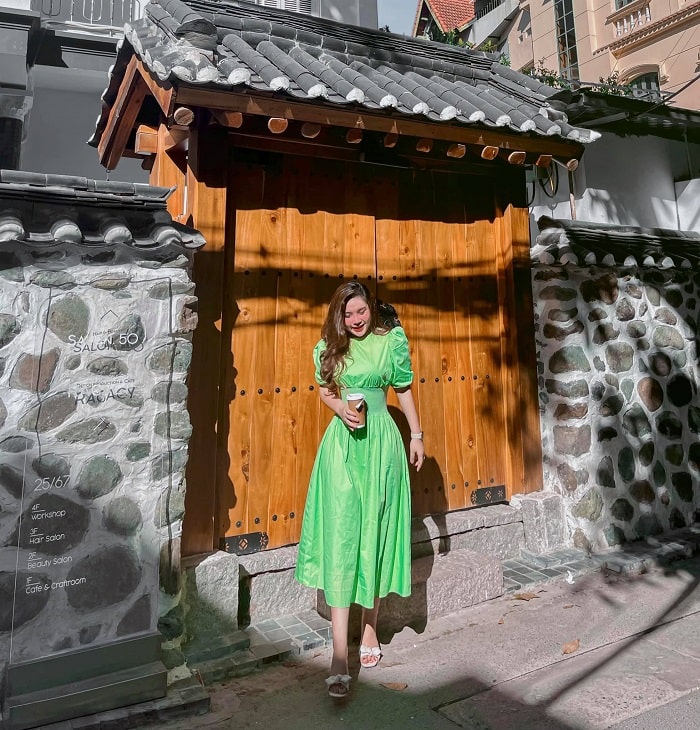 Korean alley cafe 
This is considered the most beautiful and famous "Korean Alley" that many virtual people come to check-in. If you are looking for a brand new coffee address to change the wind on weekends,  Ragacy Cafe is definitely an ideal destination.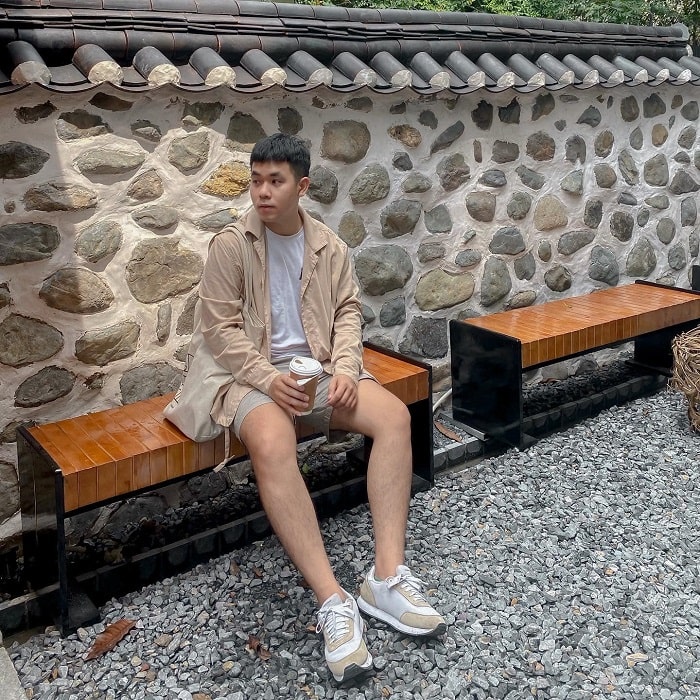 The area outside the restaurant 
The Korean alley cafe is located right in a small alley, surrounded by many coffee shops with quite a Western style. Due to being checked in a lot, this popular address is called by many names such as "Korean wall, little Seoul right in Hanoi", Korean road",…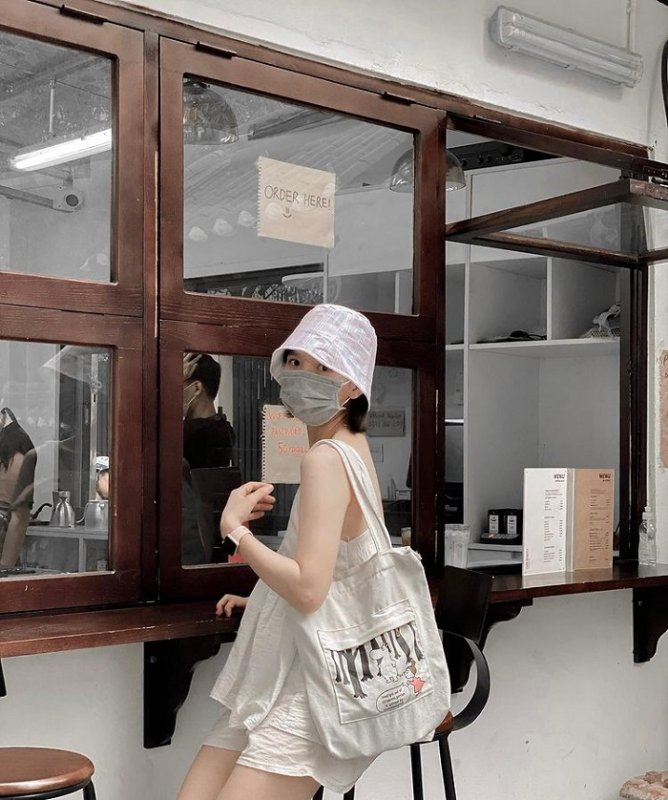 Many people call this "little Seoul in the heart of Hanoi" (Photo: hi.ntthao)
Korean design at Ragacy Cafe
The first floor of the shop is a space to enjoy coffee, with both indoor and outdoor areas. The upper floors are workshops and salons. When you step inside, you will see a very friendly scene including stone gardens, verdant trees, rustic wooden chairs,… I can tell that this place is very similar to scenes from Korean dramas.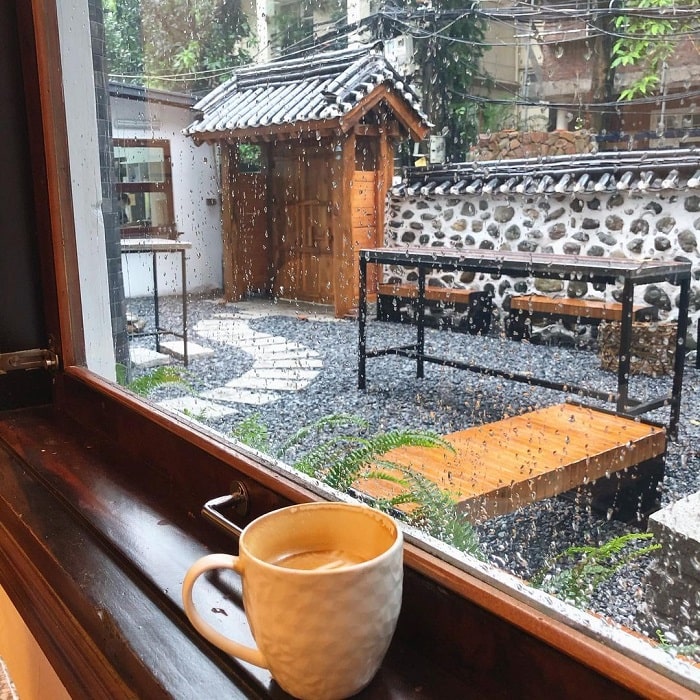 Very romantic scene at Korean alley cafe
In general, Ragacy Cafe has a fairly small area but has many beautiful check-in corners for visitors. Shooting at any angle will also show up extremely shimmering images. It is no exaggeration to say that this is a check-in point in Hanoi that is worth your time to try.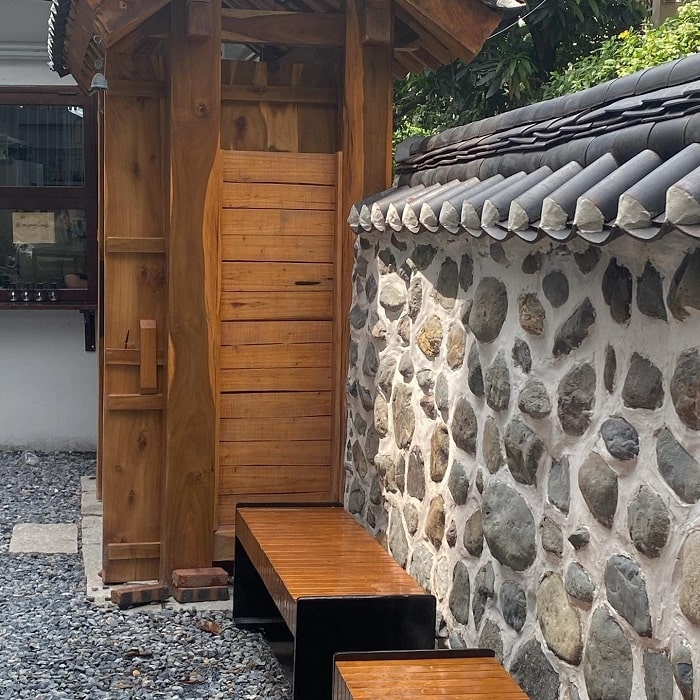 Korean-style stone wall
The Korean alley cafe chooses images of traditional Hanok houses as inspiration for decor and design. The roof and walls of the cafe are recreated according to the design of the Hanok house with the roof at the entrance made of wood, stone walls, and Giwa tiles.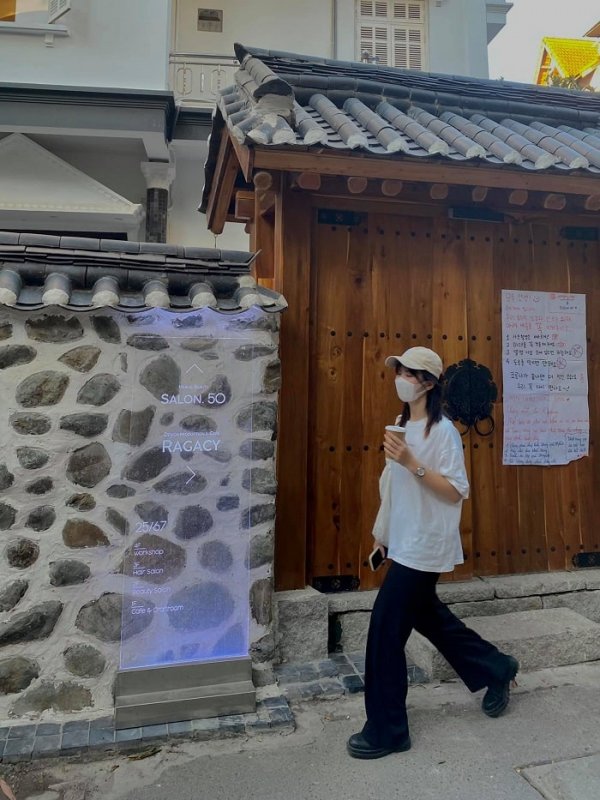 The wooden gate is the famous check-in place of the restaurant 
The image of a wooden door and a stone wall makes many people immediately think of old houses that often appear in Korean movies, making Ragacy cafe a new virtual living mecca of Hanoi's youth. Just standing outside the gate, with the background of the tile roof, the wall is enough for you to have dozens of beautiful photos.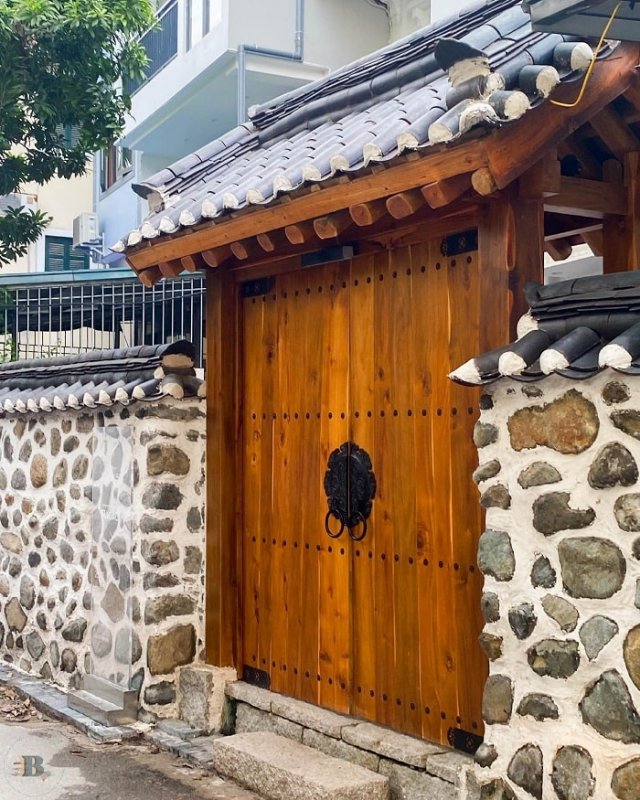 Pictures of houses on Korean dramas appear right from the entrance 
Characteristic elements of Hanok houses are the ondol floor (with heating from under the floor), the long curved roof, and the interlacing maru (floor plank). They work to keep the house warm in the cold winter and cool in the summer.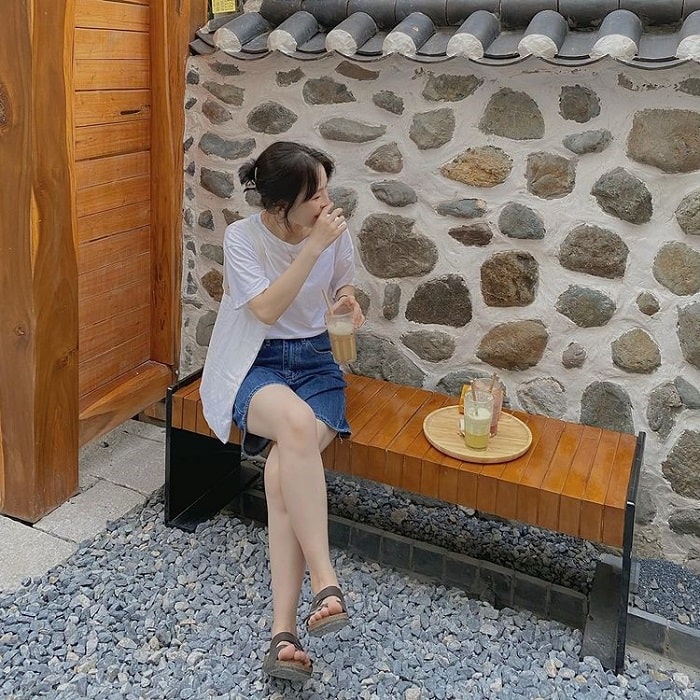 (Photo: 29tintiin)
Inside, the Korean alley cafe is decorated relatively simply. Just small, pretty tables with a few pictures to hang on the wall to decorate, easy green pots in the corners,… Everything is simple but not boring at all. .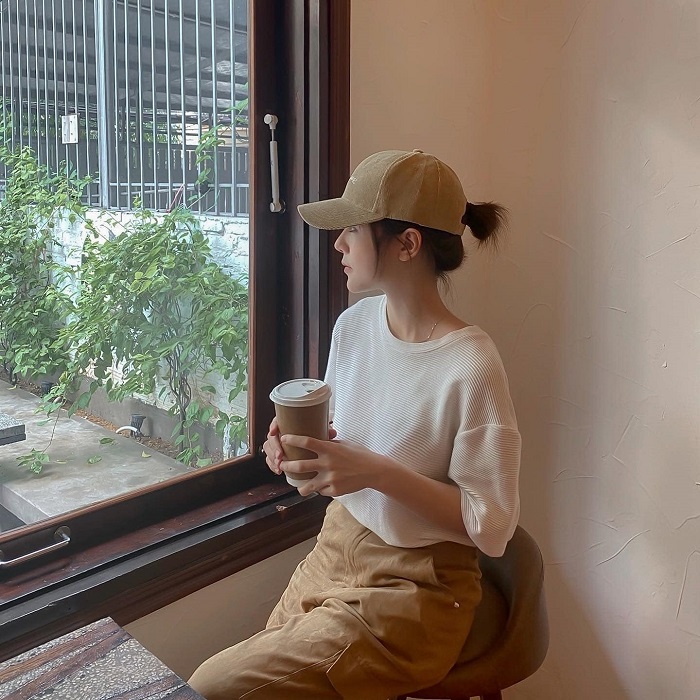 The area inside the house
Drink menu at Korean alley cafe 
Not only the beautiful design, but the drinks at  Ragacy Cafe are also appreciated by visitors as fragrant and rich and the menu is diverse from coffee, but ice also blended, smoothies, … with affordable prices for many people. .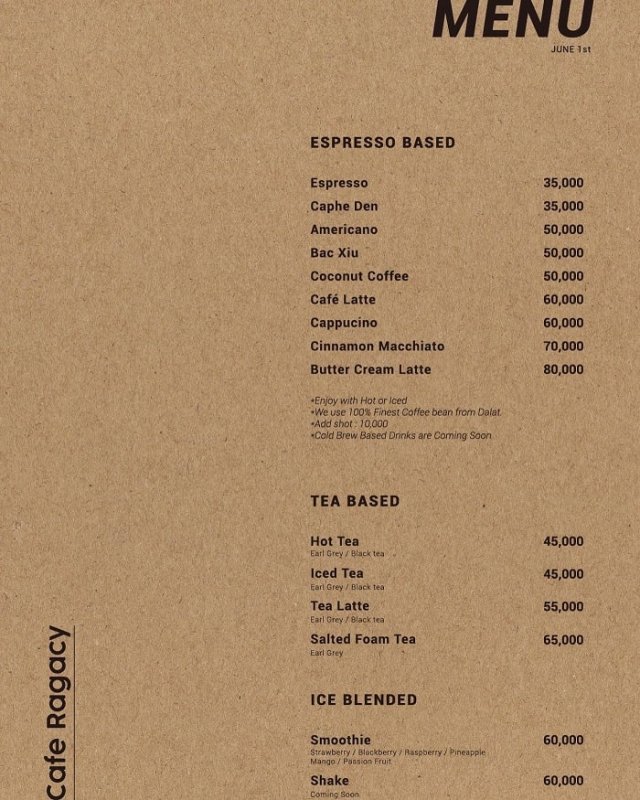 The menu of the restaurant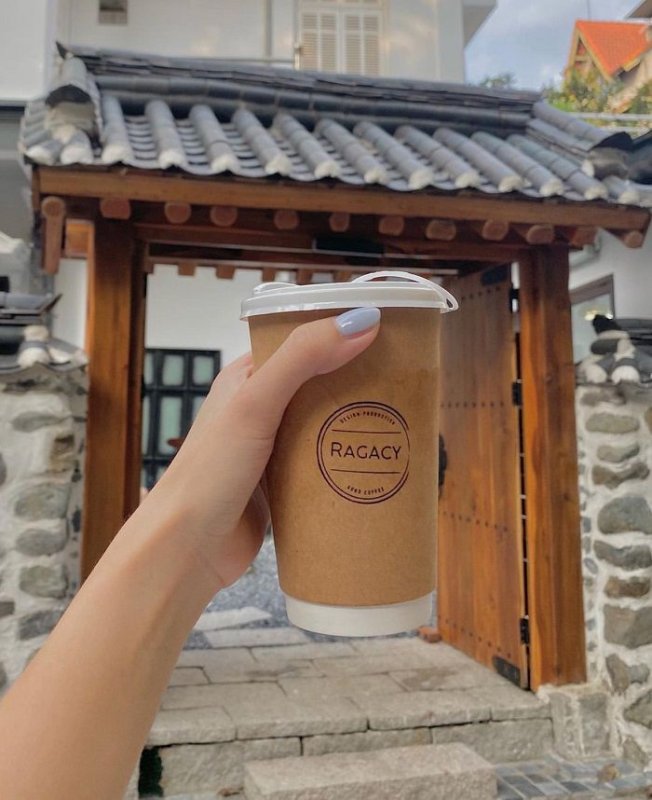 Drinks are rated bold and delicious
Notes when going to the Korean alley cafe 
Korean alley cafe is becoming a popular address in recent times. Many young people want to visit this place to take pictures with Korean style. However, due to the complicated and unpredictable situation of the epidemic, diners when coming here should note that please adhere to 5K messages and limit making noise when coming to the shop to avoid affecting those around. 
In addition, because the alley is quite crowded with vehicles and cramped when taking photos, you remember to pay attention to the surrounding vehicles to avoid unfortunate situations.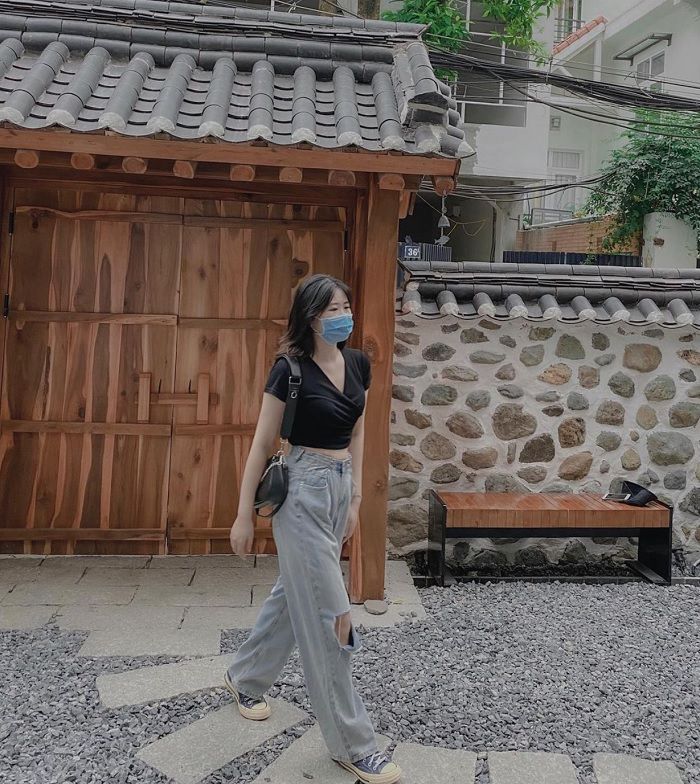 Watch out for traffic around!
With a design like a "miniature Seoul" right in the heart of Hanoi, to take beautiful pictures at Ragacy Cafe, it is too beautiful to wear pastel white or Korean-style clothes. You can bring a few more accessories such as hats, transparent umbrellas, … to create accents for the picture to be more quality.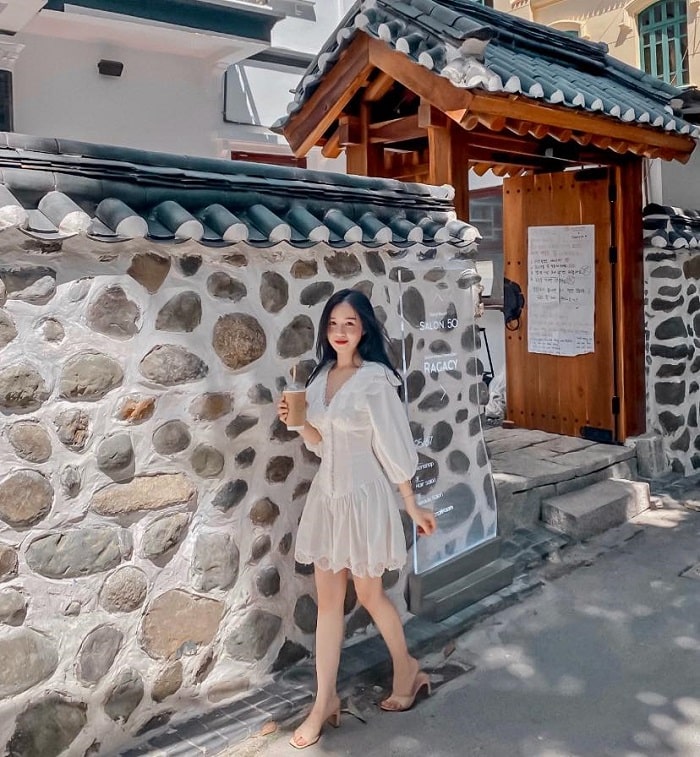 The white outfit is perfect for taking pictures 
No need to spend a lot of money to go to the land of kimchi, just go to a Korean alley cafe and you will have a beautiful photo album like in Korea. When the epidemic situation is under control, do not hesitate to come to this address immediately!
Photo: Internet
TAG: