Thoi Son islet is a paradise in the garden of the Tien Giang river
Anyone who loves the landscape of Tien Giang's garden surely has heard no less than once about Thoi Son islet. Why do people keep talking about the garden island every weekend, what is so attractive about Thoi Son island?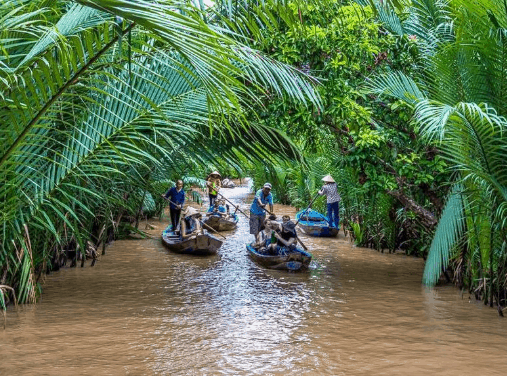 Garden tourism is increasingly popular with people in the South (Photo ST)
Geographical location of Thoi Son dunes
Con Thoi Son, also known as Con Lan (in the quartet of spirits: Long – Lan – Quy – Phung), is located downstream of Tien River, in Thoi Son commune, My Tho city, Tien Giang province. This is a tourist destination in Tien Giang that attracts hundreds of thousands of visitors every year.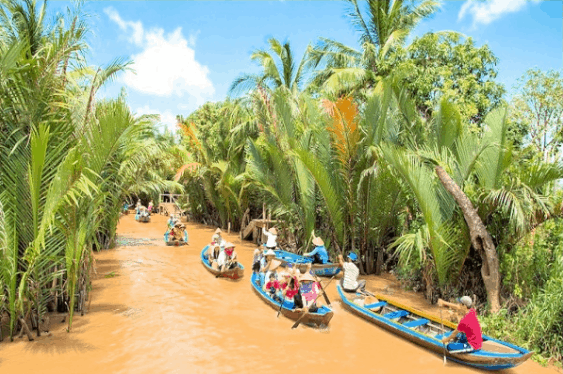 Thoi Son islet with typical rows of water coconuts on both sides (Photo ST)
Move to Thoi Son islet
To get to Con Thoi Son, visitors can go by 2 ways: waterway and road:
Waterway: depending on where you come from, choose the tourist pier on April 30 in My Tho city or the old Rach Mieu ferry port on the shore of Ben Tre to rent a boat across the dunes.
These are 2 reputable tourist pick-up points and there are always ships available, you just need to come and rent a boat to Thoi Son.
By road: you drive to Rach Mieu bridge, in the middle there will be a side road turning down to the isle, this road is for both motorbikes and tourist cars.
For large vehicles, you have to pay the road toll at the toll station at the beginning of the entrance to Con Thoi Son, about 60,000 VND/person!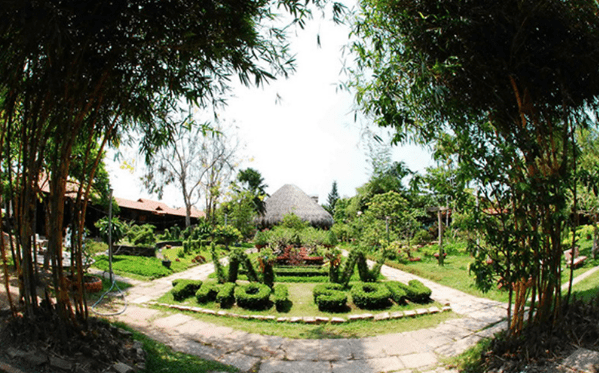 The road to Thoi Son dune is very easy, isn't it? (Photo ST)
Having fun at Thoi Son islet
Thoi Son islet is a large dune floating in the middle of the Tien River with an area of ​​more than 50 hectares. 6000 households living here are working together to preserve the natural beauty of their homeland. Thoi Son islet attracts tourists partly because of that feature. Thoi Son dune tourist area has been invested more in recent years, with a system of alcohol 1 to 5.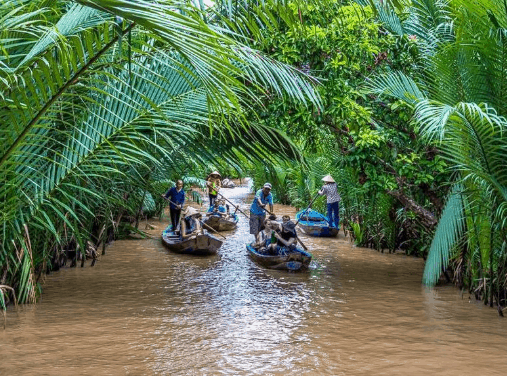 Cruise on dunes – an interesting experience (Photo ST)
Thoi Son islet is a land that receives preferential treatment from nature more than other islands. It has a system of large gardens and abundant fruit gardens. Visiting Thoi Son islet, tourists will be able to float on the cool green water, watching fruit gardens laden with fruit on both sides of the road.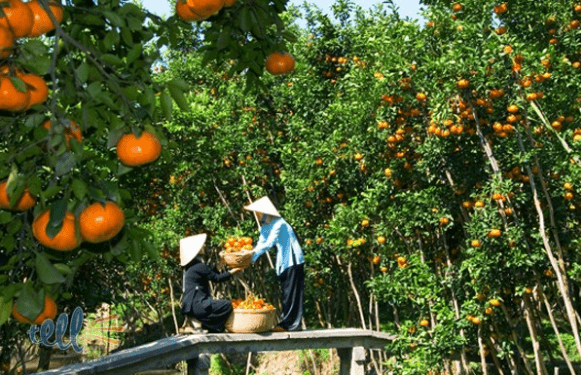 This place is the fruit basket of Tien Giang that never runs out (Photo ST)
According to people with experience in Thoi Son island tourism, the fruit trees on the island are full all year round, but the most luxuriant is still in the summer. As a source of fruit for many wholesale markets in Tien Giang province, fruits in the isle are among the most abundant. These are rambutans, milkweed, longan, etc. Each fruit is as fresh and sweet as the hearts of the people here.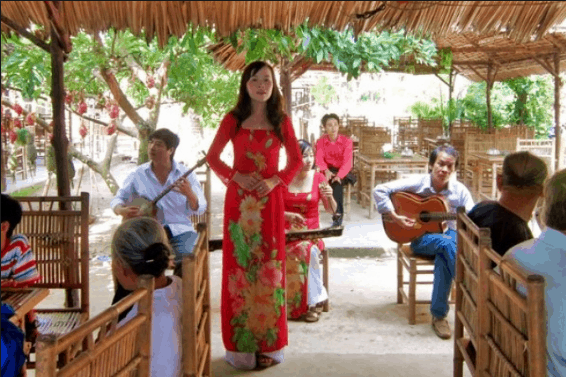 Tourists listen to don ca tai tu at Thoi Son island (Photo ST)
Visiting the fruit gardens, visitors can walk along the winding stone paths, both visiting and enjoying the fruits directly in the garden. On the island, there are areas of huts as a stopover for visitors. In the fresh air, large space, listening to a folk song suddenly found life strangely serene!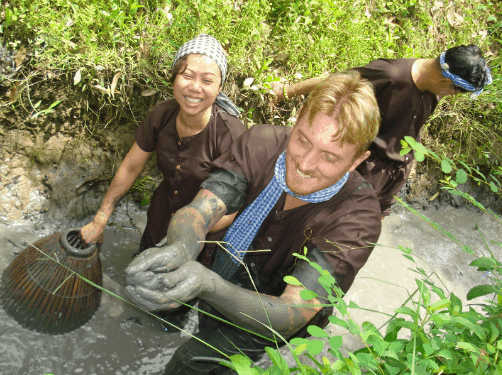 Catching fish is a quick and quick game of the islanders (Photo ST)
Not only that, tourists also have the opportunity to experience being a real gardener through fishing activities with the islanders. "Garden bream is delicious but very hard to catch", those who have once tried this experience will surely have the same thought.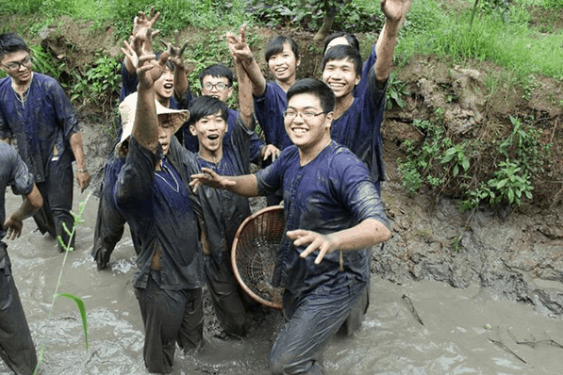 This form of "slapping ditches to catch fish" is very popular with young groups (Photo ST)
Even more interesting, you can also visit Son Tien Giang islet by horse. The horses here are very gentle, friendly, can carry you around the villages in Thoi Son.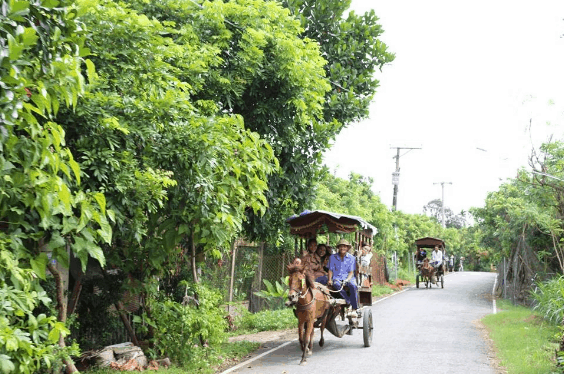 Riding a horse to visit the village, breathing in the fresh air (Photo ST)
What to eat on Thoi Son island?
Walking in the garden, you must definitely enjoy the specialties of Tien Giang, right? After a tiring day of walking, enjoying the dishes of Tien Giang homeland is the perfect experience to close a day of garden tourism.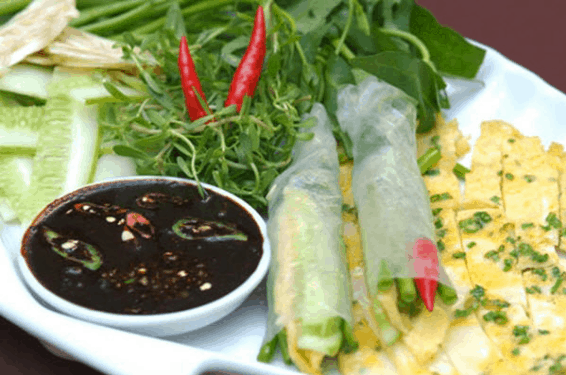 Western rustic dishes (Photo ST)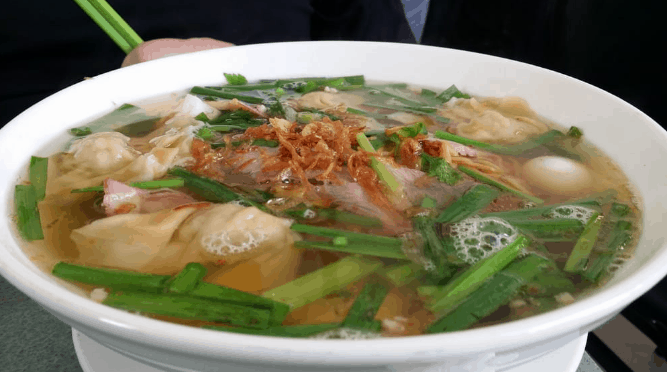 Photo ST
Among those dishes, anyone who once "slapped the ditch to catch fish" will not forget the taste of grilled fish in the garden. Enjoying the fruits of labor like a real resident, tourists will feel a part of the simple joy in the daily life of the Thoi Son people. Your trophy fish will be processed by the chef into grilled fish, fried fish, … delicious to know!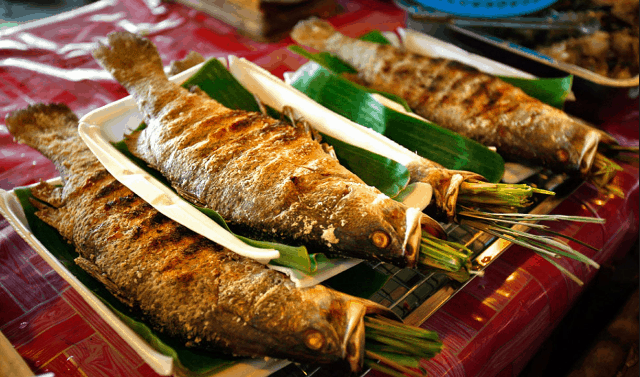 Grilled fish smells like local grasslands, smells like fruits of labor (Photo ST)
The ticket price to visit Thoi Son islet is free, the average cost for all services here is only 200,000 VND/person. A price that is too suitable for a weekend trip to the garden to "lift up" the spirit, right? Arrange a time to visit Thoi Son islet now, Vinlove ensures you will not be disappointed with the experience here!
TAG: