6 dreamlike tourist destinations in the Northern of Vietnam
Everyone's youth is experienced only once, so try to experience all emotions and accumulate more life experiences by traveling a lot, meeting a lot in different regions of the country. There is nothing better than going to strange, beautiful, and poetic lands and leaving many memories there. That's the best way to make your own youth forever green. Start your youthful journey with one of the northern tourist destinations below right away.
1. Ha Giang
The beautiful mountainous region named Ha Giang is one of the must-have destinations on the checklist of those who are passionate about travel, discovery, and love of amazing nature. The mountainous terrain, high mountains, blue sky, green trees, and most importantly, the 4 seasons are always cool and refreshing, just hearing about this is enough to make the traveling devotees feel restless.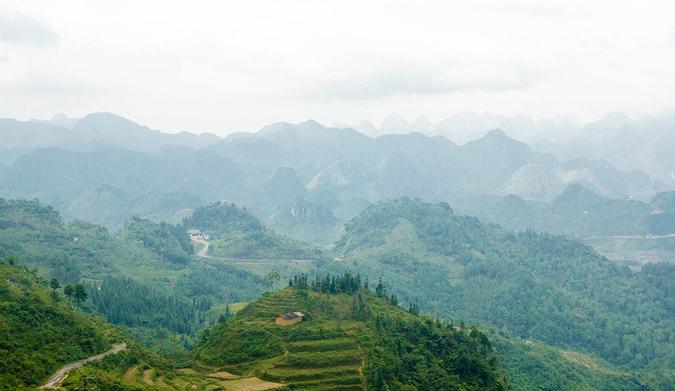 Ha Giang is one of the provinces in the northern mountainous region that is endowed with nature, possessing many wild and majestic landscapes but still retaining its lyrical and poetic qualities. @ Stephen Hoang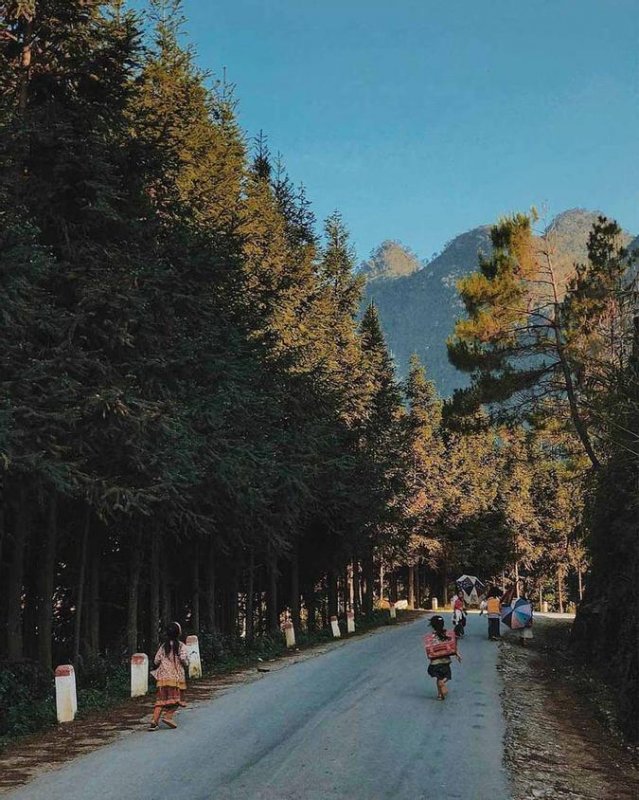 Yen Minh pine forest is known as the 2nd Da Lat in the North with tall, green pine trees facing the sky. The morning sun shining through will show a romantic and gentle scene, but when the afternoon falls, it will be a mysterious, ghostly picture no different from the backdrop of the Twilight movie. @hoangrapherx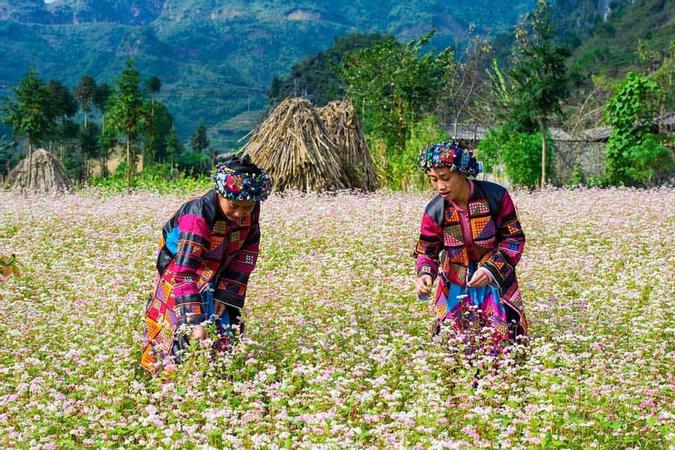 Like a beautiful flower in the middle of the rocky plateau, Sung La valley is resplendent with thousands of blooming flowers, fragrant cornfields and a mesmerizing sky of buckwheat flowers. Somewhere, you still see images of young women wearing baskets to pick vegetables, mothers carrying children to the fields, and grandmothers working hard to weave cloth. @ kina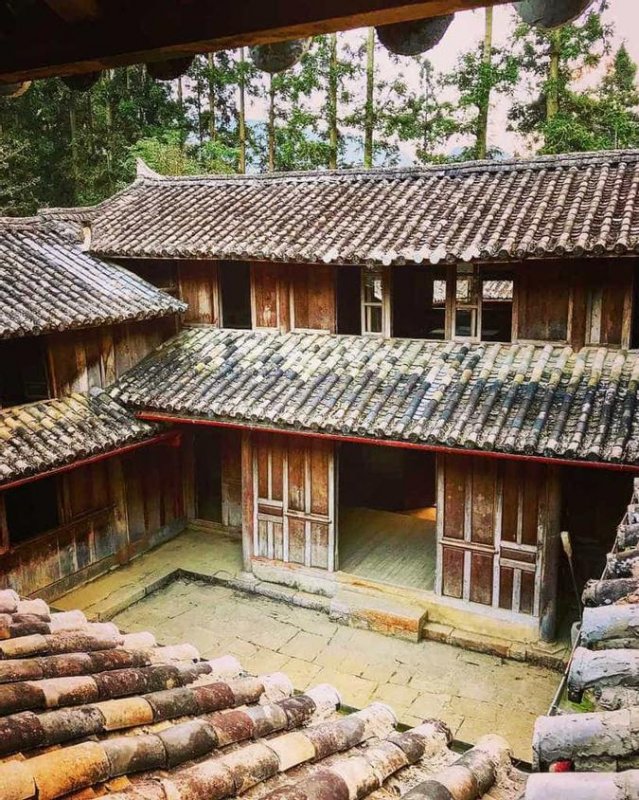 The rows of ancient samu trees lead straight to the Vuong palace of the Meo king, an ancient mansion that harmoniously combines three French, Chinese and Hmong architectural features. You can also listen to the family's story told by the locals themselves to learn more about the mansion's once-in-a-lifetime past. @ jonnyrouse7
Not to mention, Ha Giang possesses many beautiful, sacred and mysterious landscapes such as Dong Van and Pho Bang ancient streets, Lung Cu flagpole, Dong Van stone plateau, Ma Pi Leng pass, Ha Giang market, etc. Hoang Phu Si or Cam mountain. Each piece of land, each person in Ha Giang and their lifestyle is a unique cultural story that you need time to learn.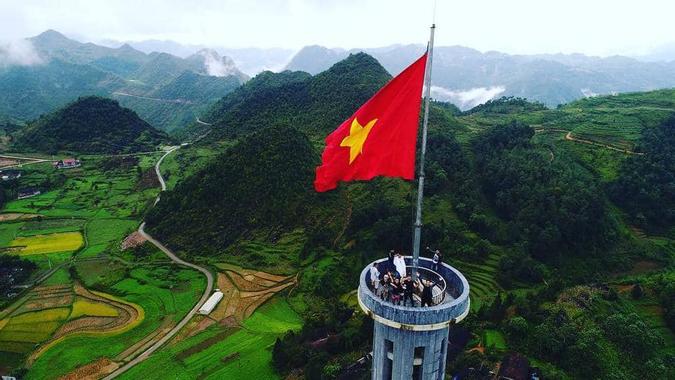 One of the sacred and historical sites in Ha Giang is the Lung Cu flagpole, where the first pen stroke was placed for the S-shaped map of Vietnam. Looking down from above, you will see a picturesque buckwheat flower field. The feeling of standing on Lung Cu flagpole, the flag fluttering brightly in the sun, radiant youth will fill your mind again. @vuhailongggg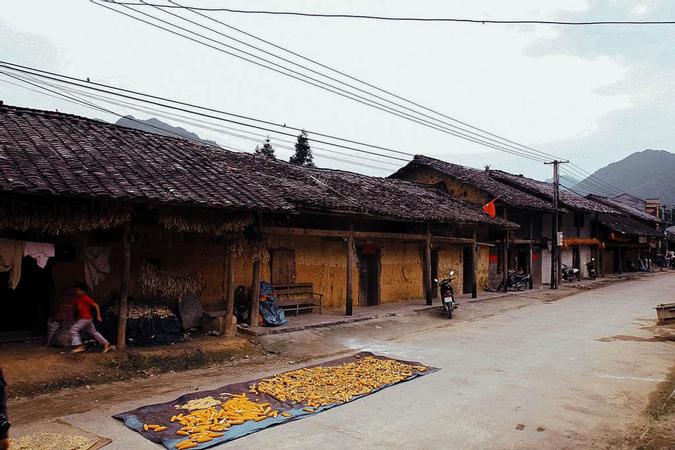 Dong Van Old Town is a beautiful, ancient and quiet valley surrounded by mountains and green trees. Those are two-story houses with walls, a popular architectural style of ancient Ha Giang. On the 14th, 15th and 16th of the lunar calendar every month, these houses will be lit up by lanterns, fresh with brocade cloths, fragrant with sticky rice and wild meat. This is an extremely interesting destination for those who love the lifestyle of the Ha Giang people. @ Tuanviet's Photo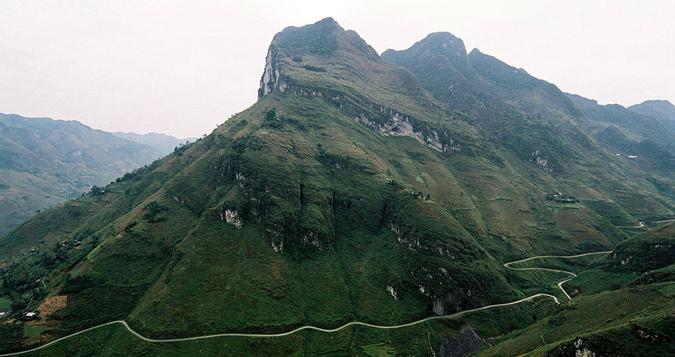 Ma Pi Leng Pass is the most beautiful road on the rocky plateau, that's why those who pass here do not forget to check-in 80 types of photos. If you are a professional backpacker, confidently drive on winding roads, one side is rocky mountains, one side is a deep abyss with soft Nho Que river, the overall picture of nature is magnificent and mysterious. virtual will appear impressively and overwhelmed before your eyes. Don't miss these amazing things. @ KhanhHmoon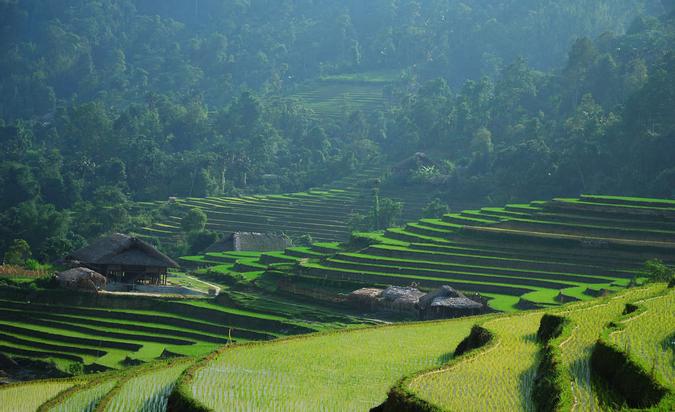 Taking a motorbike tour at Hoang Su Phi to see the pouring water season (May) or the ripe rice season (September), you will not be able to help but be moved by the beautiful scenery. The terraced fields reaching up to the sky, the fragrant kitchen smoke radiating into the air, the roofs of the ethnic people lying peacefully interspersed with the fields, the cliffs, whether it is dawn or dusk, the scenery. beautiful and poetic that will also occupy your soul. @ tuananhbui
2. Tam Coc – Bich Dong
At the end of May and the beginning of June, when the summer sun shines in the sky, it is also the golden ripe rice throughout Tam Coc – Bich Dong. If you are asking where the poetic, simple and peaceful scenes in movies and music videos come from, the answer is mostly Tam Coc – Bich Dong. This is also the place to inspire yearbook photos, wedding photos and countless beautiful virtual live photos.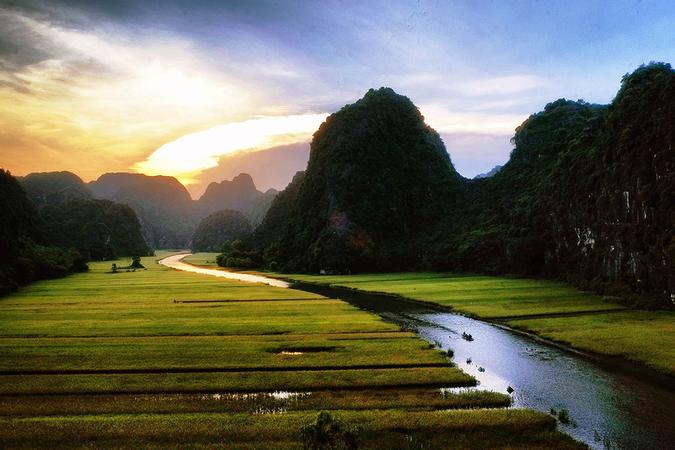 Tam Coc – Bich Dong is most famous for its charming landscape and golden rice fields that can't be taken off. @ black_mind141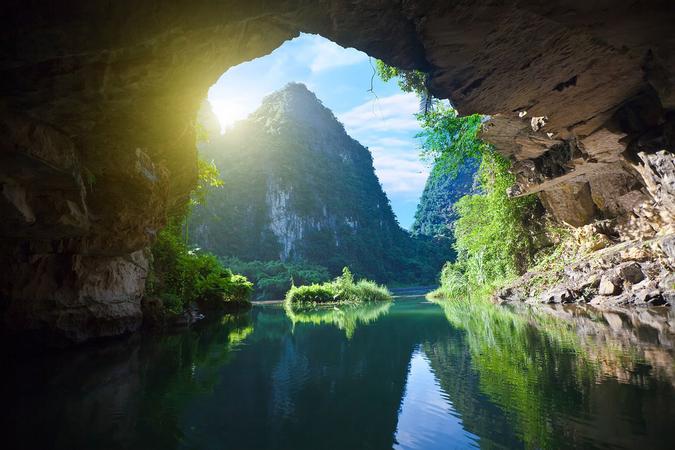 Tam Coc means three caves, including Ca cave, Hai cave, and Ba cave. All three caves are formed by the Ngo Dong River crashing through the mountain. @ english.cinet.vn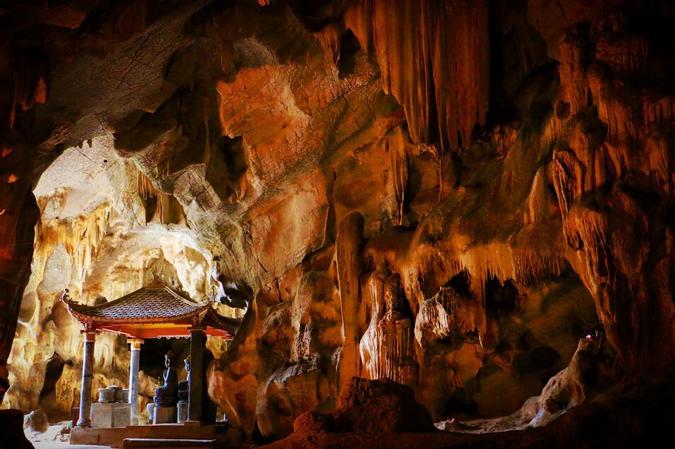 Bich Dong is known as "Nam Thien De Nhi Dong", an extremely beautiful natural landscape. In front of the cave is a branch of the Ngo Dong river winding along the mountainside, across the river is a rice field. Inside there is also an ancient temple located at the same time. @ sudzbeats
Tam Coc – Bich Dong is known as Ha Long Bay on land, a complex with enough limestone mountains, rice fields, sedimentary caves, ancient pagodas and small rivers winding at the foot of the mountain. This scenic complex has nearly 20 tourist attractions that are hard to ignore. The places you can go by boat: Van Lam wharf – Ngo Dong river – Tam Coc; Trans-hydrodynamic route (through Bich Dong); Thach Bich – Sunny valley route; Nham valley route – bird garden, But cave route – Thien Ha cave… Tourist attractions for walking, cycling and climbing: Bich Dong mountain and pagoda; Tien cave; Mua Cave; the old house of Co Vien Lau; Thai Vi temple – Thien Huong cave…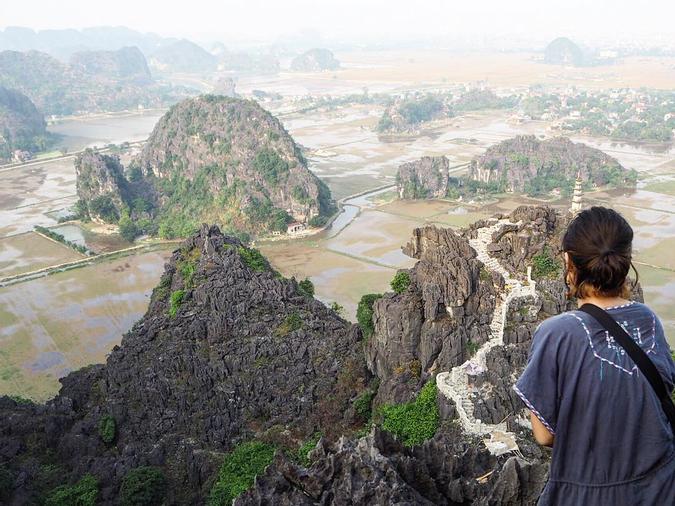 Climbing Ngoa Long mountain to see the panoramic view of Tam Coc – Bich Dong from above. @ yurika_0827xx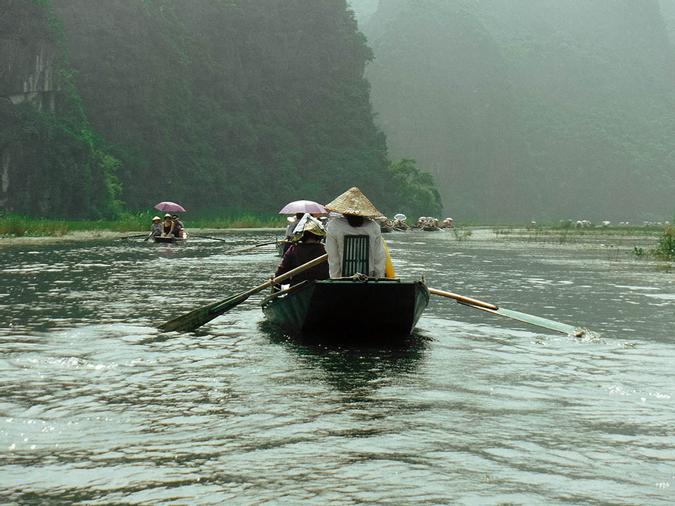 Take a light boat ride on the river to admire the scenery on both sides at sunset. @jas_gd
The charming beauty of this landscape will make you admire it, each passing season wears a new, unspeakably beautiful shirt.
As a famous tourist attraction in Ninh Binh, Tam Coc – Bich Dong has a quite developed hotel and motel services, so whether you like a luxury hotel or a homestay hidden in the deep forest, you need Your request is still fully met. Only more than 100 kilometers from Hanoi but with so many beautiful landscapes, you can go to Tam Coc – Bich Dong by any means, a day or two weekends are suitable. Just need to recharge with enough energy and pan the camera continuously, you have a beautiful album like a worldly fairy tale.
3. Sapa
Young people all dream of going to Sapa once to feel a little cold air, a little drizzle or beautiful tiny snowflakes. Whether you are a girl who loves romance or a man with a personality who loves to venture on beautiful hilly roads, Sapa is always ideal for every reason.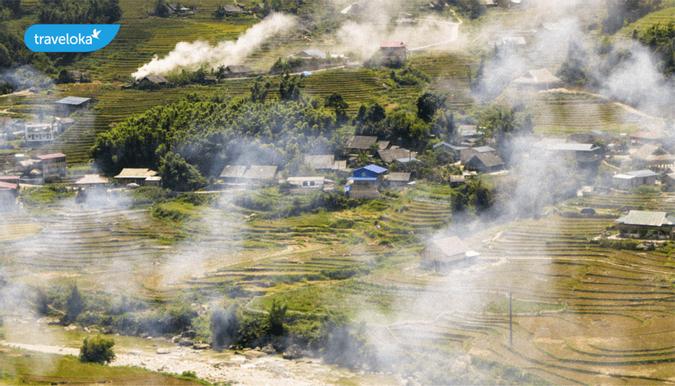 Sapa is fanciful and mysterious in the mist-covered with clouds.
Sapa is fanciful and mysterious in the misty clouds. The weather is cool all year round, but the love when coming to Sapa is so warm that everyone who has gone wants to come back again. The typical scenery of Sapa is the majestic mountains covered with green trees, hidden in the floating mist, the flower gardens of the cold country and countless terraced fields, layer after layer pulling up to the top of the mountain. God.
The beauty in the scenery here is both poetic, simple and rustic, but still retains the majesty of the mountainous terrain. Sapa has so many beautiful and dreamlike landscapes that you definitely have to go to all of them to be satisfied.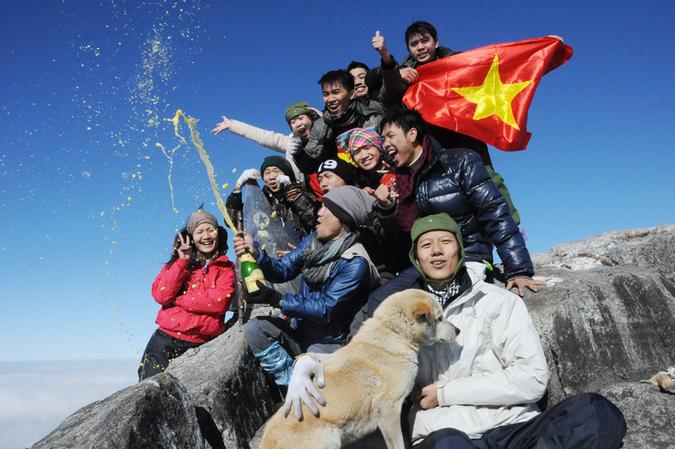 Conquering Fansipan is one of the dreams that marks the maturity, strength and personality of a genuine tourist. You can climb the mountain in groups or take the cable car, one of the most modern cable systems in the world. On the top of Fansipan, the legendary roof of Indochina, there are beautiful spiritual destinations that overwhelm the soul. A virtual living paradise floating among 9 clouds. @vietnamvoluntourism.com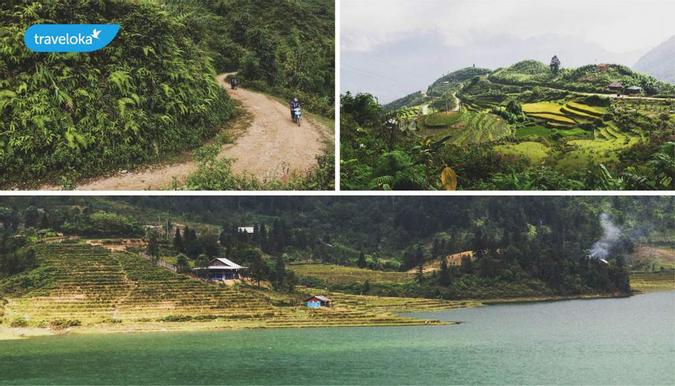 Ta Vang village is two of the most beautiful and peaceful villages with golden terraced fields in the sun, roofs emitting fragrant kitchen smoke, mothers carrying their children to the fields, and mothers diligently weaving each sheet. beautiful brocade. With trips to the highlands, visiting villages and experiencing the lives of indigenous people is the best on earth.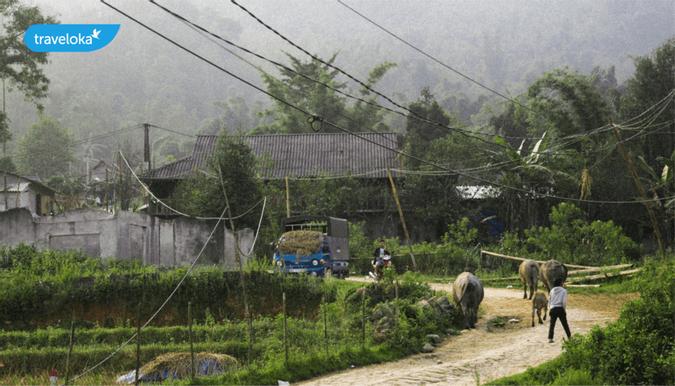 The peaceful beauty of Ta Vang village.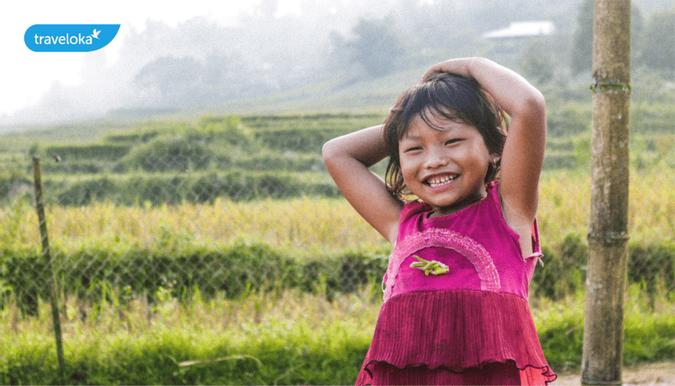 Where the people still have a rustic and genuine feature.
4. Moc Chau
Moc Chau is too famous for its endless green borderless dairy farms and tea hills. The climate is extremely favorable, the weather is cool all year round, the air is always fragrant with the scent of plants and trees, all of which will make your soul young again.
With each passing season of the year, Moc Chau is beautiful in its own way, although it is still a rolling mountain scene, still beautiful, sweet, simple but poetic. Winter passes, spring comes, peach blossoms, plum blossoms bloom in the white sky, the entry point is a little soft pink light. These stunning paintings are often seen in calendars or album artwork. This is enough to give Moc Chau a seal of the must-know virtual paradise.
Then, the season of pale yellow wild sunflowers, the season of pure white canola flowers, mixed with red poinsettia, filled the large fields. People who are passionate about photography pull together to shoot non-stop. To be able to take pictures freely in the vast, beautiful flower fields, you must also have enough health, enough patience and enough posture to go all the way to the flower fields and tea hills.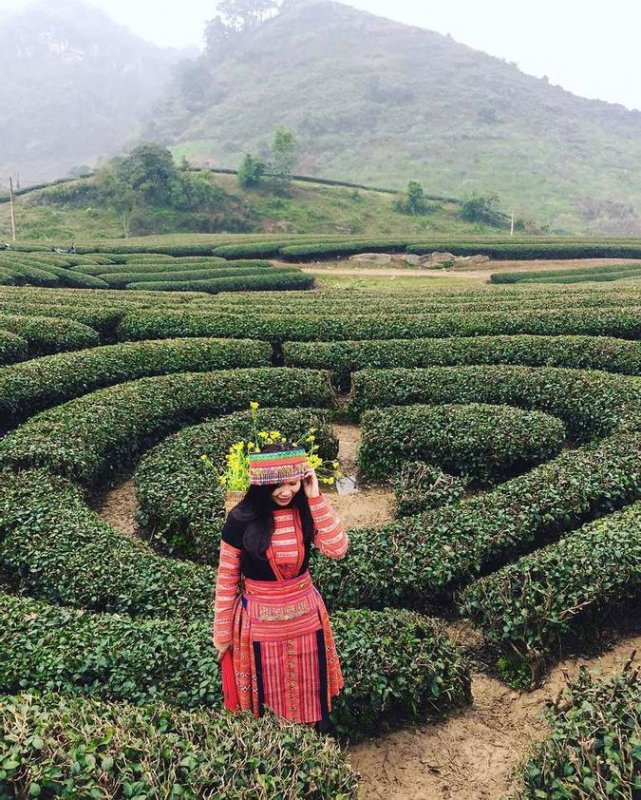 Dreamy heart-shaped tea hill. Standing here, in the air, there is a soft scent of tea leaves, watching the young green tea buds, dreaming in the morning dew and letting go of all worries, enjoying the quintessence of heaven and earth. @ changheo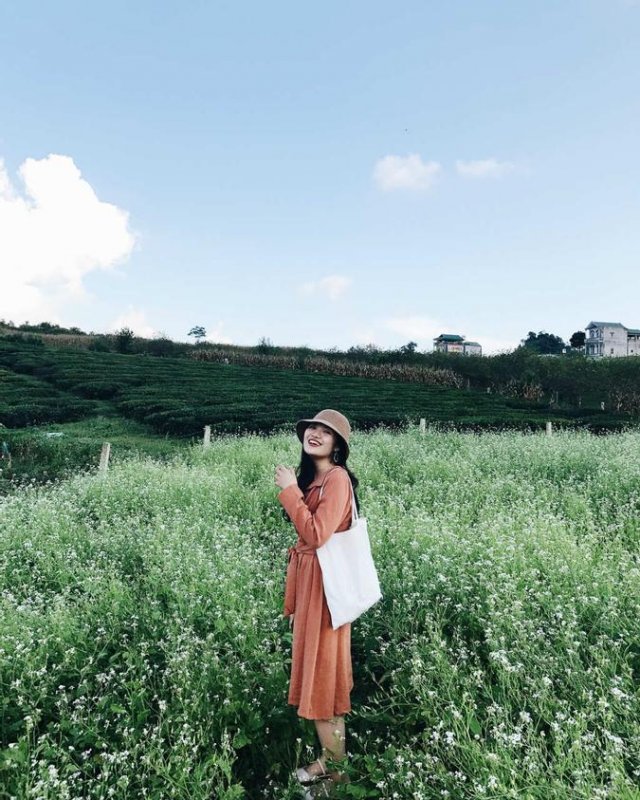 Canola flowers bloom in the fields of Moc Chau. The scenery is pure and pure to the heart. You can take advantage of creating a few styles so as not to miss any beauty of Moc Chau. @troang_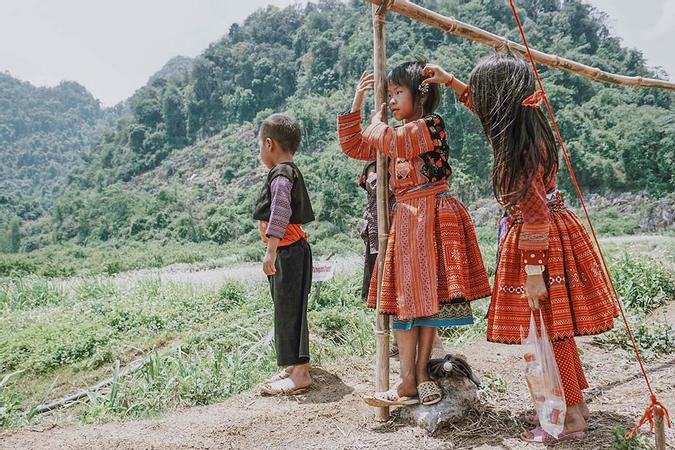 Loong Luong and Pa Phach are two of many beautiful and peaceful villages. You can rent bicycles, walk around the trails leading to the living quarters of ethnic minorities. Don't forget to stop by a rustic stilt house and enjoy a meal featuring local specialties. @ Trinhlu6895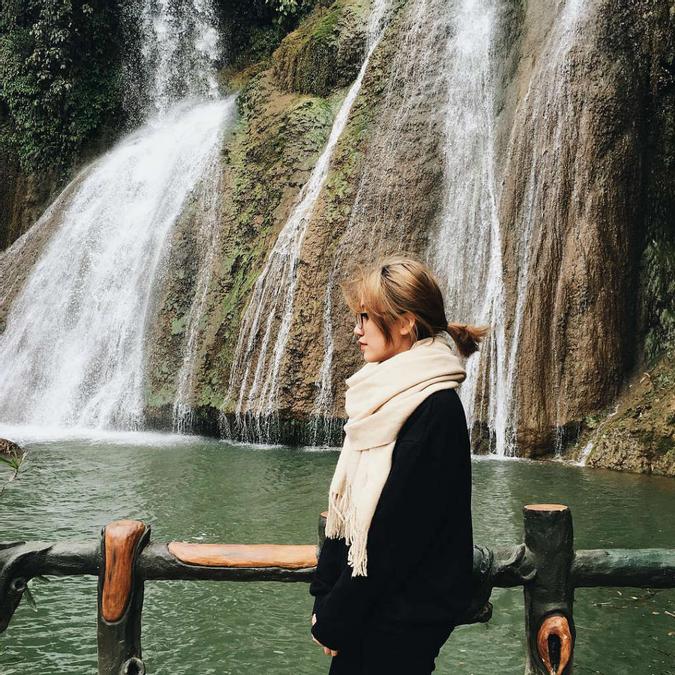 Thai Hung – Muong Sang is famous for the red color of poinsettia flowers blooming in a spring sky and Dai Yem waterfall shimmering like a silver cloud pouring down from above. This is a tourist destination in the North that is still quite wild, so it is extremely suitable for those who love nature or true backpackers, passionate about visiting and discovering new lands. @ ha.minoo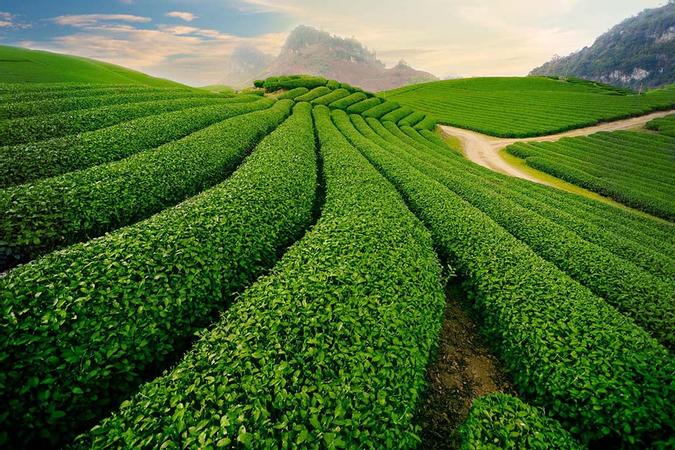 The green tea field is the ideal virtual living place for young people in this list of 6 tourist destinations in the North. No one can resist the pristine and green beauty of this plateau. @ lavender
5. Ha Long Bay
Recognized as a World Natural Heritage with thousands of islands along with temples, historical and cultural relics, Ha Long Bay is known as a vivid, charming and beautiful painting. The beauty of the clear blue water that Ha Long Bay possesses has captivated the hearts of many tourists from home to abroad.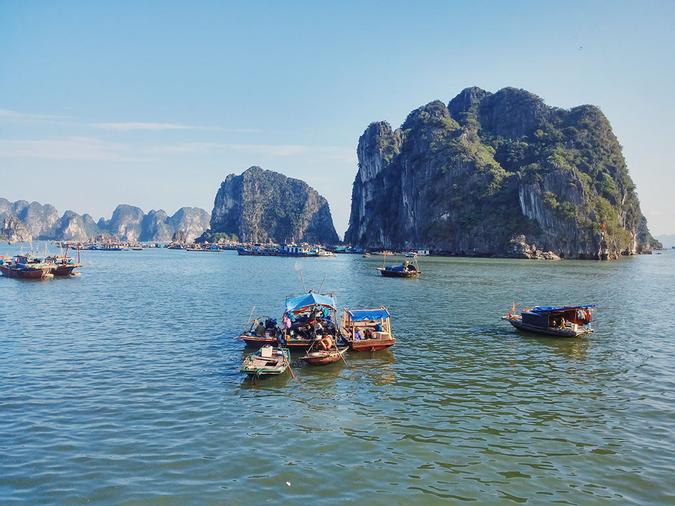 The most beautiful charming watercolor painting in Vietnam over the years still makes people anxious and longing. @ viethoangnguyen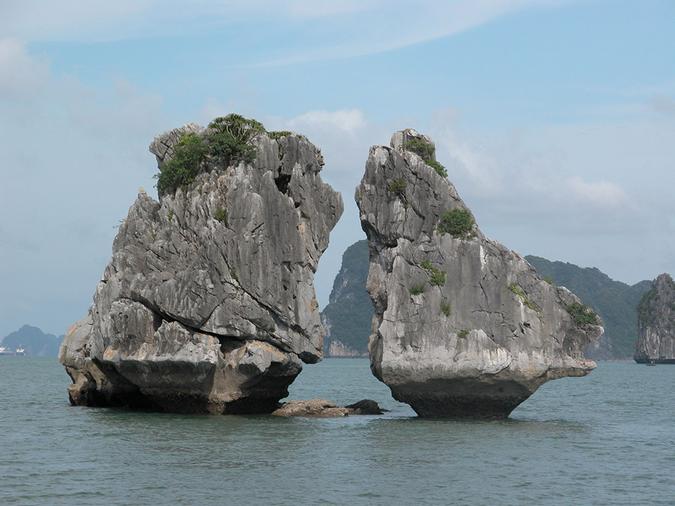 Can you find this familiar image that you still see every day? @ intensive knowledge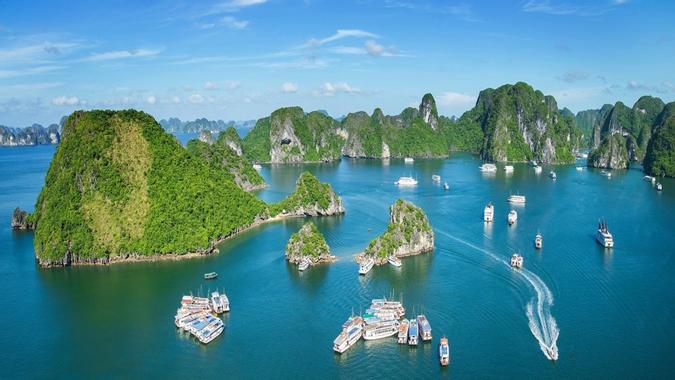 The bay of blue water is like a pearl reflected in the sky. @ wallpapers13
Each season, the bay is beautiful in a different way. April, May or August to October is the ideal time for you to admire the beauty of Ha Long Bay.
You can enjoy the scenery of Ha Long Bay from many different angles such as walking around the bay by kayak, exploring the caves filled with sediments, artistically posing stalactites, watching the bay from above. the plane, for the most expansive and expansive views, or simply visit the local fishing villages to learn about the idyllic life of a fisherman.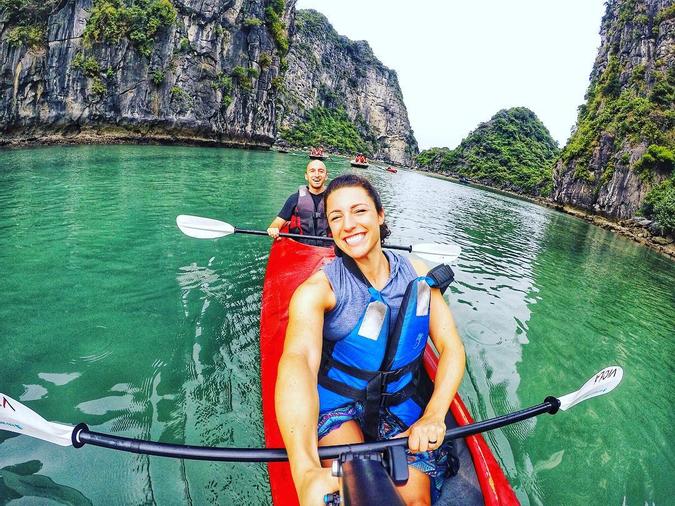 Photo 29: Kayaking to visit the beautiful bay is an activity loved by young people at home and abroad. @willislm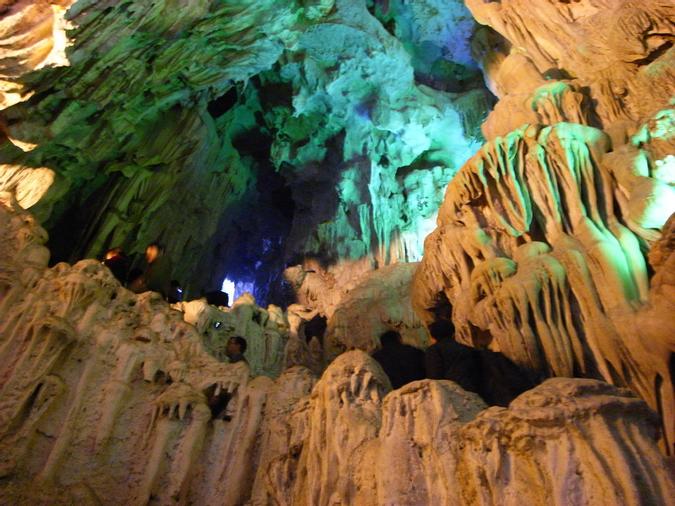 Sung Sot cave, Bo Nong cave, Tam Cung cave… make visitors surprised by the magic of nature. @ yamatoimo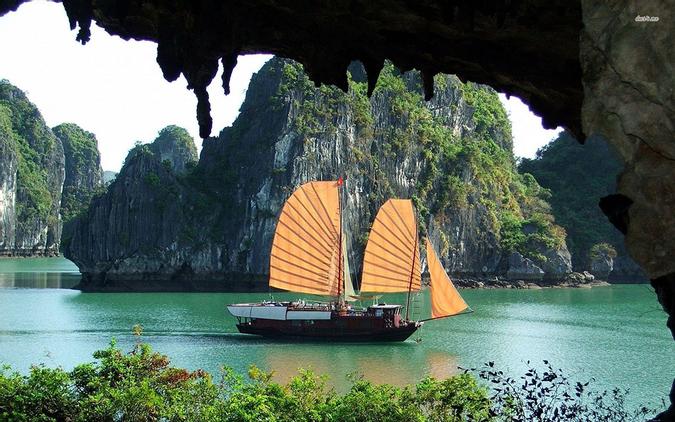 Many luxury yachts will take you on a journey to conquer the breathtaking beauty of Ha Long Bay. @ ky_pham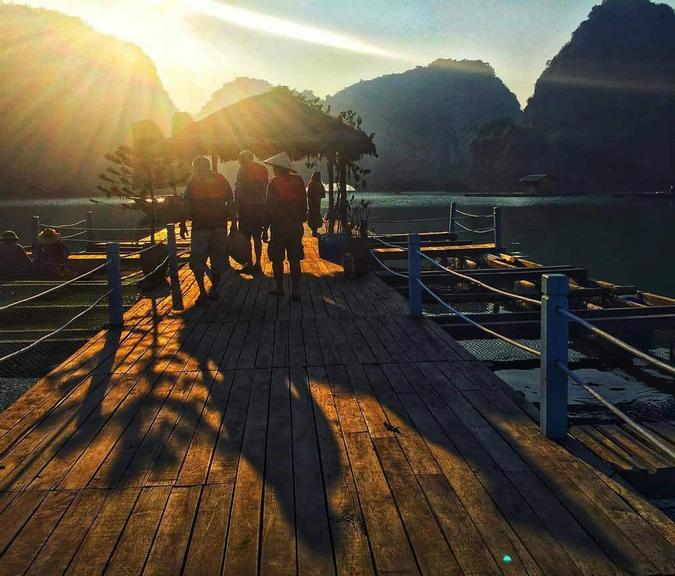 Try being a fisherman for a day, floating on boats in a fishing village in Ha Long Bay. @ lusheelu
The most special thing to mention is traveling on yachts for 1 to 2 days. The cruise will take you slowly through the beautiful bays, catch the cool breeze with steam, fish, catch the sunrise from your bed and watch the moon together all night. The beautiful scenery of the bay will be fully enjoyed by you from morning to night. The yacht will take you on a journey where you will experience from one surprise to another and many magical emotions.
6. Mai Chau
You can come to Mai Chau at any time of the year because this beautiful little valley is ready to welcome you into the fairyland in all 4 seasons.
Mai Chau is not as bustling and vibrant as Moc Chau, but its clear and poetic beauty is not inferior. "Mai Chau season you fragrant sticky rice" is beautiful, gentle, pure, and somewhat quiet. However, professional backpackers and true tourists do not know this beautiful land.
The beautiful scenes recording the lives of Mai Chau people in the natural background full of incentives have turned into beautiful photos that are captivating but still very simple and warm. Do not forget to visit the peach and plum gardens when the trees are in bloom, those are precious moments that tourists hunt for in their journey.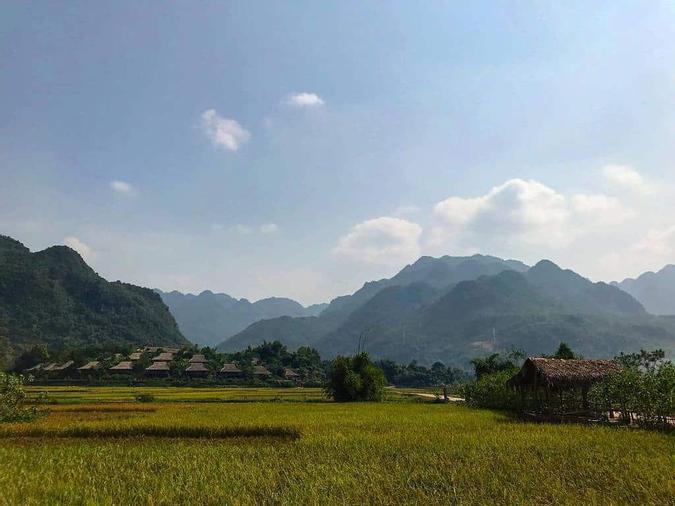 The peaceful scene of Mai Chau: vast fields, behind are rolling hills. @alarechercheduppainperdu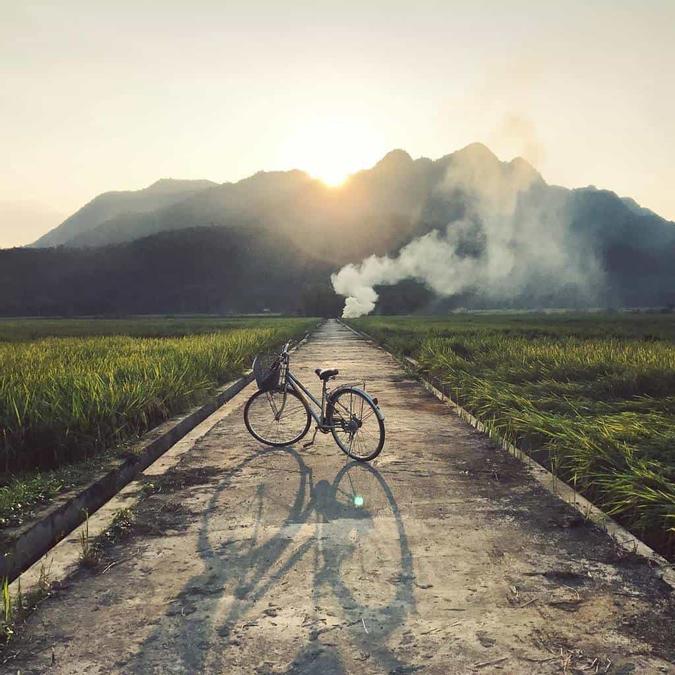 Rent a bicycle, or just walk, go on the village road flanked by rice fields, mountains, and hills. In the middle of a peaceful space, taking a deep breath of the fresh air is able to shake off all the problems in your heart.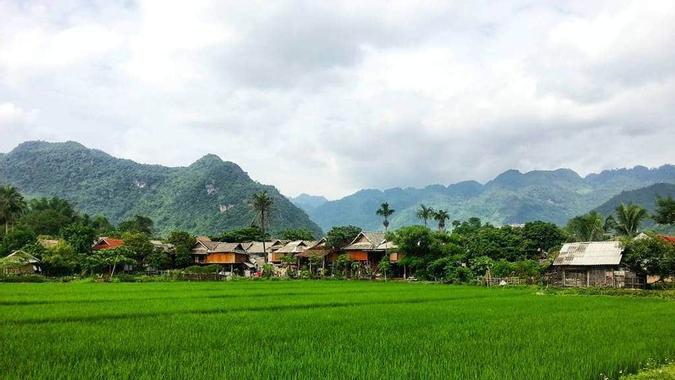 You should also visit Lac Village and Pom Coong village in Mai Chau. There are brocade products, lovely Thai skirts, and homestays run by local people. @ james_wanderlust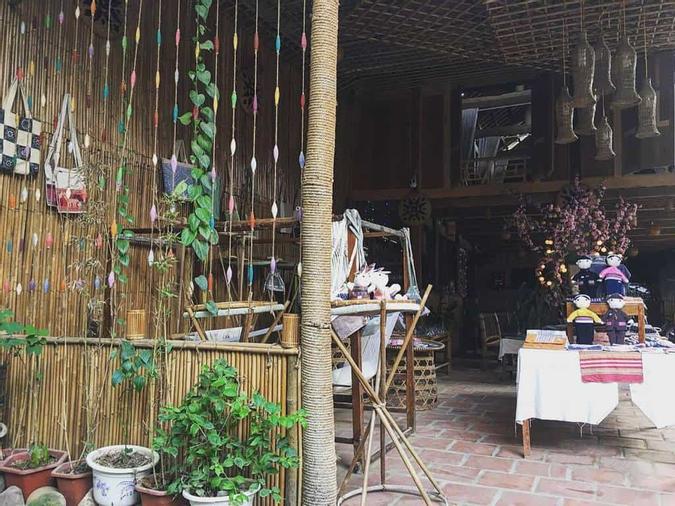 Peace in every little corner. @ duongtoria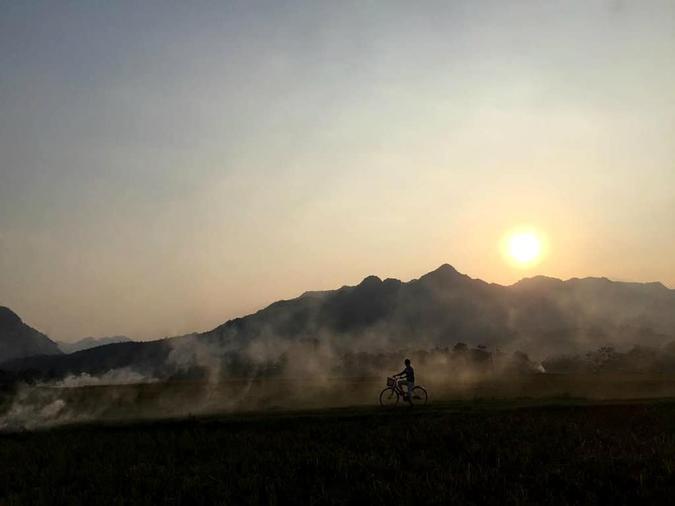 Mai Chau's sky is majestically beautiful in the sunset. @hellos_hellos
This list of 6 tourist destinations in the North is not all. Vietnam in general and the northern region, in particular, have many beautiful scenes from peaceful to majestic. Each destination will be an interesting story waiting for you to learn. Don't let your youth go to waste but pack your backpack and explore the beautiful sights of the country.
Photo: Internet
TAG: