2 newly opened coffee shops attract young people in Da Lat
Guests will enter a space separate from the city, drink coffee while feeling the cool stream of water flowing under their feet.
Shop Coffee In Forest lies on the Mimosa, Ward 10, Da Lat city center about 11 km. The shop has an area of ​​5,000 m2 with a romantic view of the mountains and a garden full of fruit trees: avocado, coffee, jackfruit, banana; flowers such as chrysanthemum, lavender, purple myrtle, periwinkle…
Opened less than a month, but this is a regular destination for flower lovers and photography enthusiasts because the shop has a sunflower planting area with an area of ​​​​1,000 m2. The owner is Mr. Truong Hoai Nam, born in 1990, a nature lover. He came up with the idea of ​​​​planting many trees and flowers with the desire to bring a sense of peace to visitors to visit and sip coffee in the cold weather of Da Lat.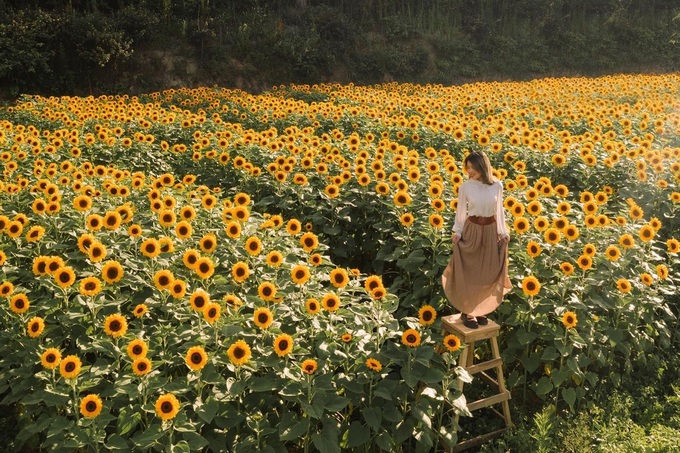 Guests check-in at the sunflower garden. Photo: Coffee Shop in the Forest
The menu at the salt cafe, coconut coffee, egg coffee, silver custard, fruit yogurt, and golden lotus oolong tea is priced from VND 45,000 to VND 55,000 each. Because it is located far from the city center, the right time to go to the shop is during the day from 8 am to 3 pm.
Shop Coffee House Party Spring is also the destination recently many young love, the address bar near the crossroads Flamboyant intersects with the Truc Lam Yen Tu away from the gates tourism zone countries Tuyen Lam Lake, Ward 3, Da Lat City.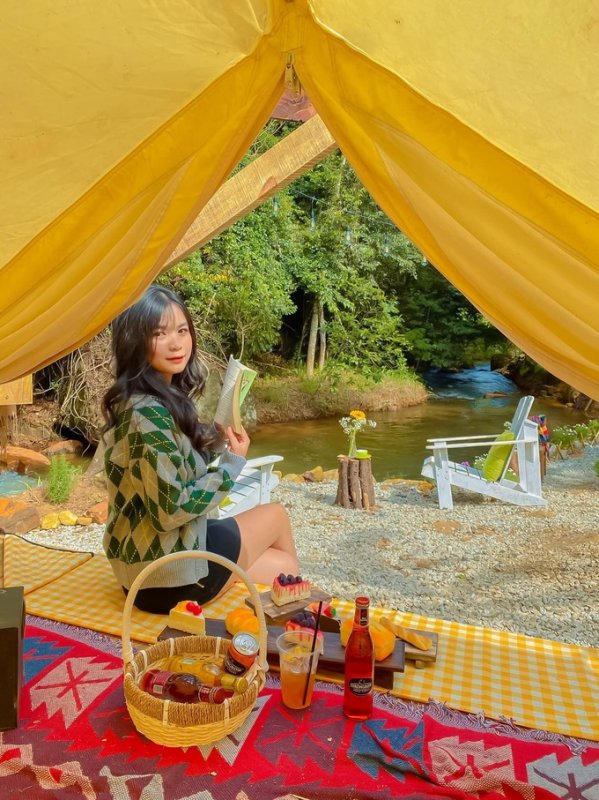 The restaurant is simply decorated for guests to immerse themselves in nature. Photo: Khanh Uyen
The shop attracts customers because of its pristine setting, simple design, close to nature, taking advantage of surrounding elements to decorate tables and chairs, seating for guests such as canopy as a canopy, tree branches hanging swing, wooden floor on gravel, wooden tables and chairs caught through the rocks in the stream. Items in the shop are covered with warm orange tones but no less bright. In which, the Mongolian hut or the orange bus is chosen by many young people to pose for photos.
The highlight at this place is a small stream flowing across the stream, beautiful tables and chairs are displayed on the side of the stream, guests can sit and sip water while soaking their feet in the cool stream or creating all kinds of beautiful photos with space. nature, chat with friends.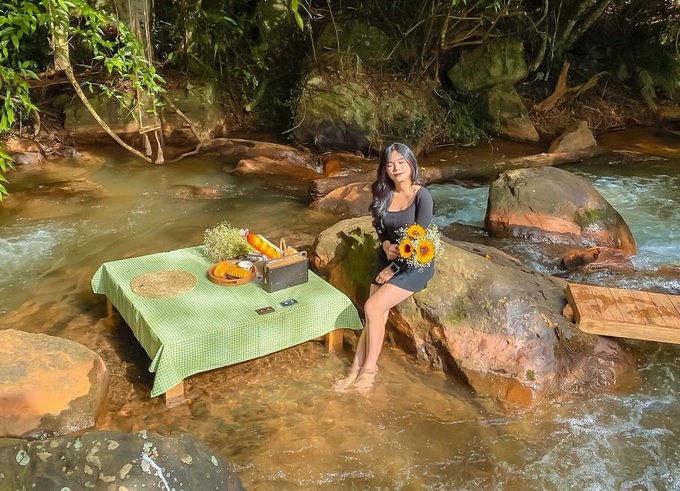 Guests sit under the stream sipping coffee, feeling the cool water flowing under their feet. Photo: Khanh Uyen
In addition to coffee and juice, the shop also has cakes and snacks for diners to sip from 35,000 VND to 55,000 VND. Guests can come to the shop from 8:30 a.m. to 5:30 p.m. daily. Follow vnexpress
TAG: