5 Ninh Binh resorts ideal for a short stay
With 1 million VND, you can book rooms in isolated resorts, surrounded by hills and fields, near Tam Coc, Hang Mua, Trang An.
Some tourist attractions have just opened for domestic tourists, but tourists from outside Ninh Binh can still enjoy the resorts. The peaceful places and secluded locations below are suitable for Hanoi tourists to choose for a short break on weekends this summer.
Toki Cottage
Located in Dam Khe Trong village, Ninh Hai commune, Hoa Lu district, Toki Cottage is about 130 km from Hanoi, traveling time is only about 1.5 hours. The resort consists of tiled houses with rustic names such as Na, Sen, Lan, Cuc surrounding a lovely swimming pool that is suitable for couples or small families to "escape" from the heat of the capital.
The garden campus has many trees and the rooms are cared for by the owner to take care of every detail of interior decoration to create a friendly feeling and many "virtual living" corners for guests who love to take pictures. Room rates here range from 1-1.3 million VND/night. If you want to visit the scenic spots of Ninh Binh, you only need to go about 1 km to places such as Hang Mua, Trang An, Van Long…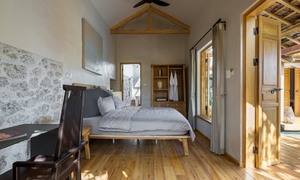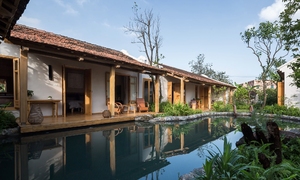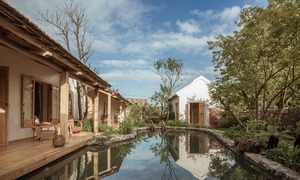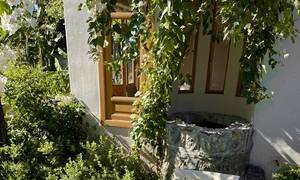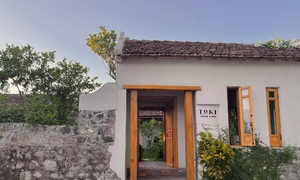 An's Eco Garden
Located in the middle of the mountains of Thung Chuoi, Binh Khe hamlet, Nhat Ninh commune, Ninh Binh city, right next to the complex of Trang An scenic spots is An's Eco Garden resort. Here, visitors can relax in the midst of nature, immerse themselves in the cool water of the infinity pool with a mountain view, enjoy a stay in a secluded place from the streets.
The resort consists of 17 bungalow rooms located about 2-5 m apart to ensure safety and privacy for your stay. The interior is mainly made of eco-friendly bamboo and wood. This summer, An's Eco Garden is having a special price for 2 days and 1 night from only 500,000 VND/person, applicable on weekdays except for Saturday, the price includes room, breakfast, swimming pool services, bicycles, etc. Rowing.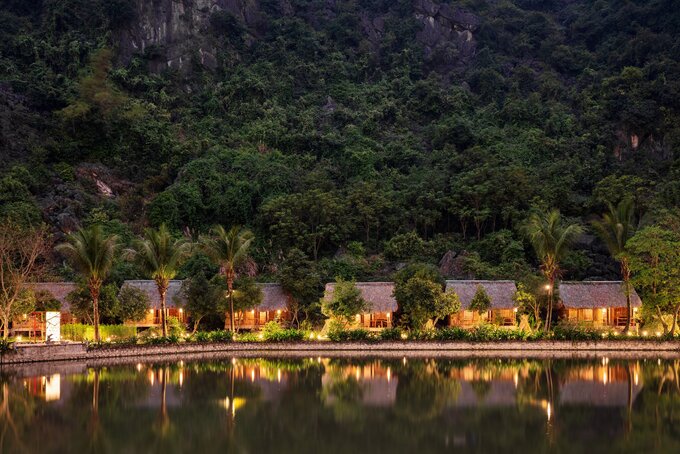 The bungalows are located next to a large lake, surrounded by Thung Chuoi mountains. Photo: An's Eco Garden
Bai Dinh Garden Resort
Less than 100 km from Hanoi, the resort is located in hamlet 5, Gia Sinh commune, Gia Vien district, surrounded by lush gardens and overlooking Bai Dinh pagoda. It has 24 rooms including 4 hotel buildings and 2 bungalows, modern design combined with warm wood furniture. In addition, the resort has a restaurant, spa, swimming pool, gym.
Currently, visitors can buy a package of 2 days and 1 night for only 800,000 VND/person on weekdays (Saturday is 100,000 VND). The resort package is currently applied until the end of September 30. In addition to the usual services, guests can have a BBQ party in the garden, buy tours to visit Trang An, Hang Mua, Bai Dinh… with preferential prices.
Tam Coc Garden Boutique Resort
Recently in the list of 25 most beautiful photography hotels in the world voted by Tripadvisor users , this resort in Ninh Binh ranked 11th.
The resort is located in Hai Nham village, Ninh Hai commune, Hoa Lu district, 5 km from Bich Dong pagoda and Tam Coc tourist area, 3 km from Thung Nham tourist area. In addition to the architecture in harmony with nature, the scenery surrounding the resort is also very poetic with rice fields, villages, orchards… giving visitors the feeling of returning to the peaceful countryside of the North. .
Coming to Ninh Binh this season, visitors can also visit the lotus ponds and Tam Coc is one of the most beautiful lotus ponds in the region. Tam Coc Garden Boutique Resort is also selling at a special price of only VND 1,950,000/person for groups of 6 or more. Combo includes one-night stay, breakfast, and rental services for photography, bicycle, fishing, herbal bath, outdoor swimming pool…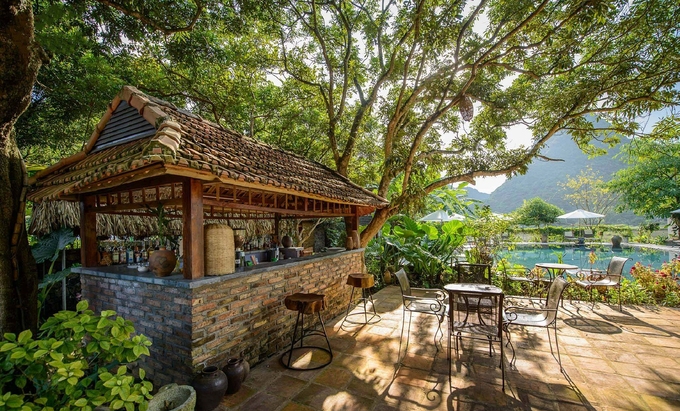 The resort's coffee garden and swimming pool. Photo: Tam Coc Garden
Emeralda Ninh Binh Resort
Emeralda Ninh Binh is a resort with traditional style from architecture to garden decoration, furniture, with high-class facilities no less than modern places. The resort is located in the Van Long conservation area, Gia Van commune, Gia Vien district, about 90 km from the center of Hanoi.
Sports enthusiasts can experience mini-golf, swimming pools, guests who like to check in can rent traditional costumes to take pictures, guests traveling with families have more experiences for children to have fun and for themselves. "slow living" period.
To kick off the summer tourist season, the resort has many incentive programs from a picnic tour costing VND395,000/person to a combo of VND2,750,000/night for 2 guests.
TAG: