10 Best Beaches in Vietnam – Vietnam's Most Popular Beaches
Planning your trip to Vietnam can be stressful due to the vast amount of alluring destinations and exciting activities available. Among all of these options are Vietnam beaches – one of the most enchanting treasures of the country. Not as striking as Thailand's beaches, Vietnam beaches glamorize visitors by the exotic beauty and wilderness. Some are exotic, unspoiled, and less of the crowd so you can freely enjoy the summer breeze blowing from the sea and breath in the fresh, cool vitamin sea to be reinvigorated.
You can always find a beach that suits you the best in Vietnam. Couples and honeymooners would love Ninh Van Bay – a secluded and gorgeous beach located in Nha Trang or Bai Tram of Con Dao – the idyllic beach that stays away from the crowd. Family with kids should think of Mui Ne Beach in Phan Thiet where your kids would love the quad bike and sand-boarding on its famous red sand dunes. Someone who loves nature should go to charming Lang Co for a relaxing beach vacation. Always on the list of Top Ten Beaches in Vietnam is My Khe – a 20-mile beach of smooth white sand and clean, clear water.
Where should you go and what these beaches have to offer? To save your time in searching, here is a list of the 10 best beaches in Vietnam: 
1. Bai Dai Beach – Phu Quoc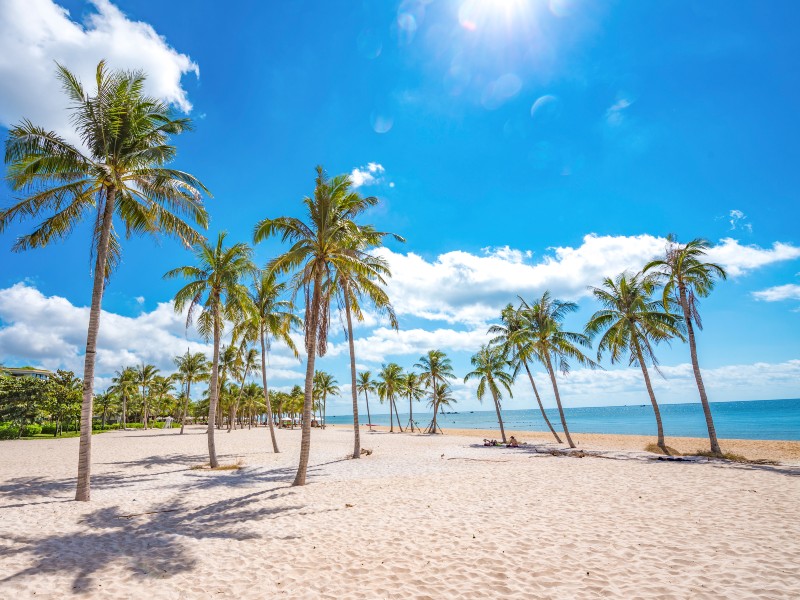 Widely known as one of the most beautiful Vietnam beaches, Bai Dai (Long Beach) stands out thanks to its untouched beauty and translucent turquoise water. Located on the northwest side of the famous Phu Quoc Island, Bai Dai stretches up to 15 km long on the coast of the island and is only a fifty-minute car ride away from Phu Quoc International Airport.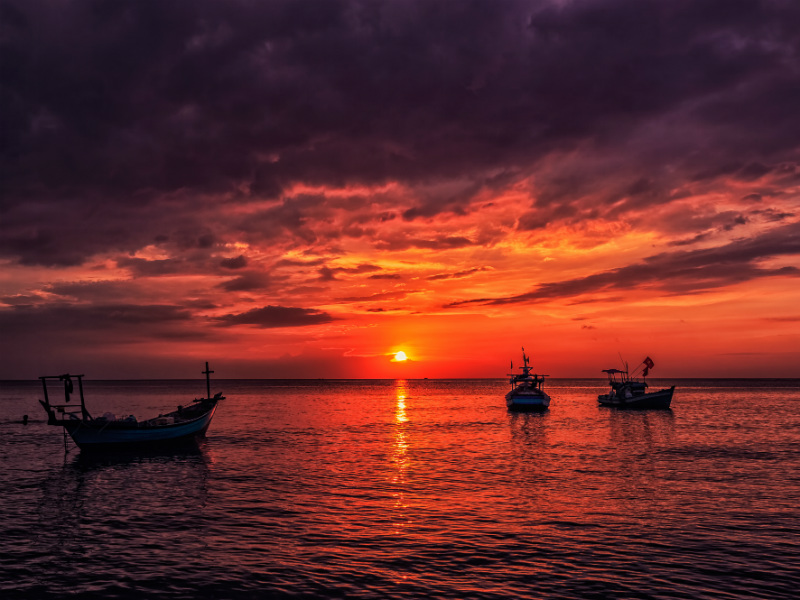 Beautiful sunset on the Bai Dai Beach
The ideal time to relax in Bai Dai would be from November to March each year. Once in Bai Dai, you would feel the adrenaline rushing in with various exhilarating activities available on sites, such as kayaking, snorkeling, and fishing on a boat. Additionally, don't miss out on exploring various sea animals while diving under the clear water of Bai Dai. On the other hand, there isn't much to avoid doing here besides booking your trip during the rainy season in September. 
2. Ninh Van Bay Beach – Nha Trang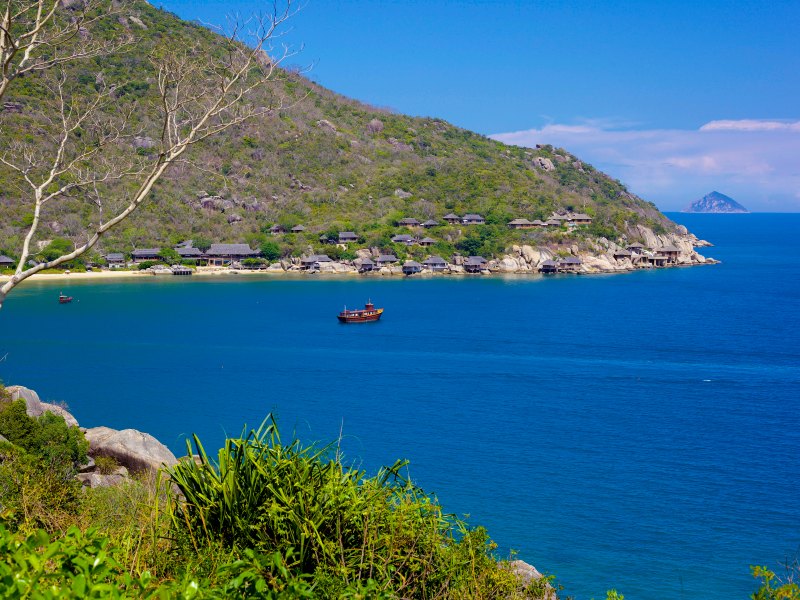 Always on the top list of Top ten beaches in Vietnam, Ninh Van Bay is the dream destination for those who wish to experience the authentic lifestyle of a Vietnamese fishing village while admiring the precious gift of nature in Southern Vietnam. Situated just two hours away from the city of Nha Trang, Ninh Van Bay is one of the few beautiful beaches that can provide the utmost relaxing and sensual atmosphere to its visitors.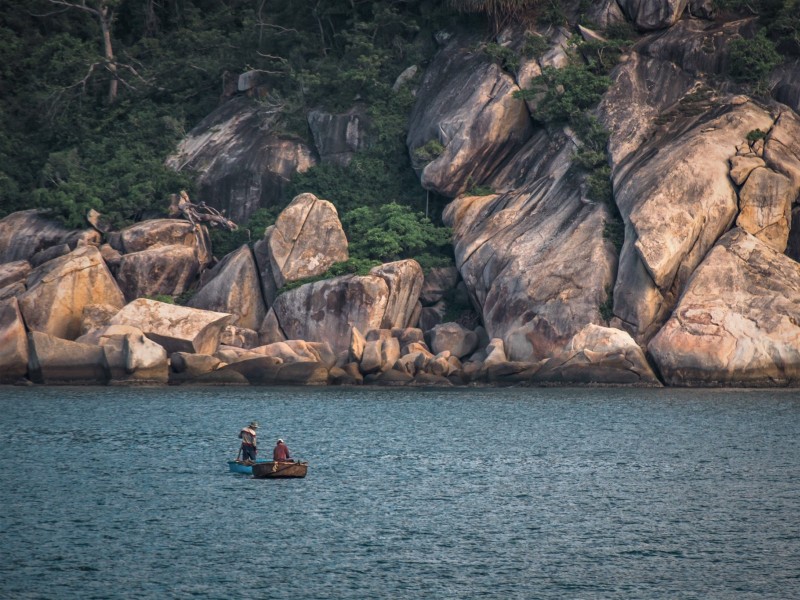 Get ready for some fun during your time at Ninh Van Bay (Photo: Six senses Ninh Van Bay)
As the area is not yet crowded with hotels and resorts, it is one of the more secluded environments that are quite fitting for honeymoons or couple trips, although many families also choose this as one of their must-go beaches. While it usually rains the least in February and March, if your top priority is to get the most sunlight, you should definitely plan your trip for some time in April – May.
mong many fun activities in Ninh Van Bay, some of the top highlights are snorkeling and kayaking. Over there, you will love and appreciate the seawater as it allows you to clearly admire coral reefs as well as fascinating marine animals. If you want some local experience, you can join a fishing tour with fishermen in a few hours to immerse yourself in the untouched nature while getting to know more about local life.
3. Mui Ne Beach – Phan Thiet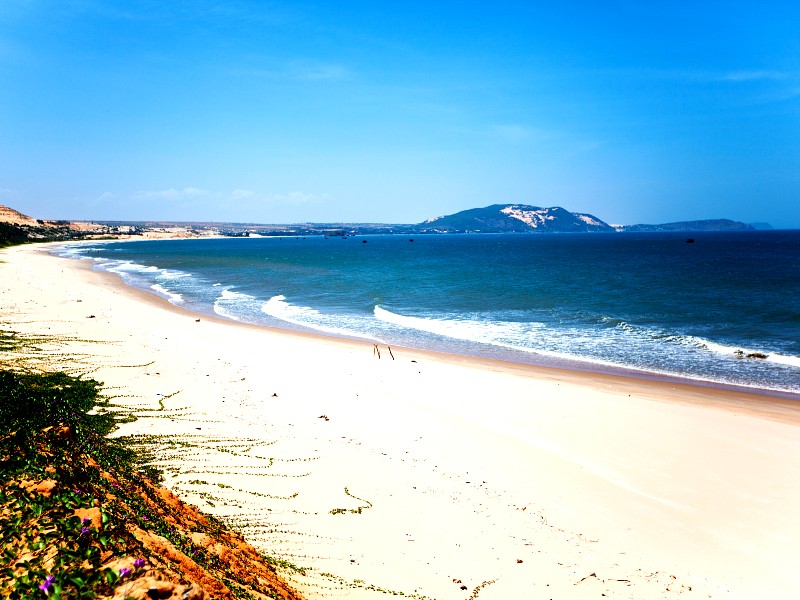 Now, what if you can stop by both the desert and the sea in one location? What our next destination has to offer will blow your mind! Located just four hours away from Ho Chi Minh City, Mui Ne beach is the ultimate stop for explorers who are down for a once-in-a-lifetime experience.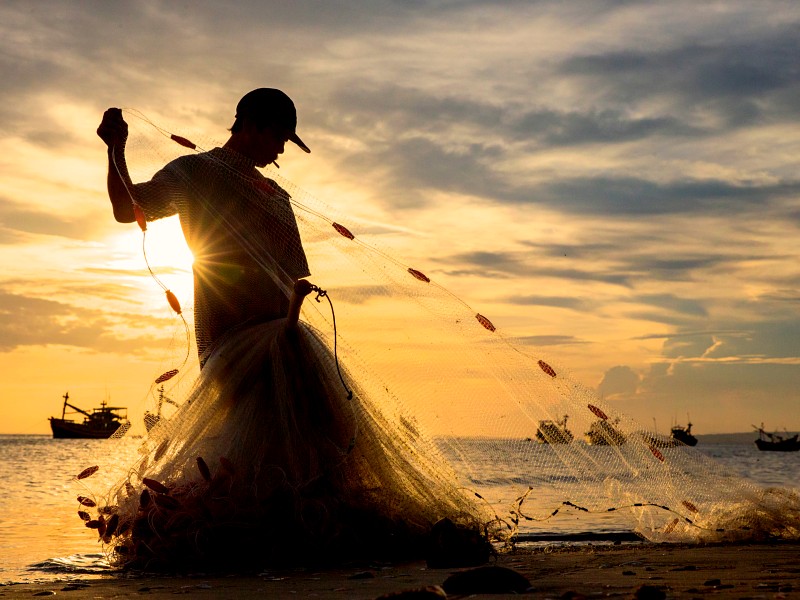 If you can wake up early, you will see busy local busy with their morning catches
Upon your arrival, you won't be able to resist the urge to bathe in the warm sunlight while contemplating the alluring charm of the beach. Due to an all-year-round cozy atmosphere, many families and couples plan their trip to this amazing relaxation spot for their Christmas holiday. If what you are looking for is a tranquil experience, it is recommended that you book your trip for March or April.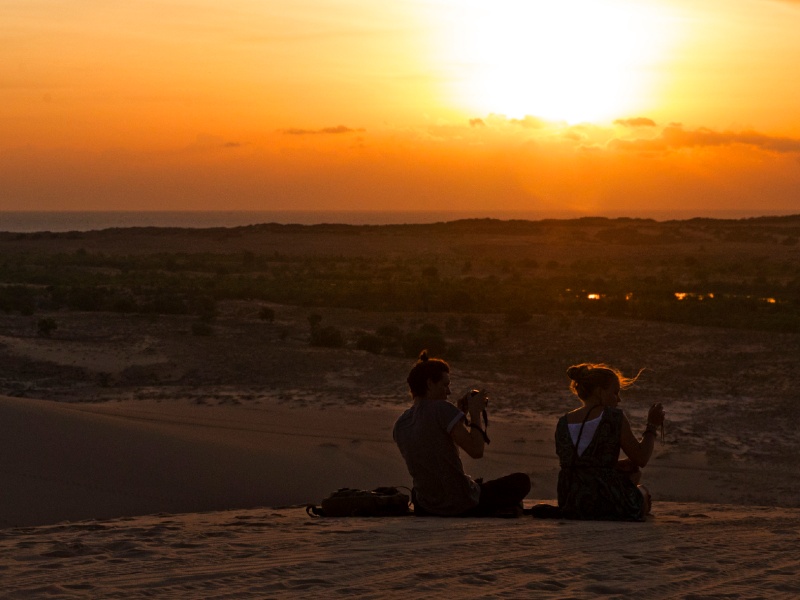 The Red Sand Dunes constitutes the mystical part of Mui Ne 
One of Mui Ne's unique offerings is undoubtedly the Red Sand Dunes, which constitutes the mystical part of the area and makes it in the list of 10 best beaches in Vietnam. Besides taking unforgettable photographs, remember to ask the locals for a giant piece of cardboard and experience sandboarding in Vietnam. If you ever miss the taste of the sea after playing in the sand, Mui Ne's gastronomic delights will make you never want to leave the beach again.
4. Hon Mun Island's Beach – Nha Trang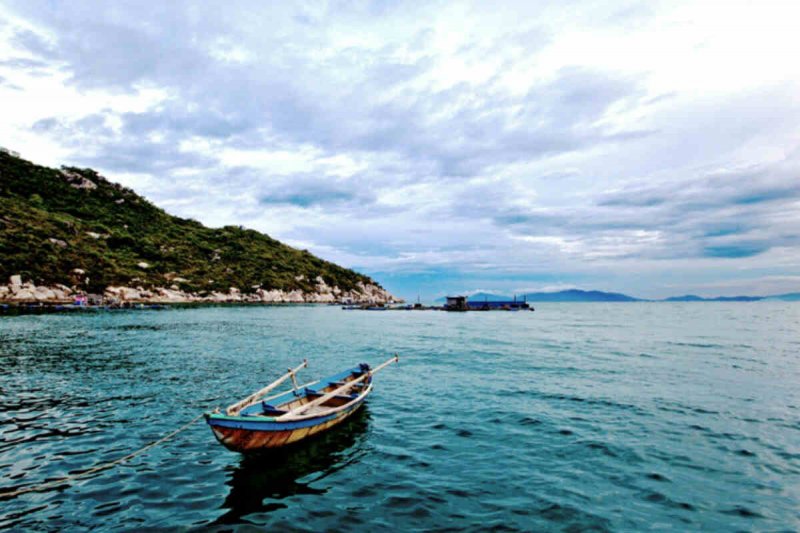 Unlike the majority of the beautiful beaches on our list, Hon Mun beach is located on an island. Get ready to be blown away by Hon Mun's one-of-a-kind translucent water alongside an impressive coral reef ecosystem, as recognized by the World Wildlife Fund (WWF). In order to explore this exquisite island, get ready for a forty-minute car ride from Cam Ranh International Airport to Cau Da Port (near the city of Nha Trang) before boarding a local cruise ship to your final destination.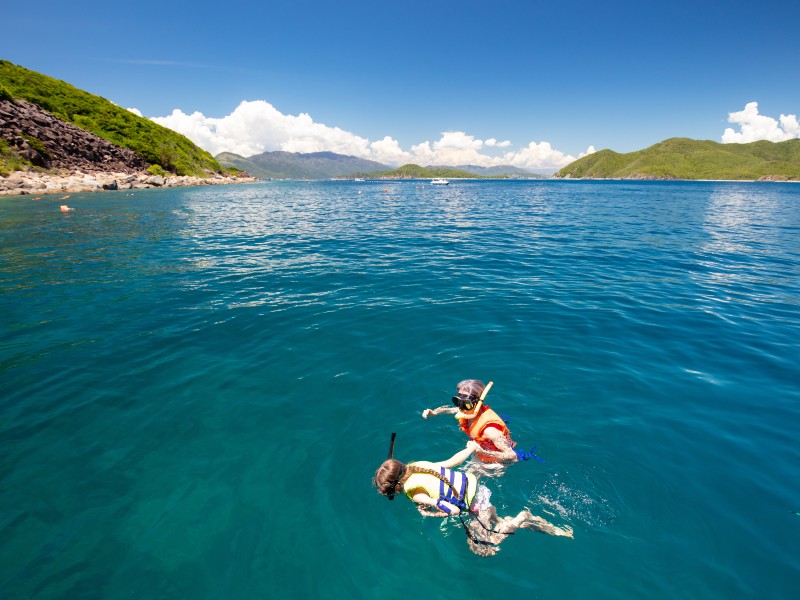 Famous for its marine biodiversity, Hon Mun is the ultimate destination for any wildlife enthusiasts. If you want to make the most out of your experience in Hon Mun, make sure to avoid crowded seasons, which falls between June and August.
As mentioned above, one of Hon Mun's highlights is its marine ecosystem and natural beauty, which prompts every visitor to dive into the crystal clear water and explore its mesmerizing coral reefs. Another unique offering of this beach is its "floating bar", where cruises serve a wide selection of cocktails to visitors chilling on pool floats, perfect for a refreshing gathering on the sea.
5. Ong Beach – Cu Lao Cham, Hoi An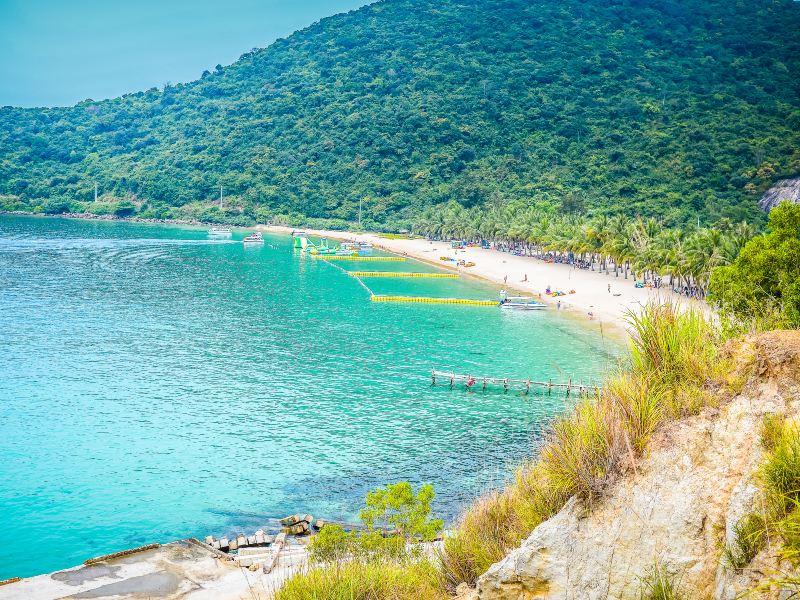 Cu Lao Cham, widely praised as the "Pearl of the East Asian Sea", is inarguably one of the most sensational destinations on our list. Located just a few miles from the old town of Hoi An, Cu Lao Cham can be reached within just an hour. Recognized as one of the world's Biosphere Reserve by UNESCO, the island possesses an extremely well-preserved marine biodiversity.
As it is not always crowded with people, Ong beach is a wonderful place for taking a break from your busy life. Its unspoiled beauty is at its peak from April to May, when the weather is warm enough to keep you cozy by the beach and cool enough for you to explore the untold stories of the island.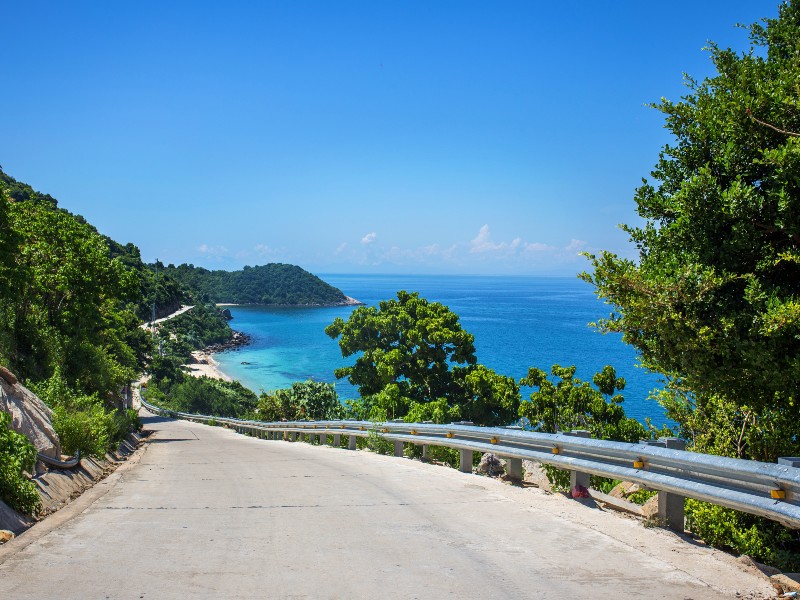 The beautiful scenic road to Cu Lao Cham
Despite hosting fewer visitors than many other beautiful Vietnam beaches, Ong beach remains the most popular on Cu Lao Cham island by being positioned near Hoi An. If you prefer an exotic and serene journey, you can definitely arrange some more time to experience the other beaches on the island, such as the nearest two named"Bac" and "Xep" by the locals. Since Cu Lao Cham is not yet a hotspot for touristic activities, you will have a hard time finding nice and comfy resorts on the island. As a result, we recommend you set aside one whole day to stop by this gem during your stay in Hoi An to explore the magnificent coral reefs ecosystem via snorkeling and collect some Vitamin D from the cyan seawater.
Top Pick Tour for Cu Lao Cham, Hoi An:
Postcard of Vietnam: Have you wondered if there is a private guided tour that can cover all the beauty and the differences between the North and South of Vietnam? Discovering what makes this country so special and intriguing. Here we offer you a deep insight into variations of culture, lifestyle, and even the people.
6. My Khe Beach – Da Nang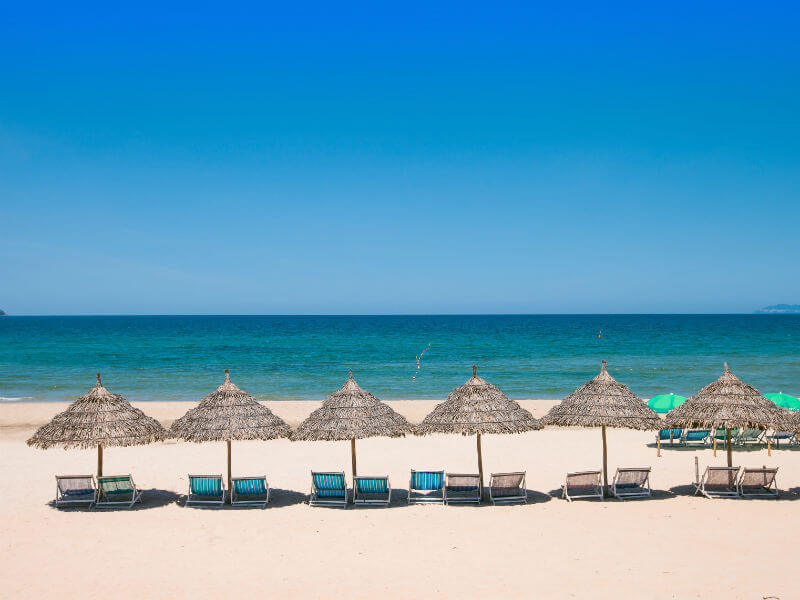 Among many of the most awe-inspiring Vietnam beaches is My Khe beach, embellished by the glowing and smooth white sand along with gorgeous scenery. In contrast to many other destinations on this list, My Khe is actually a part of Da Nang city, making it extremely convenient for staying and traveling. The beach also attracts many sports lovers thanks to the presence of powerful and ideal waves for surfing. It is not for no reason that My Khe was named one of the most attractive beaches on the planet by Forbes.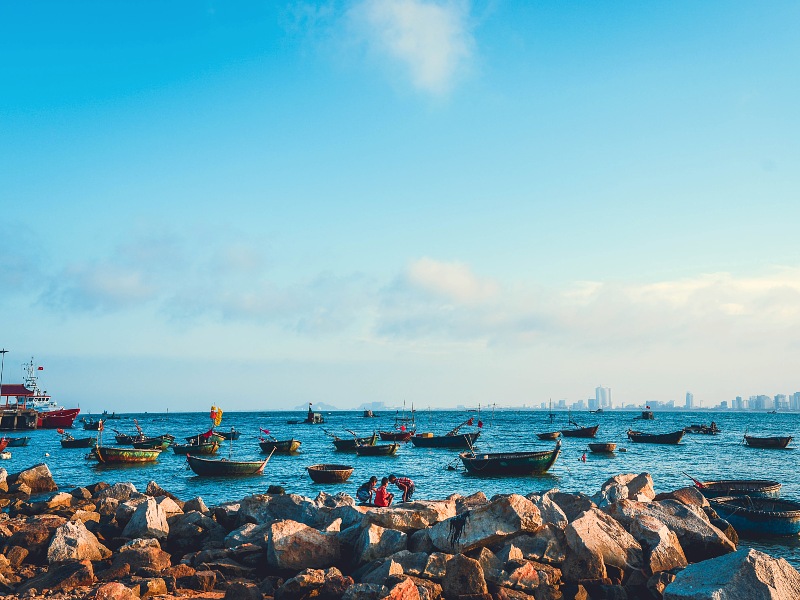 Being one of 10 best beaches in Vietnam, My Khe is perfect for those who are fond of a lively ambiance, beach sports, adventurous sea activities, and unique local delicacies. As for when to visit, it is ideal for you to spend time in the Summer when it is the warmest and rains the least. My Khe is full of fun with a multitude of activities ranging from snorkeling to surfing as well as a wide selection of mouthwatering seafood delicacies. If the private beach is more of your cup of tea, world-class resorts such as Fusion Maia Resort will provide you with absolute comfort and elevate your customer experience to a new level. After sunset, visitors can immerse themselves in the vivacious nightlife of local markets and bars. If you are up for an exciting yet refreshing time on the beach, this is, without a doubt, the place for you.
Top Picked Tour for Da Nang:
Vietnam Food Tour: On this amazing culinary experience, the next observation you shall notice is the wide array of fresh and varied foods on offer everywhere, it seems that there is space for somebody is selling everything from ingredients to cooked foods which are a treat to every palate! Each of the three regions in Vietnam is famous for its food and variations on other regions' dishes, here we guide you through each region and indeed each dish!
7. Lang Co Beach – Hue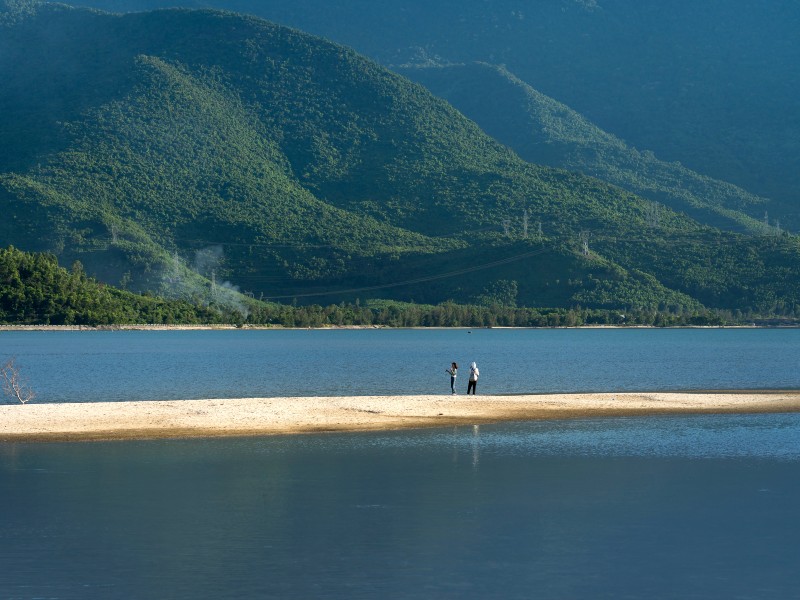 Placed in the heart of Vietnam and not too far from the city of Hue, Lang Co beach is well-known for its picturesque landscape and the spectacular view of the mountains wrapping around it. One fascinating trait of our destination is that it benefits from both the revitalizing breeze of the sea on one side and the fresh air from the Bach Ma National Park on the other.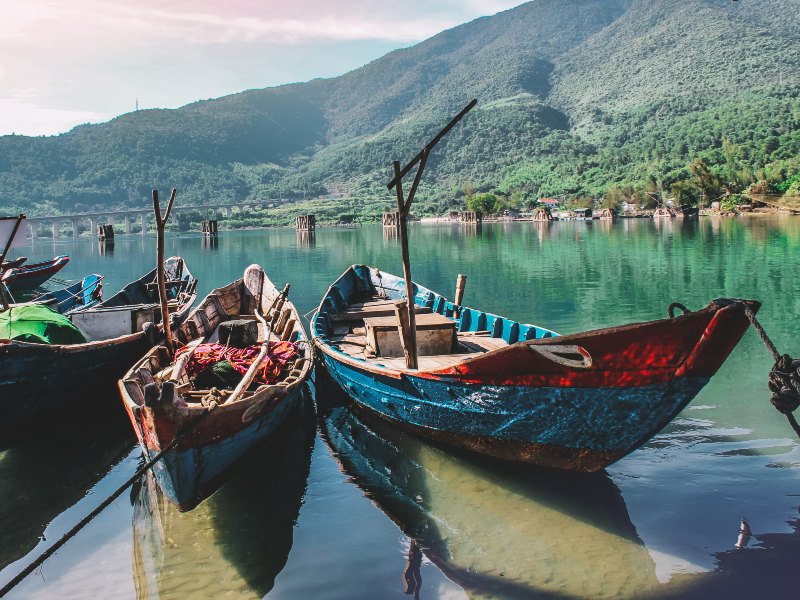 Lang Co is one of the more quiet beaches hosted by warm-hearted locals and filled with delicious seafood. For those reasons, it attracts various groups of visitors every year. As the temperature can go below 20 degrees Celsius (68 Fahrenheit) at the beginning of the year, the best time to visit Lang Co is from March to June for those who enjoy the traditional beach experience.
As the Lang Co beach is situated midway between Da Nang and Hue, visitors generally prefer to stop by for one day for some stunning pictures and alone time on the beach. If you are already drawn to the beauty of Lang Co beach, you should definitely squeeze it into your complete Vietnam travel plan for a refreshing experience.
8. Monkey Island – Cat Ba, Ha Long Bay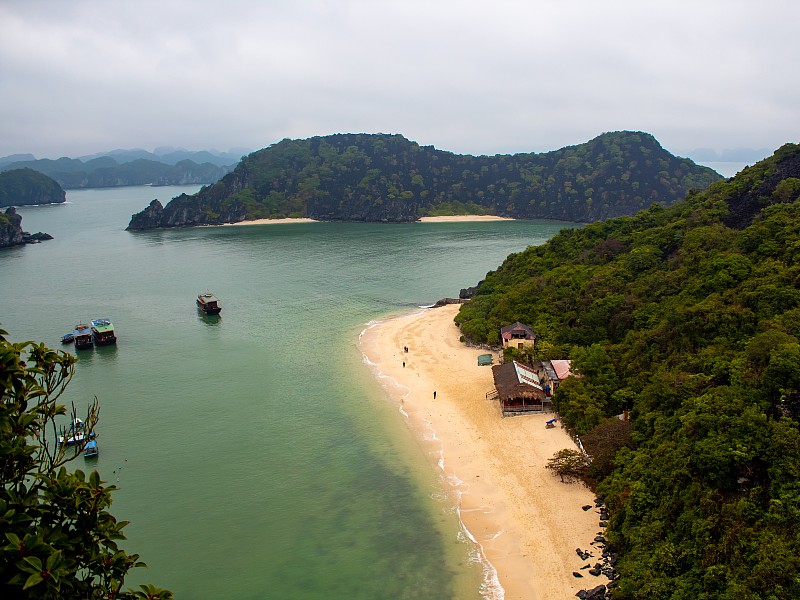 The gorgeous scenery viewed from Monkey Island
Ideally positioned within the Cat Ba Archipelago, Monkey Island's beach possesses outstanding scenery and never fails to dazzle its visitors with its chimerical beauty. Standing from the shore, you will have the chance to admire the other islands, charmingly dispersed throughout the sea and into the horizon. Even though the area belongs to Hai Phong province, Cat Ba is usually the midway stop to other destinations within the Ha Long Bay, making it widely accessible to travelers via cruise ships and boats.
Due to the curving shape of the beach, conveying a sense of coziness, and overall protection, Monkey Island is a wonderful location for a family trip. If you enjoy the presence of the crowd, do visit the island in the summer. Otherwise, our travel experts recommend planning your trip for some time between November and January.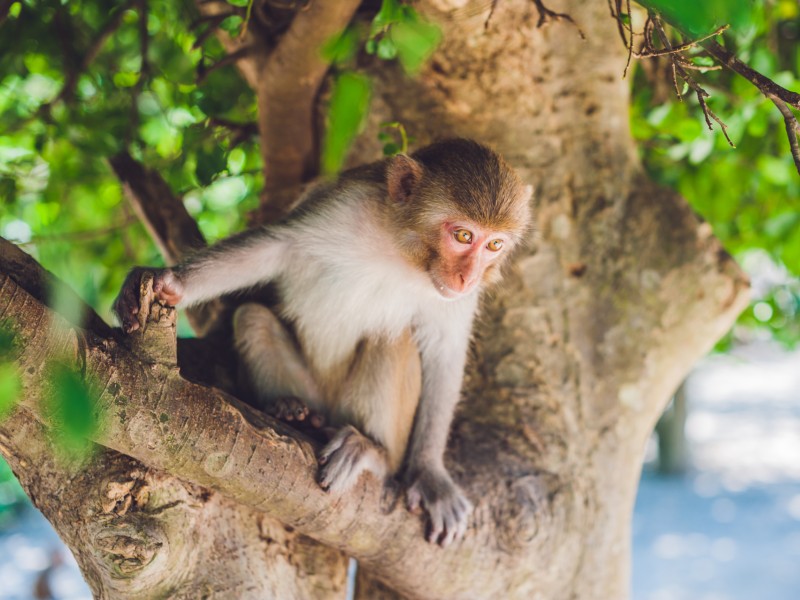 The water at the island is turquoise-gorgeous and perfectly complemented by the surrounding mountainous structure. Besides indulging in enchanting seawater and hanging out with the island's iconic monkeys, take advantage of what nature has to offer and build up your travel photograph collection via the spectacular view from the mountaintop. If you are feeling adventurous, don't hesitate to sail out further and explore the beautiful maze-like organization of floating mountain tips.
Top Picked Tour for Ha Long Bay:
Family Fun in Vietnam: This trip brings in a wonderful time for your family to be amazed by the beautiful scenery and culture of Vietnam. From Hanoi to Halong Bay, from Hue to Hoi An, and Saigon as the last destination, we take you through many fascinating spots of the country with quite a range of group activities to take part in.
9. Dam Trau Beach, Con Dao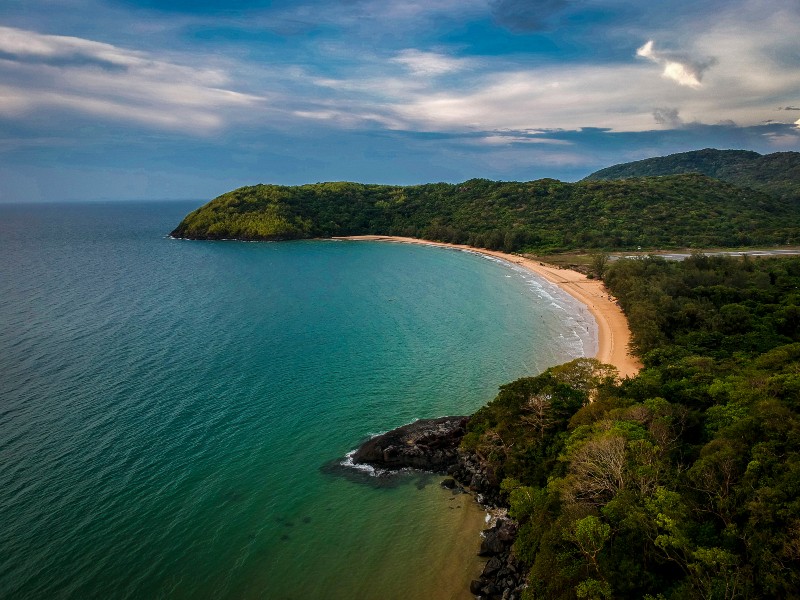 A secluded beach on the southern end of Con Dao, Dam Trau is an arc-shaped coast, alluring with yellow sand, deep blue water, and a quiet atmosphere. The beach has many shades as it is surrounded by tropical jungles and old green pine trees giving it a peaceful look. Upon arriving, you will be able to contemplate the cyan water nibbling the sandy shore and immerse in the mesmerizing charm of the beach. To enjoy the most beautiful weather, make sure to plan your trip to Dam Trau for some time between March and October.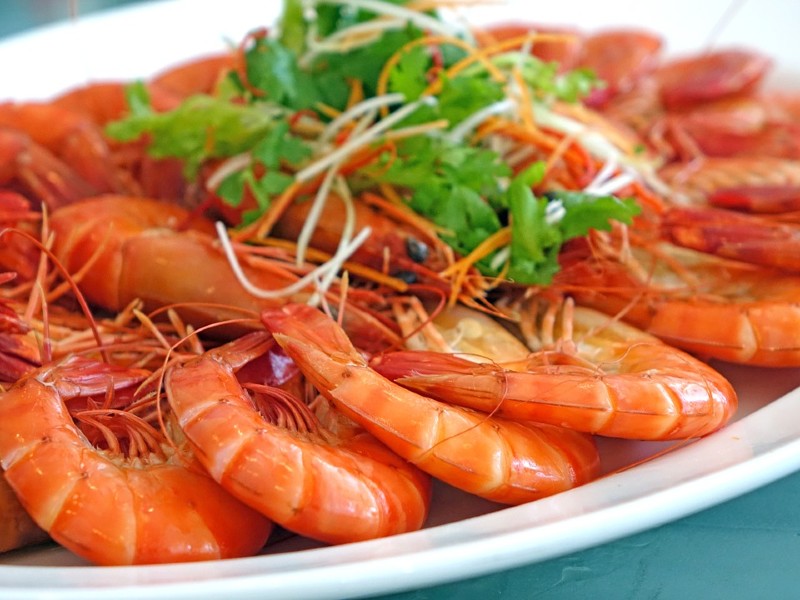 Once you are in Dam Trau, burn some calories by swimming in the lovely water then relax on the beach and let the sun tan your skin. Seafood is fresh and delicious at a reasonable price. As Dam Trau's location is near the airport so it's often to see planes landing very closely at the runway nearby. A spectacular view!
10. An Bang Beach – Hoi An, Da Nang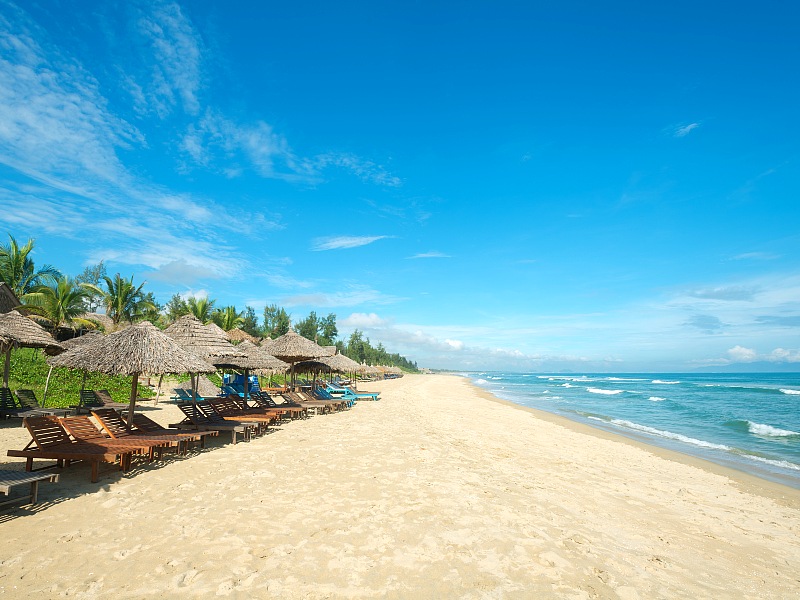 Last, but not least, is An Bang Beach – located in close proximity to Hoi An. In contrast to the exciting and colorful ancient town, An Bang beach is much quieter with a lovely view of what nature has to offer. To experience a breath of fresh air from An Bang, simply hop on a quick ride from the port of Hoi An.
Situated near the ebullient town of Hoi An, An Bang is the number one choice for travelers who need some time for relaxation amidst their journey. Although the beach is well-loved by both local and foreign travelers throughout all seasons, the area is especially popular during the dry season from March to September.
Good news for food lovers, An Bang also offers a wide variety of restaurant selections, ranging from Italian to local Hoi An's cuisine. Of course, let's not forget the delightfully fresh seafood while you are at one of the most beautiful beaches in central Vietnam. Regarding additional fun activities, visitors, as well as locals, usually rely on the dynamic lifestyle in Hoi An for an unforgettable travel experience.
Photo: Internet
TAG: