There is a wild and unique Bac Lieu sea in the southwestern part of the country!
Not prominent with the smooth white sand beach stretching along the clear blue water like Nha Trang, Vung Tau, … but Bac Lieu beach with one side of saltwater and alluvial side brings a new taste in the West. The South of our country creates a wild, rustic, and equally interesting beauty.
In terms of geographical location, Bac Lieu province is the land that connects Ca Mau province to form the southernmost region of the country, all in the southwestern region. Although quite far away, but Bac Lieu is not inferior to other western provinces in terms of tourist attraction because there are many famous attractions such as wind power fields, the Nha Mat tourist area, Quan Am Nam Hai pagoda, or a prince's house. Bac Lieu and the famous beach of the same name,… Traveling to the West and visiting these destinations, you will feel the beauty of the landscape, the architecture as well as the sincerity and innocence of the people. people "land of the bridge".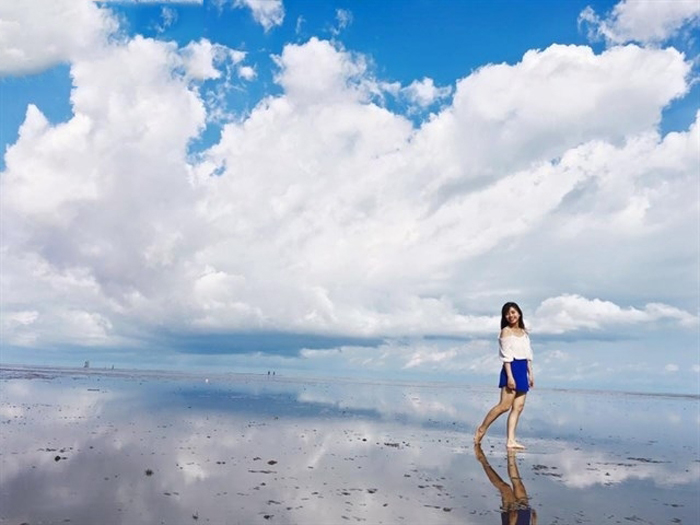 Bac Lieu is the land connecting Ca Mau province. Photo: poliva
Along LuhanhVietNam quite the beauty simplicity, gentleness and serenity of the famous beach Lieu nhe!
Where is Bac Lieu beach located?
The famous beach of Bac Lieu province is located along DT38 road. belongs to Nha Mat ward, Bac Lieu city. This place is only about 10km from the city center, so it is very convenient to move and combine sightseeing with many other famous tourist attractions in the inner city.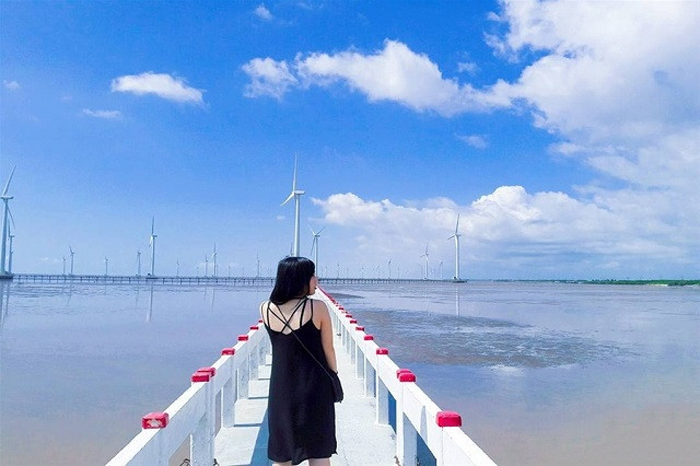 The sea is located along DT38 road. in Nha Mat ward. Photo: Efly.vn
If you want to go to this beach from Ho Chi Minh City and other provinces, you can choose one of two main means of transport: motorbike and bus. Departing from Ho Chi Minh City to Bac Lieu, it will take you about 6 hours to go through a 280km road.
If you choose to ride a motorbike, you will be able to take the initiative in the journey and freely stop to admire the scenery and take pictures at any time you like. Because along the way, there are many beautiful scenes with Western characteristics such as ripe golden rice fields or fruit-laden orchards or many bustling floating markets in the early morning like Nga Bay Hau Giang floating market .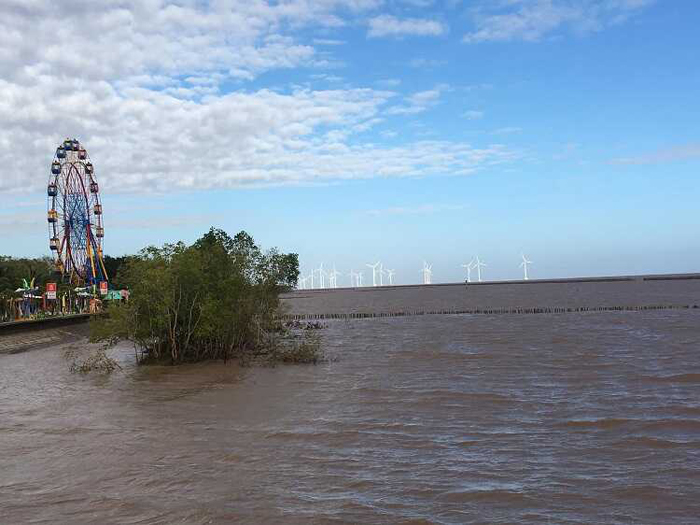 Bac Lieu is full of silt. Photo: 123didulich
If you go by motorbike, you go to the following route. First, depart from Binh Chanh and then go to Binh Thuan intersection. Then visitors turn to Highway 1A and continue to move about 30km to reach Tan An Bridge in Long An. You continue to go to Tien Giang province, pass the welcome gate to My Tho city and then head to National Highway 1A, go about 65km to My Thuan bridge. Crossing this bridge is the territory of Vinh Long province. You continue to move about 33km to Can Tho bridge. Here, visitors continue to run another 110km to reach the area of ​​Hau Giang Nga Bay. When the journey is about to end because you only need to go through Soc Trang province a bit more to reach Bac Lieu city. Now go about 10 km to Bac Lieu beach.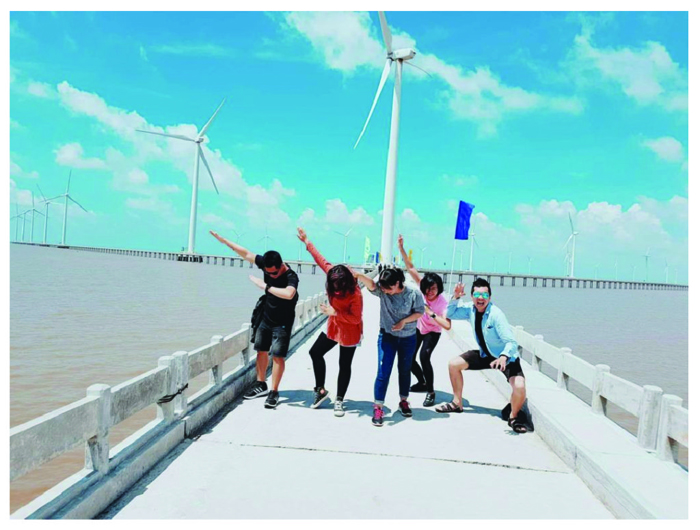 Check in the pristine beach. Photo: puolotrip
If you go by bus, the easiest way is to take the bus from the Western bus station in Ho Chi Minh City to Bac Lieu. Ticket prices range from 160,000 VND to 300,000 VND / person depending on the type of car. In this way, you only need to get in the car to sleep and get there because the travel time is about 6 hours. Traveling to Bac Lieu and checking in to the beach of the same name by bus is quite convenient because it saves time and keeps you healthy, but in return, it will not bring you as much experience as riding a motorbike, so depending on the situation. health and the schedule you choose. When arriving at Bac Lieu bus station, visitors just need to get off the bus and take a motorbike taxi to the beach, the price is only about 20,000 VND.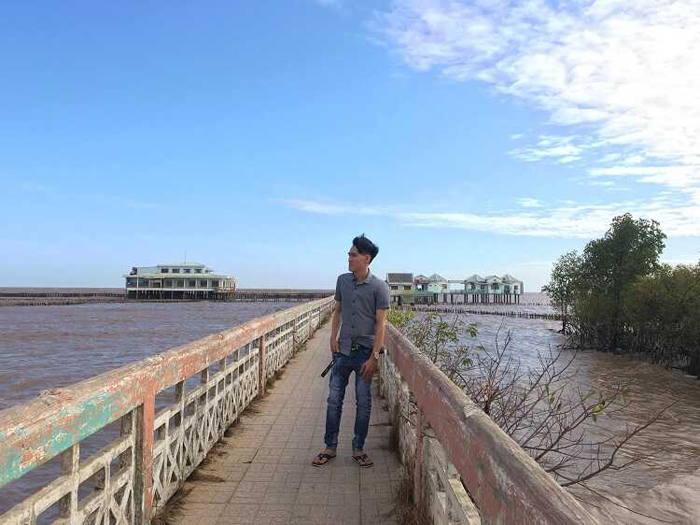 Stone bridge overlooking the sea. Photo: 123didilich
The best time to visit the beach in Bac Lieu
The weather in Bac Lieu as well as in the western provinces in general has only two seasons, sunny and rainy, with the average temperature being quite cool, and the dry season is not too harsh, so you can choose to go in any season of the year. However, it is ideal to come here in the 10th lunar month, because this season the weather is both pleasant and Ok Om Bo festival – one of the three biggest festivals of the year of the Khmer people living in Bac Lieu. Going on this occasion, you will enjoy exciting competitions such as boat racing, bag jumping, tug of war, smashing clay pots, …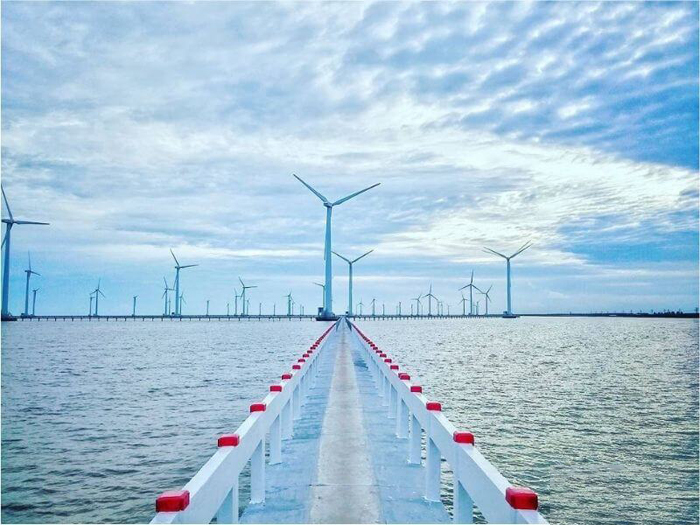 The sea in Bac Lieu is unique. Photo: dulichkhampha24
Discover the name and origin of Bac Lieu sea
According to many researchers, Bac Lieu is derived from the name of the canal of the same name. In ancient times, this area was inhabited by a lot of Trieu Chau people, they read the name of the sea as Po Leo with the meaning of poor hamlet, working as a silversmith, also known as fishing, going to the sea to fish. In Sino-Vietnamese, the word Po has pronounced Bac and Leo is read as Lieu, so the name of the sea is Bac Lieu as it is today. Some other opinions say that this place was once a garrison of the Laotians, however, today there are many Chinese people living here.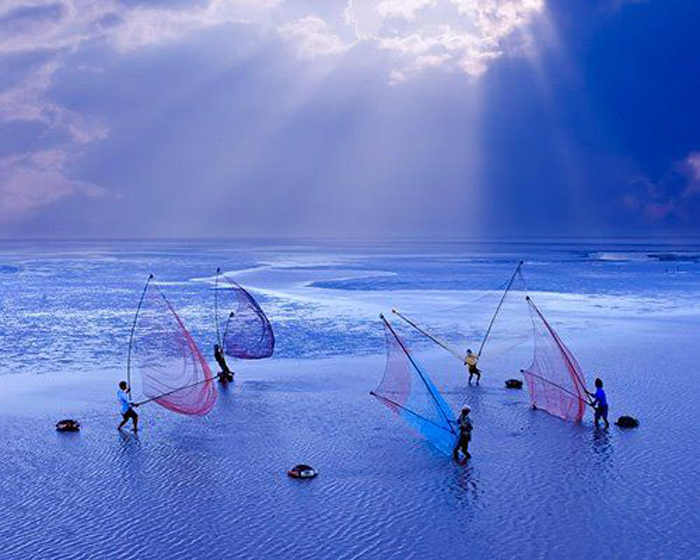 People make a living on the sea. Photo: Bac Lieu Tourism
Initially, when dividing administrative boundaries, Bac Lieu was separated from Ha Tien province and the province included the current Ca Mau province, so at that time the sea in Bac Lieu stretched from Bac Lieu province down to Ca Mau.
Excursion to Bac Lieu beach
Not owning fine white sand beaches stretching like Nha Trang, Mui Ne or Vung Tau, Ho Tram, but Bac Lieu's beach makes an impression with extremely special colors of the sand. It is a reddish-brown color made up of seawater, mud and alluvium of the river accreting the citadel, similar to Tan Thanh Tien Giang sea or Thanh Phu Ben Tre sea.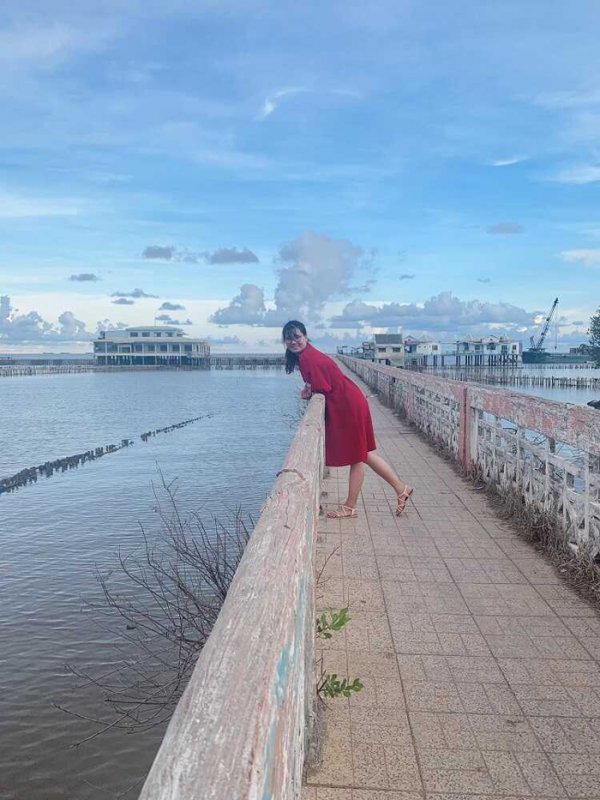 The salt water side, the alluvial side. Photo: Metrip
The sea in Bac Lieu has a wild beauty, not much intervention by human hands. Therefore, this place has a quiet, fresh atmosphere and contains a lot of poetry. This place is especially suitable for those who like to live in harmony with nature.
Besides, the beach area is also famous for many extreme virtual living photography angles. The first thing that cannot fail to mention is the stone bridge with a beautiful view of the sea. If you stand here in the early morning or at sunset when the afternoon sun is about to go out but there is still a yellow light left at the end of the day, then take some photos and selfies, it will be beautiful.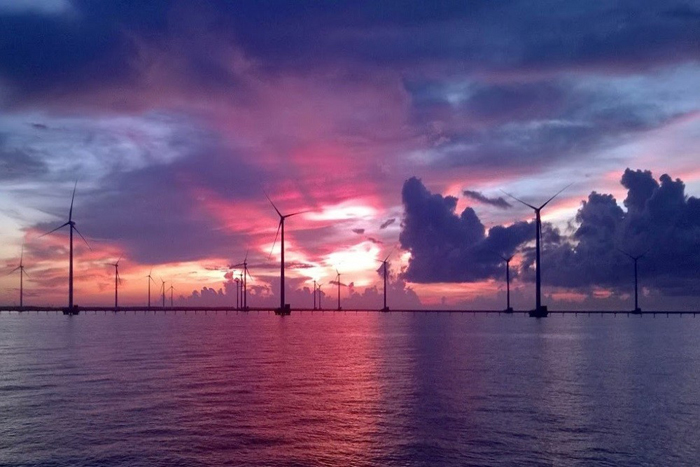 Sunset on the sea. Photo: tinxe
In addition, this area also has many other equally good views. From a distance, of course, it is the sea, but if you look closer to the shore, you will see a fairly large Ferris wheel in the middle of the forest of Nha Mat tourist area , next to the extremely famous wind power field creating Feeling poetic under the gentle sunshine in the early morning or late afternoon.
On the beach, there are also many small houses for tourists to lie down and enjoy the scenery, so if you are tired from walking a lot, then go there and listen to the waves of the sea to enjoy relaxing moments.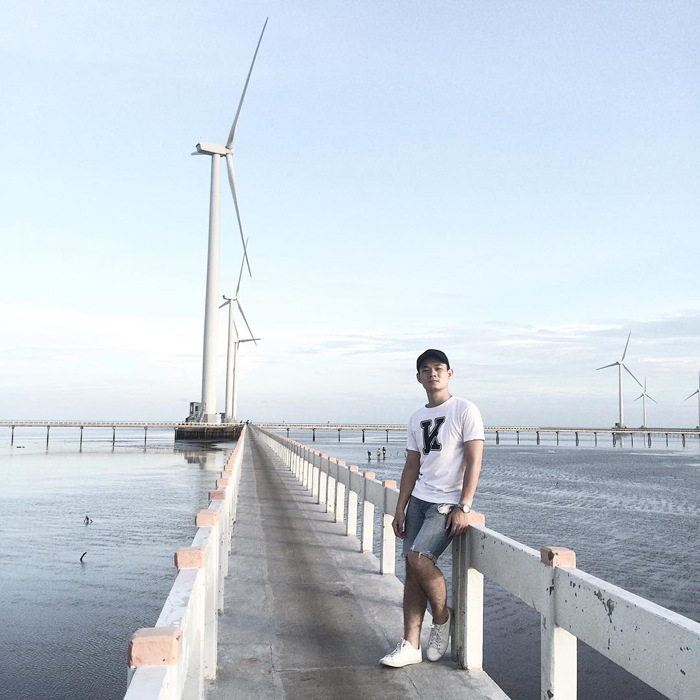 Many viewing angles are equally good. Photo: Mytour
What to eat when visiting Bac Lieu beach?
When checking in to the sea in Bac Lieu, you must definitely eat seafood here. With a source of fresh fish, shrimp, and crab, making every dish is delicious. Around the beach, there are many restaurants with affordable prices waiting for you to explore.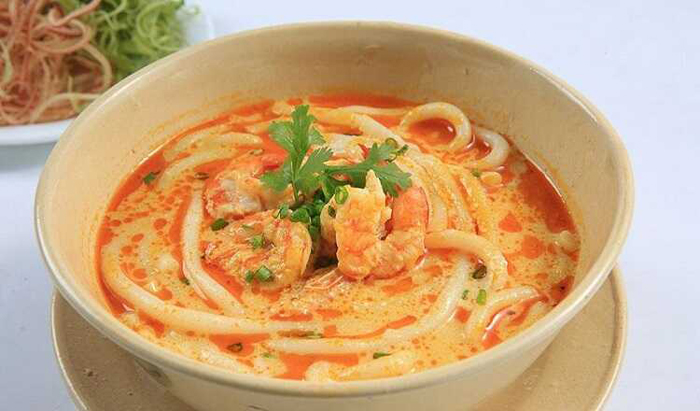 Shrimp soup with coconut milk. Photo: vntrip
Among the delicacies in Bac Lieu cuisine , it is impossible not to mention three Khia. This is a specialty that is hard to ignore when traveling to this land. After being caught, it will be processed into many delicious dishes such as: roasted tamarind, roasted with salt, boiled and steamed, … very rich and delicious with rice.
In addition to three aspects, vermicelli noodles, coconut milk shrimp soup, and coconut silkworm cake are also famous dishes of Bac Lieu that you must try.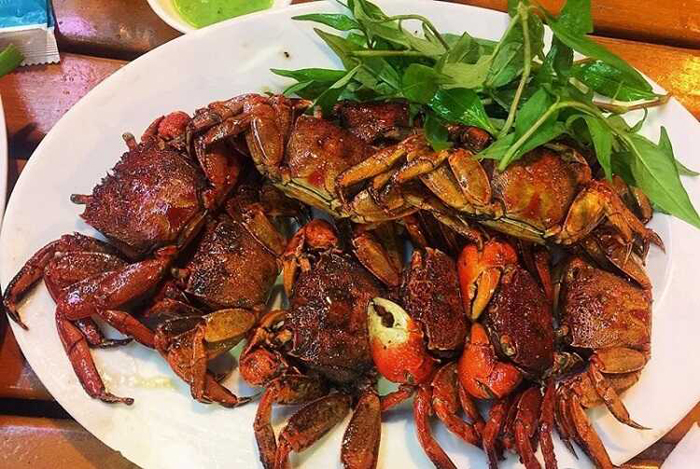 Bac Lieu tributary. Photo: vntrip
Tourist attractions located right next to Bac Lieu beach
Bac Lieu wind power field
The wind power plant located along the famous beach of Bac Lieu has just been completed not long ago with the turbines rotating like a giant pinwheel forest imprinted on the Southwest sky. Get lost in the land of windmills in Europe. And don't forget to come here to take hundreds of beautiful photos.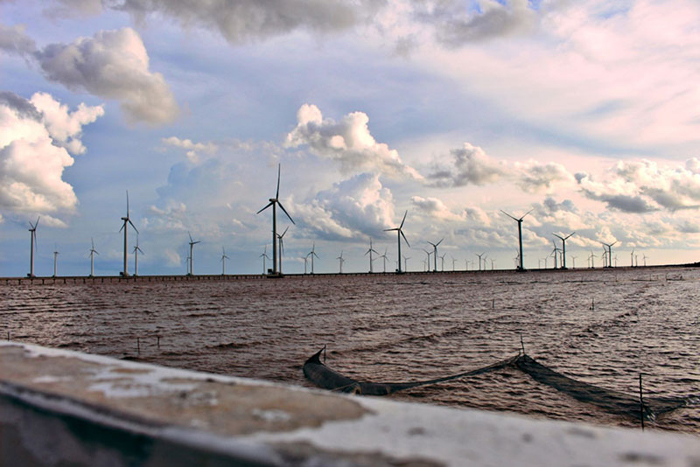 Wind power field right next to the sea. Photo: gody
Bac Lieu Bird Park
Located not far from the sea in Bac Lieu also offers garden birds – the common home of hundreds of thousands of water birds such as teal, storks, herons, cauldrons, piles, glossy ibis, … Me combines two tourist destinations This Bac Lieu .
Nha Mat tourist area
Bac Lieu cool house tourist area is an extremely popular tourist destination in this province. Even many tourists call this Suoi Tien or Dam Sen of Bac Lieu, so please check in here to enjoy the scenery, walk with friends, relatives and especially enjoy the choice of swimming in Bac Lieu or the sea. Artificial cool house depending on your preferences.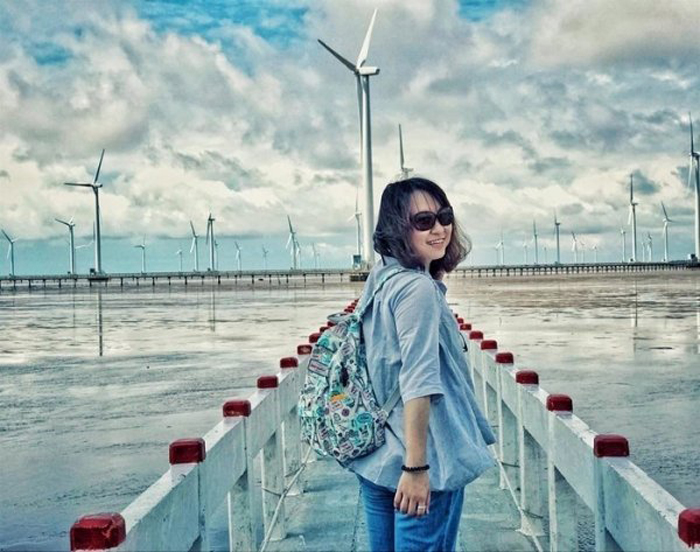 The beach is famous for many virtual photography angles. Photo: TCN.vn
Note when checking in the sea in Bac Lieu
When traveling to Bac Lieu beach, especially in the peak tourist season, you must be very careful to keep your belongings and personal items. Due to a large number of guests, robberies are rampant. When choosing a restaurant, visitors should choose the ones deep inside and find a place with a large number of customers, to avoid the situation of the guillotine. If the restaurant allows buying food to bring in to cook, remember to ask the price carefully before ordering to avoid misunderstanding or being cheated. Quickly schedule and get ready to do a trip to Bac Lieu, check in to the wild and interesting beach of the country with the house of Bac Lieu prince . Wish you have a happy and impressive trip.
Photo: Internet
TAG: