The scenery and new experiences in Ninh Binh
With unspoiled nature, charming scenery, Ninh Binh is currently one of the famous destinations of the North. Join us to discover the Ninh Binh tourist spots that are making many people fascinated.
The Vietnam National Administration of Tourism has just released a 60-second video featuring footage of the ancient capital Hoa Lu, Bai Dinh pagoda, Phat Diem church; Natural scenery of Trang An, Thung Nham, Van Long lagoons. In addition, there are cultural values ​​​​of traditional craft villages and new experiences such as heritage viewing by helicopter, golf tourism…
1. The land of talented people in Ninh Binh
Ninh Binh is a land of masterpieces with landscapes from mountains, rivers, caves, historical sites, communal houses and pagodas, eco-tourism areas, man-made works… Therefore, it not only attracts tourists. Not only that but also many film crews have come here to set the scene for movies such as Hollywood hit movies: "Pan and the Neverland", "The Quiet American", "Kong: Skull Island"…
"Welcome across the country
Back to Ninh Binh mountain grass reed
In the past, Bo Linh was at the top
Destroy the twelve lands and sing the song of peace."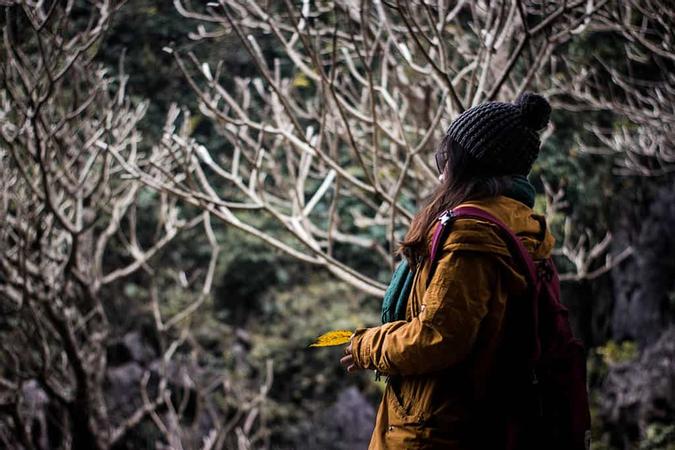 Take advantage of posing with dry leaves.2. How to move to Ninh Binh
Ninh Binh has located about 90 km from Hanoi, so we choose to travel by motorbike for convenience. From the center of Hanoi city, I move in the direction of Van Dien – Thuong Tin, then follow National Highway 1A to Ninh Binh city. The road is quite easy to go so it only took us more than 2 hours to get there.3. Ancient Bich Dong Pagoda
Our first Ninh Binh tourist destination is Bich Dong Pagoda. This pagoda was built on the slopes of Bich Dong mountain, located in Tam Coc – Bich Dong tourist cluster, in Ninh Hai commune, Hoa Lu district, Ninh Binh province.
We came to Ninh Binh on a New Year's day, so we decided to go to the temple for peace of mind. On New Year's Day, the temple is not noisy at all, in return, it is a peaceful temple scene in spring.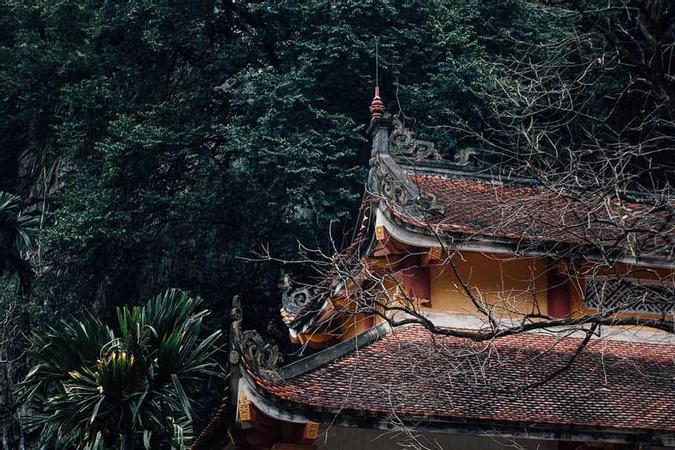 Ancient tile roof at Bich Dong pagoda.
Bich Dong Pagoda is a pagoda in a cave, with three pagoda areas: Lower Pagoda, Trung Pagoda, and Upper Pagoda. The pagodas are placed in positions from low to high. Mountains, caves and pagodas intertwine, hiding among the green giant trees, the panorama is like a majestic picture of mountains and forests. In the season of changing leaves, many persimmon trees have fallen off, leaving only a few ripe yellow persimmons.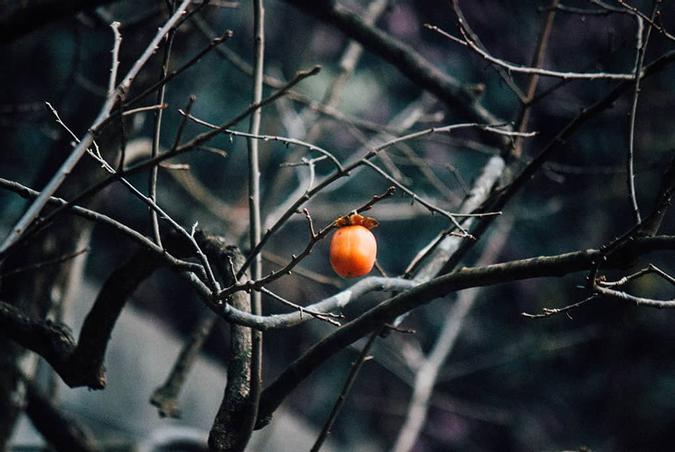 Yellow persimmon fruit left on the tree.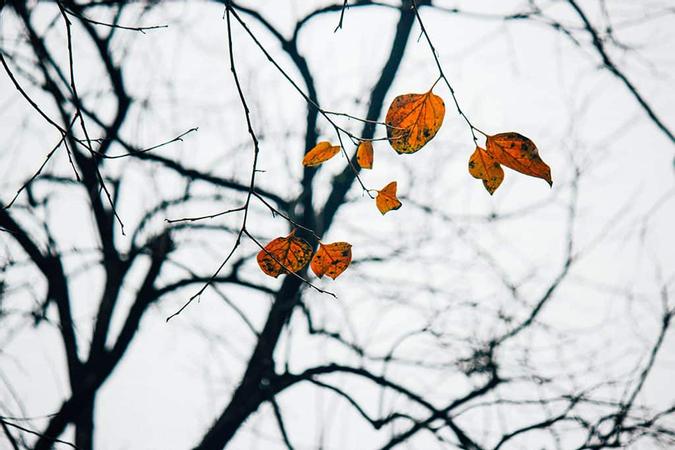 The yellow leaf in the changing season.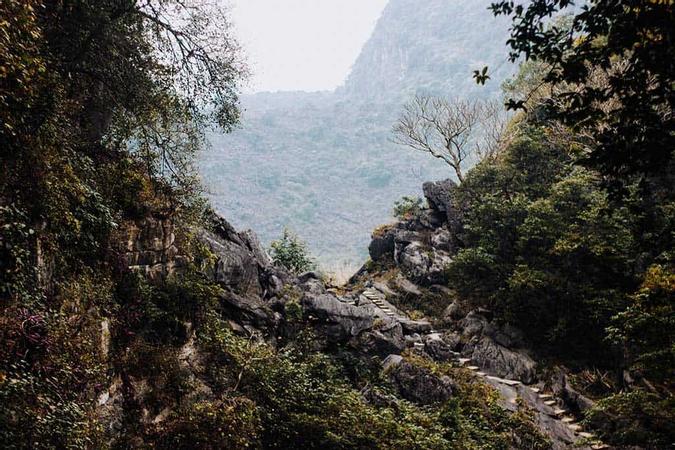 The road leading to the fairyland.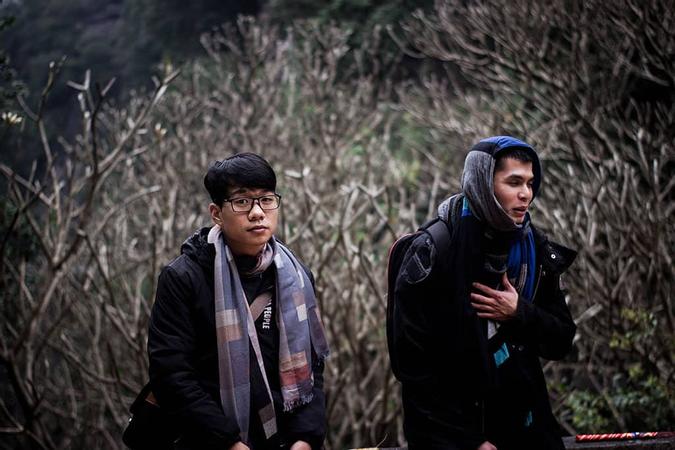 Two friends come with us.
As soon as I arrived here, I felt like all the noise of the city or the hustle and bustle of life had disappeared. We said to each other, "It is true that Vietnam has many beautiful places. If you stay at home, you will never see so many beautiful and peaceful scenes."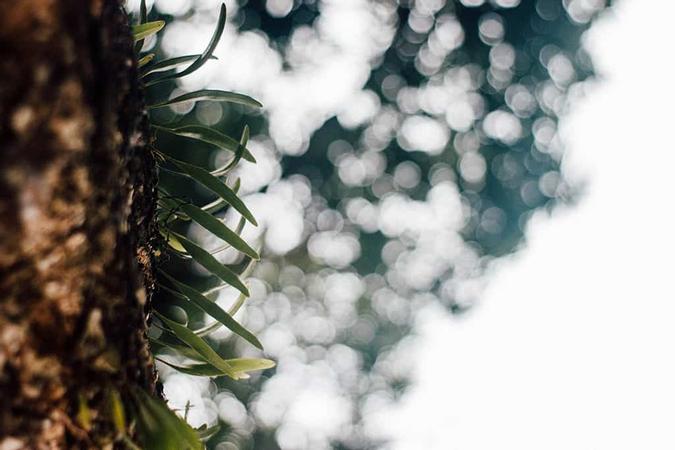 Lush green saplings grow on an old tree trunk.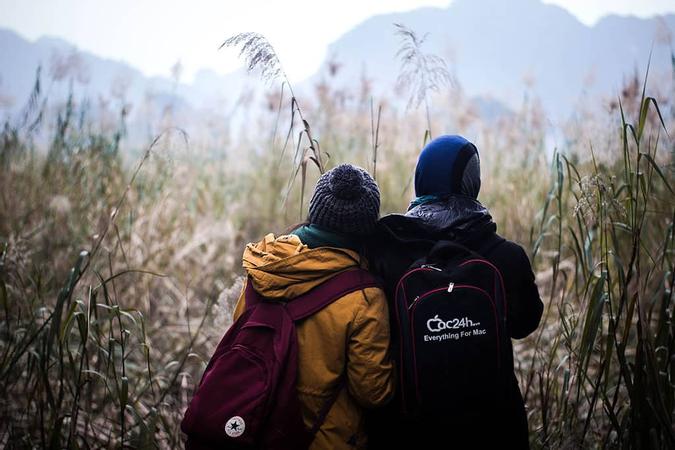 The reed beach is near the ancient Bich Dong pagoda.4. Thung Nham Bird Garden
Referring to Ninh Binh tourist destination, people often think of Trang An, Tam Coc, Bai Dinh… But in recent years, Ninh Binh has also been known for another place called Thung Nham – which is compared to other places. Like a miniature Southern garden thanks to the green natural scenery.
Located in Ninh Hai commune, Hoa Lu district, 10 km from Ninh Binh city center, Thung Nham (also known as Thung Chim) is home to thousands of bird species with many rare species of birds.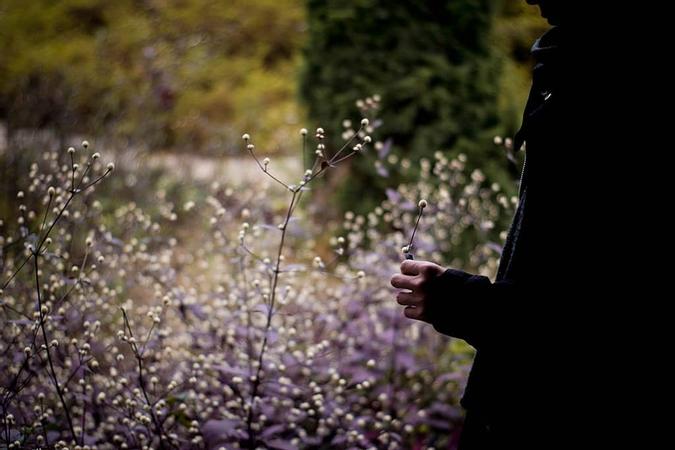 Lines in the beautiful white flower garden.
Boarding the boat, we went down the river covered with water lilies in full bloom to visit other landmarks such as But Cave, Tien Ca Cave. The most interesting thing about But the cave is that there is no light system in the cave, so we were given flashlights by the ferry driver cum guide for sightseeing.
In the cave, there are many magical shimmering stalactites that really stimulate the curiosity and imagination of visitors. The boat drivers here are very friendly, she even sang the song about "Dark Cave" very well (boat ticket 20,000 VND/person).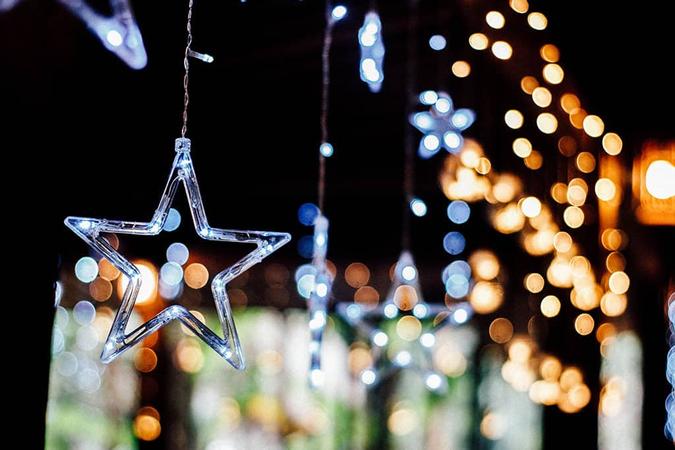 Twinkling lights at a restaurant in Thung Nham.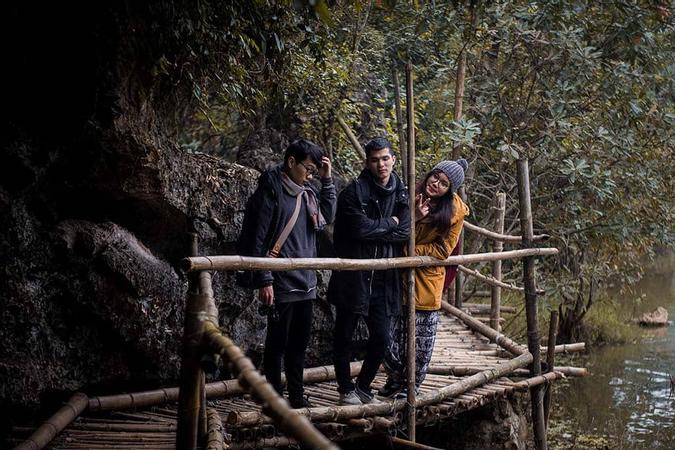 We are on the wooden bridge to the bird garden.
Before we left, we were looking forward to seeing a green mountain full of birds there. But because it was a bit late, around noon, the birds had almost all flown off to find food. If you want to see such a lively natural scene, try to come early!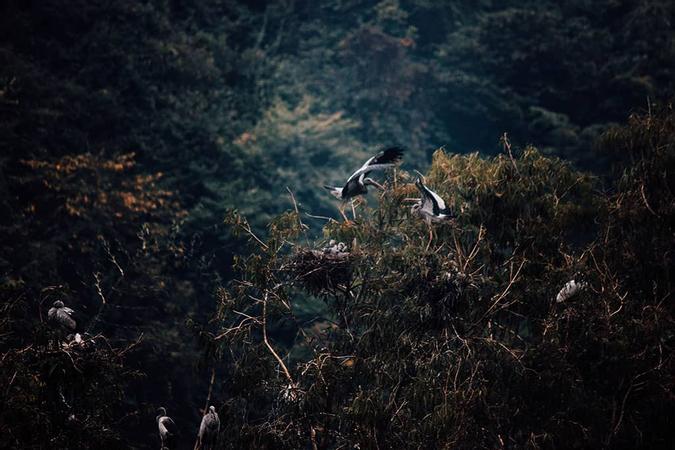 The storks were poking their wings in the distant trees.
After that, we rented bicycles to visit the thousand-year-old Duoi tree, the banyan tree moving and enjoying the fruits in the garden.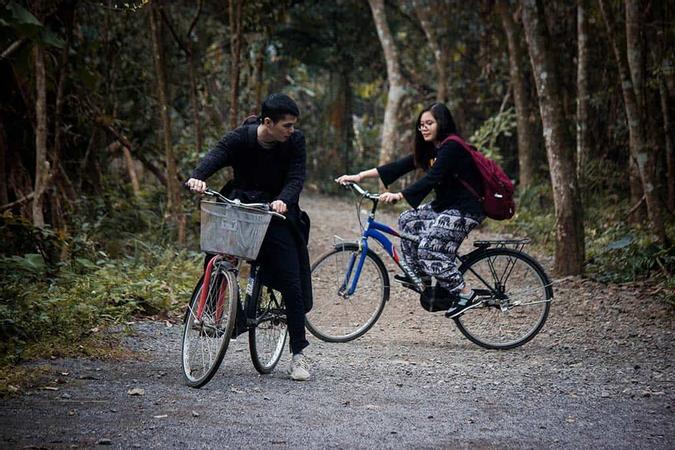 Cycling into the forest is also a fun experience!5. Homestay Ninh Binh Panorama
We stay at a homestay called Ninh Binh Panorama located in Khe Thuong commune, Ninh Xuan, Hoa Lu, Ninh Binh. This homestay is me being pointed by a friend. This place is suitable for those who want to find a place to rest and want to escape the hustle and bustle of Hanoi for a moment.

Your friend is contemplating.
Lying along the mountainside, fields appear in front of our eyes, is this what people say is in the middle of nature? No car horns, dusty air, no noise, and bustle. After coming here, I know what "peaceful" means!
There is nothing better than enjoying a cup of coffee, sitting in a swinging hammock while watching a flock of white storks flying over the sky, watching the sunrise in the afternoon, In the morning, you can hear the music of nature with birds chirping.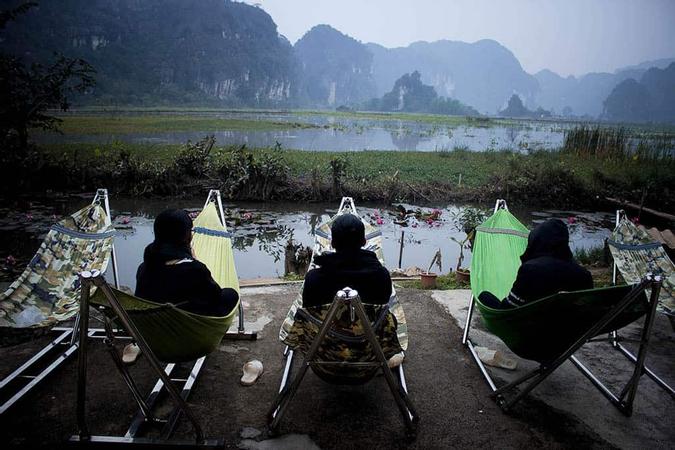 We just want to stay here for a long time.
In addition, anyone who has a hobby of fishing or wants to try new experiences can come here with the owner through the ponds around the homestay. Ninh Binh Panorama has 2 types of rooms: small room and large room. We stayed in a small room, about $20 (about 450,000 VND / 2 people), and the big room was up to $50 (about 1,050,000 VND) but recognized as "whatever you pay". Most of the prices here are in dollars because most of the guests are Western, so this is also an ideal place for those who want to make friends and practice English.
Another plus point is the free use of bicycles and breakfast, everyone!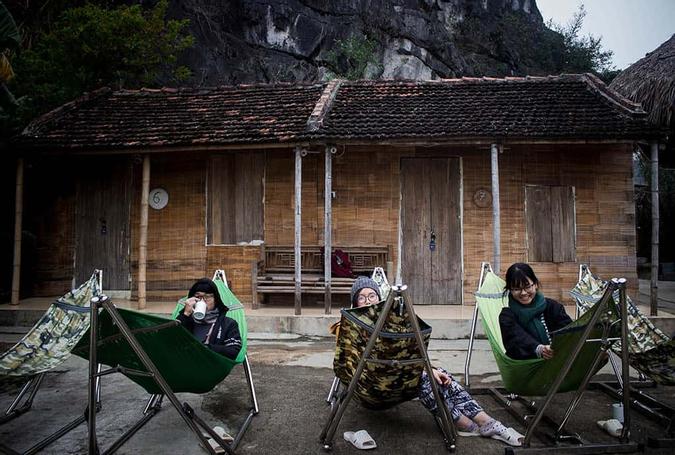 The three of them sat drinking coffee and "relaxing" in the middle of nature.
To get here, from Ninh Binh city, you look to turn onto Trang An street and then continue straight, then turn left at the roundabout and turn right on Xuan Ang Noi street. Because the way to the village will be a bit confusing, here you can ask the locals or use Google Maps to find "Ninh Binh Panorama" and follow the instructions.
I have traveled and loved this land so much, Ninh Binh tourist attractions always know how to attract and fascinate people. Come here once and I believe you will love this land of genius as much as I do.
Photo: Internet
TAG: