Admire #15 top tourist destinations in Vietnam
Vietnam is a curved, S-shaped country with many scenic spots of natural beauty and unique culture, which is a great destination in the eyes of tourists. The North has Sapa, Ha Giang, Ninh Binh, and Ha Long. The central region has Hue, Quang Binh, and Da Nang. The South has Ho Chi Minh, Phu Quoc, the Mekong Delta… Where have you been? Although the whole country is struggling against the epidemic, let's stay with Vinlove in the Top 15 more beautiful Vietnamese tourist destinations in the West to have the opportunity to visit. 
A. Vi vu discover Vietnam tourist destinations in the North
1. Hanoi capital – the land of thousands of years of civilization
Vietnam tourism definitely cannot ignore the capital Hanoi – a land of thousands of years of civilization, associated with the heroic history of the Vietnamese nation. Walking around Hanoi 36 streets, many typical old quarters, preserving ancient architecture as well as long-standing traditional values, visitors will immediately fall in love with the peaceful beauty of this place at first sight.
The beauty of Hanoi is hard for anyone to feel just once when coming here, because Hanoi is beautiful in everyone's eyes from the smallest things. Just carrying the street vendors costs a lot of poets and poets, just a branch of chrysanthemum flower can create nostalgia for couples or the first dish of the season also creates a unique feature that few places which can be. 
The festival is also the thing that leaves the most impression in the hearts of tourists from all over the world. Already the capital of the country, Hanoi has thousands of historical stories, unique spiritual festivals, especially Tet. If you come to Hanoi on Tet holiday, visitors will have a moment of surprise to Hanoi "no one passed".  
Relics combining culture and people have created Hanoi a beauty of thousands of years of civilization that few countries in the world have all these three factors.
Traveling to Hanoi, do not forget to explore the following places: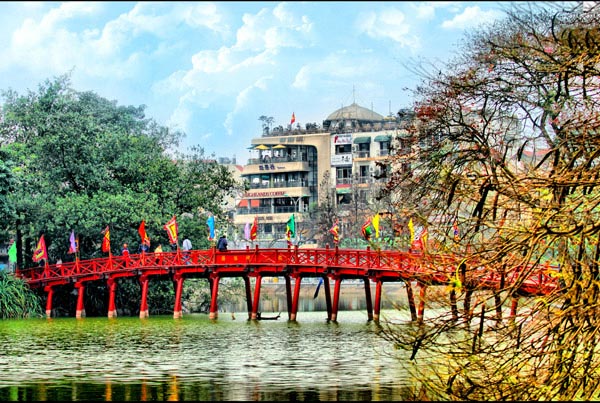 The Huc Bridge is curved in the shape of a shrimp tail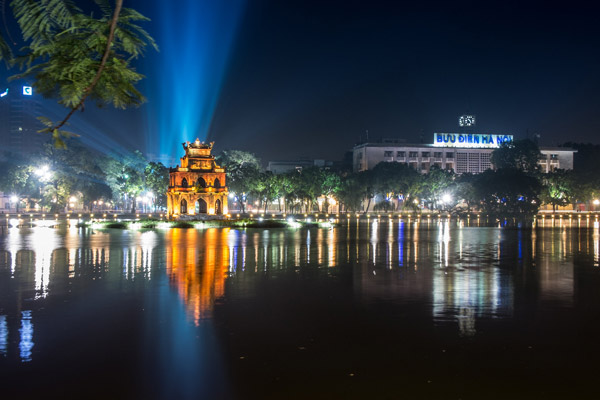 Walking around Hoan Kiem Lake – Hanoi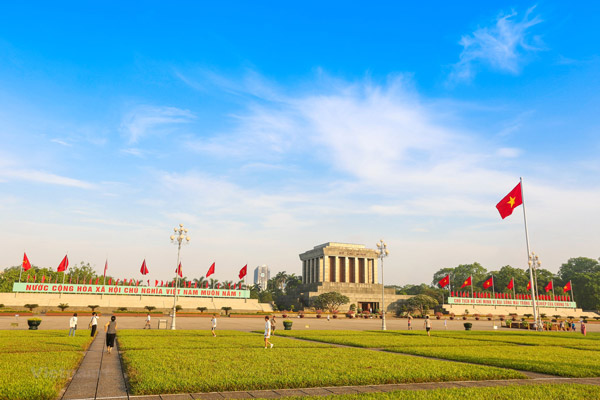 Visit Ba Dinh Square – visit Uncle Ho's Mausoleum

The brilliant beauty of Ngoc Son Temple at night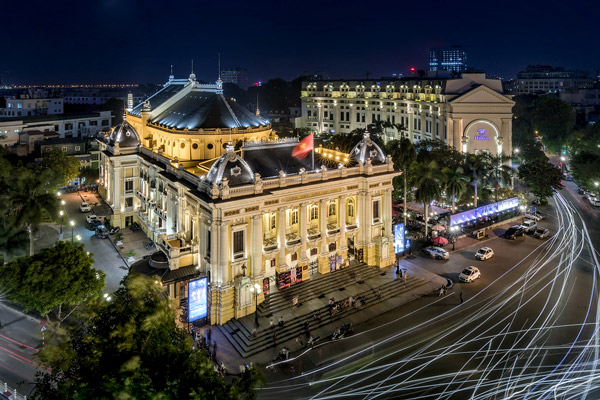 Hanoi Opera House
Discovering ancient and poetic monuments and landscapes will be unforgettable experiences in the hearts of domestic and foreign tourists. The street vendors in the early morning or the familiar sidewalk iced tea shops also partly show the idyllic, close and friendly beauty of the people of the capital.
2. Hunting clouds in Sa Pa – admire the impressive beauty of terraced fields
If someone asks about the most idyllic, peaceful, rustic and beautiful place in Vietnam, Sapa is the perfect answer. Sa Pa is a highland town in the northwest of Vietnam, where clouds cover all year round and terraced fields stretch to the horizon.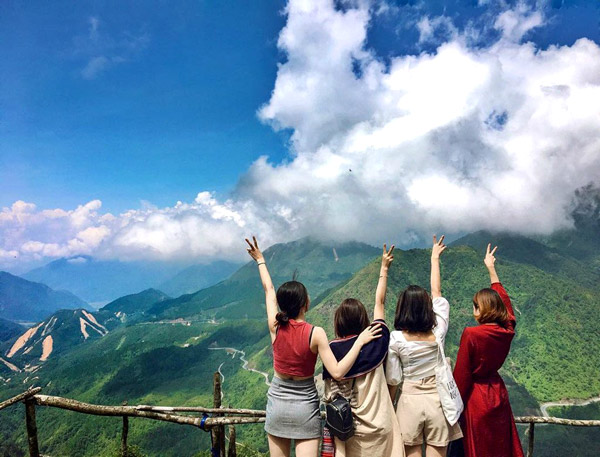 Sa Pa is one of the most worthy tourist destinations in Vietnam
The impressive beauty of Sapa terraced fields is in the top 7 most beautiful terraced fields in Asia and the world voted by Travel and Leisure magazine (USA) (2009) and ranked by the Ministry of Culture, Sports and Tourism. as a national scenic heritage in November 2013.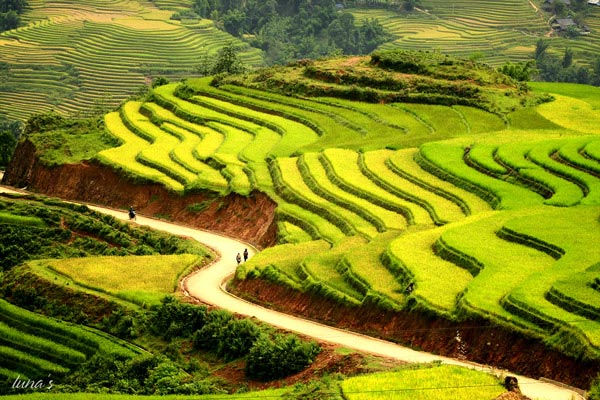 Come to Sapa to admire the impressive beauty of terraced fields
Charming scenery, kind, sincere, hospitable people, simple and rustic life and a very peaceful life are what visitors can feel when coming to Sapa. In addition, Sa Pa also entices visitors by the dishes of the forest and mountains, and salmon is the dish that leaves the most impression in the hearts of tourists. Although the people here do not process or have a special way of cooking, the salmon here is very fresh and delicious, which is almost nowhere to be found. 
Not only that, coming to Sapa in the white snow season in December, you will feel like you are traveling abroad. Let's take a look at some interesting stops with Hue Smile Travel when visiting Sapa!
Muong Hoa valley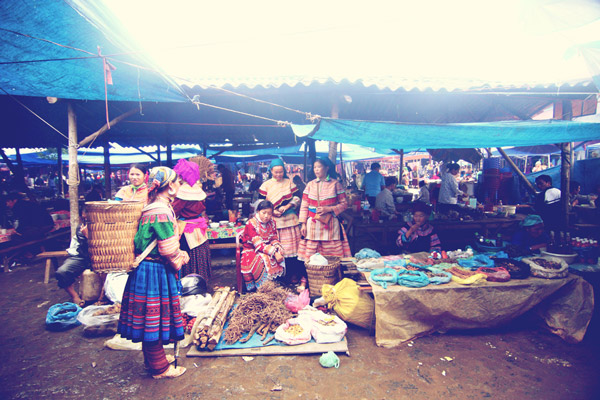 Bac Ha market – the cultural beauty of the mountains of Vietnam

Conquering Fansipan Peak – The Roof of Indochina
There is a brilliant Sapa at night
If you are looking for tourist destinations in Vietnam, do not ignore the majestic and poetic natural landscapes of Sapa.
3. Check-in the buckwheat flower season in October in Ha Giang
Also located in the Northwest, Ha Giang has a distinct beauty, with narrow, winding, spectacular roads running through majestic mountains. If you have fallen in love with the beauty of Sa Pa, Ha Giang once again brings a sense of adventure like never before.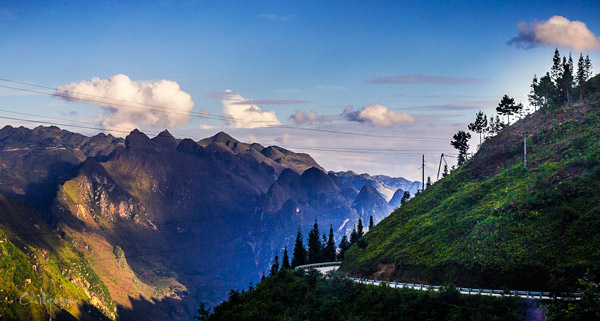 The famous spectacular Ma Pi Leng Pass in Ha Giang
Arriving in Ha Giang, visitors will not be able to resist the wonderful beauty of this unspoiled land. Ha Giang is beautiful every season, well worth going and experiencing. Ha Giang is a place that attracts backpackers, nature enthusiasts and adventurers. Ma Pi Leng Pass is winding and dangerous, as if challenging humans to conquer nature. 
Coming to Ha Giang in October, visitors will be captivated by the white buckwheat fields. The petals are pale, adorned with dreamy purple colors, making the whole hill seem to cover a carpet of brilliant colors. Flowers grow on hills, foothills and even bring intense vitality to the cliffs full of dangerous thorns. Because of the color of buckwheat flowers, even the dangerous mountains and forests become gentle.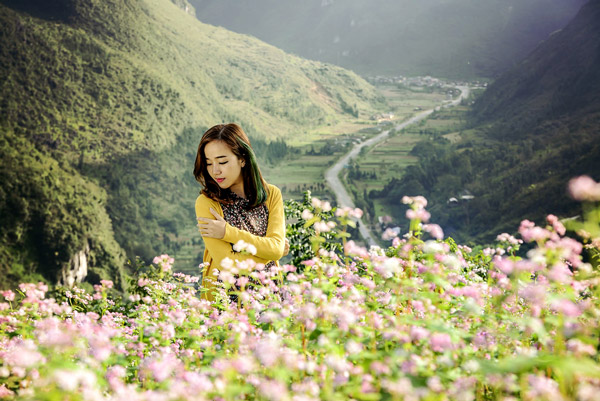 The buckwheat flower season in October fills the whole sky of Ha Giang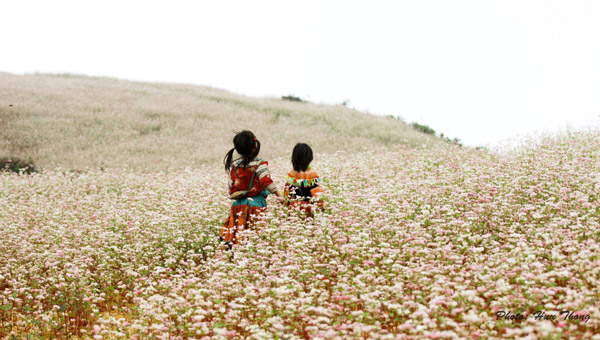 Ha Giang village is as beautiful and gentle as princesses
4. Ninh Binh is one of the must-see tourist destinations in Vietnam
The next destination in the journey to discover the beauty of Vietnam tourism that visitors should visit at least once in their life is Ninh Binh. This place fully converges the long-standing historical and cultural heritage such as Hoa Lu Ancient Capital, Cuc Phuong National Forest, Trang An eco-tourism area, Bai Dinh Pagoda, Tam Coc – Bich Dong …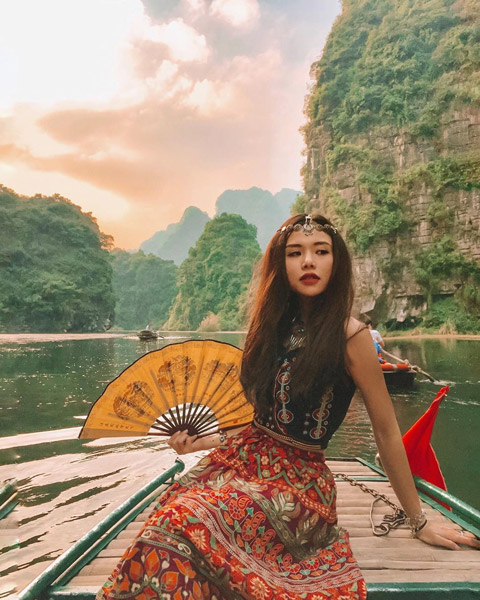 Trang An – Ninh Binh eco-tourism area shimmering among majestic mountains
Traveling to Ninh Binh, do not forget to experience the boat ride on the Ngo Dong River, enjoy the endless beauty of the mountains and rivers, explore the magical and mysterious caves in Tam Coc – Bich Dong. Or the filming area of ​​Kong: Skull Island was reconstructed in the ecological complex of Trang An. If you love history, you will come to Hoa Lu ancient capital – where historical relics have been stored for more than 1000 years. 
Coming to Ninh Binh, you must visit Mua Cave located at the foot of Mua Mountain. Visitors can test their endurance when climbing to the top of the mountain through 486 stone steps, and from the top we can admire the whole beauty of Tam Coc area with vast, green rice fields. . 
Possessing charming country beauty, Ninh Binh is the first choice of international tourists when traveling to Vietnam. Famous places in Ninh Binh "fascinate" tourists: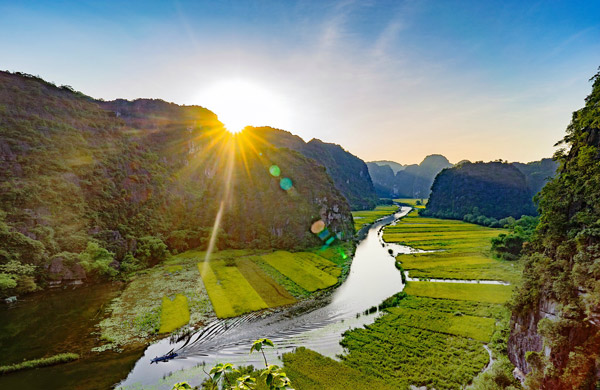 Beautiful scenery in Tam Coc – Bich Dong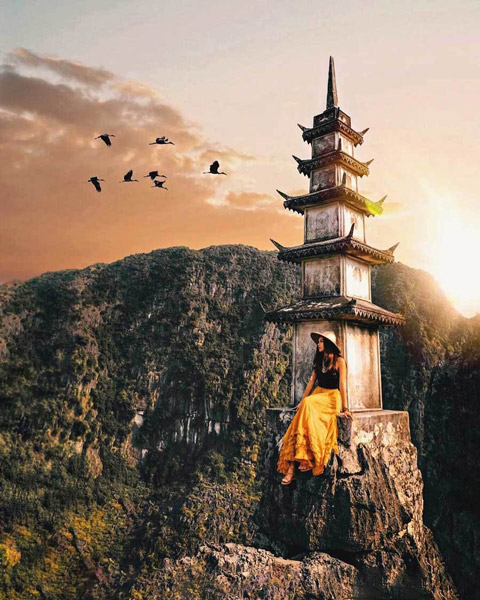 Sitting on Mua Cave, Ninh Binh can see the majestic mountains
5. Ha Long Bay
Ha Long Bay is a very famous name in the tourism village of Vietnam. Not only impressing visitors with the wonder of nature, unique and wonderfully shaped rocks or picturesque scenery of clouds, rivers, and water, Ha Long Bay also brings a sense of peace. , comfortable for visitors every time they come here.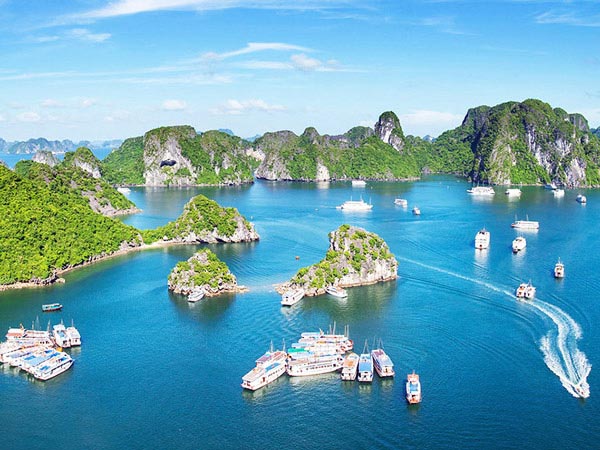 Ha Long Bay is the most attractive tourist destination in Vietnam
Ha Long Bay includes island waters and Van Don island district, in Quang Ninh province. With a coastline of 120km, hundreds of large and small islands with limestone islands, rocky mountain systems and caves, Ha Long Bay is the pride of Vietnam, one of the top 29 most beautiful bays in the world and recognized by UNESCO. twice recognized as world natural heritage.
If you are a tourist who likes to relax, then Ha Long Bay is the best destination. Just sail on a yacht on the high seas, admire the unique islands, close your eyes and immerse yourself in the clear blue water village, all worries and fatigue will surely disappear. Ha Long Bay not only attracts domestic tourists, but its beauty has made foreign journalists also spend ink when witnessing it with their own eyes.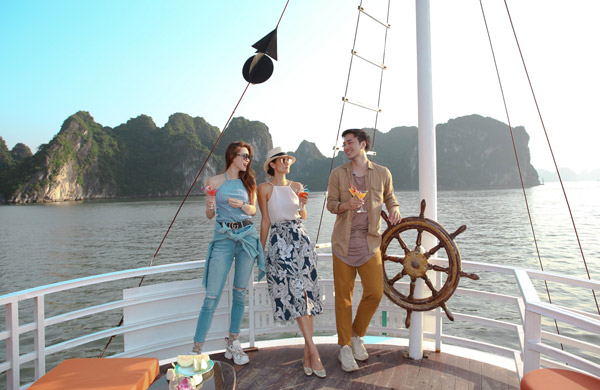 Ha Long Bay is a Vietnamese tourist destination attracting domestic and foreign tourists
Traveling to Ha Long Bay, do not forget to visit Cat Ba island district, often enjoy the majestic beauty of Ha Long Bay from the perspective of Bai Tho mountain, explore Lan Ha Bay and rocky islands with reliefs carved out of the reliefs. Made from the hands of Mother Nature.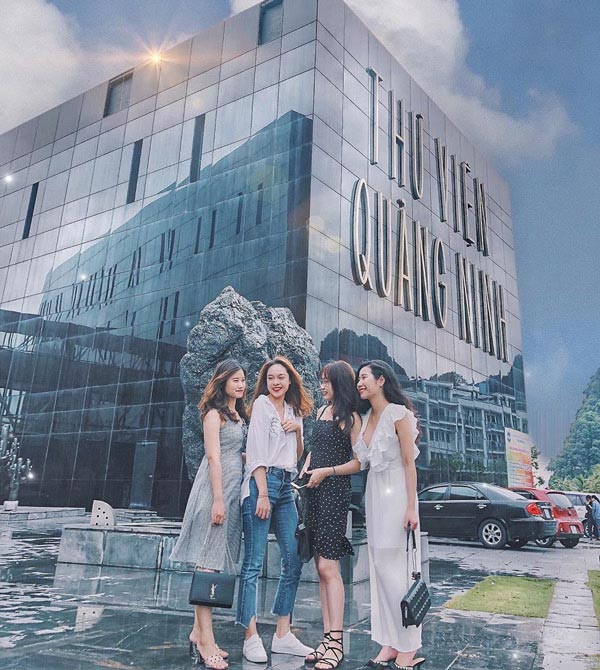 Check-in beautiful Ha Long Bay forget the way back
B. Central region has many top tourist destinations in Vietnam
6. Phong Nha – Ke Bang – the masterpiece of nature
Phong Nha – Ke Bang National Park has long become the hottest tourist destination in Vietnam. Phong Nha – Ke Bang in Quang Binh has poetic landscapes, impressive cave systems, immense mountains and rivers, many rare and precious species of flora and fauna, attracting millions of tourists every year as well as many local houses. Explorers all over the world come to explore.
And Phong Nha Cave is a typical place when it comes to Quang Binh, the beauty of Phong Nha cave is both majestic mountains and charming rivers. Entering Phong Nha cave, visitors will know what is flowing water and worn rocks. The erosion of rainwater into limestone has caused intense cleavage in the mountain ranges to form diverse terrains: mountain beds become caves, massifs are split into steep cliffs and scenes strange … When tourists look up and then turn sideways, turn back to see, the images of stalactites, of shimmering lights reflected. Everyone is in awe of the beauty.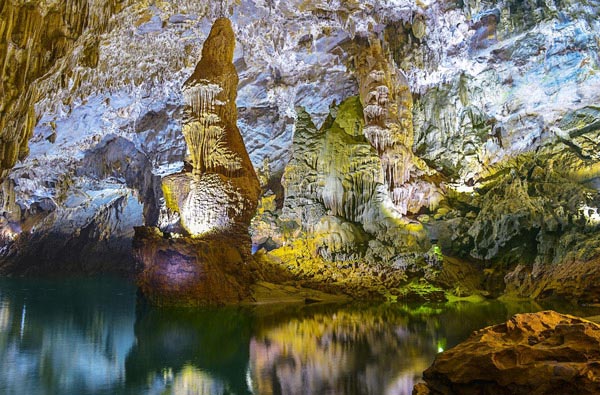 Phong Nha – Ke Bang in Quang Binh is a masterpiece of nature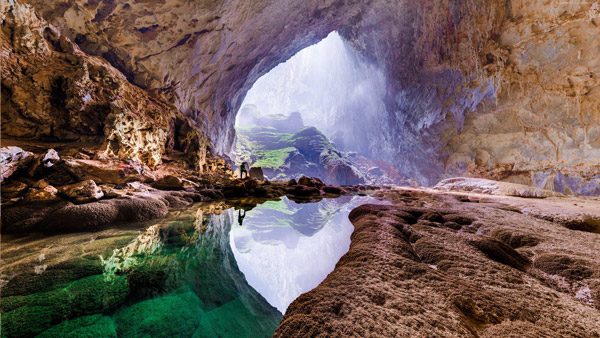 Son Doong Cave is considered the largest natural cave in the world, becoming a treasure of Vietnam tourism
See more: The most perfect Quang Binh 2021 travel experience
7. Hue Ancient Capital Tourism – the land of national heritages
Wherever you go throughout Vietnam, don't forget to visit the ancient capital of Hue. Hue is a peaceful, ancient city with heritages and architectural works bearing the country's history.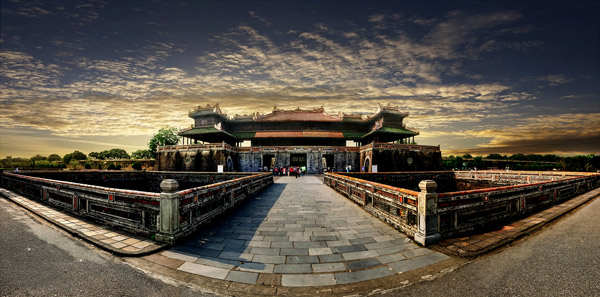 Hue ancient capital – the land of national heritages
Since the Nguyen Lords in the 19th century, Hue has been a promised land with a culture imbued with national identity as well as a "cradle" of rich and unique cuisine that is unmatched anywhere else. 
Inheriting the architectural beauty of the heritage of the Nguyen Dynasty, inheriting the beauty in the culture and customs of the Royal Palace, Hue has converged enough and deep for visitors to come here to also nod. If the visitor's soul is deep enough, quiet or looking to find peace, Hue is the place to help you slow down, understand deeply and regenerate your energy. 
Anyone who comes to Hue will be surprised: "Hue does not have anything" but if you slow down and live slower than your daily life, you will see that "Hue – everything is there but nowhere is it. have been".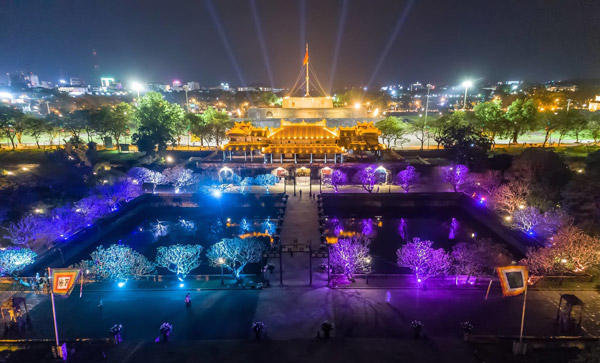 Hue Citadel at night is as splendid as a castle
Visitors always have a special affection for Hue not only because of its quiet and ancient beauty, but also love the special dishes as well as the people and peaceful pace of life here.
If you have the opportunity to visit Hue, experience all of the following to make your Hue discovery more wonderful.
Visiting Hue Citadel
Visit the mausoleums: Tu Duc Tomb, Minh Mang Tomb, Khai Dinh Tomb, …
Thanh Tan hot spring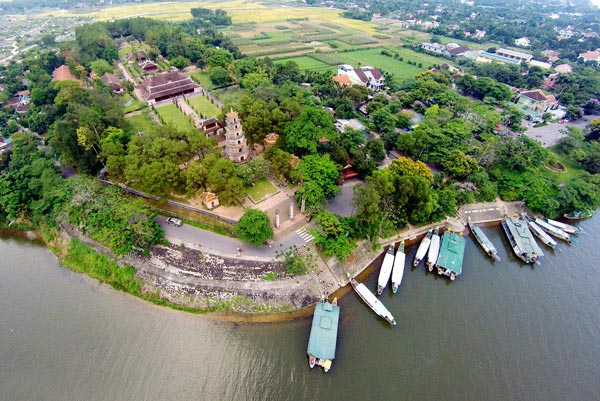 Thien Mu Pagoda seen from above
Enjoy Hue beef noodle soup
Hue cakes, Hue tea

The wild, majestic beauty of Thuy Tien Park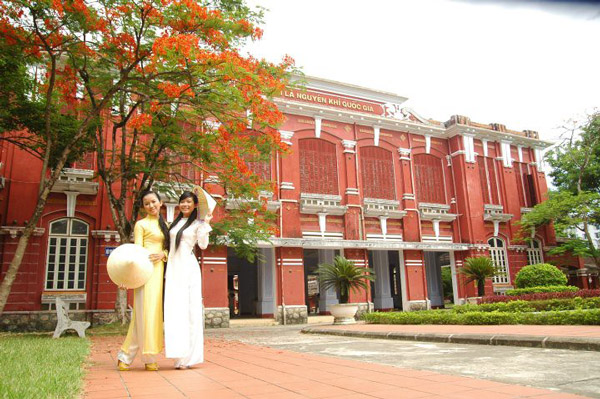 Check-in Hue Quoc Hoc School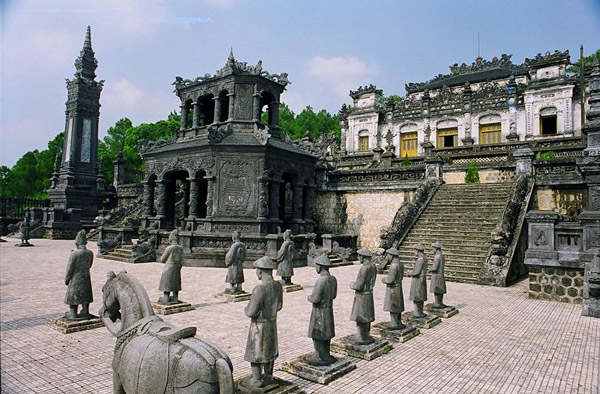 Tomb of Khai Dinh or Ung Lang is a relic in the complex of Hue monuments
See more: Things to experience when coming to Hue
8. Discover Da Nang – the most livable city in Vietnam
Da Nang is known as the most livable city in Vietnam. So why in the journey to discover Vietnam tourism can we skip the beautiful Da Nang?!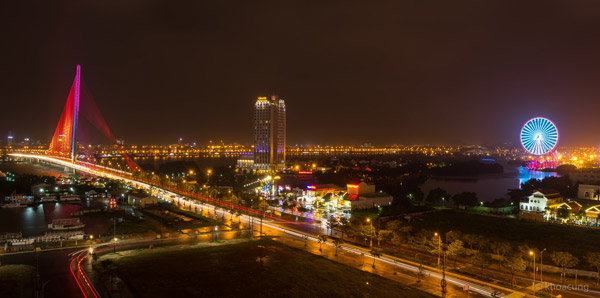 Da Nang is the hottest tourist destination in Vietnam
Da Nang is a Vietnamese tourist destination attracting thousands of tourists worldwide. In addition to famous tourist attractions such as Ba Na Hills, Asia Park, Marble Mountains, Da Nang city is also adorned with large and beautiful bridges shimmering every night: Han River Bridge, Dragon Bridge, Bridge Bridge, etc. Tran Thi Ly, …
Da Nang's main attraction for tourists is sea tourism. Da Nang beach stretches for nearly 60km with many beautiful public and private beaches. Charming scenery, clouds, sky, sea mixed with the salty breeze here. Smooth white sand beach with green coconut trees stretches for nearly 1km. Immediately following are restaurants, hotels, and luxury villas located close to the sea, serving households and agencies to rest and relax.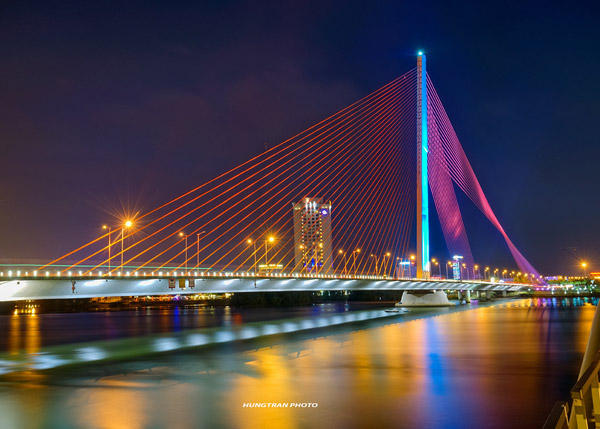 Tran Thi Ly Bridge is one of the legendary bridges of Da Nang
And yet, Da Nang is also an ideal summer destination for tourists when there are many charming beaches, fresh seafood dishes. In particular, the people here are very friendly, open, and the environment is clean and green, making everyone excited to come to this modern city immediately. If you do not know when is the best time to visit Da Nang, you should immediately refer to the article Should you travel to Da Nang in which month?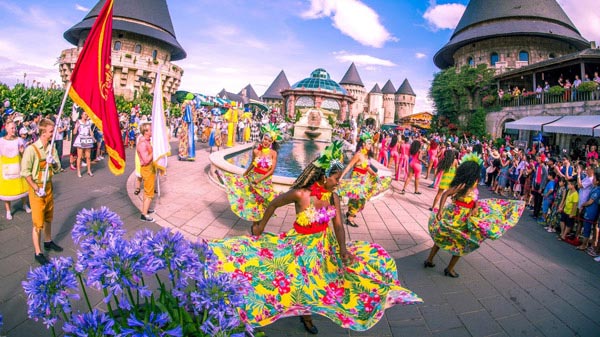 Sun World Ba Na Hills tourist area
9. The unique nostalgic beauty of Hoi An ancient town is rare to find anywhere else
Located in Quang Nam province, about 30km from Da Nang city, Hoi An ancient town is a peaceful, poetic place, lying shyly and gently on the Hoai River. The scenery in Hoi An is as beautiful as a love painting, and the colorful lanterns make the picture more vivid and attractive to visitors.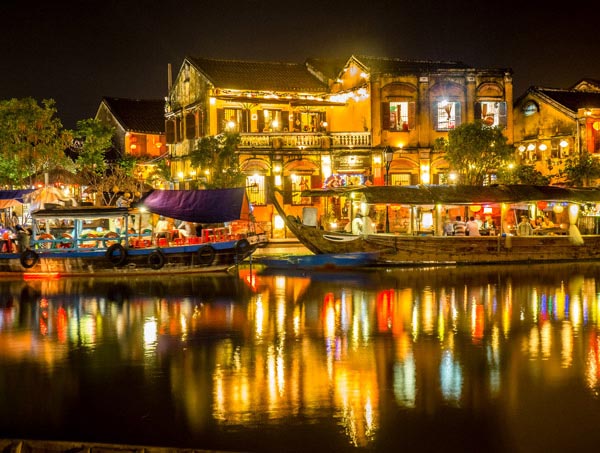 The nostalgic beauty of Hoi An ancient town captivates people
Recognized by UNESCO as a World Cultural Heritage Site in 1999, Hoi An ancient town is an ideal destination for tourists from all over the world. Hoi An has traditional craft villages, ancient temples, lantern streets and extremely friendly and rustic people. Hoi An is the most worthy tourist destination in Vietnam, go once just want to stay forever and never leave.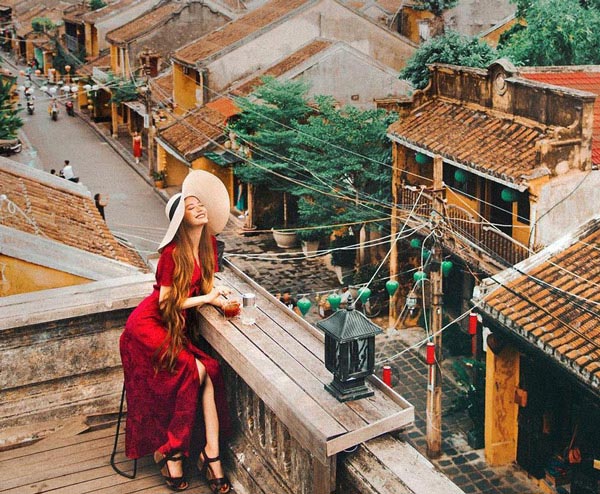 A corner of Hoi An
10. Discover tourist paradise Nha Trang – Khanh Hoa
Nha Trang tourist paradise is one of the most beautiful bays in the world. Coming to Nha Trang, visitors will discover new horizons such as Vinpearland tourist area, unique Cham architecture … Immerse yourself in the fresh air, with beautiful beaches and have fun at the amusement park. location, enjoy mud bath services, play golf … visitors will have extremely interesting experiences.
Discover Nha Trang tourist paradise
In addition to the fresh and cool natural landscape with beautiful islands and coral ecosystems, Nha Trang is also a famous land of nutritious and high-class Khanh Hoa bird's nest.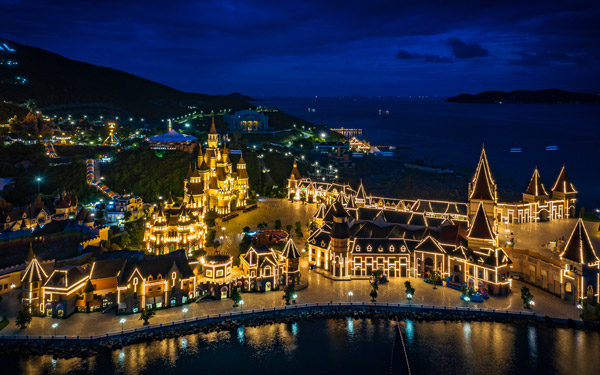 Vinpearl Nha Trang through the perspective of a drone
Vinpearl Land – the hottest entertainment destination in Nha Trang includes many luxury hotels, beautiful gardens, thrilling games area, ideal freshwater swimming pool and epic 4D cinemas.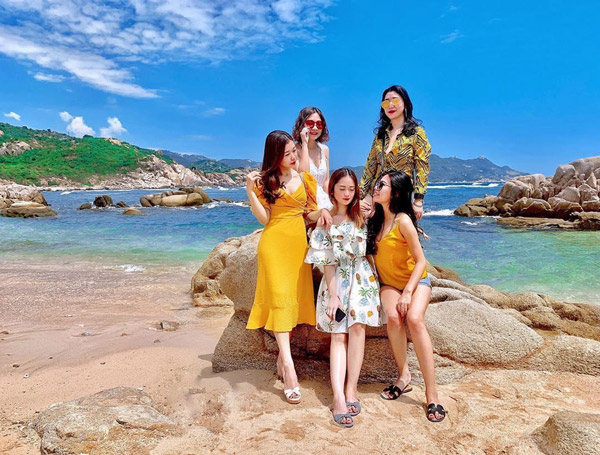 The wild beauty of Binh Ba Island (lobster island) attracts young people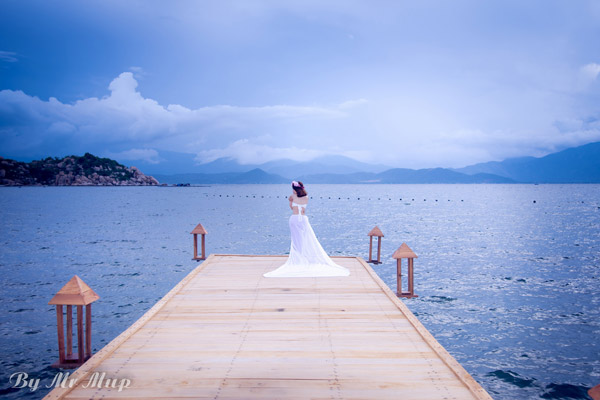 Binh Lap – Vietnam's miniature Maldives
11. Mui Ne – Phan Thiet is a famous tourist center in the South Central region, Vietnam
If you are a lover of the sea, love the sunshine and the golden wind, absolutely do not miss Mui Ne – Phan Thiet.
Mui Ne is a famous tourist center in the South Central region, about 22km from Phan Thiet – Binh Thuan city to the northeast. This place is a stretch of blue beach, wild like a desert, but the red sand is beautiful when the sunset falls.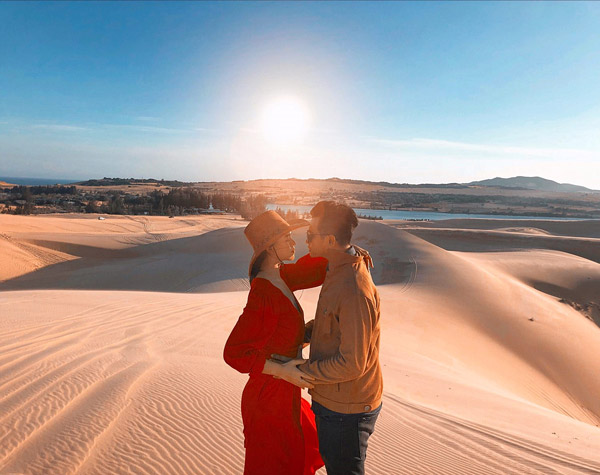 Small desert in Mui Ne makes young people crazy
Mui Ne also attracts tourists by the diverse culture of Kinh, Hoa, and Cham ethnic groups. Typical are the works of Thien Hau pagoda, Cham tower, Water tower, Ong pagoda, Van Thuy Tu … and many historical relics. other history.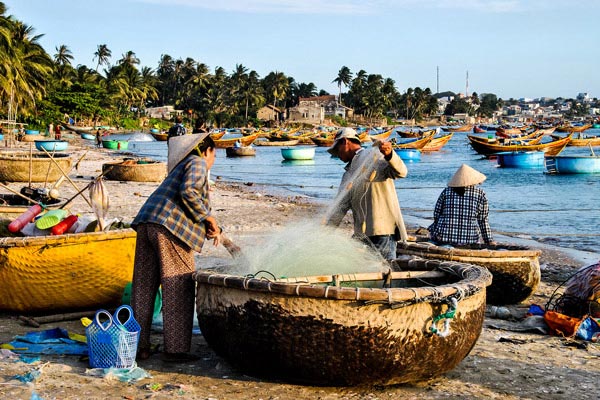 Bustling life of fishing village people in Mui Ne – Phan Thiet
12. Breaking the island of Da Lat – the dream city of beautiful flowers
Have you been to Da Lat before? If not, hurry up and invite your close friends to visit Da Lat island – the land of flowers.
Da Lat is a dreamy city, fanciful in the white fog and always full of flowers. The mild and warm climate of Da Lat is also one of the reasons attracting tourists to visit, travel and relax.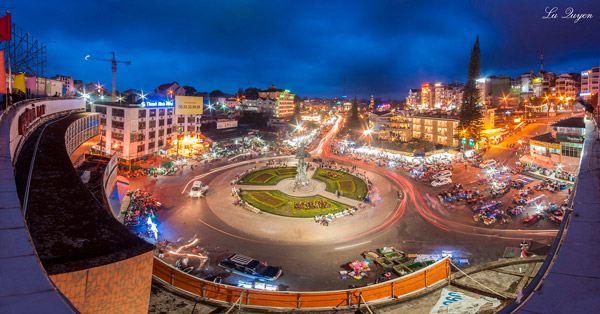 The beauty of Da Lat is likened to a Little Paris
Dalat is famous for attractions such as Valley of Love, Truc Lam Zen Monastery, Linh Phuoc Pagoda, Datanla Waterfall, Langbiang Mountain, Elephant Waterfall… Especially, when coming to dear Da Lat, do not forget to experience the experience. life growing flowers, taking care of flowers with the people here.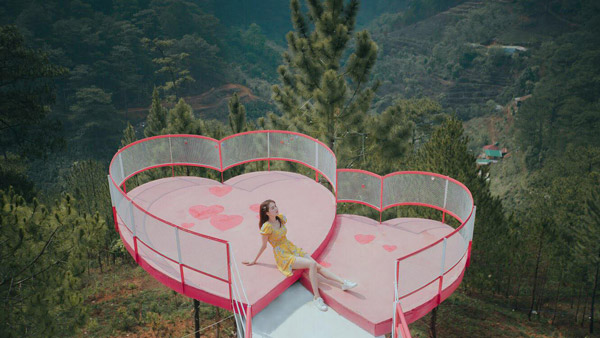 Check-in Dalat – dream city
In addition, the very typical dishes in Da Lat such as grilled rice paper, banh can, wet cake with chicken hearts … will make visitors nostalgic about this place and do not want to leave.
Linh Phuoc Pagoda is one of the famous landmarks of Da Lat, an architectural work imbued with Asian identity.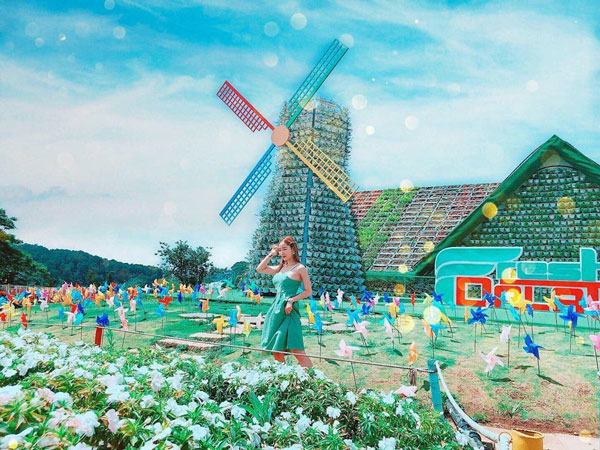 This misty land flowers bloom all year round, vast flower gardens
Excellent check-in points such as: Ma Rung Lu Quan, Dalat Milk, Clay Village, Lam Vien Square, Da Lat station, lovely homestay, strawberry garden, etc.
Reference: Finding the decipherment of what to eat in Dalat when traveling here
C. Discover beautiful tourist destinations in the South – Vietnam Viet
13. Ho Chi Minh City – "Pearl of the Far East" of Vietnam tourism
Unlike the ancient and peaceful beauty of Hanoi, Ho Chi Minh City is the largest economic and cultural center in Vietnam. Ho Chi Minh City was once known as the "Pearl of the Far East" because the pace of life here is very fast and busy. Ho Chi Minh is a city that never sleeps, with massive constructions, many large industrial parks, many skyscrapers such as Sai Gon Center, Bitexco, Vietcombank Tower. Most recently, Landmark 81 is the tallest building in Vietnam and the tallest in Southeast Asia.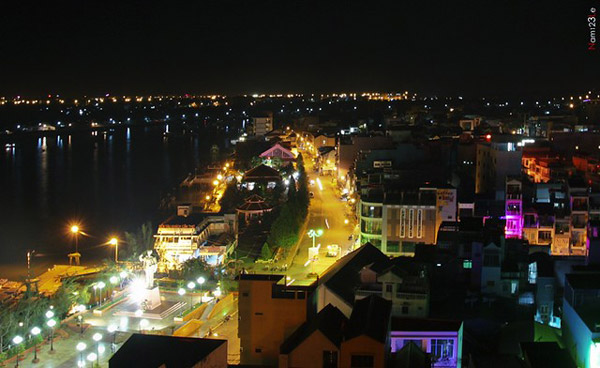 Bustling, modern beauty of Ho Chi Minh City
The splendid and luxurious Ho Chi Minh City has many impossibly beautiful places that tourists should visit such as: Independence Palace Museum on Nguyen Hue pedestrian street, Cu Chi Tunnels, Notre Dame Cathedral, Ngoc Pagoda Hoang, Ben Thanh market…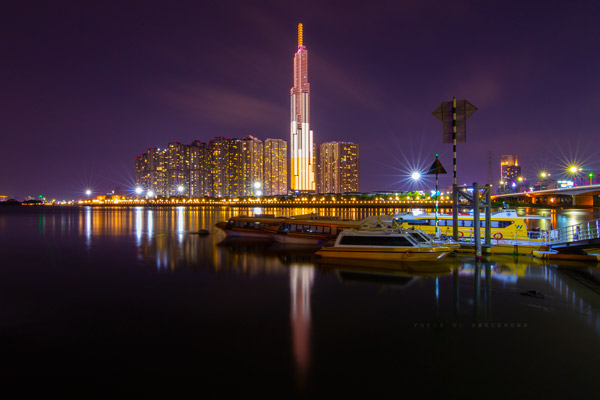 Landmark 81, the tallest building in Southeast Asia, shimmering in the heart of the city
The city named after Uncle Ho is modern but still retains the unique architectural features from the French colonial period. This is also the intersection of many cuisines around the world. So, don't be too busy looking for tourist destinations far away, while Vietnam has too many places to visit like modern Ho Chi Minh City, as lavish as foreign countries.
14. Phu Quoc Island is one of the places worth visiting in Vietnam Viet
Phu Quoc Island (Pearl Island) in Phu Quoc district, Kien Giang province, is the largest island in Vietnam. Located in the Gulf of Thailand, Phu Quoc Island is an ideal vacation destination with pristine tropical forests and long stretches of white sand beaches. Visitors here can explore the rainforest, scuba dive to see corals, visit the Vinpearl Safari Phu Quoc Zoo… Phu Quoc is also a famous fish sauce producer in Vietnam and known to international tourists. .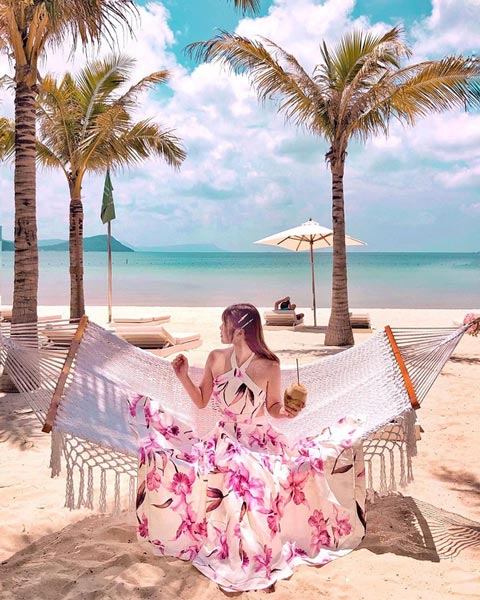 In 2008, the website Concierge (specializing in tourism in Australia) announced Bai Dai Phu Quoc as one of the 13 "wildest and most beautiful" beaches in the world. Bai Dai is also in the list of 5 clean and beautiful beaches in the world voted by ABC News.
If you have the opportunity to visit Phu Quoc, take some time to explore all the following famous places.
Visit Ham Ninh ancient fishing village – fish sauce factory
Visit Con Dao – where there are beautiful beaches and diverse and rich marine life
Con Dao Prison
15. Mekong Delta
The Mekong Delta is a part of the Mekong Delta, flowing through 12 provinces in the Southwest region, so it is also known as the Southern Delta or the Southwest region.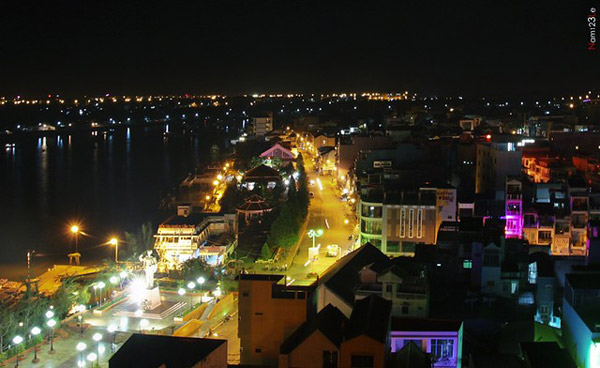 Can Tho is the most beautiful city in the Mekong Delta
Different from other regions in Vietnam, life on the river in the Mekong Delta will be the new and most memorable experience for those who set foot in this land. The landscape of the Mekong Delta is beautiful like a maze with mangrove forests, a dense system of canals, rivers and even the most unique floating markets in Vietnam.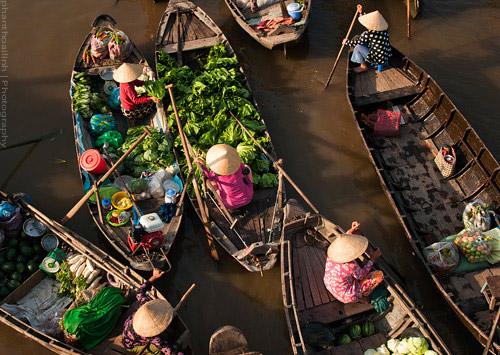 Unique features of Cai Rang Floating Market (Can Tho)
And yet, in the Mekong Delta, visitors should visit the vast fruit gardens, enjoy the specialties of the South, listen to the Southern-style Don Ca Tai Tu. The peaceful, simple and poetic life in the West River region here certainly does not disappoint a single guest.
What places of Vietnam have you been to? Through the article "Top 15 tourist destinations in Vietnam" shared by Hue Smile Travel, do not look any further while in Vietnam we have too many beautiful places for you to explore and experience.
Photo: Internet
TAG: