Trekking Fansipan Mountain in Lao Cai has a dreamy view and beautiful sightseeing
Temporarily leave the waves or the crowded check-in points of the coastal city to come on the journey to explore Fansipan Mountain in Lao Cai to explore the mysterious green nature.
Fansipan is one of the most popular trekking destinations in Sapa. The place is known as the roof of Indochina with an altitude of 3143m. The journey to conquer the long road with many different difficulties requires you to be carefully and thoughtfully prepared. Please refer to the sharing of the most complete and detailed Fansipan climbing experience below to have a complete trip!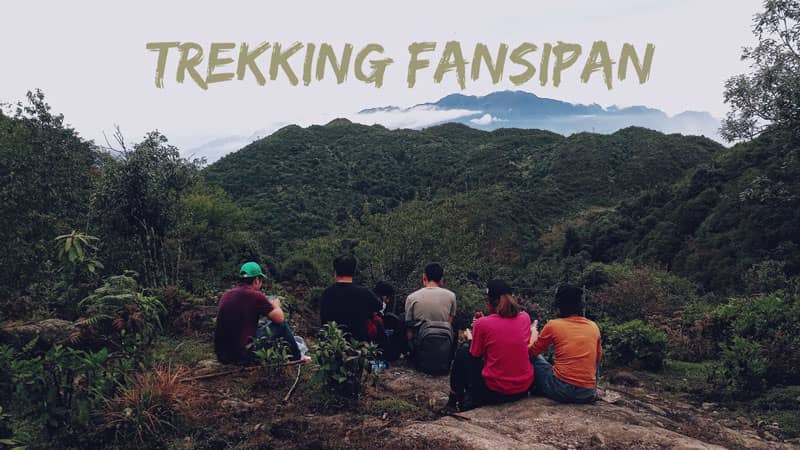 1. Where is Mount Fansipan? What is the best season to climb Fansipan mountain?
One thing is for sure, before every Sapa trekking trip, you will want to learn more about the place you want to go. Fansipan is a mountain in the Hoang Lien Son range, about 9km from Sapa town to the southwest. The mountain has an altitude of 3143m above sea level. The mountainous terrain is diverse and is an attractive fertile land for those who like to "travel" and want to explore and conquer new heights.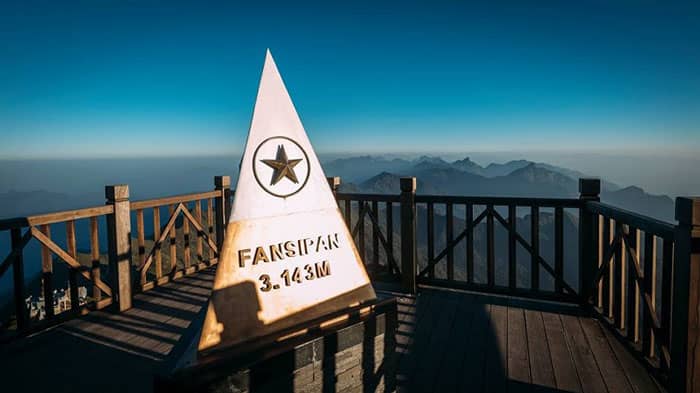 The best time to climb Fansipan mountain is in March and November . These are considered the two most beautiful times of the year. The climate is cool and not too harsh, especially less rain at other times of the year. 
2. Trekking Sapa, climbing Fansipan do not need a permit? 
Currently, to ensure safety, some Sapa trekking routes need a permit . Sapa trekking and climbing Fansipan is one of them. 
To climb Fansipan mountain , you need to apply for a permit in Hoang Lien Son national forest. Granted by Hoang Lien Son National Park Management Board.
In order to be more convenient and save time in applying for a Fansipan trekking permit, you should apply in the morning, before your trip. To get a permit, you will need to pay some of the following costs: insurance fee, cleaning fee, ranger fee and climbing fee. The total cost is about 200,000 VND .
3. What to prepare for climbing Fansipan mountain?
With a long climbing journey like Fansipan, preparing all the necessary items to carry will help you save money. At the same time, being more proactive in handling the situation, the items you should bring include:
+ Health and spirit : A prerequisite in your trip. Make sure your fitness is good enough to withstand the impact of weather or obstacles on the road that can last for many hours. Before the day of climbing , you can do light and simple exercises to improve health.
+ Large backpack with power belt: Backpacks are always the most suitable and compact choice for carrying things when hiking. The power strap will help you somewhat reduce the burden during the move.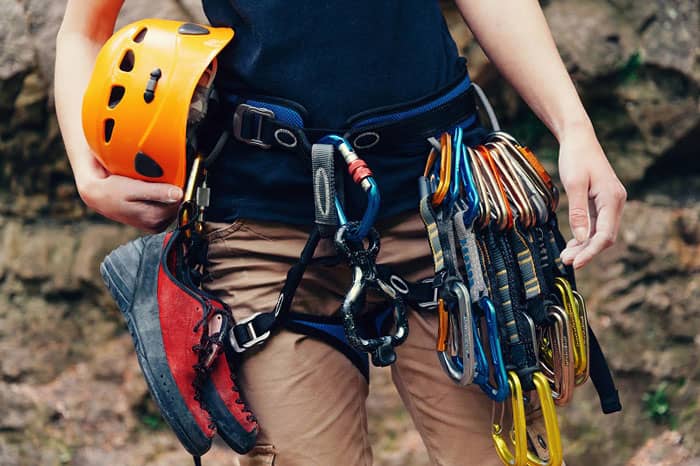 + Choose suitable clothes and costumes : Depending on the time of trekking in Sapa, you can choose the appropriate clothes . If climbing Fansipan in the period from May to September, you should prioritize bringing cool T-shirts, wide-leg pants with good sweat-absorbing material. Don't forget to prepare an extra thin jacket. 
From October to February next year, the temperature in Fansipan often drops sharply, cold in December. So you need to bring warm clothes, bring gloves and towels…
+ Tents, sleeping bags : These are extremely necessary camping items during the journey. When trekking Fansipan, you will have to stay overnight and there is no rental of camping equipment such as sleeping bags or tents here! 
One thing you need to keep in mind is that the temperature at night at camping sites in the Hoang Lien Son range is quite cold. Therefore, preference should be given to sleeping bags with warm materials to ensure health. When going trekking, climbing, you can choose the Travel gear sleeping bags because their ability to retain heat and water resistance is very well appreciated by backpackers.
+ Climbing shoes, trekking poles : Make sure your journey is always smooth and comfortable with a pair of durable climbing shoes and a solid trekking pole. These items also make your climbing journey more convenient.
+ Other items : Besides, you should bring drinking water, food to be able to refuel when you feel hungry or thirsty. Prepare more raincoats, umbrellas and medical items such as urgo bandages and disinfectants…
4. How long does it take to climb to Fansipan?
Normally, it will take about 2-3 days to complete the trekking and climbing schedule of Fansipan mountain . Depending on the travel schedule as well as climbing speed and fitness. Some people / groups / groups have good physical strength and have experience in climbing, it only takes about 1 day to conquer Fansipan peak.
5. Should you hire a porter to guide you?
This is also a question that many people are interested in. In fact, to ensure safety, you should still go trekking in groups, large groups under the guidance of local porters. 
Porter will be the ones to guide the way as well as assist in handling emergency situations that may occur during the journey. However, you should contact the porter before the trip to ensure and agree on the travel time.
6. Fansipan climbing routes (from easy -> difficult)
Depending on your schedule as well as your fitness, you can choose for yourself the roads that are suitable for the respective ease and difficulty. Leo Fansipan has 3 main roads as follows:
Palace 1: Tram Ton – Fansipan (easy bow)
Considered one of the popular choices of backpackers. This route, you start from Tram Ton . At this route, there are 2 stops in the journey, called milestones for you to mark in your travel schedule. 
Landmark 1 at an altitude of 2200m. Moving on average about 4-5 hours more to reach milestone 2 at an altitude of 2,800m. From the 2nd milestone to the top of Fansipan, you will shorten the travel time. 
Terrain assessment : Less slope, less squeeze, almost the path is a trail. Some sections have fences and a combination of mountain bends. However, the landscape is not as diverse as the other two palaces.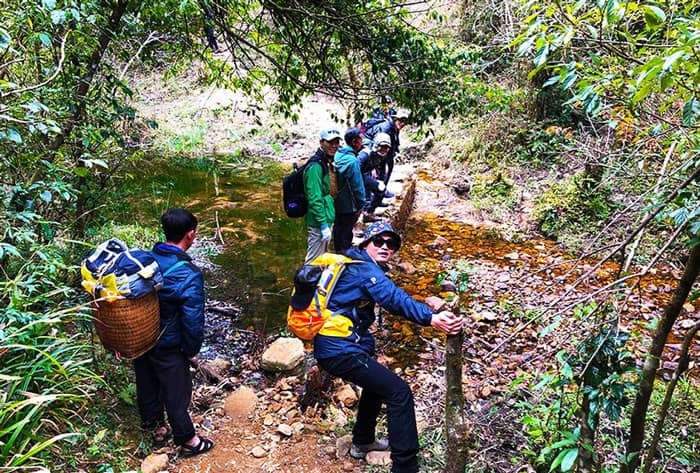 2nd Palace: Sin Chai – Tram Ton – Fansipan (Medium Supply)
2nd bow with medium difficulty . The starting point will be from Sin Chai with an altitude of about 1,260m. This place is located about 5km from the center of Sapa town. This route is longer because it has a longer starting point. From Sin Chai, it will take you about 4-5 hours to move to the first landmark at an altitude of 2200m. Then continue for another 5 hours to reach the second milestone in the journey at an altitude of 2800m. From this move, climbing Fansipan will be similar to bow 1.
Terrain assessment : Many steep slopes, few trails, moving through many hills and tarps. In return, this is a road with very beautiful scenery when climbing Fansipan mountain with golden bamboo hills and beautiful scenery on both sides.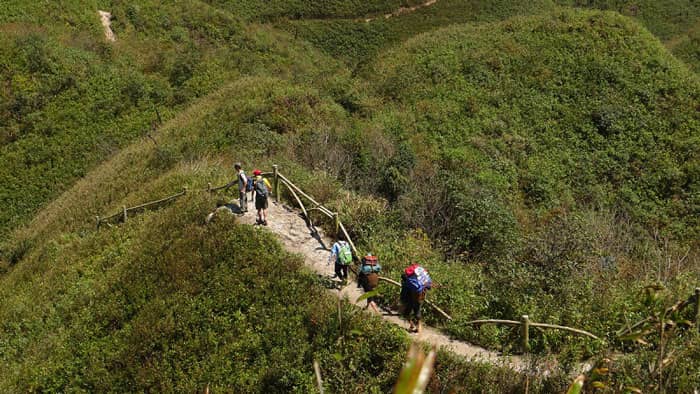 Bow 3: Cat Cat – Fansipan (the hardest bow)
The road is not for first-time trekkers. Because this is the road that sums up the difficulty of the remaining 2 arcs. The first starting point in the journey is from Cat Cat valley . Then move to the landmark in Sin Chai or Tram Ton and continue climbing Fansipan. 
This is a long road with many obstacles in terms of terrain. In addition, you do not specify the direction to the altitude but by the milestone of each stop
Terrain Rating : Steep and steep, rugged road, many bends. The diverse landscape changes continuously along the way.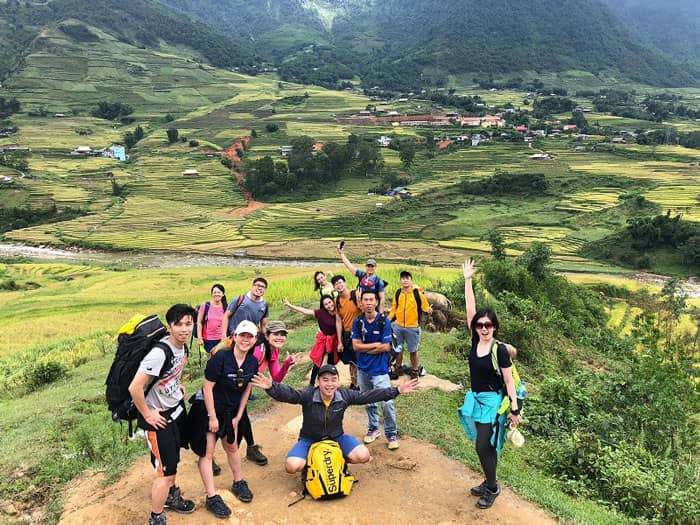 7. Where to spend the night camping?
On average, climbing time will take from 2 to 3 days . For those who have good physical strength and have climbing experience, it also takes at least 1 day and 1 night to conquer Fansipan peak. 
Therefore, overnight camping is one of the indispensable activities in your travel schedule. Depending on the route you choose, you can stop at different campsites.
+ Palace 1 : At Tram Ton road, you can stop overnight and camp at landmark 2 with an altitude of 2800m . This camping site also has a lot of open, flat land, suitable for camping.
+ Palace 2 : Departing from Sin Chai, you can stop overnight at 2,200m high landmark . However, this campsite will take you longer to climb to the top of Fansipan,
+ 3rd arc: The road with the most slopes. The only place suitable for camping overnight on this road is at the forest of Qua Thao at an altitude of 2150m . Normally this bow can take 3 days to move, so the second overnight camping site you can camp at landmark 3 at an altitude of 2680m.
NOTE: All camping sites at Fansipan mountain ranges do not have tents and sleeping bags for rent, I would like to emphasize this again. And that's why you should bring camping tents and the necessary tools for your trekking. 
8. How much money do you need to prepare for Leo Fansipan Sapa?
The cost depends on the schedule and spending needs of each person. The average falls in the range of 1 million – 1.5 million/person . Basic costs include:
Round trip bus ticket to Sapa: 400,000 VND
Porter rental cost for 1 day: 400,000 VND/group of 4 people
Ticket price for climbing Fansipan (including cleaning fee, insurance fee, climbing fee): 200,000 VND
Food costs (buying food): 200,000 VND/person
In addition to these costs, there may be other costs depending on your schedule. 
9. Notes you should not ignore when climbing Fansipan
The long trekking route with many difficulties can make you easily discouraged and tired, which may lead to some unsatisfactory experiences. However, all difficulties can be overcome if you prepare more carefully for the trip with the following notes: 
+ Choosing the right resting place and not stopping for too long will breed laziness, making your trekking schedule interrupted and take a long time. 
+ Should use high-neck socks with high heat to avoid the attack of the squeegee, along the way.
+ The terrain of roads has many slopes, before gaining momentum through large and continuous steep slopes. You can practice gaining momentum for your legs to be able to pass more gently.
+ Don't try to carry too much luggage, make sure to bring only the items you really need to reduce the weight of the luggage and make it easy to move.
The journey to conquer Fansipan has many obstacles, but there is also no shortage of interesting and attractive experiences. It is a journey of determination and perseverance to break through to conquer the roof of Indochina.
Have a smooth and safe trip!
TAG: