Top 7 most beautiful beaches in Vietnam
Vietnam is one of the idealic destinations for summer holidays and exploration. Here is our list of top 7 most beautiful beaches in Vietnam for tourists to see and visit.
Vietnam, also known as Viet Nam or the Socialist Republic of Vietnam, is the easternmost country in Southeast Asia and is highly frequented by tourists, especially backpackers, from around the world.
Vietnam is strategically bordered with several other countries of importance in the tourist trail of SE Asia, some of which are Thailand, Cambodia, Laos, and China.
Hanoi is the capital city and Vietnamese is the national as well as official language in the country. The widely-accepted currency is Vietnamese Dong.
While Hanoi and Ho Chi Min City are necessarily the major entry points in the country, cities such as Hoi An, Hue, and coastal regions such as Ha Long Bay, Nha Trang, and Da Nang are widely popular among tourists globally.
Let us now explore top 7 most beautiful beaches in Vietnam.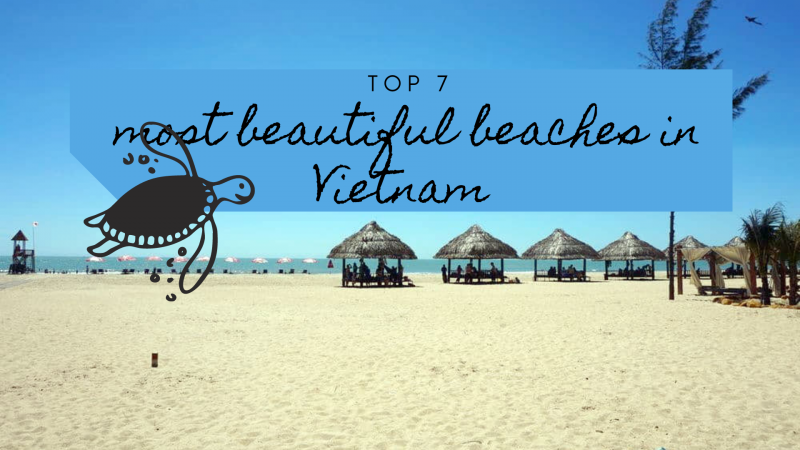 Photo: Vietnam Travel Guide
List of top 7 most beautiful beaches in Vietnam
1. Long Beach (Phu Quoc Island)
2. Mui Ne Beach
3. Quy Nhon Beach (Binh Dinh Province)
4. My Khe Beach (Danang)
5. An Bang Beach (Hoi An)
6. Ho Coc Beach (Ho Coc)
7. Doc Let Beach (Hon Khoi Peninsula)
1. Long beach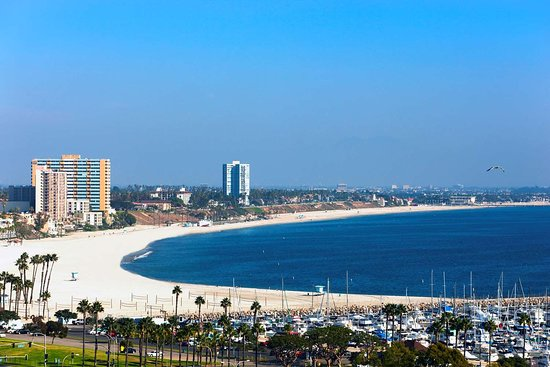 Photo; TripAdvisor
Long Beach in Phu Quoc is divided into the northern and southern ends, with the former housing most of the island's luxury resorts, restaurants, and tourist facilities. There's also a backpacker's called Long Beach Village, which is located behind Tran Hung Dao Street. While most of the beachfront are owned by various five-star resorts, you can still find several public areas towards the south.
Long Beach is easily navigated on foot, but we highly recommend renting a motorbike or bicycle to explore traditional fishing villages and pearl farms located on the southern end of the beach. As the beach is located on the west coast of Phu Quoc Island, many travellers make their way here during the evening to enjoy breathtaking sunset views. It's also an ideal spot for sunbathing, snorkelling, and swimming, especially for those staying at the high-end resorts and hotels.
2. Mui Ne beach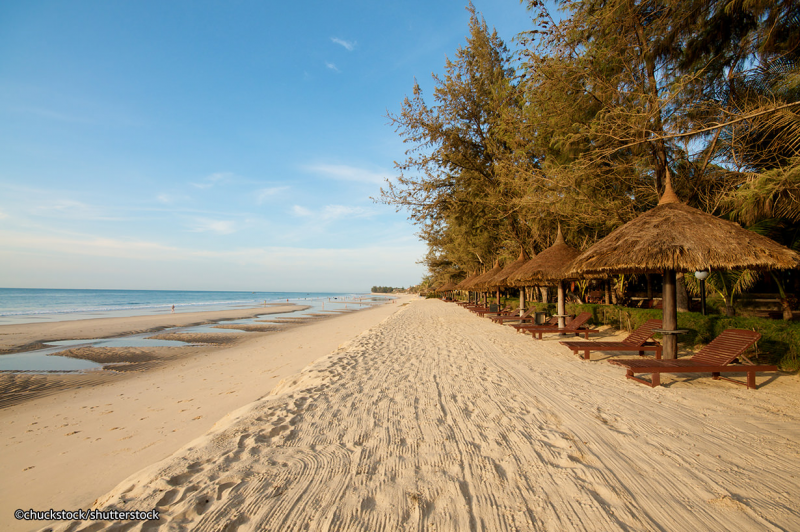 Photo: Vietnam travel guide
Located around 125 miles from Ho Chi Minh City, Mui Ne is a beach resort town in the fishing district of Phan Thiet. Over the years, the area has developed into a trendy holiday destination.
Even though the fishing scene around Mui Ne remains unchanged till date, mass tourism and urbanization are rapidly taking place in this beach town.
The serene atmosphere around the beach makes it idyllic for sunbathing, walking, and jogging. The atmospheric tranquillity and the beauty of the surrounding coastal landscape is not to be missed.
Kitesurfing, swimming, surfing, and windsurfing are some of the other common beach activities in the area.
The beach town of Mui Ne is also known for its sailing scene, so much so that it is considered as one of the best locations in the world to sail.
3. Quy Nhon Beach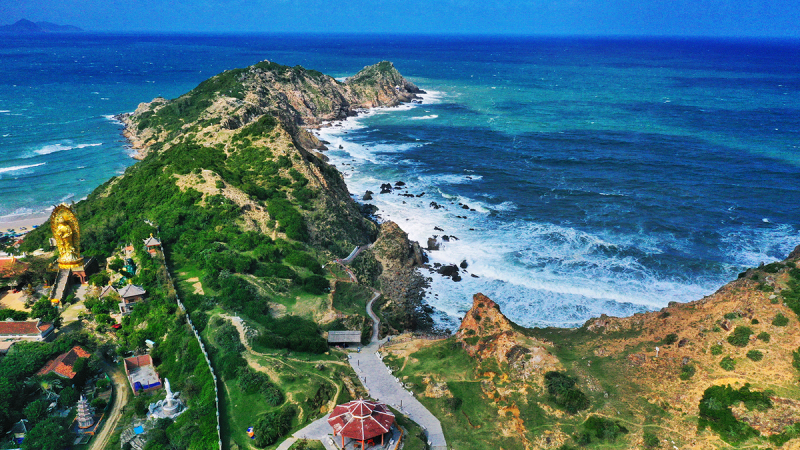 Photo: VnExpress
In Vietnam, there is one place that deserves to be visited by more people: Quy Nhon. Even though it is not considered as a tourist destination, this medium-sized town is bordered by stunning beaches and the countryside that surrounds it is also breathtaking.
Quy Nhon is the capital of Binh Dinh Province and was acknowledged as a city as early as 1898. However, the town has been in existence since the 11th century, in the time of the Kingdom of Champa. In the 15th century, it also served as the ruling centre of Emperor Le Thanh Ton. Quy Nhon was also relevant during the Vietnam War. Not only was it a site for intense battle, but it also was an important US military and naval base.
At present, Quy Nhon is a developing port city with a population of more than 260,000 people with plans to build infrastructure that would encourage more tourists to visit. Naturally, fishing is the main industry in Quy Nhon, making it a great source of exceptional seafood. This destination is highly recommended for all seafood lovers.
4. My Khe Beach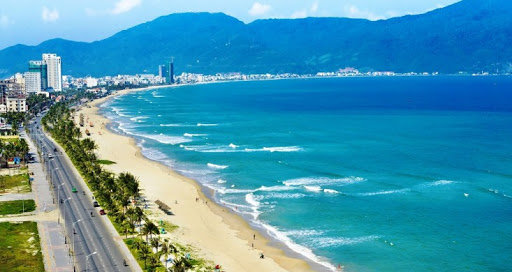 Photo: Chapi Travel
Considered to be Vietnam's most picturesque beach, the white sandy 20-mile stretch of My Khe Beach was named by the American troops who visited during the Vietnam War for R&R. It offers excellent surfing from September just off the shores of Danang. There are also a number of high-end resorts within the vicinity should you be in need of pampering with most offering a rich choice of treatments at their spas and a range of dining options.
Sunbathing and surfing aside, there are a host of historical sites situated close by including the port of Hoi An which is only 10 minutes away by bus and offers wonderfully preserved merchant houses and small alleyways to explore. Hoi An is also a superb place to get anything you desire tailor made usually within 12 hours, and while you wait it's definitely recommended that you try some local delights including very fresh shrimp pancakes.
5. An Bang beach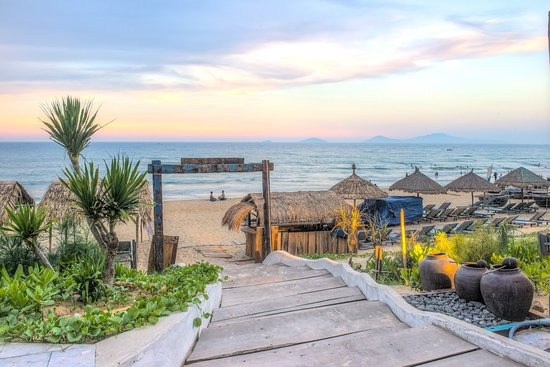 Photo: TripAdvisor
An Bang Beach is one of the few stretches of beach in Hoi An that's relatively unspoiled by development, making it a popular option for soaking up the sun and enjoying an array of seaside activities. It also houses an array of beachfront resorts, seafood restaurants, and hippy bars with stunning views of the neighbouring Marble Mountains, Da Nang Bay, and Da Nang and Cham Island. Most of the restaurants offer sunbed rentals between 15,000 dong and 40,000, dong but they're free of charge if you dine there.
Some of the most popular activities at An Bang Beach are swimming, paddle-boarding, and surfing. If you're looking to learn how to surf during your visit, there are plenty of board rentals, surf and stand-up paddling classes offered by An Bang Beach's expat surfing community. Surf season is from September until March, offering spectacular wave conditions, comfortably warm climate, and average water temperature of 25°C.
6. Ho Coc Beach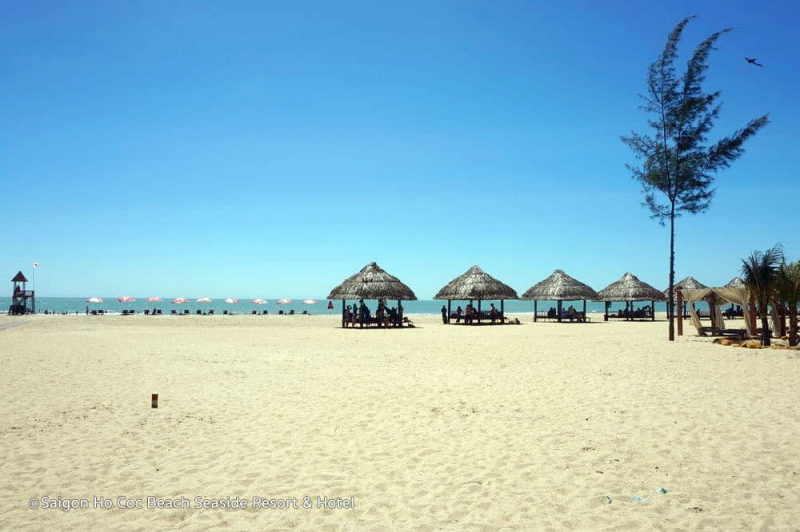 Photo: Vietnam Travel Guide
Considered as the most enthralling beach in Vietnam by visitors from all around the world, Ho Coc is a small beach town located around 78 miles from Ho Chi Minh City.
The beach at Ho Coc is a long, 3-mile stretch of fine, golden sand and crystal-clear waters. The coastline is dotted with large boulders and coracles with sand dunes in the background.
Ho Coc is still aloof to mass tourism and commercialization but there are plenty of modest accommodation and dining businesses around the beach area.
The area gets really busy during the weekend with locals as well as a western crowd but remains pretty deserted and calm during the weekdays.
One of the most notable places aside from the beach itself is the the nearby hot springs and rainforest that are a good stopover in case you wish to explore the area.
7. Doc Let beach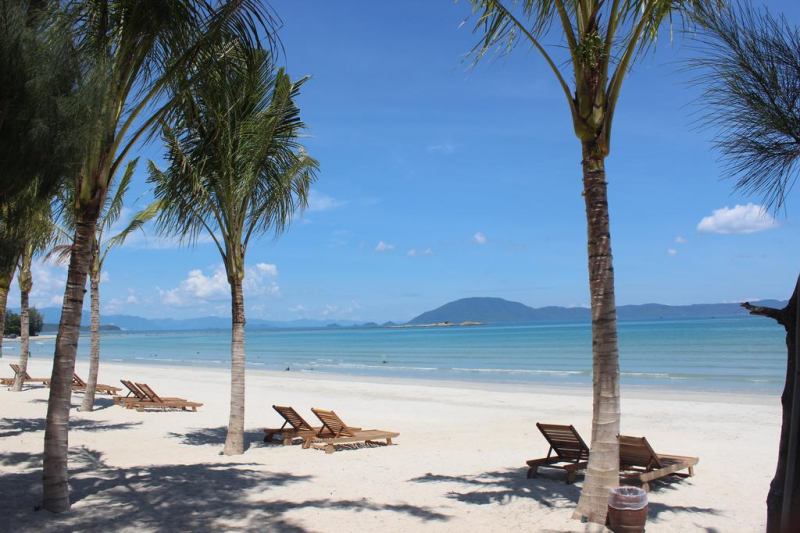 Photo: Vietnam Travel Guide
Turquoise-coloured water, white sand, palm-fringed coastline, and vibrant fishing boats docked around are some of the key characteristics of Doc Let Beach, located approximately 28 miles from Nha Trang, in Hon Khoi Peninsula.
The beach caters to all kinds of visitors – from budget to luxury, and offers accommodation and dining options accordingly. There are several shops and shacks around the beach for easy tourist access.
Doc Let Beach is most admired for its salt fields which also provide an amazing opportunity for photographers who visit the area.
Unlike most other beaches in the area, Doc Let is considerably quiet and hence, provides the tranquillity you look for at a rejuvenating beach holiday.
Charlotte Pho
TAG: