The family travels with a "mobile home", the trip begins with the word "wish" of the father
 The "mobile house" is renovated from a 4-wheeler vehicle of Mr. Son and his wife (Hanoi) with a bedroom, a kitchen, a sink … enough facilities to meet the travel passion of a family of 4.
A young couple "customizes" an old car into a mobile home, traveling everywhere
One of them is the family of Mr. Luong Lam Son (34 years old, from Hanoi) and Ms. Tran Thu Thao (32 years old). Son and his wife both share a hobby of traveling and exploring.
 Anh Son plans to take his family through Vietnam in this car in the near future, so that the children have the opportunity to admire the beautiful scenery of their country, meet many new friends and build a habit of exploring and learning more. . 
From a young age, Mr. Son was very interested in the mobile homes in American movies, they lead a very free life, traveling to explore many places.
As an adult, he also often travels by motorbike with his friends, but after getting married and having 2 children, traveling with friends raises many problems. The father of 8X feels guilty about leaving his wife at home to look after 2 children, and nostalgia for children, so the trips are not complete. Therefore, he always cherished the dream of having a "mobile home" to travel everywhere with his wife and children.
15 days to turn a car into a fully-equipped "mobile home"
Realizing that the two children were "strong", able to accompany their parents on trips, Mr. Son and his wife immediately embarked on making a "mobile home" to realize their dream of exploring the lands with their children. new.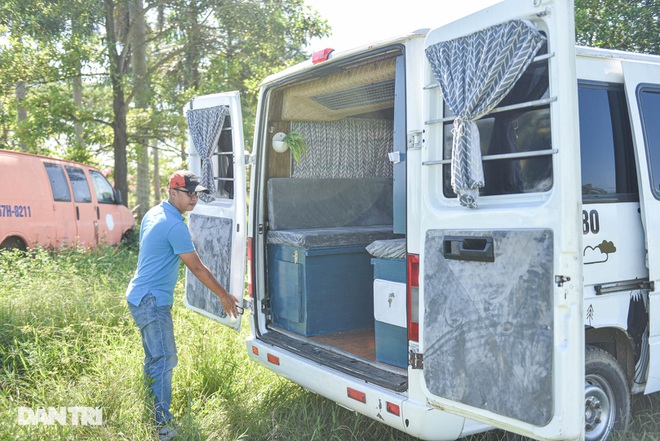 The car was inspired by Mr. Son from the movies (Photo: Toan Vu).
Just like building a house, Son initially came up with the idea and decided to choose to buy an old car for overhaul, maintenance, and then proceed to "turn" it into a "mobile home" with full enough functionality.
"Initially, I went online to refer to a lot of cars made by foreign friends before, then I summarized the ones that were suitable for family use as well as traffic conditions in Vietnam and applied It took about 2 months to research this car, "said Anh Son.
After having an idea in mind, he proceeded to order mobile home devices on domestic and foreign e-commerce sites, it took him 2 weeks to fully purchase.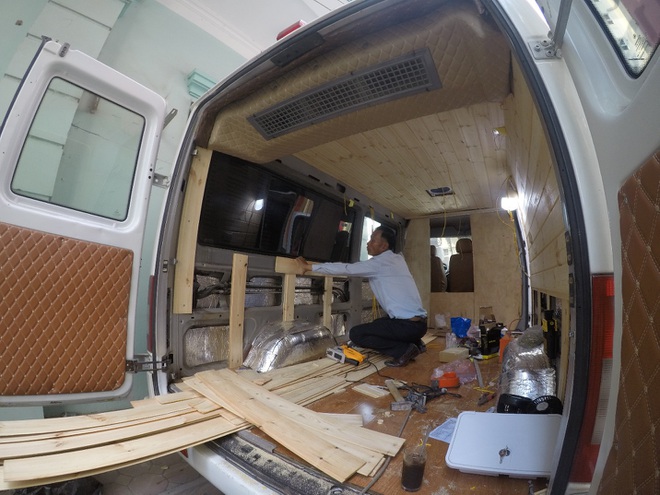 As for the construction part, this stage has the help of his father-in-law, he is a granite cutter, so it can be applied in wood cutting. The construction time was close to the recent Lunar New Year, so he had to calculate to order enough materials to use because the shops were on Tet holiday.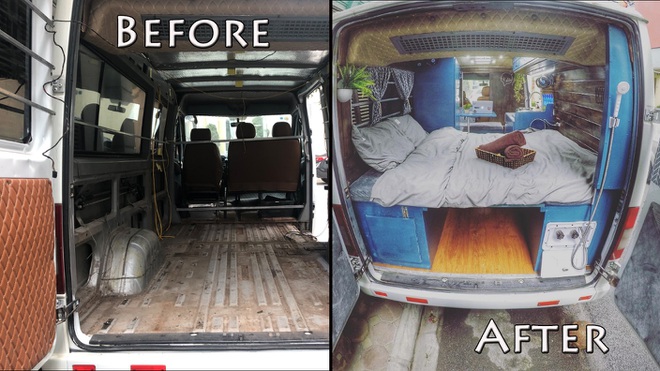 In 15 days, he and his father-in-law converted the old car into a "house" with full amenities.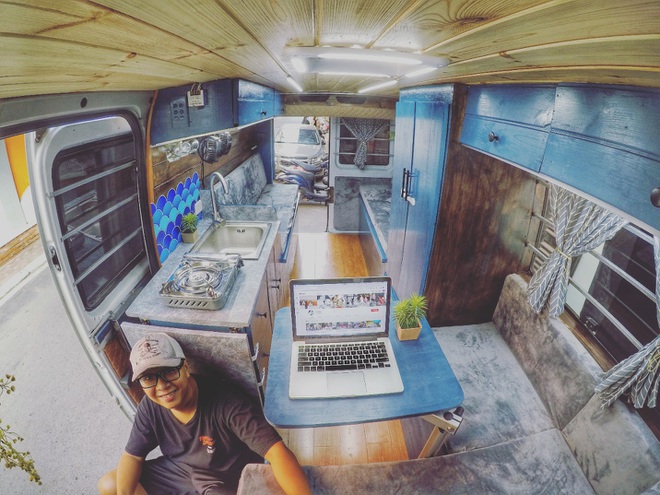 The mobihome is designed in the direction of multi-function, simple with a total cost of 280 million VND.
For cooking, he uses a mini gas stove to save on limited electricity. Water is contained in 4 cans of 30 liters and is pumped to the faucet by a 12v pump. With 120 liters of this water, his family can comfortably use about 4-5 days in winter and 2-3 days in summer.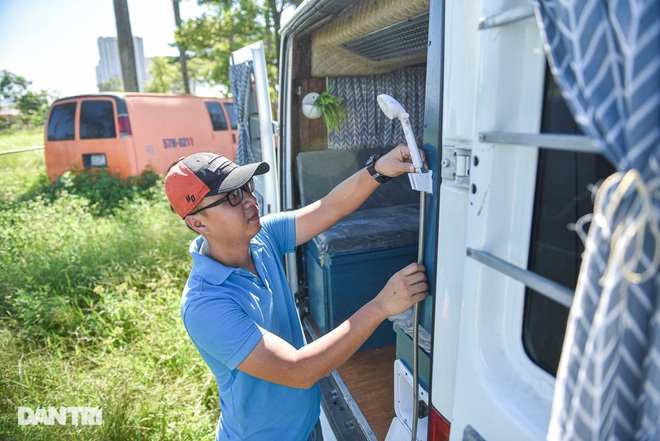 The shower for bathing was installed by Mr. Son at the back of the car.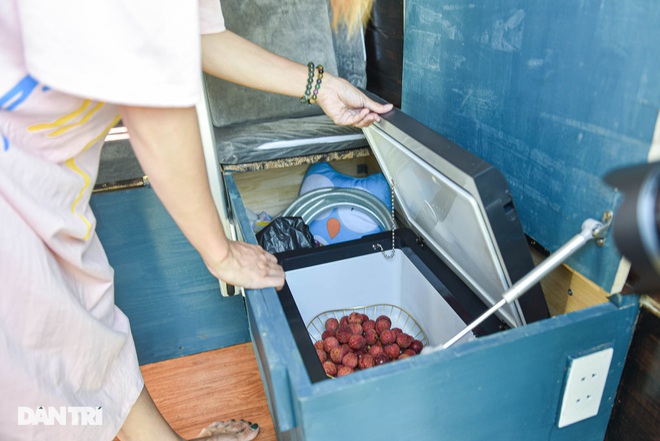 The vehicle is equipped with a refrigerator.
He also equips a deodorizing toilet, a portable changing tent, when he arrives at the campsite, he will set up and leave the toilet outside the car for everyone to use. To bathe, he equips a shower attached to the back of the car, people will bathe outdoors surrounded by changing tents. According to Mr. Son, this solution is quite simple, saving a lot of costs and also being more in harmony with nature.
Trips by mobihome
The father of 8X said that the interesting thing about mobile tourism is exploring while walking. Before each trip, he and his wife just drew up a rough plan.
"It will be very different from if you stay at a hotel or motel. This morning, our family woke up in the forest, listening to gibbons singing like a trip to Cuc Phuong forest, but the next day, we woke up to watch the sunrise in the sea, or having breakfast on a river in Kim Boi Hoa Binh. Those are very interesting experiences that only mobihome can do," said Mr. Son.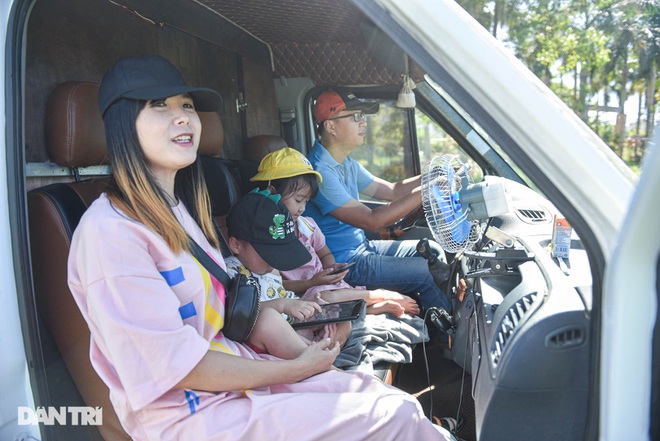 Mr. Son's family on the "mobile house" was renovated from an old car (Photo: Toan Vu).
On his first trip, Mr. Son decided to go to Dong Mo Lake near Hanoi and lost his entrance ticket to ensure safety. The children love it because there are many places to run, jump and play.
However, the first night of his experience on mobihome, the father of two had trouble sleeping all night, because he was both strange and worried about the safety of the whole family even though there was no problem.
Recently, due to the influence of the Covid-19 epidemic, his family's plan to travel across Vietnam had to be temporarily shelved. Instead, the whole family made a trip to Ta Van village (Sapa, Lao Cai), which is also the farthest and longest trip.
He chose a straight route from Hanoi to Sapa by Hanoi Lao Cai highway, during the process did not contact anyone along the way. At that time, Ta Van village was almost 99% indigenous people, there were no tourists, very different from the usual Ta Van village.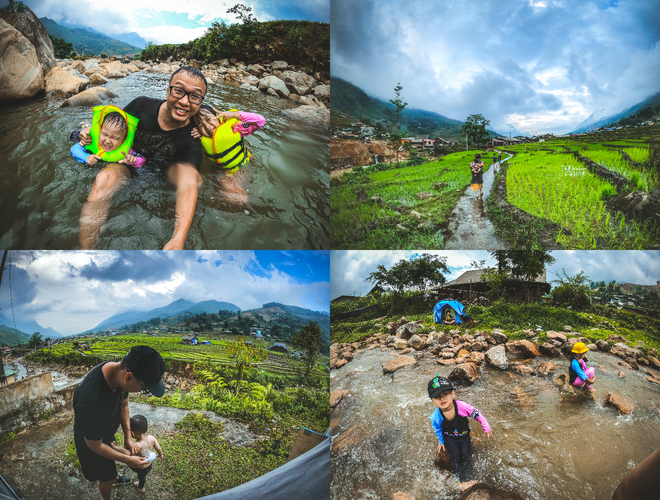 The experiences of Mr. Son's family in Ta Van village, Sapa, Lao Cai (Photo: NVCC).
His family lives in a farmstay with a stream, a garden and a lot of vegetables, fruits, and pets. Son excitedly said: "Our kids love playing with the animals here. In addition, they also explore. can break terraces, then bathe in streams with the children in the village as well as understand the culture here. Children can also stay away from phones and televisions."
This is a "profitable" investment.
After each trip, Mr. Son and his wife saw that their two children were more mature and stronger, although at first they were a little scared when they arrived in a new land. But after a while, getting to know each other gradually became more interesting and wanted to experience more.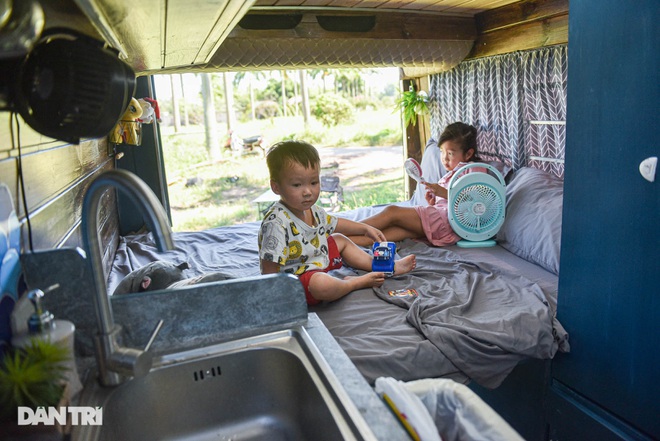 At each time, he and his wife will plan appropriate travel so as not to affect their children's studies (Photo: Toan Vu).
For example, at the moment it is summer vacation, the family can go somewhere for a long time to explore the beautiful country of Vietnam. But when the children enter the school year, I have to change by only going on weekends, or when they achieve good academic results, I will reward them with a trip somewhere to encourage.
Son and his wife consider this journey and investment to be always profitable, although not in money or material, but gain experience and knowledge for themselves and for their children.
"Investing in a future generation, helping children to go in the right direction, giving them the habit of always exploring and discovering new things, in my opinion, that is the right thing to do," shared Hanoi's father.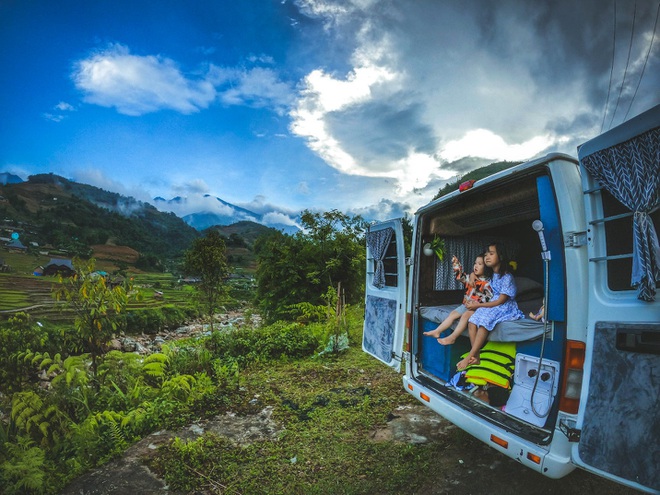 Anh Son believes that investing in children with the opportunity to explore and discover is an investment that is always "profitable" (Photo: NVCC).
The long-term plan of the couple is to be able to make a trip around the world, maybe by motorbike, plane or also by mobihome. However, they have to wait for 2 children to pass the age of 18.
This summer, when the Covid-19 epidemic is under control, his family will go on a trip across Vietnam on mobihome. In September, he will take his children to Mu Cang Chai (Yen Bai) to experience the ripe rice season.
TAG: