What foods can Hanoians eat in the morning?
Here are the 30 best breakfast dishes in Hanoi you should try: Ha Thanh cuisine is always diverse and rich. So, don't hesitate to try these dishes right away. Both delicious and provide enough energy for a long day of studying and working, what could be better! Join Vinlove.net to learn more about the most popular breakfast dishes in Hanoi through the article below!
Pho: The most popular breakfast dish in Hanoi
Pho is a famous delicacy in Hanoi. There are many Pho Ngon Restaurants in Hanoi, scattered throughout the inner-city districts. Hanoians eat Pho every morning, a dish that is easy to eat and has a good taste. For those of you traveling to Hanoi, breakfast Pho is an unforgettable experience. Pho is considered one of the most popular breakfast dishes in Hanoi. Anywhere in the capital, we can also come across a noodle shop with a captivating aroma.
The noodle soup is soft but not crushed, the beef is blanched to taste, add a poached egg, a few herbs, and a few sticks and you have a good breakfast. Starting the morning with a bowl of hot pho will help you have more energy to study and work all day long.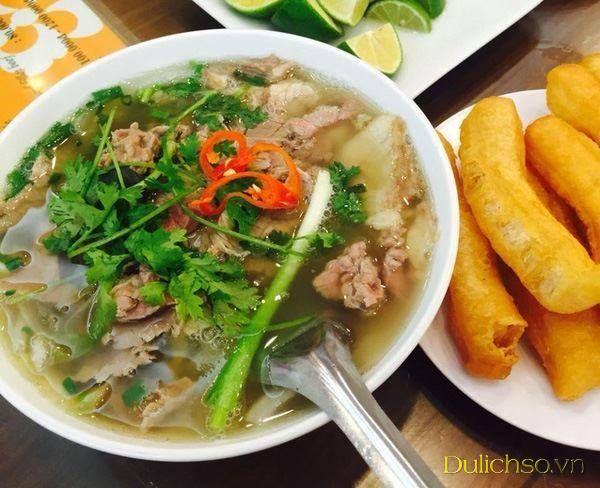 Pho 10 Ly Quoc Su : From an old, famous pho restaurant in Hanoi located at 10 Ly Quoc Su, Hoan Kiem, now Pho 10 Ly Quoc Su has expanded and developed into a chain of pho shops present in all over the world. Hanoi. However, the most delicious is still the original address at 10 Ly Quoc Su. There is a pretty funny comment about the bowl of pho here is "Beef Pho". Italy talks about the quality level of the food here. The characteristic of Pho Ly Quoc Su is a lot of beef, the most delicious is still a piece of lean beef, thinly sliced, cleverly presented even if you have to serve hundreds of bowls a day. Pho Ly Quoc Su has many spacious and spacious facilities, suitable for the whole family to enjoy. Address only:
10 Ly Quoc Su, Hoan Kiem District, Hanoi – 02438 257 338
N2A Hoang Minh Giam, Thanh Xuan District, Hanoi – 0944 795 588
26 lots 6 To Huu, Van Phuc, Ha Dong, Hanoi – 0944795588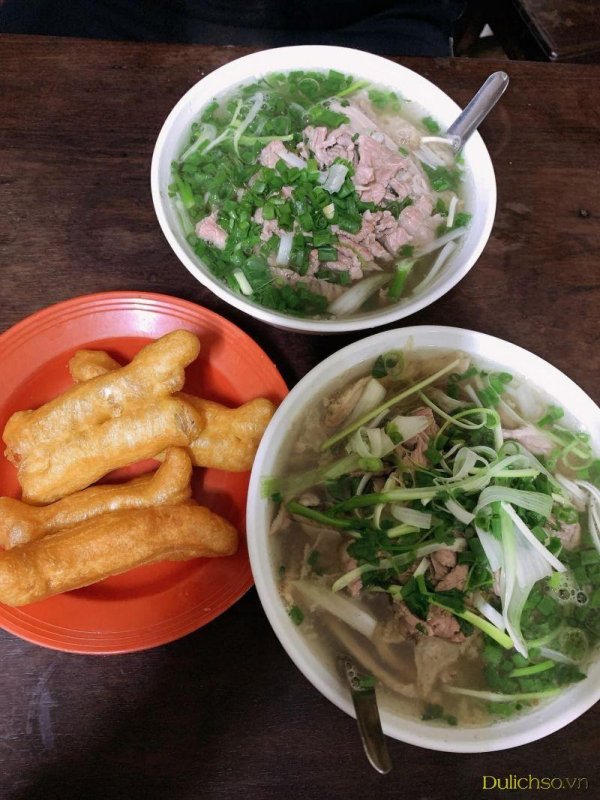 Pho Bat Dan : Referring to delicious beef noodle soup, Hanoians cannot ignore the Bat Dan brand. Half a century has passed, the same amount of time as the flavor of Bat Dan Pho has conquered diners near and far. The pho here is originally from Hanoi, the pho broth is greasy but still clear, eaten with sour garlic vinegar, along with red beef that melts in the mouth. Even though Hanoi has hundreds of thousands of different pho shops, the line of people waiting to eat Bat Dan Pho every morning for many years has not shown any sign of ending. In particular, the more you eat Pho, the more Bat Dan you go, the more priority you get. So even if it takes a bit of work, this is still a worthy place to enjoy breakfast with the family. Address: 49 Bat Dan, Hoan Kiem District, Hanoi.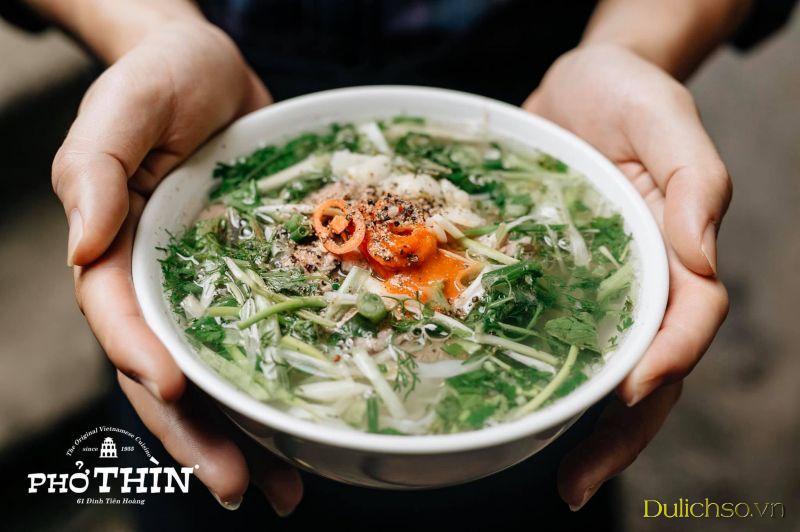 Pho Thin: Pho restaurant that you must try when you come to Hanoi is Pho Thin. This is a pho restaurant that is known as the oldest restaurant in Hanoi, a single-dish restaurant that still attracts customers for 30 years from generation to generation. The beef of pho here is not dipped, but quickly stir-fried in a large pan with enough spices, fresh onions, garlic, and ginger and then put in a bowl. Therefore, not only is the meat fragrant and rich, the broth is also quite greasy with the old hot fat on top. There is no indulgence here, the restaurant only serves one dish for those who really want to enjoy it. Green onions cut into long stalks, covered with green covering the whole bowl of pho, but when you mix it up, you can see that the beef is quite a lot below. This ingredient is very good for health, and is an important ingredient in creating the full flavor of the dish. Address: No. 61 Dinh Tien Hoang, Hoan Kiem District, Hanoi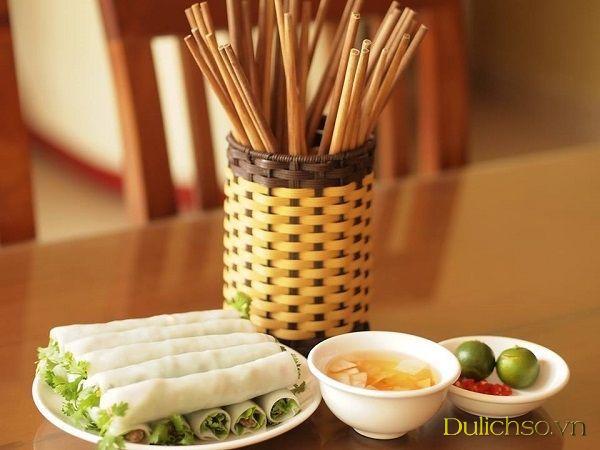 Pho cuon Hanoi : Also the ingredients of pho, but pho cuon has been changed in the hands of the shopkeeper. Pho is thinly coated, square in size, rolled with cooked beef with herbs and eggs. Some places also use salad and coriander. The dipping sauce served with pho rolls tastes similar to the fish sauce of bun cha, but less sweet and savory. If the taste is right, pho rolls are often served with Hanoi chili sauce, which is spicy and not sweet. Beef is wrapped in a large noodle soup, combined with herbs and salads to create an attractive and delicious dish that is loved by many people. This is also an ideal breakfast dish for Ha Thanh people. You should buy pho rolls at 31 Ngu Xa. Price: 30,000 VND.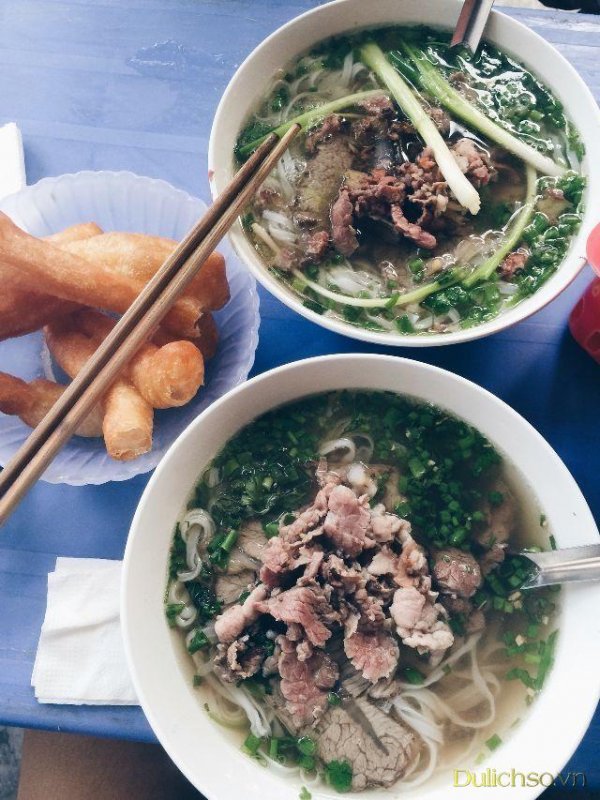 Pho Ganh : It can be said that this is one of the few pho shops in Hanoi that sells at night (from 2-7 am). With pho, we probably won't have to say too much. As a Hanoi resident, almost everyone will love the taste of pho. Still the familiar delicious flavor, is a blend of bar broth, sweet, fragrant bones, soft and chewy noodles, delicious beef, and a few crunchy fresh onions. Even more interesting is that you can eat pho in the quiet of the streets, watching Hanoi lights up at night, strangely peaceful. A full bowl of pho at night will probably be an interesting experience in the heart of Hanoi. Restaurant name: Hang Chieu Pho. Address: Hang Chieu, Hoan Kiem district, Hanoi.
Bun Cha: The most popular breakfast dish in Hanoi!
Bun Cha has long been a favorite dish of many people. Especially, after the event that US President Barack Obama enjoyed bun cha in Hanoi, this dish is more sought after than ever. The delicious taste of bun cha is first of all in the dipping sauce. The dipping sauce must be sweet enough, so that when the noodles are added, it still retains its rich flavor, not pale.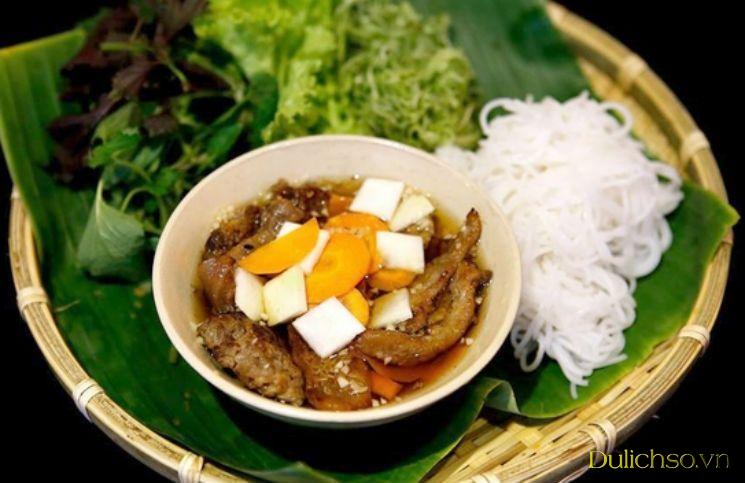 There are two types of grilled meat: meatballs and pieces of meat, depending on each person's preferences, there are different options. But the meat must be soft, grilled until cooked, not burned. Bun cha no longer has to be served with carrots, papaya and some raw vegetables to have enough taste. One morning, waking up, going to the street, eating a bowl of bun cha with warmed dipping sauce is warm enough for a long day.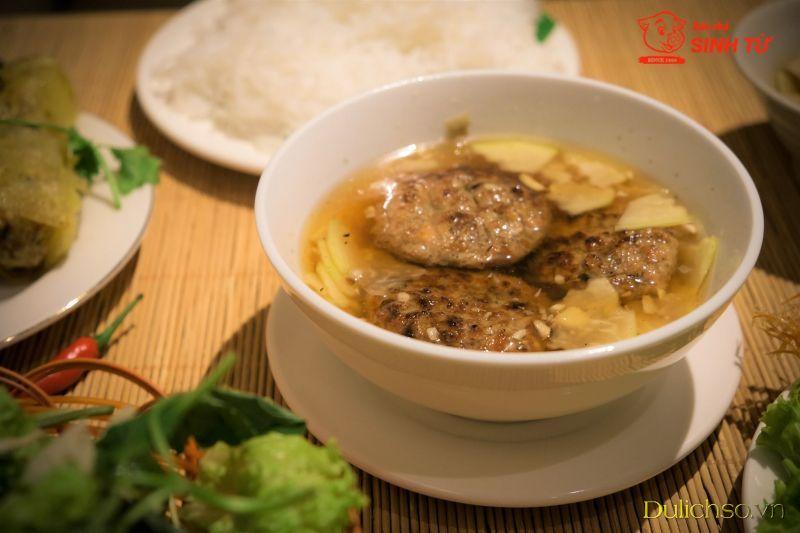 Bun Cha Sinh Tu : Bun Cha is not a strange dish for the people of the Capital. Eating bun cha in the morning has also become a long-standing habit. One can easily find this dish all over the alleys, however, finding a spacious and spacious bun cha shop is more difficult. The Sinh Tu bun cha chain is famous for a long time for its quality bun cha served in a polite space, very suitable for you to enjoy with your family. The flavor of Sinh Tu vermicelli is boldly traditional, with an origin of more than 70 years. The taste of bamboo charcoal grilled pork rolls with sweet and sour broth, faintly smell of garlic and hot chili has long become a famous specialty of Ha Thanh. Address:
No. 2 Nguyen Phong Sac, Cau Giay, Hanoi
No. 367 Hoang Quoc Viet, Cau Giay, Hanoi
No. 114A1 Giang Vo, Ba Dinh, Hanoi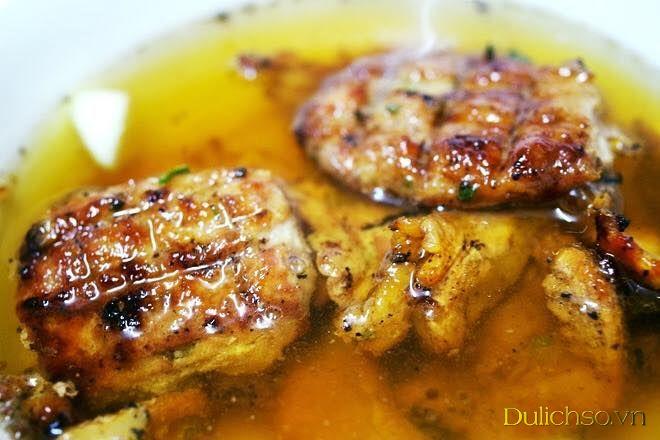 Bun Cha Huong Lien : Referring to Bun Cha in Hanoi, it is impossible to ignore Bun Cha Huong Lien. This is certainly not a strange name for diners who are passionate about this dish. The shop has become even more famous because US President Barack Obama has visited and enjoyed it. The piece of cha is marinated with the restaurant's own unique flavor, grilled just right, and the meat is tender and delicious. It is not necessary to wait until President Obama stops by to enjoy Bun Cha Huong Lien to become famous, because in the past, this bun cha restaurant was soon famous and a frequent address for bun cha "believers". The grilled pork rolls here are not burnt, but delicious. The patties are very clever, not dry but very soft, seasoned to taste. At Bun Cha Huong Lien, the sauce has a sour taste of vinegar, completely different from other shops. Address:
No. 24 Le Van Huu, Hai Ba Trung District, Hanoi – 0243 9434 106
14/59 Lang Ha, Dong Da District, Hanoi – 096 696 2683
The best place to eat vermicelli in Hanoi 2021
Bun bo Hue O Xuan : Although it is a dreamy dish originating from Hue, Hue beef noodle soup has quickly scored points in the hearts of Ha Thanh diners. A bowl of Hue beef noodle soup with full of nutrition with beef and pork leg is the choice that many people trust, especially for office workers. The noodles are soft but not crushed, and the rich broth is the factor that helps this dish to be remembered by diners forever. Hue beef noodle soup with a little spicy chili is a great choice for breakfast. You can enjoy this dish at Bun Bo Hue O Xuan on Quang Trung Street. Price: 30,000 VND.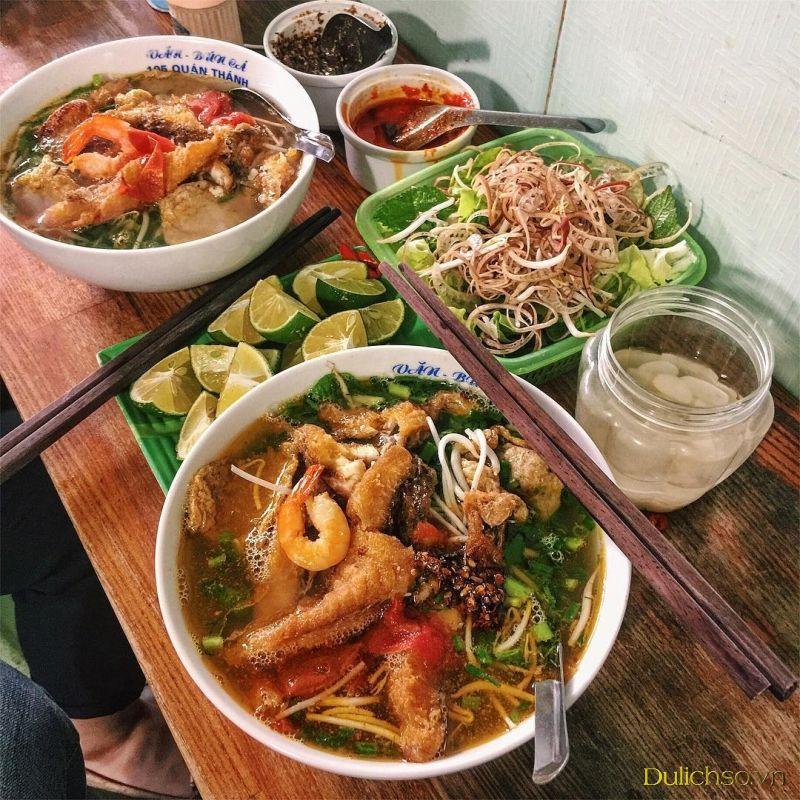 Bun Ca Hang Dau : Like many of the dishes above, fish noodle soup is no longer strange to many people. A bowl of fish noodle soup usually has a lot of fish cakes, fish meat is marinated to fit, crispy fried. Mixed with the main fish is bamboo nettle, raw vegetables, banana flowers and a slightly spicy, slightly sour broth. All have created a bowl of fish noodle soup that is bold, strange and attractive to many people. Address: 42 Hang Dau, Ba Dinh District, Hanoi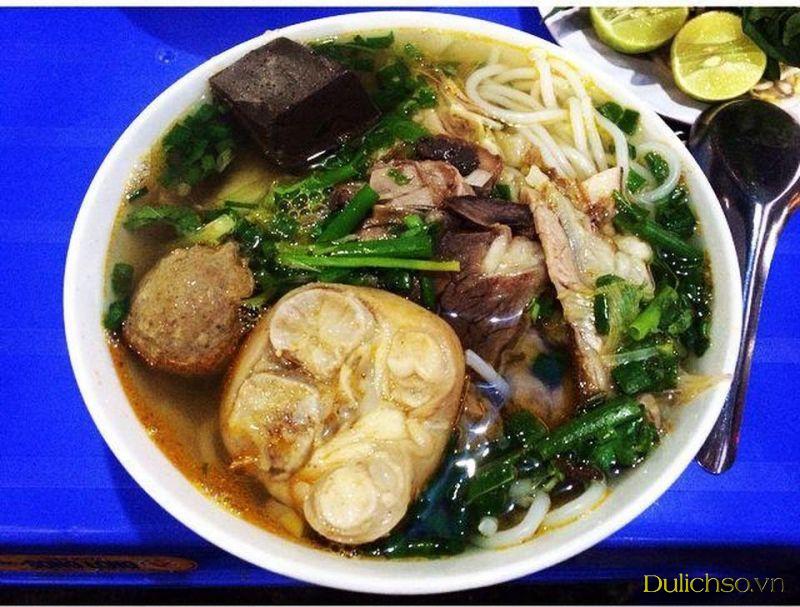 Fish noodle soup Long Rau : A place where fish noodles cannot be missed is Long Rau fish noodle soup. Long Rau – Fish noodle soup is really an ideal place to eat fish noodles. It's not wrong at all, the restaurant scores points in the hearts of the main diners because the feeling cannot be better, the crispy fish in the mouth is served with the spicy, slightly sour taste of the bamboo shoots and chili, then a little chili. spicy red with a little sour garlic vinegar. Long Rau Fish Noodles is always guaranteed in the selection of ingredients for freshness and the recipe has its own secret, Long Rau – Fish Noodles promises to bring you a great bowl of fish noodles. With two branches in Hanoi, no matter where they are, the service, quality of food, and space will satisfy all guests, even the most fastidious people. Address: 89 lane 298 Tay Son, Dong Da, Hanoi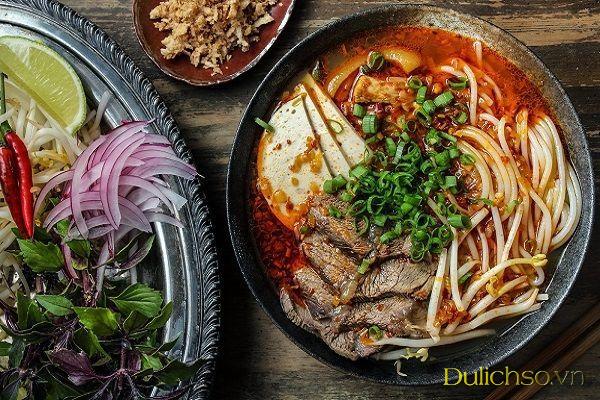 Ba Tam Fish Noodle Soup: One of the noodle shops in Hanoi that is also loved by many people is the Bun Ca Dot Ba Tam restaurant. The restaurant has a spacious, clean and airy space. At the same time, the staff is always enthusiastic and friendly to customers, always ready to serve, so you won't have to wait long to enjoy your meal. Besides, the fish has a crispy outer shell, soft and moist inside without drying. This is one of the factors that make customers love the brand of Bun Ca Dot Ba Tam. The selected ingredients are fresh perch. Even if you keep it for a long time, it won't be soggy and fishy, ​​eating vermicelli or water is also delicious. Not only that, the sweet and sour sauce is very tasty. Along with that, the restaurant's broth is prepared according to the season, usually along the mosquito net cooked with tomatoes, pineapple and dill leaves to create a mild sour taste. Address: 80 Lang Ha,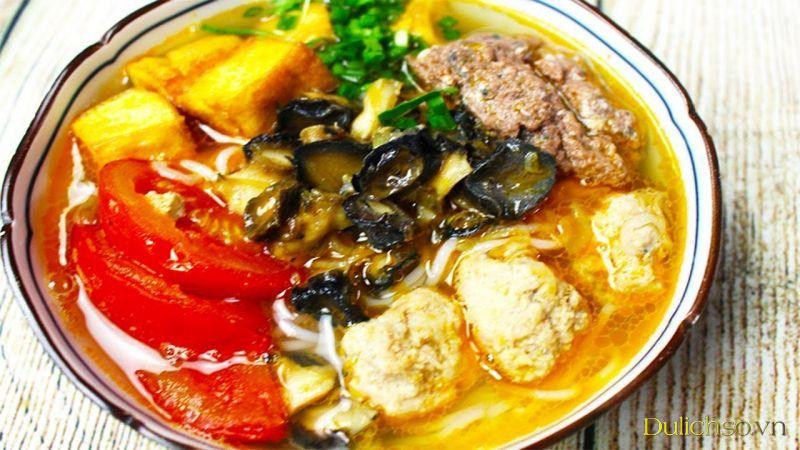 Bun snail 23 Hang Khoai : Bun snail is considered as one of the must-try dishes when coming to Hanoi. This place is famous for many delicious and famous noodle shops, but perhaps the noodle shop at 23 Hang Khoai is the most popular. In Hanoi, it is rare to find a noodle shop selling snail at night as delicious as this. Snail vermicelli here is usually mixed snail vermicelli, in addition to snails, there are also spring rolls, meat, and duck eggs. Potato snails, whether during the day or at night, are very fresh and full of raw vegetables. The most attractive point of the snail noodle dish is the rich and spicy broth that is very tasty and requires little to be seasoned. However, the broth is a bit spicy, if you can't eat spicy, you should consider it. The price of snail vermicelli varies from 40,000 to 60,000 VND/bowl. Name of the restaurant: Noodles with snails 23 Hang Khoai. Location: 23 Hang Khoai, Hoan Kiem, Hanoi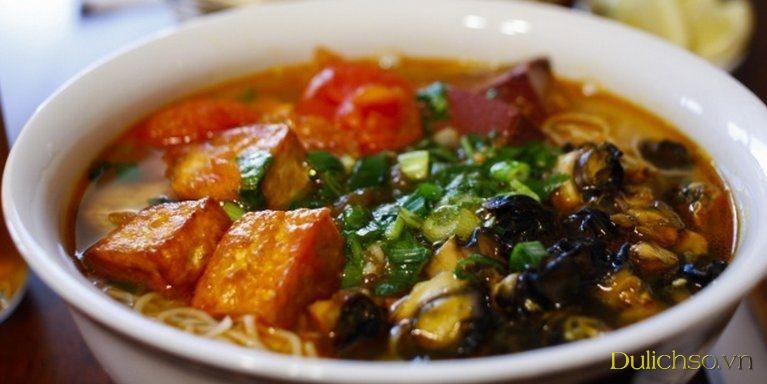 Bun Snail Co : Hot snail vermicelli is a dish that many people love, because it shows a harmonious combination of the sour taste of vinegar with the crunchy taste of snails, the soft and spongy taste of fried beans, and the cool taste of snails. vegetables. There are many different ways to enjoy noodle soup. Some people like to eat small snails, some people like to eat big snails, some people like to eat blanched vegetables instead of raw vegetables. A bowl of snail vermicelli with a little spicy chili will definitely make you feel warm all day long. You can go to Bun Oc Co, number 202 Doi Can to enjoy snail noodle soup. Price: 30,000 VND.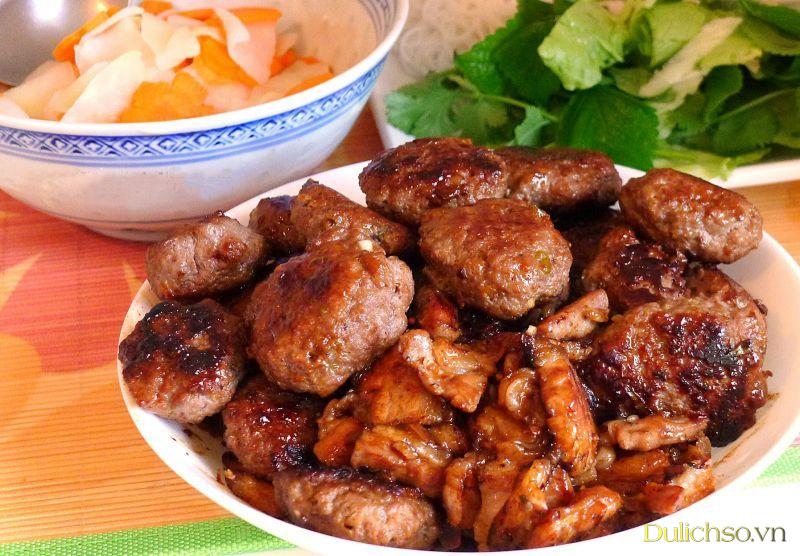 Noodles with grilled vermicelli and grilled vermicelli : A very idyllic night dish for the people of this Ha Thanh land. Bun Ngan is a dish that people here can eat every day, all the time without getting bored. Quan Hien is one of the most delicious noodle shops in Hanoi. Nestled in the middle of big fashion stores around, Ngan Hien shop is not known to everyone. But once you have eaten here once, you will want to come here again and again. In terms of quality, the shop's kangaroo is very fragrant. Goose meat has been boned, cut into thick but soft pieces, richly marinated, and people eat it thanks to charcoal grilling. In particular, the shop sells very late and the price is extremely affordable, very suitable for people who always have an empty stomach at night. Address: No. 75, Hang Bong, Hoan Kiem, Hanoi. Reference price: 45,000 – 50,000 VND
Banh cuon: The best breakfast dish in Hanoi in winter!
Referring to delicious dishes for winter mornings, we cannot help but mention hot rolls. A plate of hot rolls, adding a few fragrant fried onions, a few pieces of cinnamon rolls served with dipping sauce is more than enough for breakfast. In some places, banh cuon is also served with ball rolls, creating a very unique flavor. Many banh cuon shops also sell egg rolls, which are extremely suitable for breakfast. Because eggs provide many nutrients and energy needed by the body. A plate of banh cuon costs from 15,000 VND, so it is suitable for both students and students.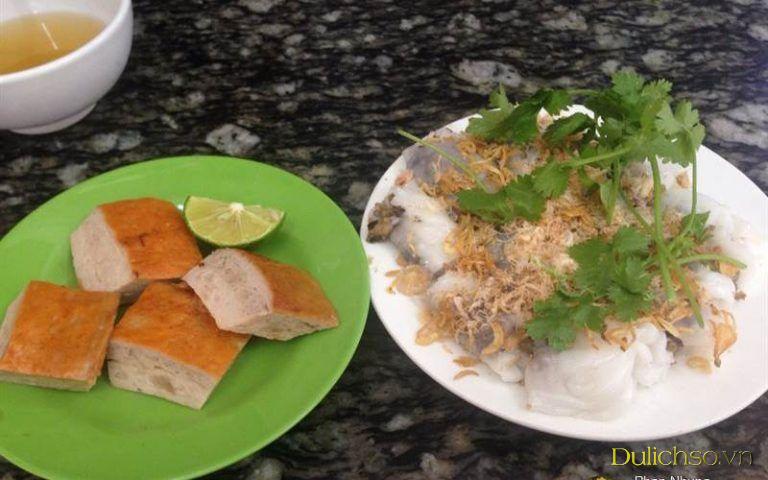 Gia An Banh Cuon: Gia An Banh Cuon has been a reliable dining address of Hanoians for more than 10 years. Everyone knows that the most special feature of Gia An rolls is the toppings served such as squid rolls, shrimp cakes and extremely thin layers of cake, making many diners fall in love. But one thing few people know, this is actually a brand from Hai Phong. With a system of more than 17 stores across districts in the Capital, this is a reliable address for you and your family when you want to enjoy breakfast with delicious and hygienic banh cuon in a cozy and modern space. Address:
No. 1, block 16B5, European Viet Kieu Village, Nguyen Van Loc, Ha Dong, Hanoi.
P10 Park Hill, Times City, 458 Minh Khai, Hoang Mai, Hanoi
T10 Times City, 458 Minh Khai, Hai Ba Trung, Hanoi
The most favorite breakfast dish in Hanoi in July 2021
Eel vermicelli: Many people believe that eating vermicelli in the morning is not enough, not enough energy for a long day. But with a full bowl of eel vermicelli, it's different. Eel is known to be a food that contains many nutrients. Enough to give you energy to work efficiently. A bowl of hot eel vermicelli with deep-fried eel meat, fragrant sweet broth and some raw vegetables is an irresistible dish. Therefore, this dish is loved by many diners and chooses for themselves at breakfast. The address to enjoy eel vermicelli is: 2 Phu Doan, Hoan Kiem, Hanoi. Price: 35,000 VND.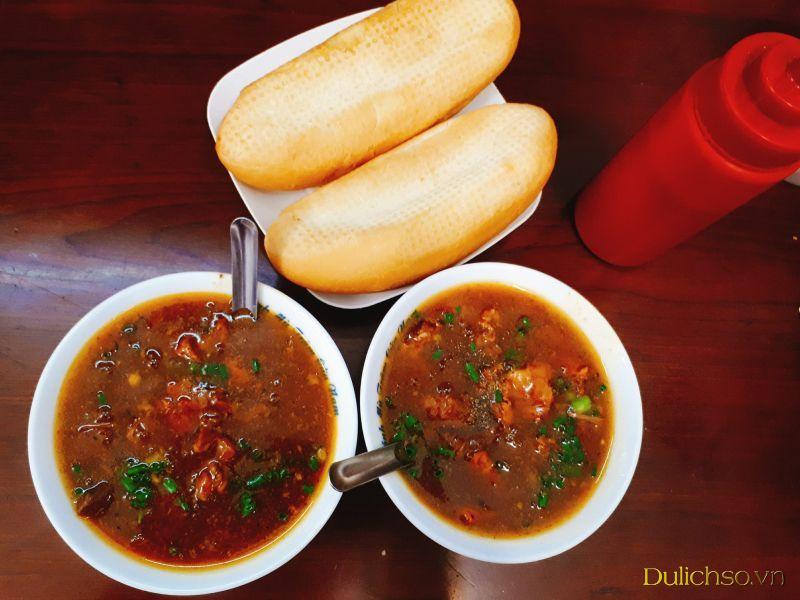 Bread wine sauce:When the wind is cold, there is nothing like enjoying a bowl of bread with wine sauce. Crispy, hot, golden bread served with a bowl of rich wine sauce, smells of wine, and full of meat. Beef tendon is soft enough, tough enough, eat until it is absorbed. Whether dine-in or take-out, every dish here is carefully prepared by the owner. Especially the bread with the cake is baked well, the filling is very good sauce, especially the char siu pate bread is filled with meat, with coriander, mixed vegetables, cucumber, so there is no fear at all. For a long time, banh mi with wine sauce has become a familiar dish of many people, especially the children of Hanoi. Wherever you go in Hanoi, you can find this delicious dish, but the banh mi in Dinh Ngang street is the best. The sauce is the most special feature, very rich and delicious. Crispy beef tendon with spicy chili flavor with fragrant coriander will make both your taste and smell stimulate. You can find bread with wine sauce at: 311 Thuy Khue, Tay Ho District, Hanoi. Price: 25,000 VND.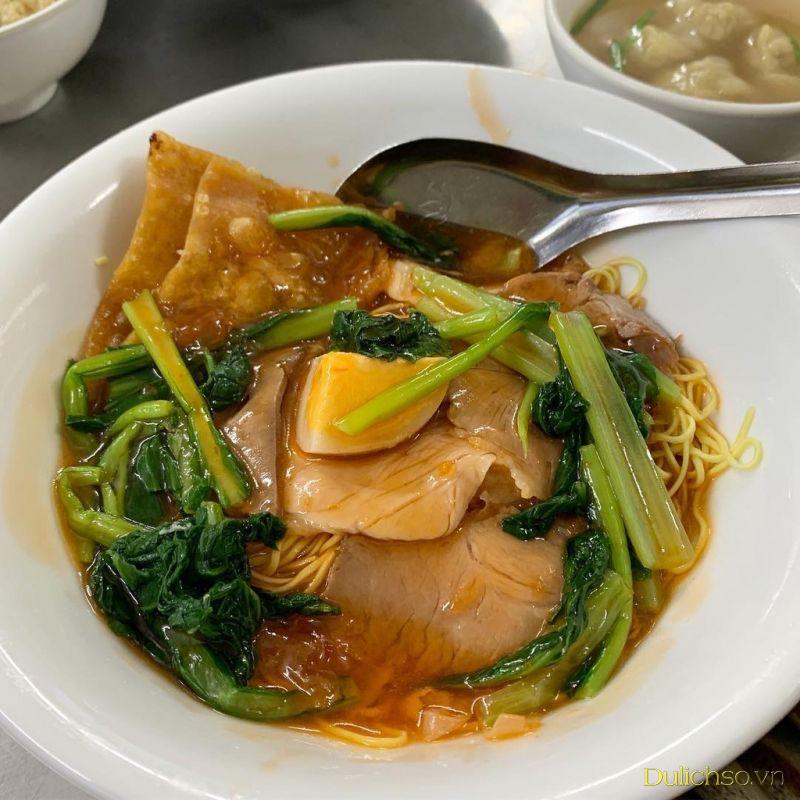 Wonton noodles: Another dish that does not originate in Hanoi but is very popular here. That is frankincense noodles. Straightforward noodles with rich, sweet broth always captivate diners. The full bowl of wonton noodles with dumplings, dumplings, blood pieces, balls, a few pieces of char siu meat makes the diners unable to refuse. In some places, the bowl of noodles is also dotted with a few pink, curved shrimp, both delicious and good quality. There's nothing better than a bowl of frankincense noodles in the morning. The address to enjoy this dish is 19 Hang Dieu Street. Price: 20,000 VND.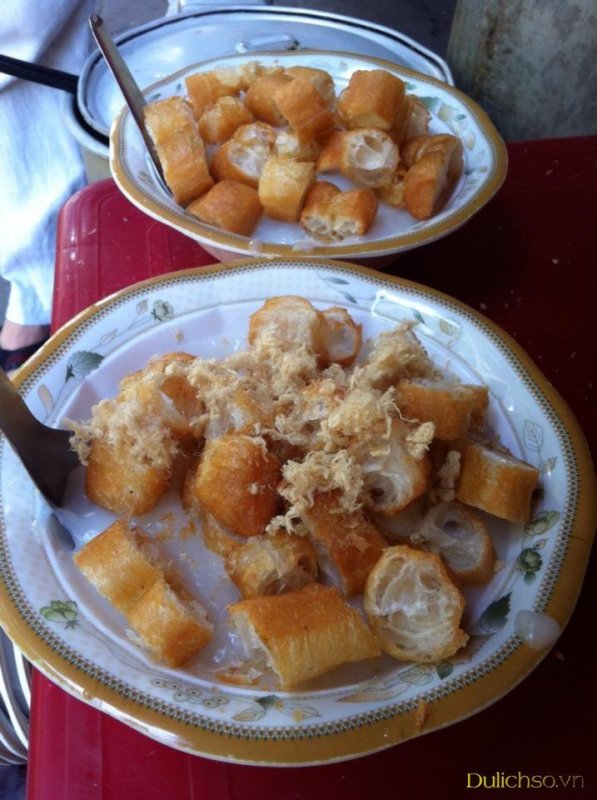 Rib porridge: When it gets cold, it's time to enjoy a bowl of hot rib porridge. Porridge is considered one of the easiest foods to eat in the morning. Because porridge is usually very fine, easy to digest. A bowl of rib porridge served with a little crunchy stir-fry and stir-fry, sprinkled with a little pepper will warm up the stomach immediately. The price of each bowl of porridge is not too high, so many people choose for breakfast. On the other hand, porridge is also suitable for both children and the elderly. Therefore, parents will not have to worry about breakfast for their children every time they take them to school. Both parents and children can enjoy a bowl of hot rib porridge before going to school or work. You can enjoy Co La rib porridge, 2A Ly Quoc Su. Price: 25,000 VND.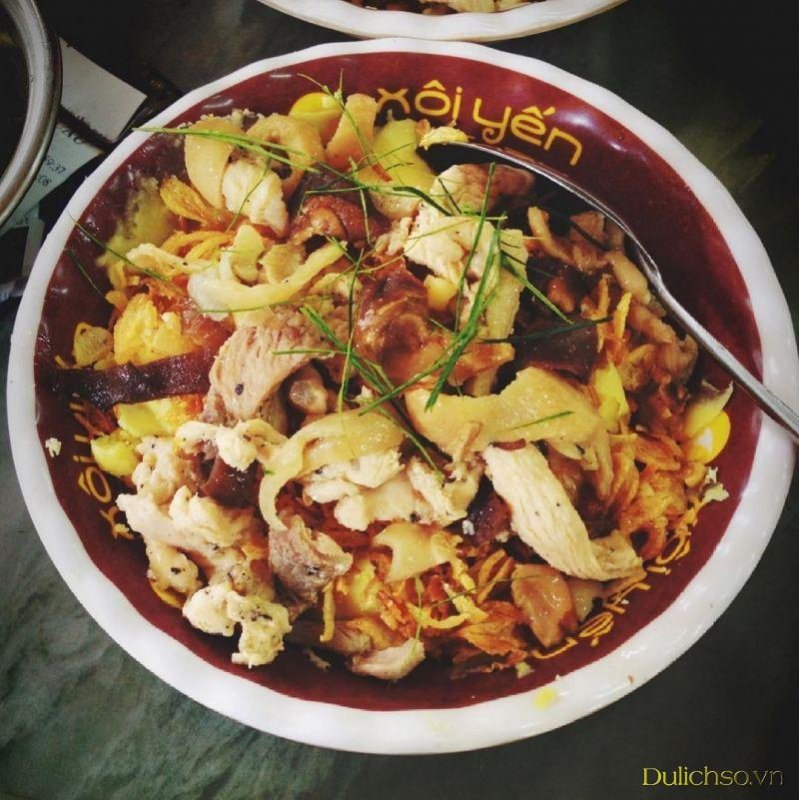 Sticky rice: Sticky rice is considered a suitable gift for breakfast because it is cheap, suitable for many different objects, and very diverse. There are many types of sticky rice from: corn sticky rice, xeo sticky rice, gac sticky rice, coconut sticky rice to white sticky rice. White sticky rice can be served with pate, sausage, spring rolls, spring rolls, eggs … with a little gravy. Because the menu of sticky rice dishes is very diverse, many people can eat sticky rice for a whole week. The hot sticky rice box is an especially suitable choice on busy mornings, when you don't have time to sit down at a small restaurant, eat a bowl of vermicelli, a bowl of pho or a bowl of noodles… Ha Thanh is: Xoi Yen, number 35B Nguyen Huu Huan. Price: 20,000 VND or more.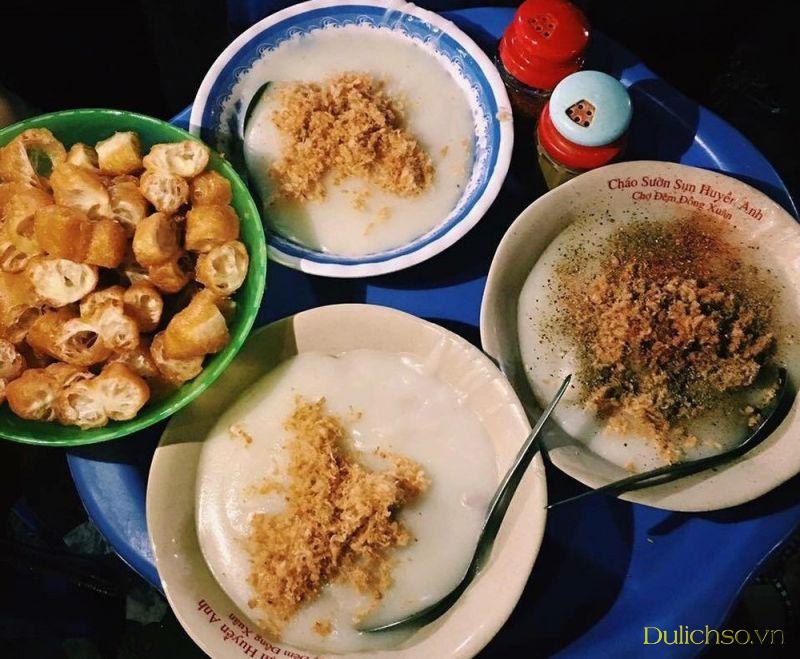 Rib cartilage porridge : From ancient to present, cartilage rib porridge has been an extremely familiar dish to many Hanoians. After many years, the taste and ingredients that make up this special porridge remain almost unchanged. Previously, this cartilage rib porridge was a nutritious dish, cooked with minced meat for children. Currently, porridge is cooked with cartilage ribs and ribs, more suitable for adults and becomes a very attractive night and dinner dish. Porridge has a sweetness, consistency, and is eaten with crispy crackers and fried rice. Perhaps because of the delicious taste, the shop is always crowded with customers to eat and buy. Name of the restaurant: Huyen Anh Rib Porridge. Address: 14 Dong Xuan – Hoan Kiem District, Hanoi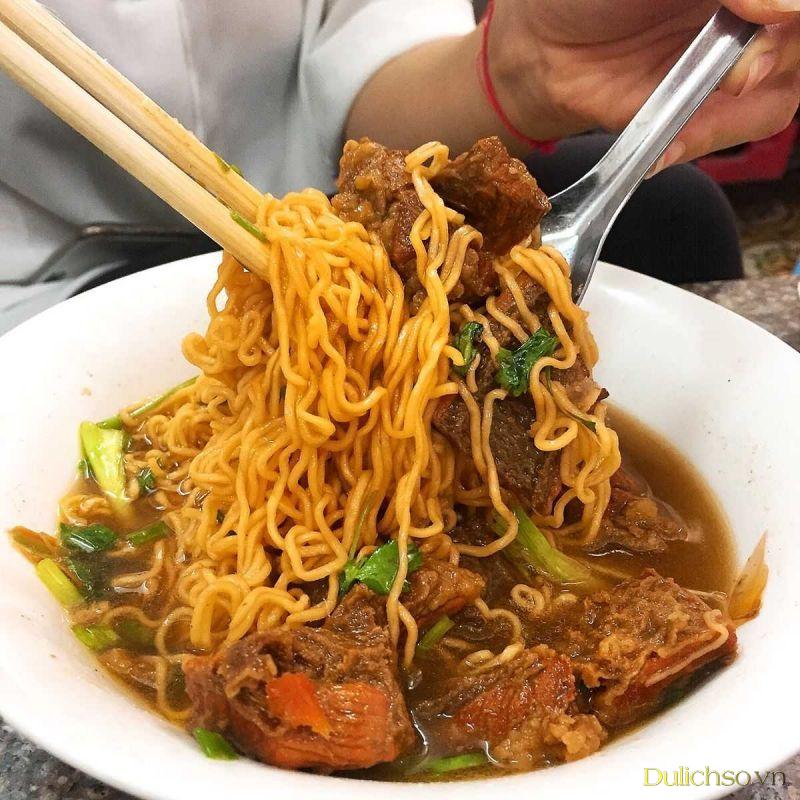 Shrimp noodles with wine sauce : Shrimp noodles are a popular dish of most Vietnamese students and families due to their delicious taste, low price, and quick processing. Shrimp noodles with wine sauce are a variation of the traditional shrimp noodle dish that is very popular with young people. With the wine sauce broth cooked with shrimp noodles, it creates an aromatic beef flavor and enhances the taste of wine sauce. Nocturnal foodies will not be able to miss this dish! Restaurant name: Pho Ly Beo. Address: No. 4 & 6 Hang Non, Hoan Kiem, Hanoi Ha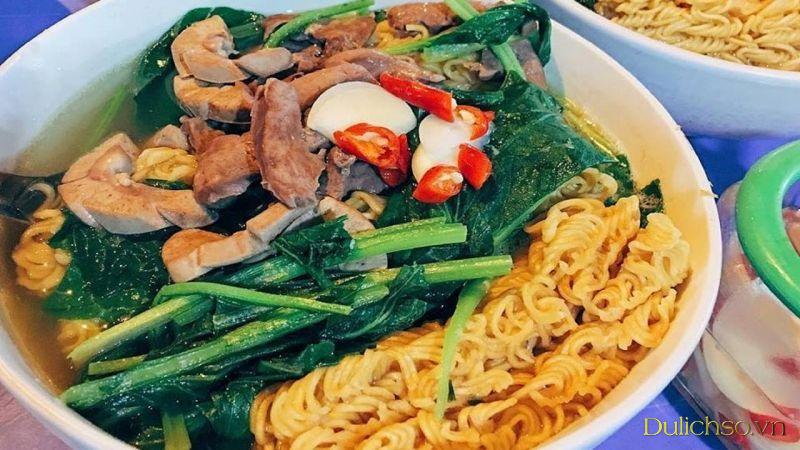 Spicy and sour heart noodles: Spicy and sour heart and kidney noodles are always one of the most favorite dishes every time the wind comes. After going out in the cold wind, just sipping a sip of broth is enough to warm up the whole person. Not to mention, noodles are used with crispy heart and kidney pieces, fatty liver and delicious oval, just mentioned, it feels really attractive. Name of the restaurant: Mai Beo Noodles. Address: 48 Hang Tre, Hoan Kiem, Hanoi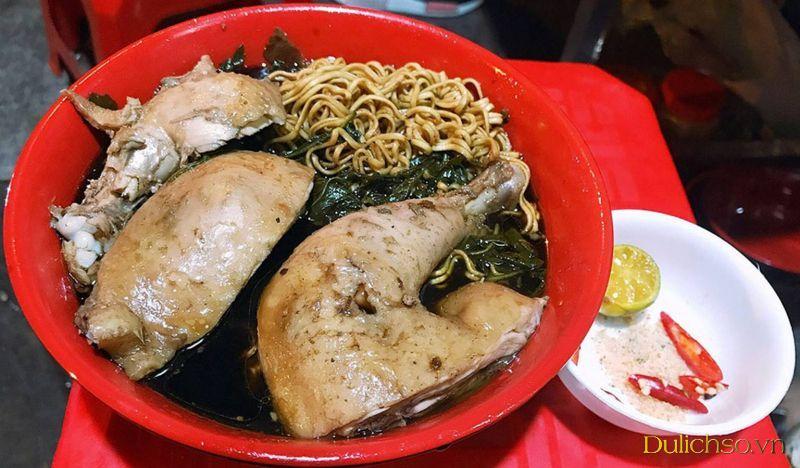 Chicken Qin Noodles : If you love the taste of Chinese herbs in your dishes or you are a big fan of wormwood, then surely chicken noodle is not far away from you. Luong Van Can chicken noodle soup is a famous address that gourmets cannot ignore. The taste of the dish is attractive, once you eat it, you will remember it forever. There are many passersby who only stop to eat temporarily but then immediately become regular customers. Many people joke that the food here is addictive, eat it and just want to eat it again. Although it is a restaurant sitting on the sidewalk, the service is quite professional, guests do not have to wait long, if eating in the winter is great. The price of noodles ranges from 45,000 to 55,000 VND. Restaurant name: Tan Luong Van Can Chicken Noodles Location: Hang Bo 4 intersection, Luong Van Can, Hoan Kiem, Hanoi
TAG: