Nam Dinh noodle soup is strange but delicious
Hanoians can mix beef and chicken pho but can't eat pork noodle soup. That may be the 'lucky' thing that makes Nam Dinh have a strange and delicious noodle soup.
Hanoi, Hai Phong and Nam Dinh have always been famous as the three cities with the most delicious, diverse and special food in the North. The culinary map of these 3 cities always makes people addicted to food, gourmet… lost. That comes from the geographical, economic and cultural conditions of each place throughout the history, although so far, Nam Dinh has lagged too far behind the other two cities.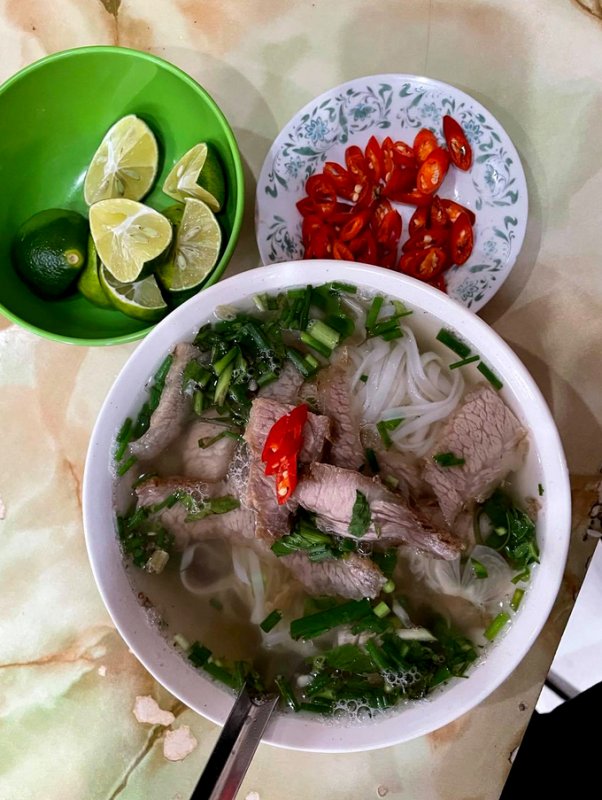 A bowl of pho in Nam Dinh is served with indispensable spices such as lemon and chili. If you don't pay attention to the red color of the meat's outer layer, many people will probably think this is a bowl of cooked beef noodle soup.
However, the cultural background of Nam Dinh is still very rich, it is still possible to "slap your chest and declare your name" with special dishes that cannot be found anywhere, such as pho bone or pho xiu. Almost everyone who comes to Nam Dinh, whether it's the first time or many times, tries to find a bowl of pho that is full of strange things from name to taste.
There is an unwritten rule, if it's pho, only use beef or chicken to cook. However, the change of circumstances has created many kinds of pho that are cooked with other ingredients such as pork, buffalo meat, horse meat, even fish. In particular, pho little is a quite sophisticated variation to create a new line of pho.
Xiu here is an abbreviated reading of char siu in Chinese culinary culture. The imprint of the Chinese people in Nam Dinh is quite bold because the Southern citadel used to be the largest trading center of the Lower Son Nam region, even the Red River Delta, with full seaports, river ports, etc. north-south celestial road and railway.
Therefore, the Chinese appeared and settled in Nam Dinh for a long time, creating "guest streets" with typical Chinese communities and assembly halls like Hoi An or Cholon (Saigon), On a smaller scale, of course. During the process of mixing blood, they contributed to Nam Dinh cuisine with dishes of their homeland and became specialties of the Southern citadel such as chi ma phu (black sesame tea), green bean curd tea (green bean tea), and so on. Si Chau candy, banh xiu pao, char siu, sticky rice and pho…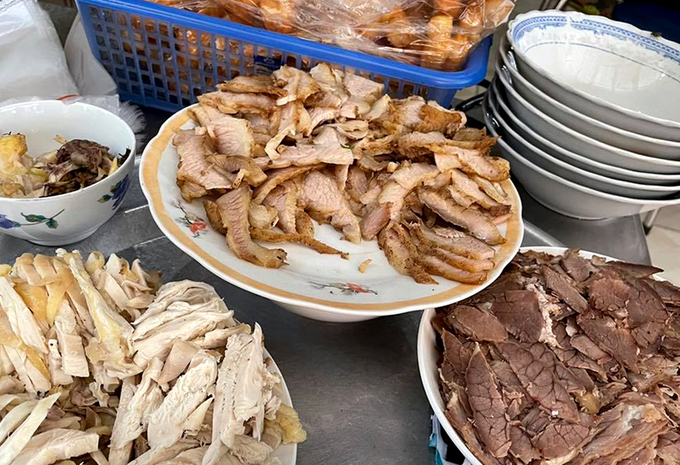 A pho shop in Nam Dinh will usually have both beef and chicken noodle soup.
Xa xiu is used to refer to the lean meat of the pig, the meat that is surrounded by a thin layer of fat, marinated with basil, five spices, cinnamon apricot wine, cashew oil … for many hours and then fried. up. The char siu is brown with cockroach wings, the fat is transparent, golden yellow, fragrant with basil, when sliced, the inner loin must be light pink, the meat is soft and sweet.
On Tet holiday, char siu is considered as an independent dish, sliced ​​into thin, large pieces, dipped with pure fish sauce sprinkled with fragrant pepper. The char siu in Nam Dinh is a different variation from the Cantonese way of making char siu when they skewer the pork to roast, however, the name char siu remains the same. And the word "tieu" in char siu is also different from the word "tieu" in "Xieu pao", which refers to a type of small dumpling, with the etymology being "tieu" and reading as "sieu", then "tieu".
With delicious char siu, Nam Dinh people invented their very special noodle soup. Pho xiu is like other pho dishes with pho broth being simmered with beef and pork bones in a certain ratio. The taste of pho broth is still fragrant with grilled ginger, grilled onions, cardamom and beef bones. Pho is the same, there is no difference, and only uses small, soft and chewy Banh Mi.
The only difference is the pork belly instead of beef or chicken. Tender pieces are sliced ​​as big as cooked beef, spread evenly over the bowl of pho, sprinkled with scallions, onions and maybe even a little bit of Chinese flavor (coriander) just to create a strange flavor for the bowl of pho. . At first glance, if you do not pay attention to the red color of the outer layer of tiny meat, many people will probably think this is a bowl of cooked beef noodle soup.
The fried meat is cleverly combined with pho noodles and pho broth, to create a pure Southern pho dish, not a Chinese-inspired dish like roasted duck noodle soup – actually inspired by roasted duck noodles, duck noodles. potential of the Tay and Nung ethnic groups in Cao Bang, Lang Son.
When eaten, the sweet and passionate flavor of basil in the meat will surprise you because it goes well with the fragrant broth of anise and cardamom. Perhaps, spices of the same Asian origin such as basil, cinnamon, anise, cloves in the five flavors, cardamom, and star anise in the broth do not contradict each other, so they have created a special deliciousness. of pho little.
The sophisticated and creative taste of the Nam Dinh people has developed a new line of pho, full of strange and provocative. Only different from beef noodle soup, which is spread everywhere by Nam Dinh people, noodle soup only exists within Nam Dinh city, especially in the area of ​​​​the Cathedral, connecting with the Guest quarter (now Hai Phong street). Mrs. Trung, Hoang Van Thu) of the Chinese living in the South citadel.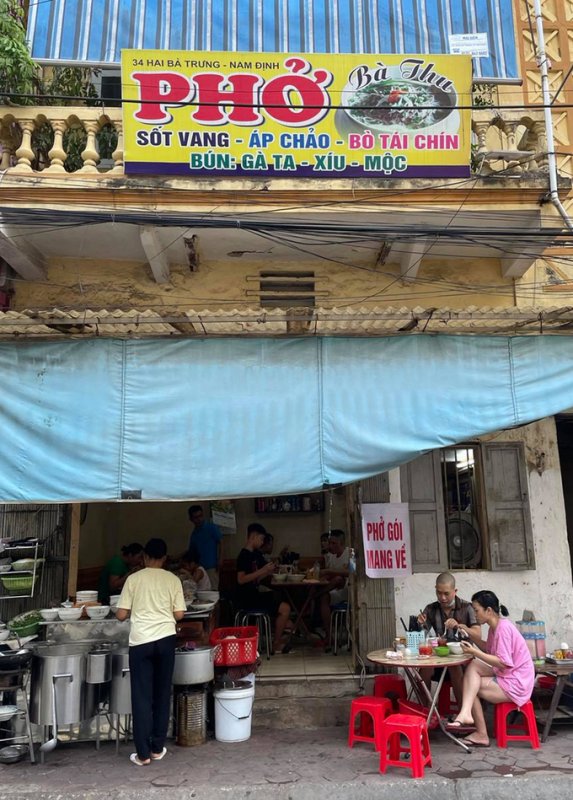 Perhaps the prejudice about pho in Hanoi is too strong, when only beef pho and chicken noodle soup are accepted, so pho little does not follow the Nam Dinh people who migrate to the capital. Hanoians can eat mixed beef and chicken noodle soup, but cannot eat pork noodle soup (only pho xiu). It may also be a "lucky" thing that makes Nam Dinh people have a strange and delicious pho that costs only 25,000 or 30,000 VND. Want to eat, only way to Nam Dinh!
Anmustang
Photo: Phong Phu
TAG: