The famous fish noodle dish of the U80 couple is in the Top Vietnamese specialties
 Still, the same simple ingredients as snakehead fish, turmeric root, coriander, crazy cotton… but Mrs. Tran Thi Trong (An Giang) turned those ingredients into a Vietnamese record-setting fish noodle dish.
From poor dishes to record-setting specialties
The U80 couple's fish noodle dish is one of the famous specialties
Mr. Tran Khac Hung said that his original hometown was in Chau Doc, from a young age his mother used to cook fish noodles for the whole family to eat. When he got married, his mother continued to teach this dish to her daughter-in-law. At that time, he and his wife only thought of fish noodles as a family dish, not thinking about doing business from it.
"When my wife is about to retire, my eldest son is about to go to university. The income from the teaching profession of the couple is not enough to manage and take care of their children's education, so my wife decided to quit her job, take advantage of the space at home to open a shop selling fish noodles", Mr. Hung shared.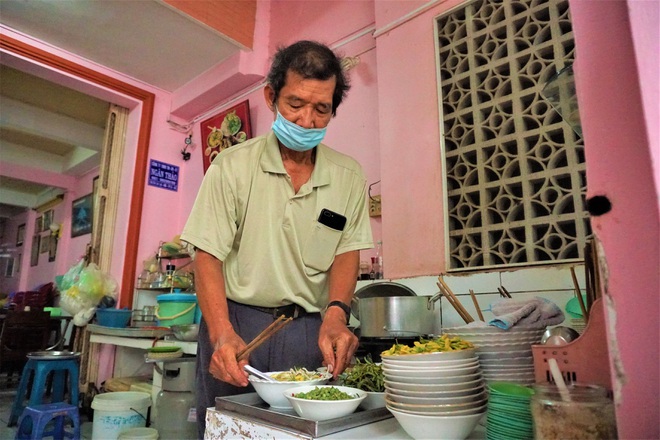 Fish noodle soup is a dish passed down through generations in Mr. Hung's family (Photo: Bao Ky).
Ms. Tran Thi Trong, Mr. Hung's wife confided that in 1989, she and her husband opened a fish noodle shop named Hieu Thuan. At the beginning of the business, there were many difficulties because people in Long Xuyen did not know what this dish was that day. For more than a month, she had to eat fish vermicelli except for rice, gradually people knew more, one person introduced the other, so the number of diners coming to the restaurant gradually stabilized.
After that, this strange dish emerged as a phenomenon in the culinary world, many shops selling fish noodle soup sprang up like mushrooms. However, for gourmets, they still love their grandparents' fish noodle soup because of its unique flavor.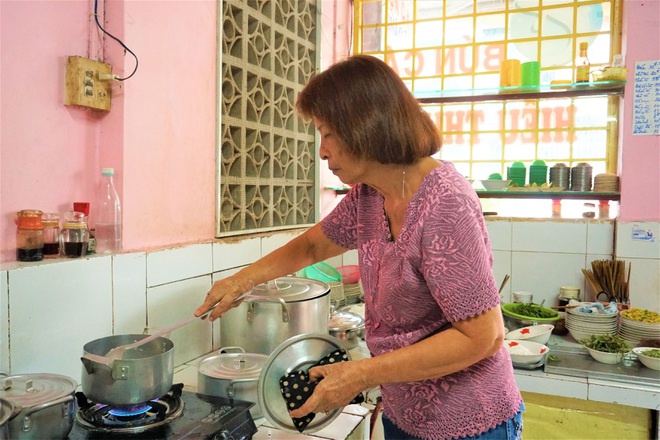 Before retiring, Mrs. Trong cherished the idea of ​​opening a fish noodle shop to earn more income (Photo: Bao Ky).
In addition to being supported by customers, in 2012 after the nomination of the Department of Culture, Sports and Tourism of An Giang province, the Vietnam Record Organization came to the restaurant to taste, appraise and let people vote. After that, this organization awarded a certificate confirming the record of Long Xuyen fish noodle soup as one of 50 famous Vietnamese specialties.
Recipes for cooking broth
In order to create the delicious taste of fish noodle soup, it is indispensable for accompanying vegetables such as coriander, water spinach, crazy flower… Especially, the rich broth made from 50kg of snakehead fish creates the flavor typical sweet for the old fish noodle dish.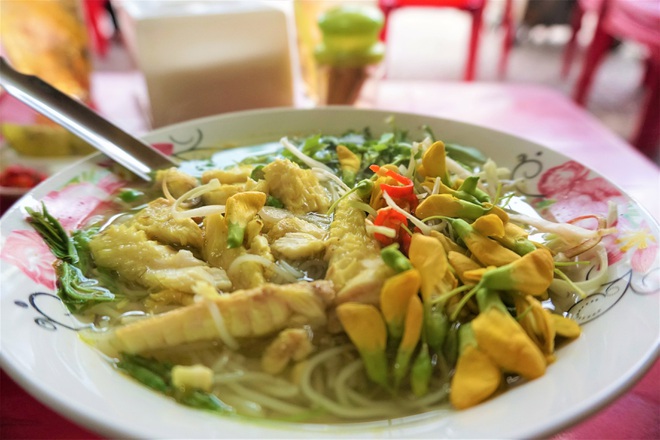 Diners enjoy the "famous" fish noodle dish in Long Xuyen (Photo: Bao Ky).
The owner of the fish noodle shop revealed that every day she has to get up early to go to the market to choose fresh fish. Snakehead fish to cook fish noodles is copper snakehead fish size 800g/head. The fish brought back must be cleaned and then washed very carefully to reduce fishyness. When marinating, you must add a little lemongrass and turmeric to the fish, both to create color and to help the fish eliminate fishy. After boiling, the meat must be removed by hand. It must be very clever, the new piece of fish remains intact, not broken.
"As for vegetables, I add that vegetable in every season, but I can't do without coriander and coriander because these two things help the bowl of fish noodles not only have a beautiful color but also increase the flavor of the bowl of vermicelli. As well as snakehead fish. , vegetables are carefully selected by me. Sell every day, buy every day", Ms. Trong revealed.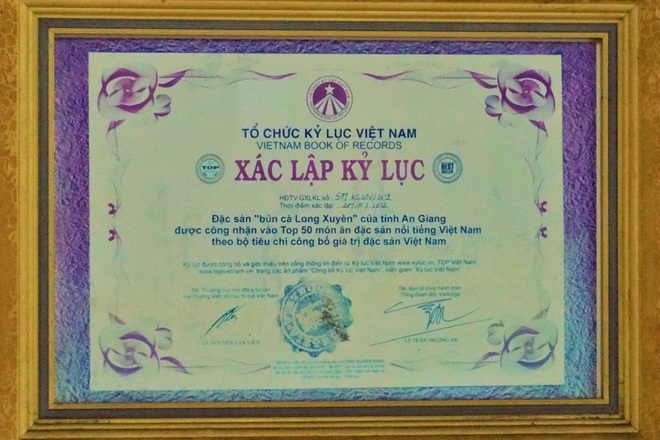 In 2012, the fish vermicelli dish of grandparents was announced by the Vietnam Record Organization as one of the 50 famous specialties of Vietnam (Photo: Bao Ky).
As a regular customer of Hieu Thuan fish noodle shop, Ms. Phan Thi Hong Van shared: "Before eating fish noodles in many places, I still find fish noodles here the most special. The fish meat at Ms. Trong's restaurant has no bones, fish cooked from Copper snakehead fish has toughness combined with a variety of vegetables to make the taste of fish noodles more delicious.
In addition to guests in the inner city, since the fish noodle dish of the retired teacher and couple set a Vietnamese record, there have been a lot of diners from provinces and cities across the country coming to enjoy. Even many groups of guests have to book in advance to enjoy the famous fish noodle dish. Follow Dan trí
TAG: