When is the best season to travel to Da Nang and where to go?
Da Nang is known as a livable city in Vietnam. This place not only owns many beautiful landscapes, unique and impressive architectural works but also attracts by modern entertainment areas. But do you know which season is the most beautiful to travel to Da Nang? If interested, then follow the whole article to find the answer.
Find out about the weather in Da Nang
It is known that Da Nang has a tropical climate, so the air here is hot and humid all year round. However, the climate in Da Nang is still divided into two distinct seasons, namely the rainy season and the dry season. In particular, the rainy season in Da Nang starts from August to December. At this time, sudden rains often appear, very uncomfortable. And if you travel to Da Nang during this time without paying attention to the weather forecast, it is very easy to be affected by the rain. As for the dry season in Da Nang from January to the end of July, the weather is quite hot, so it is very suitable for swimming and swimming activities. And this is also the answer to Da Nang tourism in which season is the most beautiful and interesting for you. The temperature in Da Nang is not as harsh as in Hanoi, with an average temperature of about 26 degrees Celsius. In which, the lowest temperature usually falls in December, about 21 degrees. The highest is usually in June and July with a temperature of about 21 degrees Celsius.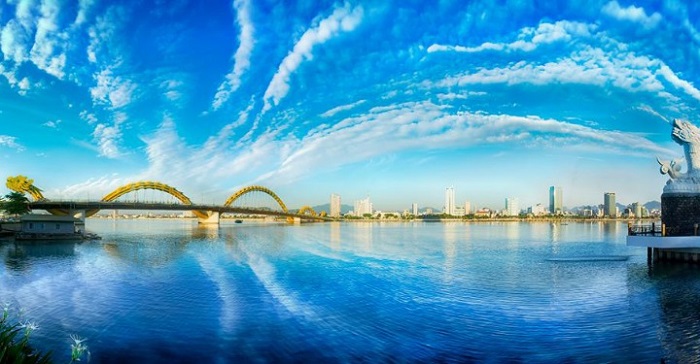 Da Nang tourism
What is the best season to travel to Da Nang?
Da Nang is a HOT tourist city, with diverse and attractive experiences, so you can come here at any time of the year. Each time when traveling to Da Nang , it has its own unique beauty, so depending on your interests and trip purposes, you can choose the right time. And to help you easily choose the time to travel, you can refer to the following suggestions: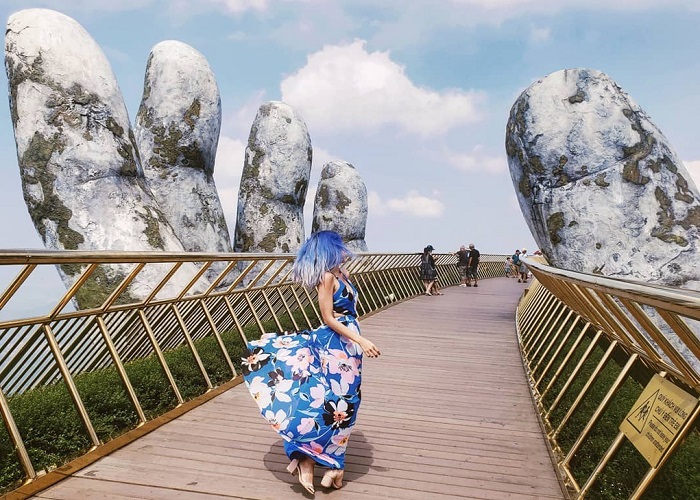 Check-in at Da Nang Golden Bridge
The most beautiful tourist season in Da Nang
If you are still wondering, do not know which  month to travel to Da Nang,  consider the period of the dry season, from April to August. According to statistics, this is  the peak tourist season in Danang , because it has just entered the summer, so the number of visitors is very large. Although it is the hot season, the temperature here is not too harsh like the weather in Hanoi, but relatively comfortable, very suitable for beach trips with underwater experiences. 
Besides, when coming to Da Nang in the summer, don't forget to visit Ba Na Hills tourist area – The place is known as the 'earthly scene'. Coming here, visitors not only enjoy the fresh air, with green natural scenery, but also participate in many interesting games and activities. Therefore, this is also the answer to which  Da Nang travel season is the most beautiful and fun you should know.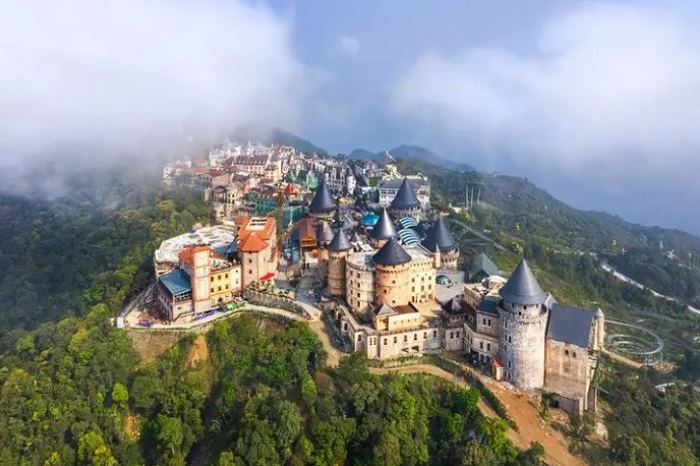 Enjoy the panoramic view of Ba Na Hills from above
Da Nang travel season is the most economical
The tourists coming here are not only interested in the beauty of Da Nang, but the cost issue is also very focused. It is known that the period from September to December is the low tourist time, because this is the rainy season, there are often sudden rains, so it is easy to affect your travel itinerary. Not to mention the problem at sea, also prone to storms, so this time it seems that the number of visitors to Da Nang is very small. That also means that  the cost of tourism in Da Nang  is also greatly reduced at this time, from air tickets, accommodation, to entertainment activities, tourism all have great incentives. Therefore, if you want to save money, you can choose the rainy season to travel. Just paying attention to monitoring the weather every day, avoiding rainstorms, can also make the trip more convenient.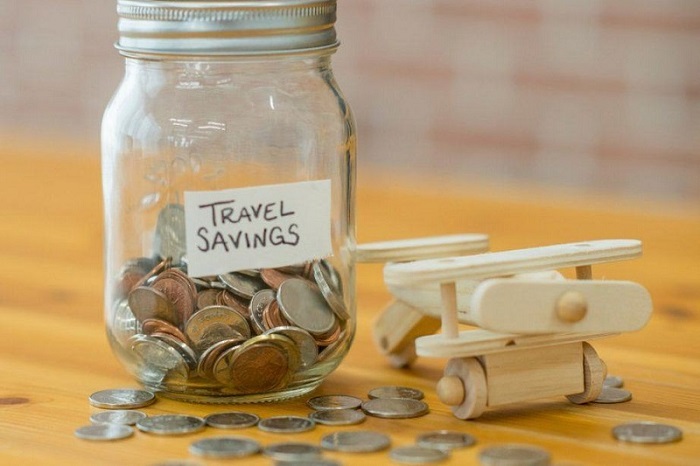 How to save money on Da Nang travel
So what is the  most beautiful and cheapest season to travel to Da Nang?  To have a memorable trip, with lots of great experiences without spending too much money, according to Da Nang travel experience, you can come here from January to March. This is known as ' "golden time" to plan a travel itinerary, because this is just the end of the rainy season, not the peak tourist season, so the number of tourists has not visited much. Moreover, this time is the beginning of the year, like the beginning of the tourist season, so the cost of services has not increased sharply, which also helps you save a 'good' amount of money for your wallet.
A few notes when traveling to Da Nang in the rainy season:
– Update weather news every day to limit the storms in the best way.
– Traveling in the rainy season, you should not be subjective. Always carry umbrellas, raincoats, hats, … and waterproof bags for valuables such as phones, cameras,…
– Rainy weather is easy to make people sick, so always bring common medicines such as: flu, cough, headache, fever reducer, …
– It is recommended to travel at the beginning or the end of the season, the chance of rain will be lower when going in the middle of the rainy season.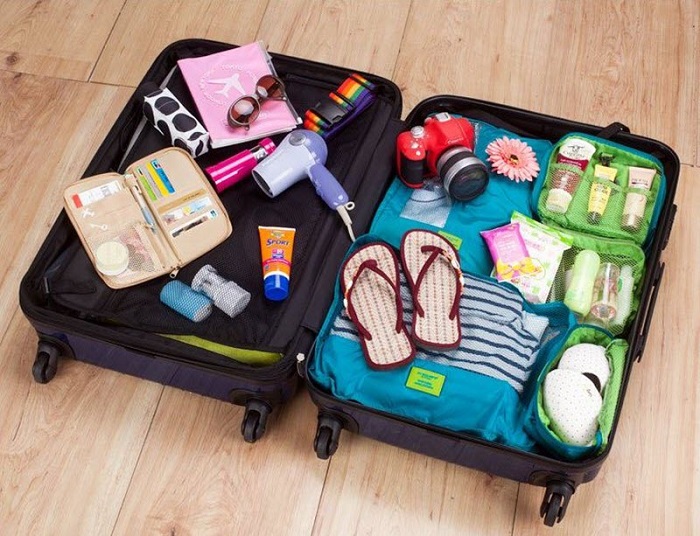 Prepare luggage for travel to Da Nang
Famous tourist attractions in Da Nang
Besides the theme of  Da Nang tourism, which season is the most beautiful  , you should also pay attention to the famous stops here. And if you do not know  where to go when coming to Da Nang  , you can refer to the following suggestions:
– Ba Na Hills: Possessing a beauty like a fairyland, along with a leading modern entertainment system, Ba Na Hills meets all the requirements of visitors, from watching nature, playing to having fun. entertainment play. Address: Located in An Son village, Hoa Ninh Commune, Hoa Vang District, City. Danang
– Asia Park – Sunworld: Similar to Ba Na Hills, Asia Park – Sunworld is known as the most famous man-made wonder of Da Nang, with an extremely attractive entertainment system. You will experience the games from simple to complex, from light to thrilling games. Address: Located at 1 Phan Dang Luu (Located next to the Han River), Da Nang.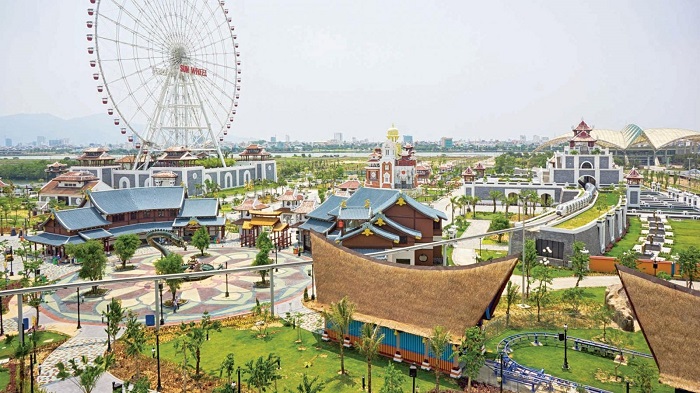 – 3D TrickEye Museum: A place that brings an interesting space, with impressive 3D paintings. The paintings here are divided into many topics such as: fairy tales, myths, movies, … you can freely check-in and take pictures here. Address: Located at Lot C2-10, Tran Nhan Tong, Tho Quang, Son Tra, Da Nang.
– Upside down house: If you are a believer in virtual living, you definitely cannot ignore the upside down house. Because this is a popular tourist destination in Da Nang, attracting many tourists to visit. Coming to this special house, you will see that everything is reversed, bringing a new space. Therefore, many tourists come here just to take pictures as a souvenir. Address upside down: Located at 44 Ho Xuan Huong, Ngu Hanh Son, Da Nang.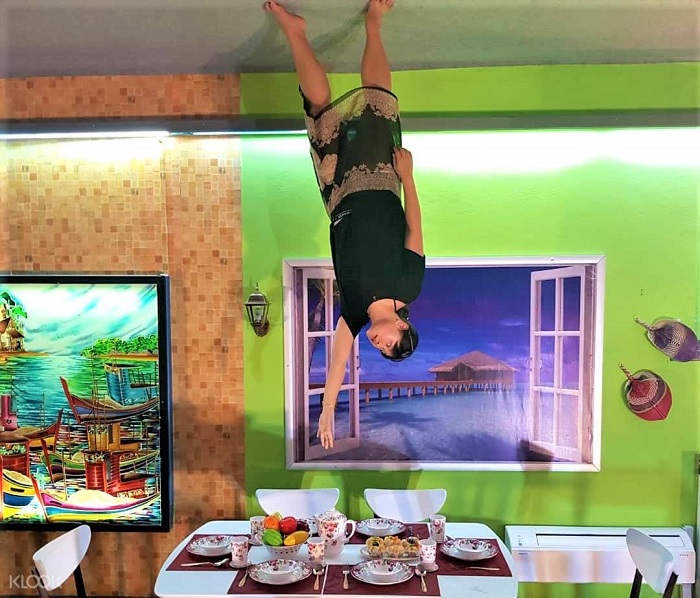 Virtual living in the upside down house Upside down house
– My Khe Beach: Is one of the most beautiful beaches of Da Nang. With clear blue water, romantic space, My Khe beach is very suitable for fun trips and resorts. Along with that, in the sea, there are many attractive entertainment services such as: scuba diving to see corals, squid fishing, …
In addition, there are still many other great stops you can consider visiting such as Hoi An, Cu Lao Cham, Son Tra Peninsula, Linh Ung Pagoda, Marble Mountains…
With the above news, do you know which season is the most beautiful to travel to Da Nang? Prepare yourself mentally and make a perfect travel plan!
Photo: Internet
TAG: