2 'chicken only' restaurants in Quy Nhon
Restaurants sell free-range chicken with chewy, aromatic meat that isn't friable, processed into a variety of delectable dishes such as steamed onions, fried with fish sauce, shuffling bamboo shoots, and so on.
Huu Lai Restaurant
The restaurant is located on the "chicken road" along National Highway 1D connecting Binh Dinh and Phu Yen; this road is often called Quy Nhon – Song Cau new road in Ghenh Rang Ward, Quy Nhon city. Along the way, there are about 20 different "chicken only" shops for diners to choose from, most of which have a cool garden space with lots of trees. Guests sit in bamboo huts or tables and chairs under the tin roof to create a rustic, idyllic feeling.
Huu Lai is the first "chicken only" restaurant in Quy Nhon City, dating about 20 years ago. The name "chicken only" also comes from the shop, but because the owner releases the chickens in the garden when the guests come, they bring the chickens into the coop; if the guests see any chicken they like, the owner will only catch it for meat. But now, that way is no longer suitable due to the increasing number of guests, but the quality of the food is commented on.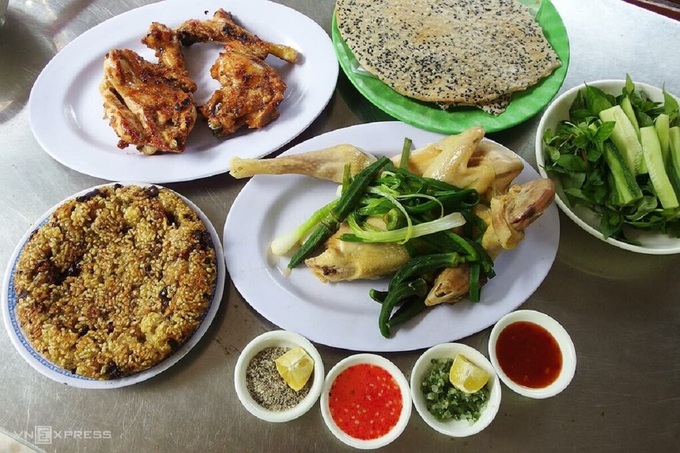 Besides the delicious way to make chicken, the chicken dipping sauce at Huu Lai restaurant is also popular with diners near and far. Photo: Spirit
Chicken at the restaurant is bought in Song Cau town (Phu Yen), raised in the garden to eat rice, bran, vegetables, natural insects, so it has tough, fragrant, and not friable meat like an industrial chicken. Each chicken weighs 1.4-1.8 kg, costs about 330,000 VND/kg. Visitors to the restaurant often order boiled, steamed, and grilled chicken dishes, which are the most popular, besides squeeze salad, braised fish sauce, fried fish sauce, fried with lemongrass and chili, cooked porridge… The seasoning set at the restaurant includes salt, pepper, lemon, salt, lemon chili seeds, red chili salt, sweet and salty sauce.
Chicken shop only Four seasons
The shop is nestled in a large garden, under the big sycamore trees, with a cool, quiet space on National Highway 1D. In the shop are bamboo huts with stalls for guests to sit on or hang out in hammocks. The staff recommends guests who come to the restaurant have suitable dishes based on guests' number and preferences. Each chicken costs about 350,000 VND, a meal for 6-7 people fluctuates around 1 million VND, including soft drinks and side dishes.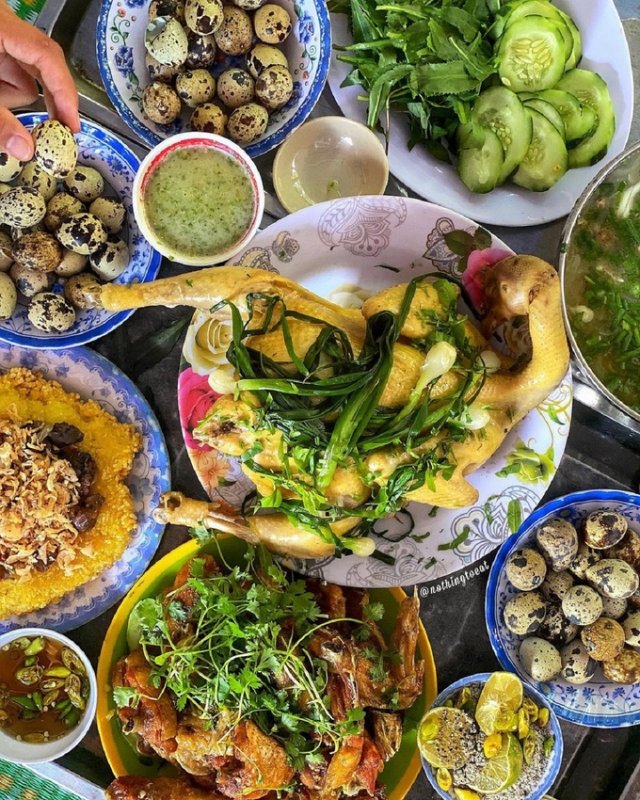 Meal at Chicken only Four Seasons restaurant with 2 chickens steamed with onions and fried with fish sauce, fried chicken intestines served with sticky rice. Photo: @nothingtoeat/Instagram
Usually, guests will order 1-2 chickens and then divide and cook many different dishes, mainly chicken with lemongrass and white rice, steamed chicken with onions, fried with fish sauce, chicken cooked with porridge, vermicelli. Particularly, chicken hearts are processed with fried sticky rice or cooked with Giang leaf soup. The special dish at the restaurant that the owner often introduces is braised chicken with fish sauce.
Chicken at the restaurant has firm meat, a sweet aroma, not much fat, so the processing of dishes is delicious. Steamed onion chicken with soft meat dipped in salt and pepper, or spicy chicken with lemongrass and chili served with white rice with pandan leaves cooked in a fragrant cast iron pot. Before enjoying the main dish, the restaurant also serves quail eggs, and a plate of raw green eggplant served with fried fish sauce and bacon as an appetizer.
Like other "chicken only" shops, Four Seasons shop is open from 9 am to5 pm daily; this place has a place to park motorbikes and groups of guests traveling by small cars. Follow vnexpress
TAG: