The 'domes' stream in the mountainous district of Quang Ngai
Che stream attracts visitors by its unspoiled natural scenery, cool water in four seasons and is a suitable destination for weekends.
Having the opportunity to come to Tra Bong mountainous district in the northwest of Quang Ngai province, visitors can stop by Che stream for sightseeing, taking photos, or camping. From the center of Tra Xuan town, Tra Bong district, you follow the direction to Tra Hiep Commune People's Committee about 20 km and then ask for directions to Che stream. Arriving there, you park your car at a nearby house and walk about 100 meters to reach the stream. Along the way to the stream are large and small jagged rocks; you must be careful not to slip.
Suoi Che has not been invested in tourism but is very popular with backpackers and locals because of the wild scenery in the middle of the forest, the clear stream flowing, below is a blue lake that is not too deep and dangerous. The most special feature of Che stream is that the stream is hidden in a large rock like a dome. Stepping through the stone roof is a space like a skylight shining natural light down the waterfall, making this place more attractive and mysterious.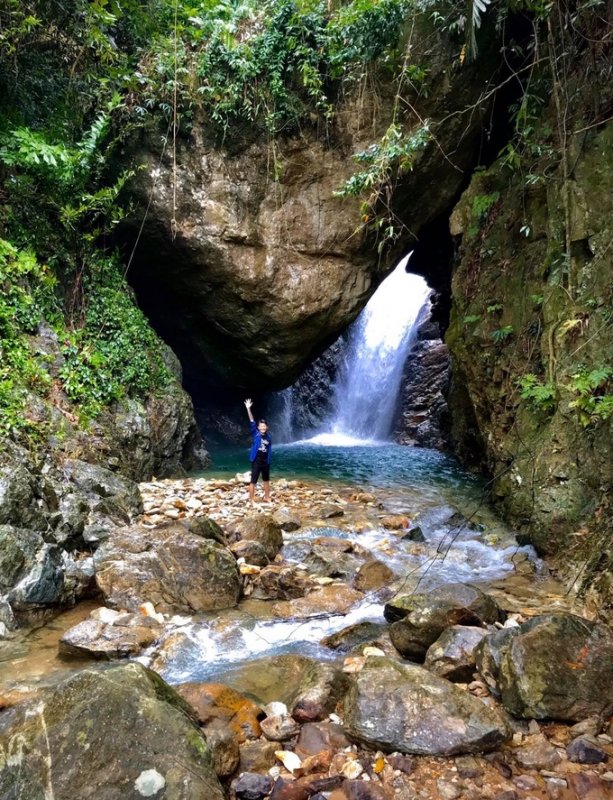 The wild scenery of Che stream. Photo: Thanh Viet
Mr. Le Thanh Viet from Son Tinh district, Quang Ngai, has been to Che stream 3 times to share that although the stream is not large, it is still a worthy stop for nature lovers. "It is not yet in the rainy season, so the sky is clear, the water in the stream flows strongly and is very cool, which can be considered as the most beautiful time of the year to visit. Above the stream, there are smaller streams of water and a rocky beach for 2. -3 camping groups," Viet shared.
Arriving in Tra Bong district, visitors can also conquer Ca Dam peak, the roof of Quang Ngai province, with an altitude of over 1,400 m above sea level. Around the mountain area is the living area of ​​the Cor ethnic group, they have customary law to preserve the forbidden mountain sacred forest, so this place still has primeval forests with rich flora and fauna.
Besides, this area is also located in the ancient continental system with long-standing geological tectonic activity, so Ca Dam and many other mountain ranges in the western mountains of Quang Ngai have many streams and waterfalls such as Con Lam. , Ca Du, Tra Du, Tra Cang, Oc Son, Che stream… create an attractive destination for nature lovers who love to explore.
TAG: