Top 3 pristine summer vacation spots in Binh Dinh
The hot summer weather will disappear when you are immersed in the Giang Tien waterfall, De Gi bay, or camp by Long My lake.
Summer vacation in Binh Dinh is definitely indispensable for island vacations, but to avoid crowded places, you can refer to the three unspoiled destinations below:
Giang Tien Waterfall
The waterfall is located in An Hau village of the H're people in An Quang commune, An Lao district, more than 110 km from the center of Quy Nhon city. Visitors stop at An Hau heaven gate before walking further 3.5 km through terraced fields.
As a very new name for tourists, even in Binh Dinh, to go to Giang Tien waterfall, visitors should find local people to lead the way to avoid getting lost. After walking through the small paths in the forest, you will hear the sound of waterfalls, watch the water flow down from above the cliffs like a white silk strip between the green of the forest.
The area at the foot of the waterfall has a unique ancient tree standing opposite the waterfall. Here, the H're people also make swings with forest ropes which are quite interesting. Visitors can camp overnight to enjoy the scenery of the forest, spend the night in the sound of waterfalls and birds. However, because few people know, tourists pay attention not to leave garbage and go to the forest, so wear long-sleeved clothes.
De Gi Bay
30 km from Phu Cat airport and 50 km from Quy Nhon city, De Gi is a closed bay in Cat Khanh commune; Phu Cat retains many wild looks because few people know it. This place is suitable for tourists to go on a summer bathing day or camp overnight.
Visitors to De Gi can experience many new experiences, such as practicing being a diver "hunting fish," camping by the beach, diving to see corals, rowing SUP, enjoying seafood prepared in the way of local people, Swimming in natural swimming pools at Con Trau island, swimming in Vung Boi beach…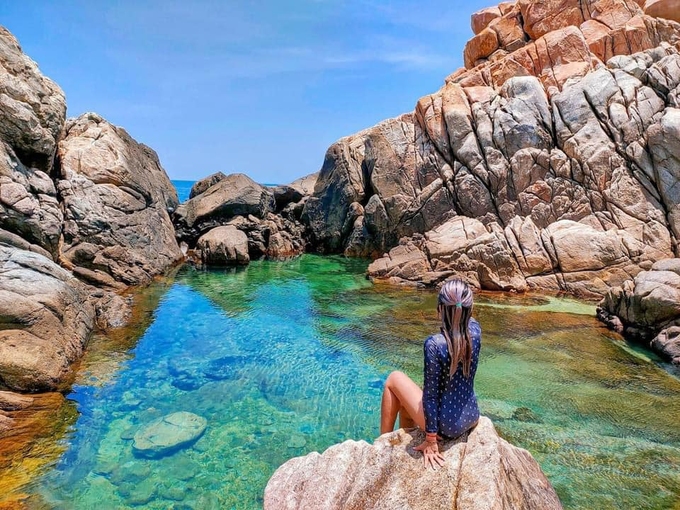 Con Trau island is as beautiful as a natural swimming pool in the middle of De Gi island. Boats do not reach the place, so visitors have to swim by themselves, and in addition to swimming and diving here, you can also see many types of fish and coral. Photo: Huyen Ẻm
Long My Lake – Da stream
It is about 20 km from the city center, about 30 minutes by car or motorbike; you will arrive because the road is quite easy to go. The lake is located in Phuoc My commune, behind Long My Industrial Park and near Da stream (also known as Ngang stream), which originates from the top of Ham Rong mountain and flows into Long My lake.
Visitors here can take pictures, visit the lake, wade in the stream, kayak on the lake, camp overnight… Currently, in Quy Nhon, there is a rental service for tents, lamps, cooking utensils. Grilled… from 300,000 VND/person, visitors need to prepare food to bring.
Long My Lake has a capacity of about 3 million m3 of water, and an area of ​​about 6.5 km2 provides water for fields in Long Thanh, My Loi, Long My, Thanh Long… Forests surround the lake and mountains. Very green and peaceful. Around the lake, there are many flat places for guests to park their cars and have a picnic, but to protect the environment, please pay attention to clean up garbage before returning.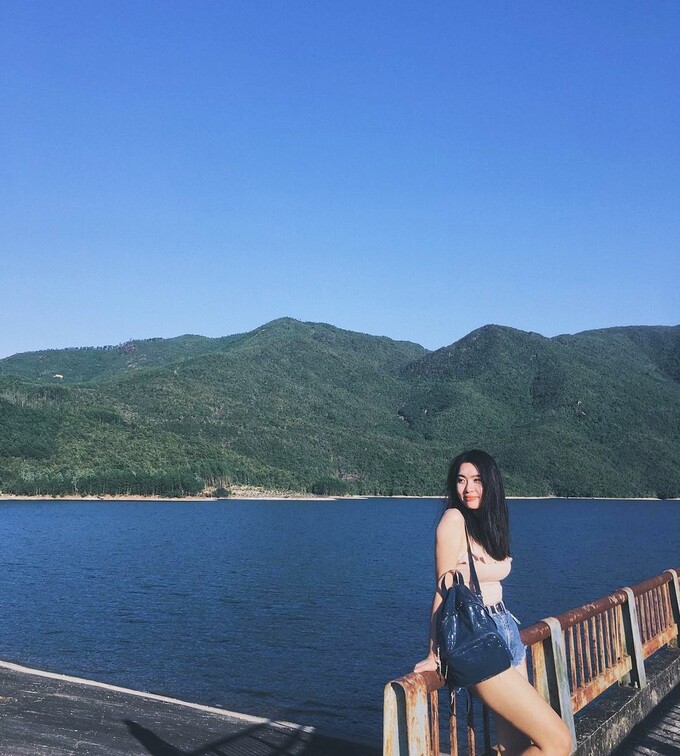 Tourists on vacation check-in by Long My Lake. Photo: Duong Nhi
If you have time to explore more, you can walk and climb back up to Da stream, passing through the large stones stacked on top of each other and murmuring flowing water; you will see that each layer of the stream has a wild beauty that captivates people. The deeper you go, the more the air of the forest, the stream, and the waterfall make the space cool to help visitors vent their sorrows and want to mingle with the cool water and "escape from the sun" here. Follow vnexpress
TAG: