Make a list of places to visit Giao Thuy on the weekend
Country Museum, Quat Lam Beach, Xuan Thuy National Park… are some familiar places to visit in Giao Thuy and Nam Dinh that many delegations visit on weekends or Tet holidays.
Each countryside, each place has its own beauty to invite visitors to visit. And so is Nam Dinh. Instead of majestic mountains, the same message appears, Thanh Nam attracts visitors by its unique church architecture, ancient temple buildings, rich culture, and cuisine or beautiful pristine beaches. Shy.
And on the journey to discover Thanh Nam, let's experience and discover the place to visit Giao Thuy – a place full of the pristine and diverse beauty of the peaceful and peaceful countryside of the Northern homeland. The set.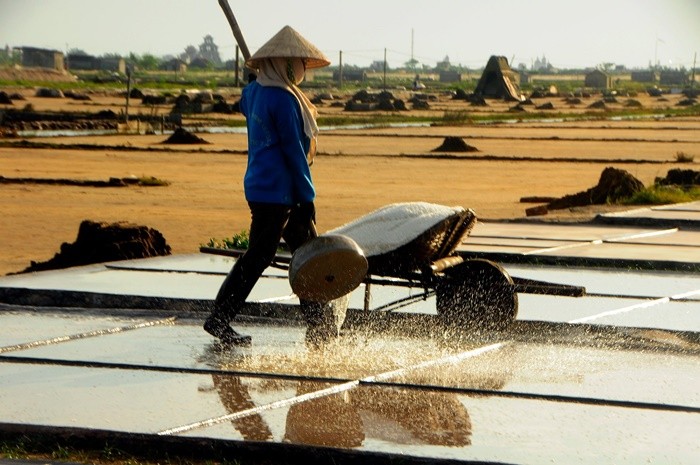 Popular attractions in Giaoshui
TOP 6 places to visit in Giao Thuy you should definitely visit 
1. Con Lu – Ngon Ngan
Con Lu – Con Ngan is an ecological area that you should explore when you return to Giao Thuy if you enjoy mangrove eco-tours. Coming here, you would be awestruck by the vast natural scenery, which is lush and gorgeous. You will be amazed when numerous unusual and unique birds from the north flock to this location to migrate. As a result, the image of the Con Lu – Con Ngan eco-zone has become more vibrant and appealing than ever. You will not want to leave once you arrive.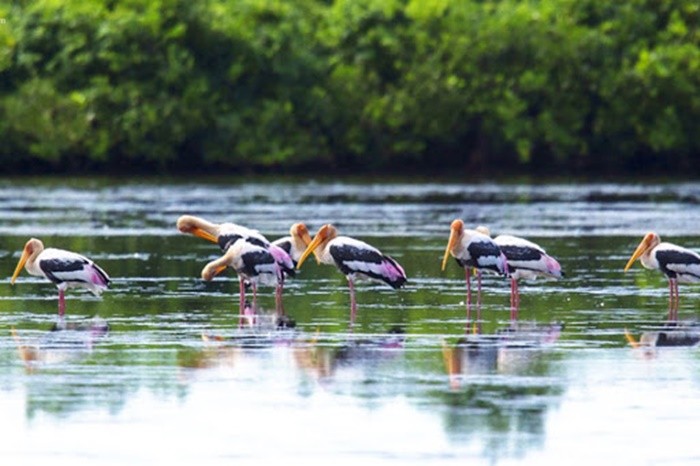 Con Lu – Con Ngan
2. Xuan Thuy National Park
Xuan Thuy National Park is also a familiar place to visit Giao Thuy for many people when they set foot in Nam Dinh. Many delegations often visit about 150km from Hanoi in the southeast direction, Xuan Thuy National Park, on weekends.
The national park owns 7,100ha spread across Con Lu – Con Ngan – Con Xanh. And those who love nature, heaven, and earth want to explore and learn about the panorama of migratory birds; this is a great destination for you.
Every October, November until March – April next year, the national park gathers tens of thousands of birds from far away to come here to avoid the cold. From spoonbills, gulls to spoonbills, pelicans, spoonbills… are rare and precious birds listed in the international red book. However, Xuan Thuy National Park is likened to an international "station" of birds – a place to stop for food and accumulate energy for a long migration process.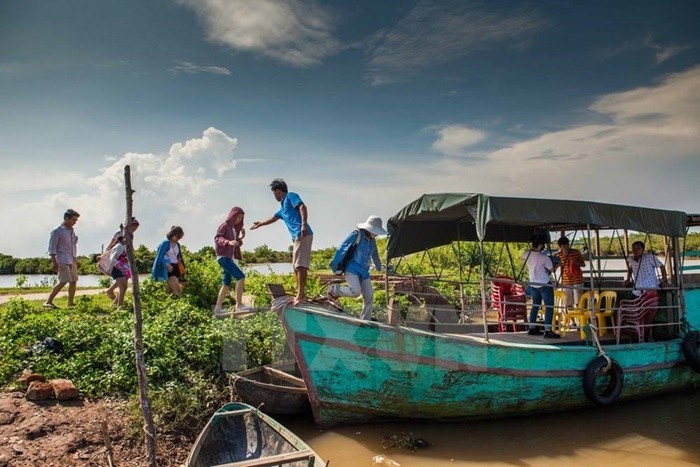 Xuan Thuy National Park
3. Country Museum
The Country Museum is also a destination to visit Giao Thuy that many local delegations and tourists come here to learn about it. This is a cultural project founded by teacher Ngo Thi Khieu herself. Coming to the country museum, visitors will admire the whole picture of the countryside of the ancient Northern countryside, clearly reproduced through images: landlords, middle farmers, or rudimentary tools such as vases, copper trays, rice mills, antique tables, and chairs… From there, you will understand more about the idyllic life of the people in the Northern Delta region in the past and present.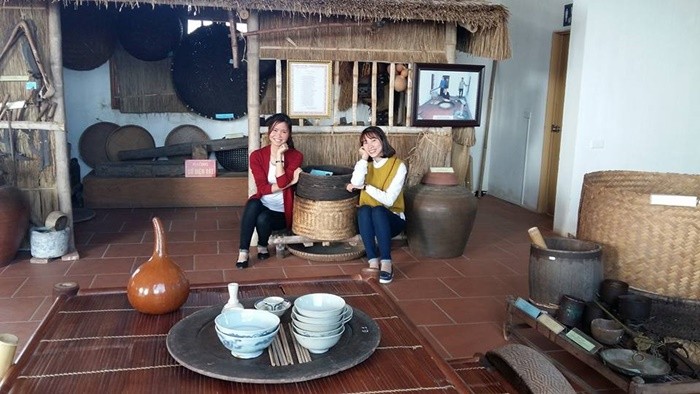 Country Museum (Photo: @FB Tuyet Tuyet)
4. Quat Lam Beach
Surely you cannot ignore the destination of Quat Lam-Giao Thuy beach for those who love the sea and want to immerse themselves in the cool water. As a famous place to visit Giao Thuy, every year in the summer, the number of tourists from neighboring provinces flocking here is increasingly crowded and bustling. Many delegations come back here on weekends or short-term holidays to enjoy the peace and freshness on the beach.
The seawater here is very cool; the sand is very smooth so that you can swim comfortably. However, the waves here are also quite strong, and if you want to play and have fun, you should equip a life jacket to swim safely.
And now that you're here let's catch the sunrise or sunset on the beach. At this time, the sunset brings with it golden streaks of light, reflected in the sea, making the scene here incredibly beautiful. At this point, pick up the camera and take crazy pictures; you will own many beautiful pictures that are as beautiful as Nha Trang beach.
Quat Lam Beach
5. Bach Long salt field
And of course, there is a quite familiar destination in Giao Thuy that always attracts photographers to come here to take pictures, which is the Bach Long salt field. As one of the most beautiful salt fields in the North, Bach Long salt field shows a rustic beauty associated with the saltwater life here.
Coming here, you will not only understand the salt-making process and how to collect pure white salt grains, but you will understand better the life of the salt-carrying people. They worked extremely hard and diligently. Although it was so hard, at the end of the day, when he collected the salt carts full of friends, his black face soaked with sweat still had a bright smile. And to own beautiful pictures on the salt field, it is best to go in the early morning or late afternoon.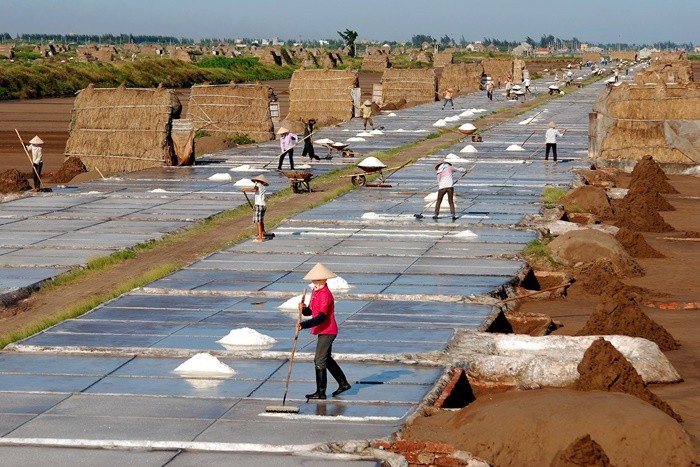 Bach Long salt field
6. Ba Lat estuary
And finally, it is impossible not to miss the Ba Lat estuary – one of the destinations to visit Giao Thuy that many tourists find. Ba Lat estuary is in the North – where the Red River flows into the Gulf of Tonkin between Giao Thuy district on the south right bank and Tien Hai – Thai Binh on the north left bank. Ba Lat estuary is also where the Red River flows into the East Sea, associated with mysterious stories that make everyone curious.
Coming here, you will admire the immense picture of the river and experience the idyllic and peaceful life of residents living by the gate of Ba Lat.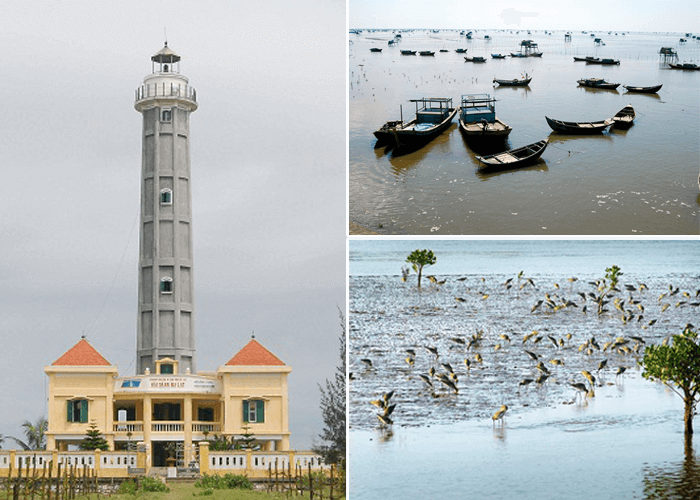 Ba Lat sea gate
The places to visit Giao Thuy are not as beautiful as many other regions. However, it is the idyllic, rustic, and genuine simplicity that is the advantage that knocks visitors back to this land. So what are you waiting for? Book your appointment now! Surely, this will be a great trip for you to understand more about the cute life of the coastal people!
Photo: Internet
TAG: