Saigon travel guide from A to Z – Travel experience
Ho Chi Minh City, also known as Saigon, located in the heart of the Southern region, is the largest city in Vietnam. When traveling to Ho Chi Minh City, tourists can find many colonial buildings, war relics from the Vietnam War, modern shopping and entertainment centers, and lots of things to do and visit. This beautiful city is definitely worth discovering; many interesting and surprising things are waiting to be explored. And below are some Ho Chi Minh City travel guides, Saigon introduction, and information helpful for your upcoming Saigon tours.
If Hanoi is known as the capital of thousand years of civilization with peaceful and serene beauty and slow pace of living, then Saigon is the city that intermingles excitement, bustle, and a few European features.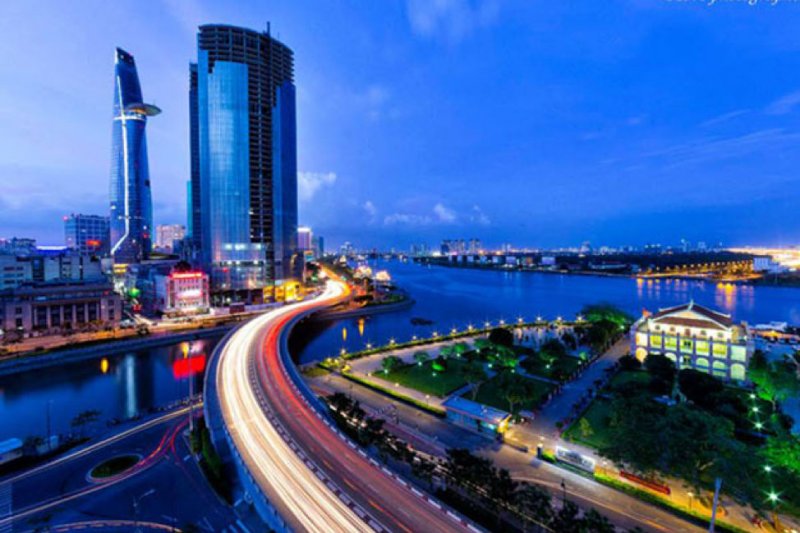 Time to travel to Saigon: Which months should you go?
When traveling to the North, you only need to be immersed in the stunning flowers at the right time. However, with Saigon, you need to keep some periods of time that need to be avoided in your mind.
Let's discover the characteristics of weather and climate in Saigon so you can schedule a visit to this city in the most suitable way.
Saigon, also known as Ho Chi Minh City, is located in the Southeast region and adjacent to the Mekong Delta region. Ho Chi Minh City possesses a distinctly different climate: the dry season and the rainy season. The dry season usually starts from the beginning of December to April of the following year; the rainy season lasts from May to November.
If you want to pass by many bustling streets, admiring the ancient French architecture up to hundreds of years old, or be delighted at many outdoor amusement parks, you should visit Saigon in the dry season. It is the period from December to April next year. This is a great time for you to explore Saigon without having to worry about sudden rain that ruins your trip.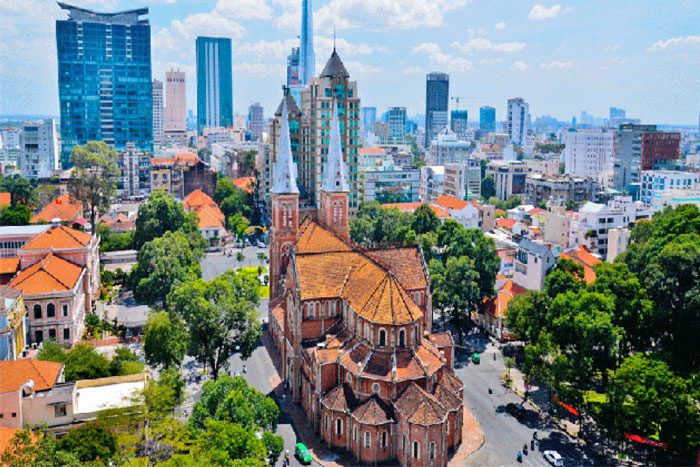 When Saigon enters its dry season, it possesses beautiful scenery with blue sky, floating white clouds, and glimmering golden flakes. However, the dry season is also when Saigon will have extreme sunny days, making the atmosphere really hot. Therefore, Saigon tour in the dry season will be extremely comfortable if you have ready-made lovely hats and umbrellas. In addition, you should also avoid outdoor activities during a sunny hour between 10 am and 3 pm.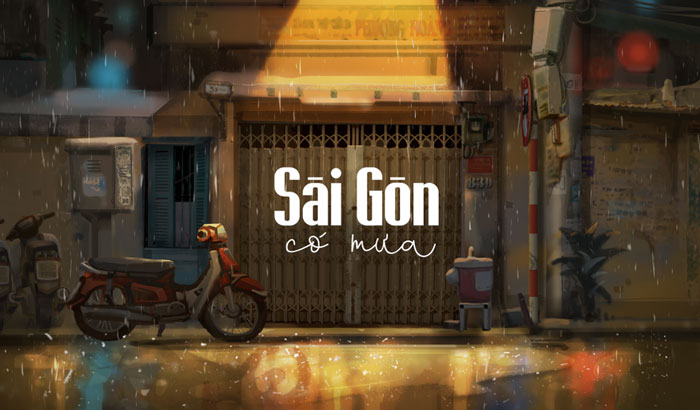 But if you set a Saigon tour in the rainy season, it is also okay. Possessing a typically hot and humid climate, Saigon is a city with a lot of rainy days with about 159 rainy days in a year and an average rainfall of 1,949mm per year focusing on two months, June and September.
You can also enjoy your own travel despite traveling Saigon on rainy days. You can visit many places of interest in Saigon, such as the markets, shopping centers, or you can go to the quiet cafes, dropping yourself into a quiet space and see the many corners of Saigon. After the rains, the weather becomes cool and pleasant, making your trip to Saigon more exciting.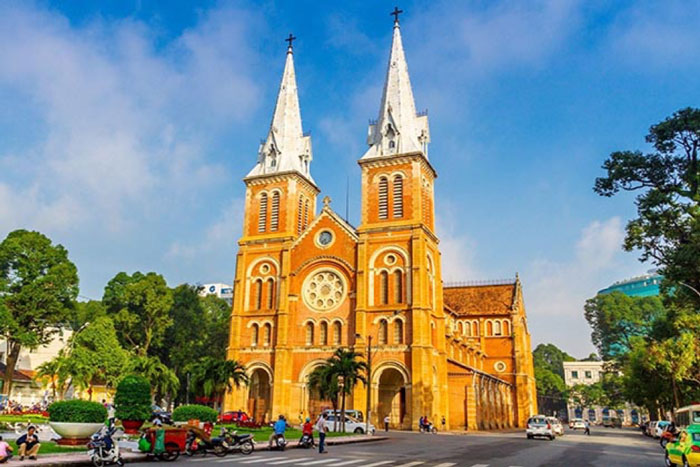 The ideal time for traveling in Saigon is considered to be the dry season. Moreover, the year's period is also when Saigon immerses in important events or special holidays, giving you more wonderful experiences.
That may be Christmas when Saigon is splendidly decorated with lights, colorful and colorful patterns in the neighborhood or the center of the city. We are sure that you will love exploring Saigon on such beautiful days.
In addition, Lunar New Year has fallen into the dry season of Saigon. Together with the joyful atmosphere of the whole country, Tet in Saigon is wonderful with colorful flowers.
Saigon is always beautiful, poetic, leaving many imprints in the hearts of visitors. Whenever you want to travel to Saigon, Vinlove can help you with Saigon tours with a flexible schedule and the most reasonable price. Or you can also read more travel experiences we have compiled. So decide your traveling time and contact us for your excellent journey!
Choose the best time to travel to Saigon.
What is the best season to travel to Saigon? Saigon is located in an area with a tropical monsoon climate; the temperature fluctuates around 26 – 36 degrees Celsius. Therefore, it is characterized by two seasons a year, including the dry season lasting from December to April next year and the rainy season from May. To November. Although there is a lot of sunshine with a mild climate, it is not too harsh, and the showers are often sudden. Therefore, you can travel to Saigon at any time of the year, which is ideal.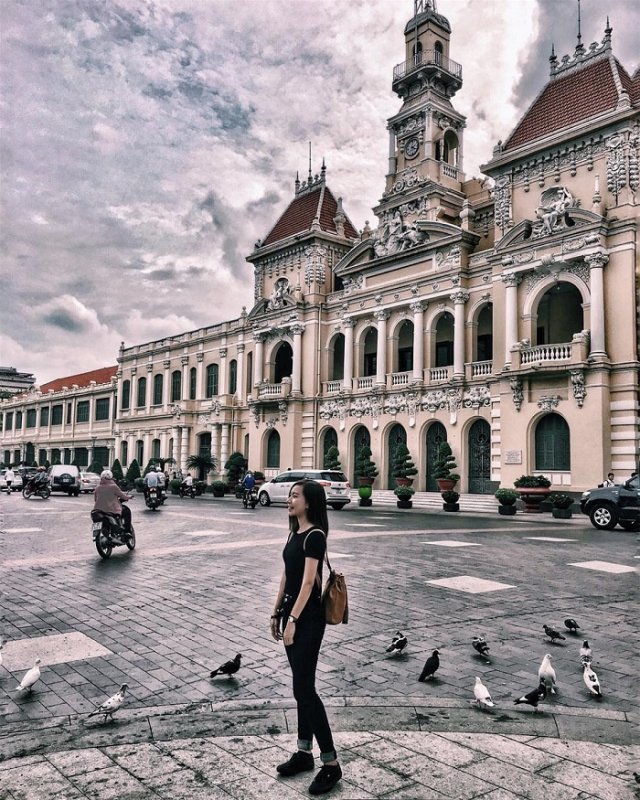 Choose the best time to travel to Saigon
Saigon travel experience: Moving

Instructions on how to move to Saigon
Saigon is the largest economic center of the country, so the transportation system is very developed. Saigon travel experience, to move here you can go by many different means of transport such as plane, train, passenger car, motorbike… depending on the departure location. 
– For those of you in the Hanoi area who want to explore Saigon, you can go by plane to Tan Son Nhat International Airport. However, the flight time is about 2 hours, and the ticket price ranges from 1 to 2 million VND/way. Therefore, you should proactively arrange your trip in advance to book air tickets early to be cheaper. Then, when you arrive at Tan Son Nhat airport, you take a motorbike or taxi or bus to the city center. 
– Train: If you want to save more money and have more time, you can go by train. Traveling by train, you can depart from Hanoi station; the fare ranges from 500,000 VND to 1 million VND depending on the type of seat. Moreover, traveling by train, you will enjoy the beautiful scenery along the way. 
– Bus: For you in the Central or Southern region, it is most convenient to take a bus. The price of a bus ticket ranges from 200,000 VND/person and has a travel time of 8-9 hours. 
– Motorcycle: For young people who love to explore, traveling to Saigon by motorbike is also an interesting experience. However, when traveling this way, you should carry all the necessary documents and keep a safe speed. If you do not know the specific route, you can ask people along the way or look it up on google maps.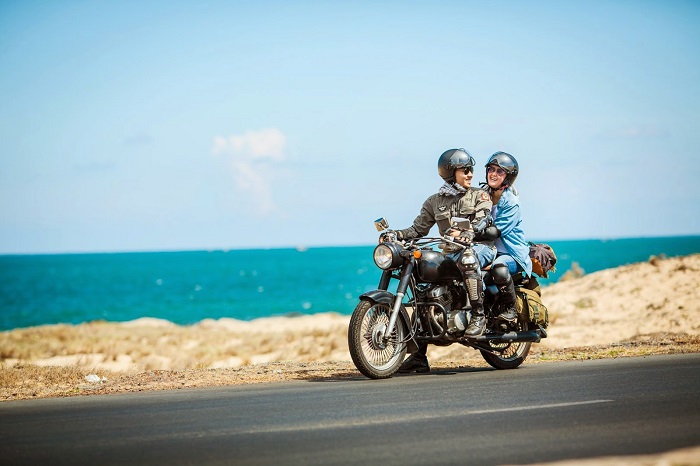 Traveling Saigon by motorbike
Means of transportation in Saigon
Experience in Saigon travel about means of transport in Saigon; you can choose from many different forms such as Bus, motorbike, taxi… 
– Taxi: The most convenient you can call a taxi to move with the price ranging from 8,000 VND/km or cheaper you can call Grab. Note, when taxiing, you should check the speedometer. You can refer to Mai Linh, Vinasun, Taxi Group…
– Bus: The most popular when traveling in Saigon is the bus with 5,000 VND – 7,000 VND / way. Most of the famous tourist attractions in Saigon have buses passing by.
– Grab: Cheapest and most convenient, you can download Grab's ride-hailing application to call a car anywhere easily.
– Motorbike: Actively traveling, you can rent a motorbike in Saigon with prices ranging from 100,000 VND – 200,000 VND / depending on the type of vehicle. You can rent motorbikes at hotels, homestays, or motorbike rental addresses in Saigon.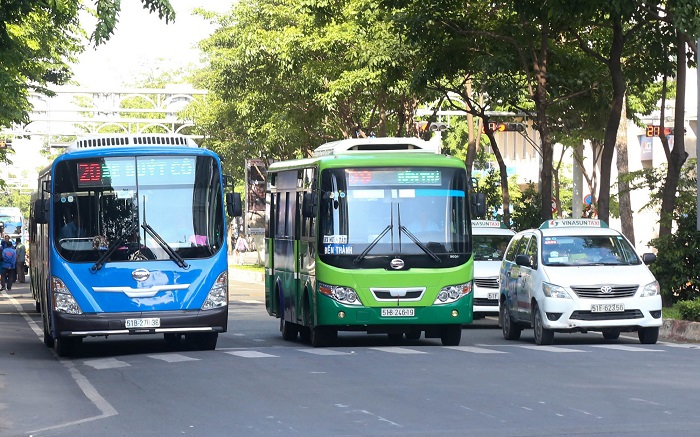 Traveling in Saigon by motorbike
Hotel to stay when traveling to Saigon
Where should Saigon travel? There are all kinds of hotels, motels, and homestays for you to choose from in Saigon. Room rates in District 1 are usually more expensive than in Tan Binh, Go Vap, Binh Thanh, and District 11. In general, if you have a lot of money, you should rent a hotel in the central area for convenience. Convenient to travel. But if you want to save more, you can stay in a homestay or motel. Specifically, please refer to the suggestions for hotels in Saigon below:
– Majestic Saigon Hotel – Address: No. 1 Dong Khoi, Ben Nghe, District 1, Ho Chi Minh City. Room price fluctuates about 1.2 million VND/night. The hotel is located in the central area of ​​Saigon, very close to famous attractions such as Ben Thanh Market, Independence Palace, Opera House.
– Grand Saigon Hotel – Address 8 Dong Khoi, Ben Nghe Ward, District 1, TP. Ho Chi Minh. Room rates range from 800,000 VND/night. Fully equipped, clean rooms and convenient to travel.
– Pullman Saigon Center Hotel – Address 148 Tran Hung Dao, Nguyen Cu Trinh Ward, District 1, Ho Chi Minh City. Room rates range from 2,500,000 VND/night. Beautiful view, luxurious rooms, and high-class furniture ideal for relaxation. 
– The Laban Homestay: Located about 10 minutes walk from Ben Thanh market and very close to Notre Dame Cathedral. The room rates are affordable; the rooms are cozy and clean. 
– Otro Homestay: This homestay in Saigon is impressive with its rustic and close-to-the-country design. The room is equipped with conical hats, teapots, baskets, teapots, … is an ideal destination to rest with friends.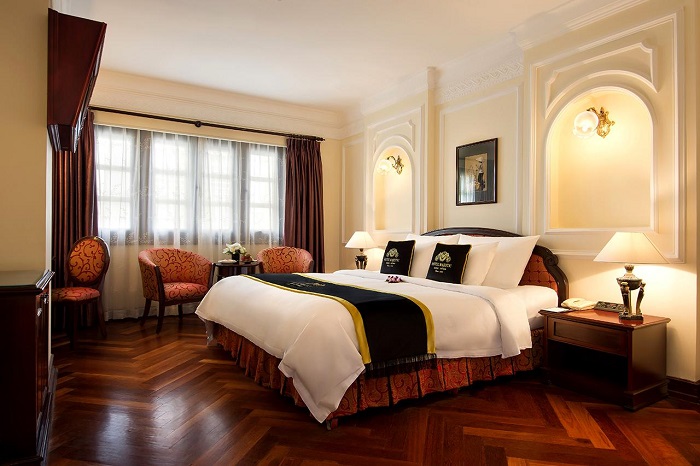 Hotels in Saigon
Discover famous places in Saigon
In Saigon travel experience, you will discover many beautiful and famous places for your trip such as:

Notre Dame Cathedral 
Address: No. 1 Paris Commune, Ben Nghe Ward, District 1
Opening time: Morning (8:30 – 10:30) and afternoon (14:30 – 15:30) from Monday to Friday of the week

Notre Dame Cathedral is considered a symbol of Saigon and is also a famous virtual check-in place. This place is impressive with its European design, with Gothic and Roman styles. In particular, the temple has the largest pair of bells in Vietnam and a beautiful cathedral in Saigon. Moreover, Notre Dame Cathedral is located very close when moving to famous attractions such as Independence Palace, Con Rua Lake, walking Dong Khoi Street, shopping at Diamond Plaza. In particular, when coming to Notre Dame Cathedral, you will have a virtual life with super beautiful and super quality pictures.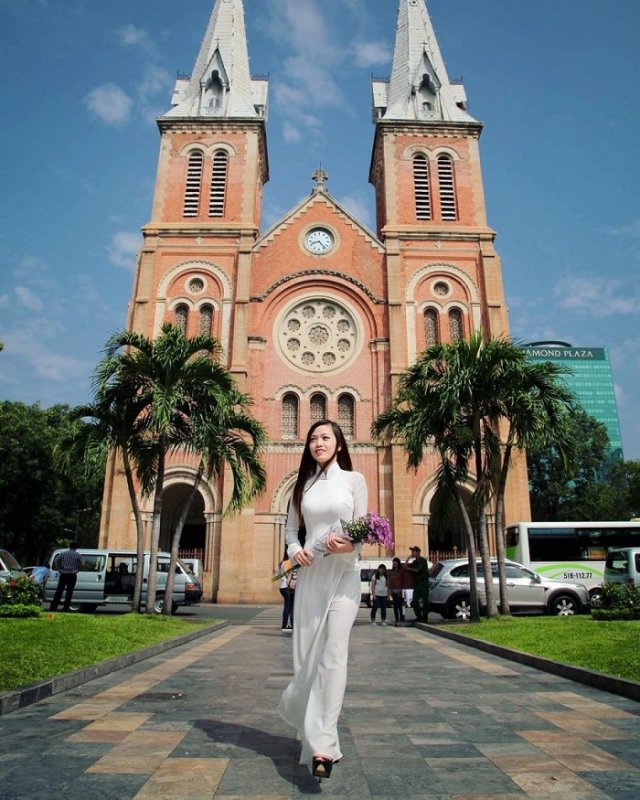 Notre Dame Cathedral is considered a symbol of Saigon
Nguyen Hue Walking Street
Nguyen Hue Walking Street is a lively entertainment destination on weekends and festivals. On special days, there are many interesting entertainment activities in Nguyen Hue pedestrian street. In particular, the two areas on Nguyen Hue Street have many shopping areas, hotels and restaurants, and eateries. On the occasion of Tet, Nguyen Hue pedestrian street displays all kinds of beautiful flowers.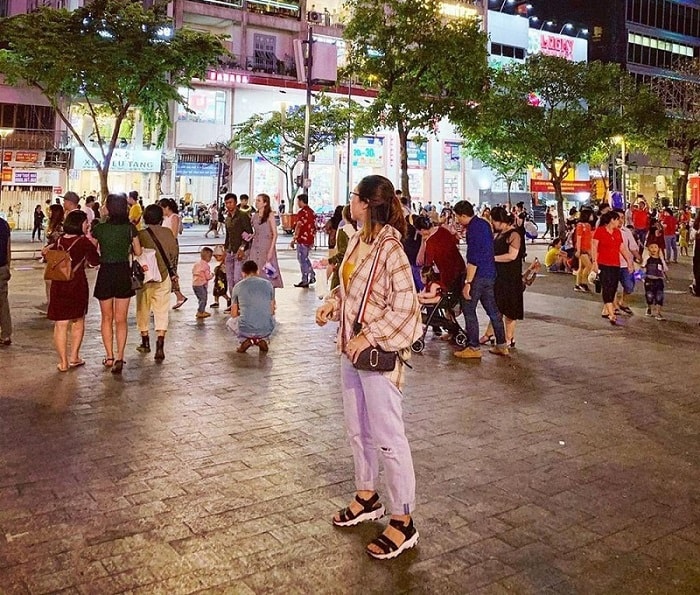 Nguyen Hue Walking Street is an exciting place to play on weekends
Ben Thanh market
Address: Located between Le Thanh Ton streets – Quach Thi Trang Square, Phan Boi Chau – Phan Chu Trinh –, Ben Thanh Ward – District 1

This Saigon tourist destination is considered a historical witness through many different periods and is an attractive destination for tourists to live virtual. Coming to Ben Thanh market, visitors will be able to walk around the market and choose for themselves shopping items such as clothes, souvenirs, shoes, bags and necessary items. Besides, when coming to Ben Thanh market, visitors can also enjoy special dishes and attractive Saigon snacks.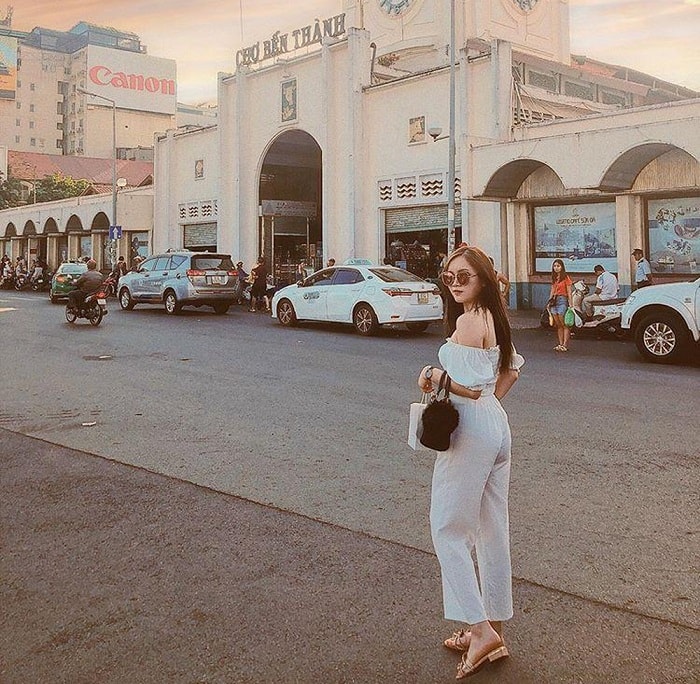 Ben Thanh Market is a favorite destination in Saigon
Suoi Tien tourist area
Address: 120 Hanoi Highway, Tan Phu Ward, District 9 (19km from the city center)
Opening time: From 8:30 a.m. to 5:30 p.m. (Monday to Friday). 
Ticket price: 60,000 VND/adult and 30,000 VND for children

What to play in Saigon? Suoi Tien tourist area is the most attractive entertainment destination for tourists in Saigon. Coming to Suoi Tien tourist area, visitors will have a cool bath at Tien Dong Ngoc Nu beach, explore the aquarium to learn about the ocean world, visit the wildlife zoo, thrilling game area and many special festivals. Held at Suoi Tien.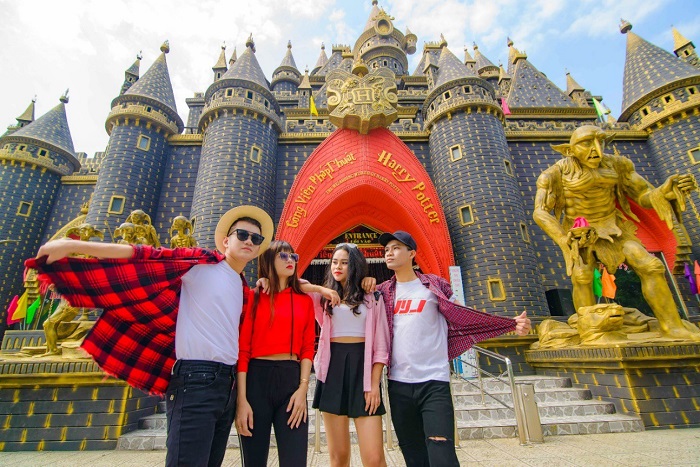 Suoi Tien tourist area is an attractive entertainment place
>See more: Discover the eco-tourism areas in District 9 Saigon that make many people fascinated
Sai Gon riverside cruise
Address: Along the Saigon River from Bach Dang wharf on Ton Duc Thang street

An interesting experience that you should not miss when coming to Saigon is taking a river cruise to see the shimmering lights at night. You can choose to take a canoe to Lai Thieu, take a cruise along the Saigon River to Nha Be, Can Gio and enjoy dinner on the river. Boat rental and dinner prices range from 100,000 VND/person or more depending on the service.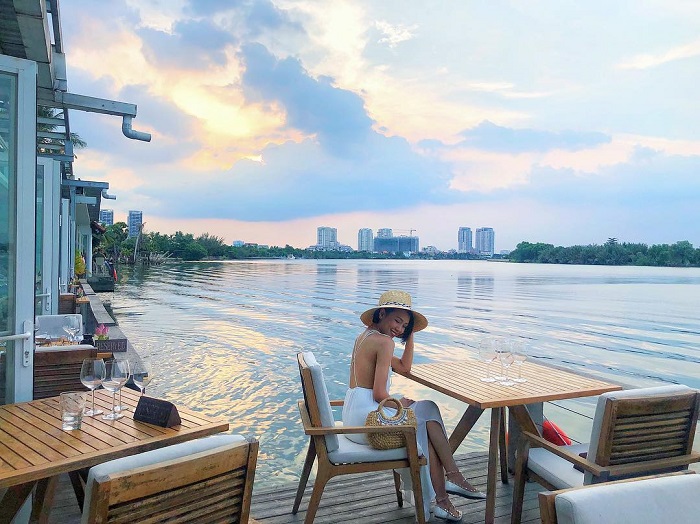 Sai Gon riverside cruise
Bitexco Tower
The Bitexco building is considered a new symbol of Saigon tourism, impressive with its architecture like a rising lotus bud and a helipad for helicopters. This famous building is also a beautiful check-in location, with an ideal view of the whole Saigon city from above. In particular, from Bitexco you will admire the famous architectural works of Saigon such as Thu Thiem Tunnel, Notre Dame Cathedral, East-West Boulevard…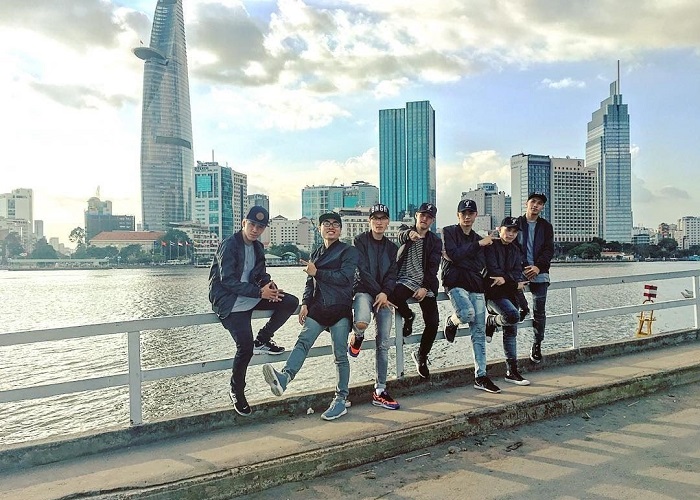 Bitexco Building is considered a new symbol of Saigon tourism
Enjoy delicious Saigon specialties
What to eat in Saigon? Not only possessing beautiful places to visit, Saigon is also famous for its unique cuisine. In it, there are delicious specialties that you must definitely enjoy once such as: 
– Broken Rice: Broken rice is a favorite dish in Saigon, which can be enjoyed at any time of the day, morning, noon, or evening. A set of broken rice consists of pork ribs served with spring rolls, onion fat, sweet and sour fish sauce, and served with pickles. To enjoy the best-broken rice in Saigon, you can go to Ba Ghien broken rice, Rip Que broken rice, Bui broken rice… each serving of broken rice ranges from 35,000 VND – 50,000 VND.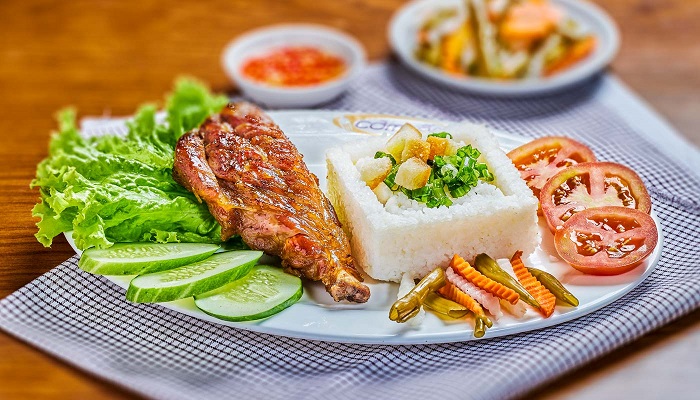 Broken rice is a favorite dish in Saigon
– Snails: Saigon snacks can not be ignored delicious snails prepared in many different flavors. Besides boiled snails, fried snails also have grilled oysters with onion fat, fried snails with satay, fried duck with tamarind, steamed clams… Delicious snail shop in Saigon you can refer to: Dao snail shop, Khanh snail, snail Milk sauce, snail To … the price of a plate of snails is about 50,000 VND.
– Bread: Experience in Saigon travel to eat what delicious? You can not ignore Saigon bread with many different versions: Pan bread, fish cake bread, grilled meat bread, roasted pork sandwich, shumai bread… A serving of bread costs a knife. around 16,000 – 35,000 VND. The best places to eat are the grilled meat sandwich shop, alley 36 Nguyen Trai Street, District 1 or Huynh Hoa bread at 26 Le Thi Rieng, Bay Ho bread at 23 Huynh Khuong Ninh…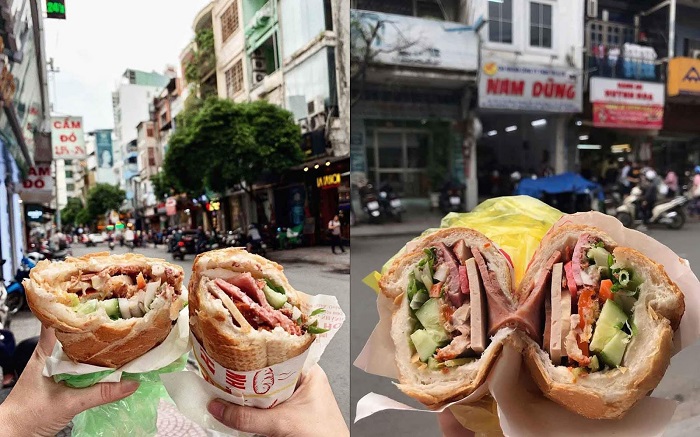 Enjoy Saigon bread
– Hu Tieu: A must-try dish when coming to Saigon is noodle soup, a popular and equally attractive dish. There are many noodle dishes for you to enjoy: satay noodle soup, squid noodle soup, bone noodle soup, braised beef noodle soup, Nam Vang noodle soup… A bowl of noodle soup is about 30,000 VND depending on the type. Best place to eat noodles: Thieu Ky noodle soup 66/5 Le Dai Hanh, Ward 7, District 11, Nam Vang Quynh noodle soup – A65 Nguyen Trai, Nguyen Cu Trinh Ward, District 1 or beef noodle soup – 01 Doan Thi Diem, Phu Nhuan District….
In addition, there are many other famous dishes that you should not miss when traveling to Saigon such as Goby fish hotpot, Pha Lau, mixed rice paper, crab soup, fried dough, spring rolls, fish hotpot… 

Hopefully, sharing Saigon travel experiences in detail: Time, how to move, hotels, places to visit and eat above. It will help you have a complete and interesting visit to the city named Uncle Ho.
Photo: Internet
TAG: