Check-in 10 places to eat pork rice paper rolls in Da Nang
The addresses of eating rice paper rolls with pork in Da Nang, such as Ba Mua restaurant, Tran pork roll, Con market restaurant, etc., all possess a special charm that makes anyone who has eaten once remember forever.
When traveling to Da Nang, visitors can easily find for themselves countless delicious dishes such as vermicelli with fish sauce, chicken rice, various types of sea snails, pounded rice paper, … and especially rice paper rolls with meat. Pork – an addictive specialty with many diners.
Although made from only a few simple and familiar ingredients, Da Nang's delicious dishes leave a deep impression on many people because of the fragrant pieces of pork, skillfully boiled so that they still retain the softness and sweetness of the meat. Without being too chewy or dry. And the most unique must mention the fish sauce seasoning or the unique sauces of each restaurant.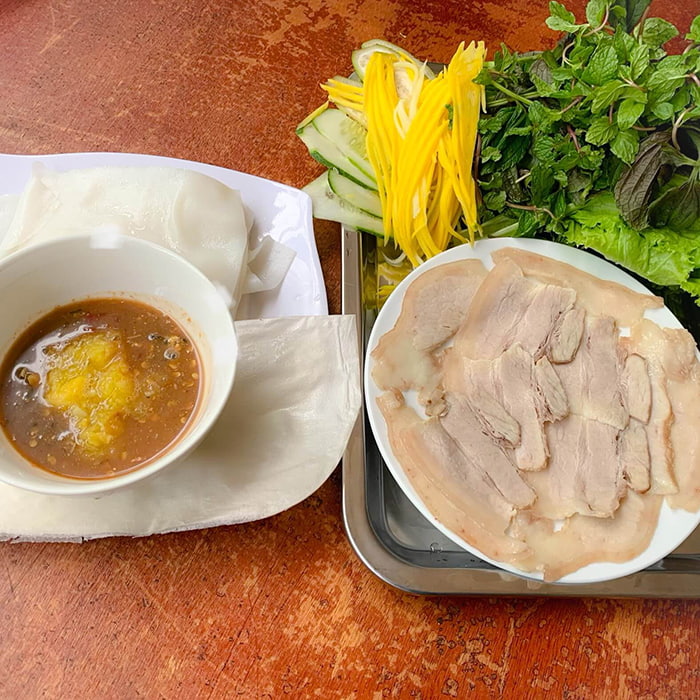 Rice paper rolls with pork are a specialty of the people of Da Nang. Photo: sacsandathanh
Whether you come to Da Nang to go out, relaxing, or experience, pork rice paper is also an addictive specialty that should not be missed in the sunny and windy coastal city of Central Vietnam. First, however, here is a whole forest of culinary addresses that make you wonder where the best and most standard pork roll dish? If you are a "newbie" and have no experience choosing a good restaurant, please immediately note the top 10 addresses of pork rolls in Da Nang that LuhanhVietNam has summarized below!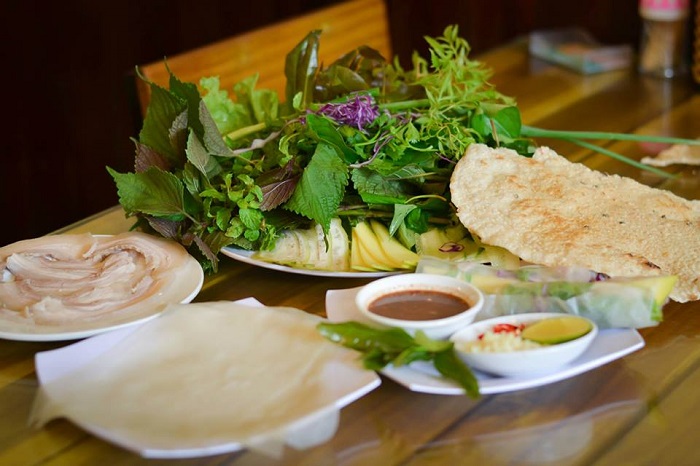 The dish is made from the simplest and most familiar ingredients. Photo: taidanang
Check-in 10 places to eat pork rice paper rolls in Da Nang
The 10 restaurants with pork rolls below are located in different city areas, so you can easily find yourself the most suitable address depending on your schedule and plan to visit Da Nang.
1. Ba Mu specialties
Address: 93 Nguyen Chi Thanh, Hai Chau, Da Nang
Opening hours: 9 am – 9 pm.
Price: 40,000 – 125,000 VND.
Ba Mu specialty is a famous dining address in the land of Ngu Hanh Son and Son Tra peninsula. At this place selling quality pork rolls, the ingredients are all fresh and carefully selected.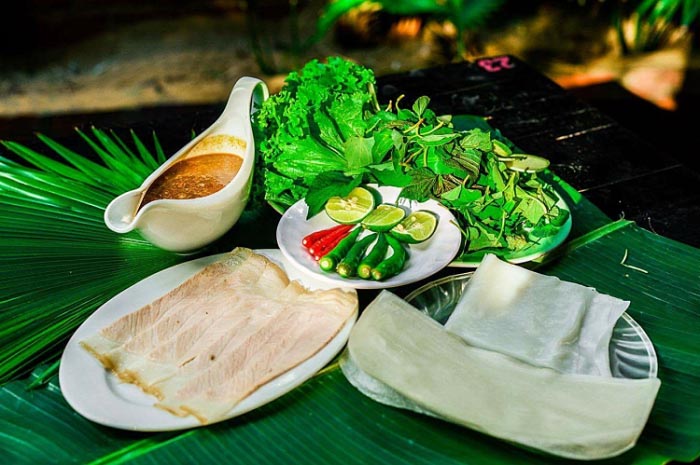 Each piece of Ba Mua pork rice paper. Taidanang photo
Each meal here usually consists of a plate of boiled pork belly sliced ​​with a moderate thickness and a plate of fresh, green, and fresh raw meat. Depending on your taste and preferences, you can order pork with two skins or delicious Dai Loc pork. The accompanying raw vegetables are quite diverse with all colors of broccoli, thin bananas, split water spinach, lettuce, basil, lettuce, herbs. There are also bitter vegetables, bean sprouts, scallions, cucumbers, bananas… At first glance, diners already feel irresistible. But the ingredient that makes up the soul of the pork roll dish in general and Ba Mu's specialty, in particular, is the dipping sauce. The shop has a variety of heirloom sauces with spices that are both delicious and fragrant.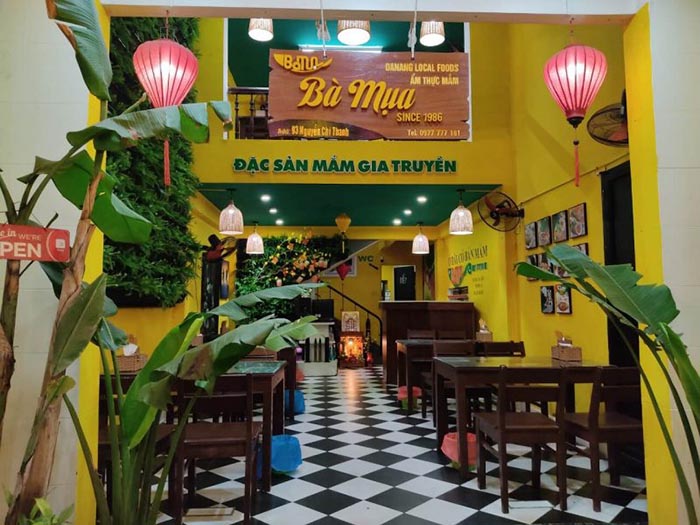 The space of Ba Mu's specialty restaurant. Photo: monngondathanh
The plus point of the address for eating rice paper rolls with pork in Da Nang Ba Mua is the enthusiastic, hospitable, and polite service attitude of the staff. These things make anyone who comes to eat at the restaurant feel the love and respect that Da Thanh people give to tourists everywhere.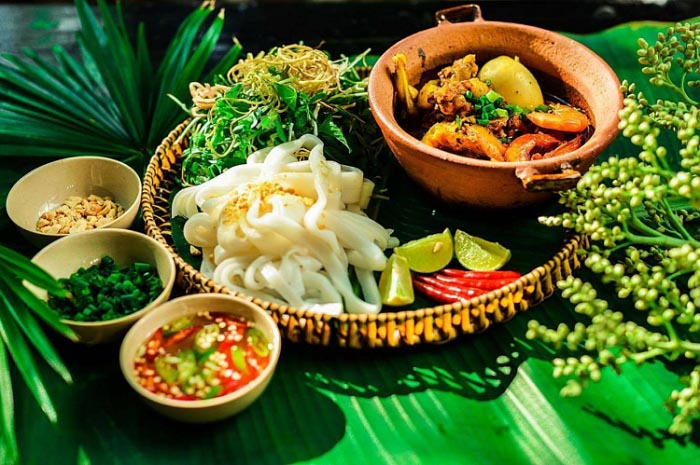 Ba Mu restaurant also serves a lot of attractive dishes.
2. Rice paper rolls with pork at Con market in Da Nang
Address: Con market food court, Hung Vuong, Hai Chau, Da Nang
Opening hours: from 10:00 to 19:00
Prices range from 25,000 to 30,000 VND.
In the dining area of ​​Con market, there are many delicious dishes in Da Nang. And certainly indispensable pork rice paper rolls in that list. Bi, My pork roll shop located in the dining area, has long been voted by locals and gourmets as the place to have Central-style rolls, which are both delicious and cheap but safe and hygienic. Food.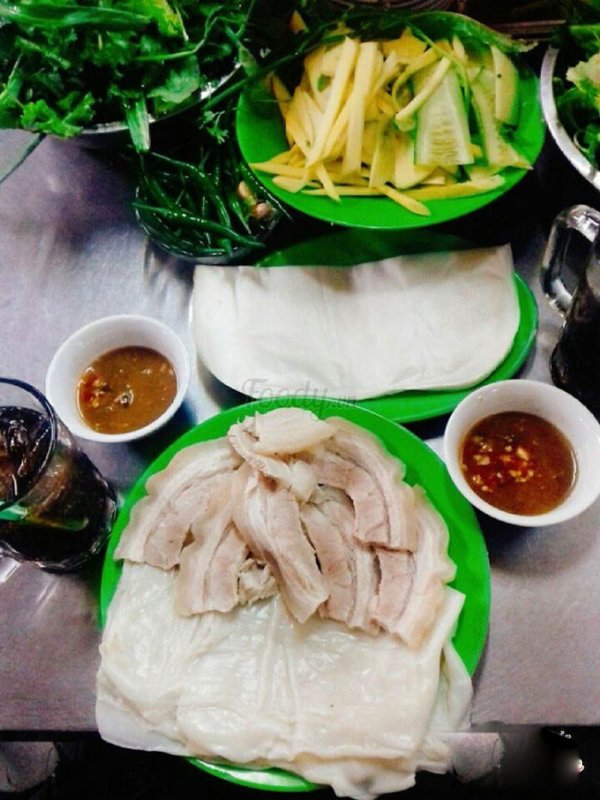 Bi My pork rice paper roll is located in Con market. Photo: dacsandathanh
Unlike some places to eat pork rice paper rolls in Da Nang, the slice of meat is quite thin. The pork here is cut in thicker and fuller slices. Although not as beautiful as other places, eating in is quite delicious and strange. When rolled with vegetables and dipped with seasoning fish sauce, you will feel the sweetness and softness of the meat that has just been boiled to blend with the crispy taste of raw herbs. Finally, at the tip of the tongue, the seasoned dipping sauce is mixed not too dark nor too dilute, just enough to be able to enjoy the sweet and sour taste of the fish sauce.
3. Nam Hien Restaurant
Address: 46 Phan Thanh, Da Nang
Opening hours: 10:00 – 21:30
Price: 40,000 – 125,000VND
Hotline: 0905684246
With the famous specialty brand Nam Hien, this place has become the leading restaurant selling pork rice paper rolls in Da Nang. The restaurant is becoming more and more famous because the quality of the food is maintained over time. At first glance, the piece of boiled meat here is quite fatty, but when it is wrapped in rice paper with green vegetables, it is strangely matched. But to complete the dish, it is definitely indispensable to have the best dipping sauce at the address to eat rice paper rolls with pork in Da Nang. This is the restaurant's exclusive seasoning sauce. This part of the water is rich in taste and fat but not greasy, making anyone who is fastidious want to eat many next books and cannot forget the dish's taste. Nam Hien's seasoning sauce comprises three types of fish sauce, mackerel fish sauce and fragrant fish sauce. The chef also added a little ginger, garlic, and chili, then pounded it all together to create a flavor that fascinates diners.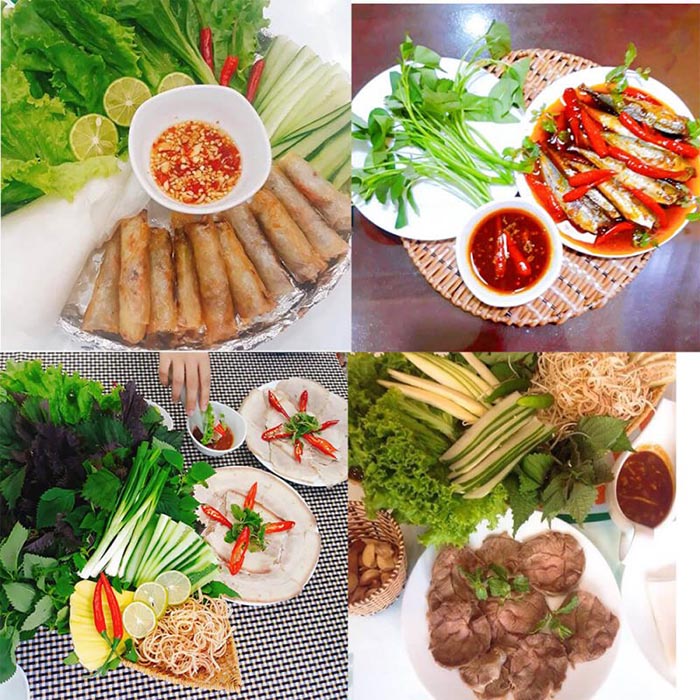 The famous Nam Hien specialty restaurant in Da Nang. Photo: monngondathanh
In addition, when coming to this delicious restaurant in Da Nang, visitors can also enjoy many different dishes: from grilled pork vermicelli, vermicelli with shrimp paste to Quang noodles, Cao Lau, Hoi An chicken rice, pancakes… A list of Central specialties is waiting for you to choose and discover. The next advantage is that the shop's space is cool with some pretty decorated areas, making many young people love it because they are free to live virtual.
4. Tran pork roll rice paper shop
Address: No. 4 Le Duan, Hai Chau District, Da Nang
Opening hours: 09h00 – 21h00
Price 70,000 VND – 165,000 VND
Quan Tran is one of the best pork rolls in Da Nang. The rice paper shop here is extraordinary. Each slice of boiled pork is cut moderately thin and pressed into two unique skin and fat. In particular, the seasoned fish sauce served here has a delicious and aromatic flavor that is unquestionably spicy, salty, and sweet. Finally, this restaurant's speedy and professional service style scored high in the hearts of visitors.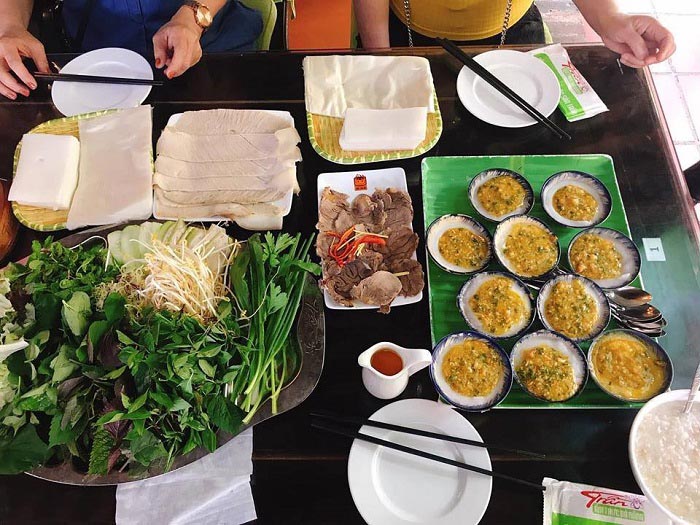 Tran specialties are quite special. Photo: taidanang
5. Mau Da Nang pork rice paper rolls
35 Do Thuc Tinh, Cam Le District, Da Nang.
The average price is 60,000VND – 165,000VND.
Opening hours: 09h00 – 21h00
It can be said that Mau restaurant is one of the most sought-after places to eat pork rolls in Da Nang.
A standard pork rice paper roll includes 1 plate of pork, rice paper, or wet cake. Next to it is a plate of raw vegetables and dipping sauce. The main ingredient of the dish is boiled pork with two skins that are cooked to perfection. When wrapping each piece of cake in pork wrapped with raw vegetables, you will fully feel the sweet and delicious taste of each ingredient.
In addition to enjoying delicious meat rolls, Diners who come here are also immersed in the airy, idyllic space but delicately and skillfully decorated with many other irresistible delicious specialties of the sunny and windy Central region. Quang noodles, Cao Lau, chicken rice,….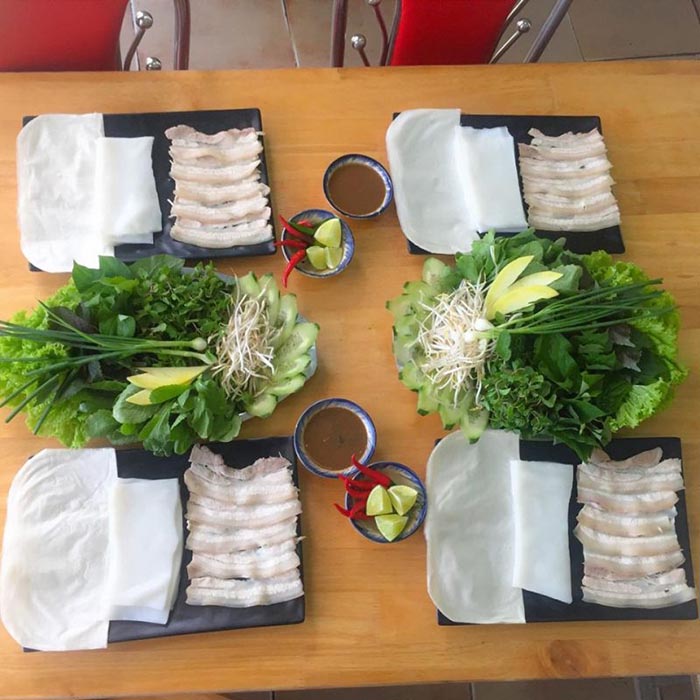 The plate of pork rolls is full and delicious. Photo: monngondathanh
6. Quynh Dai Loc pork rice paper rolls
Address: 176 Nguyen Hoang, Thanh Khe, Da Nang.
Opening hours: 10:00 – 22:00
Price ranges: 35000VND – 40000VND
Pork in rice paper rolls in Quynh Dai Loc is famous for its fragrant, soft but not too fatty. The meat source is mainly from Dai Loc, Quang Nam, so it is guaranteed quality and food hygiene, and safety. Specifically, the piece of boiled meat still retains its chewy and sweet aroma, then cut thinly and beautifully presented, served with a layer of soft rice paper, imbued with the flavor of country rice. Finally, the package is packed with fresh green vegetables with full flavors of the hometown of Quang, such as basil, cabbage, cinnamon, acrid banana, cucumber, lettuce, onion, etc. The delicious dish is closed with a cup of rich seasoned fish sauce. Converging all the sweet, spicy, and attractive anchovy scents.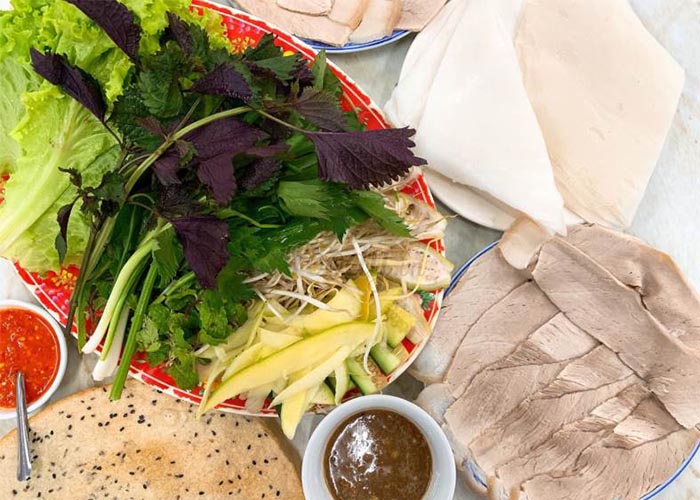 Quynh Dai Loc – Delicious restaurant in Da Nang. Photo: vntrip
In the countless places selling pork rolls in Da Nang, Quynh Dai Loc restaurant is trusted by many diners partly because of its delicious taste; the rest is the long history of the establishment.
7. Mrs. Huong's pork roll rice paper
Currently, the shop has 3 locations in Da Nang city. That is:
35/2 Ham Nghi, Thanh Khe, Da Nang.
364 2/9 Street, Hai Chau, Da Nang.
45 Ngo Gia Tu, Hai Chau, Da Nang.
After a long journey to check-in and visit famous tourist attractions in the coastal city such as My Khe, Non-Nuoc beach, Golden Bridge or Dragon Bridge,… then take your time to pamper your "hungry stomach." with the famous central dish of pork rolls with rice paper at one of the addresses of Mrs. Huong's restaurant.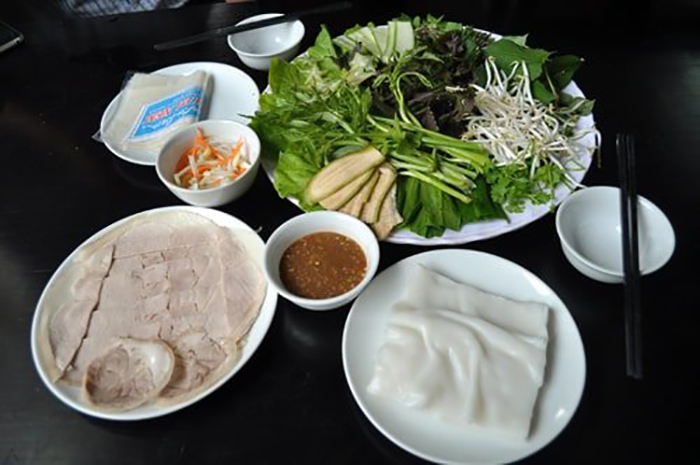 Mrs. Huong's pork rice paper with full ingredients. Photo: dacsandanang
According to the experience of traveling and enjoying Da Nang cuisine of many tourists, the main secret to making the famous Da Nang pork roll is the double-headed pork dish. Because the pork here is selected from the best part of the pig. When serving on the plate, the steamed meat still retains the meat's delicious, hot, and sweet taste. Then, the chef skillfully pressed it into double-headed skin to have lean, fat, and harmonious skin. This place to eat pork rice paper rolls in Da Nang also scores points with tourists near and far because of its large and airy space, luxuriously decorated, and close to nature. This place has become an attractive highlight of many people when traveling to the Central region.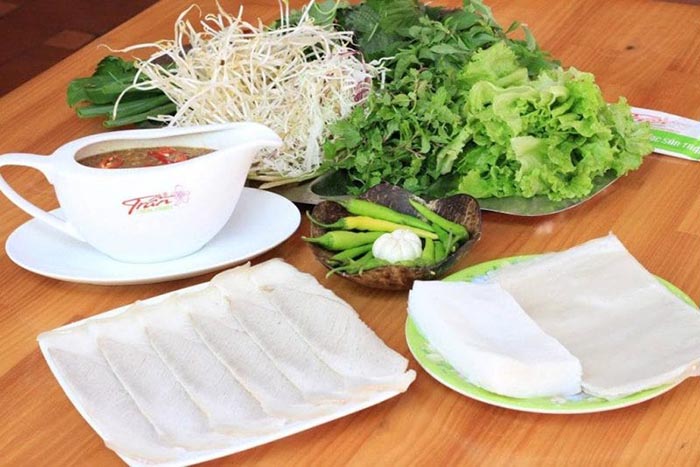 Famous Da Thanh specialty brand. Photo: monngondathanh
8. Que Xua pork rice paper rolls
Address: 165 Nui Thanh, Hai Chau District, Da Nang
Opening hours 07:00 – 22:00 
Price: 8,000 VND – 45,000 VND
Que Xua deserves the title of one of the best Da Nang pork rolls that anyone should visit. Because the specialty of steamed pork here is seasoned according to Central standards, it is both soft and sweet and beautifully decorated. The restaurant's pork roll rice paper served with a plate of raw vegetables, and especially the dipping sauce here, is very delicious; the price is quite reasonable.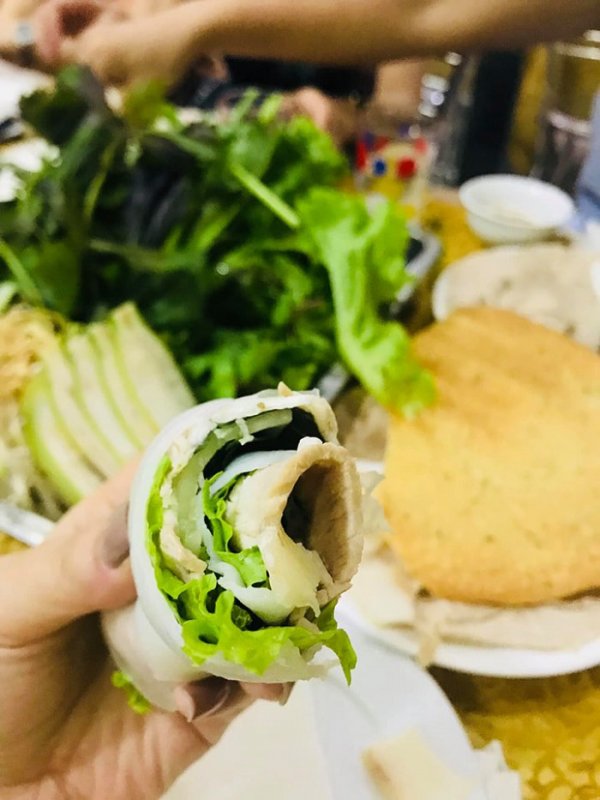 Bite a piece of rice paper rolls with pork. Photo metrip
The restaurant's space is not as large as Ba Huong restaurant or other places to eat pork rolls in Da Nang, but it is always clean. Along with that is the attentive and enthusiastic service of the staff; call it right away.
9. Homemade pork rice paper
Address: K72/1C Ham Nghi (Next to HAGL Apartment), Thanh Khe District, Da Nang
Opening hours: 06:00 – 21:00 
Price: 35,000 VND – 50,000 VND
Homemade pork rice paper is a culinary address in Da Nang that satisfies many tourists. The first is that the pork belly still retains its original flavor and color after being boiled or steamed. The second factor that makes this place a favorite restaurant in Da Nang is because it ensures food safety and hygiene. Especially when eating raw vegetables here, you do not have to worry about pesticide residues or any other problems.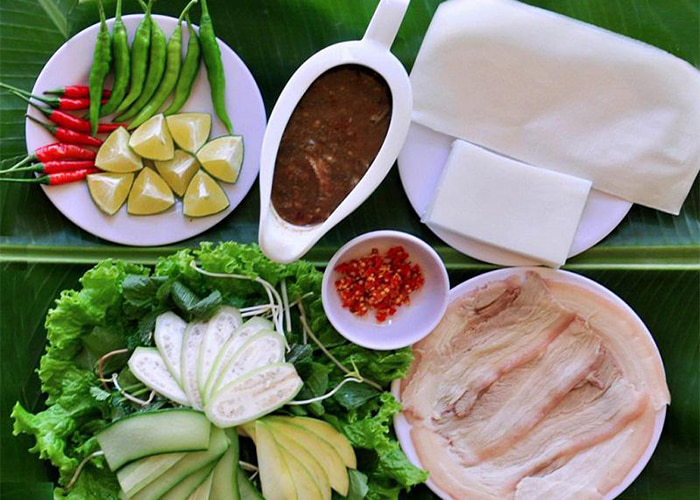 Homemade pork rice paper. Photo: tourdanangcity
Each stalk of fresh green vegetables from the countryside of Quang Nam, such as lettuce, lettuce, cinnamon, onions, bean sprouts, bananas, cucumbers, will make you fall in love when you first see them. More specifically, the dipping sauce of the restaurant has a rich flavor, not too sweet or too spicy, but still attractive in every drop of waves, keeping the delicious anchovy smell.
10. Hoang Tin pork rice paper
Address: No. 12 Le Hong Phong, Phuoc Ninh Ward, Hai Chau District, Da Nang city
Price: 79,000VND – 119,000VND
Quan Hoang Tin has been around for a long time in the most famous coastal city in the Central region and is loved by many locals and tourists from far away. This place is rated as one of the top places to eat pork rice paper rolls in Da Nang.
Hoang Tin specialty. Photo: taidanang
The difference compared to other shops is that Hoang Tin uses Trang Bang dew-dried rice paper, a delicious Tay Ninh dish with a chewy, soft, and rich taste, unlike ordinary rice paper. And of course, having used Tay Ninh rice paper, the accompanying vegetables are also typical wild vegetables brought from the Southeast region such as sesame buds, clones, squash, cinnamon, khaki, khot, … combined with vegetables available in Da Nang such as toad leaves, perilla, coriander, basil, lettuce, lettuce, lettuce, fenugreek, herbs, …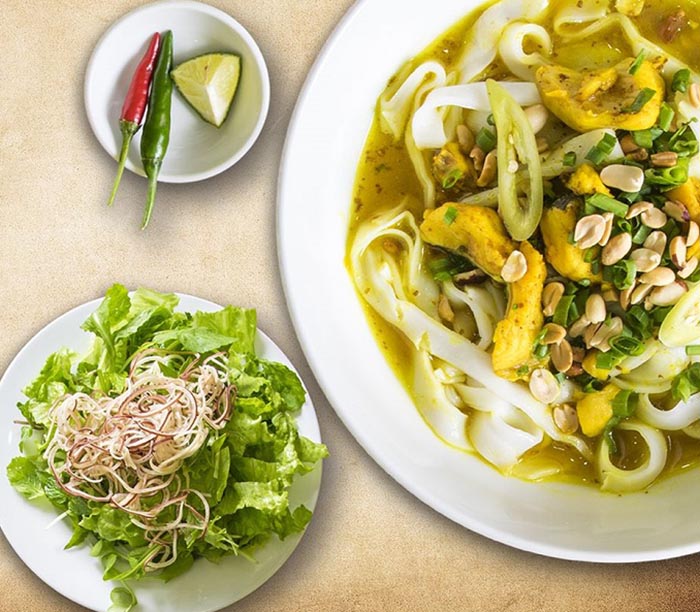 Diners can also find many other attractive dishes. Photo: taidanang
When eating pork rolls with Hoang Tin rice paper, diners will fully feel the fatty and delicious taste of pork, combined with the salty taste of genuine Tay Ninh rice paper. But don't forget to roll it with some wild vegetables and vegetables and dip it with a rich seasoned fish sauce; it will make an irresistible and extremely unforgettable dish.
With the above list of places selling delicious and famous Da Nang pork rolls, you have certainly pocketed a list of reliable and attractive addresses. Wish you have a happy trip to Da Nang and find the right delicious pork rice paper shop in your journey!
Photo: Internet
TAG: