Top 5 islands near Saigon that make people sobbing
Saigon is prosperous but full of pressure and frustration because of the work cycle, making you need to find a place to relax, to relieve stress, the islands near Saigon below are the destinations that you cannot ignore.
Top 5 islands near Saigon that make people sobbing
1. O Island – Dong Nai
Talking about O Island, many people will probably find it quite strange. Still, surely when it comes to Tri An Lake, not only Dong Nai people but also Saigon people in particular and the Southeast region, in general, are extremely familiar, because this is a famous picnic spot near Saigon. And O Island is a "jewel" in the heart of Tri An Lake.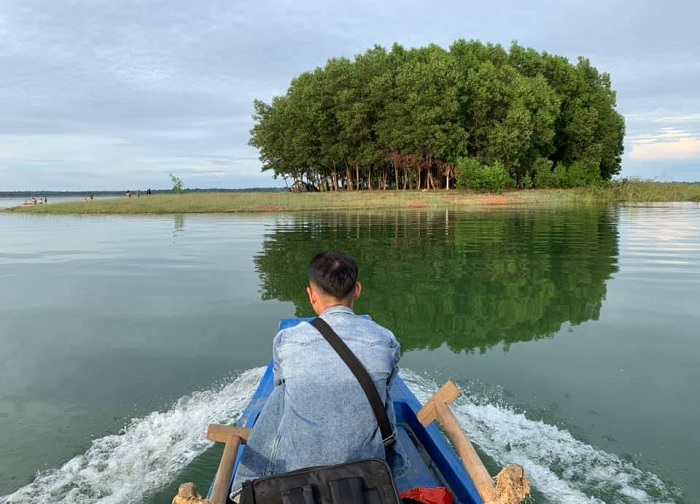 The prominent island in the middle of the lake (Photo FB Tran Nam)
Because it is located in the middle of a vast lake, O Dong Nai island impresses with its peaceful and fresh scenery, no noise, no smoke from vehicles or industrial parks, all just a vast green of nature. The stretching grass, the tall trees, the clear water, and the great sky, forming a picture of a breathtaking landscape.
Each time this island near Saigon brings a different charm: in the morning, it is fresh and pure; in the afternoon, it is sad and full of mood; and when the night falls, it is quietly immersed in the sound of music. Frogs echo, and the starry sky sparkles like a galaxy so that you can take 1001 pictures without fear of collision.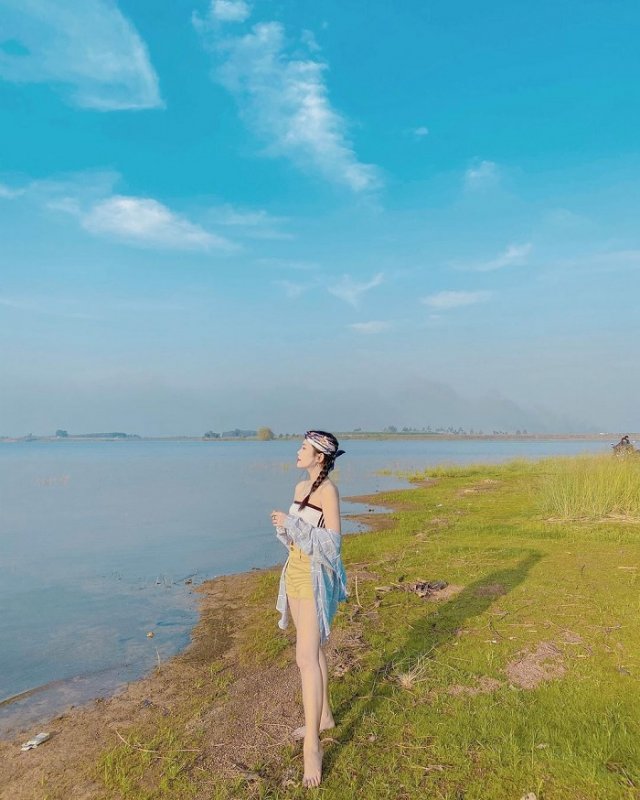 Live virtual here and fall in love with it (Photo @ld.chinnn)
Coming to O island, visitors can experience the elegant but patient pleasure of sitting by the lake fishing or leaning back in a hammock hanging between the trees to enjoy each cool breeze blowing and listening to birds chirping on the branches. Then, in the evening, we invite each other to set up a tent to set up a campfire and organize a fragrant BBQ; oh, just thinking about it makes me feel full of happiness.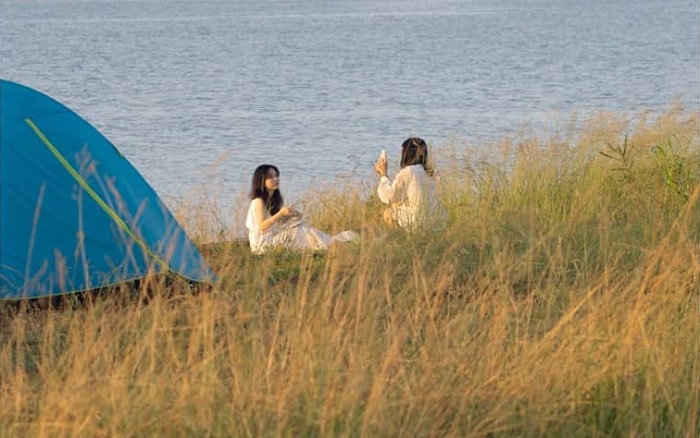 Camping is an interesting experience on the island (Photo @minh_tien__)
Revealing, if you don't bring food, you can try some extremely delicious specialties on the island, such as rib rice, fried red snapper, beef stir-fried noodles … although simple but imbued with country love, sincere, enthusiastic people here will definitely not let you down.
In the middle of Tri An lake, Vinh An town, Vinh Cuu district, Dong Nai province, about 80km northeast of Ho Chi Minh city center.
2. Cu Lao Cau Island – Binh Thuan 
Another "tourist paradise" near Saigon calls name Cu Lao Cau island in Binh Thuan. This island impresses with a vast landscape full of sunshine and wind, blue seawater, and immense stretches of rocky beaches with many different shapes overlapping each other to form masterpieces without too many trees. A lifetime work that tourists cannot ignore.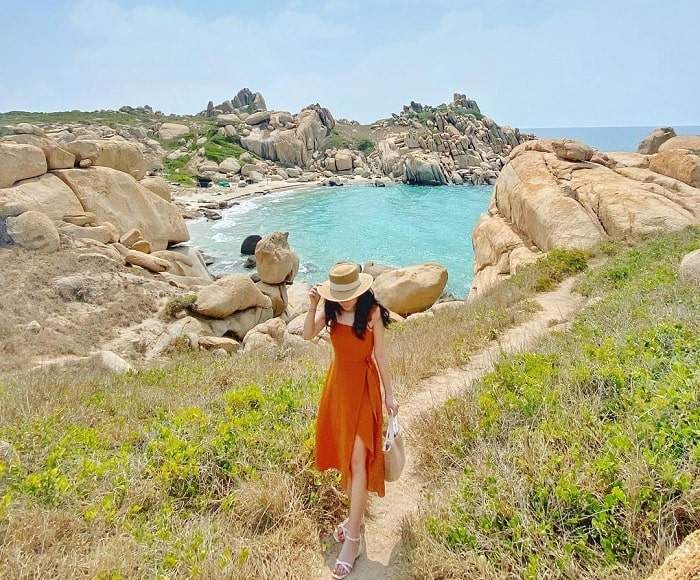 Cu Lao Cau is wild and green (Photo @huongg_ly)
In particular, these rocks can change color at different times, so even if you stay here all day, you will not be afraid of boredom.
Visiting Cu Lao Cau, visitors will be comfortable struggling in the cool waters to dispel the sweltering, hot summer days or diving deep into the sea to see the colorful coral reefs, for sure. It will be a memory that will never be forgotten.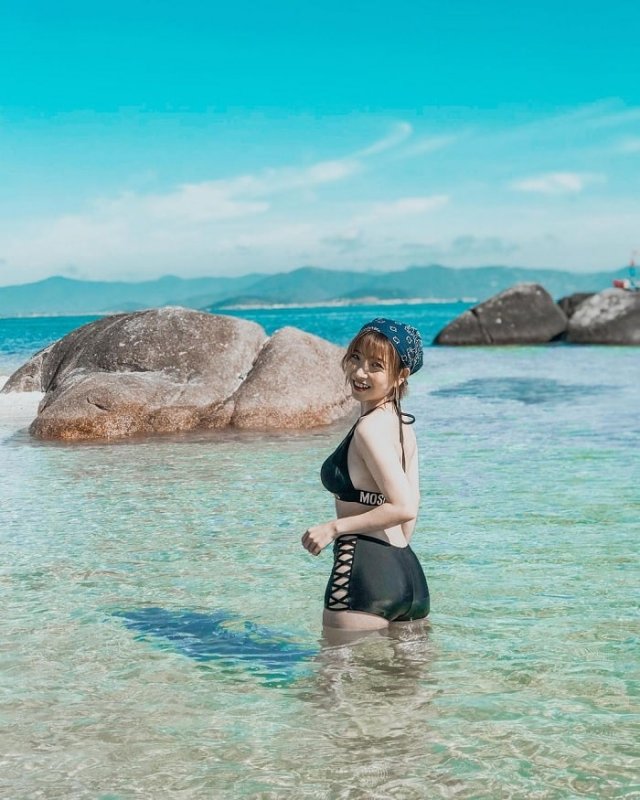 Swimming here is super fun (Photo @punlee.95)
Note, like other islands near Saigon, Cu Lao Cau is beautiful but not very developed in terms of tourism services, so if you need to dive, you must prepare yourself in advance and only dive when you have full protective gear. Please stop it.
In addition, you definitely must not forget to watch the sunset on Cu Lao Cau island in Binh Thuan somewhere, because the moment when the golden sun covers the whole space, the sea surface looks like it is gilded and becomes sparkling and strange. Period.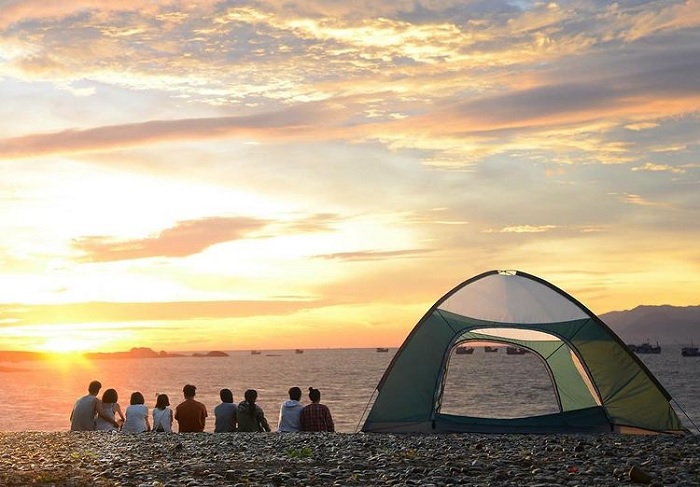 Beautiful sunset (Photo @vhloi)
Address: Phuoc The commune, about 8km from the mainland of Tuy Phong district, Binh Thuan province, and about 110km northeast of Phan Thiet city.
3. Pirate Island – Kien Giang 
If you want to experience the feeling of being "Robinson on a deserted island," Kien Giang Pirate Island – a famous island near Saigon is the ideal place for you. Just as you might think when you hear the name of the island, this is a place where there were a lot of pirates in the past, so it was named that interesting Pirate, but of course, it is a story "as old as the earth." yes, because now this place is super peaceful and poetic.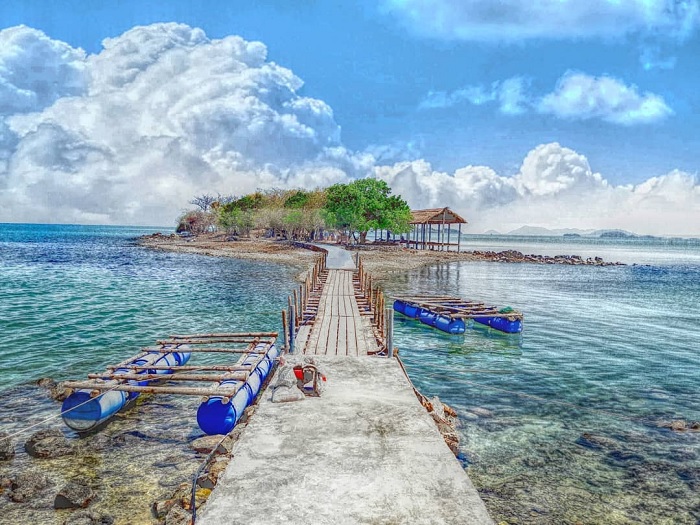 Extremely peaceful island (Photo @to_vu_phat)
Not as wild as O island, Hai Tac island has a fishing village, so it brings with it a very close and friendly "person." The first impression when arriving here is the fishing boats full of large and small sizes painted with eye-catching blue paint, close together, looking extremely attractive.
Not only are there many places to play and eat, but on this island near Saigon, there are also many beautiful photo corners to capture beautiful pictures such as sacred sovereignty beer on the island, undulating rocks full of pictures, Unique enemies, crystal clear blue sea like pearl or sunset as charming as Phu Quoc…makes you go for a walk all day without getting bored.
Virtually living on the island (Photo @chi_nho)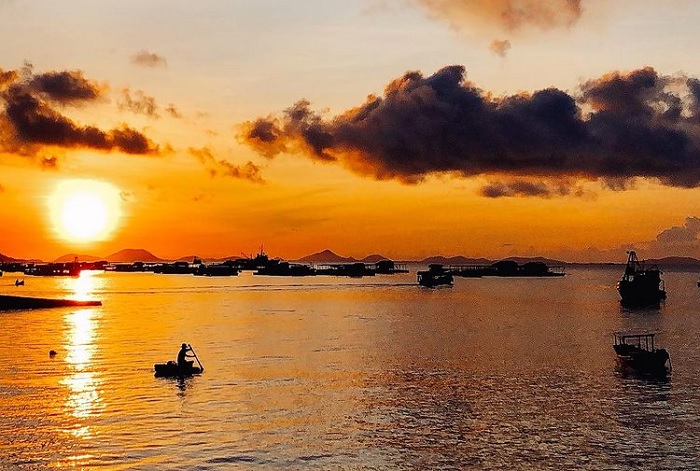 The sunset is as beautiful as "brother" Phu Quoc (Photo @thien.ha.giang.thanh)
Address: Tien Hai commune, Ha Tien district, Kien Giang province, nearly 40km east of Phu Quoc island.
4. Long Son Island – Vung Tau
With green bamboo forests, immense mountains, and blue seawater, Long Son island is often likened to "the green dragon of Vung Tau," so this is one of the islands near Saigon that attracts many people. Tourists come to visit every day.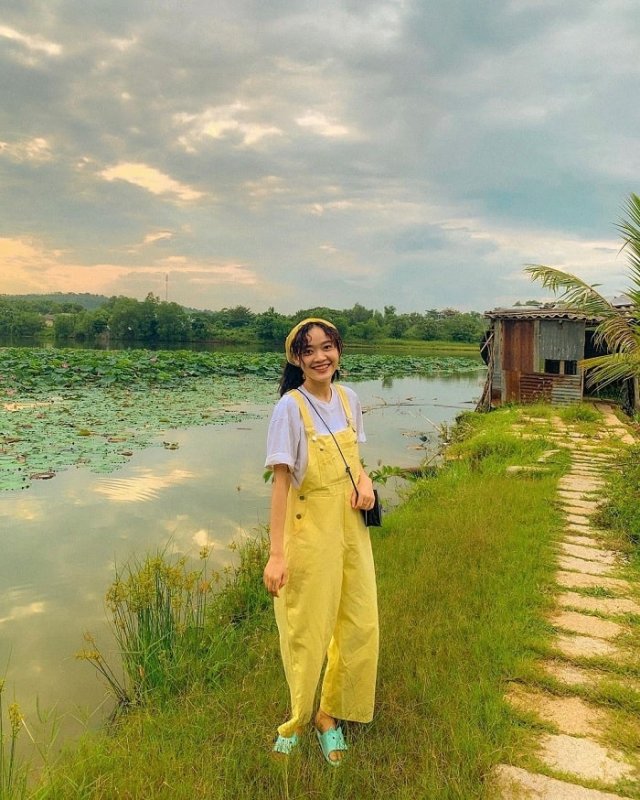 Green scenery in one color (Photo @lee.halinh)
Moreover, the interesting point of Long Son island lies not only in the poetic beauty spots but also in the historical values ​​bearing the precious traces of thousands of years and the friendly and hospitable people, making anyone who comes here also all do not want to return.
Coming to Long Son tourism, visitors will enjoy fresh and quality seafood dishes, experience the feeling of manually harvesting seafood full of baskets, climbing mountains to exercise, and above all, visit and live virtual in the picturesque salt fields of fishermen, make sure that "when you go to your best when you come back, you will be sad."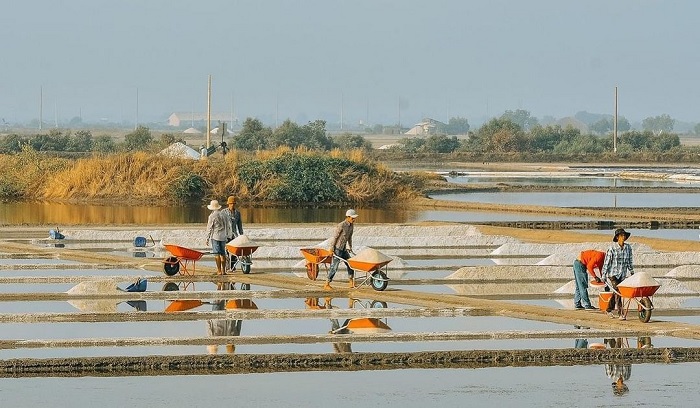 The salt field is extremely poetic (Photo: Le Nguyen)
Address: about 40km west of Vung Tau city and about 100km from Saigon.
5. Thach An Island – Can Gio
It is not natural that Thach An is known as "Saigon's hidden treasure" because even though it is located in a prosperous city, it still retains its wild, peaceful and fresh look like a transparent wall embraces the island.
At this interesting island near Saigon, you will be immersed in every cool breeze carrying the salty taste of the sea, watching the clear blue waters as if you want to blend with the sky to form a space. The vastness seems like no end, and the man lives in a virtual world with beaches stretching in the middle of the sea, colorful fishing boats, or houses painted in blue and white like Santorini; simple happiness is just that. Never mind.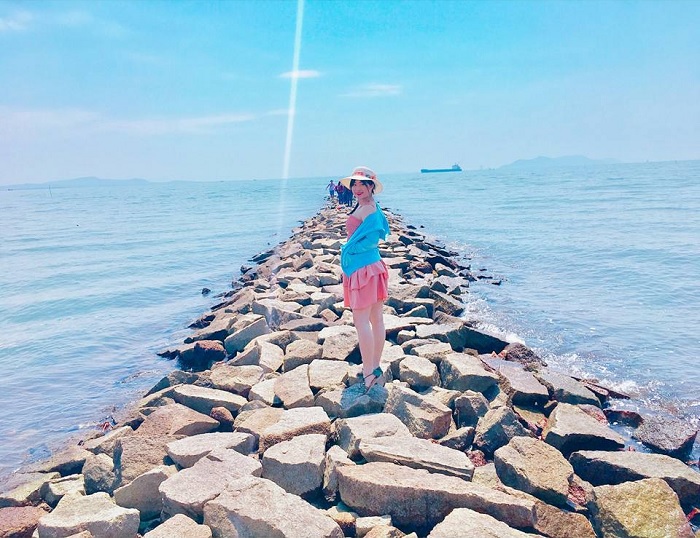 A virtual living corner of thousands of likes on the island (Photo FB Tam Tam)
Address: in Can Gio district, about 70km from Saigon city center.
Summer is here; the heat is gradually invading the city; if you have not found a weekend getaway, please refer to the islands near Saigon above!
Photo: Internet
TAG: