Where is the Hoang Van eco-tourism area? Experience to visit everything
With beautiful poetic scenery, fresh space with many attractive entertainment services, the Hoang Van eco-tourism area will be an ideal destination for tourists this summer when returning to Gia Lai.
Gia Lai is a land full of sunshine and wind with an extremely harsh climate. However, nature also endowed this place with many attractive and beautiful attractions with flowers, trees, and flowers filled with fragrance. One of the popular destinations that many organizations and tourists visit in the summer is the Hoang Van eco-tourism area with many interesting activities such as duck riding, kayaking, fishing…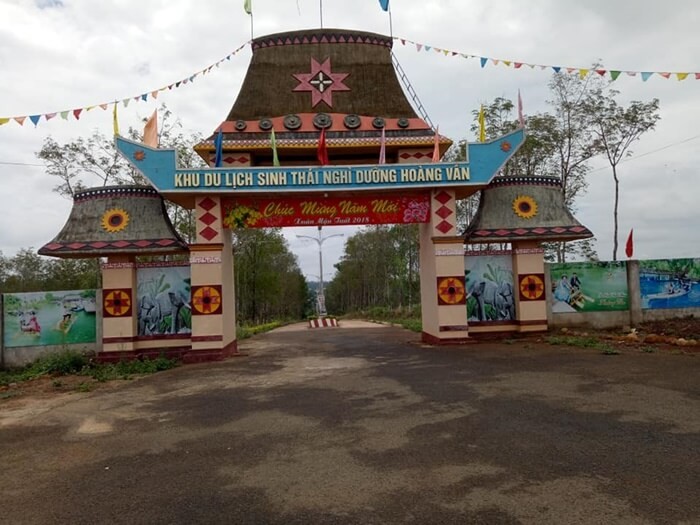 Enntrance gate
About Hoang Van eco-tourism area
Address: Block Zo village – La Tiem commune – Chu Se district – Gia Lai
Opening hours: 7:00am – 5:30pm
Hotline: 098.200.5729
Room price:  250,000VND – 400,000VND/1 night/1 room
Hoang Van eco-tourism resort is located right next to National Highway 14 with an area of ​​​​up to 2 hectares. It is also known as "the garden of paradise on earth" belonging to a garden of more than 25 hectares in La Tiem – Chu Se commune, right next to the foot of Ham Rong mountain.
This place owns a large, green space when surrounded by a vast lake with many rows of trees, fresh and cool flowers. That is what has created a poetic and charming ecological population. And this is also an ideal rendezvous for families, groups, companies… to have fun and relax on weekends, especially during hot summer days.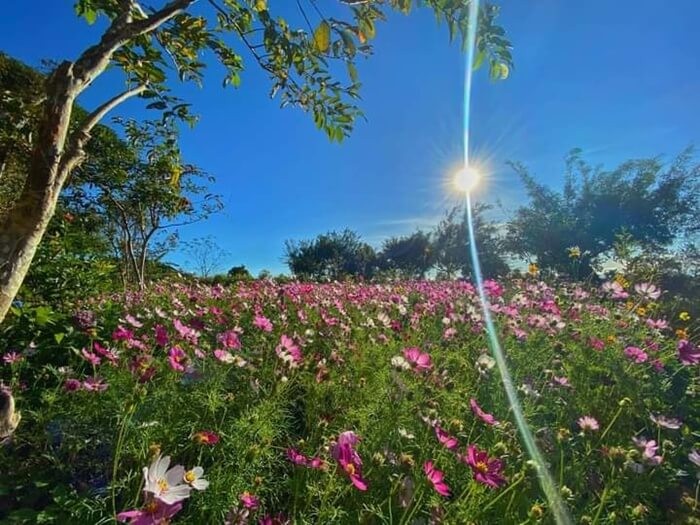 Beautiful flowers and grass
How to go to Hoang Van ecological garden?
It is more than 10km from Pleiku city, so you can move to Hoang Van eco-tourism area by motorbike or taxi. And to save money as well as enjoy the natural scenery here, riding a motorbike is the most suitable choice.
From Pleiku city center, you move south along Truong Chinh route. Then, to the roundabout, you continue to follow the 2nd exit to Highway 14 for about 4km. Continue through Ham Rong transport service, turn left and go straight for about 650m to reach the ecological area.
The attractiveness of Hoang Van resort eco-tourism area
Operating since 2011, Hoang Van ecological area has been reformed, refurbished and become an attractive tourist area for domestic and foreign tourists by its poetic, airy, cool landscape and many entertainment activities in the city. from house to outdoor such as: natural landscape, hut serving food, relaxing fishing or enjoying folk music.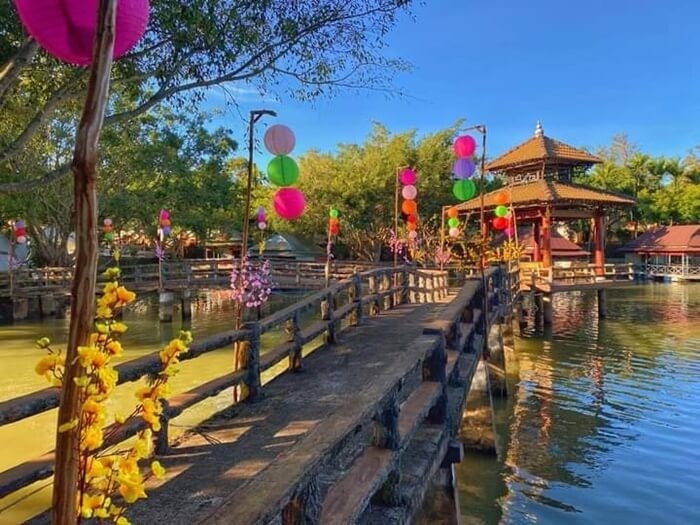 The hut serving food to the lake
Owning a large lake
With a fairly large area , Hoang Van eco-tourism area is the source of La Ring stream. Therefore, this place has an inexhaustible underground water source all year round. That is why in the ecological area, there is a cool, clear blue lake that creates ventilation for people to come here to relax.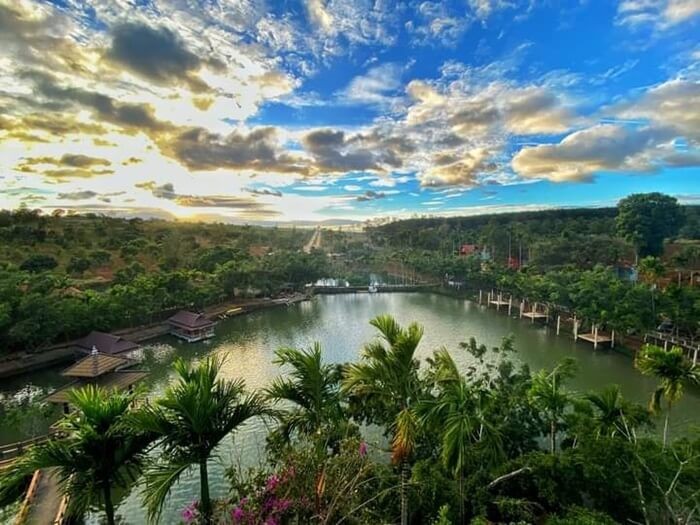 Vast lake
Moreover, the ecological garden is designed and built according to the natural terrain of streams and mountains, so when coming here, visitors will blend in with nature with a feeling of comfort, freedom, leisure, walking and watching. scene. Coming here to visit and relax, visitors will be purified by the green space filled with luxuriant fruit gardens, coffee gardens, and rubber gardens. In particular, this place is also a source of shelter for many different animals and has become a model of garden – pond – cage attracting tourists to come here to relax.
Fishing experience
Because it owns a lake up to 6 hectares wide, this place is also a peaceful and free place for those who love to fish. Because on the surface of the lake, there are many huts designed for visitors to relax while fishing and chatting with each other. The soaring green areca trees planted around the lake also lean in to reflect and create shade for this place.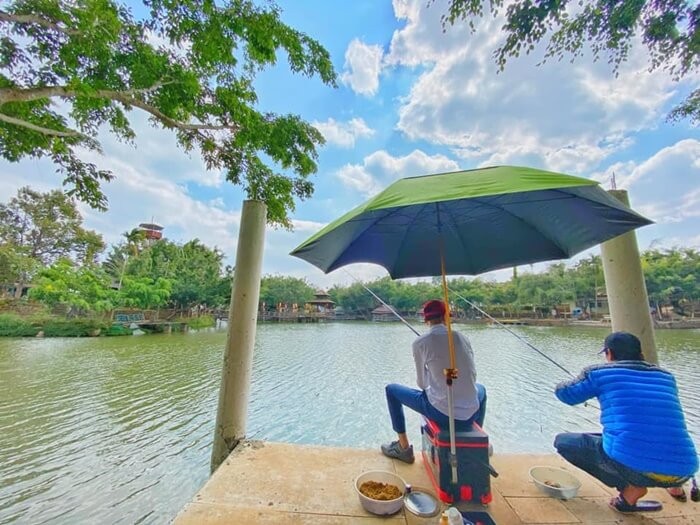 Relaxing fishing
In addition to fishing, visitors can also participate in many different entertainment services from: duck riding, kayaking, cycling on the water… All these games not only forge tourists' health and endurance. but create a healthy play space and say goodbye to the fatigue and melancholy out there.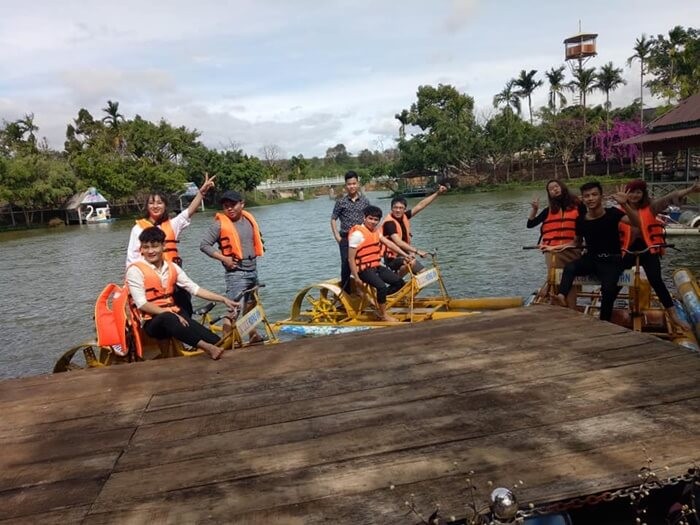 Cycling on the water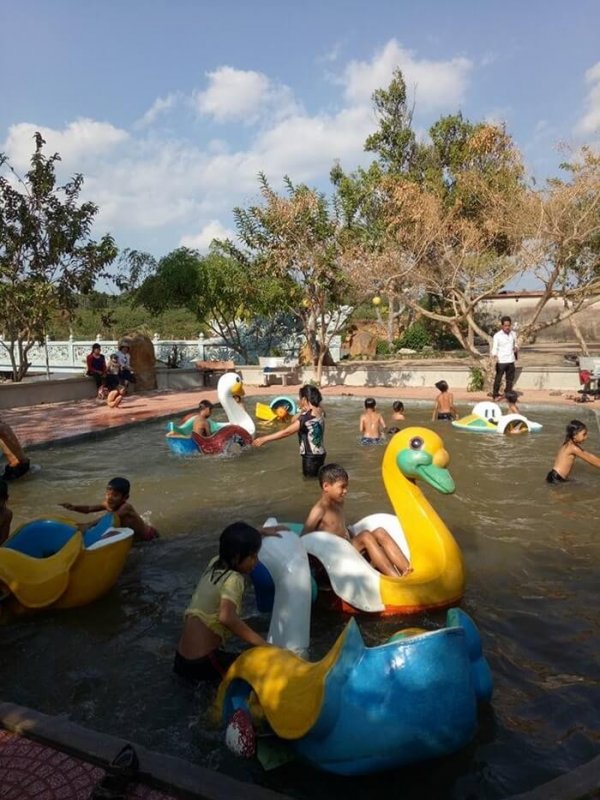 Duck boat
Check-in live virtual
Like many other resorts, Hoang Van ecological area is also designed and decorated with many beautiful and lively miniatures for visitors to check-in freely. And to create a new and attractive point for visitors, this place also built beautiful small bridges to lead from one point to another. And the way of decoration and decoration is also bold with the typical culture of the Central Highlands.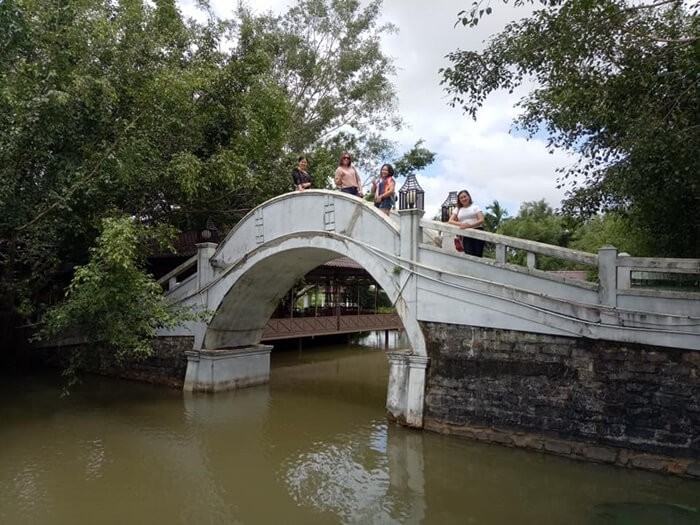 Check-in on the bridge
The most impressive in this tourist area is the dragon bridge when prominently carved with the image of 2 dragons with elegant, soaring strokes creating splendid majesty. Crossing this bridge, visitors will set foot to admire the area depicting the spirits of the mountains, rivers and the hill of Our Lady.
Enjoy folk music
And to help people get closer to the culture of the Central Highlands, the Hoang Van eco-tourism area has brought folk music here to help tourists enjoy and better understand this music. Besides, visitors can reduce stress by singing and dancing when karaoke rooms are built here.
Overnight rest
For those who want to stay overnight here, the room price ranges from 250-400k / 1 night / 1 room. The resort room is also very carefully invested by the investor and the decor is extremely beautiful and airy when owning the cool lake views. The interior of the room is equipped with modern and modern facilities, including: hot and cold, television, air conditioner… Besides, guests can organize parties and eat meals here. The dishes here are mostly famous specialties of the Central Highlands such as: lam rice, wine can, grilled chicken…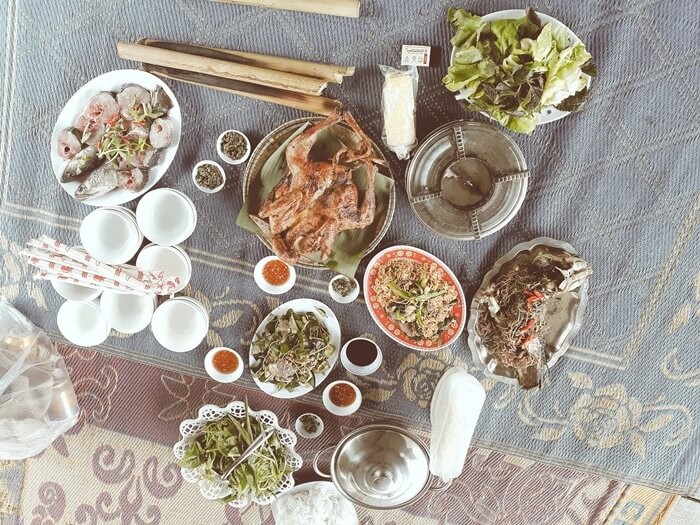 Tay Nguyen specialties
K hu Van ecotourism is the place of rest and leisure for everyone, every family, every pilgrim during the weekend or holidays. In particular, in the summer, the resort welcomes many groups of tourists to visit and relax more because of its cool and airy ecological characteristics, bearing the typical beauty of the Central Highlands. 
 
>See more:  Super detailed Gia Lai travel experience for first-timers
Photo: Internet + Facebook @ Hoang Van Ecotourism Area
TAG: